Don't you wish there was a full list of art blogs you could use as a resource to help you become a better artist?
Well, it's finally here — right before your eyes!
Hours and hours of research went into discovering the internet's top art blogs that are featured in this list.
But these aren't just any ol' random art blogs.
Specifically, this exclusive list reveals 3 categories of art blogs that are designed to help you:
◾ Inspire your imagination and creativity
◾ Boost your skills and talent
◾ Advance and accelerate your artist career
To give you a good taste of what's coming up…
Below … we'll give you the inside scoop on what each art blog is about and why it's unique. We'll further explain the interesting topics and types of stories each blog publishes. Finally, to get you well acquainted with each blog, we'll show you some recommended articles and publications that you'll definitely want to explore.
Ready to find your new favorite art blog?
Let's check 'em out!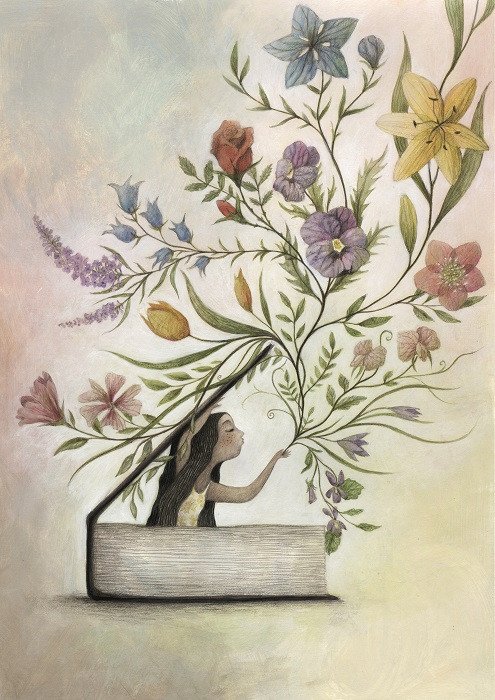 Art Blogs That Will Inspire Your Imagination And Creativity
Canva
Canva blog is an art blog full of design tips and inspiration for everyone from beginners to professionals.
Topics focus on design, marketing, branding and photography.
The mission of the blog is to learn how to build their personal brand and inspire designers to create the best designs basing on the hottest trends in the business.
Artists can enter Canva's Design School and learn from courses and video tutorials concerning social media promotion, making presentations, publishing on Canva, etc.
Check out these publications from Canva:
▪ 7 career tips to help you succeed in the creative industry
▪ 10 trending color combinations for 2020
▪ 7 Social media trends to try in 2020
Hi-Fructose
Hi-Fructose is an art blog that features new contemporary artworks that don't adhere to any specific genre or trend.
Topics include original paintings, drawings, charcoals, glassworks, sculptures, different styles of prints, and more.
Every Hi-Fructose blog post features a different artist and highlights one of their most recent contributions, some of which are on display at museums, exhibitions, or other public places. After you learn about the blog post's featured artwork and how it was developed, you're then given the chance to view related art projects.
Typically, the blog posts will feature some elements of the artist's background and include one or two quotes from the artist which gives you a glimpse into their worldview and reasons for creating the artwork featured in the blog.
If it's original and clever artwork you're after, Hi-Fructose will truly inspire and impress you.
Check out these publications from Hi-Fructose:
◾ The Evolving Paintings of Andrew Salgado
◾ The Human-Filled Clocks of Maarten Baas
◾ The Glass Creations of Janis Miltenberger
BOOOOOOOM
BOOOOOOOM is an art blog that features independent artists' work.
Topics focus heavily on photography and illustrations.
The majority of the blog posts put the spotlight on an artist's selected artwork. While some of the posts include interviews about the artist's featured work only, some blog posts dive deeper into the artist's background so readers can see the personality behind the featured artwork.
One section of the blog is designated for displaying the original artwork created and submitted by the BOOOOOOOM community, which gives blog readers an ever-evolving line of fresh artwork to feast your eyes upon.
If that isn't enough to keep you browsing for hours, you can watch tons of captivating video art on BOOOOOOOM TV, a special section of the blog.
Overall, the BOOOOOOOM team does a great job at covering artwork from lesser-known and emerging artists who are completely oozing with talent, especially in the art cinemas.
Check out these publications from BOOOOOOOM:
◾ Reflect by Illustrator Evan M Cohen
◾ Mount Defiance: New Neighbourhood
Juxtapoz
Juxtapoz is an art blog that masterfully blends art, culture, and global exhibitions.
Topics include installations, paintings, photography, graffiti, street art, as well as audio-visual projects.
The blog usually features an artist's most recently completed work of art that is to be presented in an upcoming exhibition. Slideshow images of the artist's related work, as well as a brief interview, accompany each blog post, too.
The emphasis the Juxtapoz blog puts on promoting the artist's work pre-exhibition is what really makes them stand out since it gives readers the opportunity to meet the artist and see their artwork up close in person at a live event.
Overall, Juxtapoz is a different breed of art blog that chooses to promote inspiring new works of art and celebrate an artist's success.
Check out these publications from Juxtapoz:
◾ Neo Rauch Mechanic of Dreams
◾ Self Possessed: Kate Klingbeil & Megan Cavanaugh @ Juxtapoz Projects, Mana Contemporary
◾ Sage Vaughn Creates Installation @ the RVCA Headquarters in Costa Mesa with Guest La Rosa
The Zine
The Zine is the contemporary online art magazine by Artzine.
Its high design platform features fresh content related to the art world, including deeply inspiring stories told by artists in first person.
Browsing through The Zine visitors will discover and get to know brilliant artists—both emerging and established—from around the world, presented through artist features and interviews.
They will get lost in atractive-looking, high-quality articles on diverse and interesting topics related to the world of arts; and they will get inspired by stories from artists that found in art the ultimate way to overcome harsh realities
A space that is a celebration of the richness and diversity of contemporary culture, and a meeting point for art & culture lovers.
Check out these publications from The Zine:
◾ Interior Design For Creative Workspaces
◾ Street Art From Ghetto Graffiti To Collectable Commodity
Commarts
Commarts is an art blog whose sole mission is to inspire artists and other visual communicators.
Topics include six major art disciplines: advertising, design, illustration, interactive, photography, and typography.
Blog posts commonly highlight featured artists, exhibits, and book reviews. The blog also supplies interviews with artists and a collection of well-written column pieces. You can discover many other interesting reads by finding them in the blog's 'Gallery' section.
To get the full story on an artist's featured work, Commarts lets you scan through a slideshow of the artist's related art projects at the bottom of some of the blog posts. The delicate and simple interaction is a nice touch.
Web designers will especially fall in love with the "Webpicks" section of the blog which illuminates the background, production details, challenges, and technical features of creating beautifully designed websites handpicked by Commarts.
While their free content is enjoyable enough, their premium content represents a goldmine of curated artwork that'll ignite the imagination of any artist. The premium content supplies readers with an invaluable resource of exclusive articles, media access to over 18,000 award-winning images and videos, as well as a monumental list of over 21,000 artist profiles and their work.
Impressive.
Check out these publications from Commarts:
◾ Pakistan, Bikaner and Bali Travel Posters
Colossal
Colossal is an art blog that elegantly blends art, design, and visual culture together to present the works of both emerging and established artists from around the world.
Topics include fine arts, crafts, design, animation, photography, street art, illustration, and architecture.
The Colossal blog features one specific artwork before diving into the details revolving around the artist's upbringing and unique education of the arts. After you learn a little bit about the artist's background, the blog post dives deeper into Colossal's own description and thoughts regarding the featured work before showing you even more of the artist's related projects.
There's a lot of good stuff to read and see. The Colossal blog is famous for its high quality colossal-sized pictures of inspiring artwork and designs. They hog the spotlight in most articles, but in a very good way.
Check out these publications from Colossal:
◾ Atmospheric Collages by Art Duo 'Frank Moth' Combine Elements of the Past and Future
◾ Japanese Monster Figurines Apologize For Their Destruction at Press Conference Podiums
◾ Ceramic Dishes Drawn as Rippling Pools of Culture by Brendan Lee Satish Tang
Azure Magazine
Azure Magazine is an art blog with a distinct identity as it covers global art affairs but also specializes in reporting the Canadian art scene.
Topics include contemporary design and architecture.
Common blog posts are news stories about how artists, museums, exhibitions, and company brands make use of art. There's also a wide collection of documented interviews with emerging and award-winning artists.
Other articles will keep you up-to-date on Canadian art events and the impacts that artists create in the North American country.
The best part of the Azure Magazine blog is that's it's superbly written and always seems to find a way to unearth the most interesting stories happening in the art world.
If you're a fan of blogs that read as easy as magazines or you want to feel inspired by some of the world's most intriguing architecture designs, you've got to visit the Azure Magazine blog.
It's a hidden gem if you haven't discovered it yet.
Check out these publications from Azure Magazine:
◾ 10 Buildings to Watch in 2019
◾ 30 More Essential Women in Architecture and Design
◾ A Big Hit in Europe, Sweden's Solar Egg Lands in North America
Design You Trust
Design You Trust is an art blog that features a mixture of random artworks, many of which are derived from popular and underground news stories.
Topics include photography, architecture, technology, animals, design, and travel.
Each blog post features an interesting artwork and short blurb that will inspire and educate you.
While Design You Trust definitely hits the mark on being informative, several of their posts include lots of humor, too (whether intentional or not)!
Regardless of what's new on the hourly-updated art blog by Design You Trust, they've mastered the art of making it fun to read about art. It's definitely one to bookmark.
Check out these publications from Design You Trust:
◾ An Artist Imagines If Popular Sodas Were Cartoon Character
◾ Children of the Damned: The Superb Artworks of Astor Alexander in Classic Sci-Fi and Noir
◾ Hippie Van Of The 1960s: Amazing Photographs That Capture People With Their Classic VW Buses
Pro Tip: It's essential to keep tools in your arsenal that can help you make your images more artistic, one we like is Instasize. Their blog is also full of great tutorials on how to achieve different aesthetics with it's features!
Art Blogs That Will Boost Your Skills And Talent
Artists Network
Artists Network is an art blog whose sole mission is to inspire your creative side and teach you how to create amazing works of art.
Topics of the blog include a broad range of artwork tutorials taught by professional artists. You'll gather most of your information from helpful how-to articles and videos, as well as live art demos for beginner and advanced artists.
The Artists Network blog features on-demand art courses and over 700 video workshops, too, so you can watch them at your own leisure to learn something new and improve upon your existing skill set. The articles and art lessons are excellent because they show you what to do step-by-step and even tell you what specific tools to use. The articles include lots of images or video to supplement your understanding, too. It's absolutely great.
Much of the information is neatly categorized by media (watercolors, pastels, and oil just to name a few), so it's easy for you to navigate to the information you want to learn about most.
If you have the desire to become a better artist or you've always wanted to try learning a new technique, the Artists Network blog has you covered and it is highly recommended.
Check out these publications from Artists Network:
◾ Canvas Painting 101: Everything You Need to Know to Ensure Success
◾ Seeing Your Subject From Two Points of View
◾ Secrets to Painting Convincing Water Reflections
CreativeBloq
CreativeBloq is an art blog which helps artists improve their skills by keeping them up-to-date with the latest trends, techniques, and technology related to art.
Topics covered include graphic design, typography, illustration, art, web design, and more.
While some art blogs focus on showing you lots of visuals and eye candy artwork, CreativeBloq uses their energy to publish a healthy mixture of in-depth articles that are informative, instructive, and inspiring. The total package.
CreativeBloq's news stories shed light on what's happening in the art industry and occasionally promote helpful products for artists to use. Their easy-to-consume, step-by-step art tutorials reveal lots of new techniques for artists to try (with and without the use of software).
Overall, the CreativeBloq blog is an incredibly helpful resource and is a definite must-see for tech-savvy artists who are interested in learning how to use software to create better digital art.
Check out these publications from CreativeBloq:
◾ Create a Fast and Anatomically Correct Sketch
◾ How To Paint Colorful Animation Art in Photoshop
◾ 70 Amazing Adobe Illustrator Tutorials
Art Blogs That Will Advance & Accelerate Your Artist Career
Empty Easel
Empty Easel is an art blog that's full of valuable tips and resources for artists who want to sell art online and offline to progress their hobby or art career.
Topics include art business advice and art advice in general. However, the blog is also a fantastic vault where you can find lots of free painting tutorials and drawing lessons, too. There's also an entire section of the blog that'll teach you a bunch of Photoshop tricks if you work with digital art.
To switch things up and keep things exciting, Empty Easel consistently features artwork on their blog that's submitted by their fanbase, which gives the artist a big boost in exposure.
The real strength behind Empty Easel, though, is that its blog is actually written by successful artists. So if you want to learn useful and effective artist marketing tips that have been tested, tried, and used by real artists — Empty Easel is a great reservoir of information that'll transform you into a more profitable artist.
Check out these publications from Empty Easel:
◾ How to Sell Art Directly From Your Studio
◾ 8 Ways to Protect Your Artwork Images from Being Copied Online
The Working Artist
The Working Artist is an art blog read by independent artists who are looking to achieve a breakthrough in their work and career. The entire blog is authored by art business coach, Crista Cloutier.
Topics include Crista's business advice for artists, entrepreneurship, and success stories from real artists who follow and apply Crista's words of advice.
So not only do you get to learn from Crista's own unique journey by reading The Working Artist blog — you get to learn from plenty of other artists' experiences, too, and see how they transformed their careers to become successful working artists.
The Working Artist is an important blog to follow if you're an artist who's struggling to make the leap from amateur to professional and you're ready to start an art business. If Crista's done it, so can you.
Check out these publications from The Working Artist:
◾ How To Work With Art Galleries
◾ My Top 10 Tips for Art Fair Success
◾ The Artist's 6 Stages of Initiation
Artwork Archive
The Artwork Archive is an art blog that presents news, tools, and resources for the art community online
Topics include information for both artists and collectors so that both types of audiences have something to read, learn, and enjoy.
The blog is home to several exclusive guides that'll help you understand how to apply for art grants, price your artwork, preserve your artwork. They even have a short guide that'll show you and other artists how to do your taxes. Seriously, the entire blog is simply full of excellent and actionable tips you can try out yourself
For business-oriented artists, the Artwork Archive blog is just too convenient not to visit and bookmark. It's one of the most complete art business blogs out there. Go visit it sometime (or now).
Check out these publications from Artwork Archive:
◾ Complete Guide to 2019 Artist Grants & Opportunities
◾ Seven Rules for Pricing Your Artwork
◾ How to Inventory Your Artwork
Artie's Eight
Artie's Eight by Frame Destination is an art and photography blog that features new creators from across the country every month. It is an amazing resource for aspiring professionals as well as hobbyists because the questions and answers provide insight into each individual's story as well as their creative processes.
Topics include photography, design, and art.
Topics include photography, design, and art because artists come from different areas of expertise, and have unique experiences to share on how they got to where they are today.
If you are looking for a blog to search for inspiration or insider tips you cannot find anywhere else, then Artie's Eight is a must-read.
Check out these publications by Artie's Eight:
▪ Introvert Turned Explorer: Meet Artist J Craig Platt
▪ Nature on Display: Meet Fine Artist & Printmaker Mindy Lighthipe
▪ A Double Take With Artist David Hoque
Displate
Displate's art blog is primarily an art marketplace online that enables independent artists to sell their original artwork as high-quality metal prints — but we also have a powerful blog for artists.
Topics include inspirational photography, home decor, gaming art, actionable tips for artists, as well as interviews and success stories from independent artists who've turned their hobby into an art business.
The whole sha-bang.
The Displate blog is also home to several beneficial marketing guides that'll show you how to sell art online using your own blog and all of the major social media platforms like Facebook, Instagram, Twitch, etc.
You will also find an incredible list of inspiring designs to ooo and awe over, simply by reading anything featured in the blog's massive Illustration Hub.
Overall, if you want to be part of a growing online community where independent artists feel inspired to create and share their original artwork for the world and customers to see — the Displate blog is your perfect opportunity. There's a lot for you to see and learn!
Check out these publications from Displate:
◾ Concept Art: Hall of Fame
◾ Digital Collage Art: 12 Amazing Examples (+Some Tutorials!)
◾ How to Arrange Wall Art – A Complete Guide
◾ How to Choose Wall Art for Your Home
◾ Gifts for Gamers: Unusual Ideas for Gaming Gifts
◾ Gifts for Board Game Lovers (That Aren't Board Games!)
◾ How To Sell Art Online: The Beginner's Guide
◾ How To Sell Art on Facebook: The Basics
Bookmark & Share This List of Art Blogs!
The internet is full of hundreds of original art blogs — but luckily, now you've discovered which ones are worth reading!
If you're an independent artist or art enthusiast, please make sure you bookmark this article so you'll always have easy access to this list of top art blogs.
By doing so, Displate can continue to help you:
◾ Inspire your imagination and creativity
◾ Boost your skills and talent
◾ Advance and accelerate your artist career
Which of these art blogs will you check out first?