Learning the best ways to market your artwork is an important skill to master if you're an independent artist.
While there's several methods you can try…
Advertising your original designs as prints on common products like T-shirts, coffee mugs, and smart phone cases are decent options.
However, featuring your designs on cheap canvases like these can prevent you from communicating the full value of your artwork to potential customers.
As a result, this can hinder your ability to:
create a recognizable brand as an artist
promote it more effectively to customers
and command a lot more sales.
It's the perfect marketing strategy for artists.
Are you intrigued?
There' are at least 4 key reasons why thousands of independent artists succeed at marketing and sales with the help of Displate — and why you will, too!
Why Artists Succeed With Displate
1. You Can Choose How You Wanna Proceed!
There are plenty of great reasons to join Displate community of artists, but here is the top 3 that we find the most important.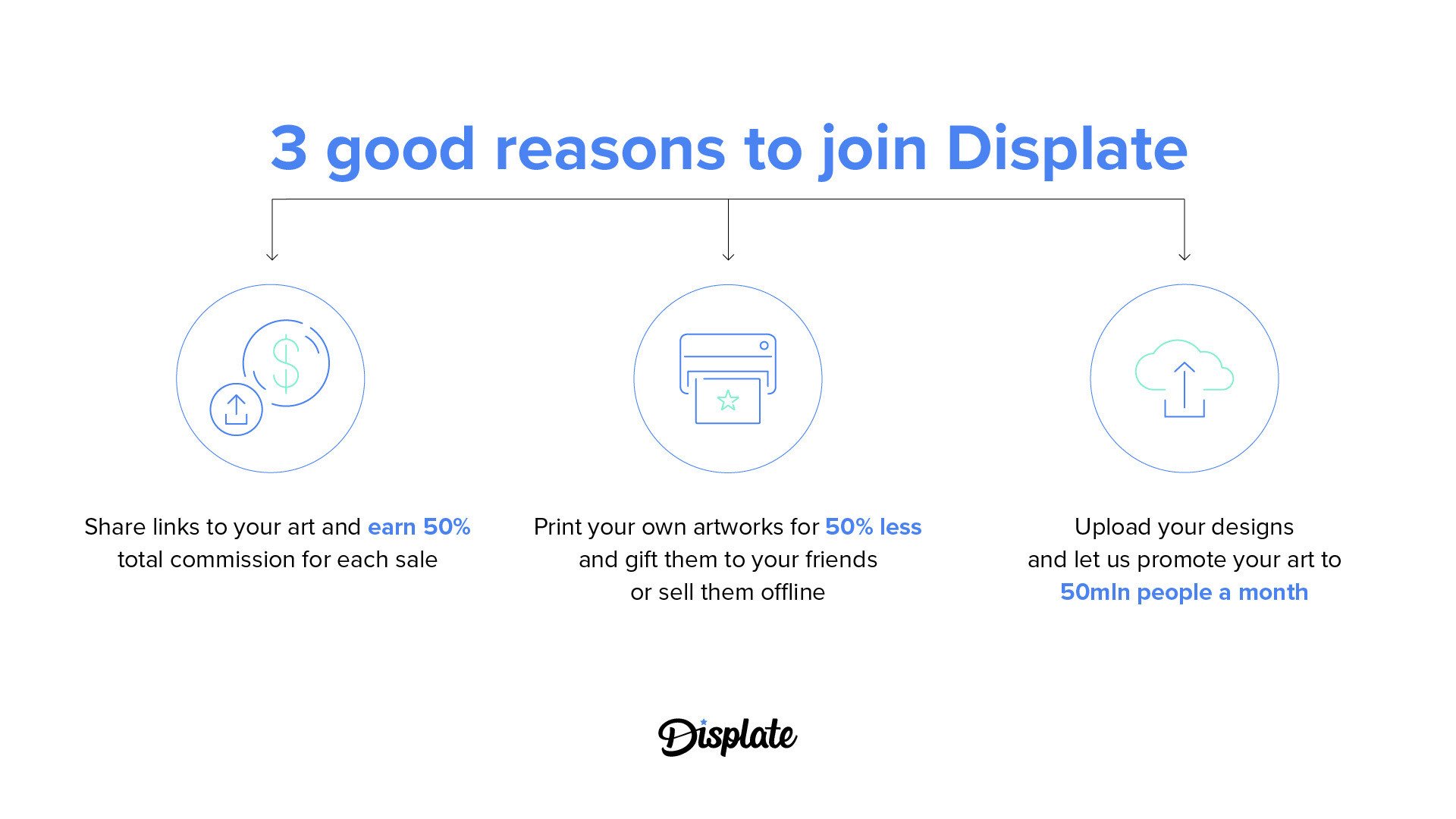 2. Our Product Is Truly One Of A Kind!
Unlike other print on demand companies that copy and paste your artwork onto dozens of cheap materials and paper prints — Displate specializes in creating one unique product only: high quality prints on metal that feature your original designs!
Every single art print that's sold is crafted out of durable steel inside of our own manufacturing house and checked for quality assurance by our production managers so your art designs always look vivid, smooth, and sleek before they land on your customer's doorstep. We also pre-gift wrap the finished product for you to give your customers a fun unboxing experience — guaranteeing they'll love your artwork when they see it for the first time up close!
Hanging your art on their home or office wall is another experience they won't forget with Displate's safe and easy magnet-mounting system. In fact, it'll take them less than 60 seconds to set everything up and put your art on display for everyone to see and enjoy!
3. Art Collections Give You Better Marketing & Sales Opportunities
As an independent artist, you can upload multiple related designs to the Displate Marketplace and build your own art collection to promote to your customers.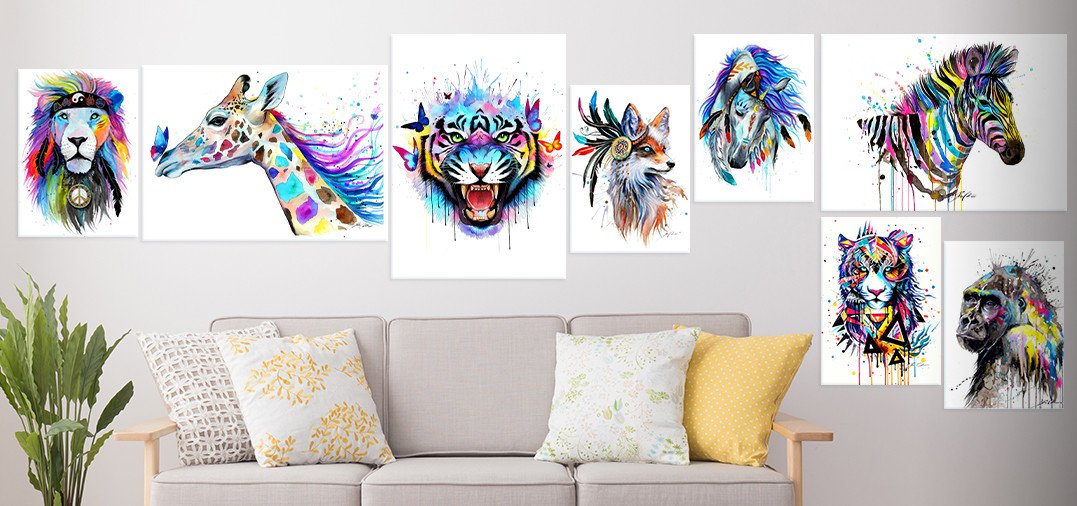 By presenting your artworks as part of a unique collection, you'll instantly give customers multiple reasons to fall in love with your artwork. More importantly? You'll give them multiple reasons to buy!
Customers can purchase your entire art collection in a single shopping experience or they can buy your collectible items one-by-one, two-by-two, or however they'd like.
Ultimately, the bigger your art collection is, the more marketing opportunities you'll have to reach customers, make sales, and earn money!
Read more about creating collections on Displate here
Speaking of you earning money…
4. The Share & Earn Program Makes You Money
The whole team at Displate takes a lot of pride in knowing that we're helping thousands of independent artists, like you, generate extra monthly income from their artwork!
Any time a customer purchases your designs from the Displate Marketplace, we'll pay you a commission that you set individually.
However, now we give you a way to earn even more money for all of your talents!
By joining Displate's Share & Earn program, you'll start earning 50% of your sales!
This is the largest commission rate in the art market!
Read more about our Share & Earn button here
Yep, you heard that right!
5. We Do The Hard Work For You
Marketing your artwork as prints on metal with the Displate Marketplace is super easy!
All you have to do is upload your artwork, set your prices, and finally — share links to your artwork. You'll earn money every time someone makes a purchase using your link!
We'll handle everything else like manufacturing the metal art prints and processing your customers' payments. We'll also cover your customer's shipments, handle returns, and provide world-class customer service.
In an awesome way, teaming up with Displate is kind of like having your own business partner or trusty sidekick!

Want a quick and condensed list of all the other cool benefits you're going to get when you choose to market your artwork as prints on metal with Displate?
Here are 10 extra perks you and other independent artists will receive by joining Displate!
Top 10 Extra Perks Artists Get With Displate
1. You will earn a passive income.
Displate will turn all of your art designs into passive streams of extra income for you to earn. We do this by giving online shoppers several ways to stumble across your artwork and buy on our website. When your artwork is sold on Displate, you'll be notified about the sale and get paid for it every time. Since there are lots of people that are browsing for artwork on our website 24/7, technically, you'll be able to earn money day or night, and even while you sleep! (Seriously).
2. You will save a lot of money.
Promoting and selling your art online with Displate will literally save you thousands of dollars that you won't have to spend on art materials, tools, ink, printing machinery, shipping, and other production costs that would normally restrict an artist's business from quickly growing. With Displate, you can fully bloom as you were intended to — instead of being hindered by finances or lack of other resources!
3. You will always retain the rights to your work.
When you join Displate, it's a policy that your work stays your work. This means that you control the copyrights to any artwork you upload for sale on our marketplace. To further illustrate the power you have when submitting your art, you can add as many of your original designs as you'd like and remove them from our website whenever you see fit. Your art — your rules!
4. Customers will instantly trust your artwork is a high-quality product.
At the end of the day, customers want a quality art product they can proudly display and hang inside of their home or office, and maybe even show off to their guests from time to time. The good news is that when they purchase your metal art prints from Displate, they know they're guaranteed to receive high-quality artwork every time. Overall, this will help you remove some common fears and objections customers might have about buying from you if they've never met or spoken with you before. By letting them know you're partnered with an art marketplace online like Displate, you'll immediately gain their trust and give them all the more reason to buy your art. It's a sweet little sales hack!
5. Our network is your network.
To be a successful artist, sometimes it's more about who you know than what you know. To get lots of sales, one thing for certain is that you need to have a large network of potential buyers to promote your artwork to. Unfortunately, this isn't always easy to obtain by yourself whether you're a beginner artist or you've been at it for a long time. However, when you partner with Displate, you'll instantly gain access to our network of shoppers that's comprised of millions of customers who love to buy art.
6. You'll have a team of customer service professionals to talk to your customers for you.
The people who buy your artwork through Displate's Marketplace may have questions about the price of your design(s), its quality, how it's packaged and shipped, or how to install your artwork in their home or office for decoration. In all such cases, Displate will handle your customers' queries and do all the talking for you so you can focus on what you love doing most — creating more art!
7. You will have commissioned Art Agents who can sell your artwork for you.
With Displate's Share & Earn program, anyone can share links to your artwork online and earn up to 25% commission from the sale. You'll automatically earn money from these affiliated sales, too, if you're the artist. Overall, no matter how your art gets sold, it's nice to know that Displate gives you more ways than one to earn money from the sale of your designs!
8. Your artwork will decorate 350,000 homes and offices all around the world.
Just knowing the fact that your artwork is literally hanging on your customers' walls will give you one of the greatest feelings of accomplishment an artist can ever have. Thankfully, Displate can easily make this dream of yours come into reality.
10. You will scale your art business from home.
If your dream is to start an art business from home, teaming up with Displate could be one of the best choices you ever make as an artist. In essence, we'll help you quickly reach and achieve your goals because we facilitate the process of merchandising, marketing, and selling your art online. This gives you back precious amounts of time and energy that you can apply to create more art for sale so you can finally scale and grow your business.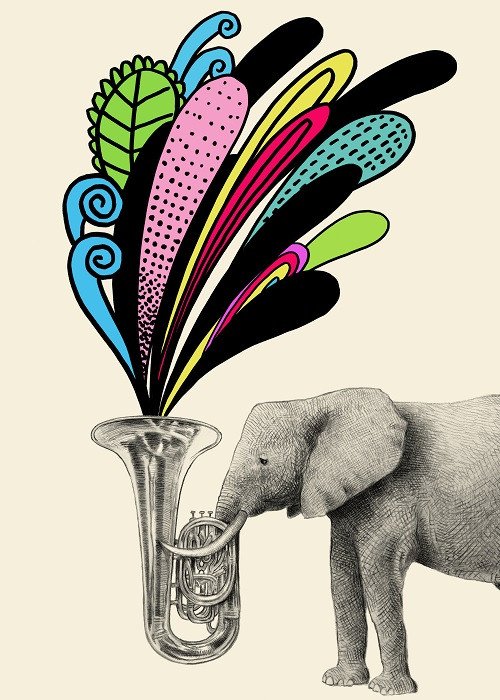 Final Words
The internet is full of ways to help you market your artwork to customers.
In fact, you have a range of advertising options.
In most cases, however, the only true way to discover which marketing tactics will work best for you is by trying them out yourself.
By including Displate and its unique print on demand services as part of your overall marketing strategy, customers can buy high-quality metal prints of your designs on demand.
That's more sales and greater profits for you.
Which of your original designs do you want to promote as high-quality prints on metal first?