If you've ever seen at least one fantasy movie in your life, you've experienced the magic of concept art. And if you're into gaming, sci-fi, even kids' animations, you're aware of how much work and skills it takes to create the imaginary environment. This creation, called 'matte painting,' is the result of months of hundreds of designers working to take our breaths away.
While it's essential to have excellent art skills, the concept artist needs to know how to work with a computer. They create photorealistic worlds, so their experience in painting, architecture, interior, and graphic design is often a standard. By making different characters, environments, buildings, creatures from scratch, they pull us into the fantastic universe, imagined yet so real.
We're lucky to host self-motivated, open-minded and professional creatives, who brought their ideas to life and left us nothing but speechless. We asked the best of them to speak for themselves, so scroll down and explore their passion.
And if you're a concept artist yourself just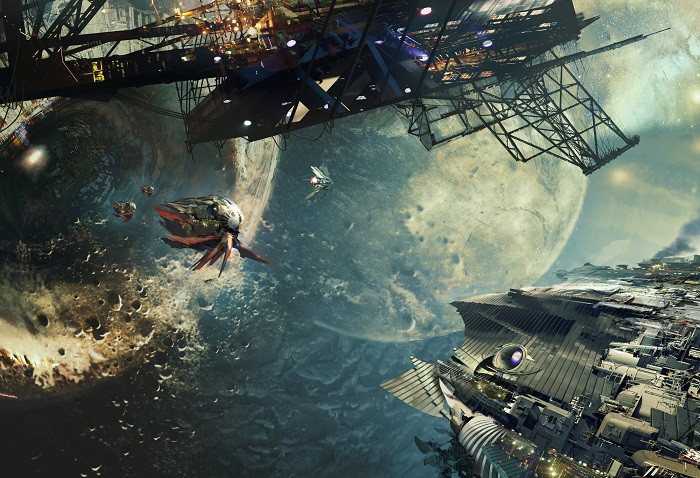 Daniel Dociu is an award-winning, professional video game art director and concept artist with years of experience. Born in Romania and based in the United States, he's had his hands in such games as Fifa and Guild Wars. Before jumping into the interactive industry, he spent end two years working as a toy designer in Athens. After ten years of working in ArenaNet, he's now a present Director of Art in Amazon Game Studios.
This Los Angeles based concept and matte artists is a genius of bringing to life epic creatures and building fantasy environments. So real we almost believe they exist.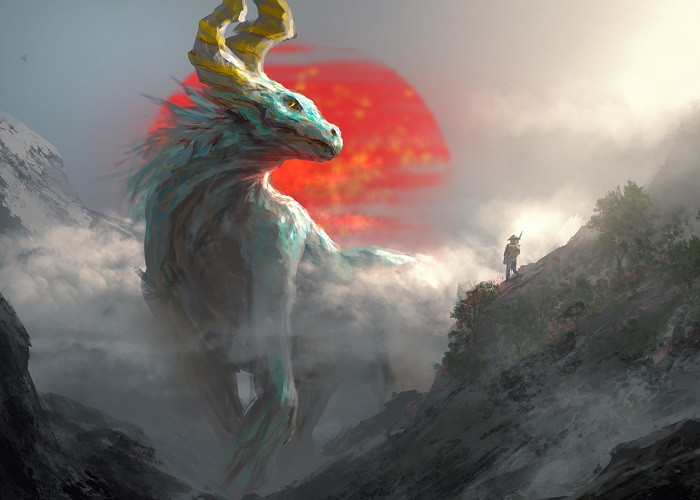 Born in Vietnam, the country with a mindset of artist = starving. But the art was a hobby I've loved since I could remember. I don't really know what's going on around while I'm in the process of doing art. Sometimes I spend hours and hours creating, without realizing how much time passed. I guess that's what people call patience in art, but to me, time is irrelevant when it comes to doing art.
I was lucky to come to the USA – the land of easiness and where your art career can be real. I attended the Art Institute of Dallas in 2004 to learn 3D modeling and concept art. I did not learn much, if anything, during that time. Luckily, the Internet and Gnomon tutorial DVDs existed, and I learned all from there. Upon graduation, I was lucky to land a job at a game company Gearbox – Borderlands yayyyy! It was the actual start of my artistic career. While I was there, I was doing 3D modeling and texturing, concept design, and then – matte painting.
Ferdinand is a Fine Arts graduate and had time to study Architecture as well. He started his career as a traditional painter, found his way on becoming a concept artist and illustrator then began working for gaming companies.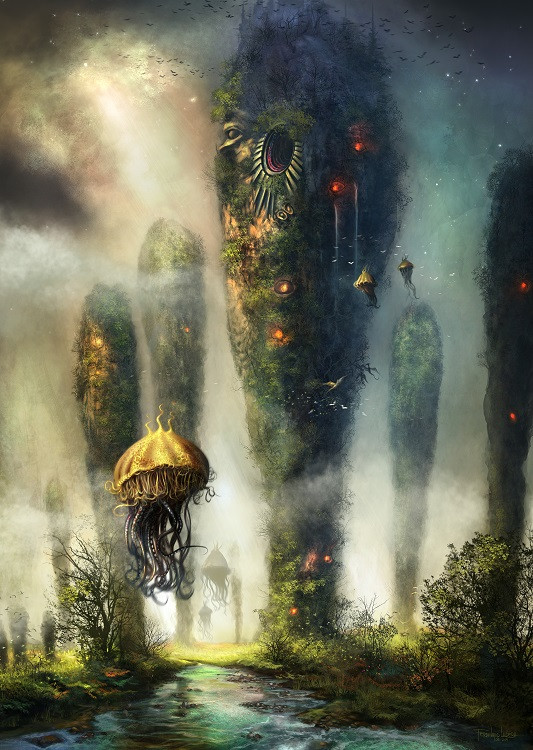 I'm highly interested in making fantasy environment and classical architecture concept getting my inspiration from a lot of things like nature.
I'm into fantasy movies, and photography is one of my hobbies, I gather references from my gallery and start the idea from there. I start some of my paintings with a 3D model reference and then paint-over to make it look like it's a painting.
I want people to see that unimaginable things can come true just by looking at these artworks.
Grzegorz Rutkowski may not need any introduction, but for those, who somehow, overslept his priceless presence in the concept and gaming art world – he's a total, indisputable savage. Living his life in Płońsk, Poland, he's made dope series with Magic the Gathering, which might as well take away the breath of a… dragon.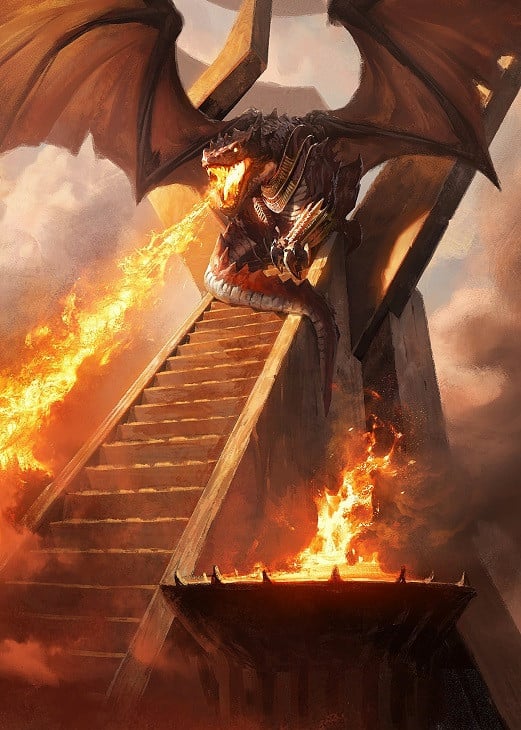 In my early career, I was inspired by Tolkien and Peter Jackson (Tolkien for content and Peter for the image/cinematography). It had the biggest influence on my art career. Right now, I'm inspired by books, movies, soundtracks, other artists and even by the world that is around us. Again, it's hard to choose one, but I'm drooling, while I see some new artworks from Piotr Jablonski, Jamie Jones, Craig Mullins, Sergey Kolesov and many more, which unfortunately I can't recall right now.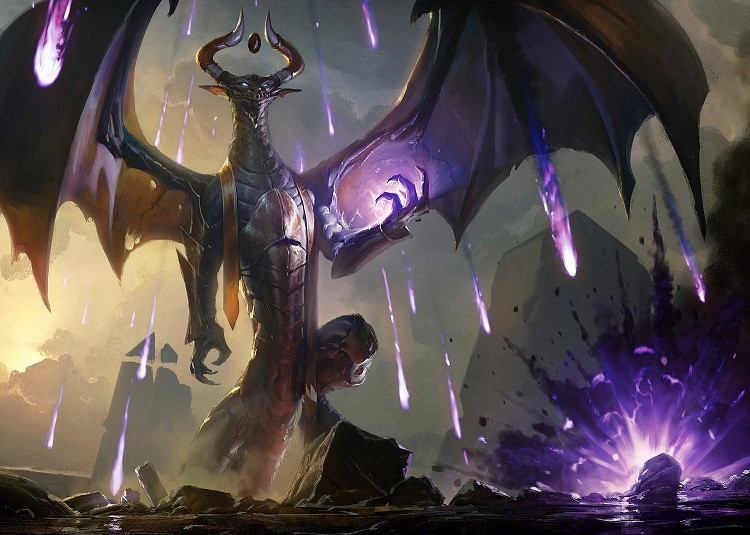 My collaboration with Magic the Gathering started very simply. They just wrote me an e-mail about a possible partnership, and since I love fantasy, the choice was obvious.
He's an American illustrator living in Canada, who studied illustration at the Alberta College of Art & Design and have been freelancing or working in-studio since then. He is fascinated with the line between the real and unreal, and art has a way of blurring the boundaries between the two. Practiced magical realism from a young age, and it's still his favorite genre for exploring that boundary.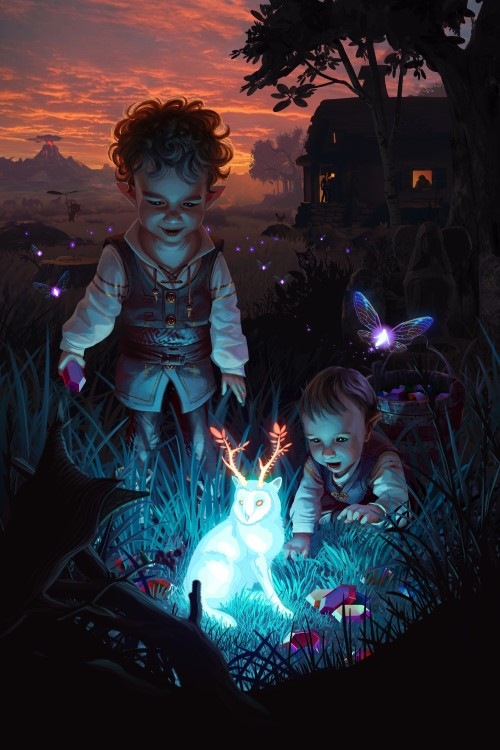 Even though most of my work is very conceptual, my process usually begins with something much simpler: color. I'll start with a color interaction that interests me, and from there I'll build concept and composition.
I have a vast library of inspirational material that I've built up over the years, most of it photos or artwork with unusual shapes or color palettes, and when I'm feeling stuck I'll look through it for motivation. The concepts usually come from my interests in current events, literature, and experiences within my own life.
I feel like I have a responsibility as a content-creator to consider the impact my work will have on others, and when I use my work to communicate something, I try to research the subject and consider other perspectives before crafting that message.
Believe us or not, this Portuguese artist is self-taught.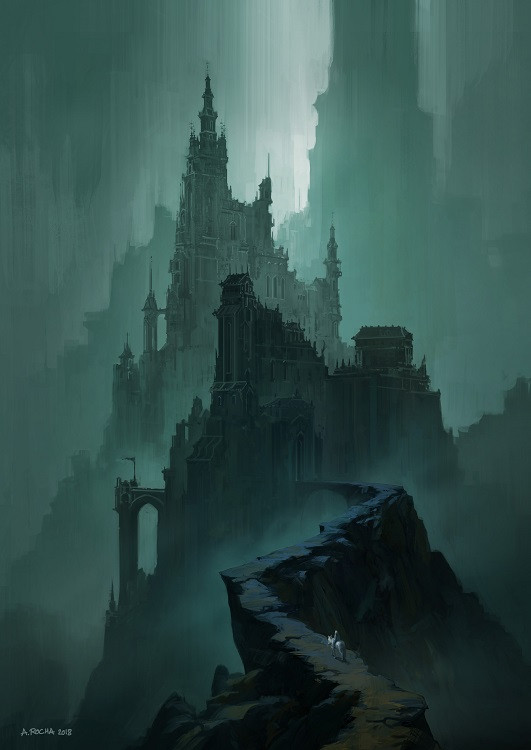 My ideas are a mix from references from all the things that surround me. These could be places I visited recently or in the past, artwork from other artists, magazines, photos on the Internet, movies…I take it all in and then things usually start from a very vague idea and organically evolve from there.
I try to make my environments as fantasy-like as possible, but I also ground them on reality, so they are more veritable. But, they rarely reference from just one image, but I keep "real" references nearby to make the setting believable.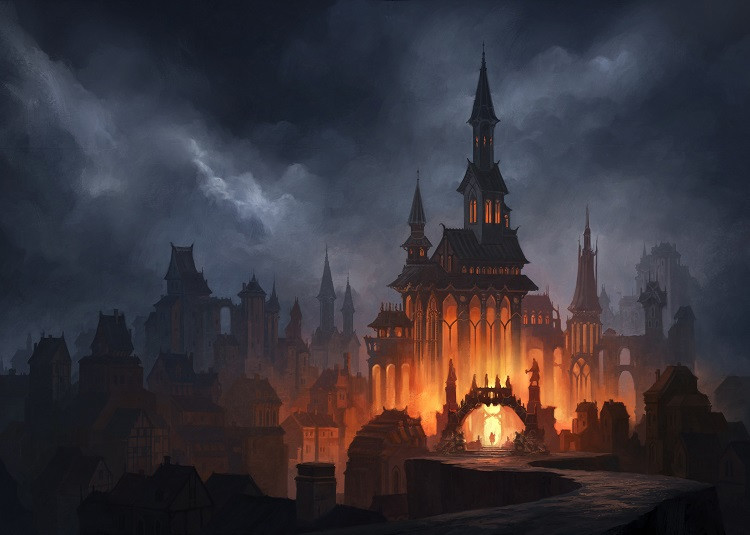 I used to paint characters in the beginning but that slowly evolved into environments which is what I picture exclusively now. I am not good at painting characters…but there are so many things to paint around the environment theme that I don't see myself painting anything else.
Wilson is an architect, but we strongly recommend him making digital painting his main thing.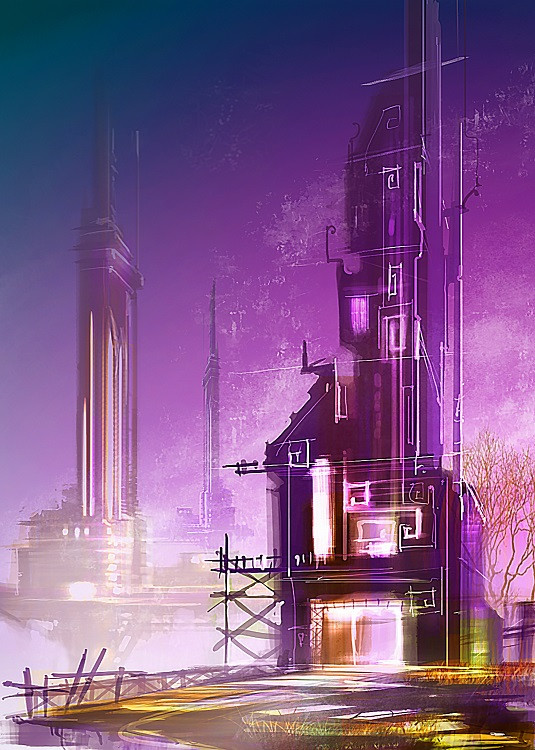 I'm a Filipino. I am an architect by profession and an artist as my hobby. Well, yeah I guess I am self-taught cos didn't go to art school. It's just that my skill in sketching and painting developed over the years of hard practice… yeah practice.. literally every day.
There's nothing more fulfilling in life than doing what you love. Art is my passion. I usually create environment concept scenes like out of the ordinary, fantasy, and characters. Also, I love to do portraits…I use digital media as well as traditional methods.
artstation.com/darknifeartchive101
The other world has to be cryptic, enigmatic and spooky and that's how Michał Karcz imagines it. After graduating from the School of Art in Warsaw, he continuously discovers the parallel worlds, mixing photography with digital painting.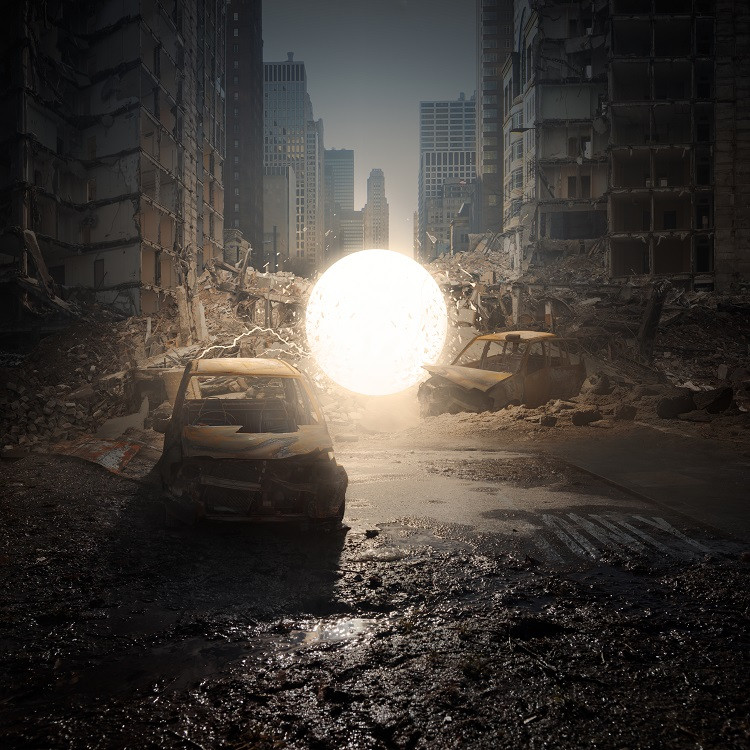 I must say that music and dreams have the most significant impact on my work. They are integral elements that always accompany me and which occupy my mind. They are like sound illustrations for non-existing sceneries and moments. Nature around me is also a powerful stimulus. Processes, complexity and its beauty affect my imagination. Close contact with every part of this planet.
My inspirations, themes, mood, composition, color usage also come from painters, especially from Zdzisław Beksiński, John Martin, Caspar David Friedrich and some futuristic visionaries like Moebius or Syd Mead. They are always somewhere around me, and their spirit is noticeable in my artworks.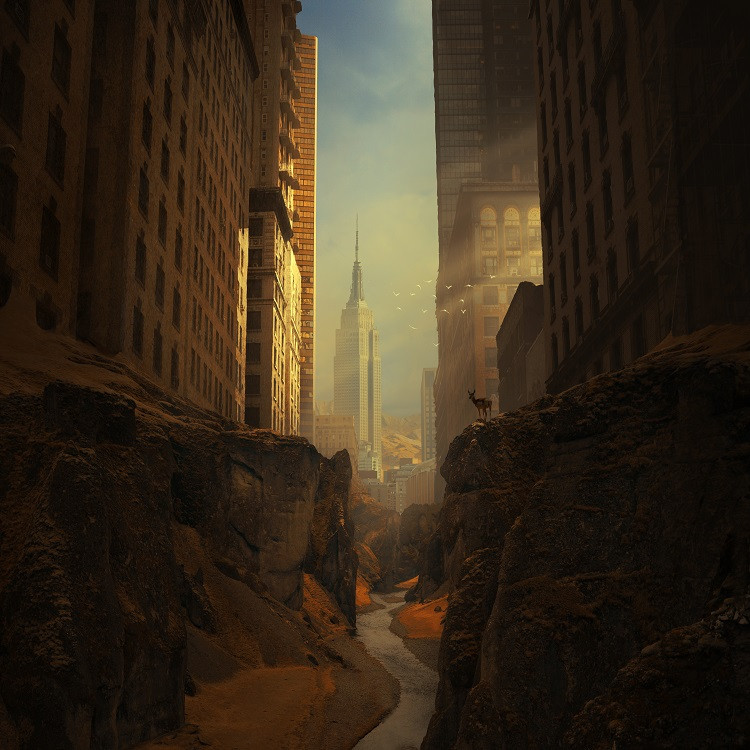 In 2004 I started my journey which lasts until now. I care almost obsessively about composition, details, and colors. I'm trying to make it as close to the first vision as I can. When I think about it now, I can say that my workflow is based on the same scheme as it did with paintings. Preparations, background, pasting of next layers.
Dramatics, frame composition, coloring, and the central theme is based many times on my fascinations with painters which I mentioned below, and I can say that I don't have any photographic role model or digital artist for now. I don't think about my paintings during my work, but for sure they have a significant influence on my approach to what I'm doing now.
If you've ever imagined living in the future, Michael Michera has some ideas. His personal project called 'Machimera' gives you the image of the world taken straight from the science-fiction movie.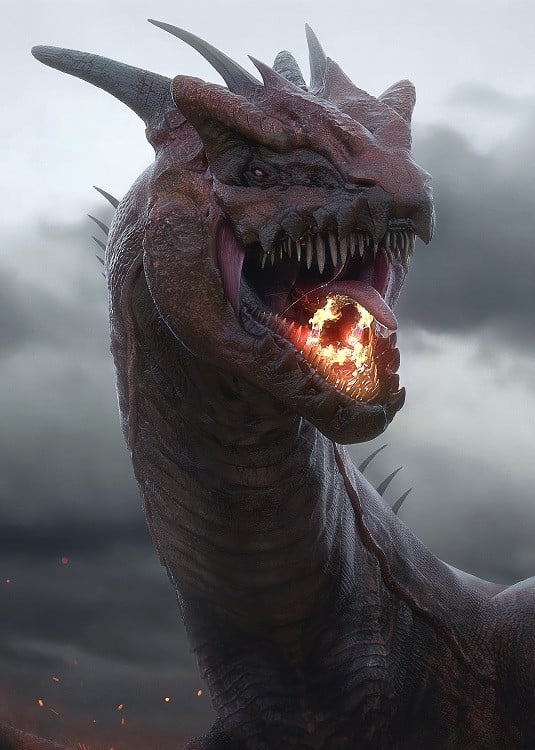 My name is Michael Michera, and I'm an artist based in Warsaw who specializes in designing machines, characters and creatures. At the beginning of my professional path I was fascinated by digital painting, but then I discovered the power of 3D art. In the end, both techniques are beneficial for my creations.
Goals help me to push my skills forward; however, I am also motivated by my past achievements. Less than two years ago I visited the United States because I won there the 1st place in the contest organized for illustrators. A few months later I had an opportunity to compete with some of the best 3D artists during ZBrush Live Sculpt-Off. Both events took place in Los Angeles.
Working with people who share the same passion is something that I appreciate, but I also use my spare time to work on my science-fiction project called MACHIMERA. The title has been created by combining two words – MACHINE and CHIMERA. It's a dark world full of robotic creatures, mechs, exciting characters and original approach to technology.
Are you a concept artist yourself? Join our community!
And if you want to learn more about selling on Displate, read our article: