Creating the perfect place to enjoy a Sunday brunch or dinner with friends and family can be a fun experience. One of the main reasons why dining rooms are so important is because they're one of the few places in a home where people can actually gather together and have a conversation. To make it an even more incredible space here's a great list of dining room wall decor to spruce up your space.
For some additional inspiration, take a peek at the following posts: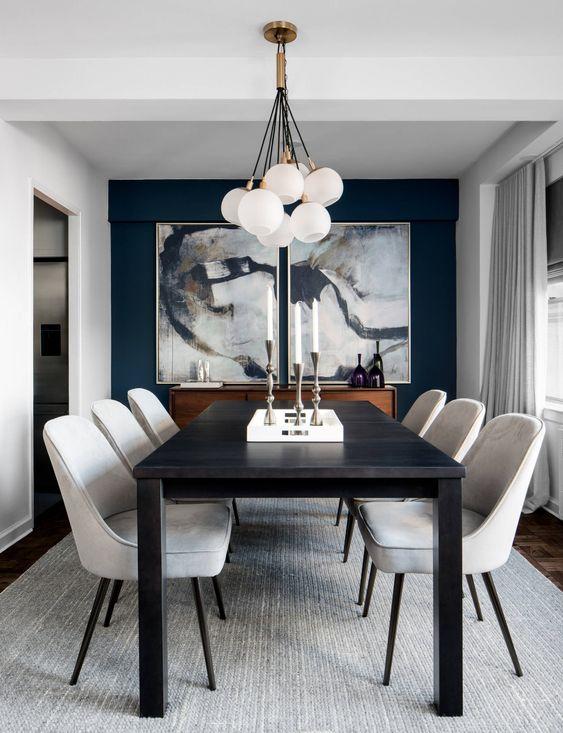 When it comes to styling your dining space walls, there are a few things you need to take into account:
the size of the room,
the type of furniture you have and
the type of décor
In this article, we will look at some of the best tips and tricks to decorating your dining room walls. Once you have that covered, your next stop will be living room wall decor, we have some great ideas for that on our blog too!
Displates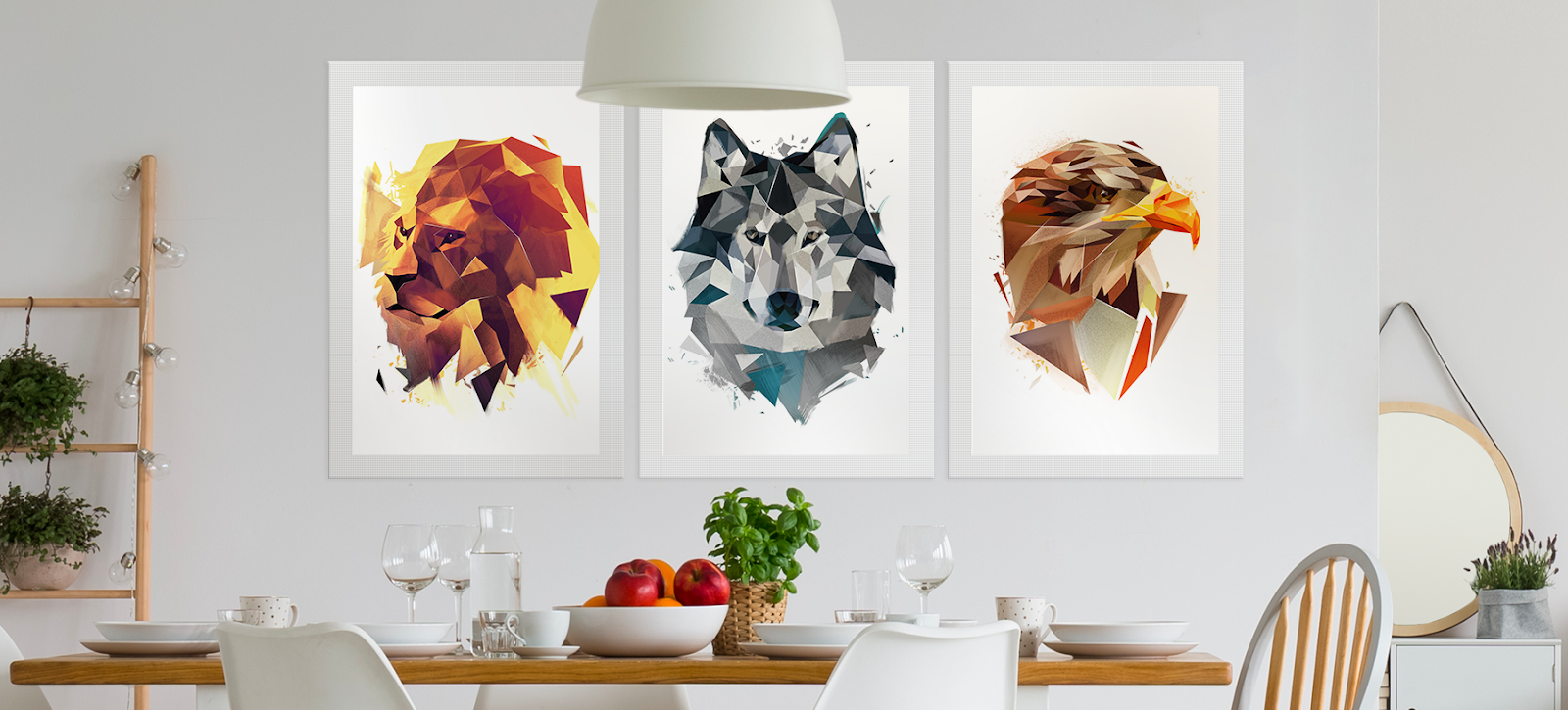 The perfect place to start when considering wall decor is to collect the perfect Displates that match your dining area theme. No need to rack your brain considering designs, the Displate marketplace has everything from nature posters to travel posters for you to collect.
Wall Art Frames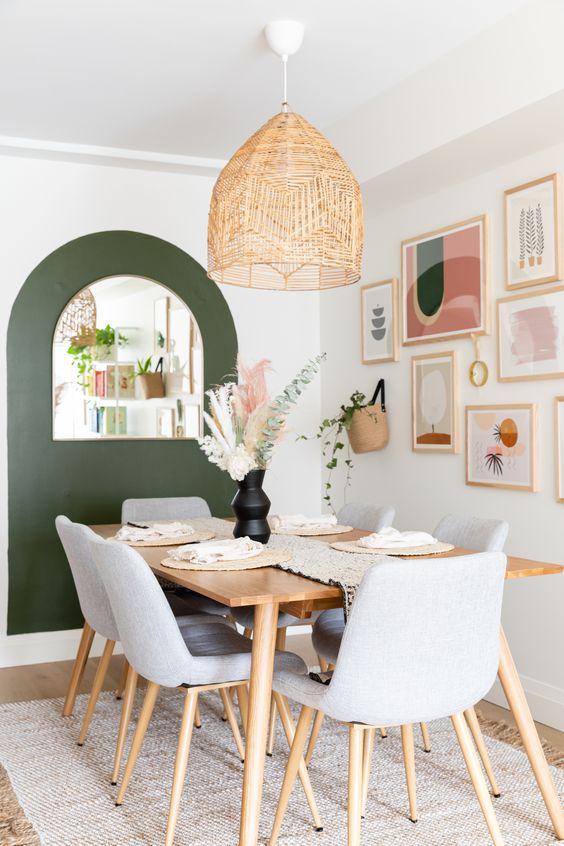 Wall decorations vary in color, shape and size. Wall art is also an excellent way to express yourself creatively while adding style and design to your home.
Accent Walls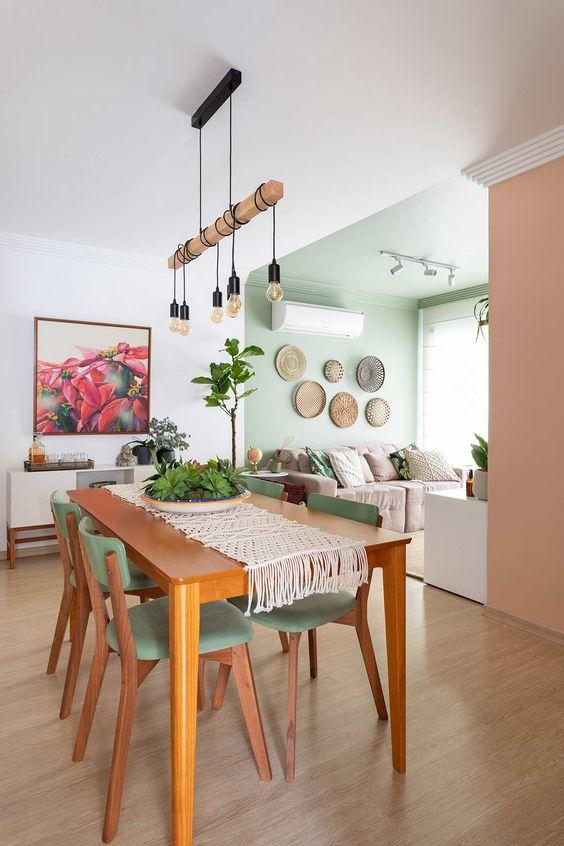 Choose to use wall decals, wall paintings, framed art prints or even 3D wall decorations if you feel like it. It all depends on your creativity and imagination!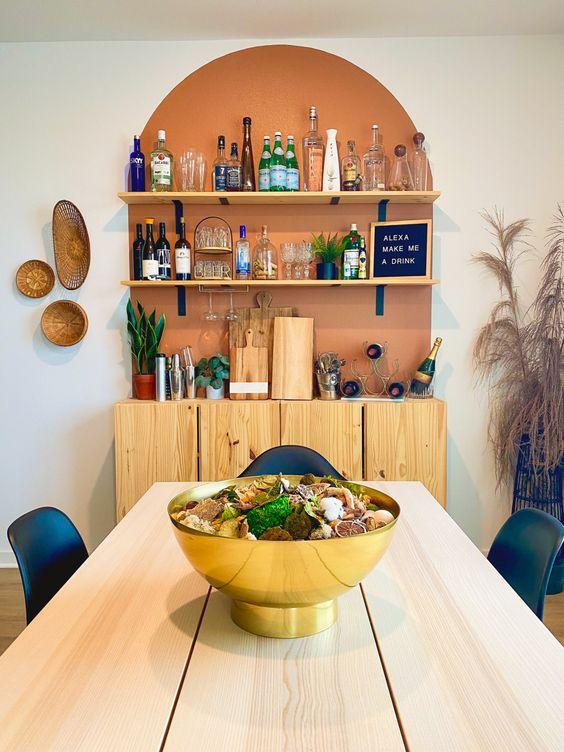 No need to be a pro designer or follow rules when creating the space you want. Everybody has some unique tastes when it comes to decorating their homes – which makes this world of interior design so much fun!
Pictures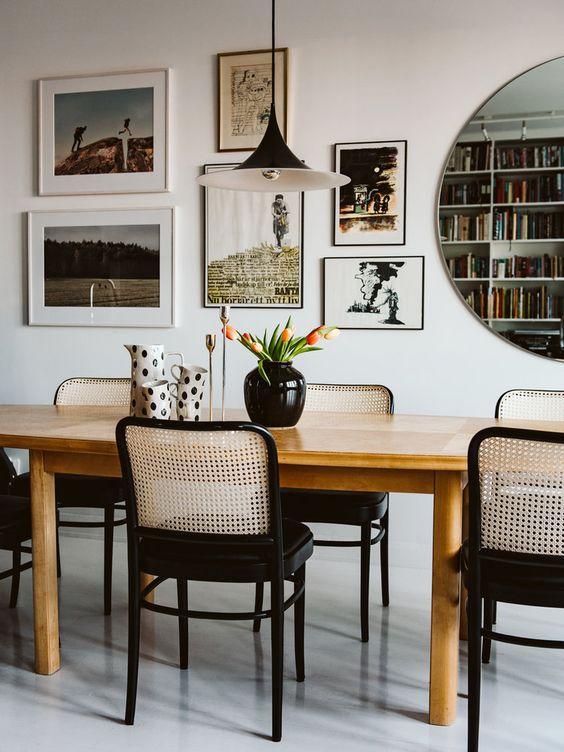 It's about what makes you happy and how you can express yourself in your own personal way. So, choose wall decorations that make you feel good and share your positive energy with everybody.
Abstract Prints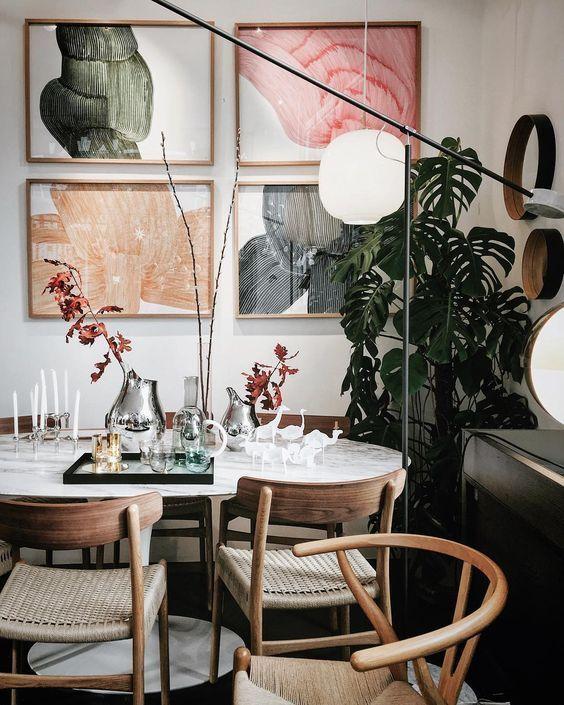 When we talk about dining room walls we need to remember that the right lighting can change the appearance of any wall decoration. It is always good to use light colors for dining rooms walls because it will not overshadow the rest of your decor.
Brick Walls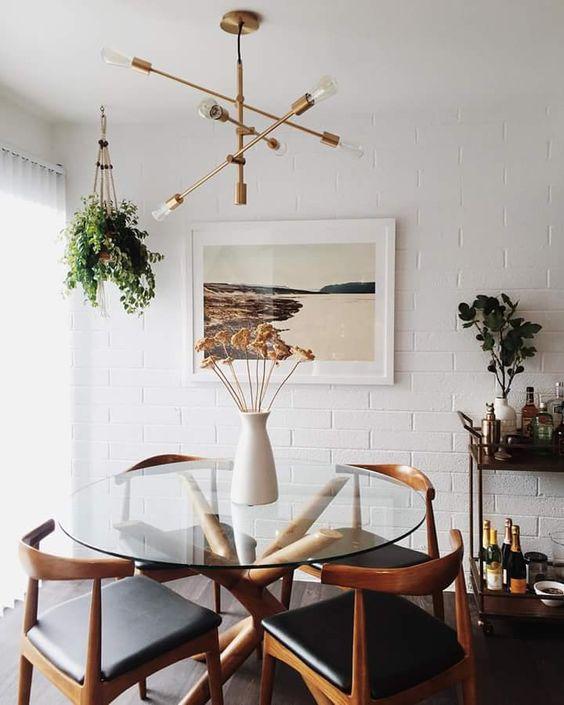 Light colors are also very easy to match with other elements in the room, such as table linens or carpet patterns that you want to accentuate. On the other hand, dark colors are more suitable for small rooms because they can make the assigned space feel cosy.
Neutral Walls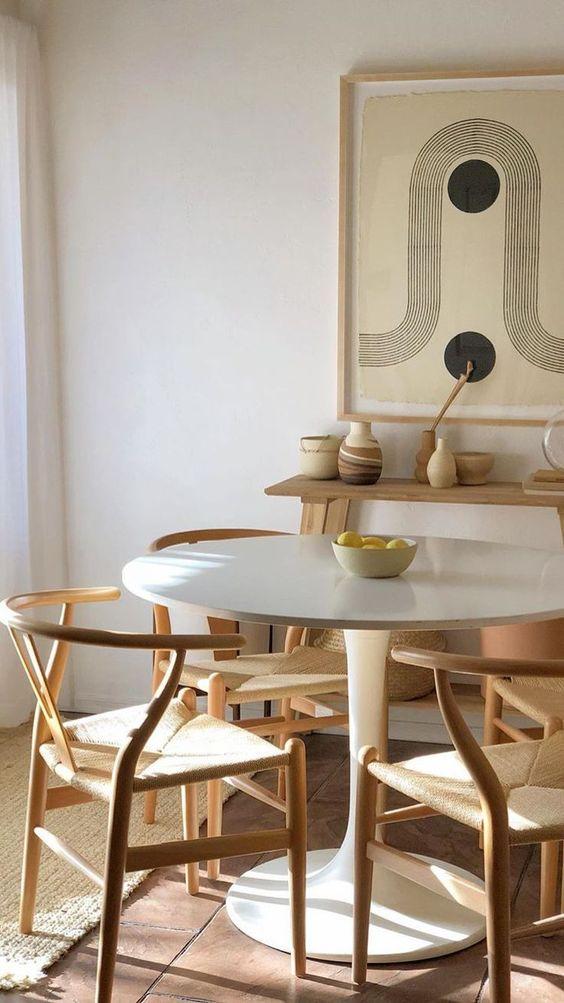 You can also keep your walls neutral and let other room elements speak for themselves. It is a simple way to set up a comfortable dining space without taking too much time or effort.
Large Canvases
It is important to remember that dining room wall decor should not take all of your attention. Keep it minimal with a touch of class.
Plain Walls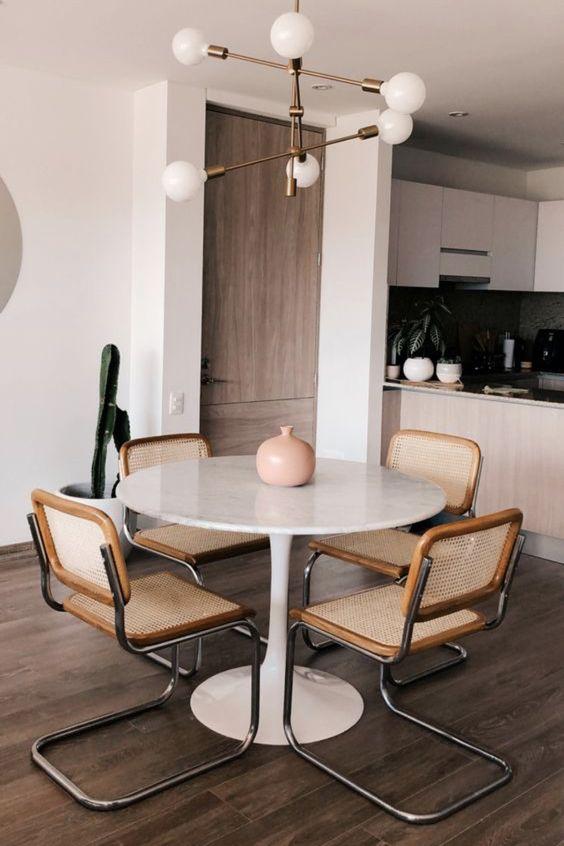 We suggest keeping the room elegantly simple and being selective with wall decorations to create a relaxed atmosphere, where everybody can enjoy tasty meals in peace.
Minimal Walls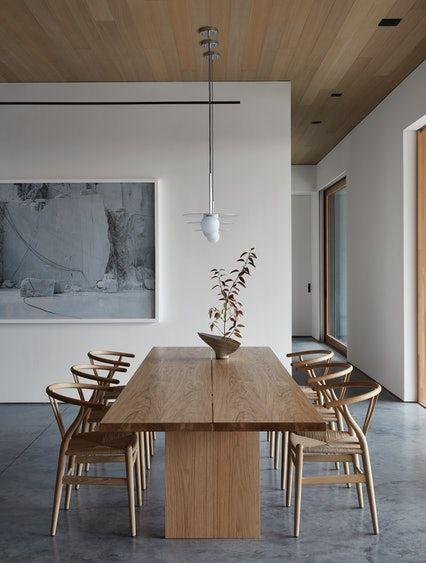 One of the most popular ideas for decorating dining room walls is using wall art or wall stickers. They can be found in a variety of designs and are easy to apply to any dining room.
Simple Classy Artworks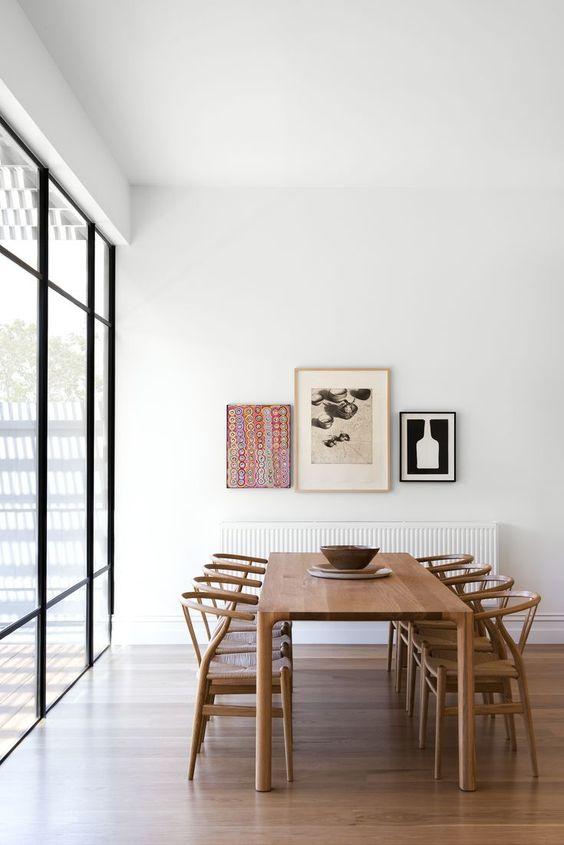 Wall prints and framed art are a popular choices for family homes because they tend to be very durable and they can hold stunning images or family portraits.
Full Wall Bookshelf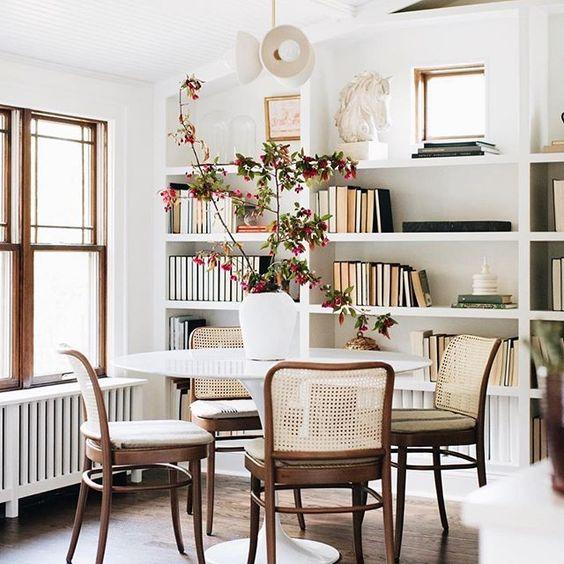 Wall bookshelves are a great way to add storage and display space to your home. They can be used in any room, but are especially popular in the living room, bedroom and home office. There are a variety of styles and sizes to choose from, so you can find the perfect one for your needs.
Monochrome Prints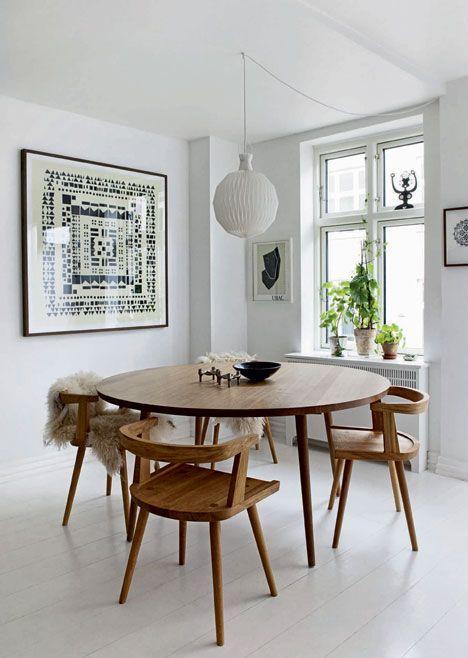 When it comes to art, you can choose any subject that makes you happy and feels comfortable for your home. For example, if you like nature – go with something related to flowers or landscapes! If you love animals, find an artist who will paint special scenery exclusively for you! Abstract art is also welcome.
Accent Bookshelves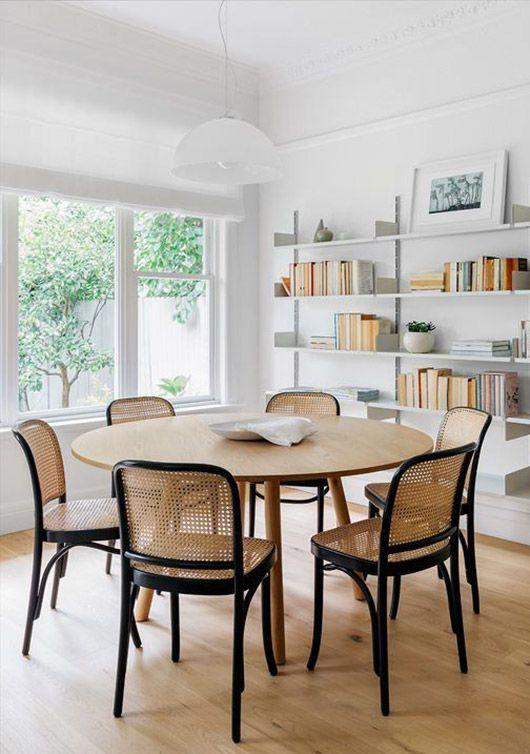 Wall bookshelves can be used to store books, CDs, DVDs, pictures. They are a great way to keep your belongings organized and out of sight, and they add a touch of style and sophistication to any room.
Embedded Shelves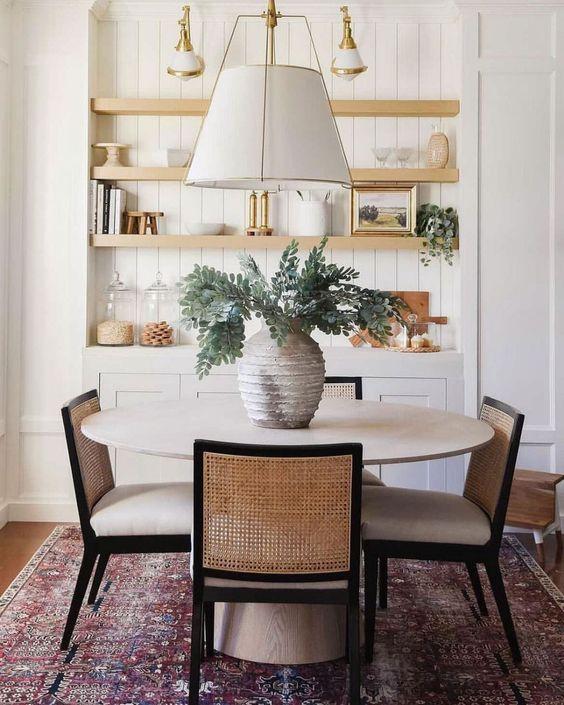 It's a great idea to match your dining room wall with the dining table to tie the space together. You can also consider a dining table matching wall art too.
Glass Walls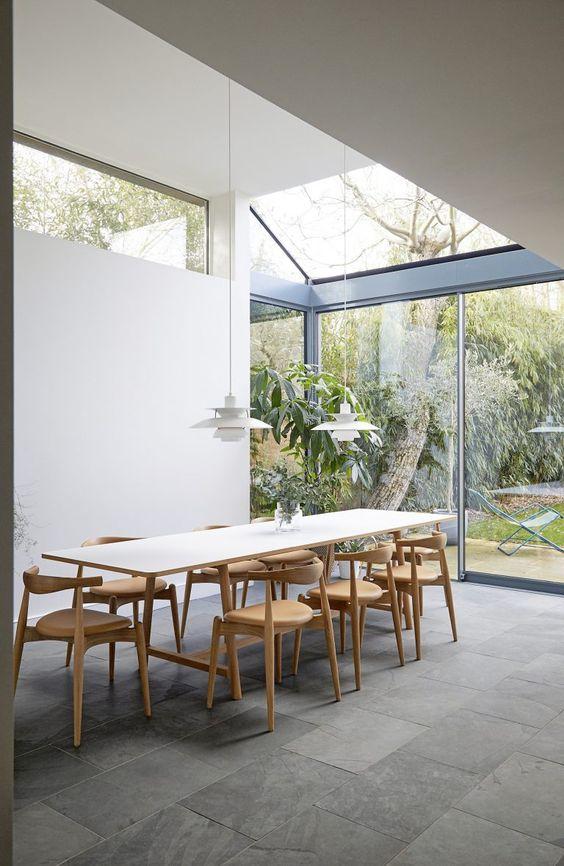 Glass walls are perfect for dining rooms that need more light. It's a perfect way to blend the indoor and the outdoor space. A great idea for your holiday home, or homes surrounded by beautiful scenery.
Dining Room Wall Art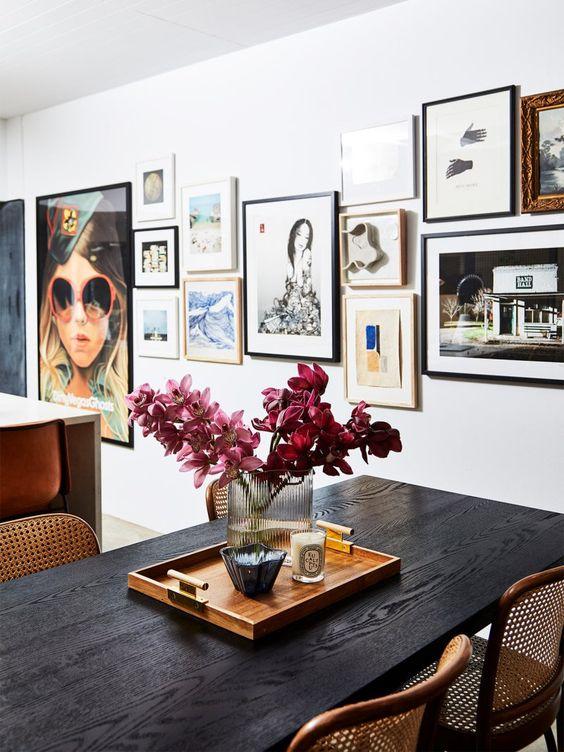 Another great idea for dining room walls is adding bright and inviting designs. If you are not artistic, don't worry – there are plenty of ready-made prints that you can choose from at your local store.
Assorted Artworks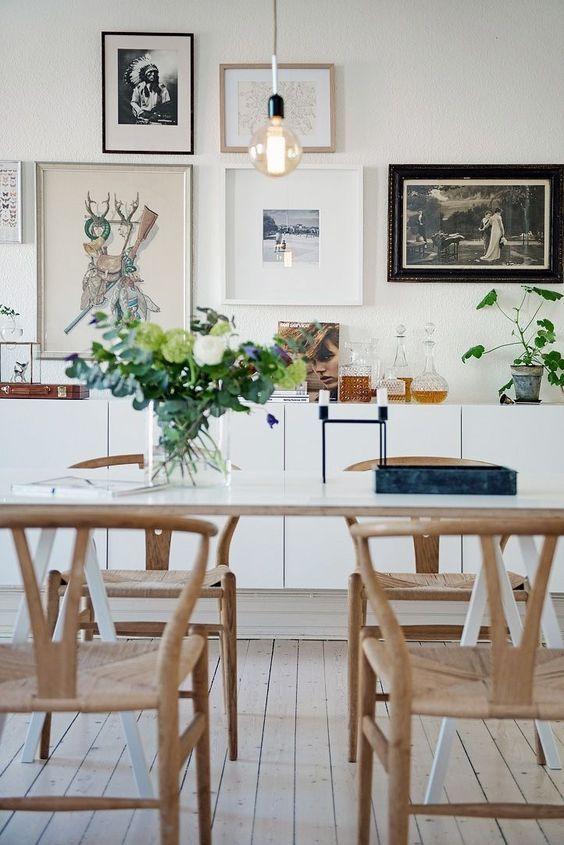 You can also ask an artist friend to create something special for you. Make sure they keep it simple so that it does not take away the attention from your dining room decor.
Blended Dining Rooms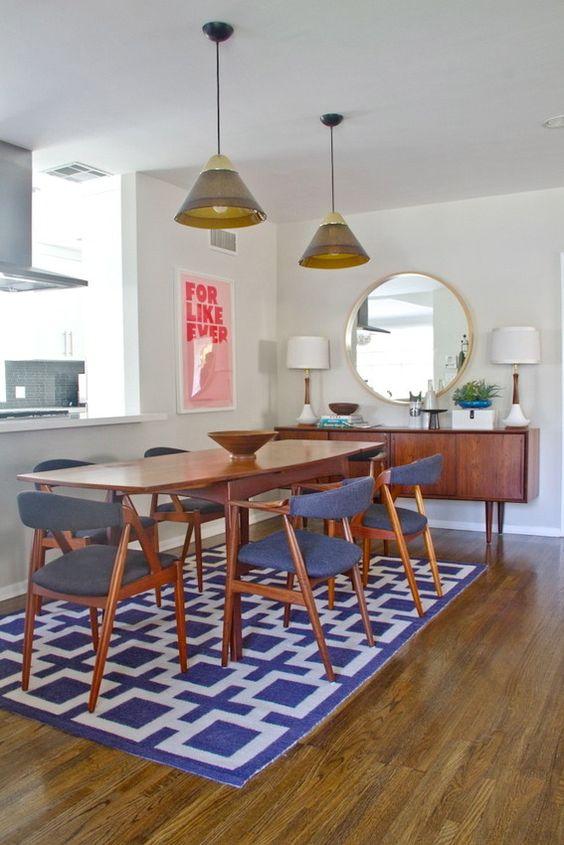 Mirrors are a great way to add some extra decoration to your home.
Stylish Mirror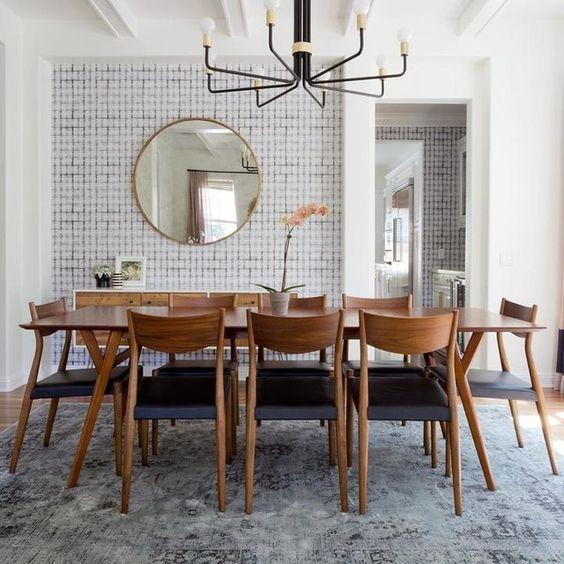 Mirrors can make a small room feel larger, and they can also help to brighten up a space.
Wooden Shelves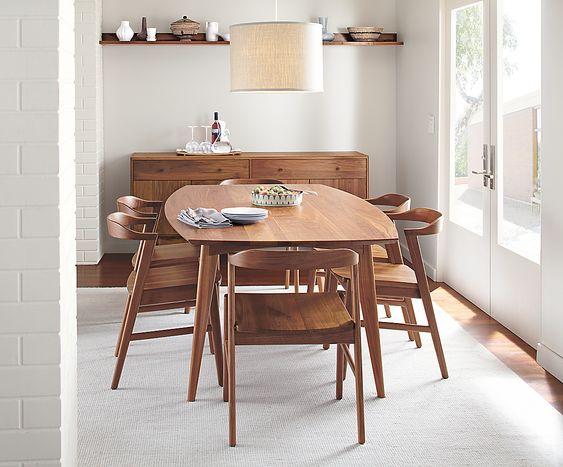 Dining room shelves can also be used to showcase your collection of plates, bowls, or other dinnerware.
Wallpaper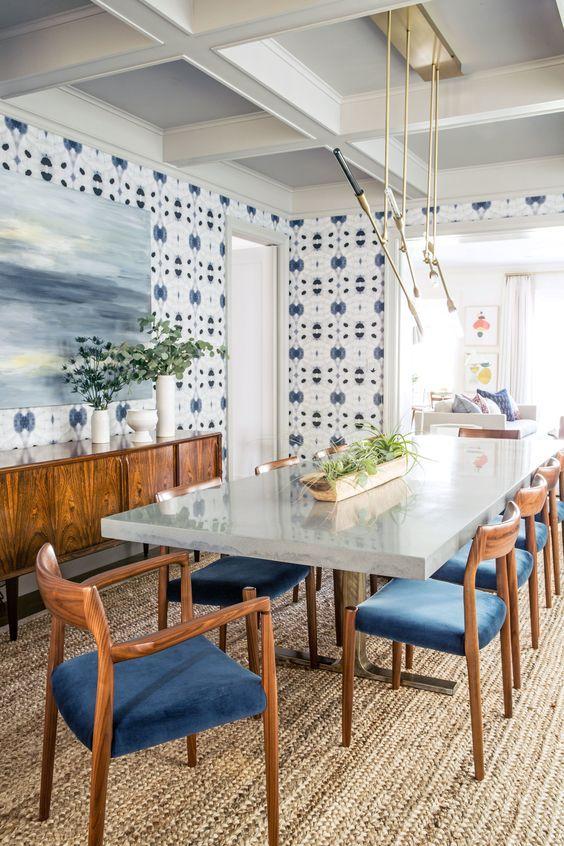 Wallpaper can be a great way to add style and color to the space.
More Wallpaper Idea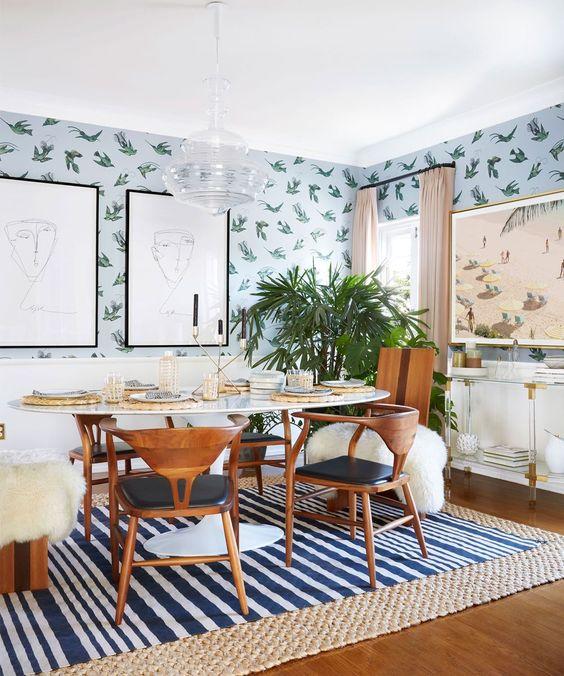 Another reason to add wallpaper in your dining room. One is that it can be very affordable.
Trendy Bohemian Pieces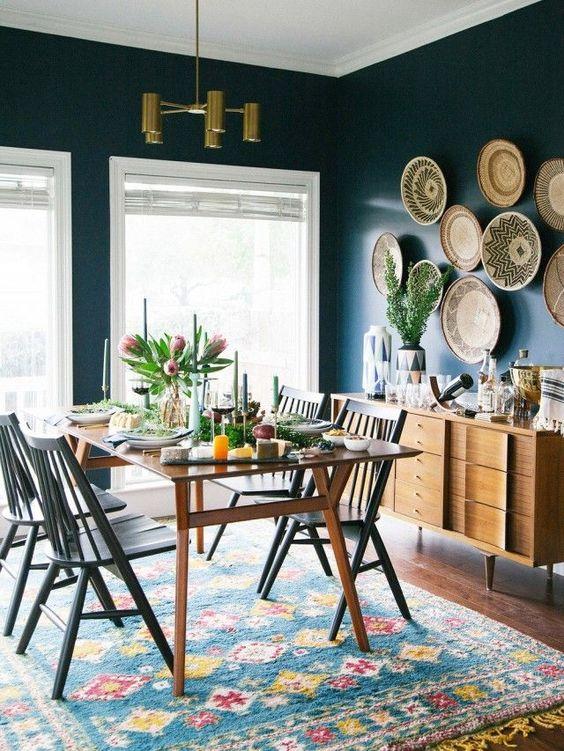 Abstract Dining Room Wall Art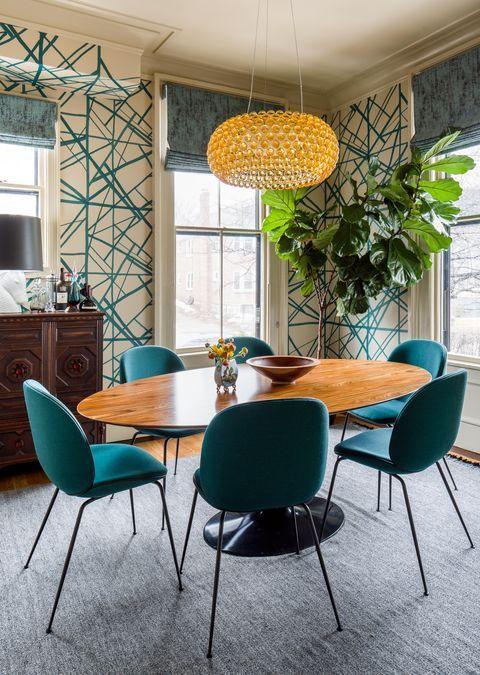 Another reason to use wallpaper is that it is very durable. It can withstand a lot of wear and tear.
Wood Panels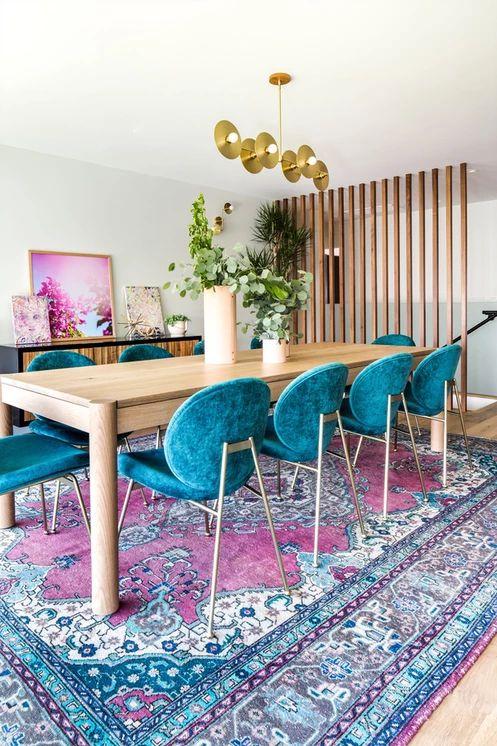 Wood panel walls can add a lot of character to a dining room. They can make the room warmer and more inviting.
Tribal Interior Design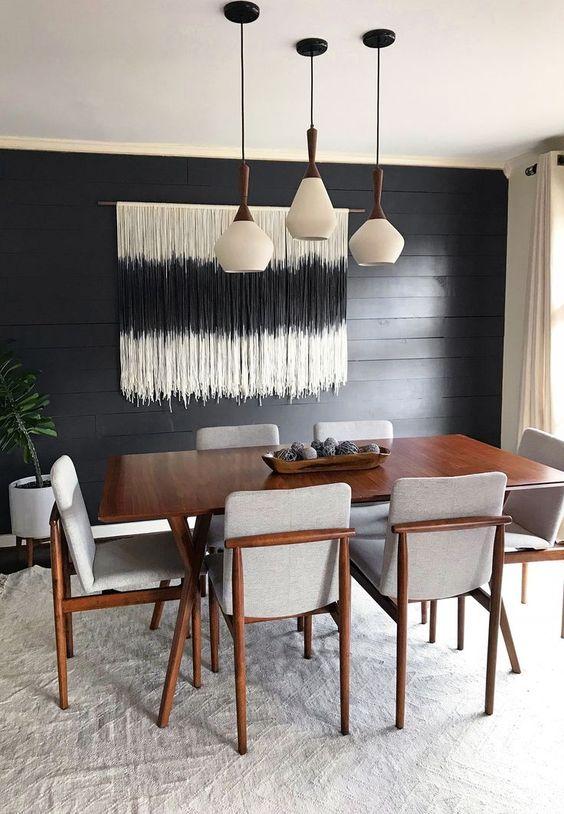 You can find prints or tapestries that feature tribal designs or patterns, or you can create your own.
Create Accent Colors with Art Inspiration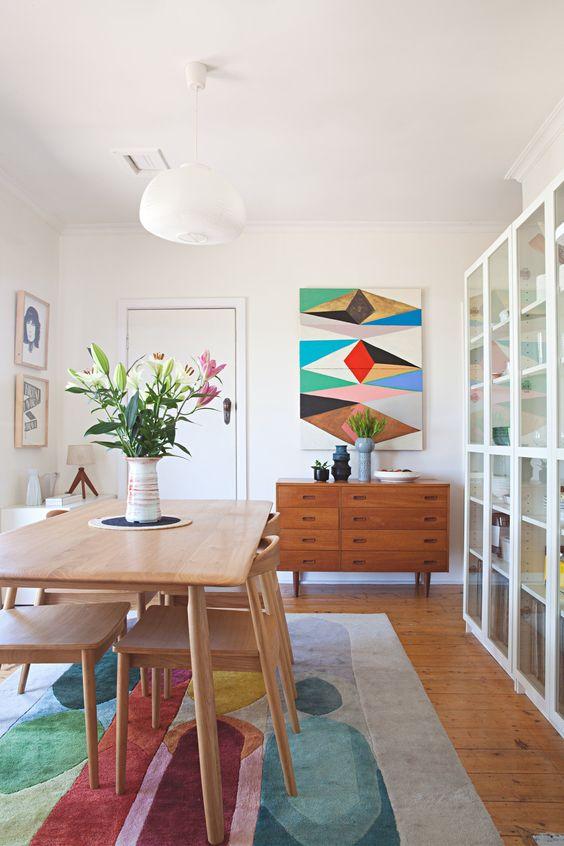 More Color Inspiration Using Furniture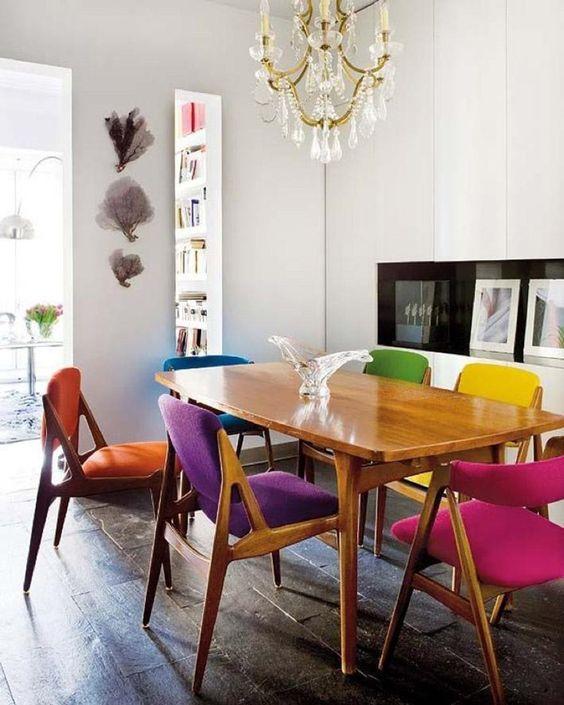 Chalk Board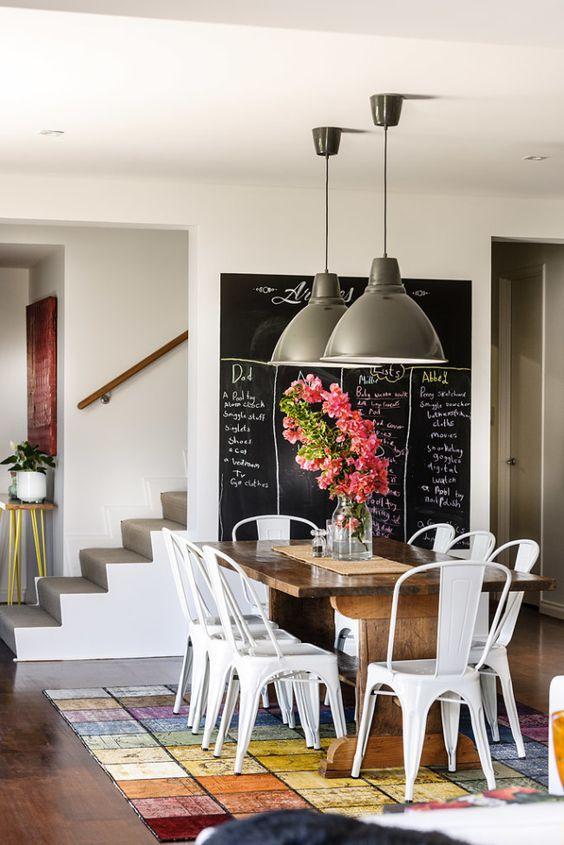 Chalkboards are a fun and easy way to dress up your dining room wall. They can be used for everything from keeping track of the week's menu to leaving little notes for your loved ones. Plus, they're a great way to add some personality to your space.
Nature Dining Zone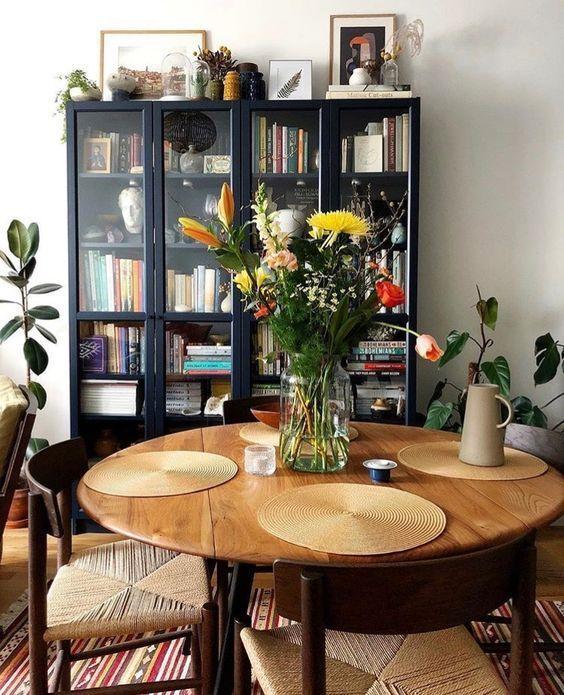 Wall cabinets are great because they offer an option for easily accessible storage space.
Floor To Ceiling Windows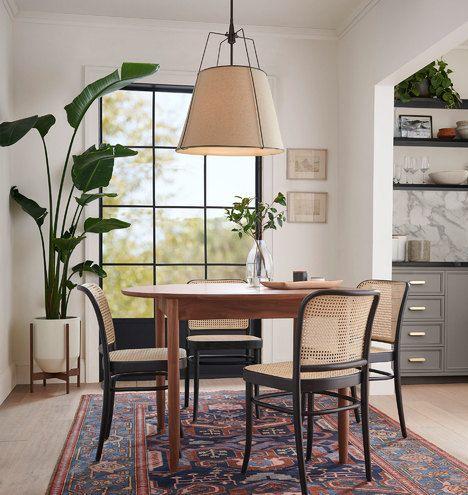 Rustic Book Shelves & Furniture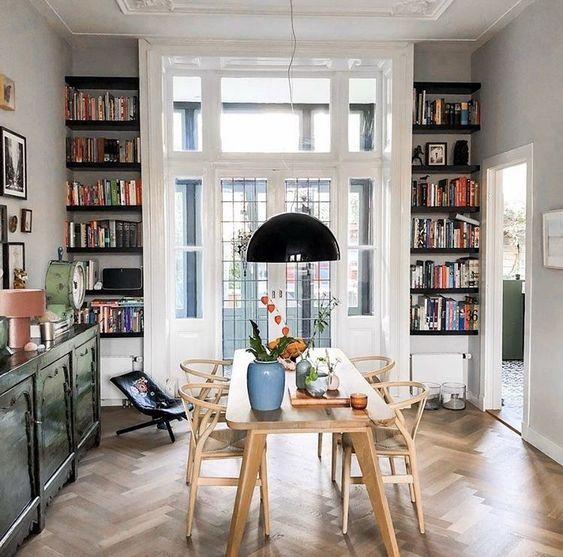 If you need access to many items without the need to search through piles of things, Wall cabinet shelving is the perfect solution.
Matching Visual Interest Frames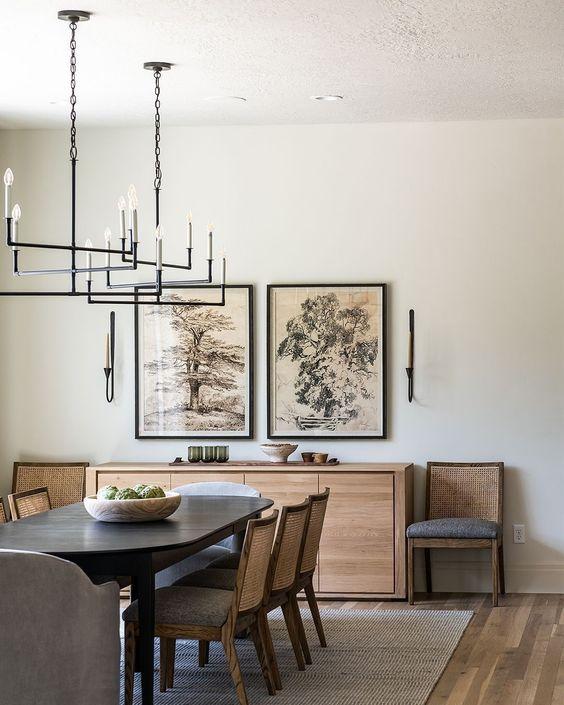 Accent Wall In Dining Area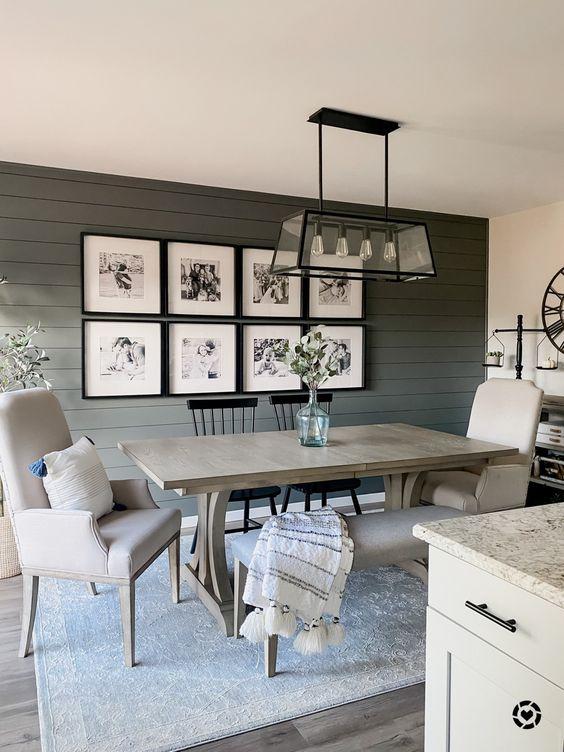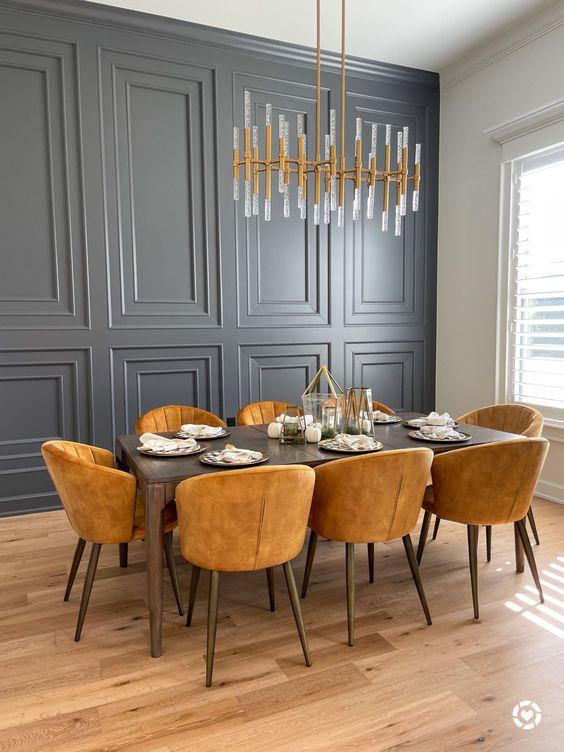 Panelled walls are making a comeback and they can add character and architectural interest to the space.
Additional Ideas to decorate your dining room walls
And now, we've got a list of some more examples that we absolutely adore. This is how you embrace the still life and keep your dining area looking stunning. From Lighting to warm ideas related to painting walls. Have a look.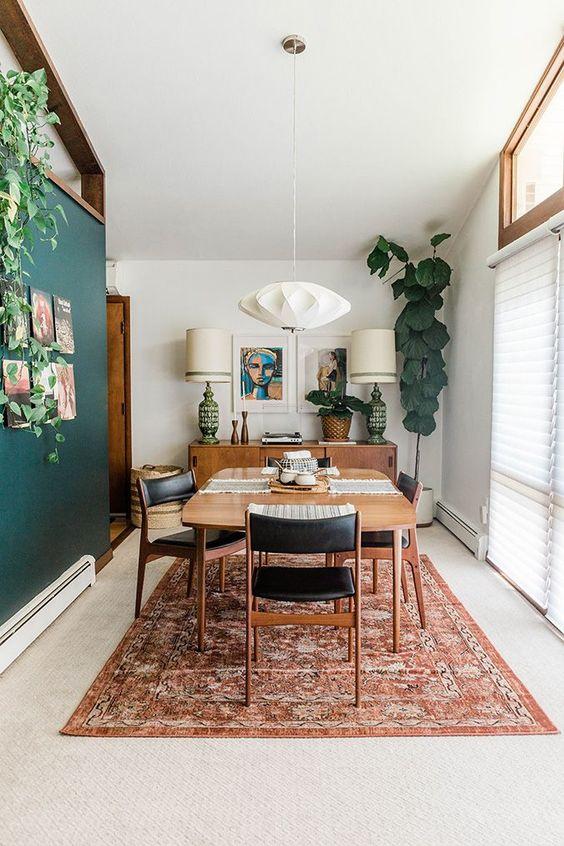 Hanging plants are a great way to add some colour and interest to a room, and make a space feel more inviting.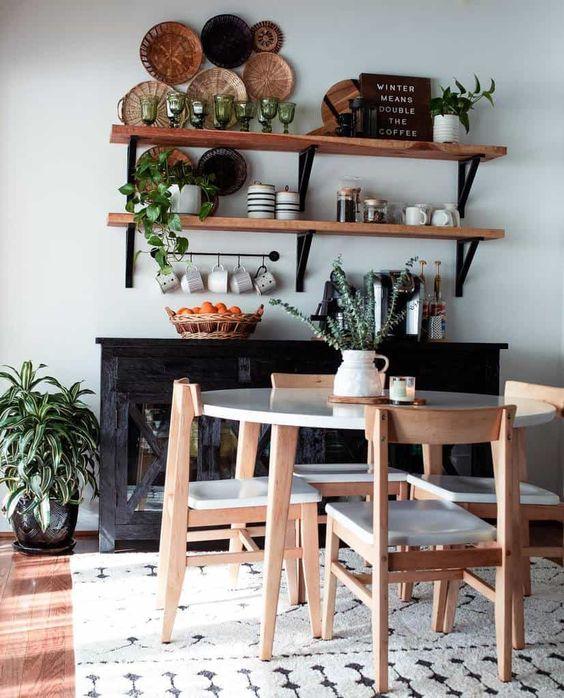 Shelving provides ample opportunities for individual style by filling up with personal objects, like collectables that make your home uniquely yours like family heirlooms.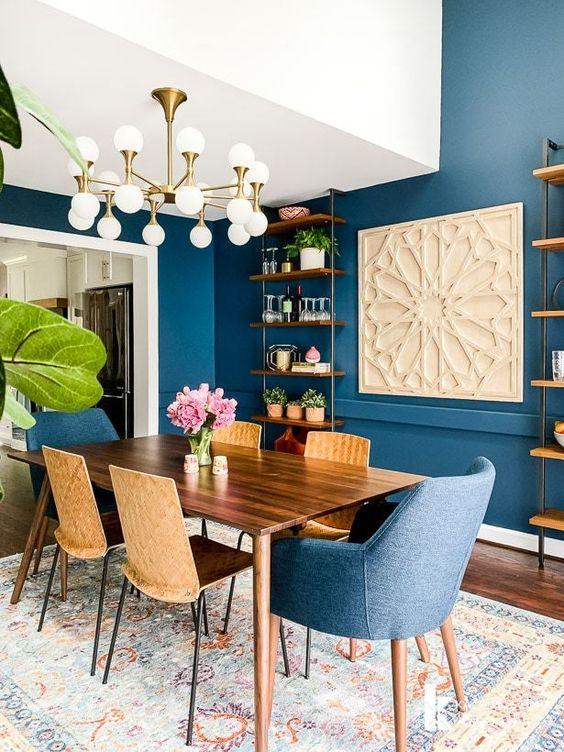 If you're looking for a simple way to add some personality to your dining room, consider adding plants as your decorating solution. They can be added to shelves or draped onto walls.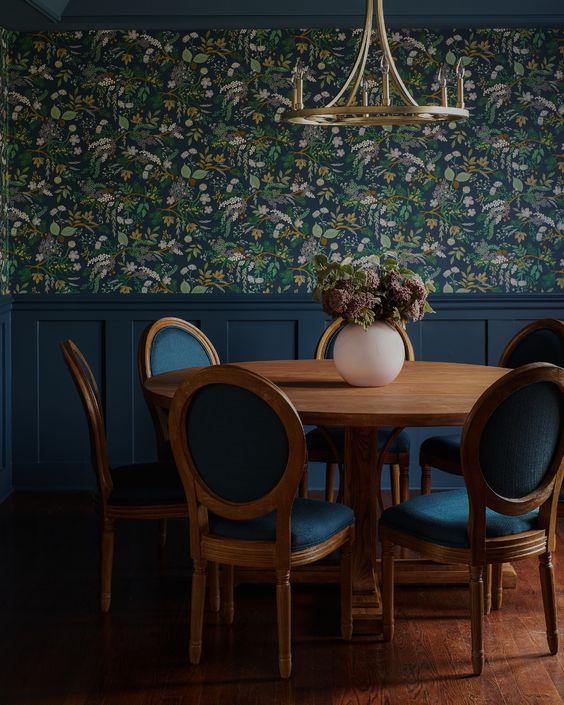 Wallpaper can also be a great way to add some texture to your dining room. It can also be a great way to add color and pattern to the space.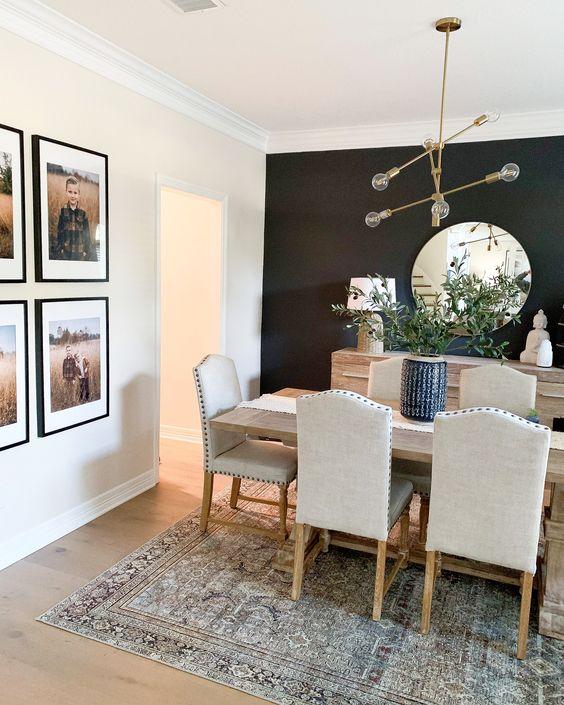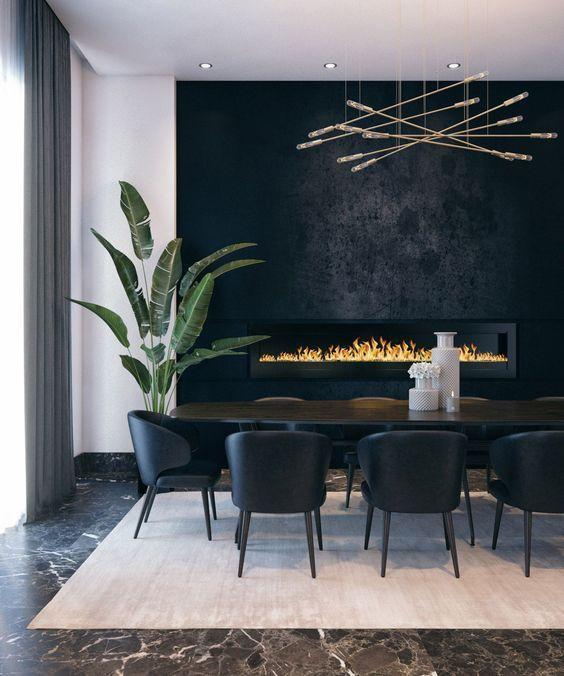 Fireplaces are a popular focal point in many homes. They provide warmth and a cosy atmosphere on cold winter nights.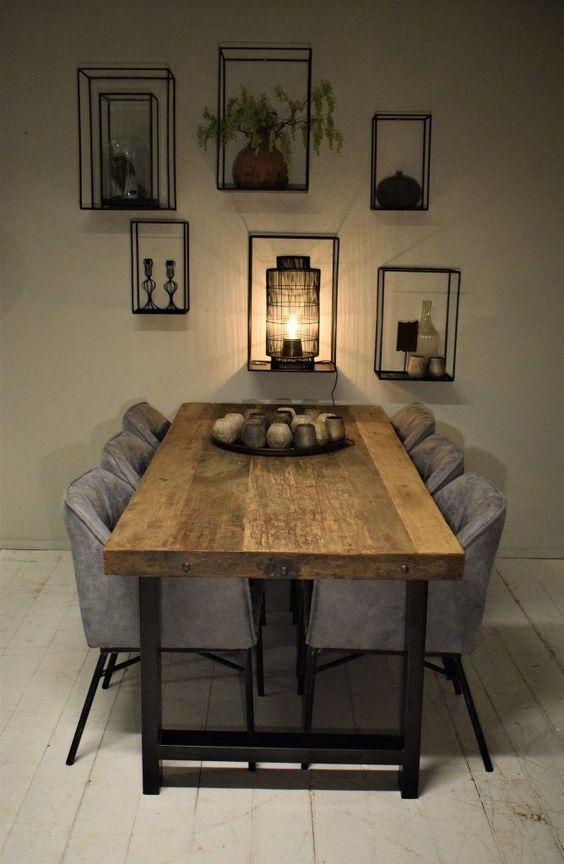 Wall lamps can be a great way to add light to a room while also adding a touch of style. They can be used to highlight artwork or to provide task lighting for reading or other activities. We love the elegant lamp on a wall shelf in the example above.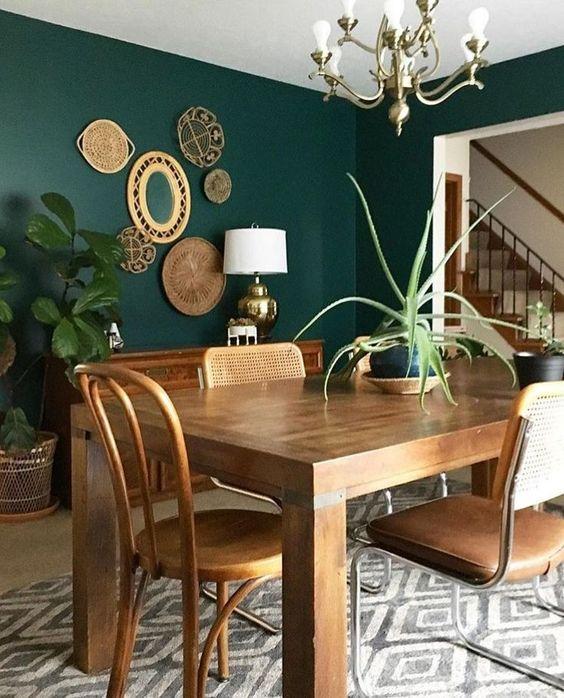 Bohemian wall decor can be used in any space of your home, including the dining room. If you are looking for a way to update your dining room, consider using bohemian style wall decor like these woven round basket sets on the wall in the image above.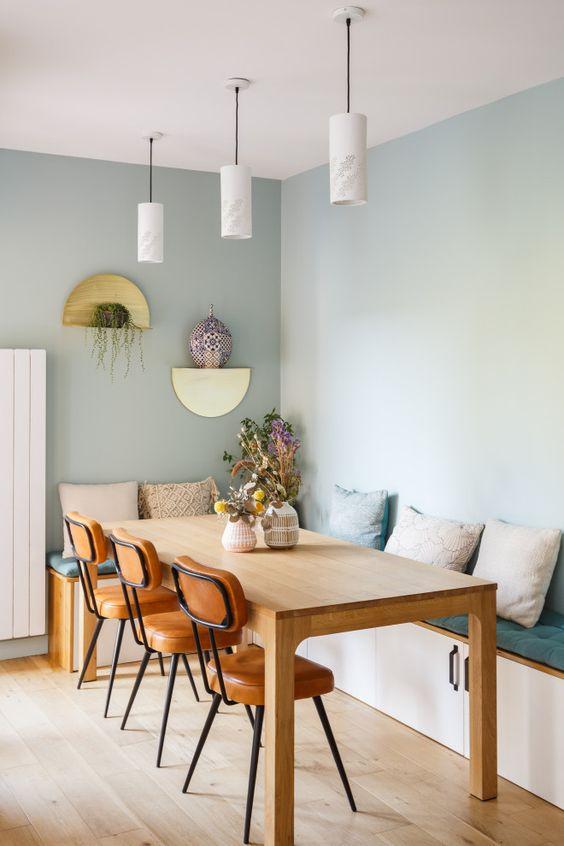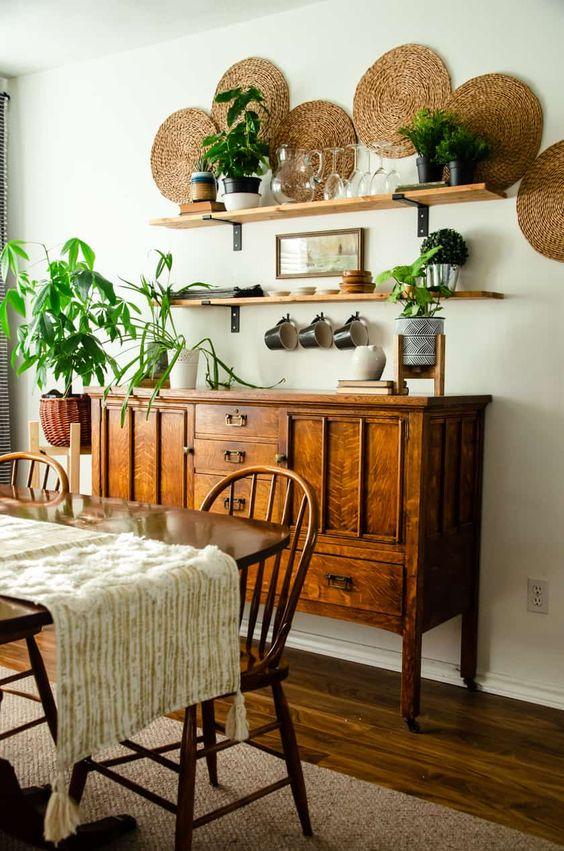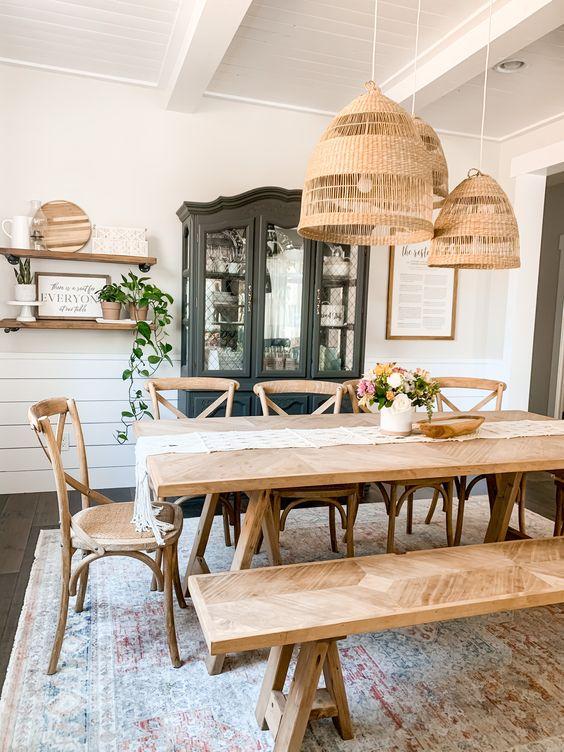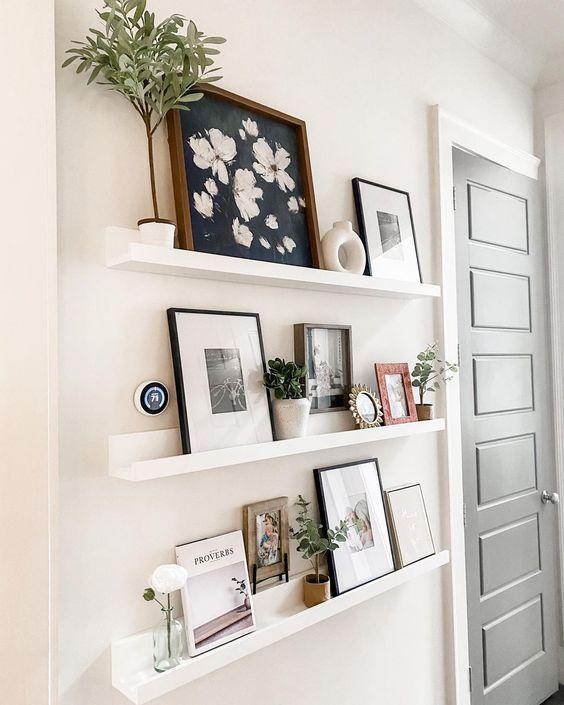 White Dining Room Walls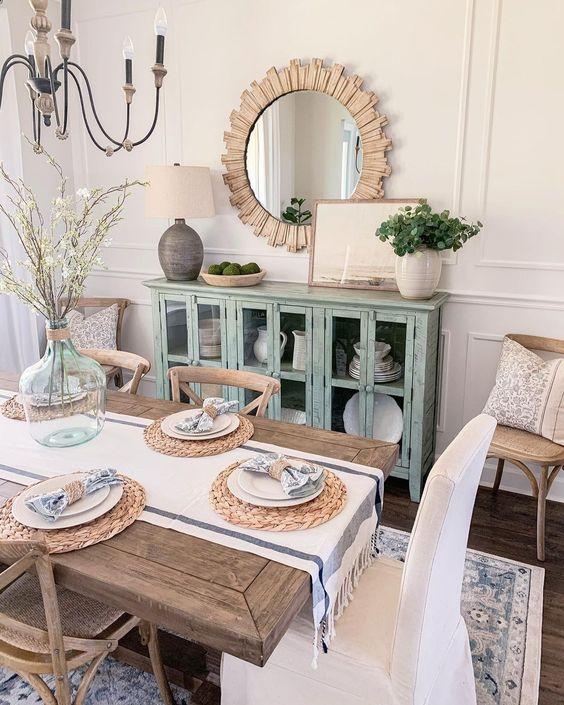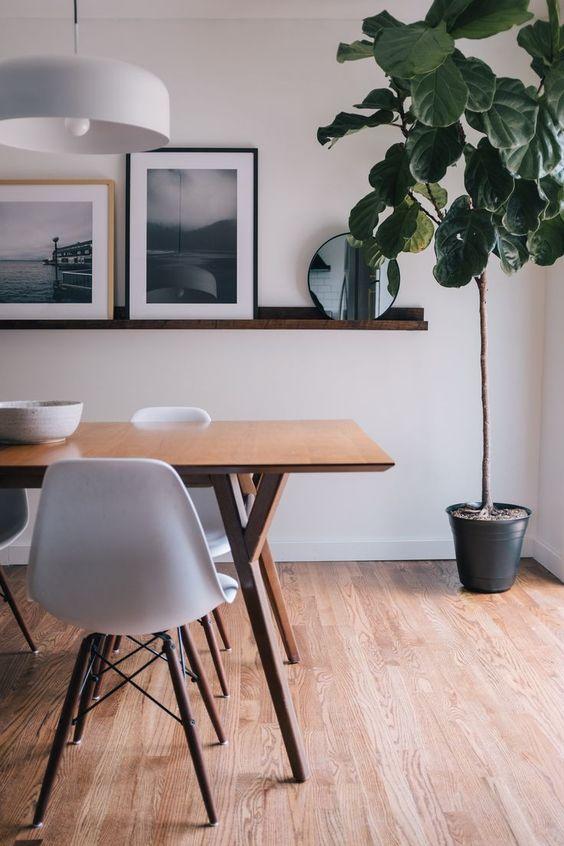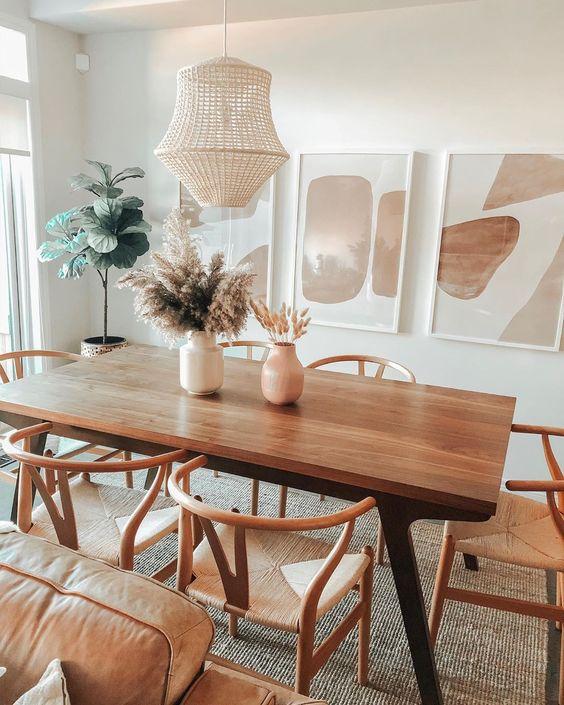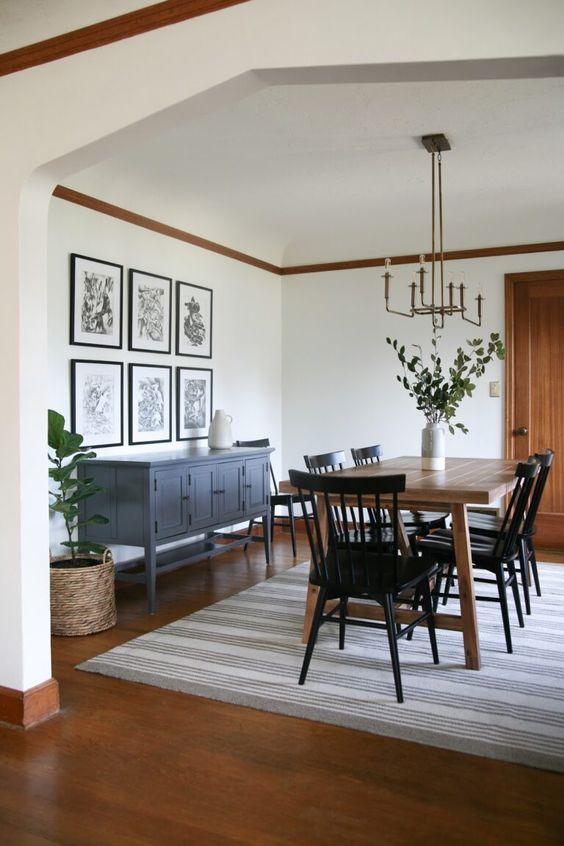 Conclusion
Now that you've got a pretty good idea of what you could implement, It's time for you to get creative and come up with a unique space you feel proud of. Enjoy the decor journey.