It's time to discover some interesting ways to spruce up the most important room in your home. Living rooms are not only a place to entertain, but they're also a room to showcase your unique decor style. A lot of thought should go into making your living room a space that people can enjoy and feel a sense of calm in. Wall decor is a huge aspect of what is needed to create that homey, cosy feeling.
When it comes to living room wall decor, there are endless possibilities. You can choose to go with a simple look, or you can add in some eclectic touches to make your space stand out. One of the easiest go-to ways to make your walls look elegant in no time is by mounting Displates onto your walls. They're available in a wide range of designs from minimalistic posters to abstract posters if that's what you're going for.
If you're looking for some additional inspiration, here are a few posts you might have missed:
The Three Rules of Wall Décor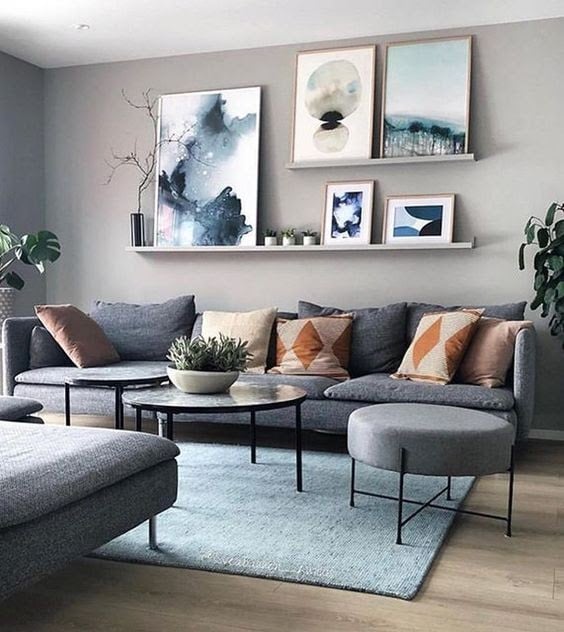 Here are three rules of thumb when it comes to deciding on the wall decor of your living room.
Think about your overall style. What type of vibe do you want your living room to give off? Once you have an idea in mind, it will be easier to start narrowing down your options.
Consider the size and shape of your walls. Not all decorations will look good on every wall; make sure you pick something that will complement the existing architecture of your home.
Don't be afraid to get creative! Add a few unexpected elements to your space, and you'll be amazed at how quickly it comes to life.
Chic Display Shelves with Inspired Unique Artwork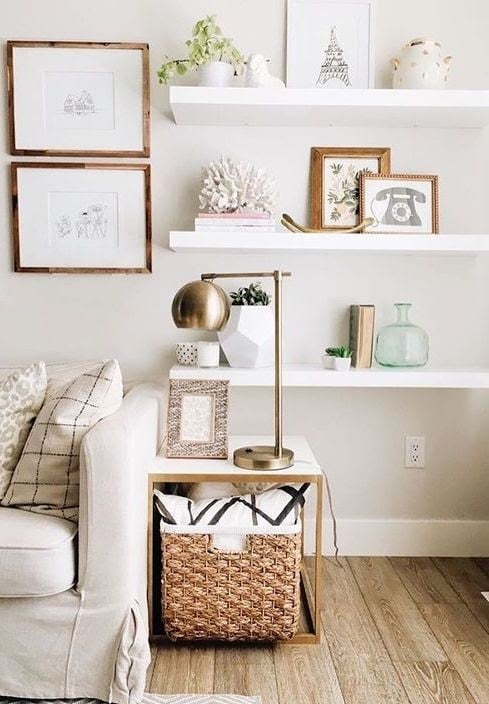 Shelves with Gallery Wall of Decor Items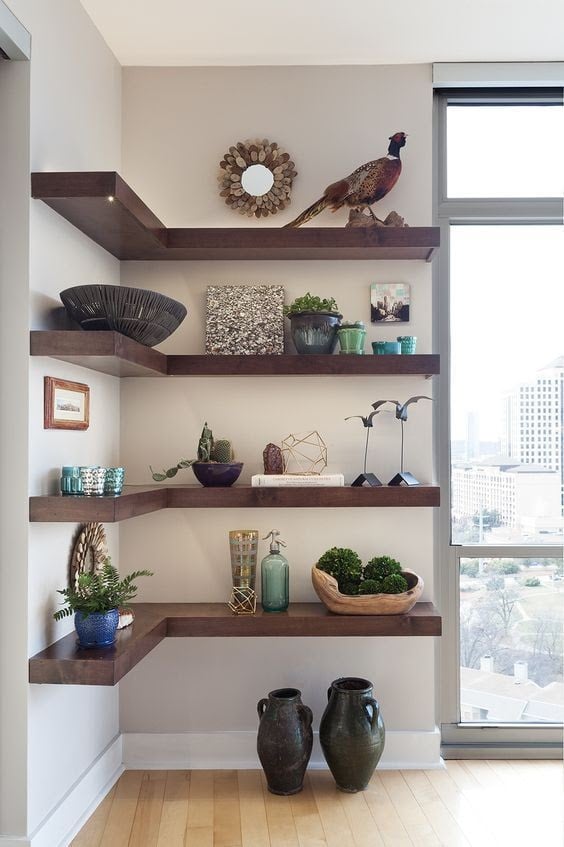 Shelving is a great way to decorate your living room walls. In the example above, the curators have opted for shelf space with different pieces, from flower pots to vases that all blend into the same colour scheme.
Displates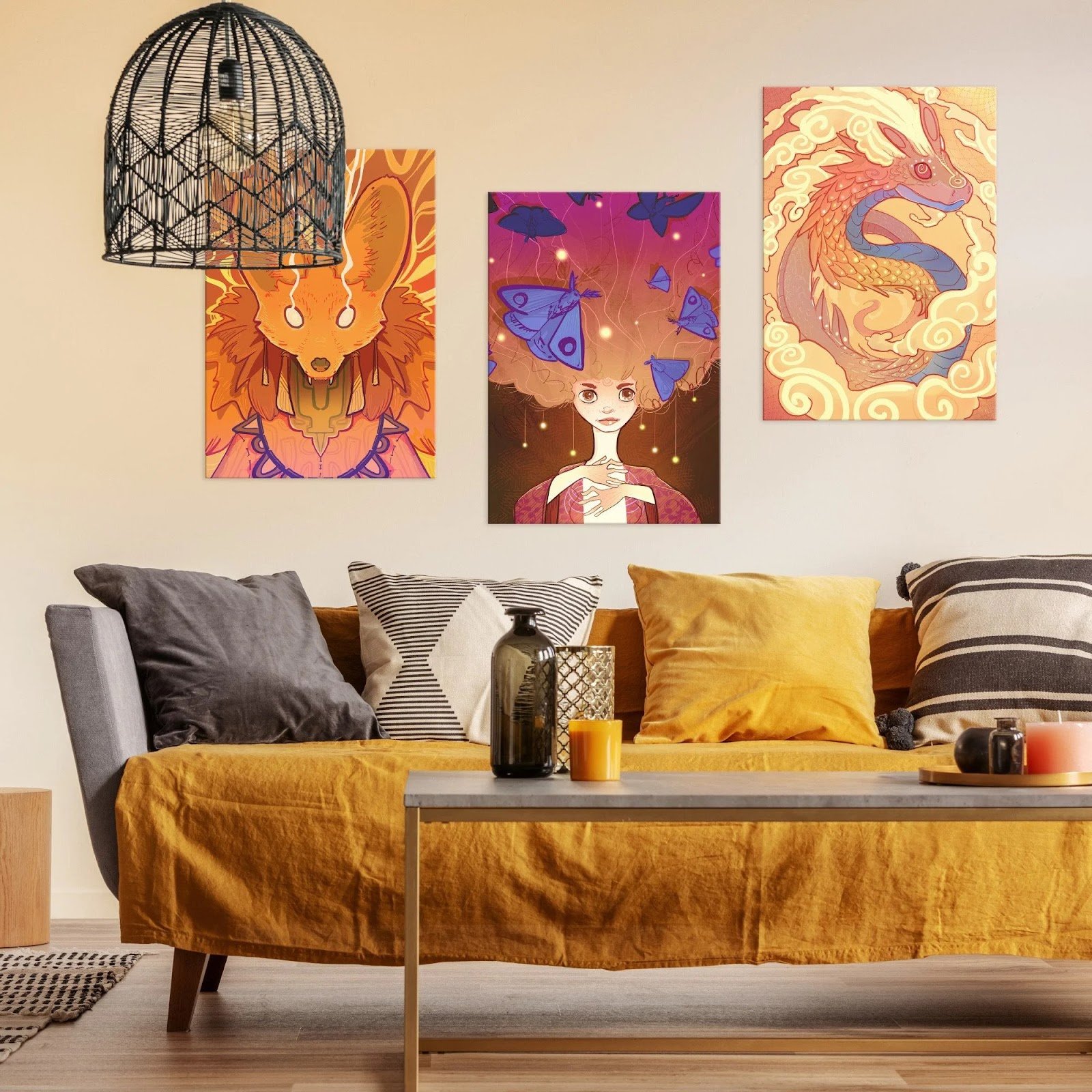 Displate posters are a great way to decorate a living room. They're available in almost any design imaginable which makes it easy to find ones that can fit the theme of your living room, from minimalistic posters to travel posters.
Draped Wall Panels with Lights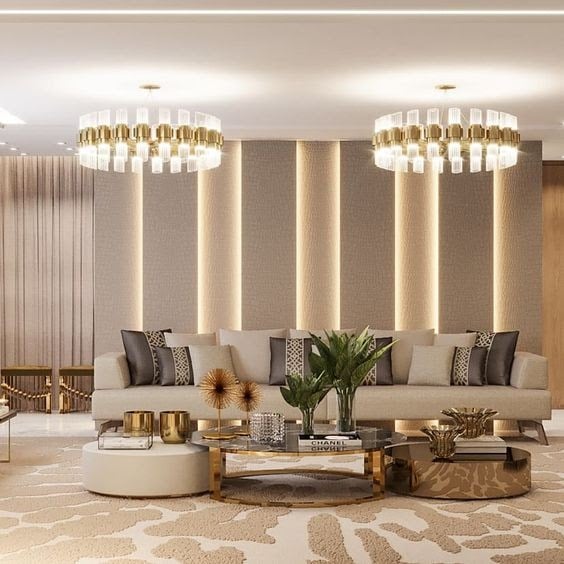 LED light walls are a unique way to make living room walls look unique. We're fans of these draped walls with panels and lights in between the panels. They look sophisticated and elegant too.
Wall Mirrors of Varying Sizes with Modern Design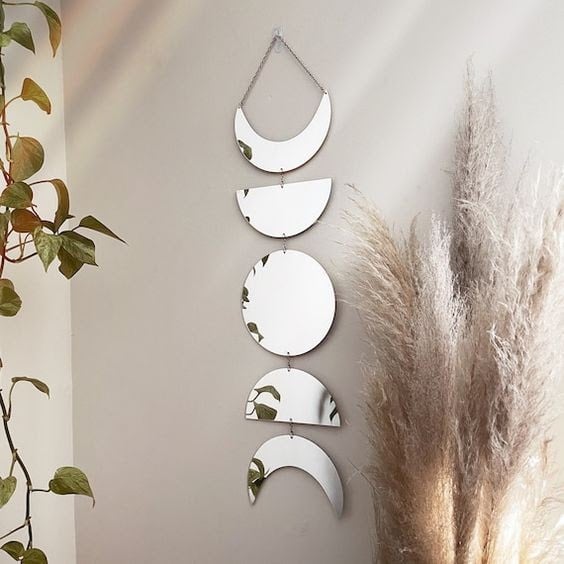 Mirrors are always a fun way to make walls look good. These draped mirrors hanging from the wall are a good idea when you're trying to make your living room feel eclectic and fresh.
Wall Lighting Features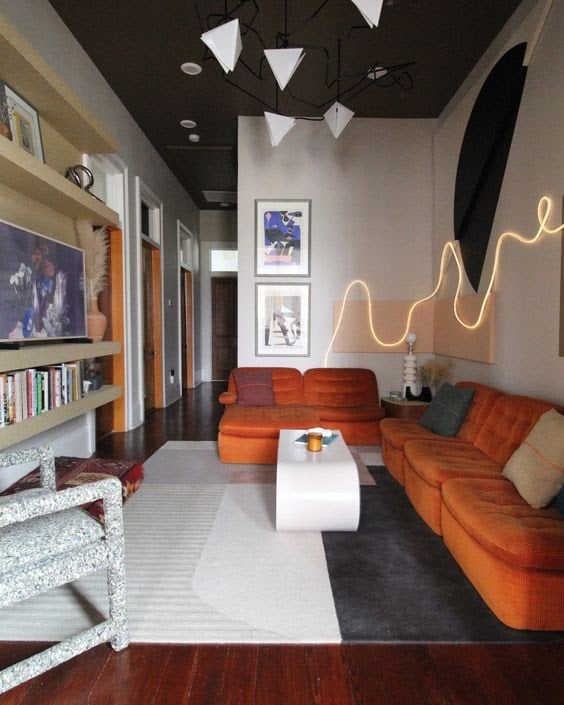 Unique Eclectic Space Lighting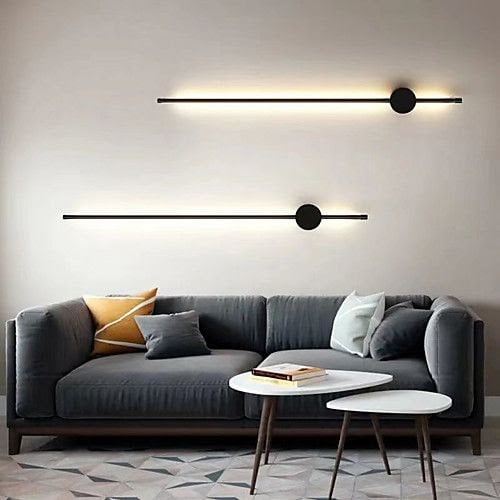 Here's an interesting idea for wall lighting that doubles as an artistic decor element too. You could certainly find other moulds of different shapes depending on what you're looking for, in this example they've got straight horizontal beams with a circle, adding a touch of mystery and elegance.
Lighting with Bright Colors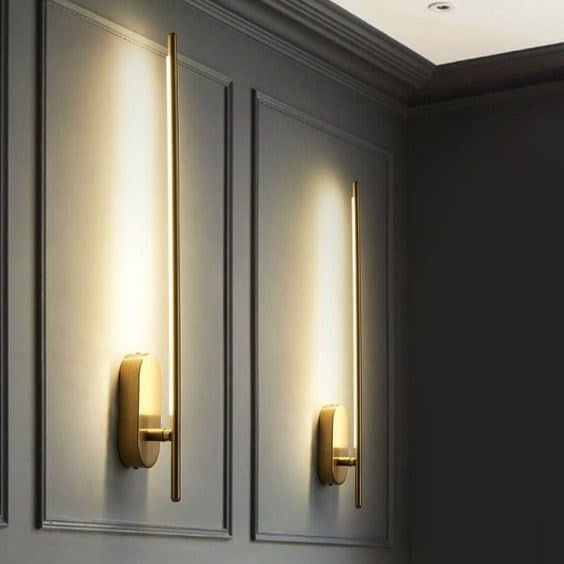 Lighting and more lighting, we can't get enough of these golden light fixtures. They're classy and unique which is always a plus when considering wall decor.
Modern Gallery Walls Art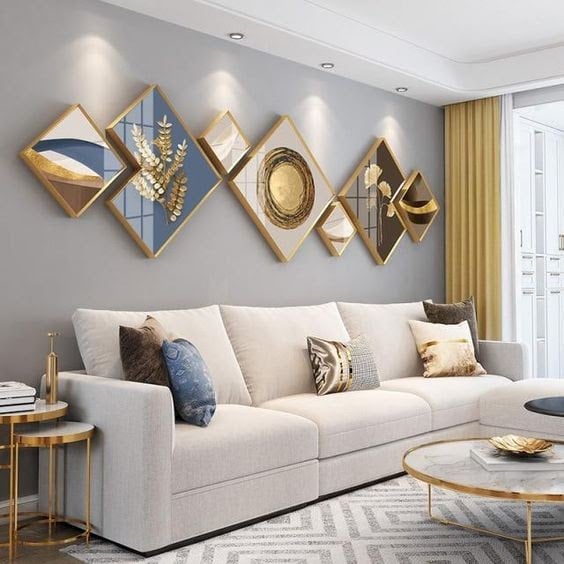 We're obsessed with these diamond-shaped reflective golden wall hangings. They blend well into the minimal gold aesthetic of the room and look very well placed on living room walls above couches to add a touch of beauty to the bare walls.
Bohemian Woven Canvas Wall Art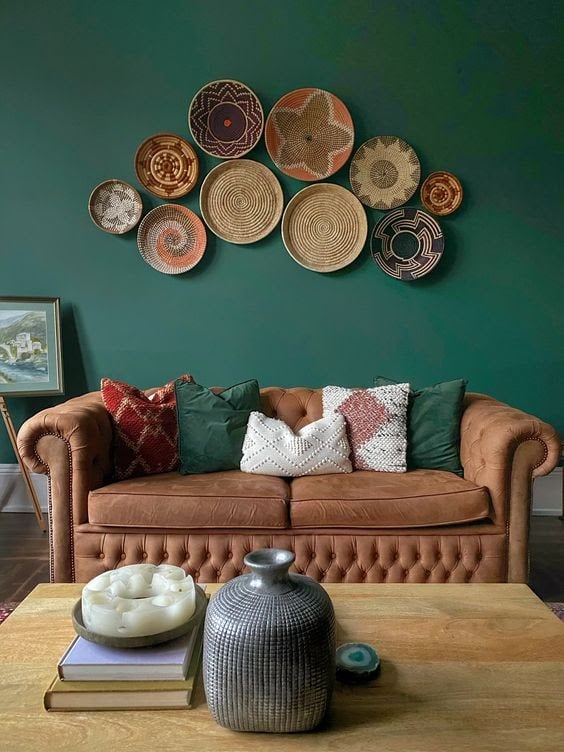 Hang Picture Frames with Memories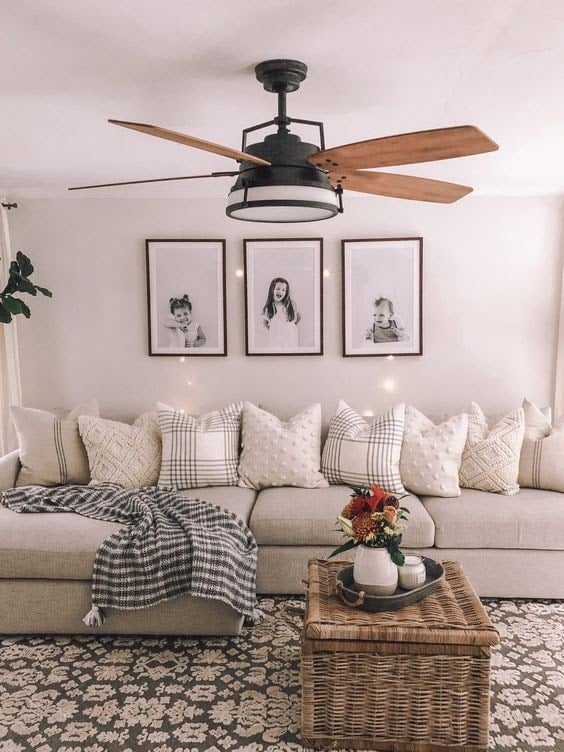 We think picture frames are always a great idea and should always be a go-to for any family home. These three monochrome prints look stunning in the living room above. You could opt for portraits for something to simply showcase some fond holiday memories.
Solid Wood & Metal Mosaics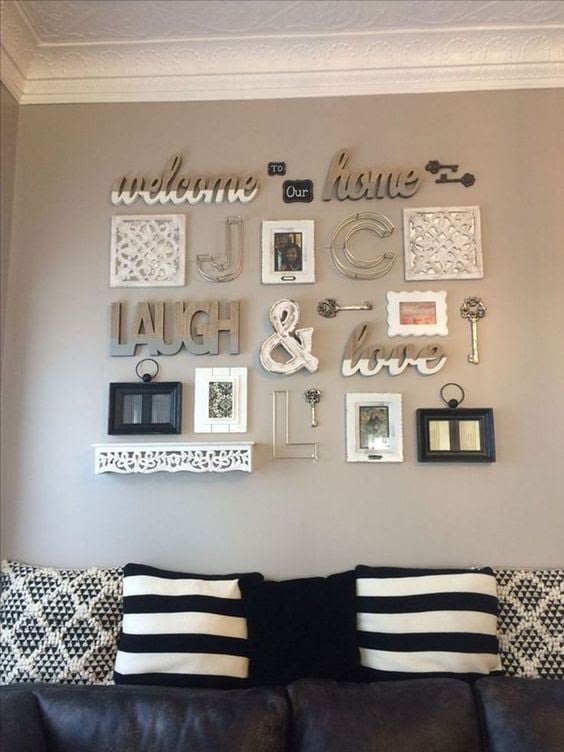 Here's a really cool mosaic of fun messages that can look great on your living room wall. Fun subtle reminders for the family to laugh and show love in your home. They're a great way to set the mood for a cosy evening in the living room.
Geometric Interior Design Wall Décor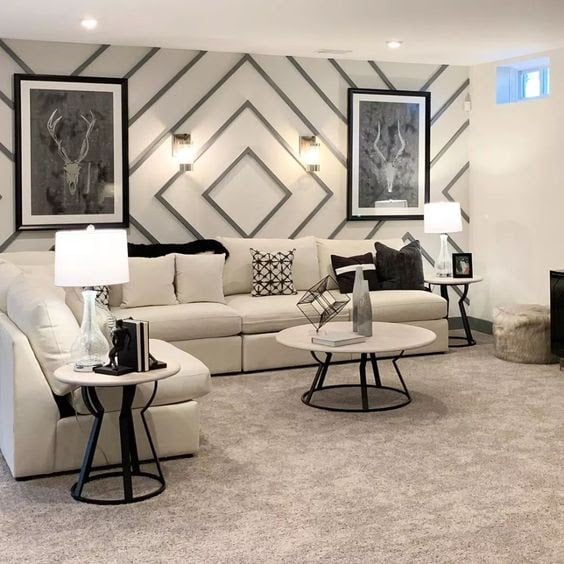 Another underrated idea is using geometric patterns to create an accent wall in your living room, it's a fun way to play with symmetry to create a backdrop or focal point with pictures on your walls.
Minimal Blank Wall Wooden Panels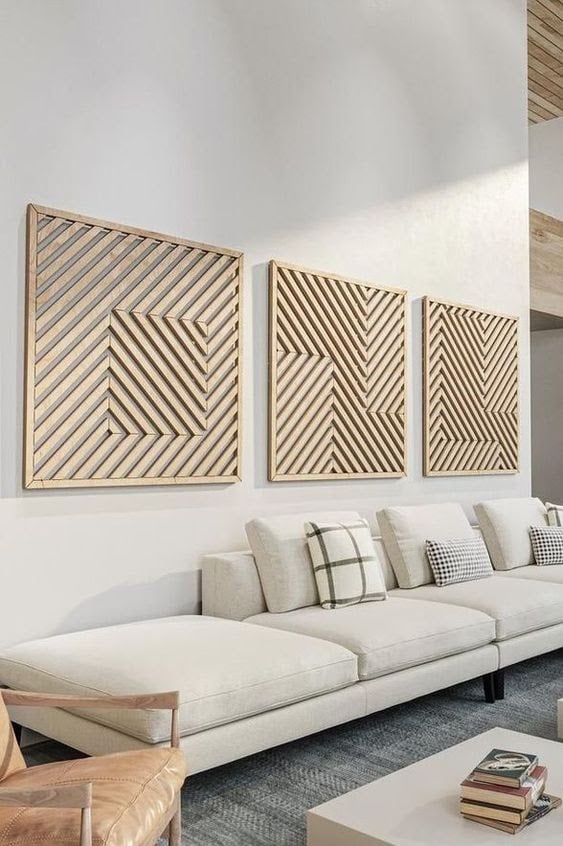 Here's something fun! These wood panel canvases are a fun way to decorate your living room walls in a cool way. They're minimal and can also make a fun project for DIY enthusiasts. Or alternatively, you could find them online. 😉
Abstract Artwork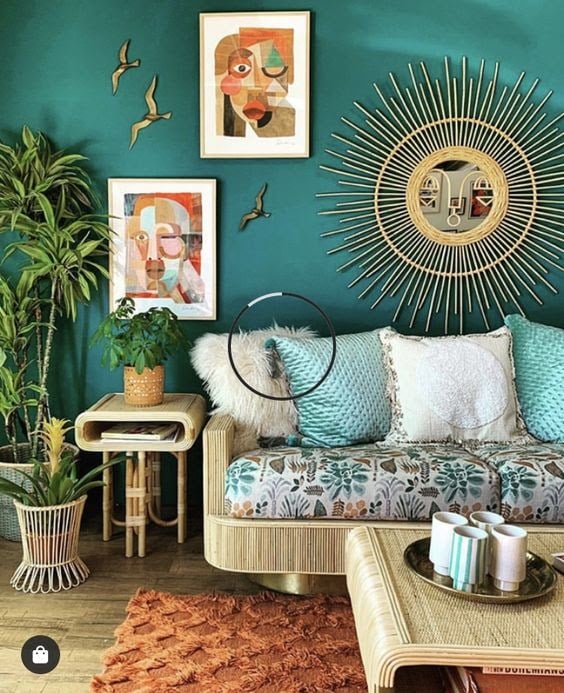 Inspiration Wall with Sentimental Materials & Drawings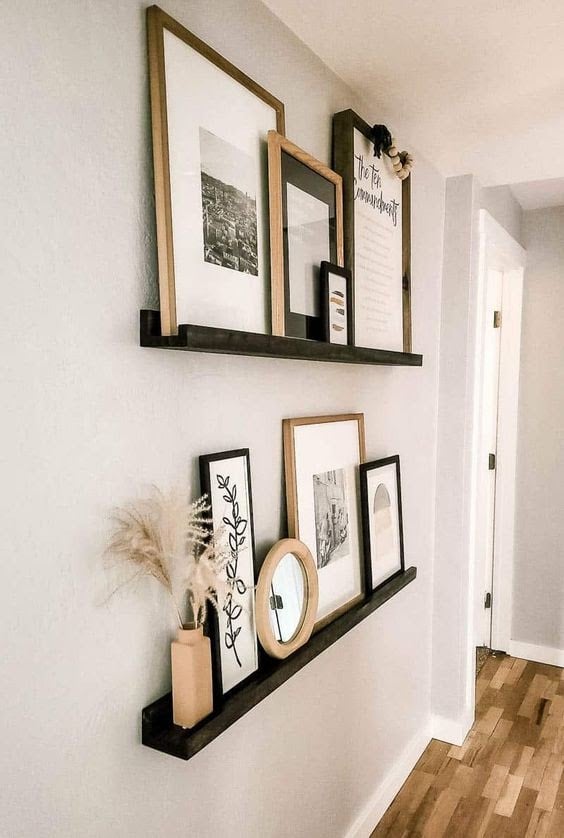 The great thing about wall shelves is that they provide ample space to showcase some cool canvases with great art. Simple poetic messages and abstract drawings can look great framed in matching pictures or posters on your wall shelf space.
Mounted Hive Shelves with Plants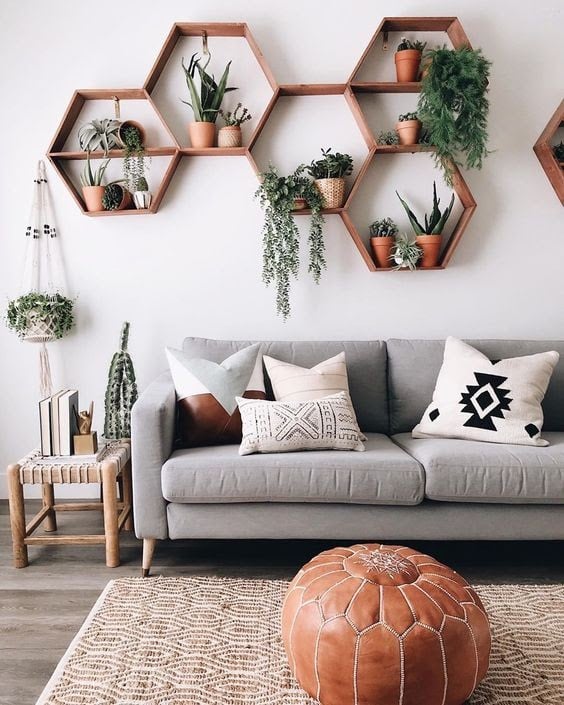 Green thumbs can easily showcase they're growing succulents and plants on your walls, you could even opt to add a nice plant wall to provide some clean air in your living rooms too.
Assorted Frame Décor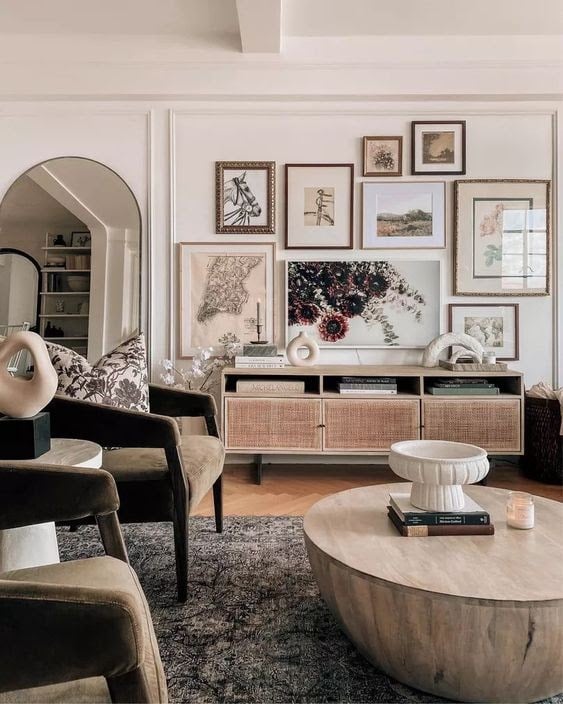 We love classic frames of vintage pictures and elegant drawings. Having a picture wall is an age-old idea that we absolutely adore and can never get enough of. The great thing about picture frames on your walls is that they can be customized to fit any specific aesthetic.
Unique Boho Wall Shelves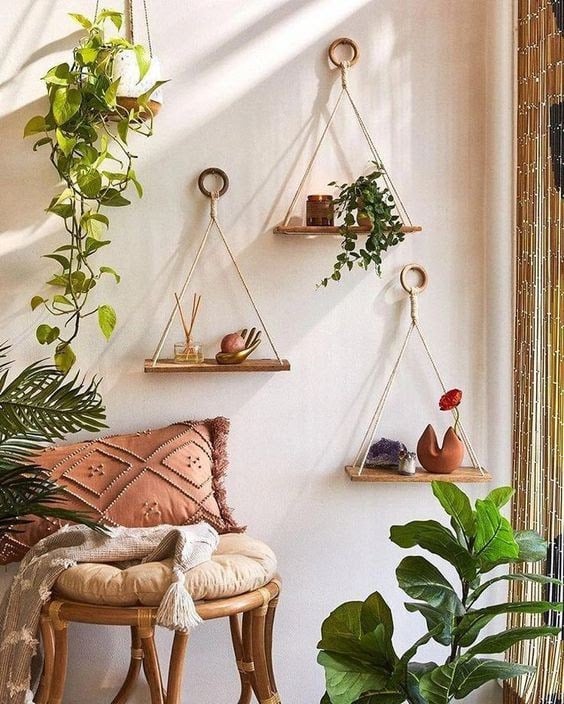 Here's a fun bohemian style shelving with little trinkets, crystals and a diffuser. A fun way to add a touch of personality to your living room with little sculptures and other decorative items that would otherwise be taking up space on other surfaces. With enough wall space, you can take advantage of different parts of your living room to let your fun decor ideas run wild.
Abstract Painting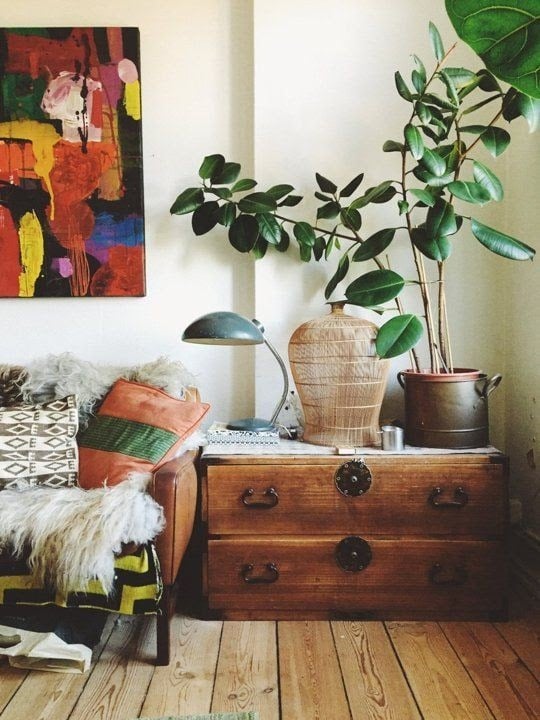 High Shelving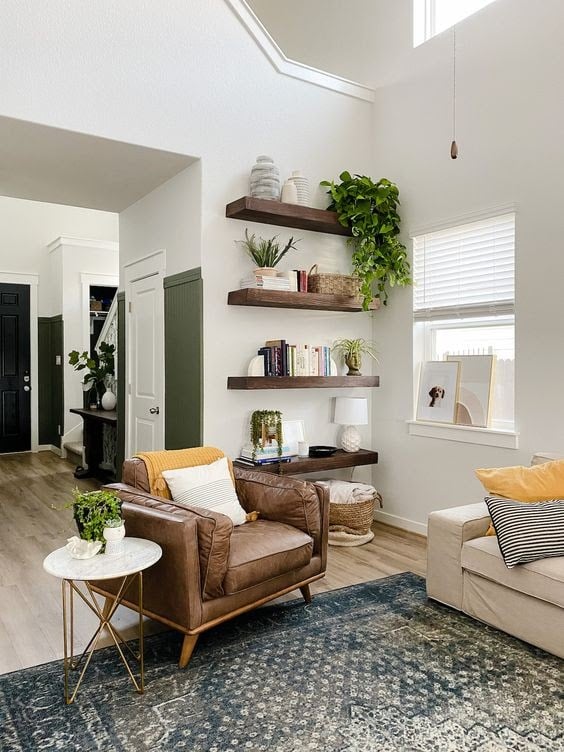 Living rooms with high ceilings can be a great way to really pack your walls out with decorative items using shelf spaces. In the example above they've created a great blend of assorted idioms from plants, to lamps and other earthy items to give their living room a focal point.
Feature Print Wall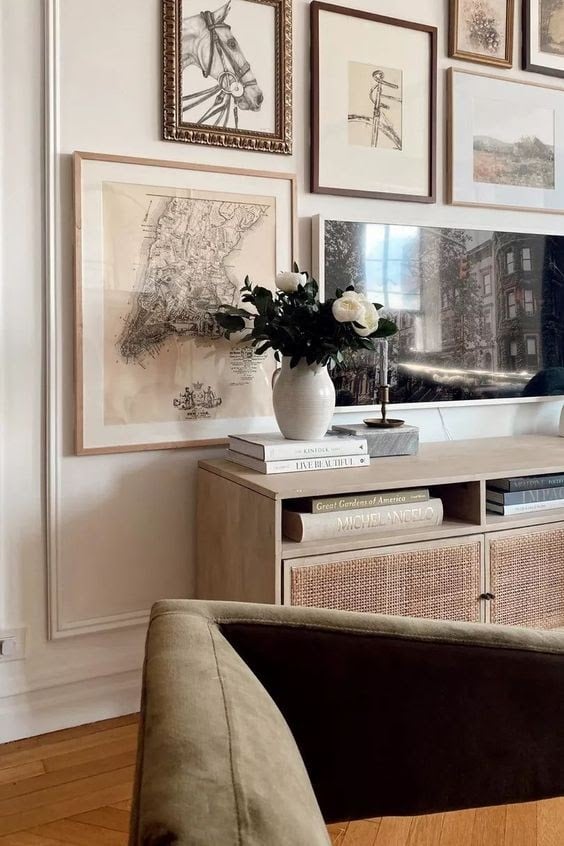 With so many possibilities regarding wall art, posters are a great way to make your living room theme come to life.
Woven Baskets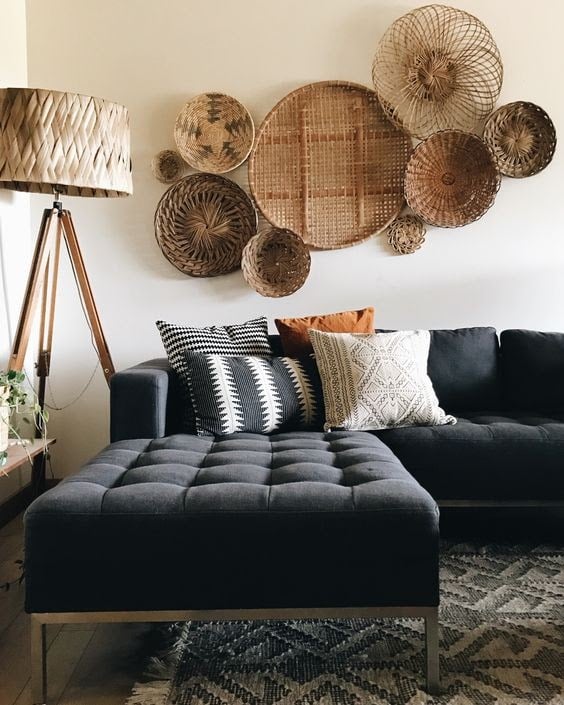 Boho wall decor has become somewhat of a favourite for a lot of people and we're all for it. We like these woven baskets blended into a fun wall piece that is to die for. Your living rooms can stand out in many fun ways. This is certainly a great one.
Cohesive Assorted Ideas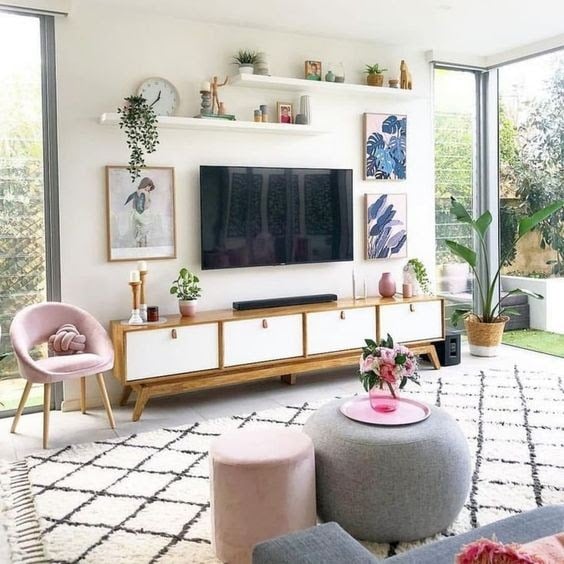 In this modern living room, we can see many interesting ideas working together on the same wall space in a cohesive way. From framed prints to surface expanding shelf space above the television. Don't be afraid to boldly go all out on your living room wall decor, a lot of ideas can sometimes work perfectly all at the same time.
Ultra Minimal Wall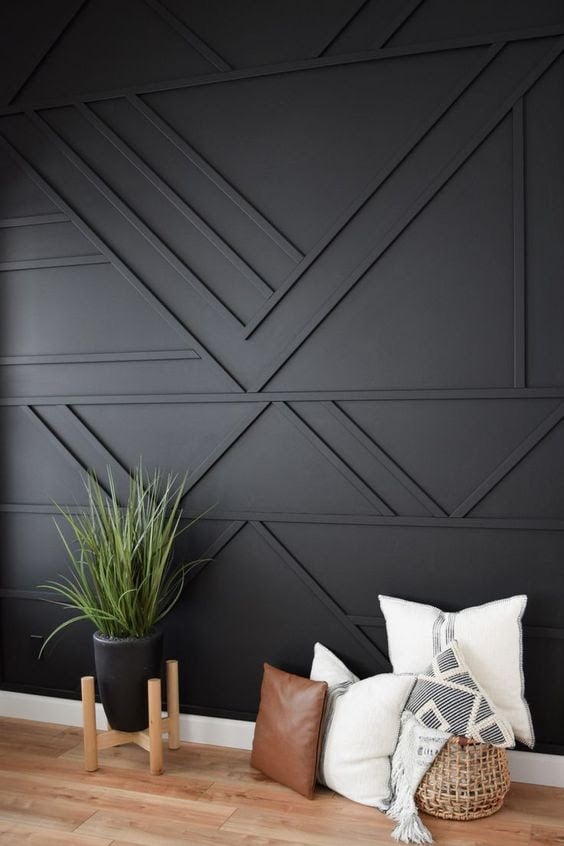 Who said living room walls had to be draped in many different items every time. We've included this sleek, minimalist geometric shaped wall idea to show that decor can sometimes be so subtle that it's pretty much non-existent at all. We like these elegant panelled walls and think they make for great minimal decor.
Tribal Prints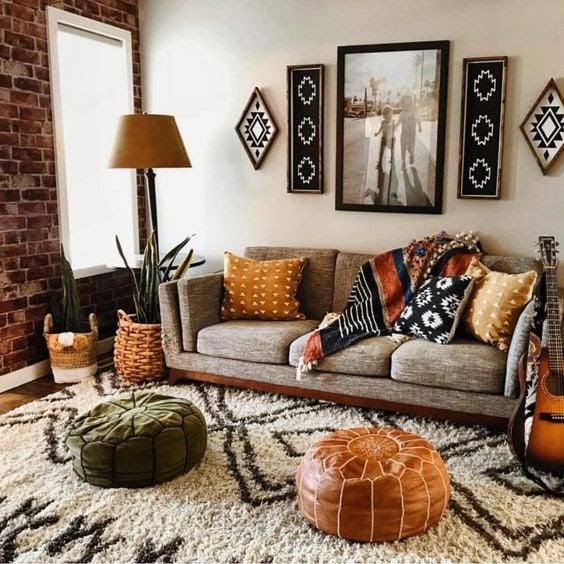 Here's a fun tribal style pairing of wall art to blend into the esoteric theme of this fun indie living room. Tribal prints with geometric patterns are a great addition to both bohemian and modern elegant living spaces.
Conclusion
Do you like some of the ideas we've included on this list? If you do, why not channel your inner interior designer and start implementing some of them. Have fun decorating your living room walls!