Boho decor is about expressing creativity and showing off your unique style. Many people across the globe use Boho aesthetics to add personality to their homes. When you think Boho wall decor it's great to think about versatility, this means it can be tailored to fit any space. Before we jump into some of these eclectic ideas, consider both crazy and neutral colors for your bohemian themed wall decor.
Boho wall decor is not room-specific, in fact, it can be incorporated into any room. In this blog, we'll show you charming ways to harness the elegant and unique possibilities of Boho themed items. We've got the perfect set of Boho living room ideas on our blog too. Be sure to take a look for additional inspiration.
Elegant Boho Mirror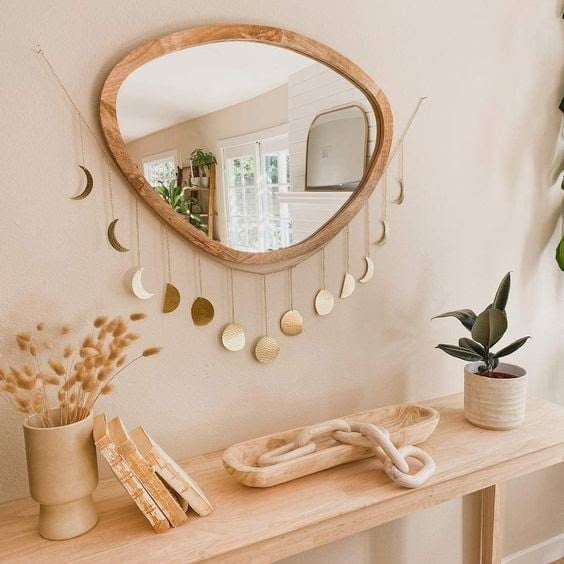 Boho wall mirrors can add personality to your living space. They look great and help to reflect light, which can add natural brightness to any room during the summer seasons.
Boho Metal Posters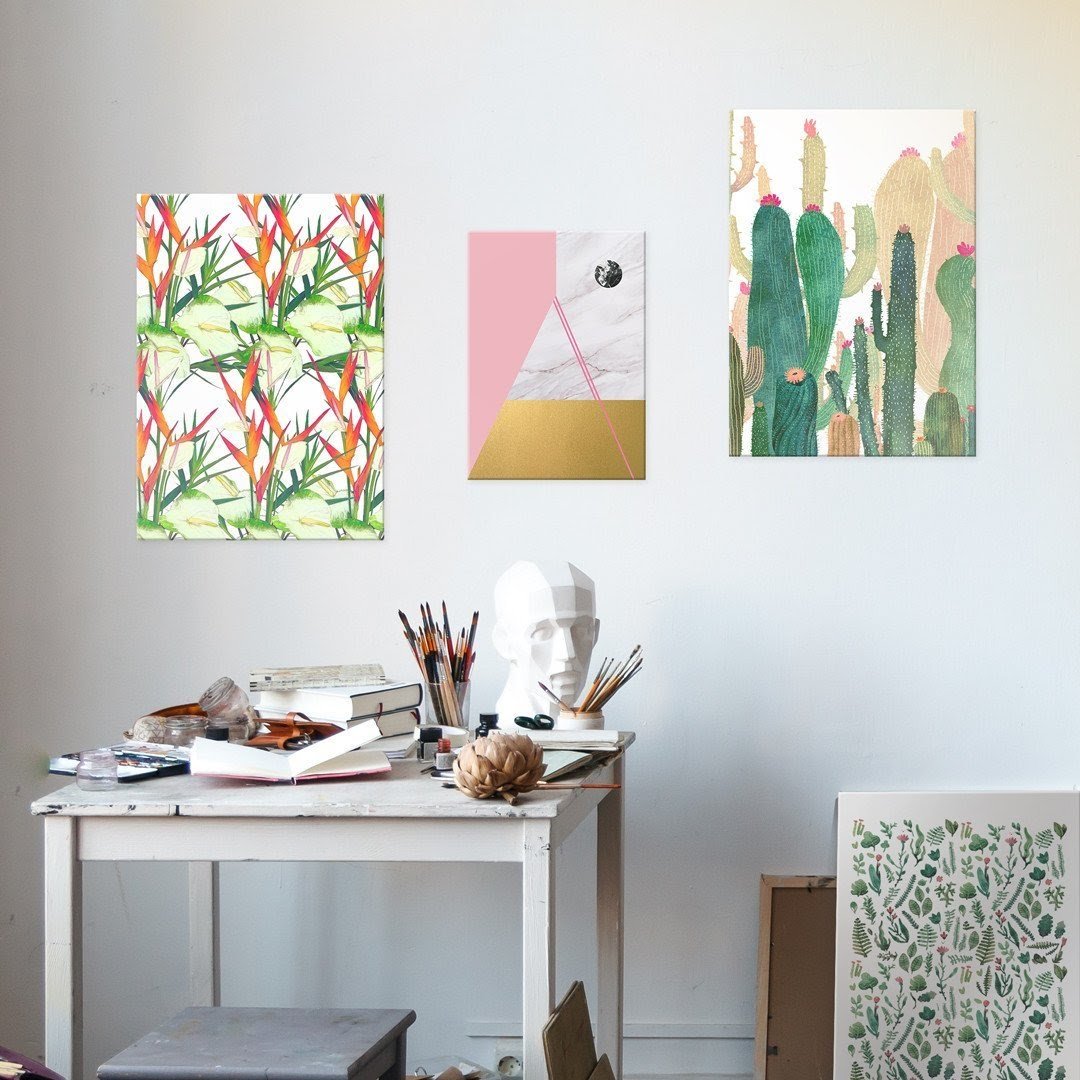 Make sure that you get boho posters that represent your personal style taste. Don't get overwhelmed by the numerous design choices out there, go with your gut and choose what feels good. And if you can't find anything that you like, there's always the option to get creative and your own poster. The Displate store has some ready-made Boho style posters to get you started with your wall decor.
Assorted Tapestries & Frames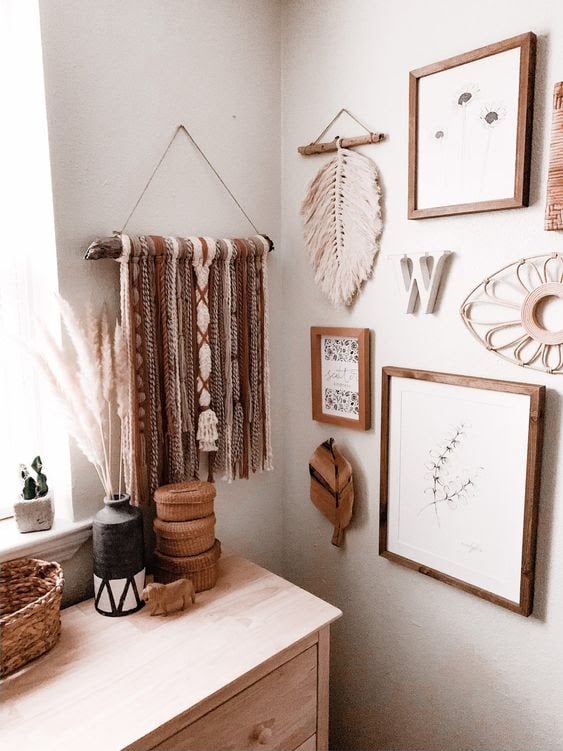 Bohemian wall decor is dominantly earth-toned, but there's no harm in breaking the mould with some contrasting white details. A lot of these design elements can be incorporated into a bedroom too.
Chic Mirror & Ceiling Pair
When choosing a mirror for your boho space, go for something with interesting textures like rattan or wicker. Intricate frames with out of the ordinary designs are encouraged in Boho decor.
Assorted Wall Posters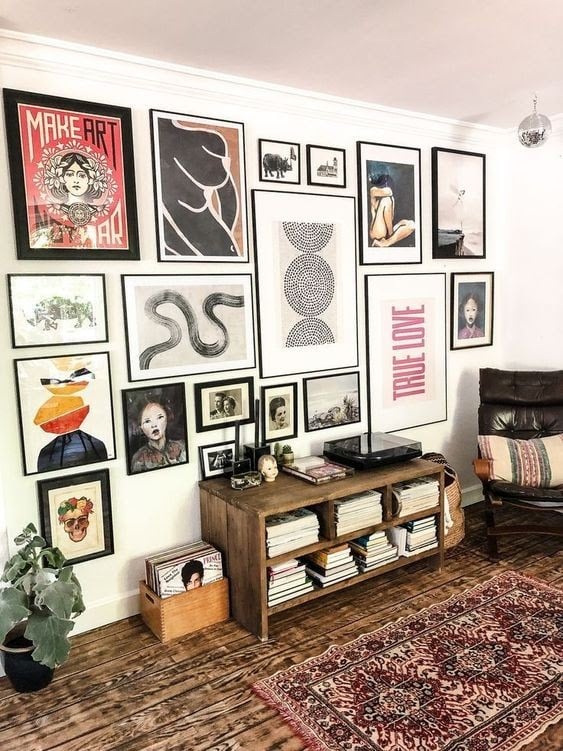 The topic of Boho posters is very versatile and so are the designs. Start with a color scheme that blends into the rest of your furniture set and make sure to consider different sizes and frame styles. For ready-made boho style posters, have a look at some awesome nature posters on the Displate store.
DIY Boho Wall Hanging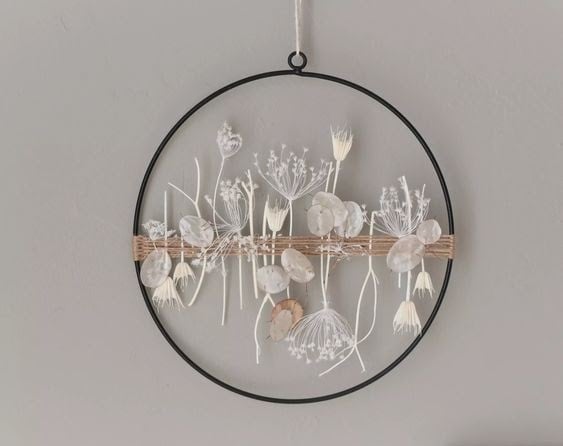 Include tapestries, dream catchers, and beads to your boho decor for added charm and style.
Elegant Crochet Piece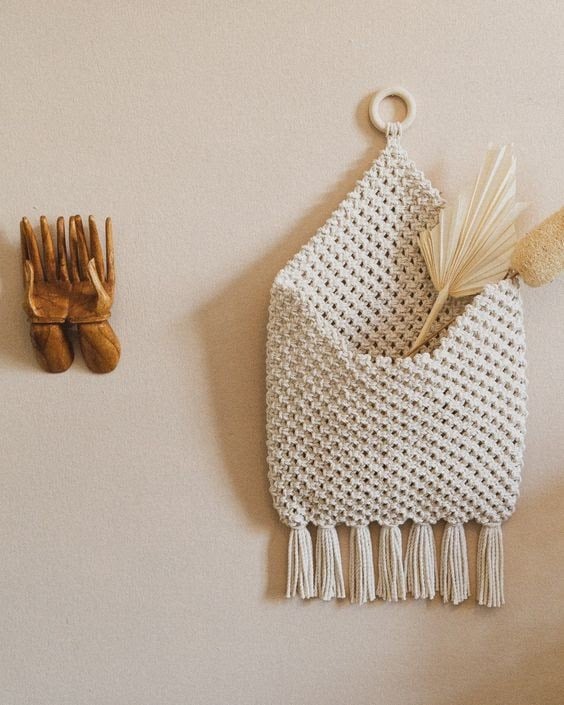 Featuring unique functional pieces like these hand-shaped key holders and the cute string storage can transform your bare walls into character-filled art canvases.
Wood & Nature Pieces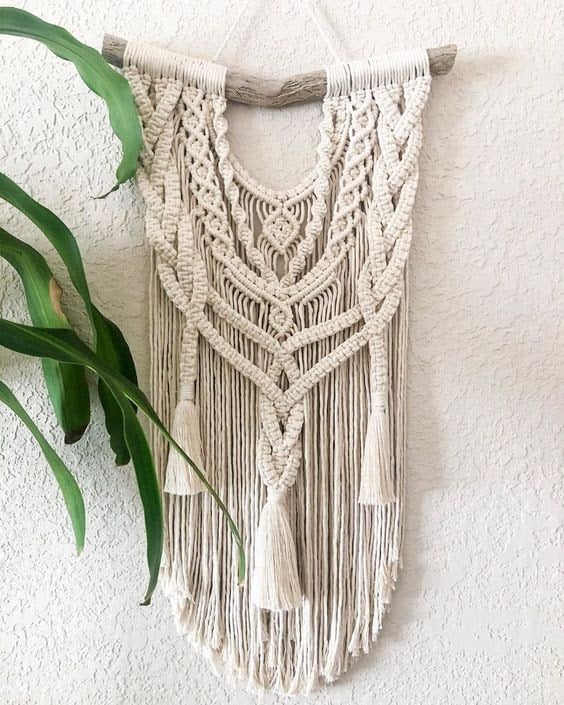 Wall art can be hung up around your room or even draped on your window for a natural look.
Assorted Mirrors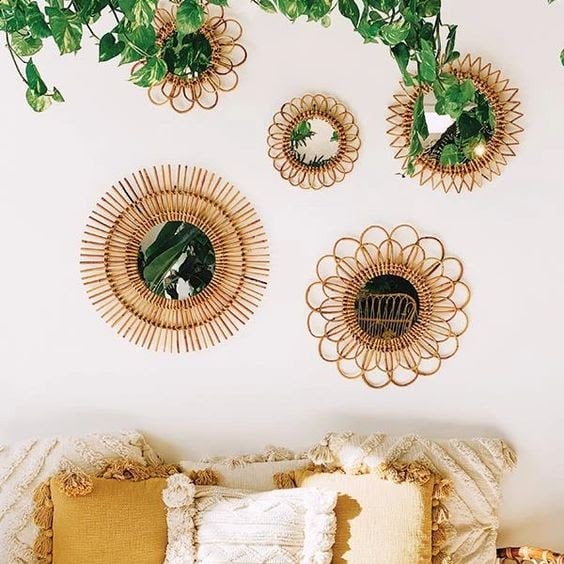 What's better than a beautiful piece to add to your wall, a set of beautiful mirrors all uniquely shaped. These can work perfectly in living rooms and dining rooms.
Frames On Shelves
Blend wall shelves with interesting prints into your overall color palette. Use rugs, pillows and bedding to create a wholesome feel with every color in your theme.
Screen Printed Posters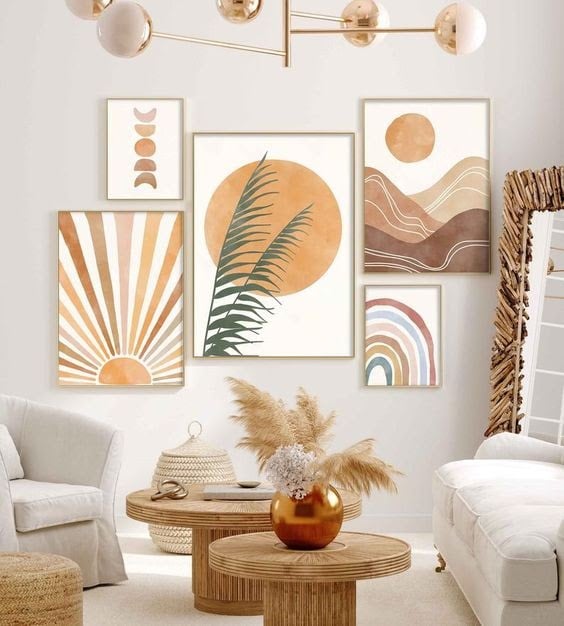 If you're looking for something a little more sophisticated, try opting for an abstract or geometric print. These usually pair well with matching furniture. Be sure to dedicate time to the research process to get more information on the best possible pieces for your rooms.
Wall Basket Sets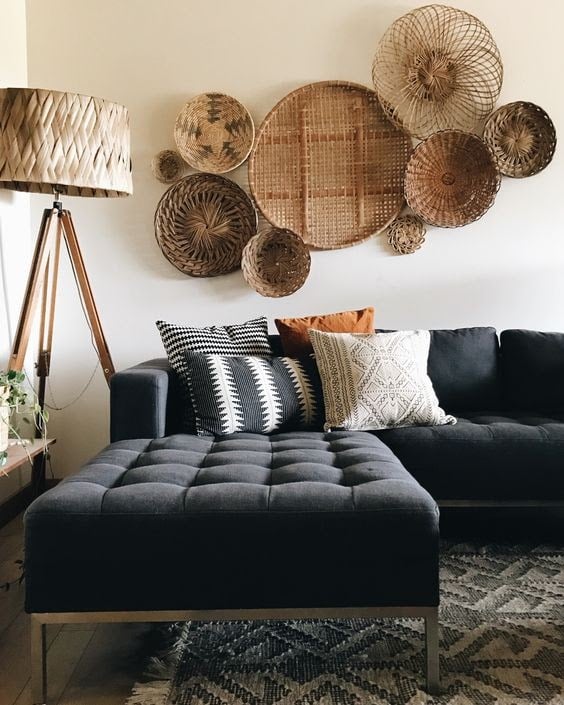 Hang a few crochet baskets to decorate walls and give your room a unique touch. These work well in both modern and rustic-themed rooms.
Pairing Wall Accents With Furniture Tones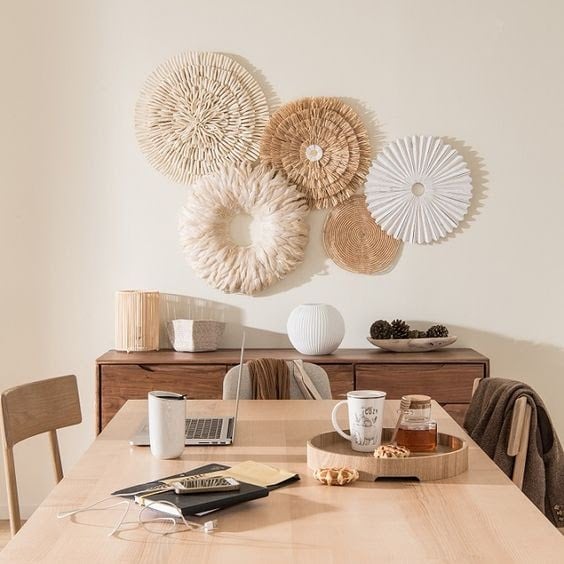 Mix patterns and textures to create an eclectic look out of your boho wall decor. Consider using different shades from light to dark pieces at the same time, all in the name of art.
Using Color Graded Bohemian Wall Art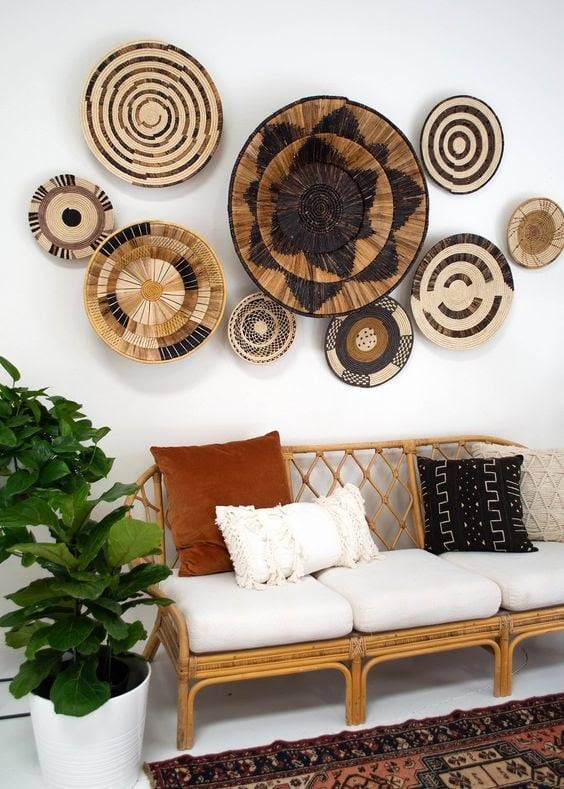 Wall Shelves For Boho Collectibles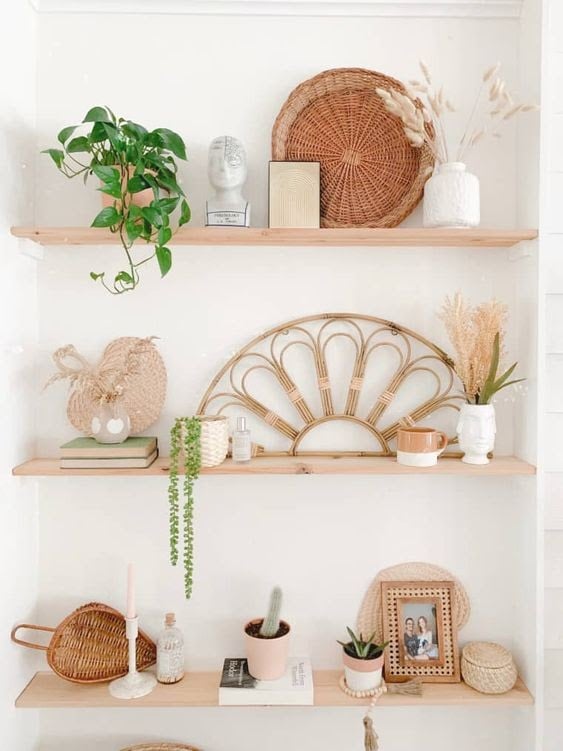 Hang some shelves on your walls to showcase some cool collectables, framed pictures or any handmade material. A perfect addition to the shelves is printed jars or a sentimental picture. Well, perhaps even a fun light-hearted family picture can suffice too.
Mixed Boho Themed Room Pieces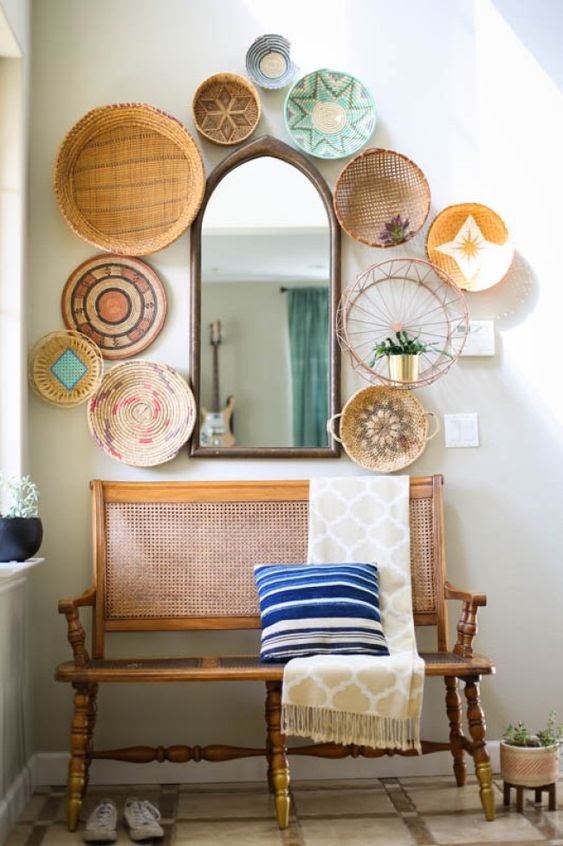 Since boho is all about unique ideas, why not consider different sized mirrors for different spaces. Look for mirror cabinets with storage space or go even further into the realm of mirror headboards for bedroom and bathroom walls.
Vibrant Colors Boho Living Space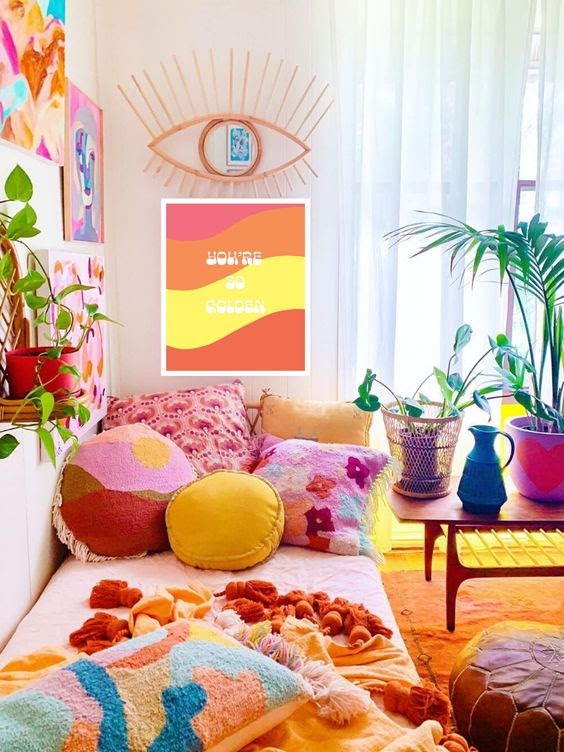 Bold color boho rooms are awesome because every aspect of the room from the floor to the surface details can be curated to fill the theme. This bright room has warmth and eclectic styles all induced by the gold and red decor which adds depth and flair to the room. Decorating is a fun game of expression. Consider painting walls and hanging color rich prints to fill the space. Bright colors are also great for kids playrooms.
Spruced Bare Wall With Unique Books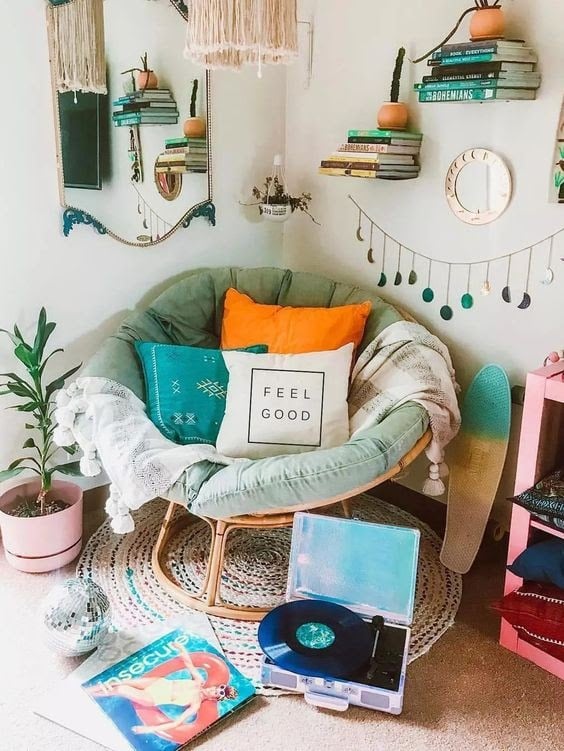 Compliment your fun colorful pillow sets with hand made beads hung up on your walls. Find tapestries and dreamcatchers to fill the bohemian theme. Like in the example above, you could even complete the wall look with books mounted onto your walls.
Hand Crafted Flowers
Paper Crafted Bohemian Wall Decor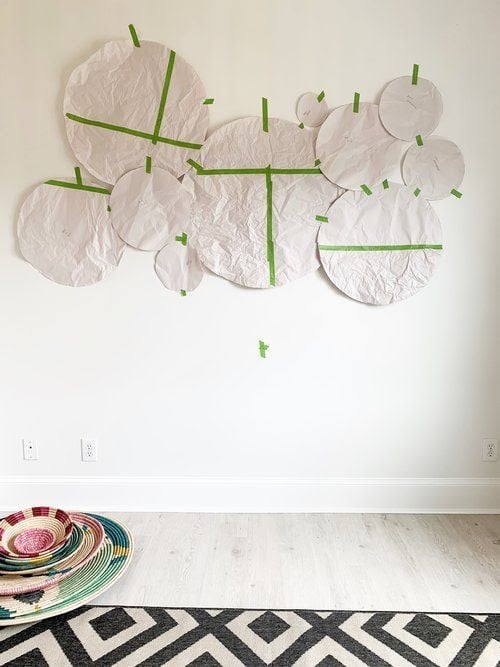 Natural Elements Decor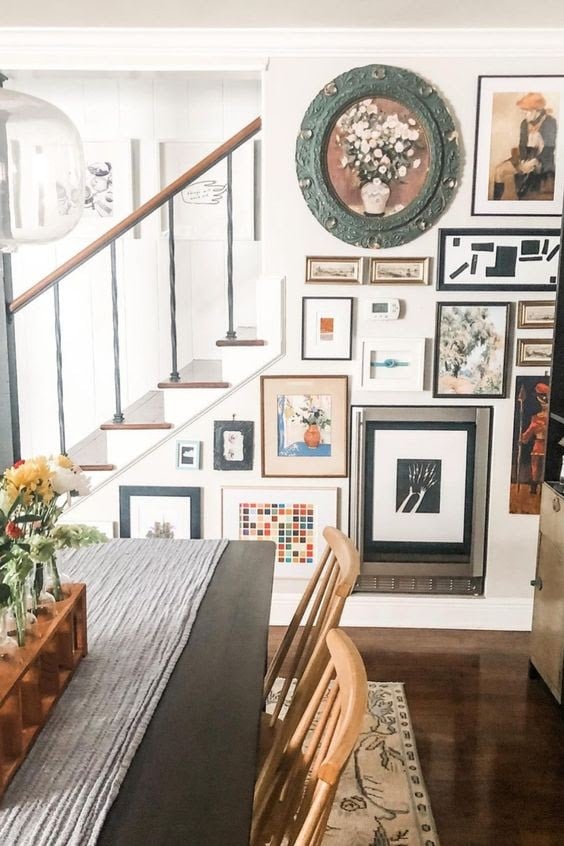 These prints look great when paired with other boho accessories, and they can add a touch of elegance to your space.
String Wall Focal Point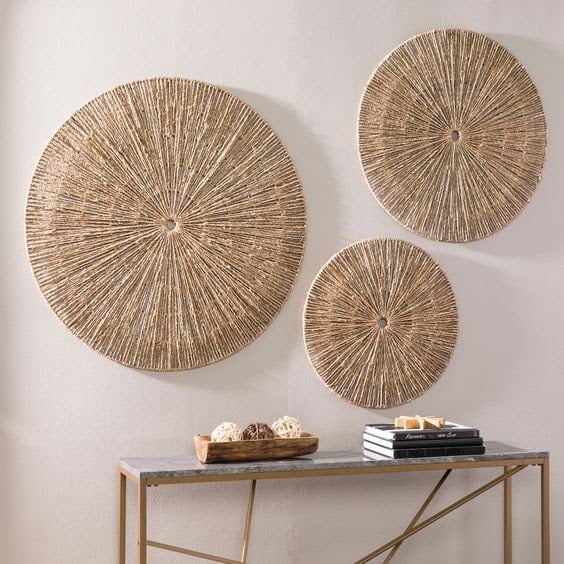 Modern Plant Decorative Piece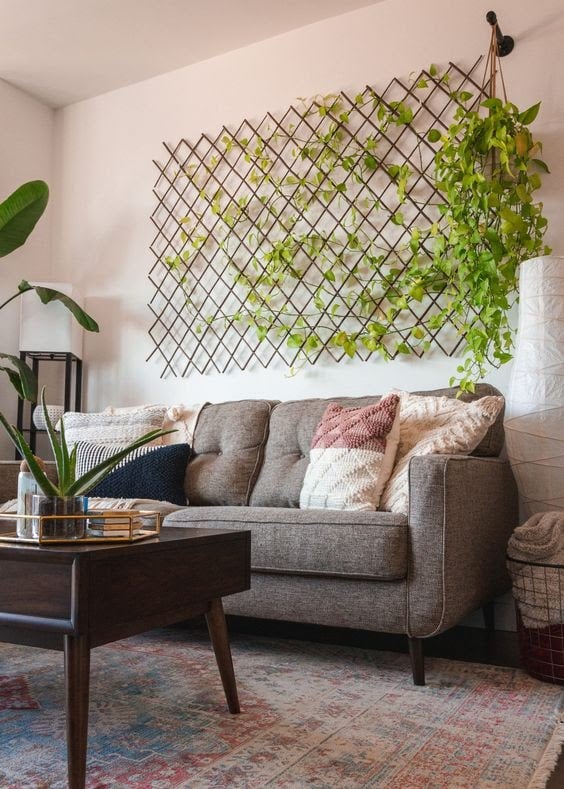 Quality Chic Assorted Mirror Frames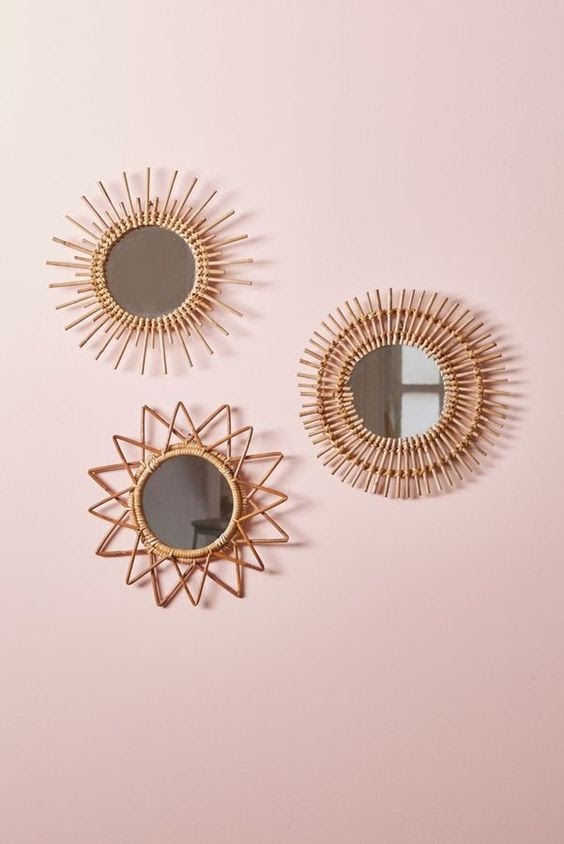 Contemporary Woven Wall Baskets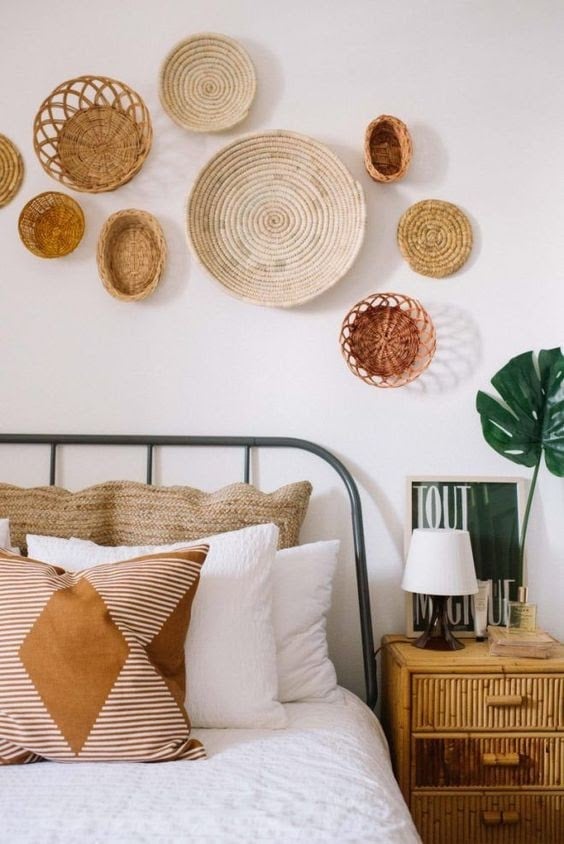 A bedroom can be Boho style too. Add covers and pillows on the bed that can blend seamlessly into the decor colors. You can also find bohemian bed covers. Bedside accents can complete the perfect boho bedroom and can be matched with the style of your wall decor.
Charming & Minimal Boho Posters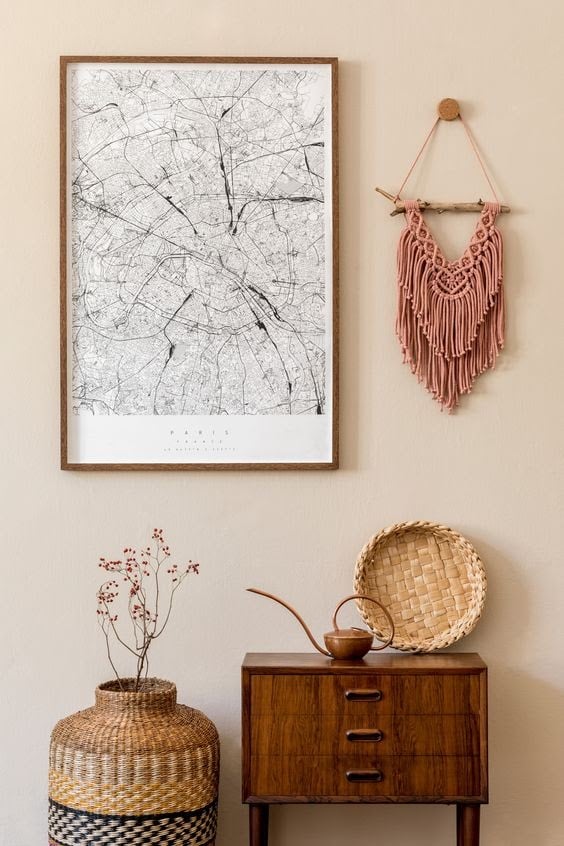 There are also some cool posters that have a frame already built-in. These types of posters might be a little more expensive, but they will save you some time and effort.
Stunning Woven Baskets
Classic Natural Wood Tapestries
Wooden Bohemian Decor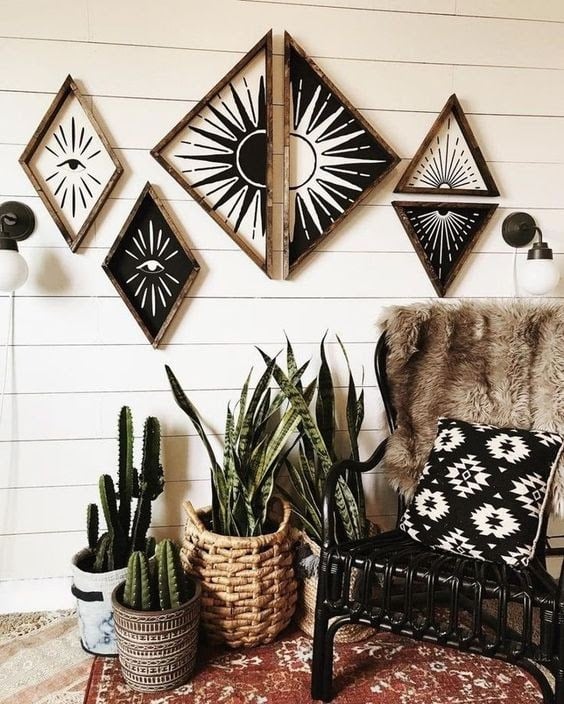 Assorted Baskets for Bare Walls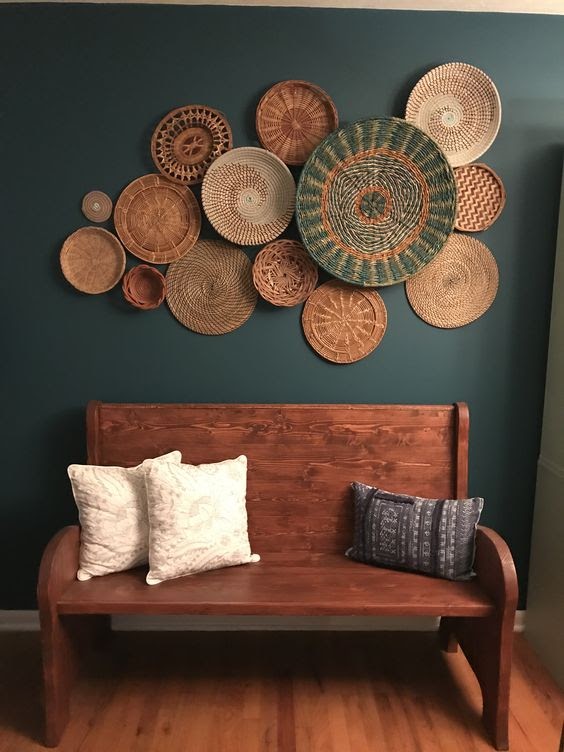 String Tapestry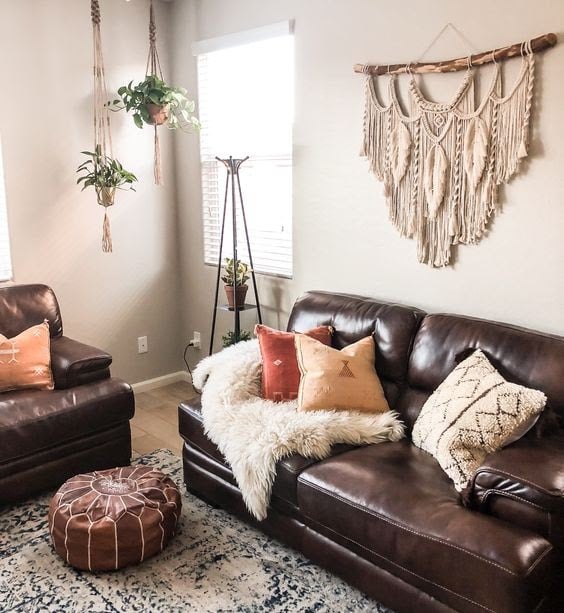 String Wall Hangings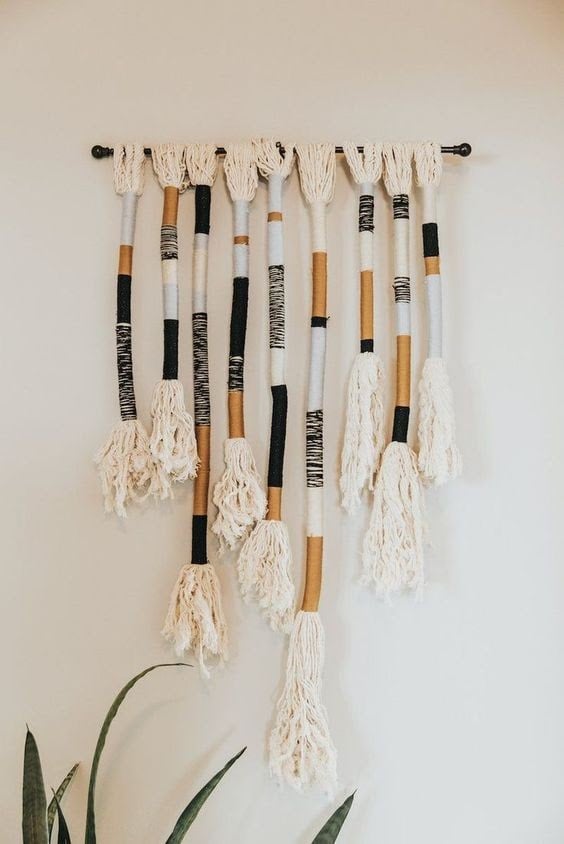 Esoteric Shaped Mirrors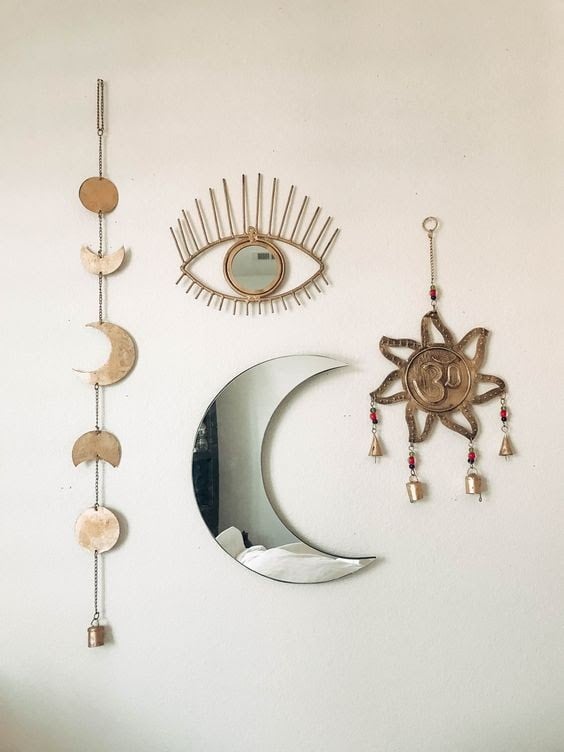 This silver moon style mirror is unique and fun.
Subtle Brown Collectibles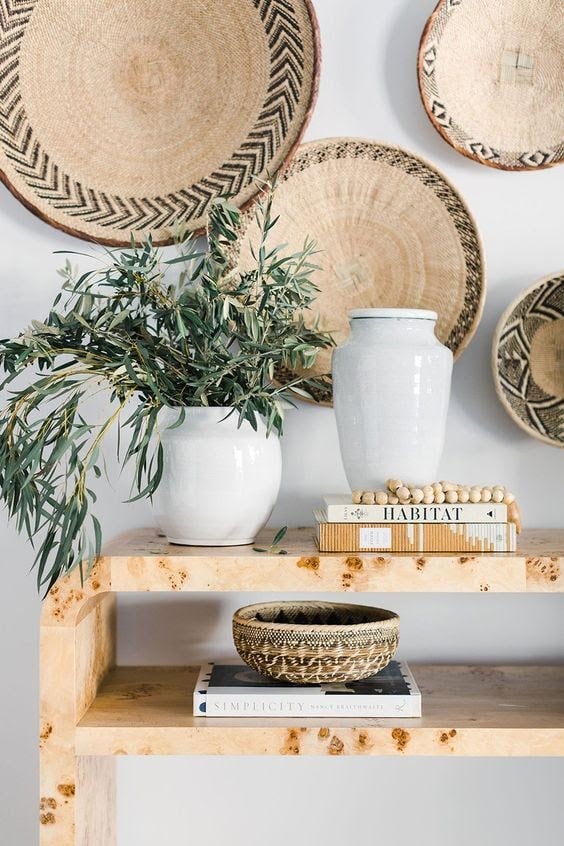 Symmetrical Visual Interest Decor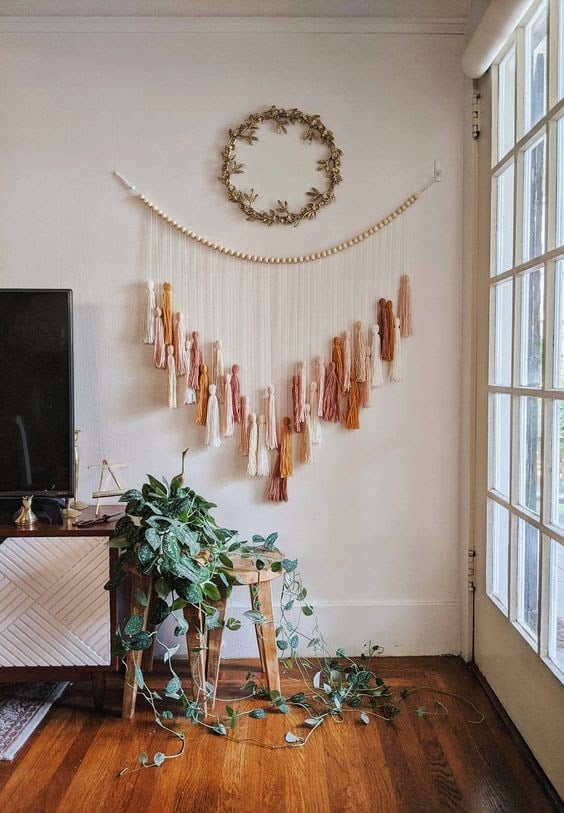 Carefully Cluttered Walls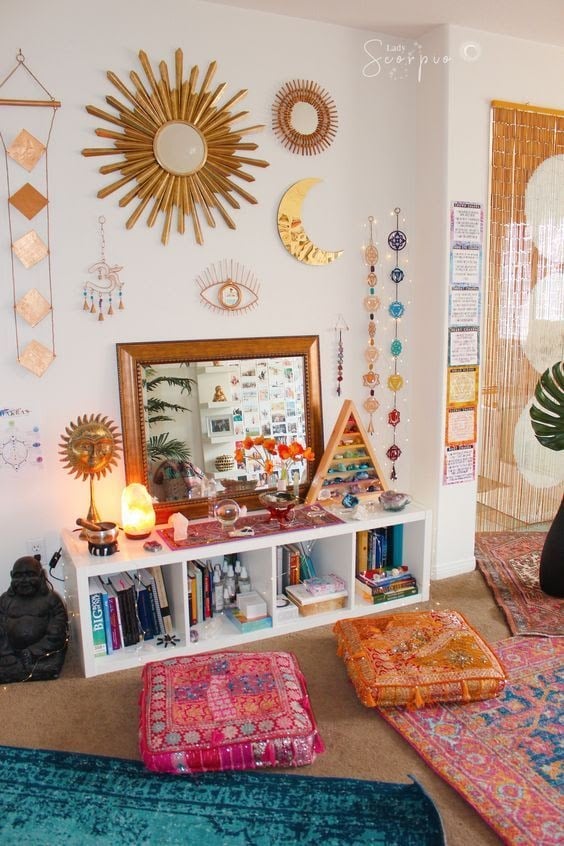 Pairing Plants, Baskets & Art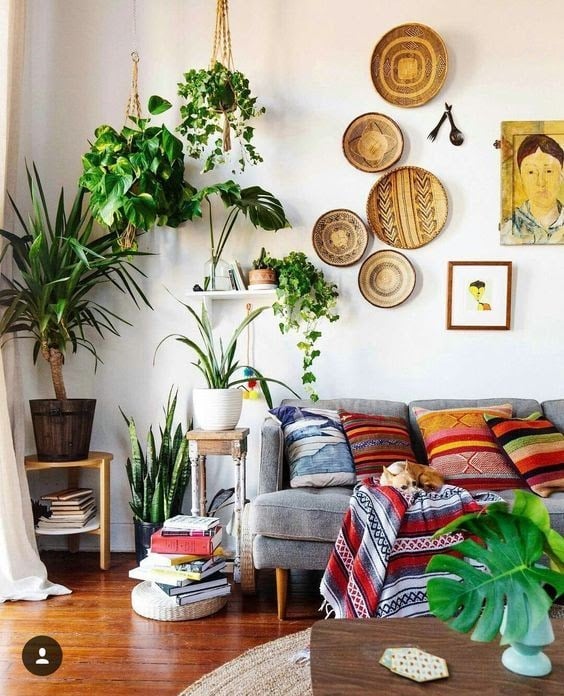 Geometric Wall Shelving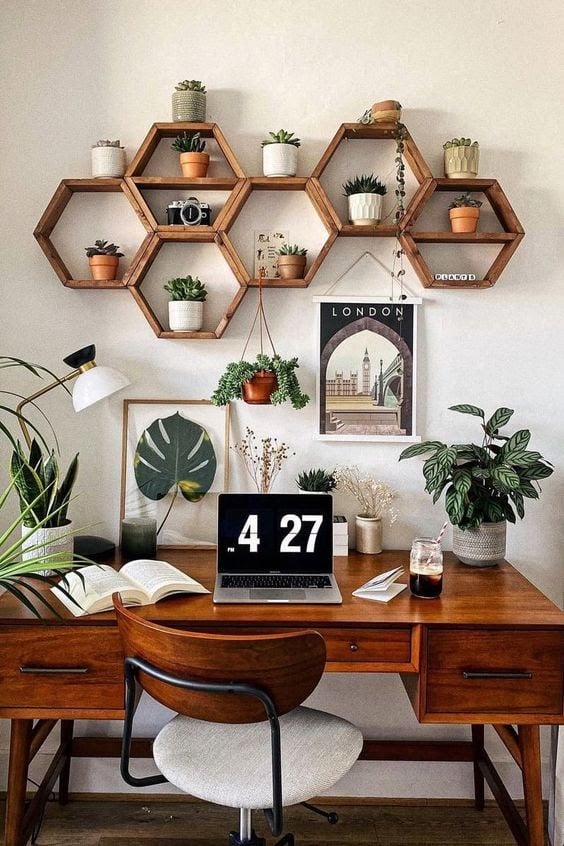 Modern Piece of Hand Woven String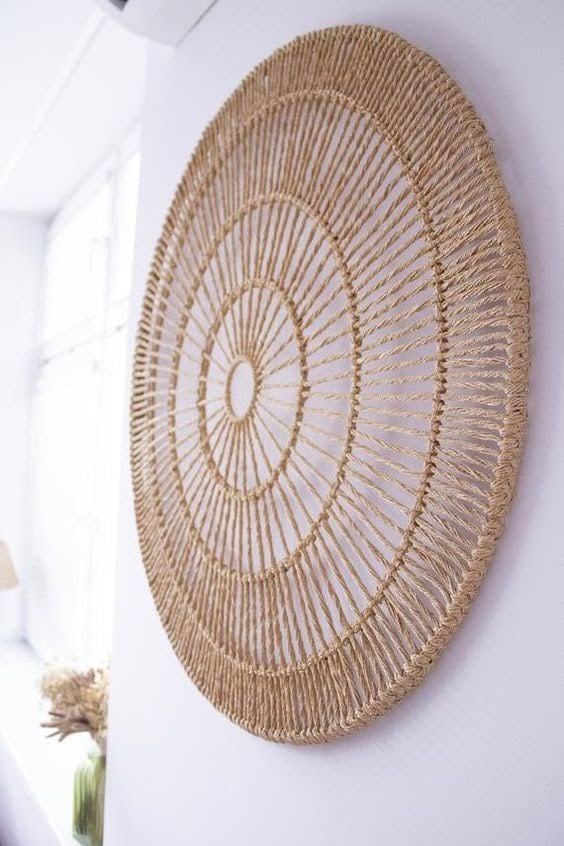 Bohemian Decor Clock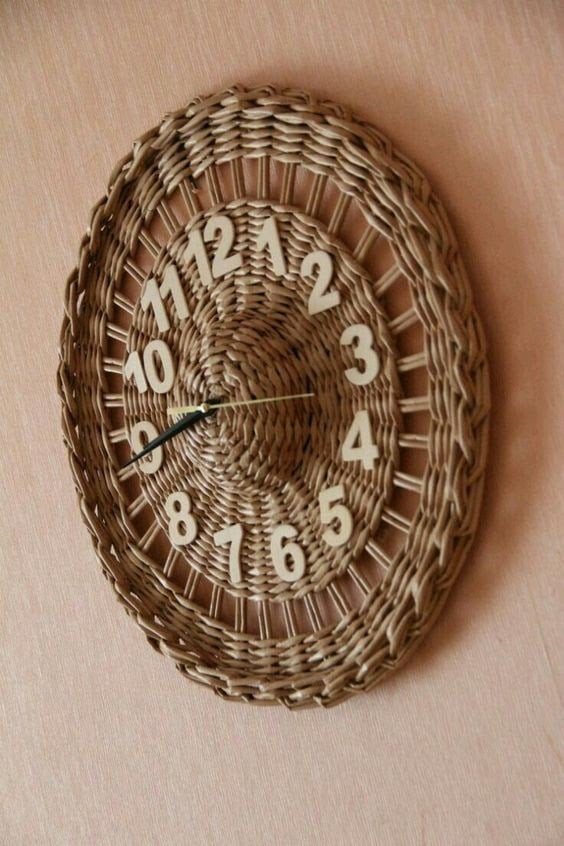 White Themed Boho Decor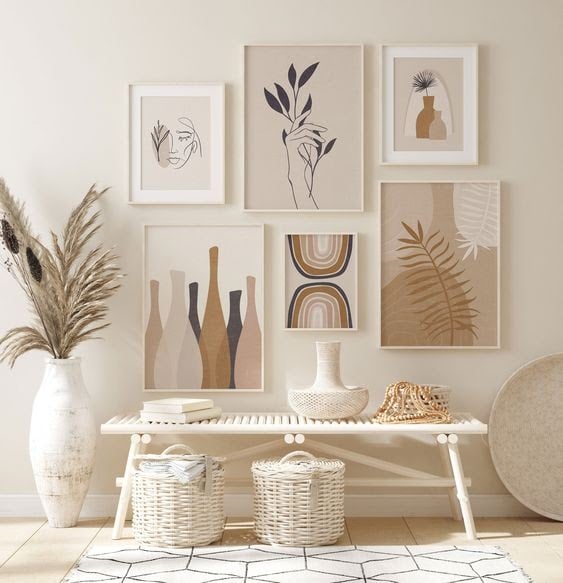 Lovely Loft Boho Decor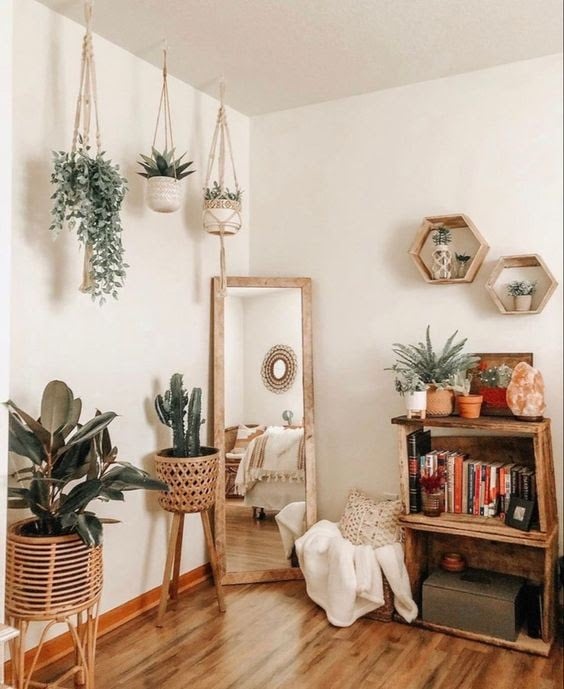 Conclusion
So now that you know what to hang and what to add as a great accent, throw your bohemian design prowess into full swing by mixing and matching everything your heart desires. Many wall décor ideas await.
It's time for you to complete your bare walls with some elegant bohemian wall decor. Hopefully, you're inspired! Now have fun with adding depth to your room design by creating and decorating your perfect bohemian paradise walls.