Embracing modern organic decor can be the perfect way to create an Instagram-worthy look. From sustainable materials and recycled pieces to simple patterns, these tips will help you achieve a contemporary modern organic vibe.
Organic modern style is the ultimate blend of chic modern minimalism and natural elements. It's a harmonious hybrid that brings warmth to cool contemporary spaces – think neutral tones, luxurious textures and natural materials for a luxe, comfortable atmosphere.
Without further ado, let's dive in!
Embrace Earthy Textures
Natural fibres like jute and sisal offer an earthy texture that pairs well with modern geometric prints or Nordic details. Look for natural fibred rugs, pillows or throws to spruce up any room.
Get Wacky with Wall Art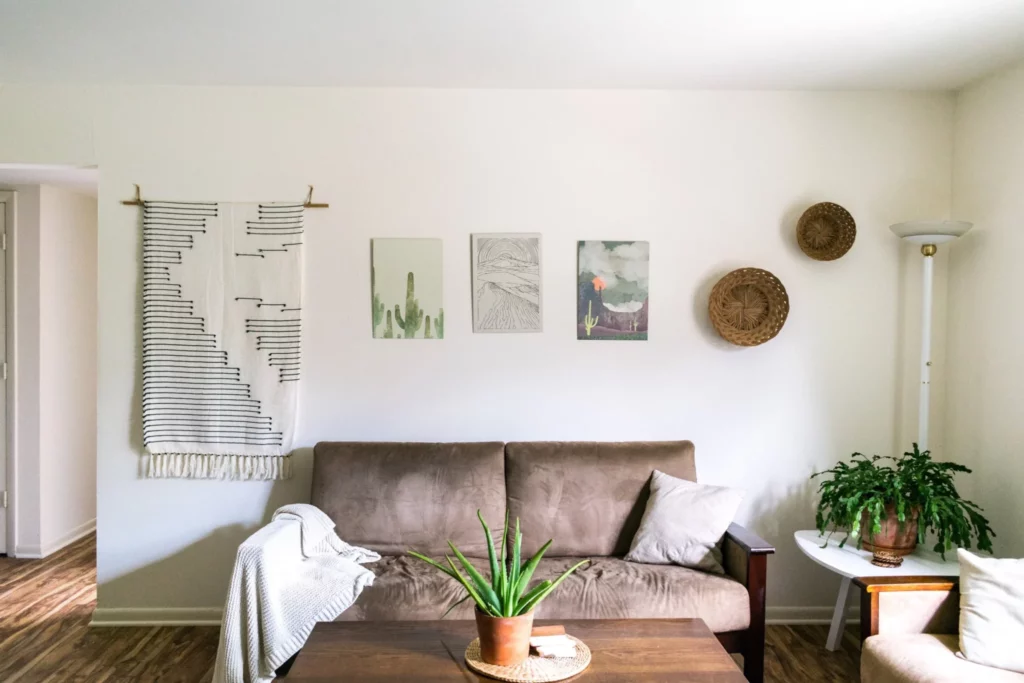 Choose wall hangings and art prints that are quirky and depict nature or minimalist aesthetics. Look for artwork featuring abstracted shapes, bold lines, natural colours and minimal motifs in order to give your walls a geek-chic makeover.
---
Mix Patterns
Experiment with mixing different patterns together for a cool contemporary look. Natural stone with sanded wood, or metallics with glass finishes.
Incorporate Upcycled Pieces
Look for pre-loved furniture and home decor items that have been upcycled or restored.
Work with Wood
Consider using natural wood in lieu of plastic, metal or glass materials whenever possible. Not only does it look beautiful but it also adds warmth and a sense of comfort to your living area.
Introduce Industrial Elements
Expose pipes, use concrete accents and choose metallic finishes like copper or bronze – the industrial style gives any room an edgy feel that's perfect for modern organic decorating.
Try Texture Blocking
Recreate the look of contemporary art gallery walls by texture blocking. A combination of canvas, wood, stone and other materials will add a unique touch to your home.
Opt for Open Shelving
Swap closed cabinets or bookcases with open shelving – it's a great way to create a modern organic look while displaying your favourite books and kitchen knick-knacks.
Accessorize with Sleek or Geeky Artifacts 
Quirky items like vintage cameras, computer circuit boards or robot figurines can be used as fun accessories that will easily stand as focal points in your organic neutral rooms.
To keep in the theme, go for minimal candles, vases or monochrome flower pots. From coffee table art pieces to wall accents, think outside the box when it comes to creating an interesting display!
---
Hang Natural Fiber Curtains
Natural fibre curtains can give your room an airy feel while still blocking out light. Choose curtains made from jute, hemp, or bamboo for a modern organic look.
Use Natural Paints
If you're looking to paint your walls with eco-friendly products, go for paints made from natural ingredients such as chalk and clay.
Incorporate Bamboo Furniture
Bamboo furniture is lightweight yet sturdy making it perfect for both indoor and outdoor spaces. Consider using it in your living room, bedroom, dining area or even on your patio.
Choose Wood Flooring
Hardwood flooring is a great way to bring organic decor into your home. Choose woods with rich, natural grains and tones for an elegant look that adds warmth and character to any room.
Add Woven Rugs
A woven or braided rug not only brings texture to the space but it is also incredibly durable and easy to clean.
Embrace Natural Lighting
Let the sunshine in by keeping your window treatments light and airy. Consider using sheer curtains or blinds to keep the sun lighting up your home.
Incorporate Houseplants
Adding plants throughout your home is a great way to bring organic decor into any room. Choose low-maintenance house plants such as succulents, pothos, peace lilies, and snake plants.
Invest in Natural Fabrics
Choose natural fabrics for accent pillows, rugs and throws such as linen, cotton, jute or even wool – they will help create a comfortable atmosphere.
Use Natural Stones
For an added touch of luxury, go for marble or granite countertops, backsplashes and floor tiles. Natural stones are beautiful, durable and a great way to add an upscale look to your home without compromising on eco-friendly materials.
By incorporating these ideas into your decor style, you can create a modern organic space that is both beautiful and sustainable! And remember – when in doubt just keep it simple and use natural materials such as wood, stone, organic fabrics and plenty of plants for an inviting atmosphere that is sure to please.
For more home decor inspiration explore our blog posts below: