2022 was a quiet year for gaming. But even though many anticipated titles were postponed or canceled, it didn't stop gamers from leveling up, killing monsters for good loot, and looking for gaming room ideas to upgrade their setup.
After all, long gaming sessions are all about comfort, so huddling over a television or PC in a cramped corner simply won't do. Besides, what gamer doesn't want an awesome gaming setup with multiple screens, gaming accessories, consoles of every kind, and ambient lighting?
Luckily, in the fertile imaginations of video game fans, every cubby hole, dull wall, and beat-up desk turns into an opportunity for reinvention. During the past twelve months, thousands of gaming enthusiasts posted up their very own battlestations for our satisfaction and inspiration (thanks, internet). And so, we've taken it upon ourselves to gather the 65+ best-themed game room ideas to help you build the ultimate gaming den that will make your friends drool.
Ready to take your gaming experience to the next level? From Cyberpunk 2077 to superheroes, here are 65+ top video gaming room setup ideas for you to get inspired!
Cyberpunk Gaming Room Idea
You can't redecorate your apartment in Cyberpunk 2077, but you can decorate your gaming room Cyberpunk 2077 style. Even if you can't afford to completely revamp the entire room, you can check out these officially licensed Cyberpunk 2077 posters for some insanely cool wall art. Welcome to the Night City.
Tech Meets Nature Gaming Room Ideas
Love tech, but love nature too? This gaming setup makes the best of both! The nature-themed desktop wallpaper and indoor plants balance out the cold combo of PC gear and furniture and add an overall softness to the entire decor. If you really have a green thumb there's no reason why you shouldn't push the boat out and cultivate a full vertical garden wall! You'll feel as though you've been out in nature even if you've been glued to the screen all day.
Wolf Wall Decor
Singer Gaming Desk
Plant Panel Wall
Black and White Gaming Room Ideas
Bash out a simple but effective scheme in black and white. White speakers, a white keyboard, and a matching headphone stand keep this design crisp and clear. Using white and black as your base colors gives you a lot of wiggle room to experiment with LED lighting. No matter which colors you use for your lighting, it will always look good. Also, we absolutely love the idea of sitting down to a game at a desk that feels like it belongs on the bridge of a spaceship.
Star Wars Themed Gaming Room
LED Backlit Gaming Setup Idea
Monochrome Wall Art
Anime Paradise Gaming Room Ideas
This kawaii gaming room is just dripping with pastel aesthetic. Everything from the keyboard to the chair is adorned in baby pink, and the whole space is gently illuminated by a neon blue sign written in Japanese. The walls have the iconic Demon Hunter masks from the anime 'Demon Slayer: Kimetsu no Yaiba' hanging just above the PC, and on the floor there's a cute rug featuring Killua Zoldyck from the classic Hunter X Hunter.
Anime Setup with Pink Accents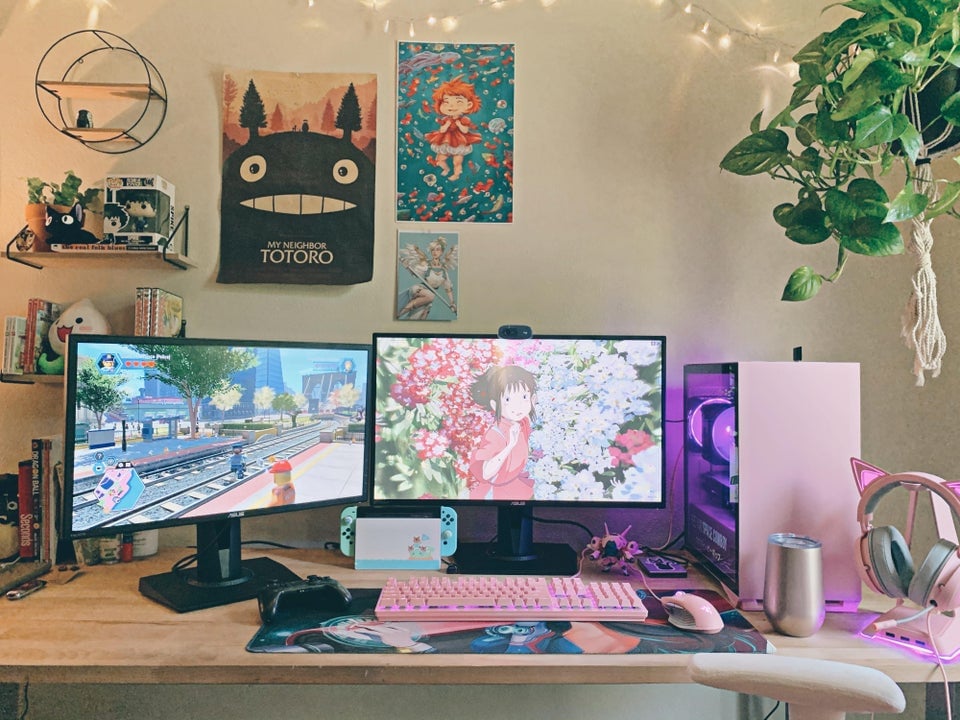 Anime Setup with Neon Sign
RGB-Lit Anime Setup
Star Wars Themed Gaming Room Ideas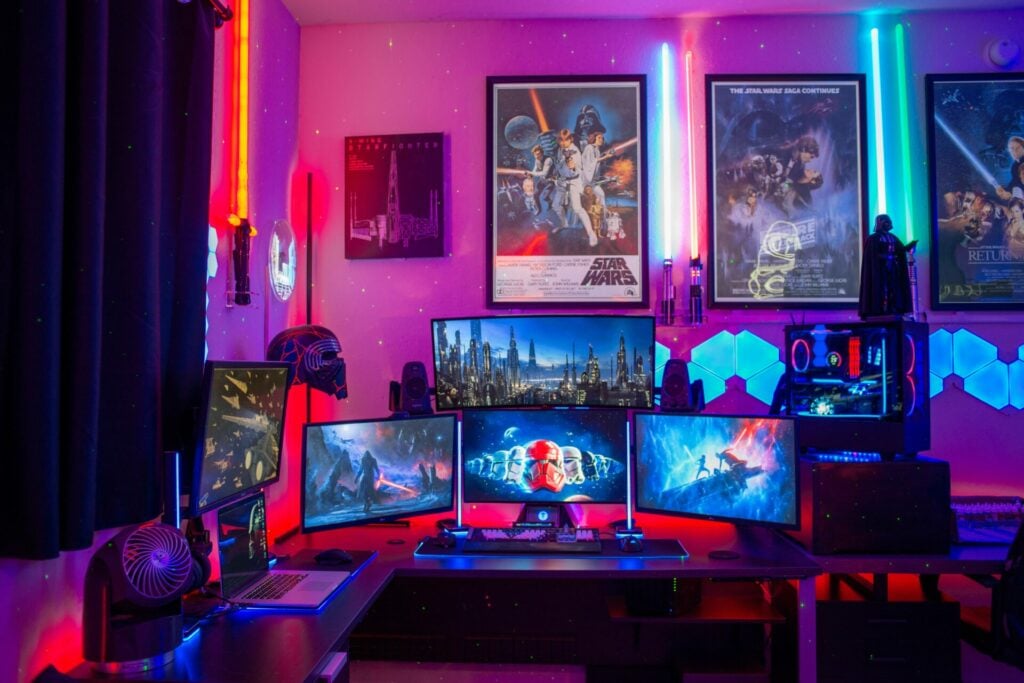 You won't have to go to a galaxy far, far away to enjoy this Star Wars-themed room. Bathed in eerie blue and red lighting, it features Star Wars lightsabers, figurines, and Star Wars-themed wall art.
Color-capable LED lights, laser dot projector, and Nanoleaf triangles help create a next-level gaming experience by transforming a dark bedroom into a sci-fi movie set.
And if you happen to be in the market for Star Wars posters, Displate has you covered with officially licensed posters from your beloved franchise.
Triple Monitor Star Wars Setup
Mandalorian-Inspired Battlestation
Stormtrooper Gaming Room
Pink Gaming Room Ideas
Every girl otaku would be obsessed with this bubblegum pink gaming setup. Undeniably cute without being suffocatingly pink, the pastel accents and a matching Nanoleaf panel tie in nicely with the cherry blossom wallpapers and the backlit keyboard, taking this cutesy build to the next level.
Kawaii Wall Art
Fluffy Pastel Gamer Girl Setup
Neon-Lit Gaming Setup
Cozy Gaming Room Ideas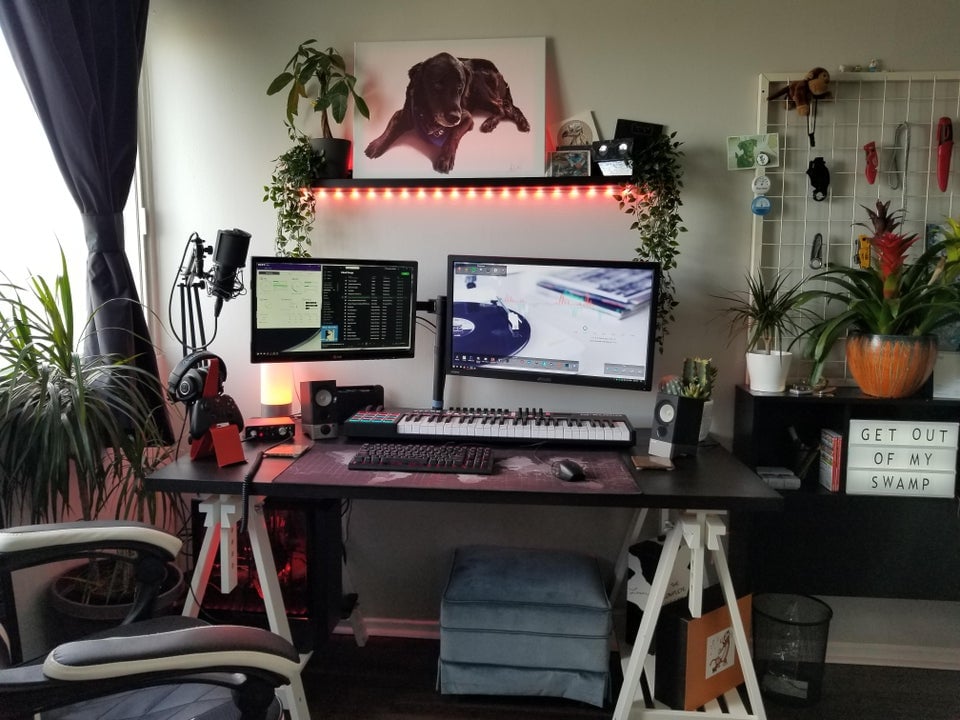 Very often our gaming space doubles as a functional room, such as a home office. If you're a gamer by night, but a stay-at-home worker by day, this snug home office will fit you to a T. You can almost feel the cozy vibes coming from this desk situated near a bright window with lots of surrounding greenery. But even with a window and some plants around, you might still end up staring at a blank wall. To solve that problem, go for beautiful wall art that features scenes of nature, forests, flowers, and wildlife.
Home Office Gamer Room
Rustic Gaming Room
Vintage Gaming Setup
Small Gaming Room Ideas
Every gamer's dream is to have an entire room (and a large one at that) dedicated to video gaming. Some of us aren't so lucky and have to make do with a tiny space or use a common room as our gaming room. So, if you've ever had to turn a closet or a corner of a bedroom into a gaming area, this one here is for you. Small but no less impressive, this tiny video game nook is complete with Nanoleaf Panels, a display keyboard collection, and a giant mousepad.
Small Closet Gaming Room Setup
Ikea Closet Battlestation
Minimalist Gaming Room Ideas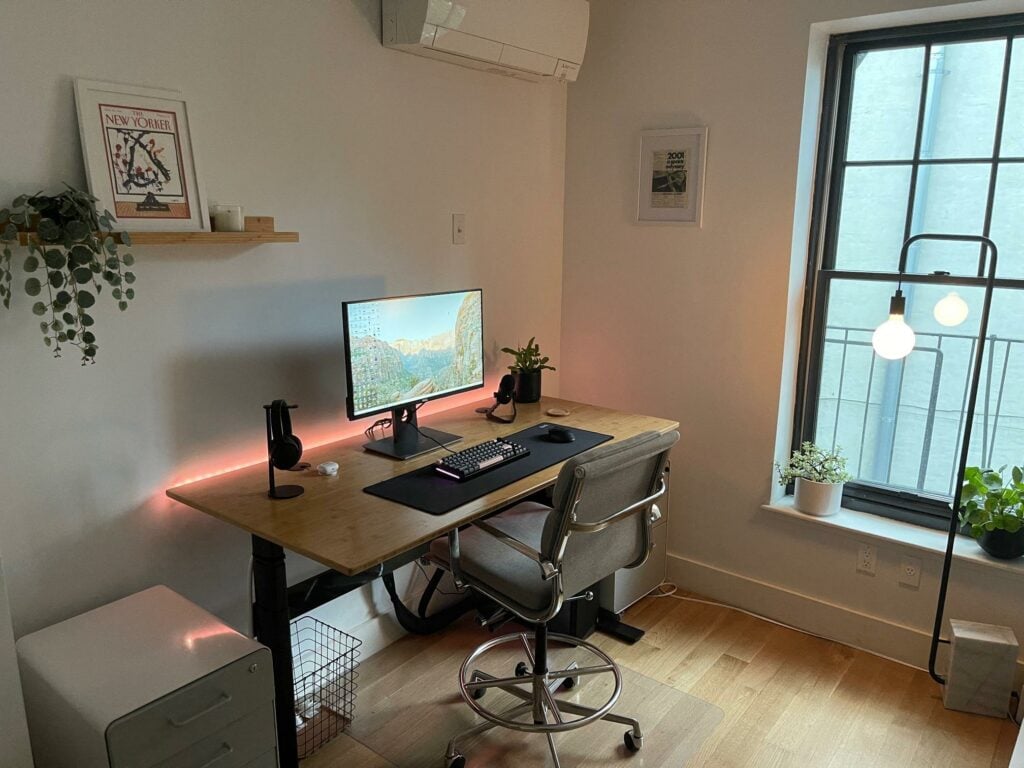 Minimalist without feeling cold or bare, this gaming setup is absolutely on point. The wooden desk and the peach LED strip behind it make the space feel calm and inviting, and we absolutely love the lamp and side cabinet. Also, if there's one thing that sticks out in any gaming setup, it's the computer chair, so make sure to pick a great one! For minimalist inspo, check the wireframe computer chair in the middle (below). It has an airy vibe to it and seems perfectly geared to you fans of simplicity out there.
Nanoleaf Canvas Gaming Setup
Wireframe Chair Gaming Setup
All-White Gaming Setup
Gaming Cave Ideas
A fully-fledged video game room with all the bells and whistles, it can comfortably accommodate your monitors, keyboards, mouse, speakers, and other gaming accessories, plus it can easily become the most epic entertainment center in the whole neighborhood. Gaming caves come in all shapes and sizes, this one right here features a display cabinet for action figures, floor-to-ceiling shelves for collectibles, and a colorful gallery wall of posters.
LED Strip Gamer Room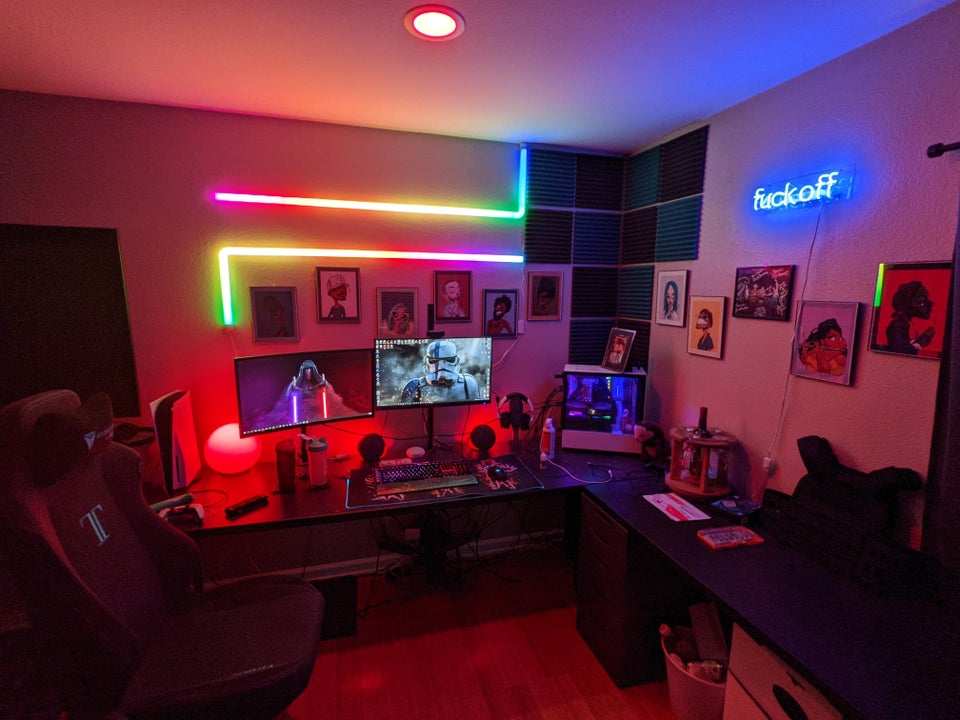 Basement Office Gamer Cave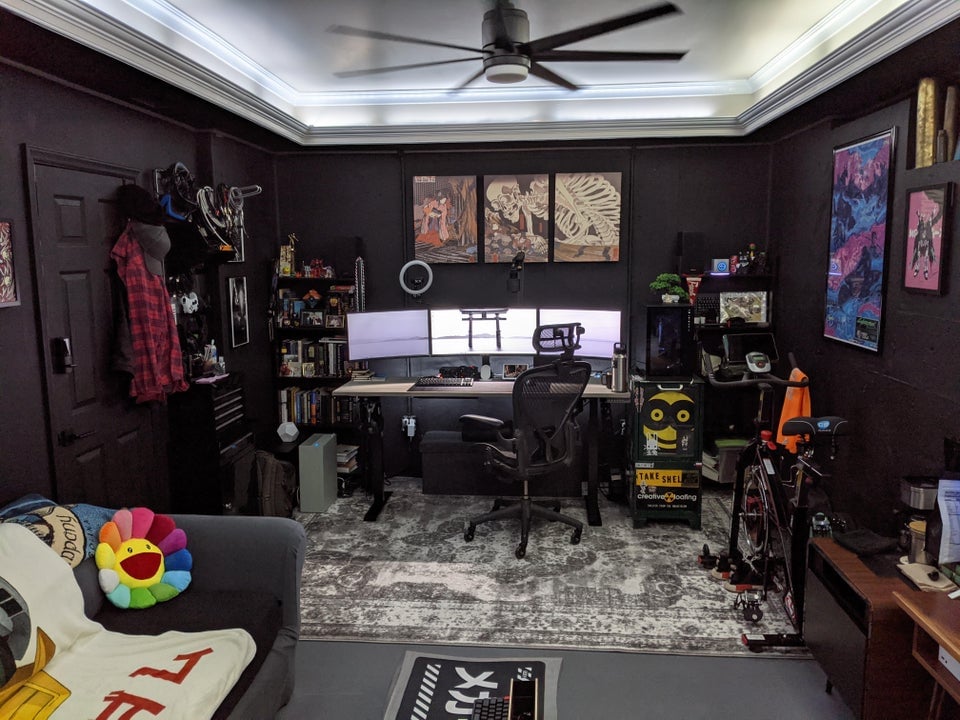 Soundproof Gaming Room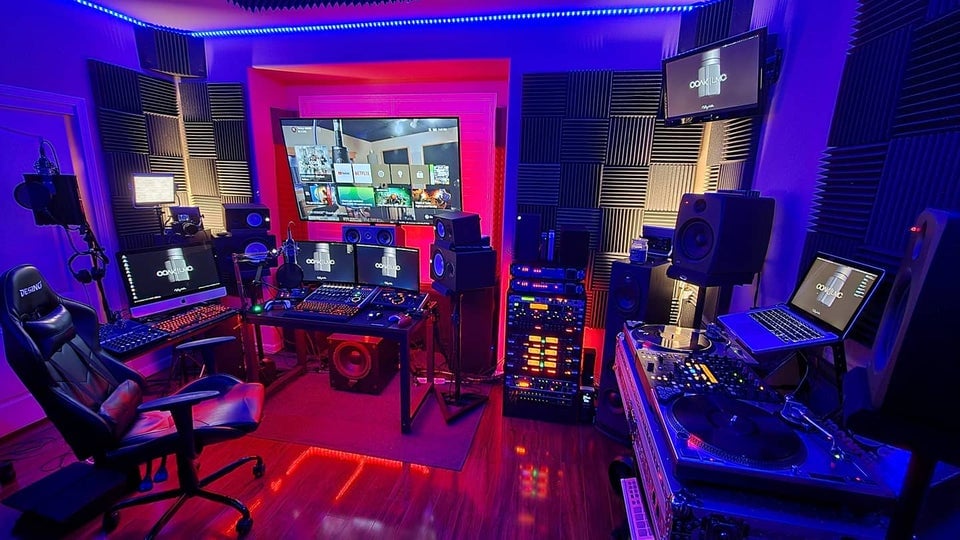 RGB-Lit Gaming Room Ideas
We're super impressed when someone manages to sync up the RGB lighting on multiple devices, and this stunning gaming setup definitely feels well-coordinated. Purple and pink internals, matching nebula wallpapers, and an RGB keyboard case make it glow like no other. Before you ask, the clouds in the backdrop are made from addressable Christmas lights, a WLED Controller, and some hobby fill glued onto old signage. DIY doesn't get any cooler than this.
Funko Pop Gaming Room
Living Room Game Station Ideas
Out of the basement and into the spotlight! We have something comfy and nice for hosting a group of friends. A living room doubling as an entertainment center slash gaming room is great for impressing your guests.
A comfy couch with a decent TV stand and a dedicated gaming area can be the perfect hub for just about everything from the morning news to Saturday night movie marathons to heated video game competitions.
His and Hers Gaming Room Ideas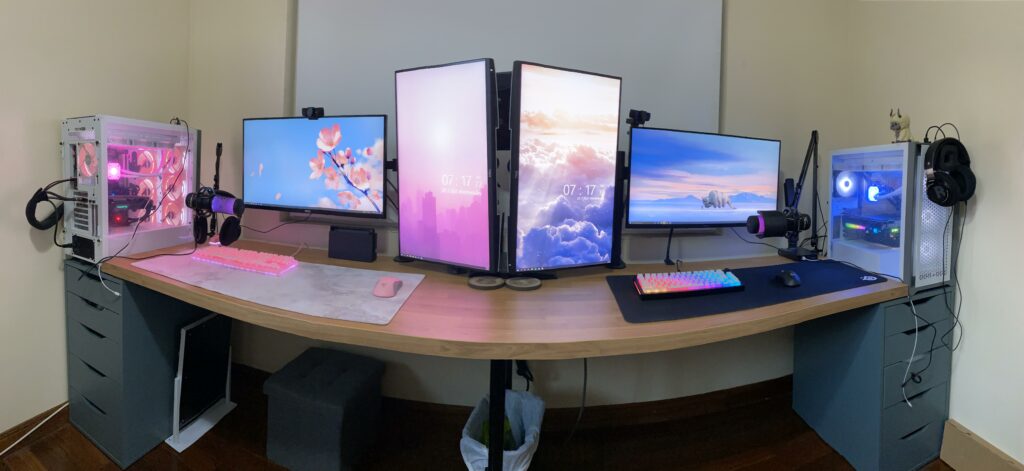 A couple's game room is one of the best ways to enjoy your favorite hobby together. The key thing is to design the layout of the desks based on room dimensions and limitations. You two can sit side by side, facing each other, back to back, or in freestyle if you have a really big open space. This cute couple's side-by-side gaming setup features a long desk with space for four screens and a pink and blue color scheme.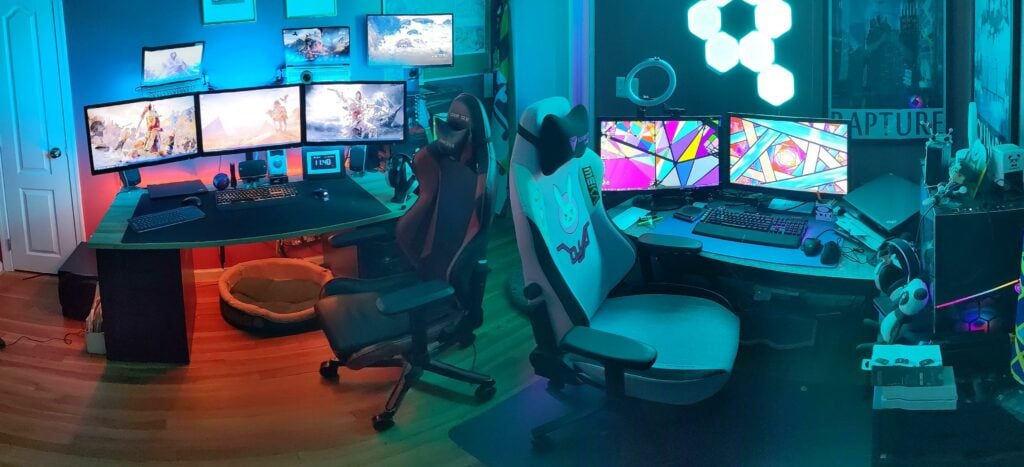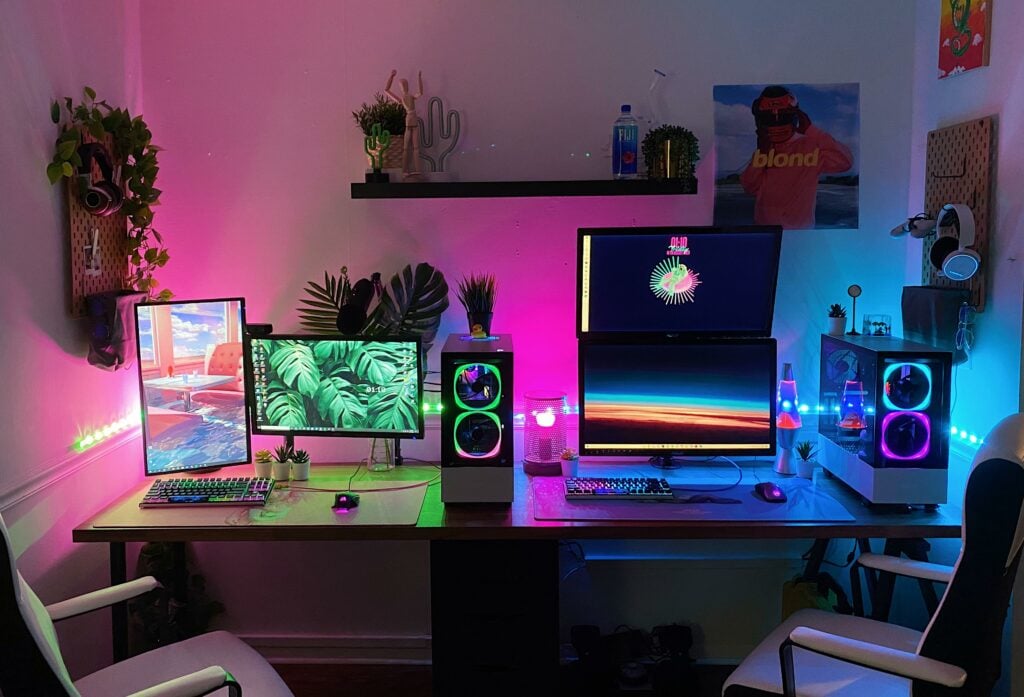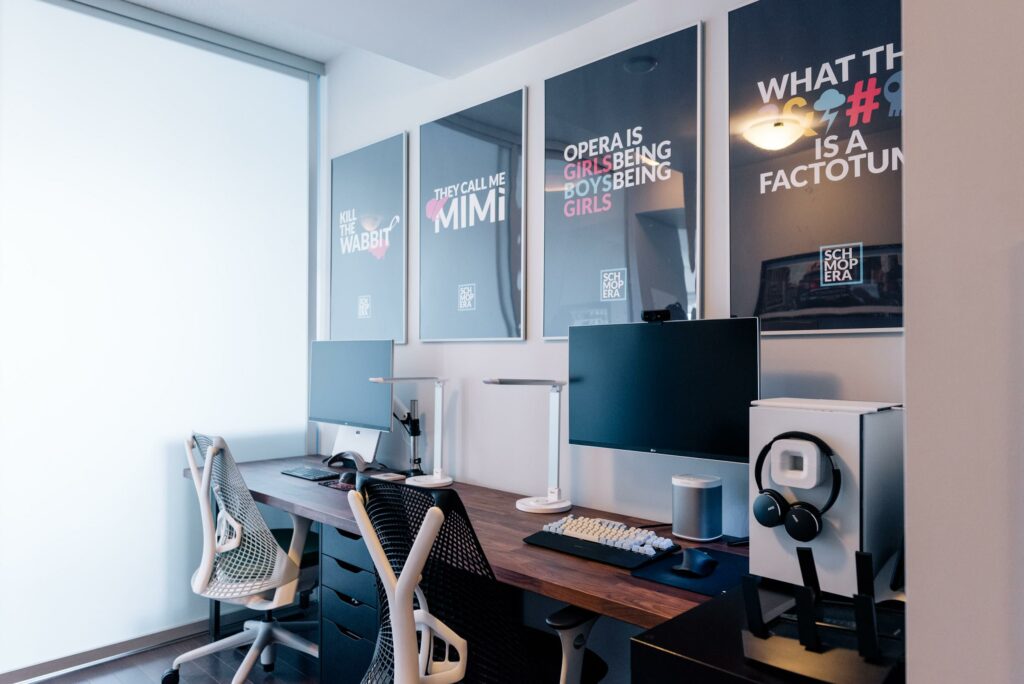 Wood-Themed Gaming Room Ideas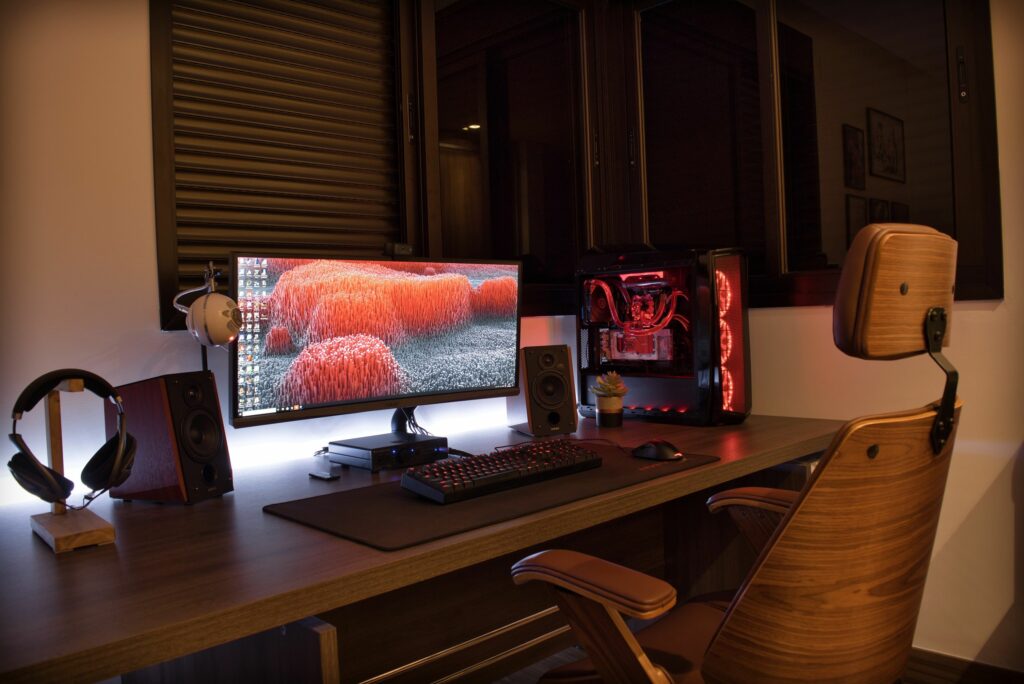 Nature lovers all hail this earthy-themed gaming setup. A wooden desk keeps in line with the matching mid-century gaming chair and speakers, while the coral reef wallpaper and RGB rig fill the space with a soft, peachy glow, adding an extra warm touch to the whole scheme.
Honeycomb Wall Decor
DIY Gaming Hub
Lightning Bolt Neon Sign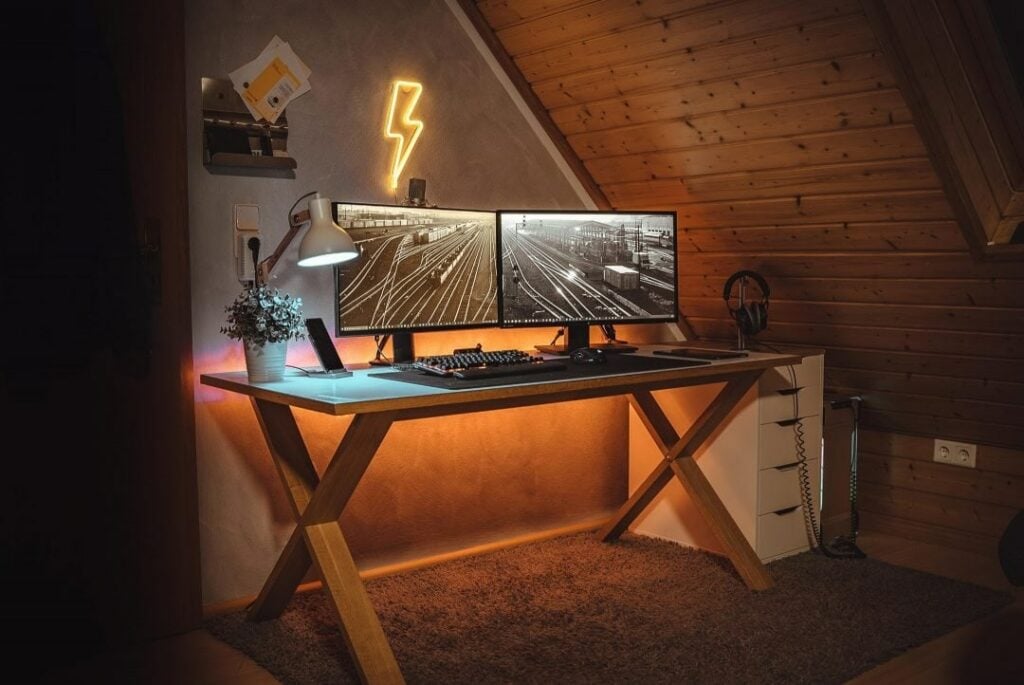 Neon-Lit Gaming Room Ideas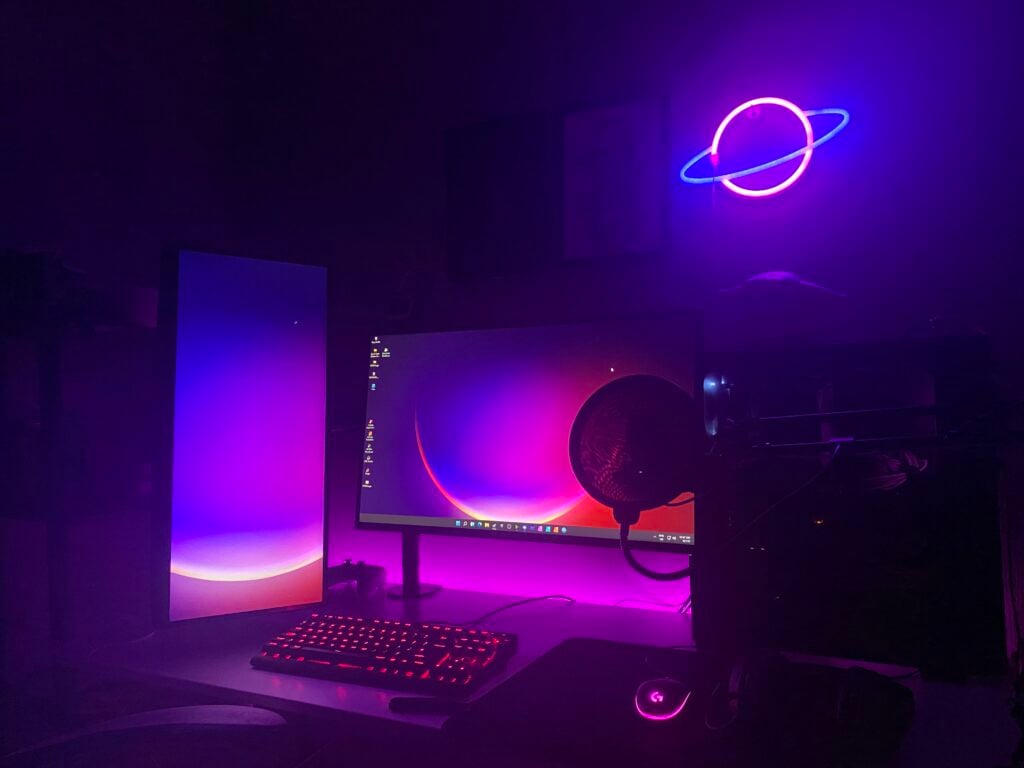 It's always amazing what a simple neon sign can do to a gaming room decor. It transforms this simple desk and monitor into an awesome gaming battlestation. You can find a bevy of gamer neon signs on eBay, Etsy, and Amazon. Top it off with a Nanoleaf panel and a LED strip in the back of your desk and you got yourself a Blade Runner-style setup.
Dreamy Gaming Setup
Neon PlayStation Sign
Guitar Gaming Corner
Retro Gaming Room Ideas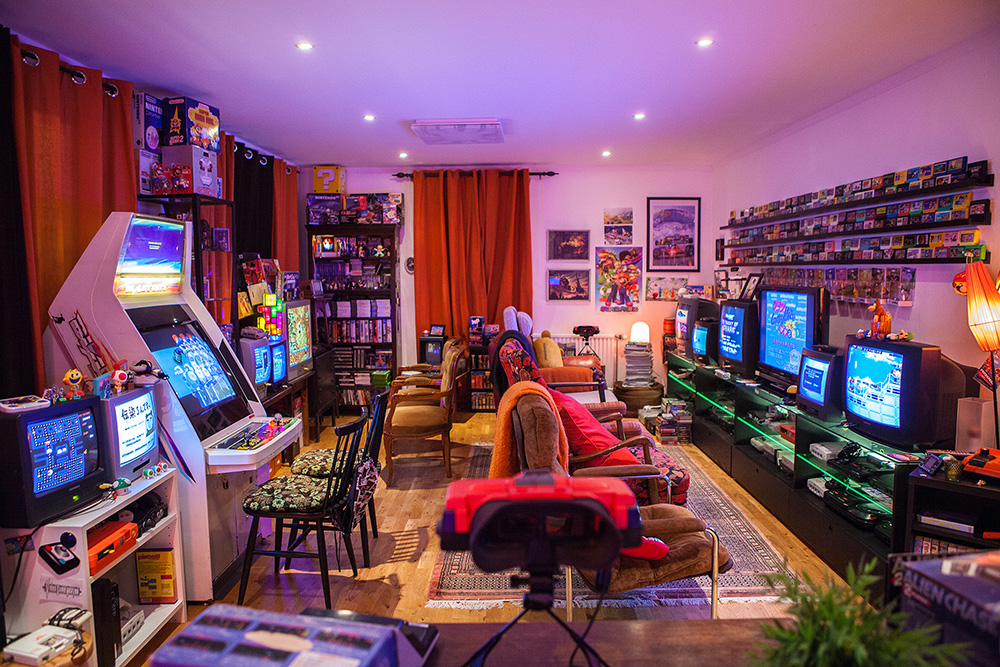 This gaming room will have retro fans swooning. It's a shrine to retro games from Donkey Kong to Pac-Man, filled with old TV sets, game consoles, vintage furniture, and arcade machines (because who doesn't want their own arcade machine at home). Plus a massive library of games and collectibles that has us all drooling.
Super Mario Retro Shrine
Retro Spaceship Gaming Room
Arcade Entertainment Room
Attic Battlestation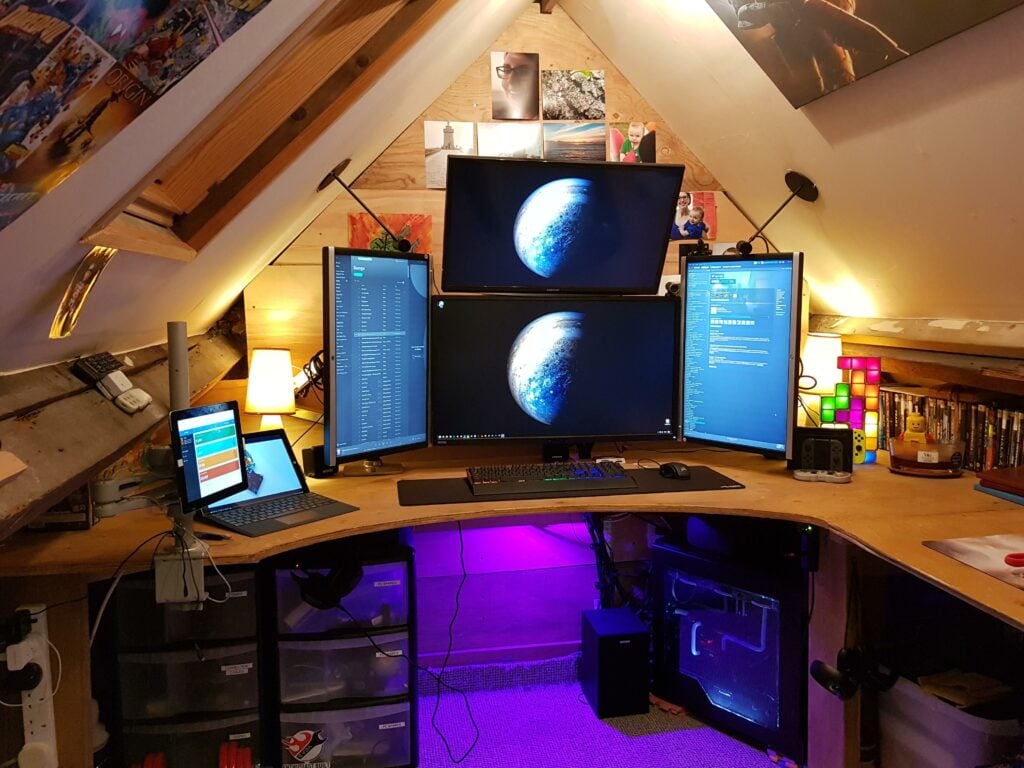 Your average attic is so much more than just a dusty storage unit and a creepy crawl space. In fact, it has the potential to become the ultimate entertainment center when given the right game room decor treatment. This attic gaming hub features an L-shaped desk and a multi-screen setup. The sloped ceiling might be tricky to decorate but what gamer shies away from a challenge?
Comic Command Center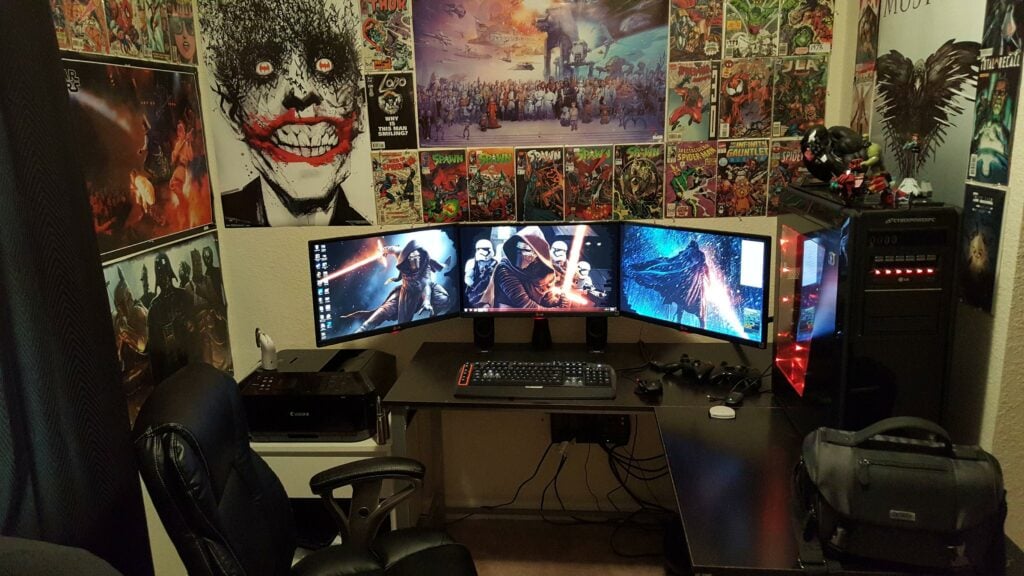 If you're a gamer who also enjoys the DC or Marvel franchises, don't overlook the possibility of creating a superhero-themed gaming room! You just need the right decor and cool wall art to really bring your room together. The walls of this gaming room are dressed in Marvel comic cover posters, and the all-black furniture and gear give it a dark and mysterious vibe. If you're looking for superhero posters, you can decorate your walls with officially licensed DC Comics Posters and Marvel Posters from Displate.
Over to You!
Gaming rooms are fun, recreational spaces that you can decorate any way you want. One idea is to think of a theme and then decorate the room accordingly. After all, it's really easy to buy gear and just throw it all together, but it really takes creativity and time (and a little inspiration from Displate) to take it a step further with design and personalization.
Some gamers believe that wall art for your gaming room is just as important as the games themselves. If you're one of them, check out our ever-growing portfolio of officially licensed designs, including collections from your favorite video games such as Hearthstone, The Elder Scrolls, Doom, The Witcher, Overwatch, Fallout, World of Tanks, Cyberpunk, Assassin's Creed, and more.
If you are struggling with gaming room ideas we hope our suggestions help you craft the battlestation of your dreams. What is your favorite game room decor or a game room furniture piece you can't live without? Let us know in the comments!