Forget candlelit dinners; staying in and playing video games with your significant other is the new date night! To help you bond (or battle it out), we've compiled a list of the best couple gaming setup ideas that will make you both want to stay home and game the evening away!
The stereotype of the lonely geek gamer is quickly becoming a thing of the past, as more and more couples are getting into gaming together. After all, you can't truly know your partner until you see how they handle the pressure of fighting off a demonic horde of orcs.
But creating a gaming setup that works for two can be a challenge. It isn't all RGB lights and matching chairs — you need a functional space that you're both comfortable using. With a little planning and a bit of compromise, you can achieve just that. Here are a handful of tips — and some couple game room ideas from across the web — for pulling off an enviable gaming station for two with style and grace.
How to Create the Ultimate Couple Gaming Setup
The first step to creating the perfect couple gaming setup is to lay out your station in a way that will keep both of you happy. Make sure to consider the following:
Distance. The issue of distance is a major one: how close do you want to sit? If the two of you like sitting side by side, consider getting an L-shaped or U-shaped desk, so it's easier to share peripherals and monitors without feeling crowded. If you'd rather not sit so close, a long desk with two separate stations is ideal.
Power. While setting up your station, don't forget that two people means twice as many accessories and devices to keep charged or ready. Make sure you have enough power outlets for everyone's equipment and chargers and consider using a surge protector with USB ports so each person can easily plug in their devices without having to crawl under the desk.
Lighting. Some couples play to unwind at night, while others prefer a more social experience during the day. The best couple gaming rooms typically have lights that can be dimmed or brightened to suit your needs.
Noise. Video games are loud! Sometimes it's nice to play them quietly so you can talk or listen to music while playing. If the two of you need silence in order to concentrate on your game, consider putting up noise-canceling curtains or investing in noise-canceling headsets.
Visual appeal. It's all about the little touches that make your space feel like home. We recommend adding some personal photos, artwork, or posters to really give it a lived-in feel. But don't overdo it with clutter! Make sure there's plenty of room for both of you when gaming so no one gets crowded out.
Budget. It's important to think about how much you want to spend before getting started. If you're on a tight budget, consider making the couple gaming setup a DIY project! You can do some or all of it yourself and find great deals for your parts while still having fun creating something new together.
Couple Gaming Setup Ideas to Get You Inspired
Everyone has a different idea of what the ideal couple gaming setup looks like. Some people might prefer to play their favorite games from the comfort of a couch, while others want to battle it out on high-end PC rigs with cutting-edge technology. Whatever your preferences may be, the best couple gaming setups are all about making sure that both of you get exactly what you need out of the experience, which means plenty of fun along the way. Below are examples of gaming rooms done just right. Scroll down for some inspiration!
Create Symmetry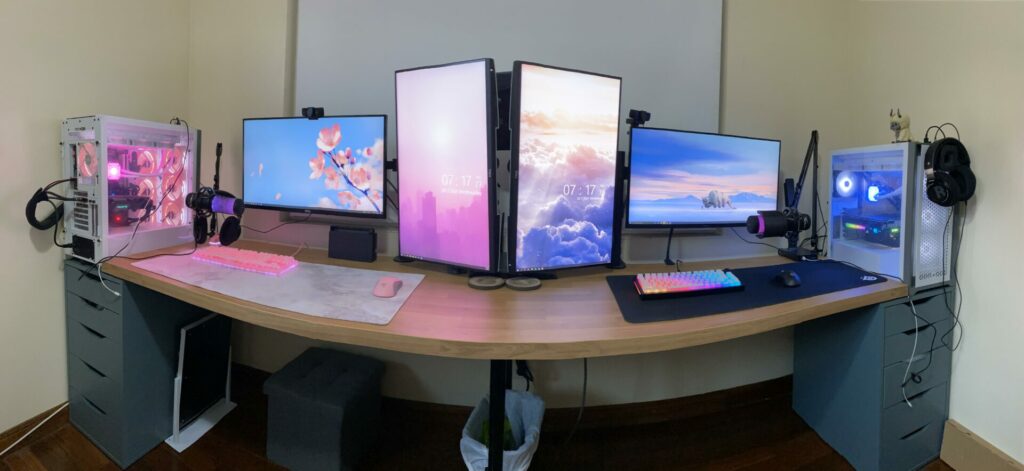 Aiming for a symmetrical look is the best trick in the book. This cute side-by-side gaming setup features a long desk with space for four screens and a pink-and-blue color scheme.
Set Up Ambient Lighting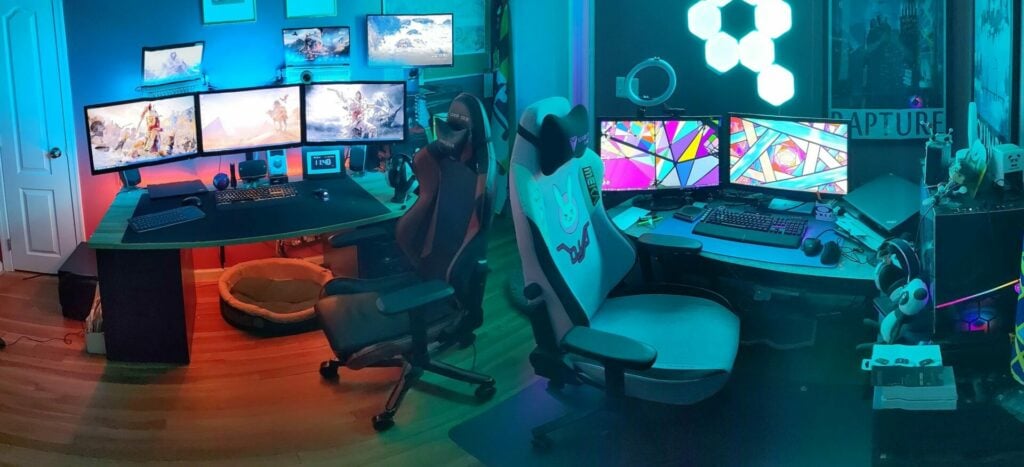 If your space allows it, you can opt for two individual setups instead of one big station. Here, an epic gaming room for two basked in fantastic aquamarine light.
Mix and Match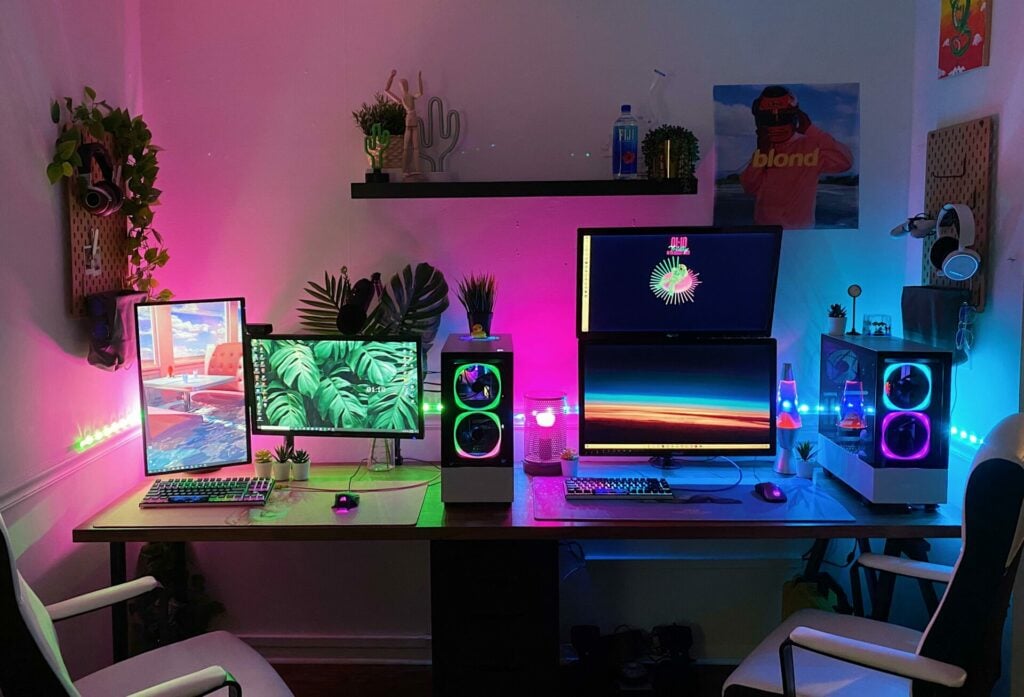 For some couples, having one half of a gaming setup as a mirror of the other half can seem a little dull. If you're one of them, feel free to accentuate your individuality through decorations such as artwork, ornaments, plants, shelving units, and more.
Be Minimalist About It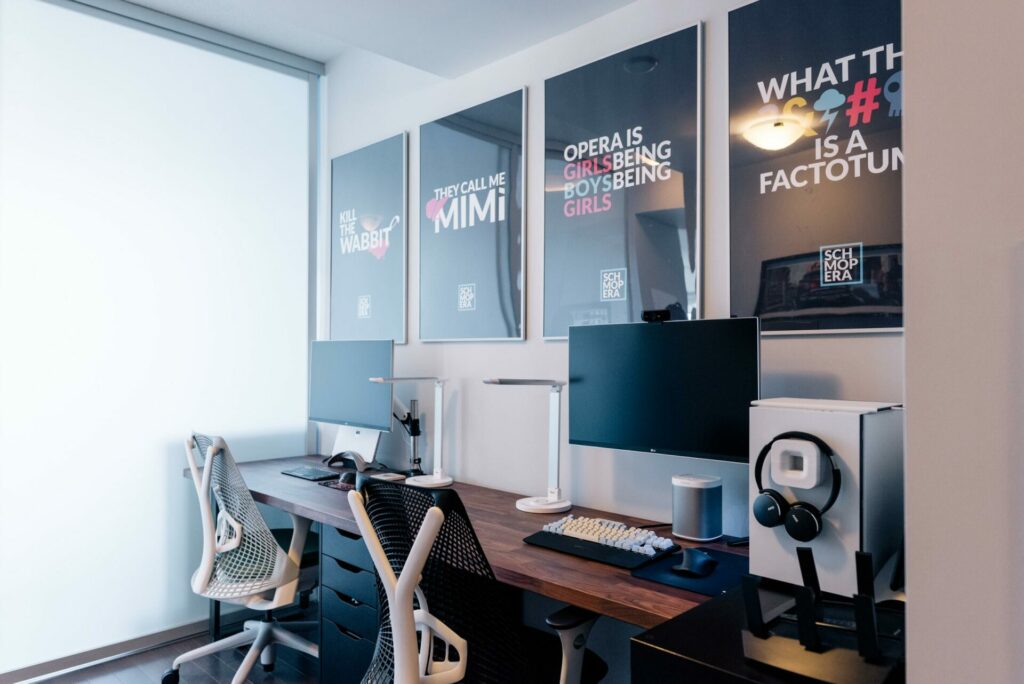 This gaming couple keeps things classic with a black-and-white color scheme. The restrained color palette and matching wireframe computer chairs make the space feel airy and clean.
Color Coordinate Your Setup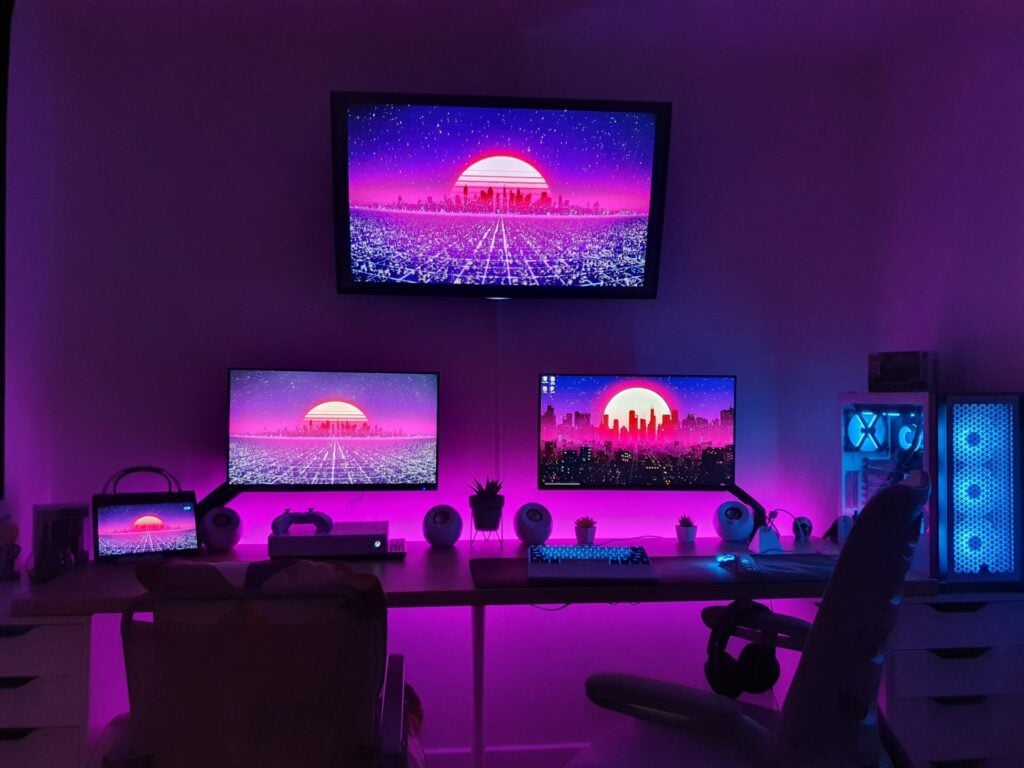 The best gaming setups usually match their lights with their wallpapers, so if you can't decide on the color scheme, pick a desktop background you both like and use those colors for your lights.
Dress Up Your Walls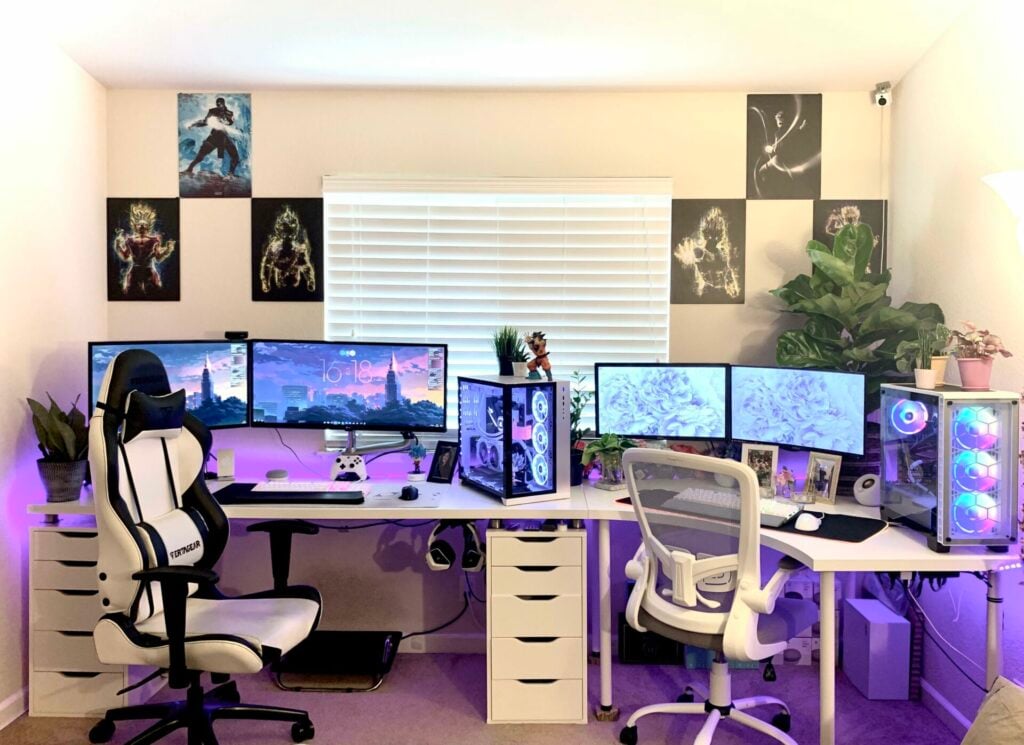 Sometimes you just need some cool artwork to really bring a gaming room together. From Marvel, DC, and Star Wars, you can find all sorts of cool posters on Displate!
Go For Matching Desks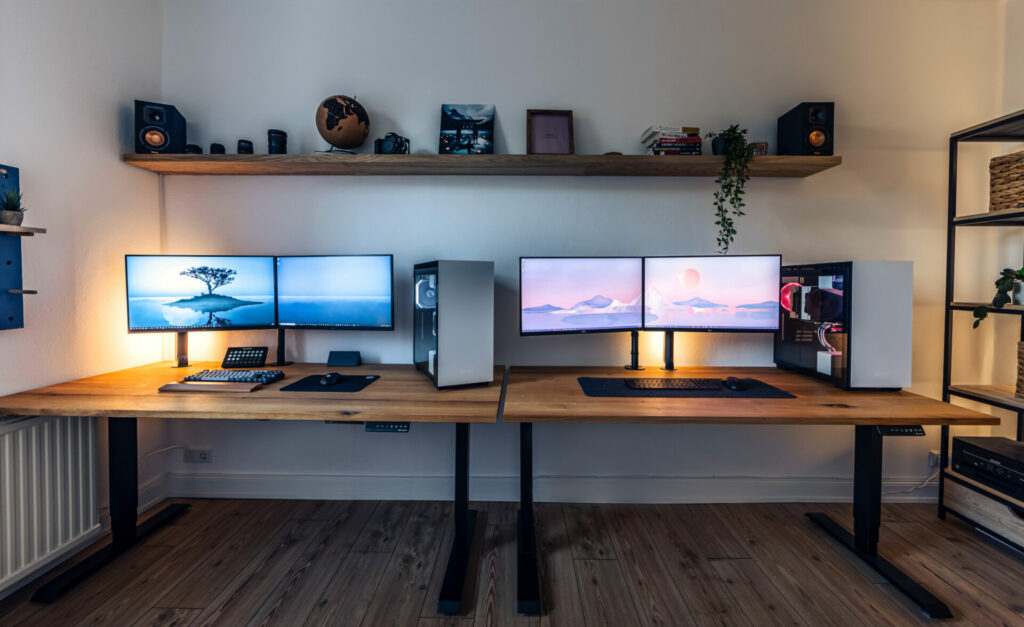 In a small room, having both desks match can create a sense of unity. If an uncluttered game room setup is right up your alley, give this idea a shot.
Amp Up The Cozy Factor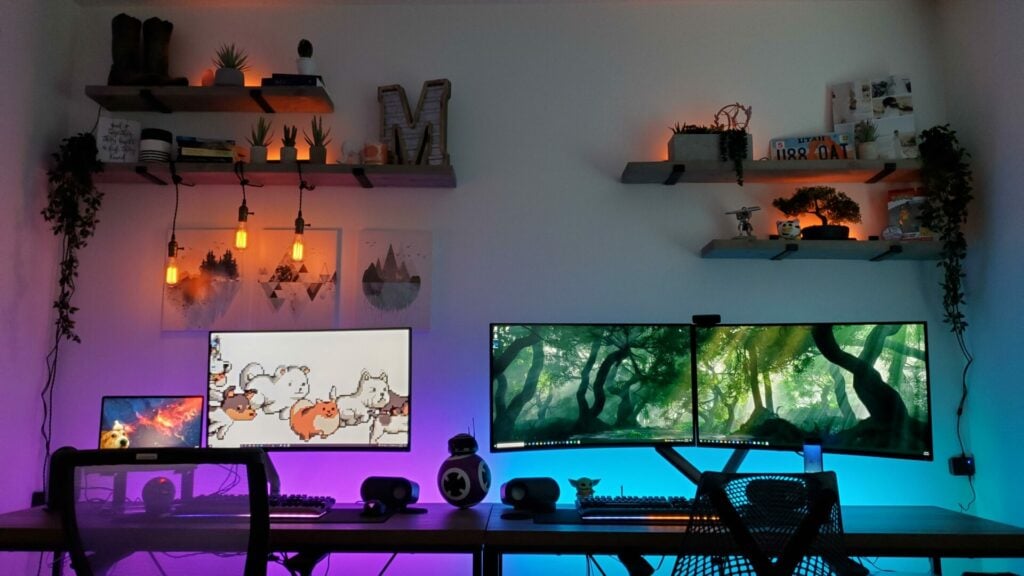 If your gaming station feels cold, add a touch of greenery and warm lighting and see it cozy up in an instant. Choose a nature-themed desktop wallpaper for that extra calming ambiance.
Soundproof Your Station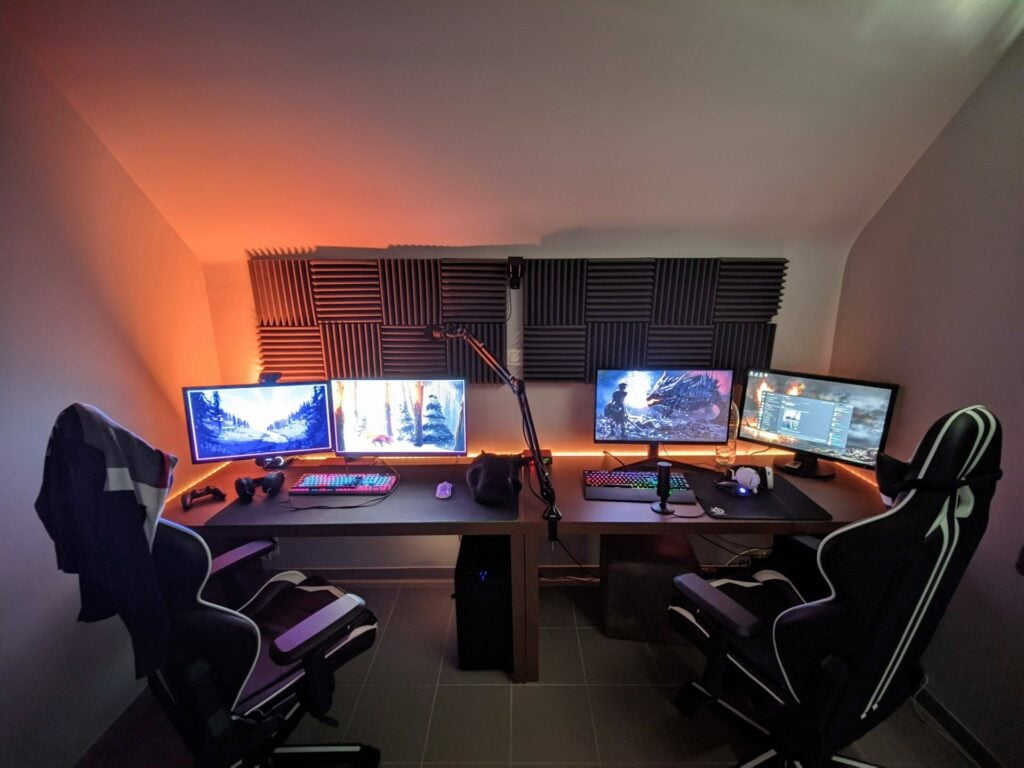 Acoustic foam panels absorb all noise that bounces off the wall. But before you start mounting them above your desk, make sure you both have good open-back headphones and decent mics first.
Organize Your Desk to a T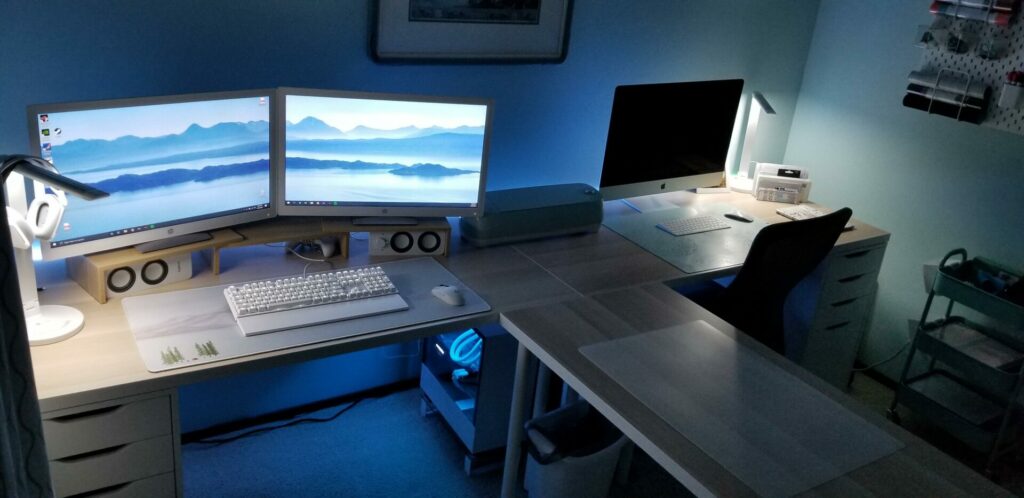 A T-shaped desk provides you with space to work on non-computer activities (you can switch your workstation with a simple turn of your chair). However, it takes up a lot of space, so it's best in a larger room.
Turn on RGB Lights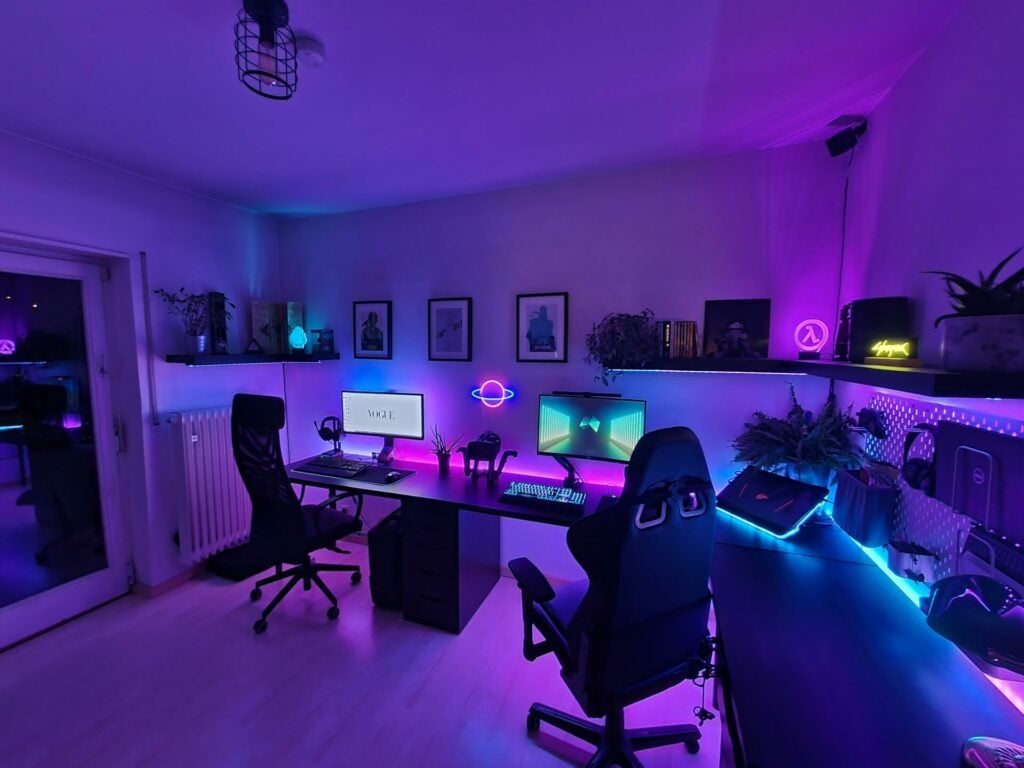 No gaming room is complete without futuristic, customizable LED strip lighting, and this couple setup will definitely make you forget what sunlight looks like. Also, how cool is the little planet neon sign?
Try an L-Shaped Desk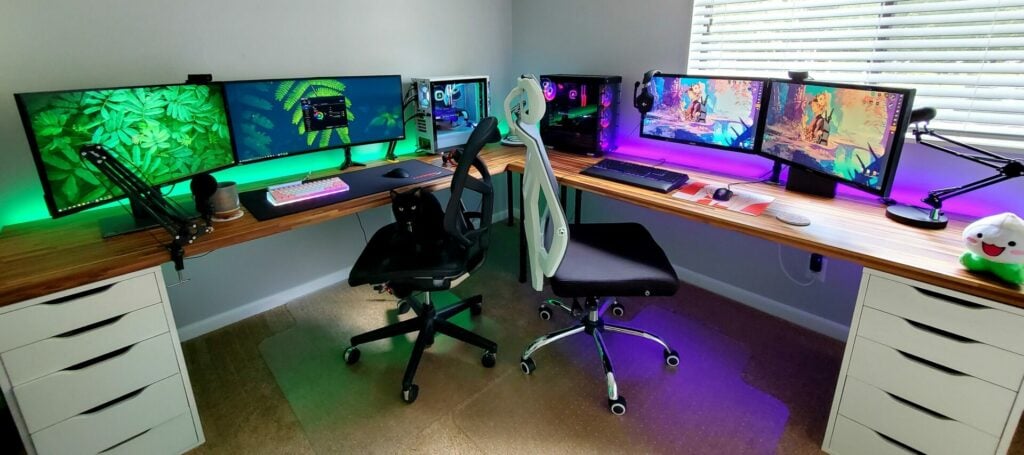 An L-shaped desk is a great space-maximizing option for a couple that spends a lot of time at a computer. If there's a downside to L-shaped desks, it's the size. They take up a lot of space and can be cumbersome to assemble or move around.
Color Code Your Setup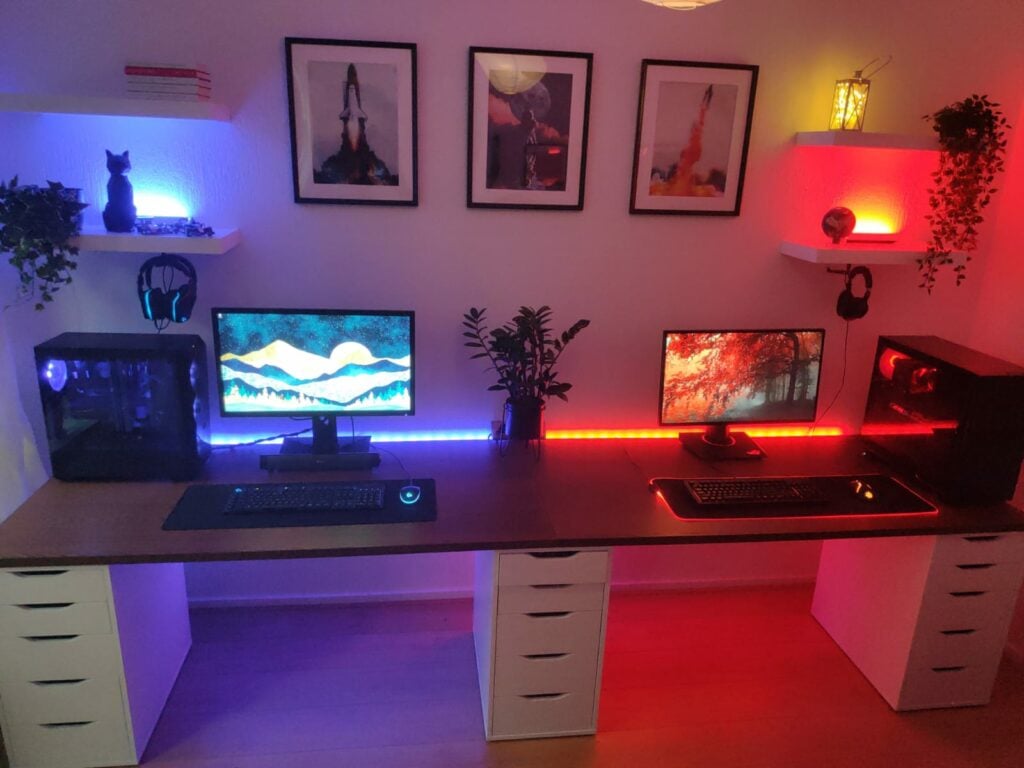 Choose two separate color schemes that will help set apart each side of the setup. You can stick to the standard pink and blue or go with your favorite colors or shades that show off your individuality.
Bring Natural Light In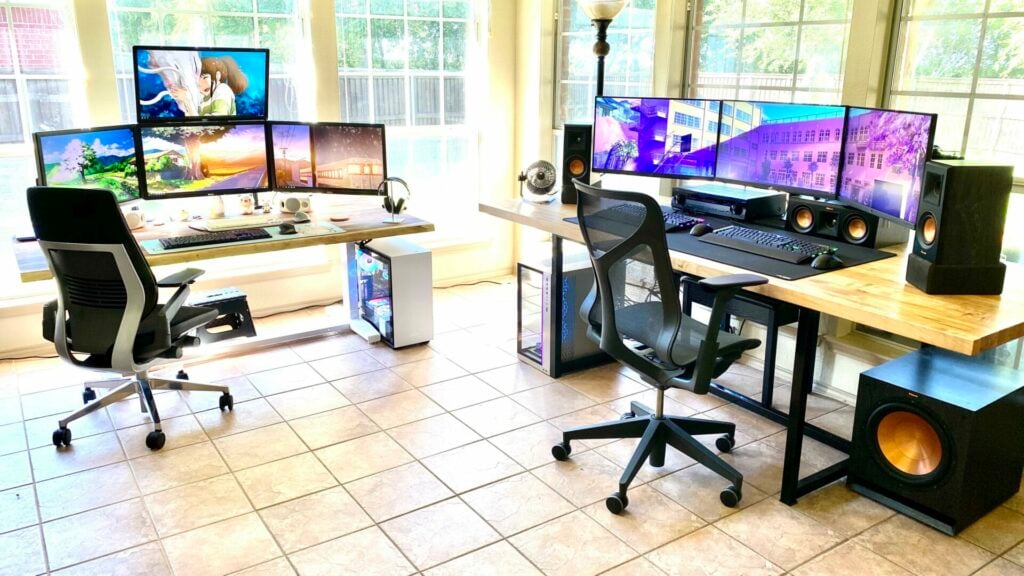 While mood lighting is nice, it can be distracting and hard on your eyes when playing for long periods of time. If possible, consider placing your setup near large windows so that natural light falls over it during the day and creates a soft ambiance at night.
Use Contrasting Lights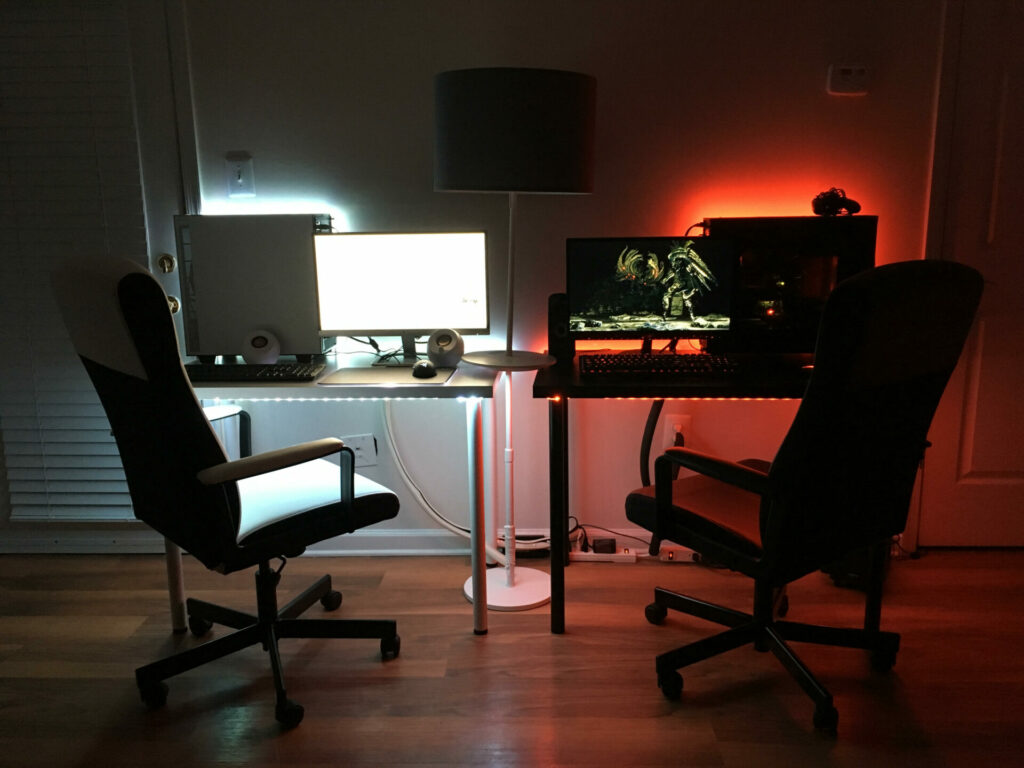 Colored lights play an important role in creating a next-level gaming experience without redecorating the entire room. Whichever colors you pick for your dual setup, make sure they offer a definite contrast.
Create a Focal Point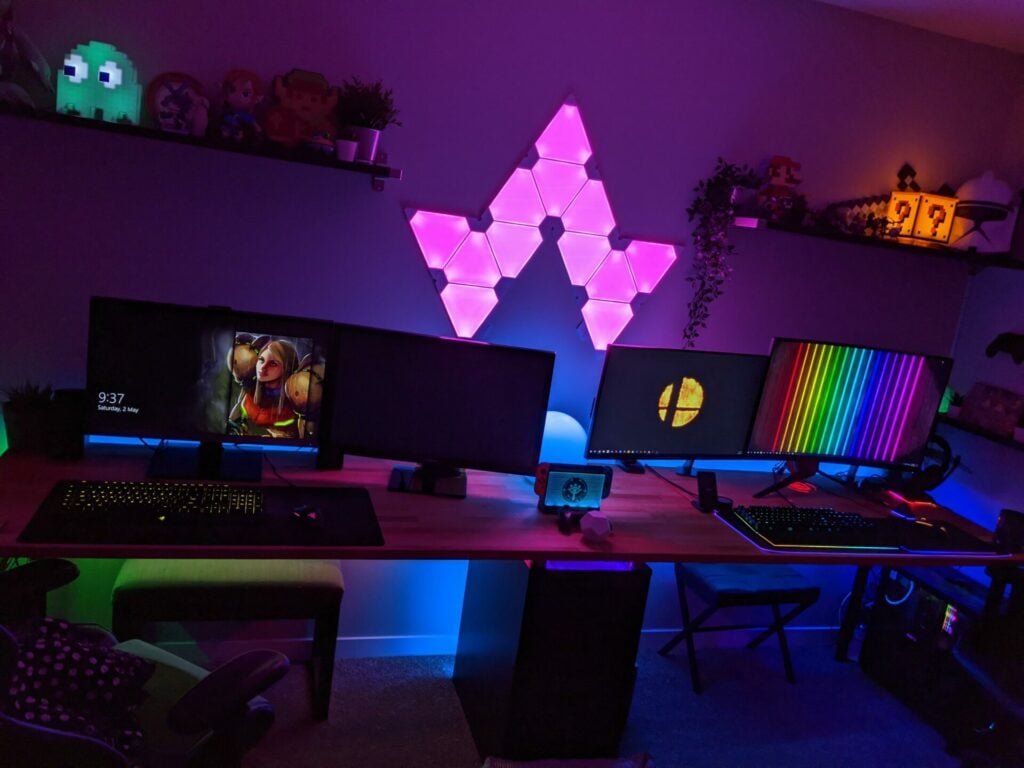 It's always a good idea to find a focal point to the entire setup and arrange the furniture and accessories on either side to create a balanced look. Here, the Nanoleaf panel acts as a centerpiece framed by shelves adorned with Mario Bros figures and a Pac-Man Ghost light.
Go Double Duty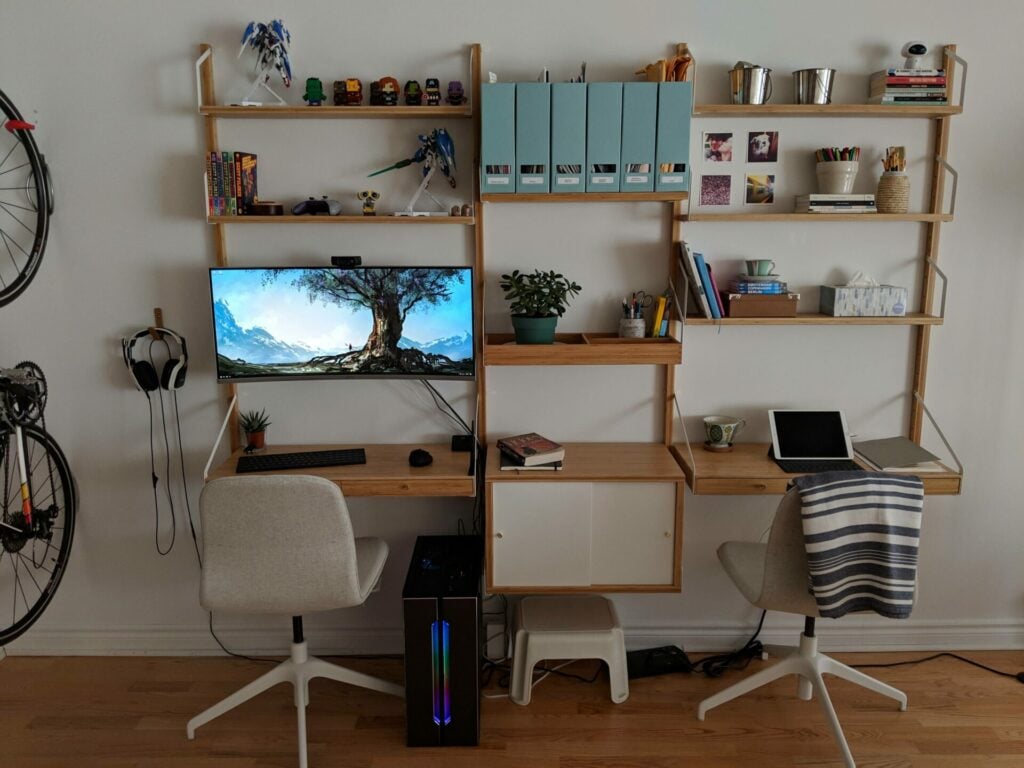 If you are gamers by night but stay-at-home workers by day, a gaming station doubling as a snug home office might just be the solution you have been looking for.
Style It With Greenery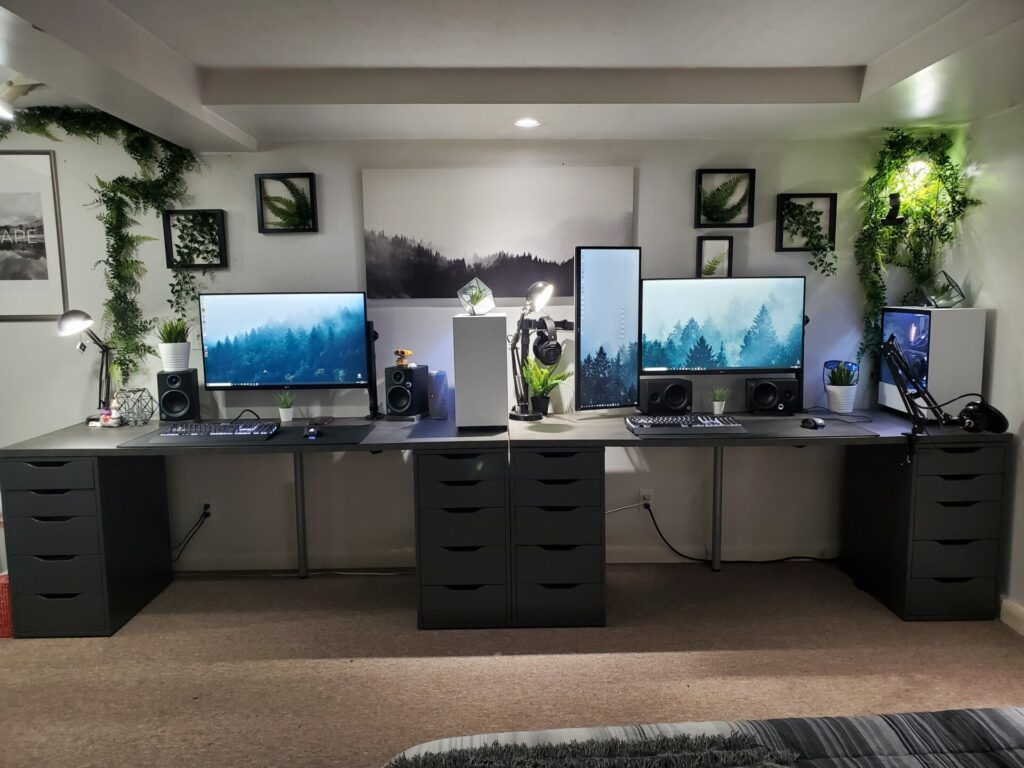 Adding some greenery is almost always a welcome addition to your gaming station. Mix live and artificial plants to create a welcoming indoor garden and balance out the cold combo of PC gear and furniture.
Look to Your Attic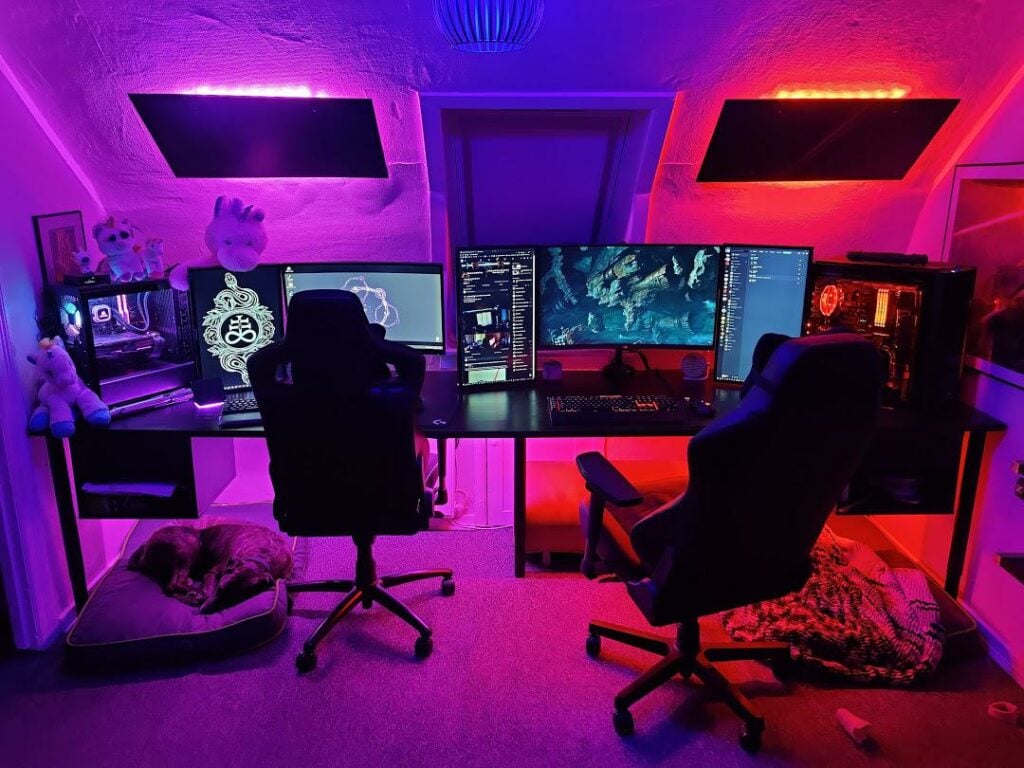 Transform an awkward attic space into a sleek and sophisticated game room for two. Just add a nice desk and PC case with some RGB, and don't forget to add a doggo under the desk.
Use That Spare Room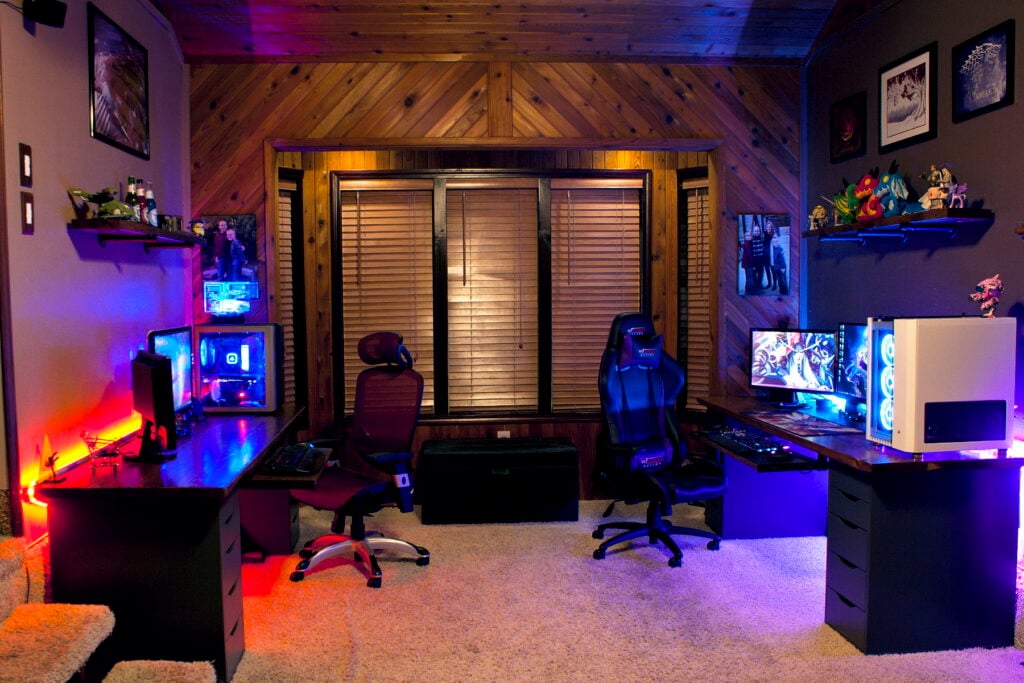 If you're lucky enough to have a large spare room in your home, convert it into a drool-worthy gaming area for two! A roomy space allows you to position your battle stations against opposite walls, leaving the center open to traffic.
Over to You!
Having a good-looking couple gaming setup is important, but having an enjoyable experience together can be even more satisfying! If you pay attention to your needs and the other person's needs while setting it up, both of you will enjoy playing games in comfort for years to come. And who knows, maybe someday soon, there'll be some cute little gamer babies running around in the background of your pictures!
Some gamers believe that wall art for your gaming room is just as important as the games themselves. If you're one of them, check out our video game-themed wall art, including officially licensed collections from your favorite video games such as Fallout, World of Tanks, and The Witcher.
Are you in a relationship with a fellow gamer? If so, are there any setup ideas we've missed? Let us know in the comments below!