Kawaii gaming setups are all about creating a fun and welcoming space for gamers of all types. They often consist of bright, colorful furniture and decor items, lots of plush toys and collectibles, and cute tech gadgets like gaming controllers or computer mice. After all, the word kawaii translates to "cute" in Japanese, and that's the vibe you should be going for.
Whether you're looking for tips on how to create your perfect kawaii gaming space or simply want inspiration from other people's setups, this article has everything you need. And if you'd like to know more about the kawaii art style, here's our beginner's guide to kawaii art.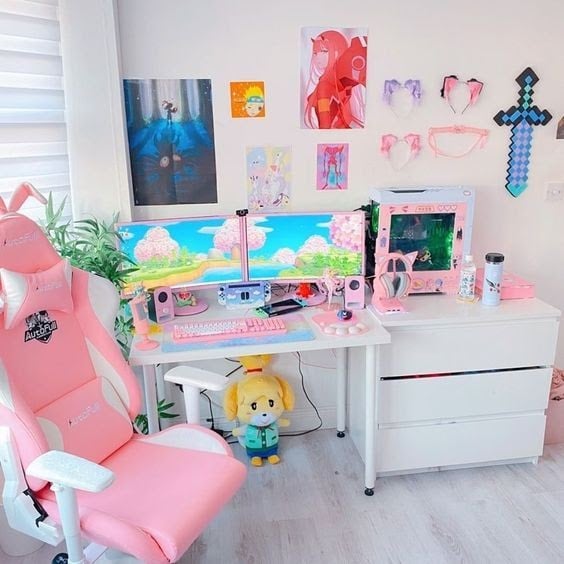 What Makes Kawaii Gaming Rooms different from others?
Kawaii rooms are unique in their aesthetic decor. However, there are many variations of what that decor can look like. Some people might choose to add plants or flowers, while others might prefer to stick to cartoon characters or pastel colors.
Full Collector Kawaii Gaming Setup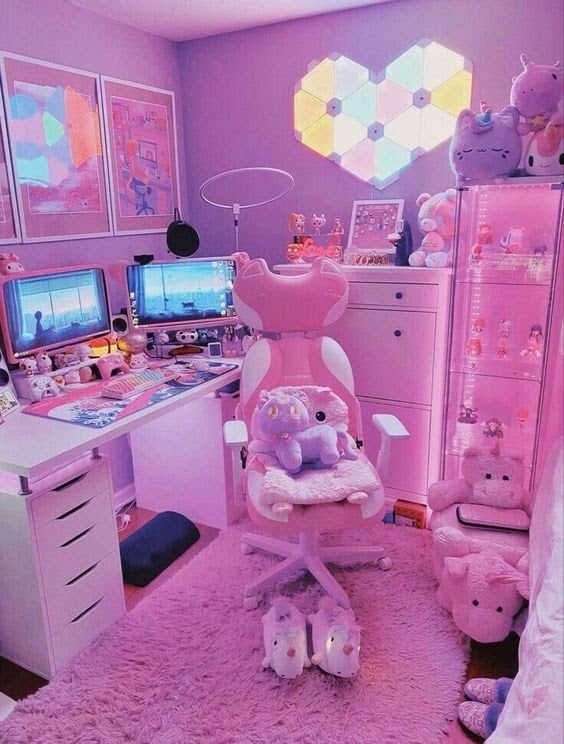 Whichever route you decide to go down, just make sure that your gaming space feels like a happy and comfortable place for you to spend time in! If you'd like to find out more about aesthetic decor, have a look at these aesthetic room ideas on our blog.
Minimal Kawaii Setup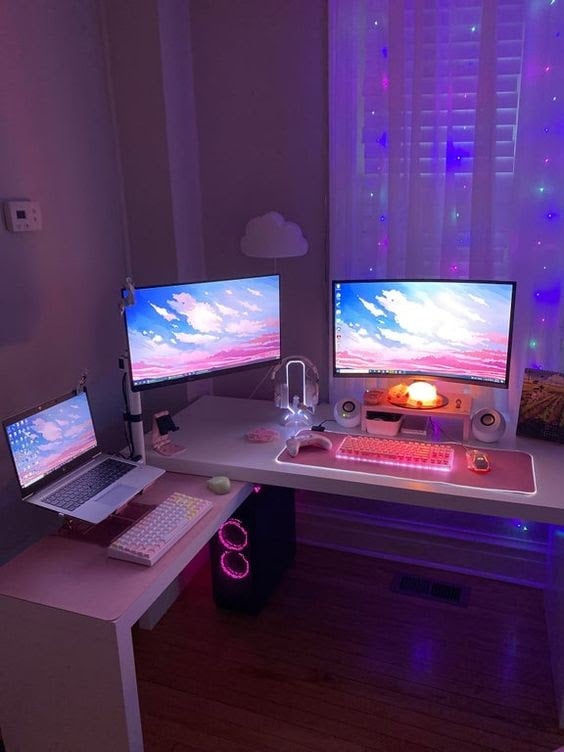 Who Is Kawaii Gaming Room Decor for?
It's not just gamers who want to have a cute and welcoming gaming setup. Game developers, streamers and cosplayers all deserve the best of the best when it comes to their own personal space for playing games or showcasing their work online.
Gaming Chair Matching Color Scheme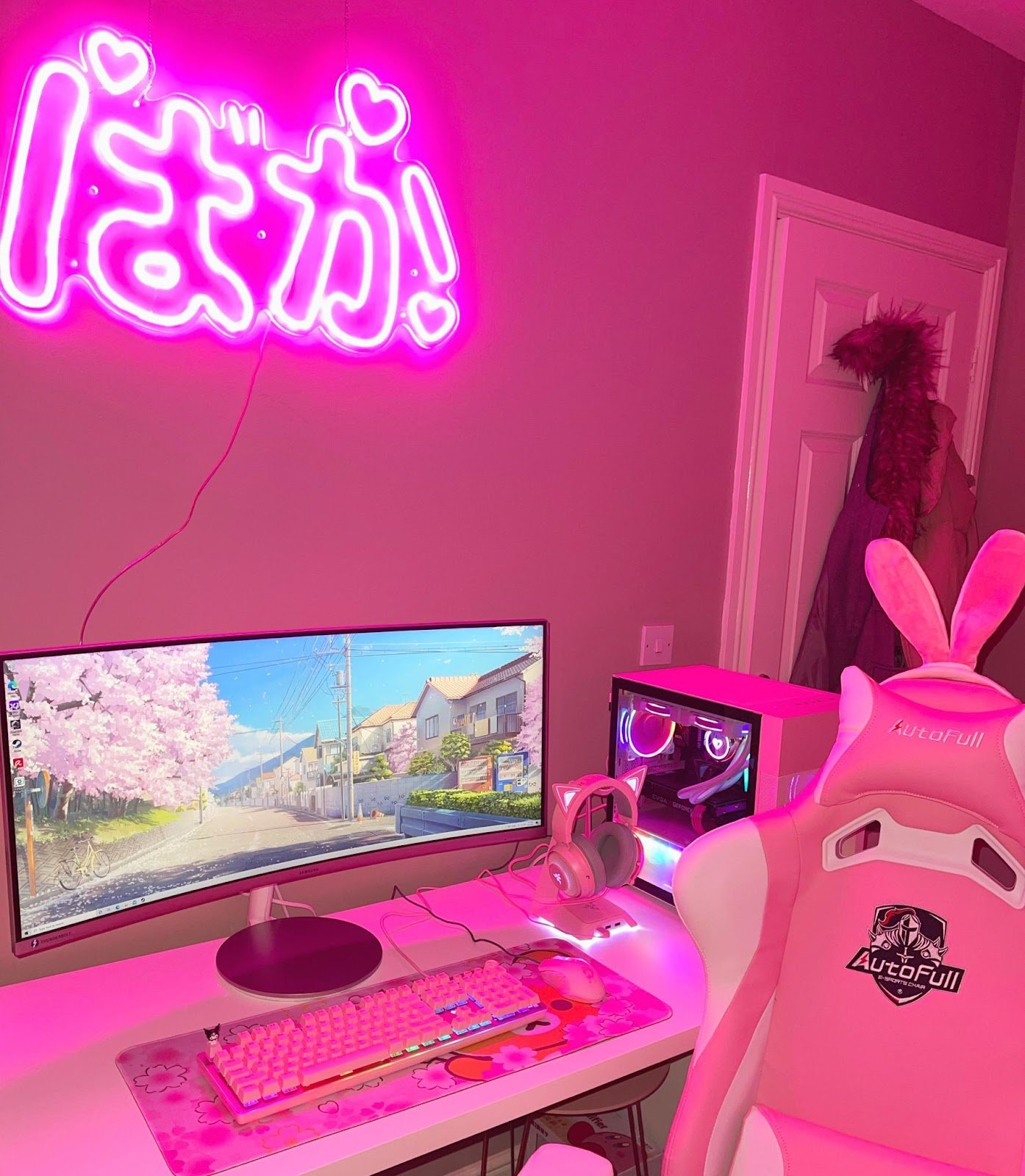 How To Create A Kawaii Gaming Setup
To create a kawaii gaming setup, you first need to decide which style you're going for. Do you want to go the pastel route or are you more interested in cartoon characters? There are plenty of options available once you know what your preference is.
Eclectic Setup Example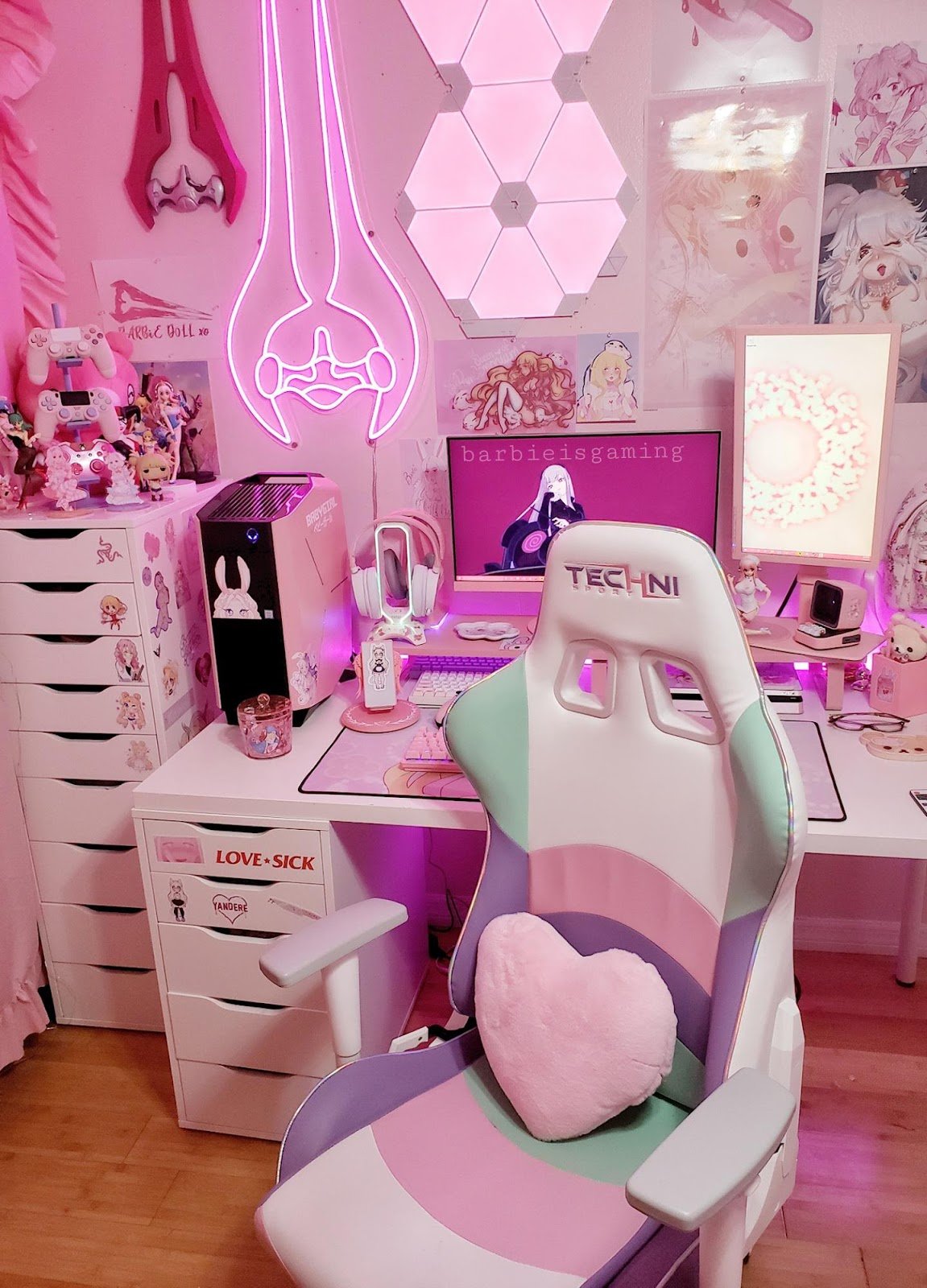 The next step is to choose colours and furniture that match your aesthetic choice. If you're aiming for a cute and colourful space, opt for furniture with lighter shades and decorate with cushions and fabrics in pink, purple and green.
Pink & Purple Theme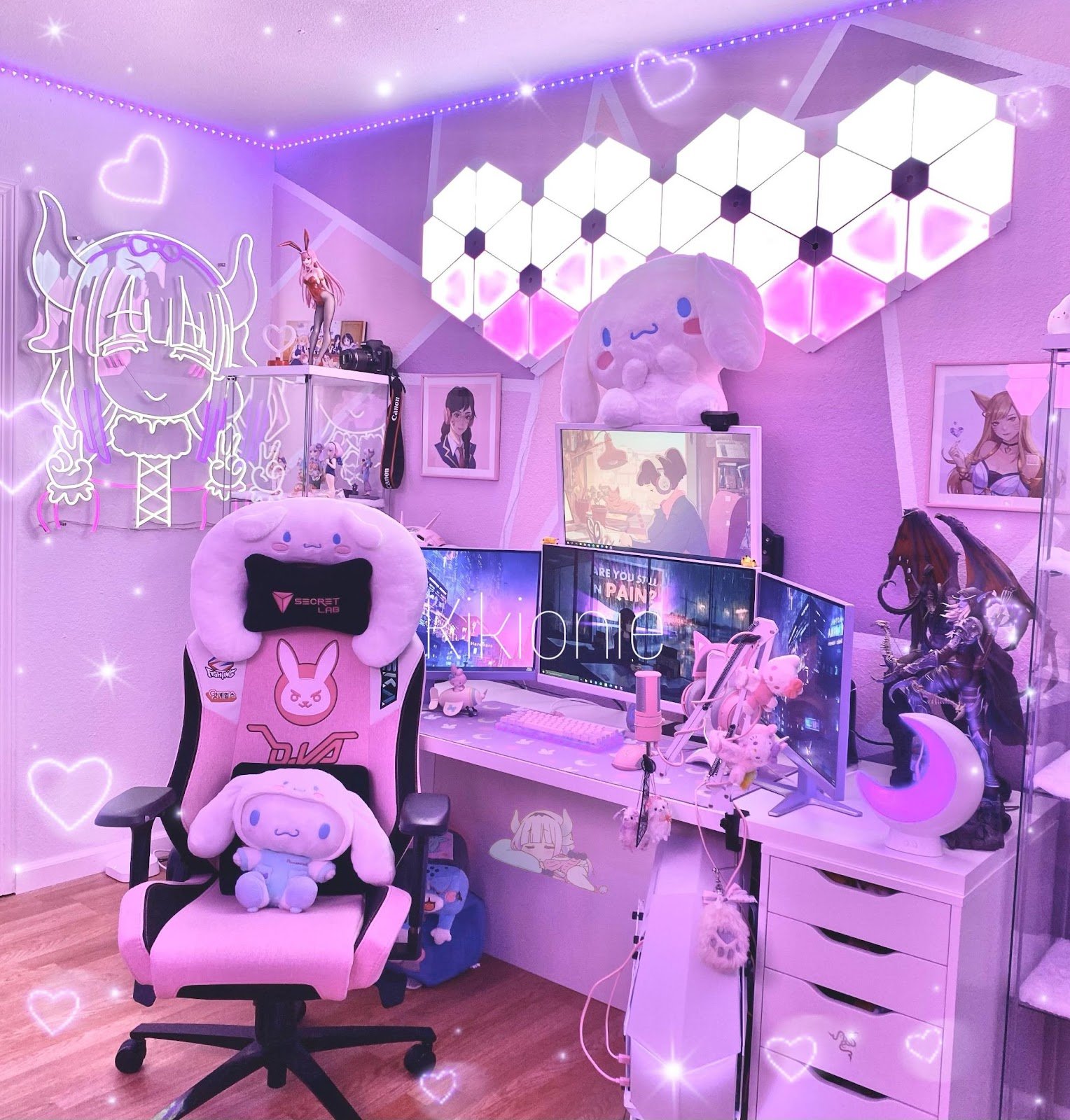 If your style is based on cartoons, make sure it's the main theme of the type of furniture – think along the lines of lots of stars or clouds! Note that a lot of Kawaii styles are influenced by Anime, it would be useful to have a look at some anime room ideas too.
Just make sure that there's enough room for everything and you'll be fine.
Bedroom Gaming Space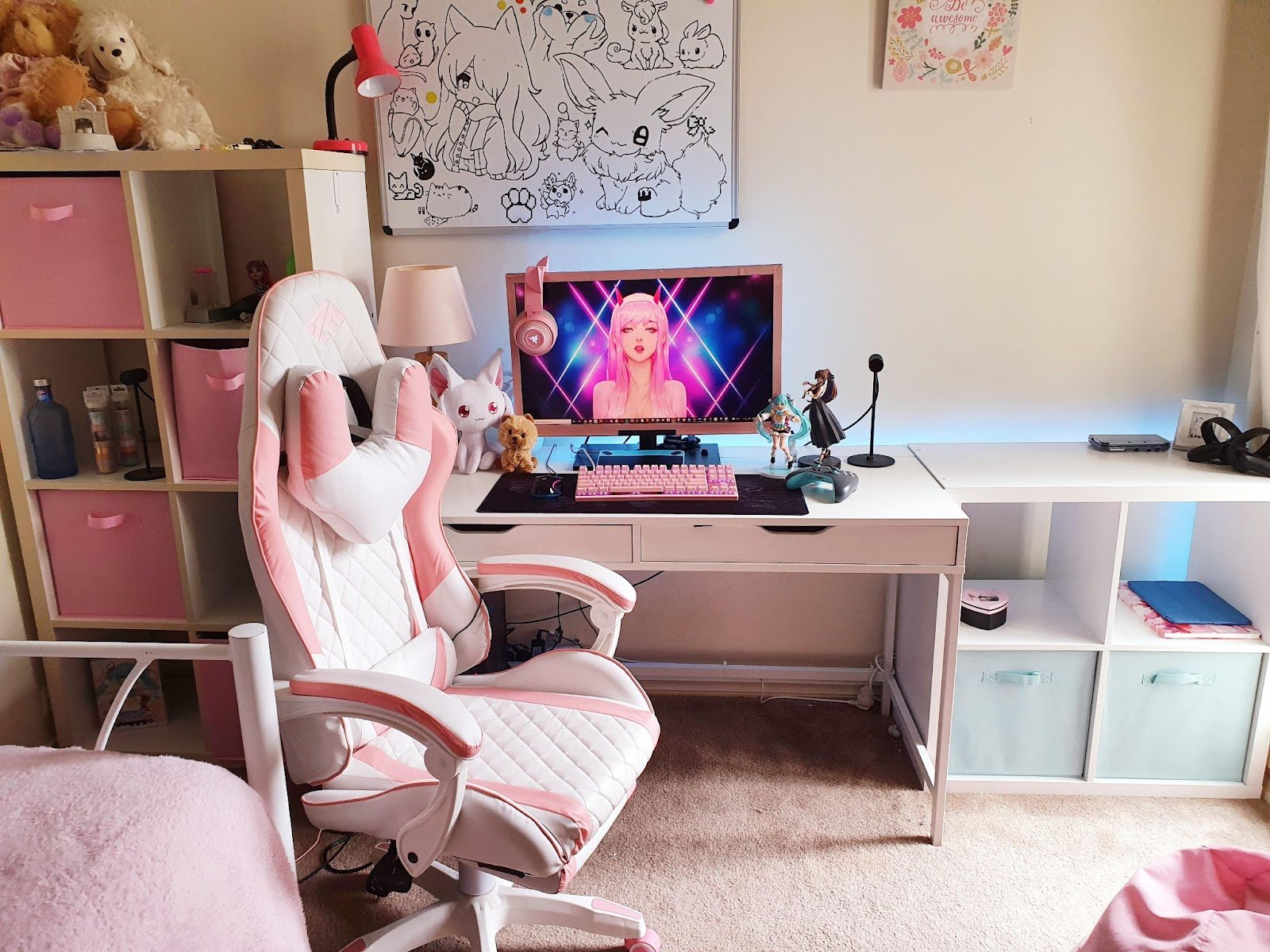 Here are a few awesome ideas to consider for your own Kawaii room.
Favourite Character Wall Art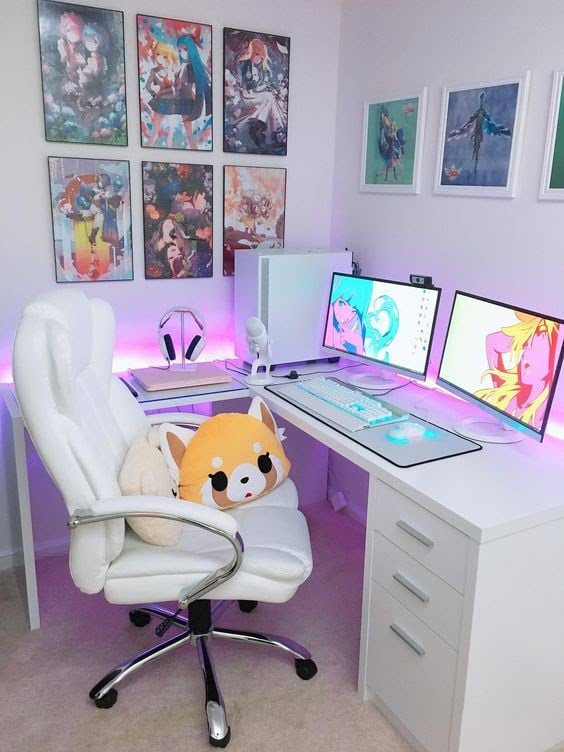 Ultimately, the fun design of Kawaii has led to its popularity for brightening moods around people who surround themselves with cheery items! Something as simple as a fluffy cushion or a poster of your favorite anime character.
Anime Wall Posters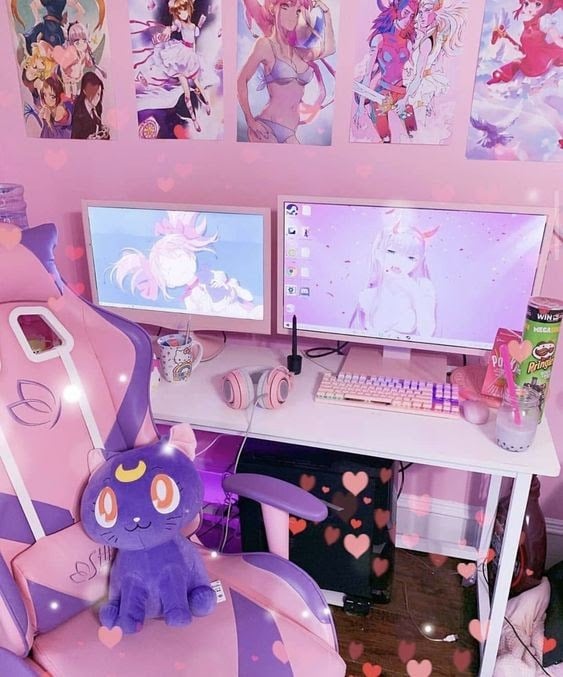 Use your decor to inspire you. Find things that matter most to you. For example, if you add some awesome Anime posters into your room, it could remind you of your favorite stories while at the same time making you feel safe and happy.
Kawaii Gaming Bedroom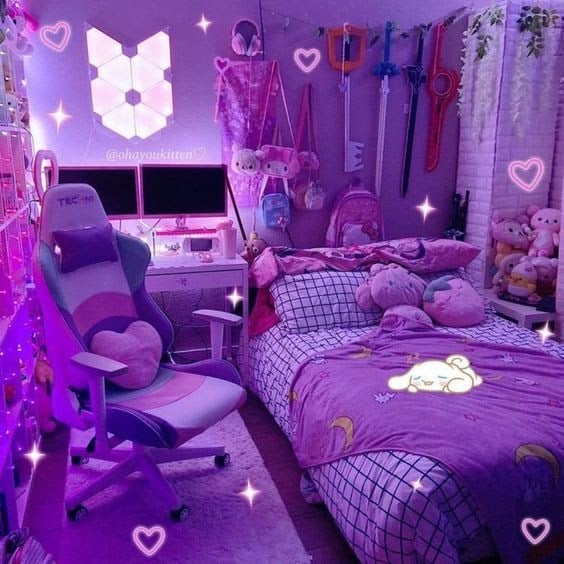 Kawaii styled items are identifiable, eye-catching, and often have a quirky or humorous touch.
Gamer Girl Desk Corner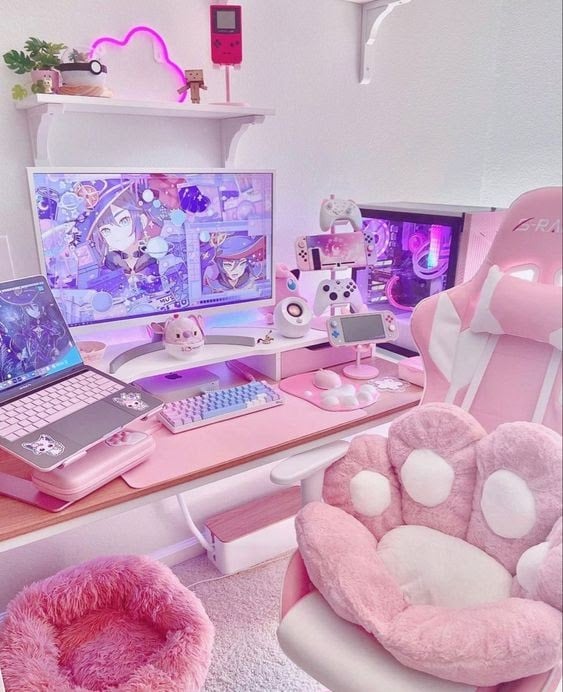 A Kawaii style item might only cost a few dollars but it can make your entire gaming setup look cuter. It can also be comforting to surround yourself with objects that have meaning to you.
Blue Star Wars Theme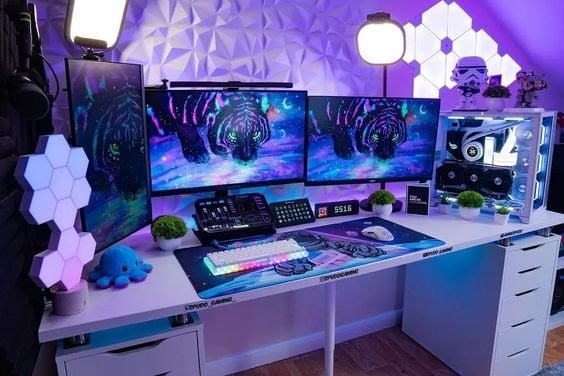 While the Kawaii style may appeal to many gamer girls, It is also very popular among boys. Anyone can embrace a pink aesthetic in their gaming room. Whether you've got too much space or a miniature room. You can do many things to spruce up your space. In the example above a Star wars metal poster would blend seamlessly into the Blue Kawaii Setup.
White & Pink Gaming Bedroom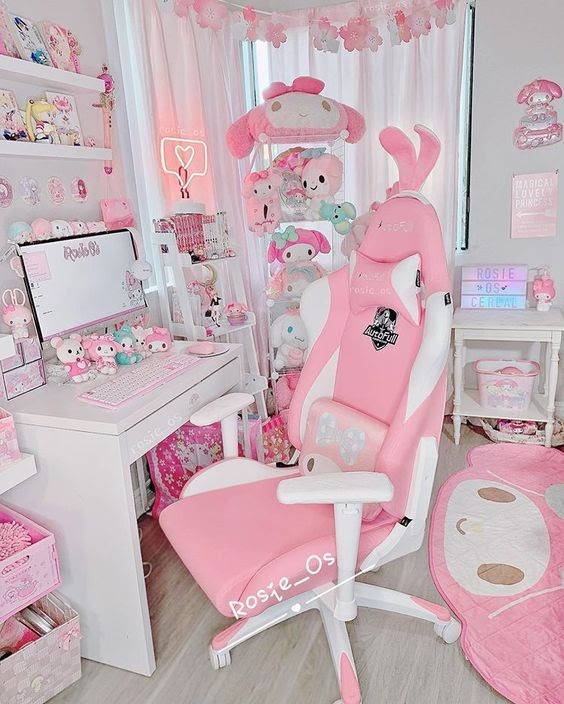 Animals are the most popular items to decorate with in a Kawaii style. This can be because it is easy to find an element of cuteness in an animal that matches the style perfectly.
Japanese Inspired Poster Space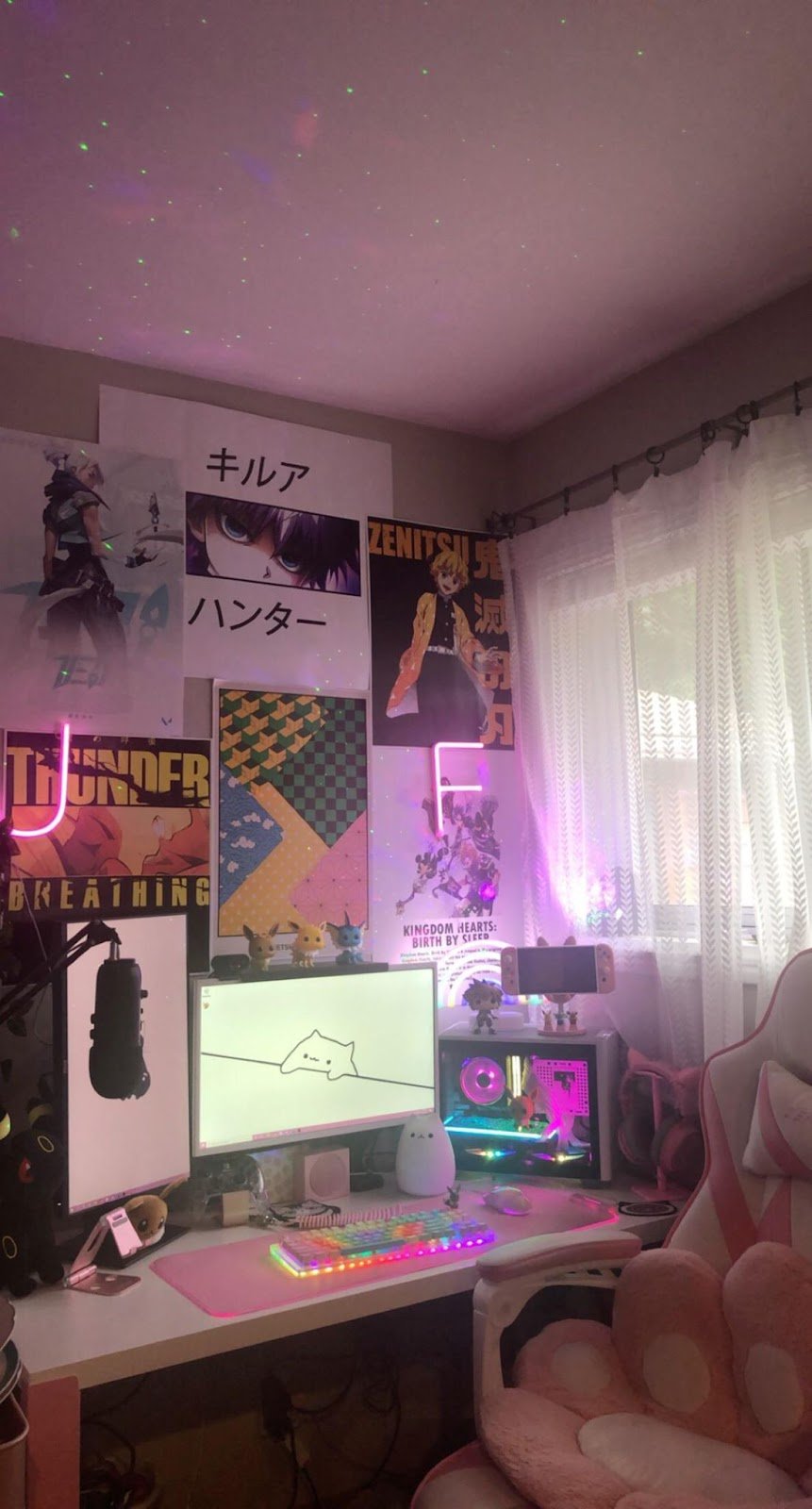 From a quirky mouse pad to a cute colorful keyboard. Go crazy with the design and use any accessories you find cool.
Cute Kawaii Style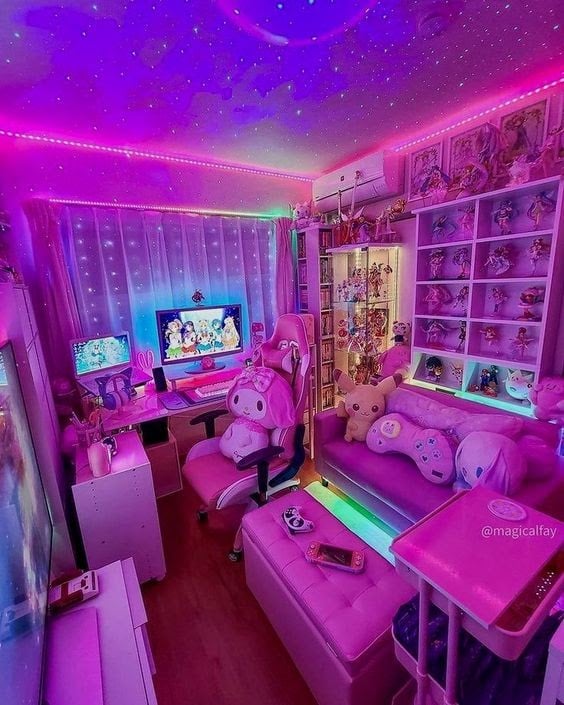 Bunny Ears & Mood Lights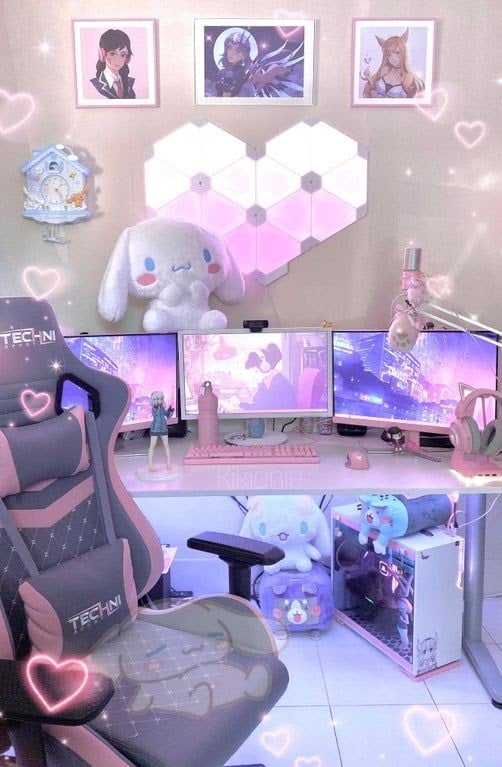 Best Gamer Girl Gaming Setup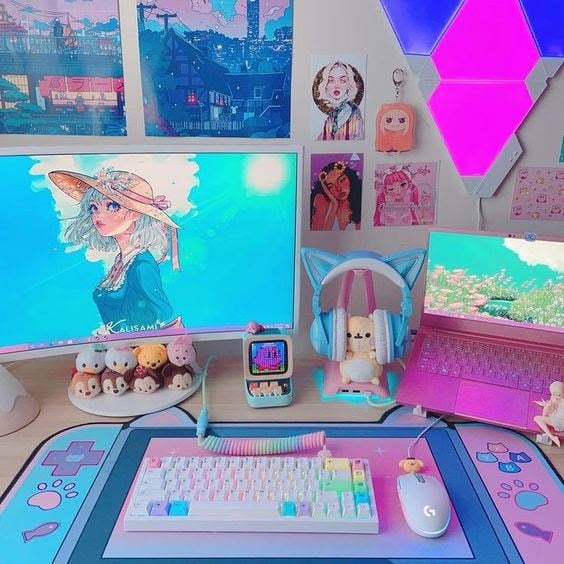 One popular trend among Kawaii loving gamers is to use stickers of animals or cartoon characters on their monitors. Sometimes you might also see pastel colours, especially pink, purple and green, chosen for furniture within this space. A new trend is the use of panda cushions on furniture. There are many different types of kawaii creature designs available too if you are looking for more diversity in your space!
Super Cute Gaming Chair & Wall Mood Light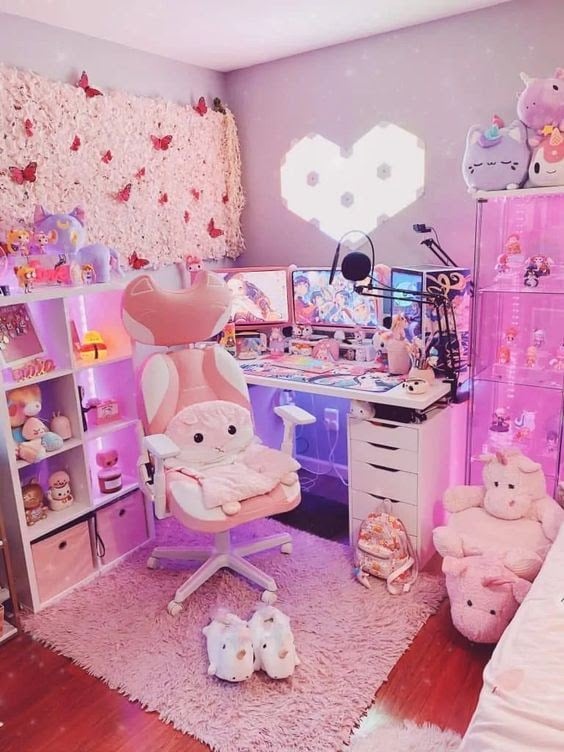 When we play games we tend to be totally immersed in the stories or conversations with friends. With the internet, amazing gaming experiences are shared with companions. Having a cool Kawaii gaming setup can easily make your home the go-to gaming place.
Pink Gaming Experience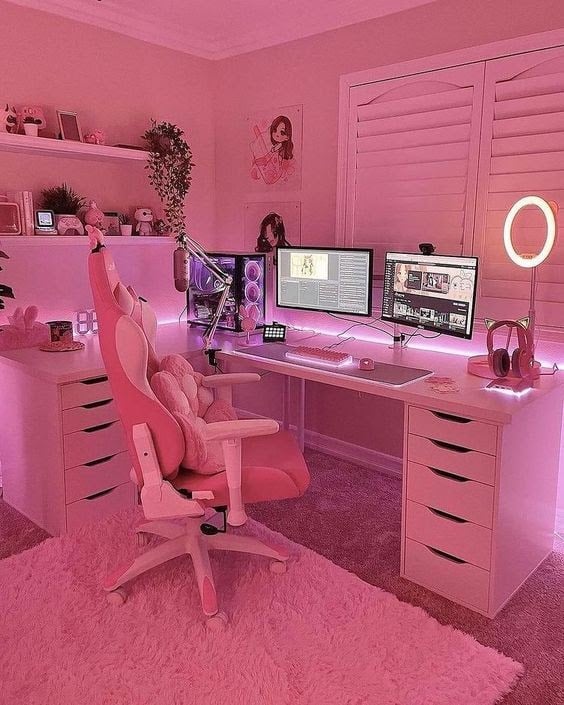 Wall Of Favourite Characters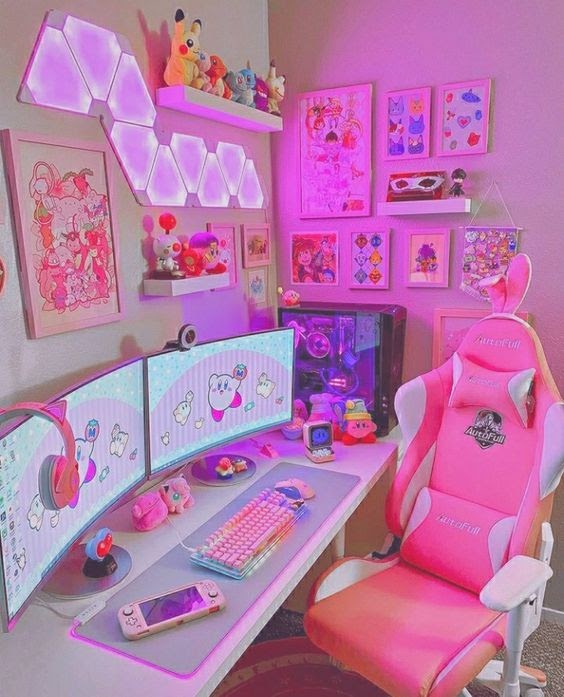 Wall Of Important Things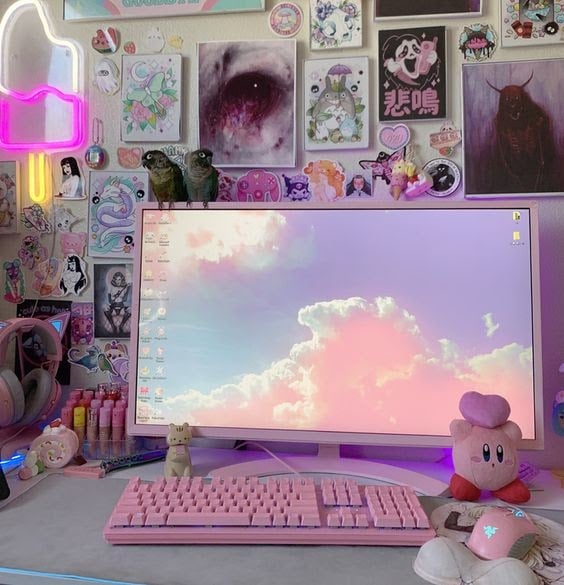 Dual Screen Computer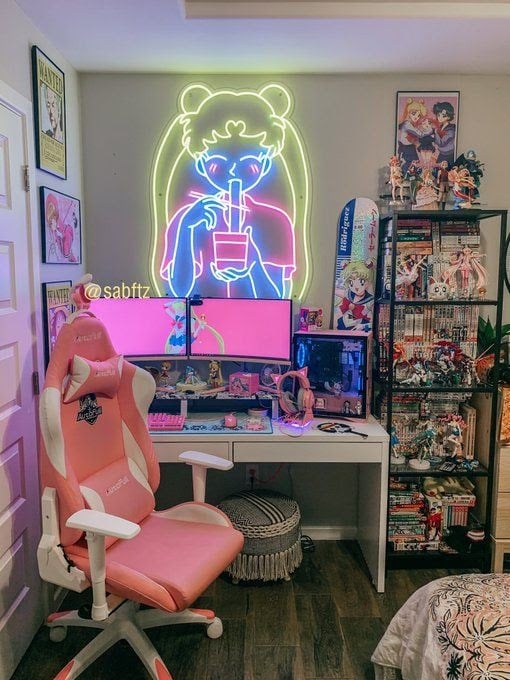 It's not just about what goes on the surface though – some people might choose to hang streamers from the ceiling while others might buy a cute lampshade to place on their light sources. It's all up to you!
Themed Desk Area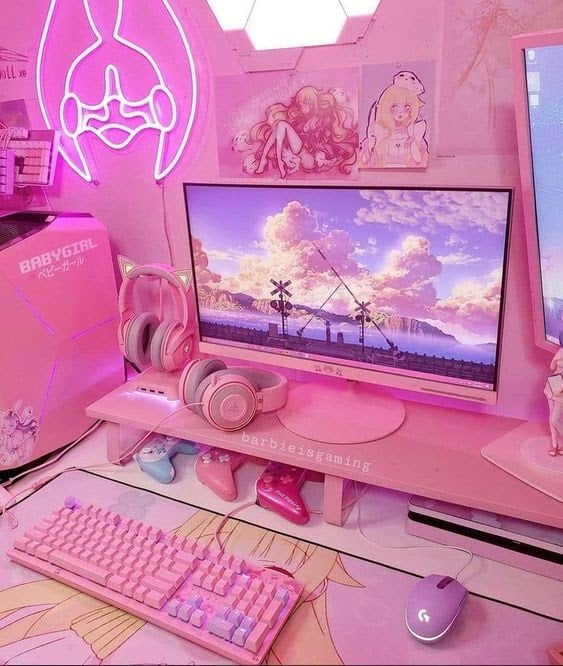 Room Of Memorabilia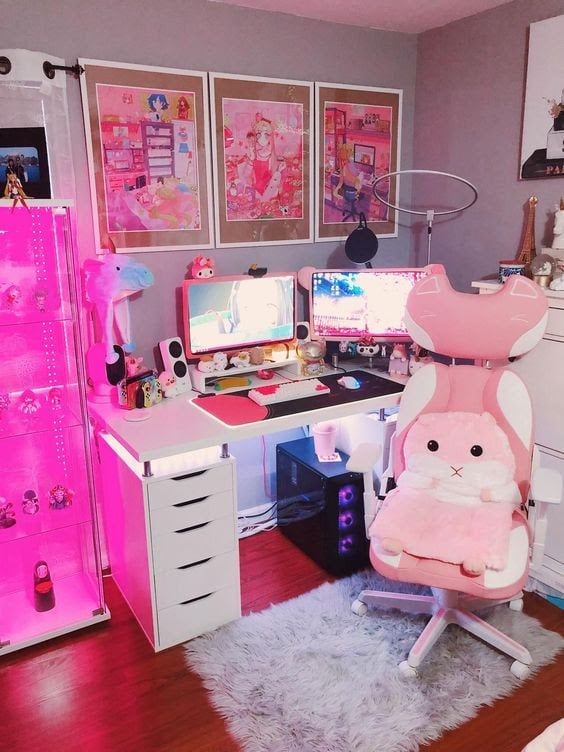 Unique Shape Night Lights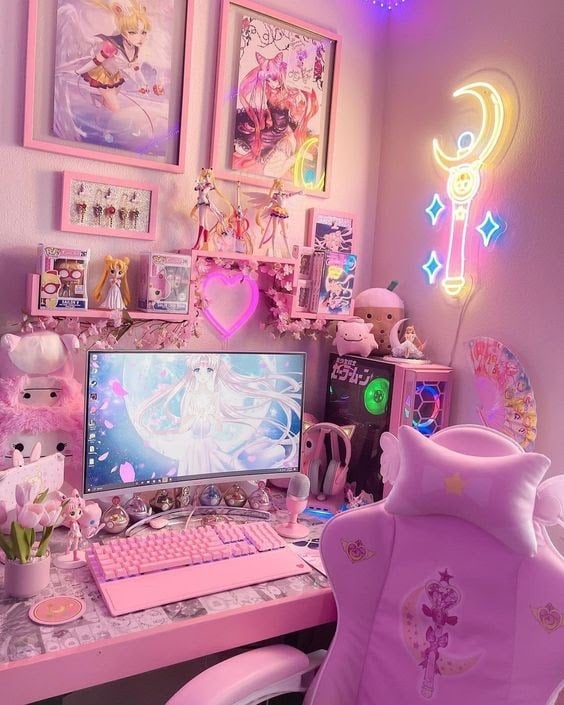 Kawaii style is popular because it can be used effectively for any type of situation, not just when you are gaming. However, if there are certain items that remind you of your favourite games or characters then don't be afraid to use them when you create your Kawaii space.
Minimal Room Of Important Things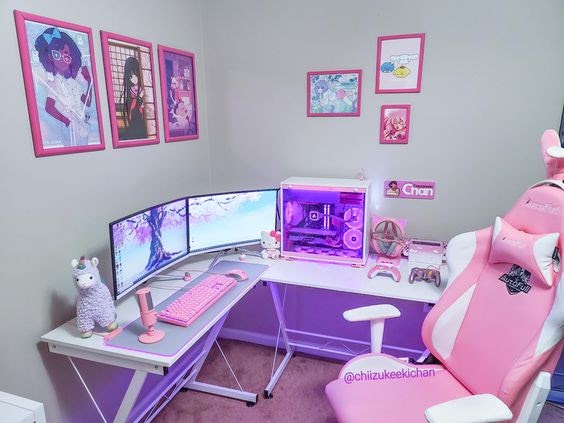 Dark Aesthetic Kawaii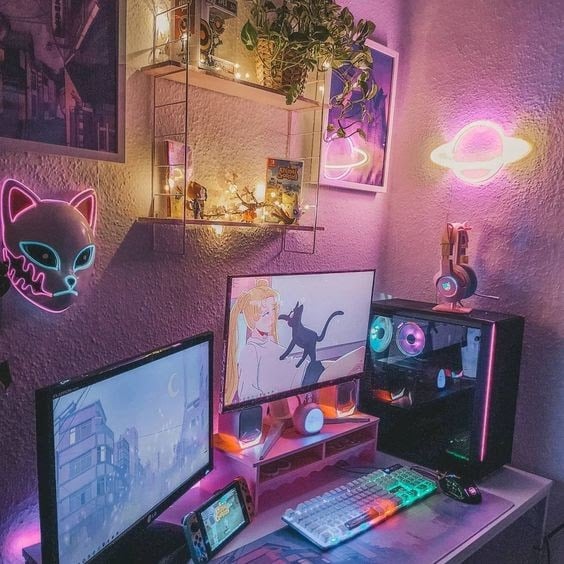 Streamer Room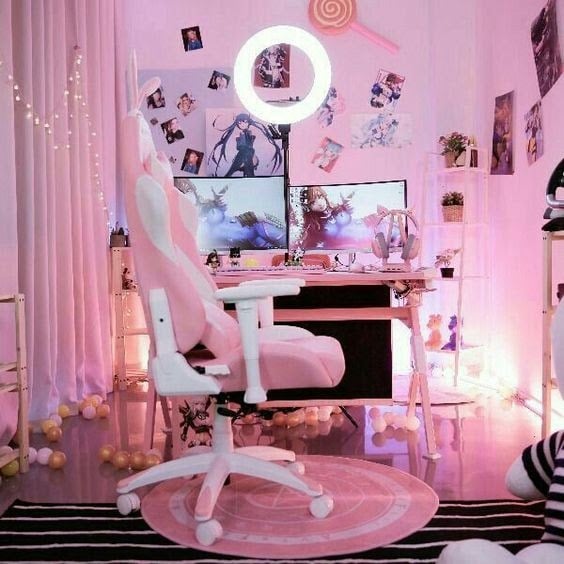 Kawaii style is all about putting yourself in a happy mood, so it doesn't really matter if you put together items that completely match or can be adapted to fit your own taste. Just have fun!
Nintendo and PC setup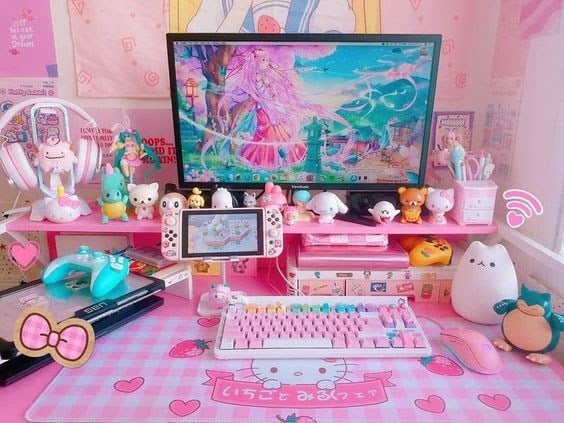 A Room with a Personal Touch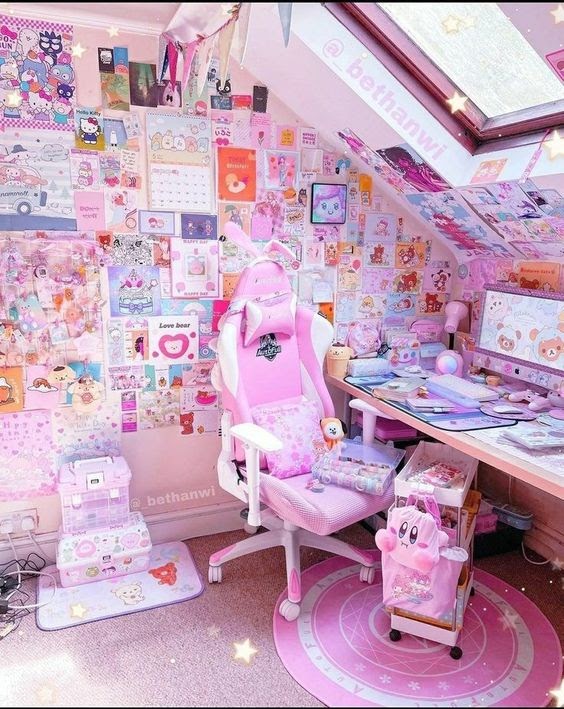 Since Kawaii style is heavily Japanese influenced, start browsing the web for enjoyable anime style decor. Search for popular Anime with cute dolls like pokemon and any other favorite game you might have enjoyed. Start with the media that means the most to you for decor inspiration.
Nintendo Switch Meets Console Gaming Setup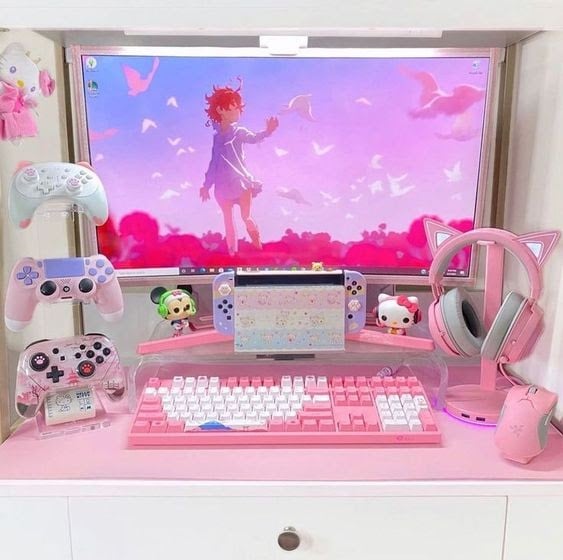 Add a few Funko pop dolls, figurines, sentimental pictures and any other next-level item to brighten up your space. There are many options to choose from when curating a Kawaii setup.
Perfect Place For Favorite Games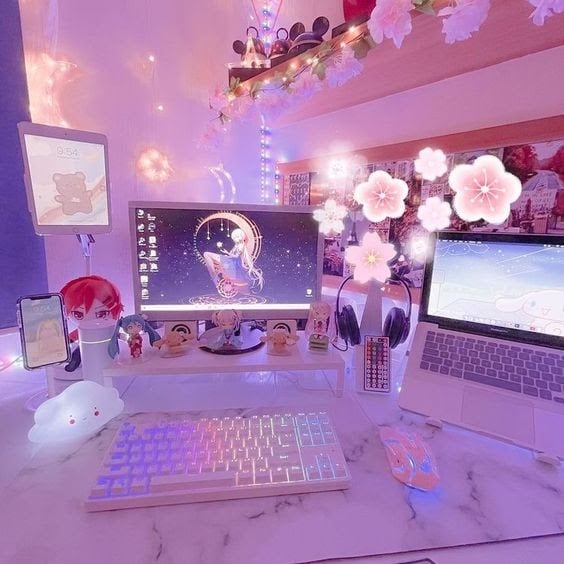 Pink Rainbow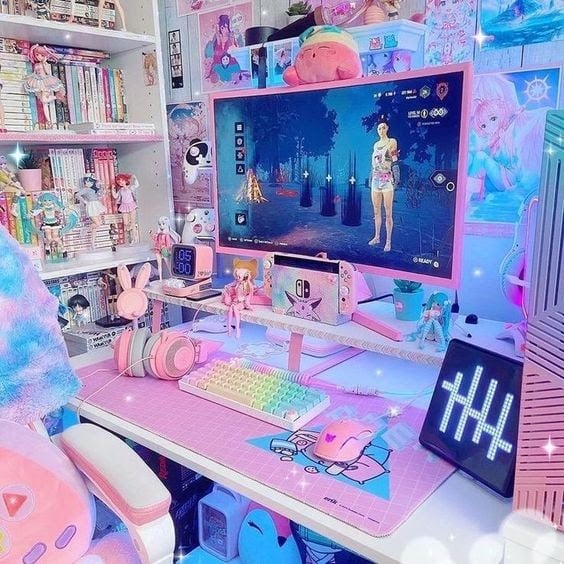 Fluffly Heartspace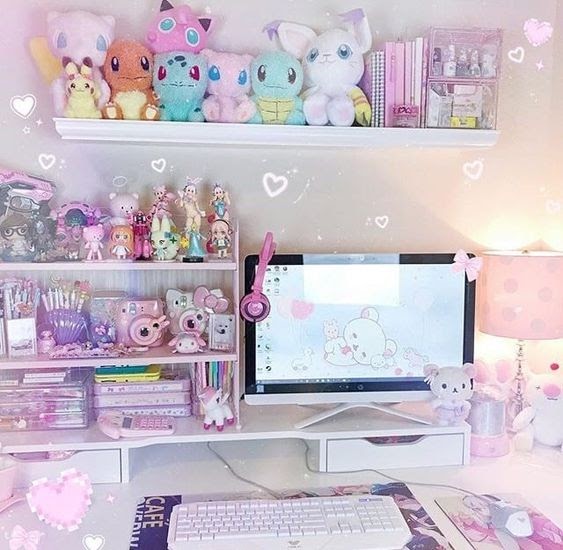 Love Pink & Sky Blue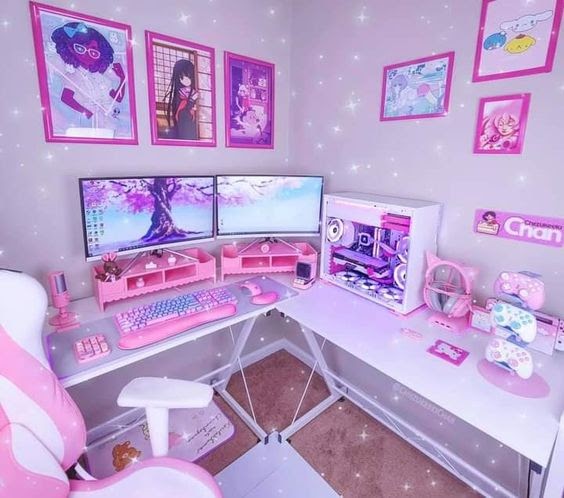 Kawaii Podcast Station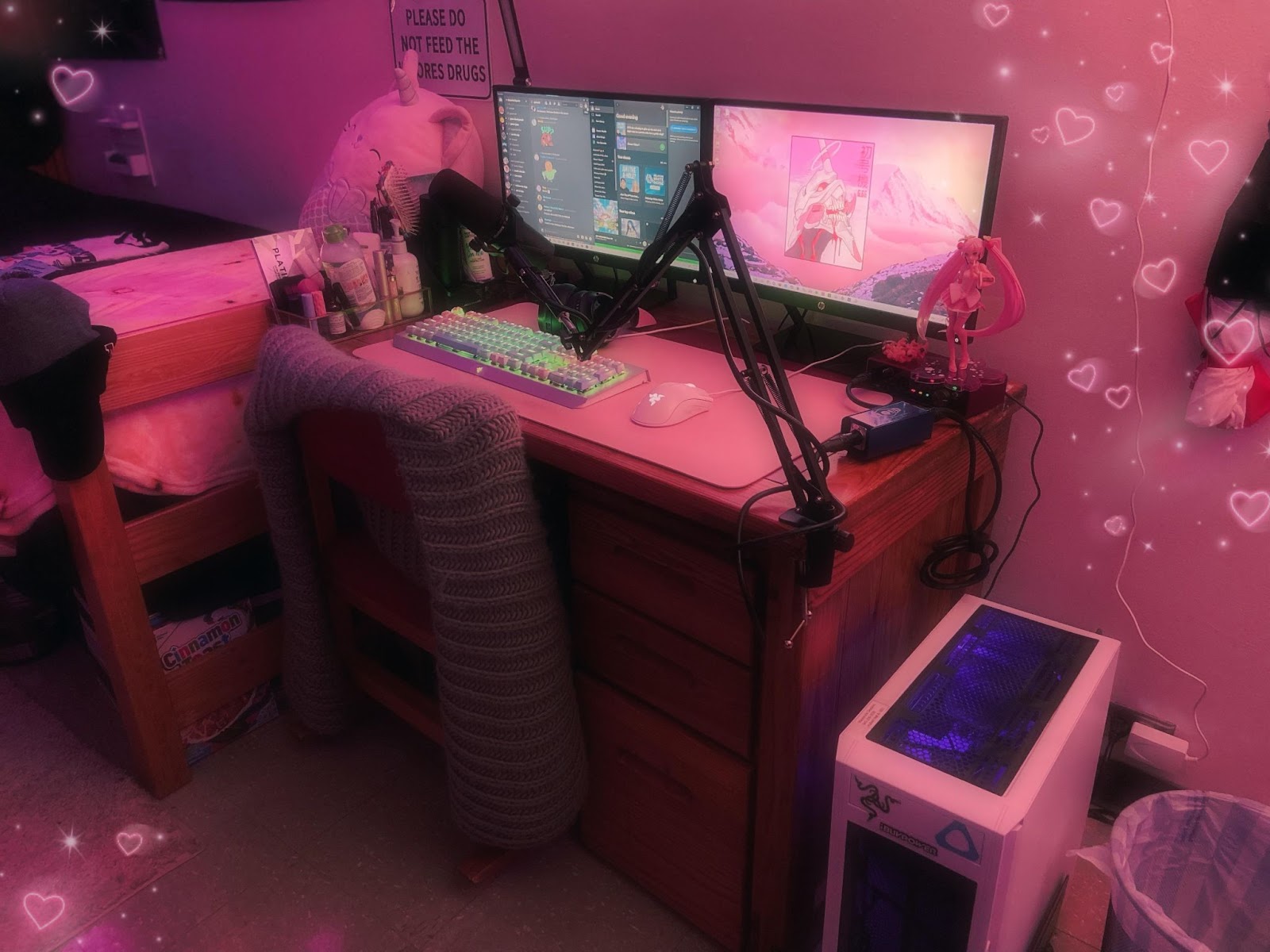 Minimal White Desk Gamespace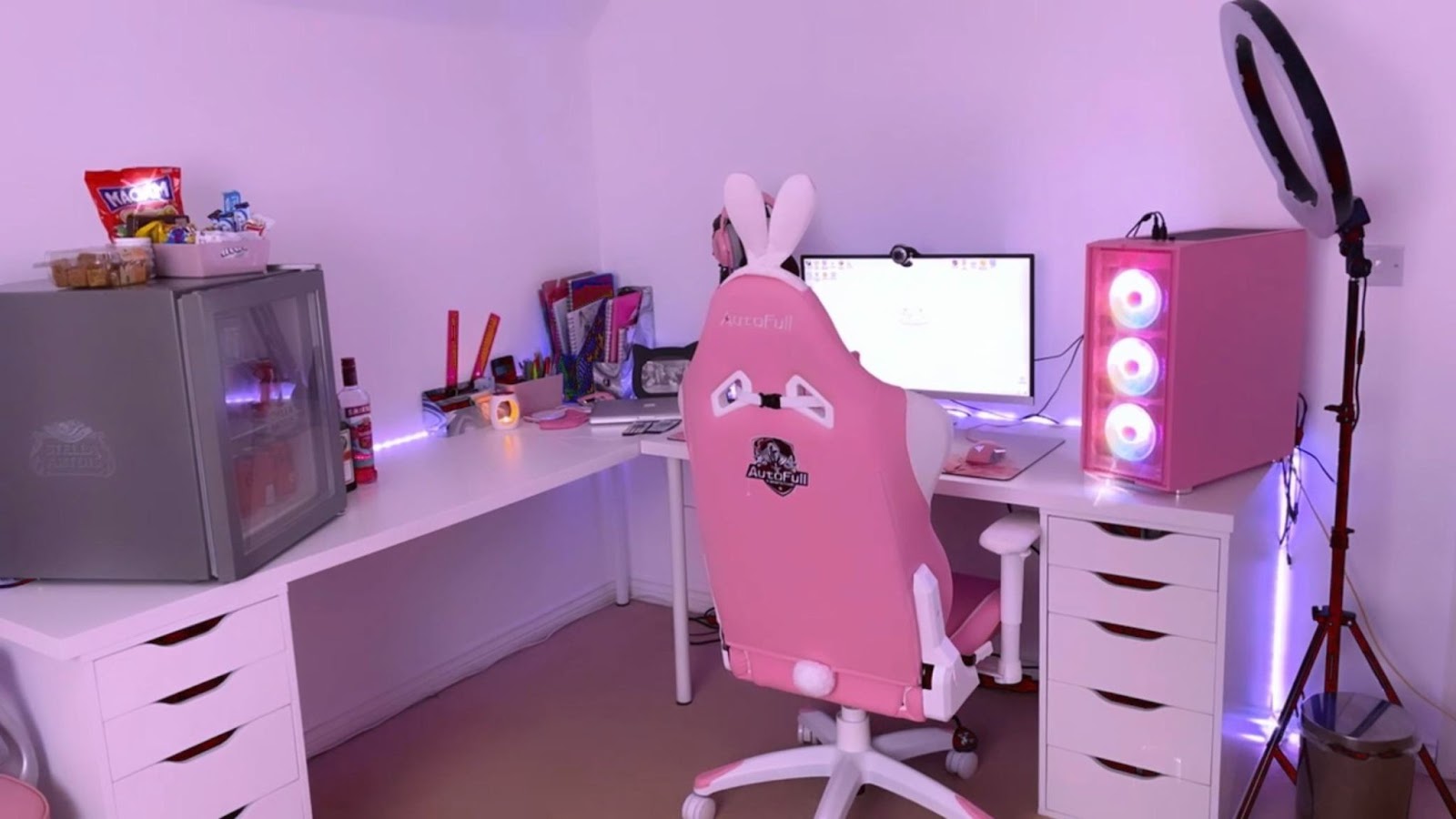 Pink & Black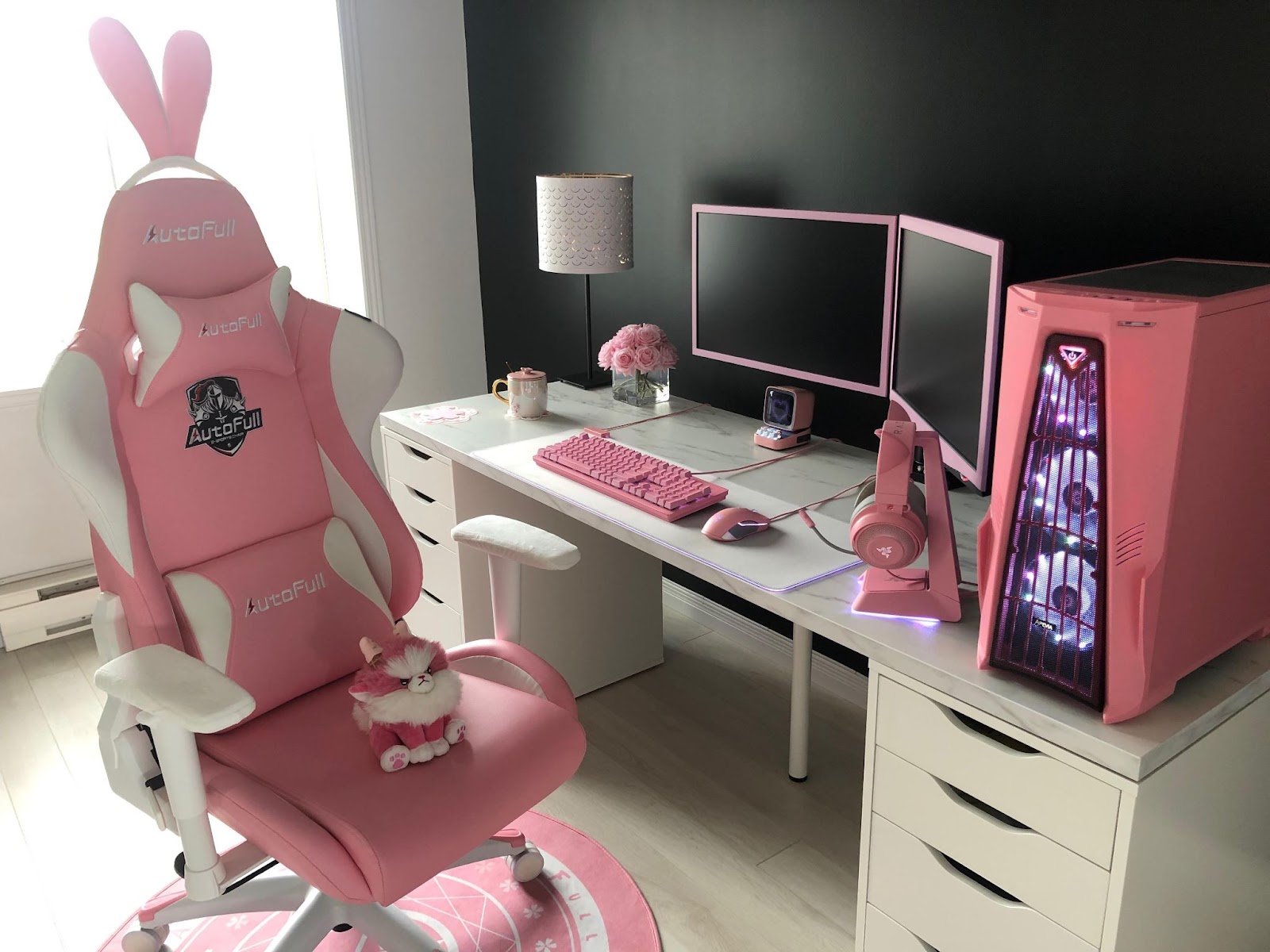 Unique LEDs & Keyboard Collection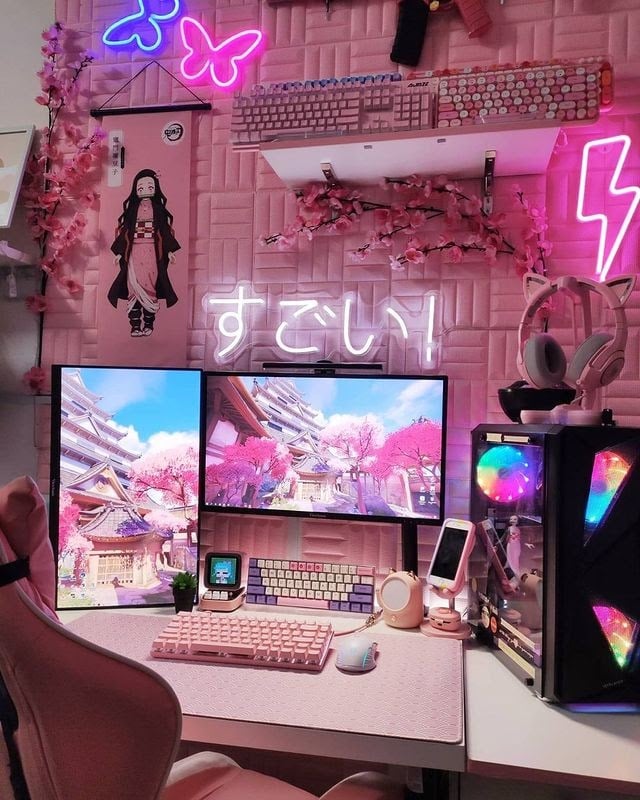 Minimal PC Gaming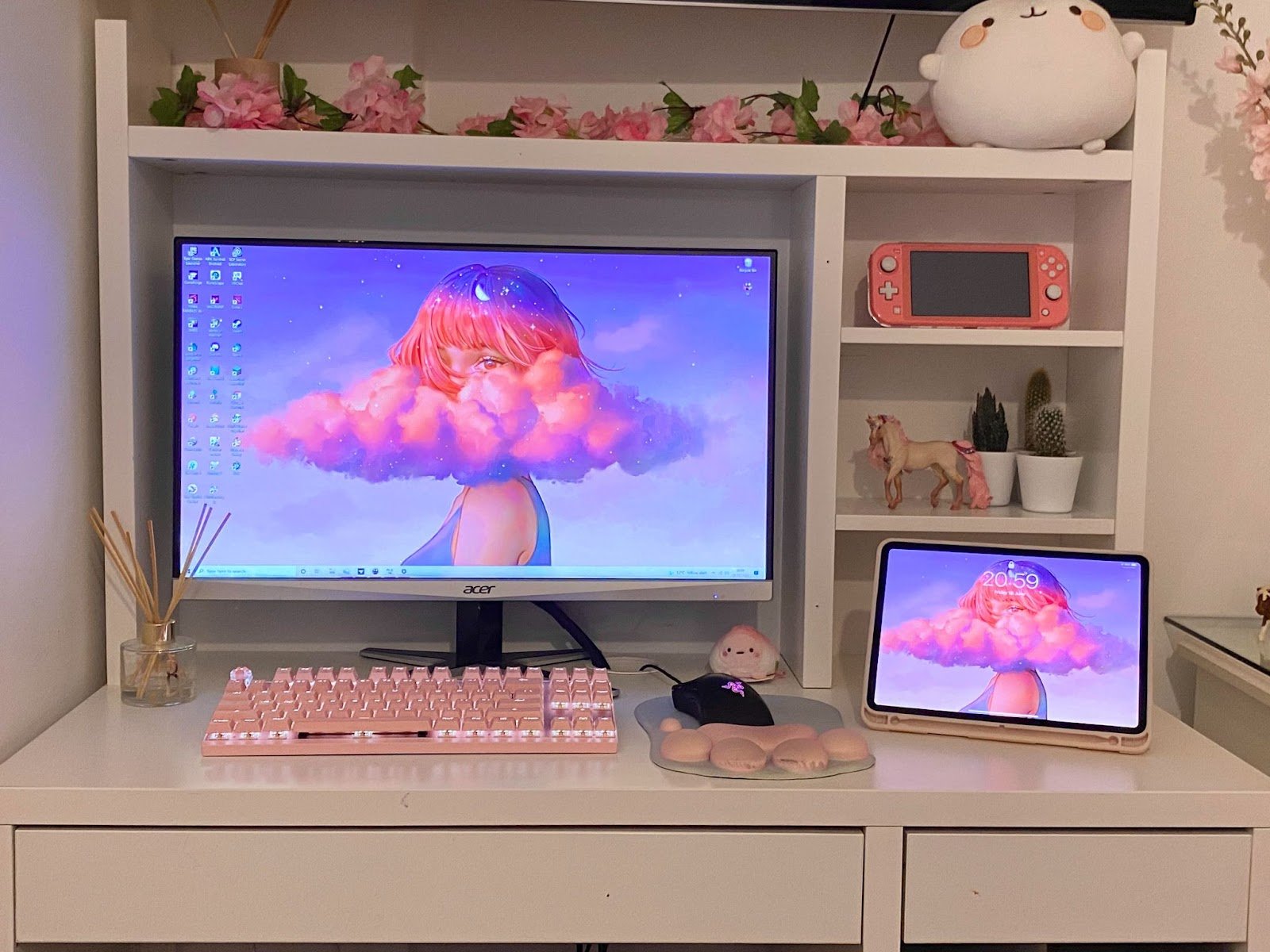 Kawaii style originates from Japan and is a form of "cuteness" which became popular in the 1970s. The visual culture was given this name because it is filled with all things cute and cuddly – a contrast to the strict austerity of traditional East Asian art styles. As a result, Kawaii is a major aspect of Japanese lifestyle, including fashion, food, toys, and architecture.
Eclectic Wall of Collectibles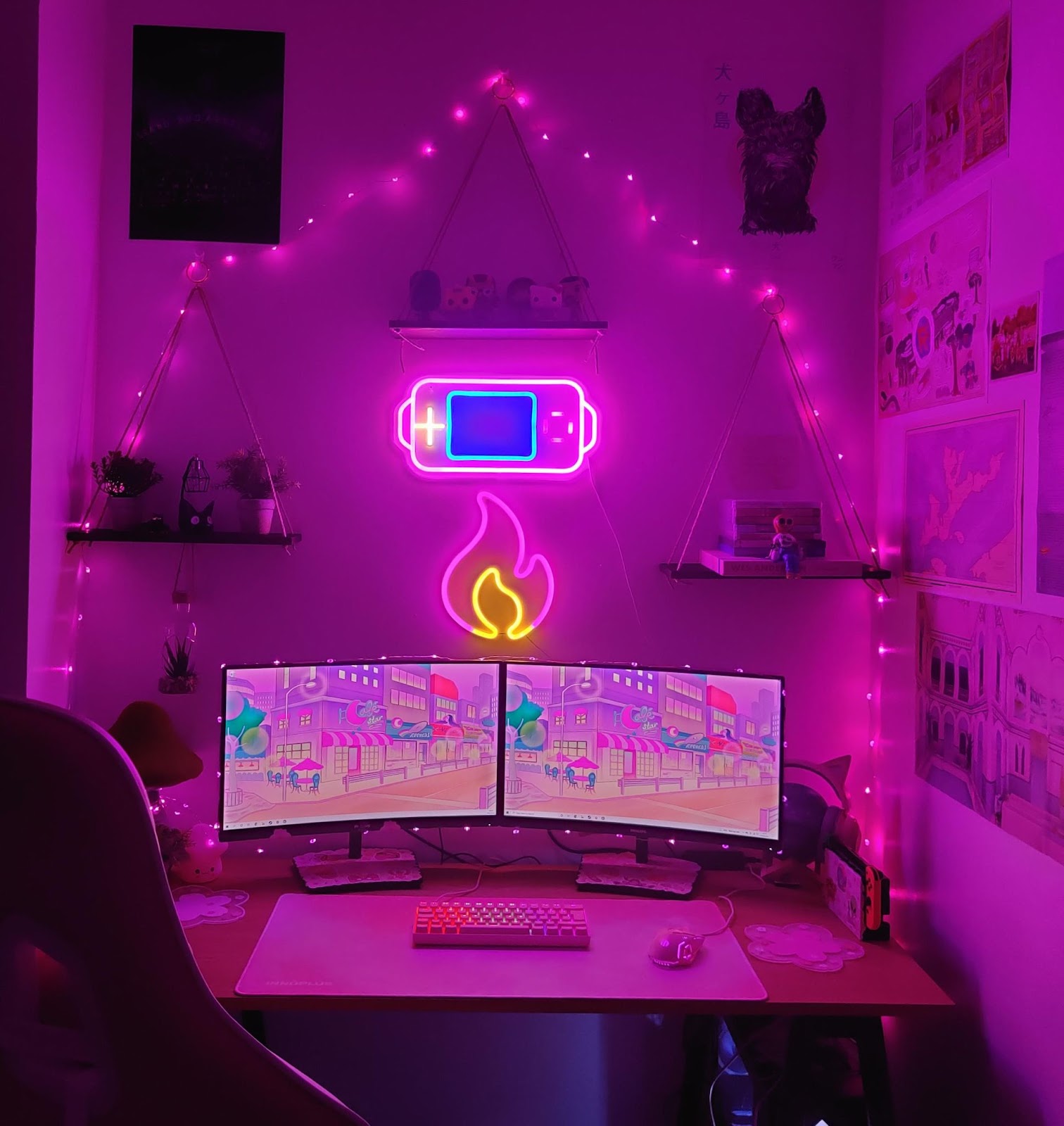 Gamer meets Home Office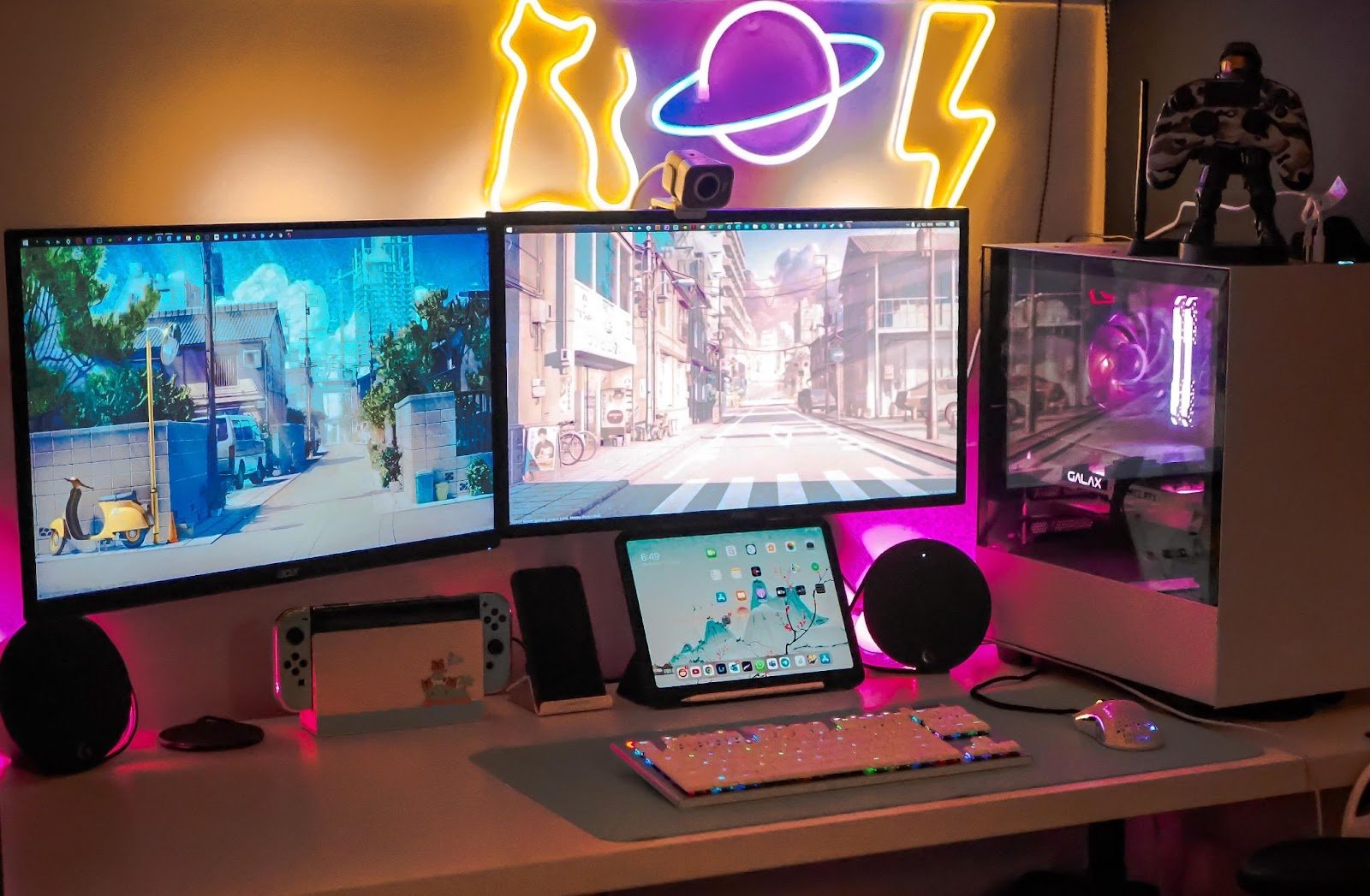 Nature View Gaming Bedroom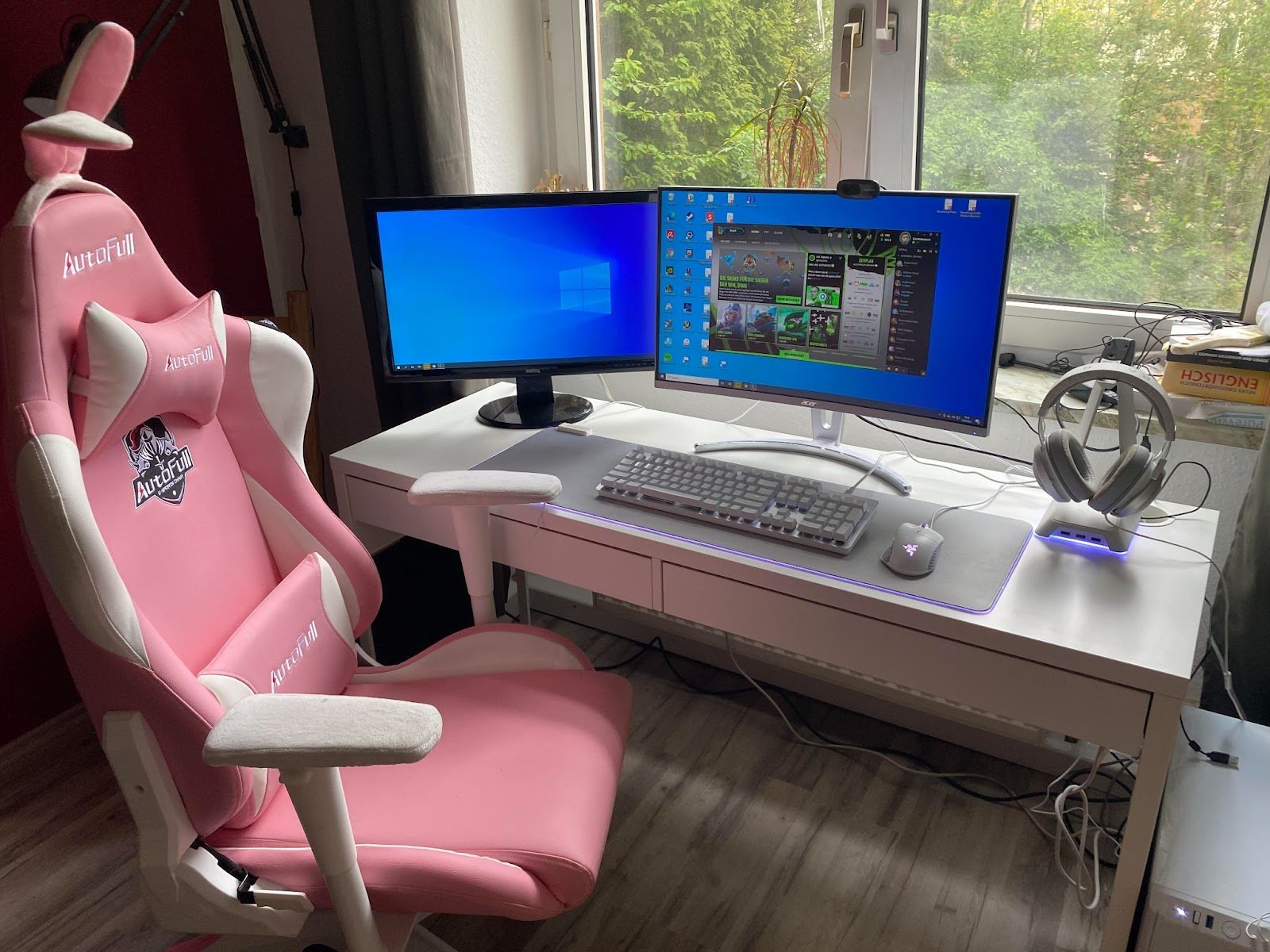 Dual Screen Gaming Display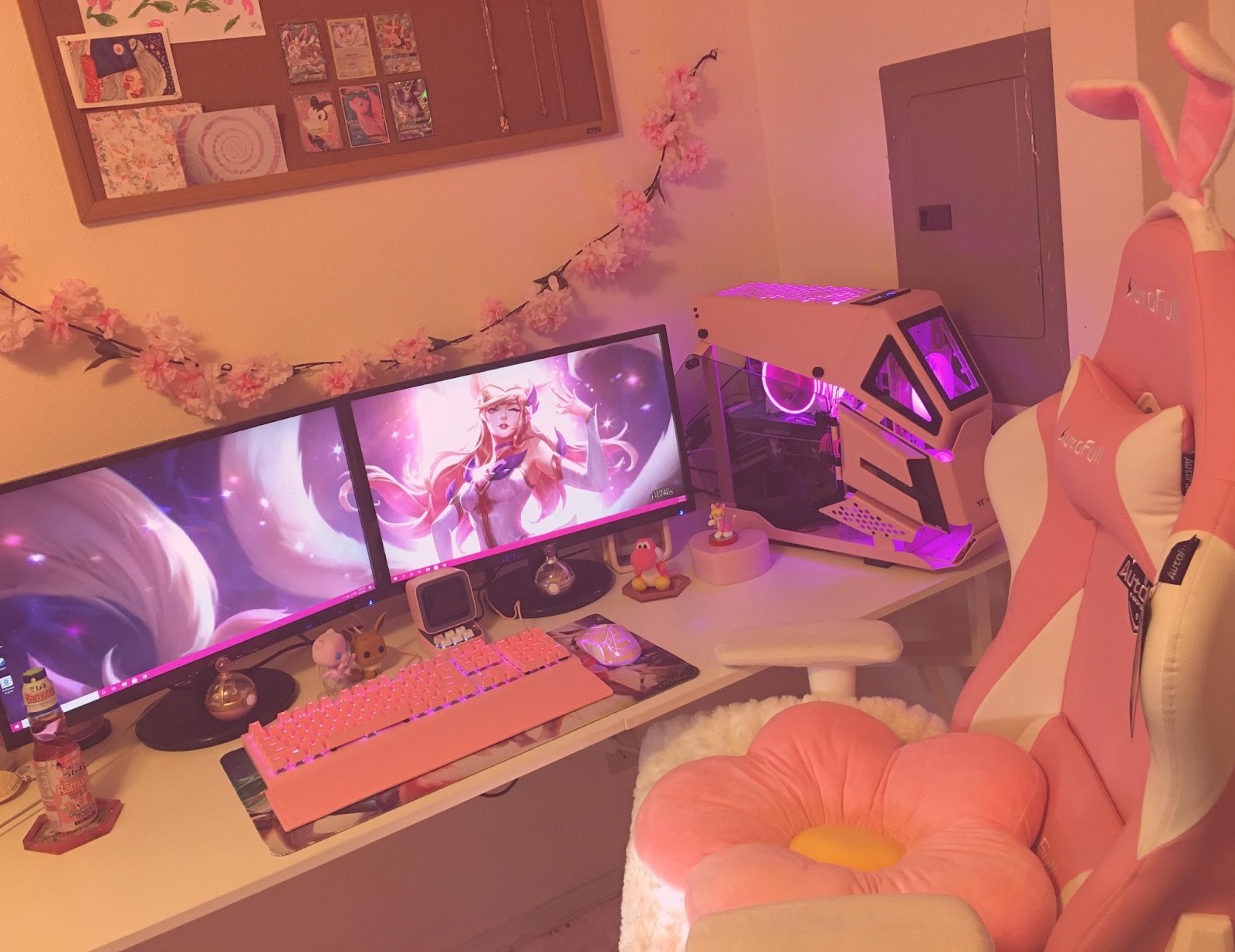 Assorted Hardware Gaming Chair Setup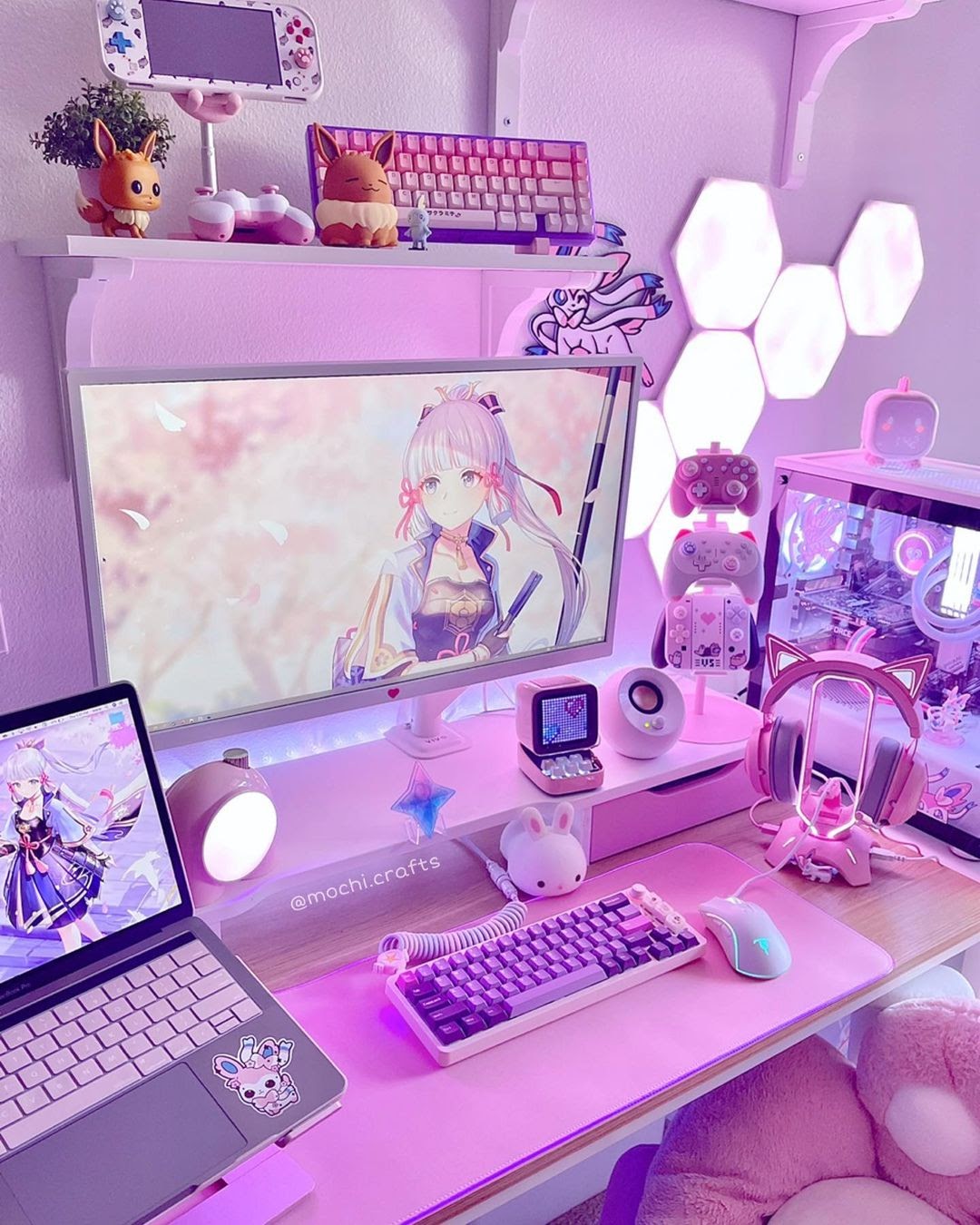 Kids Kawaii Paradise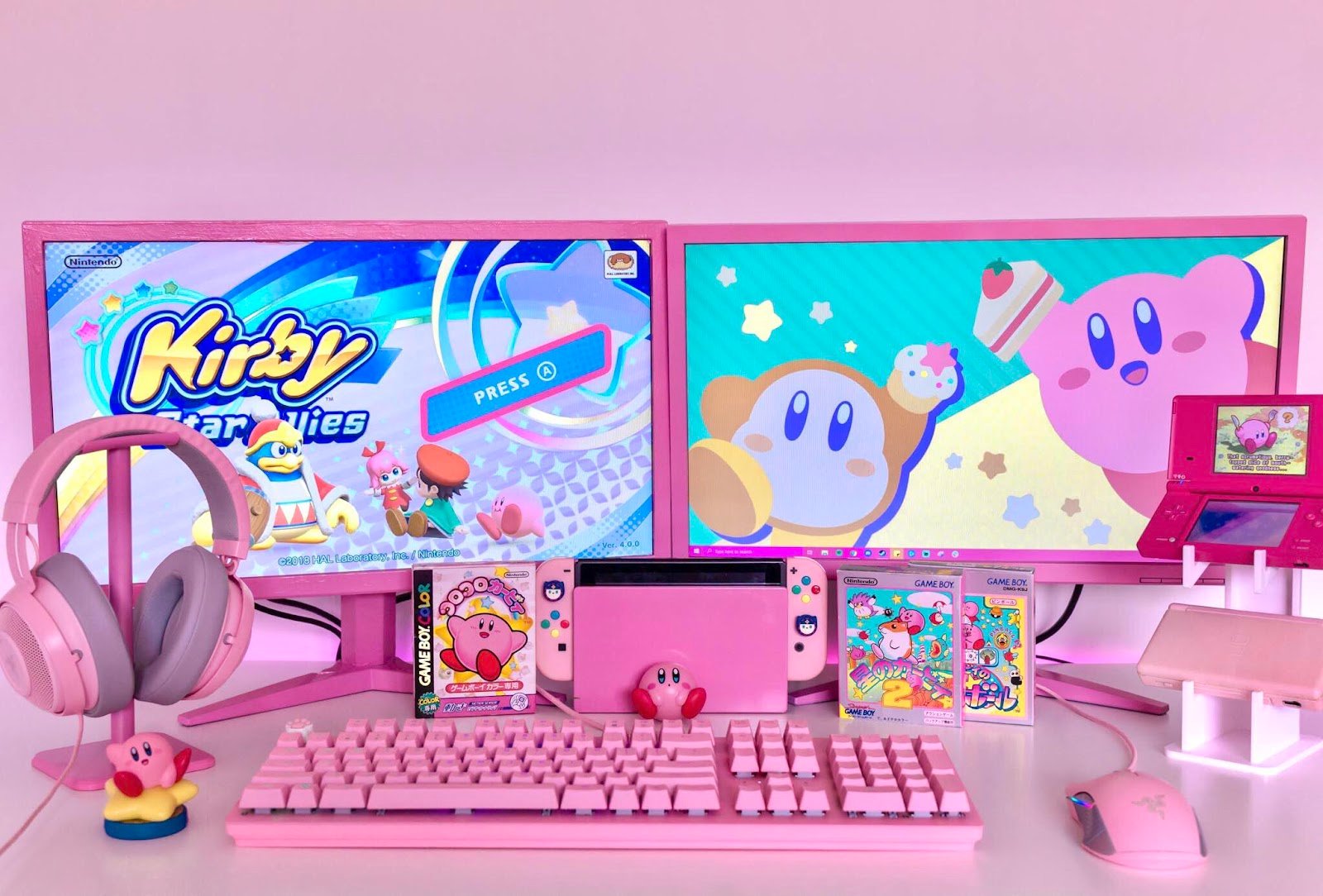 Girl Gamers Space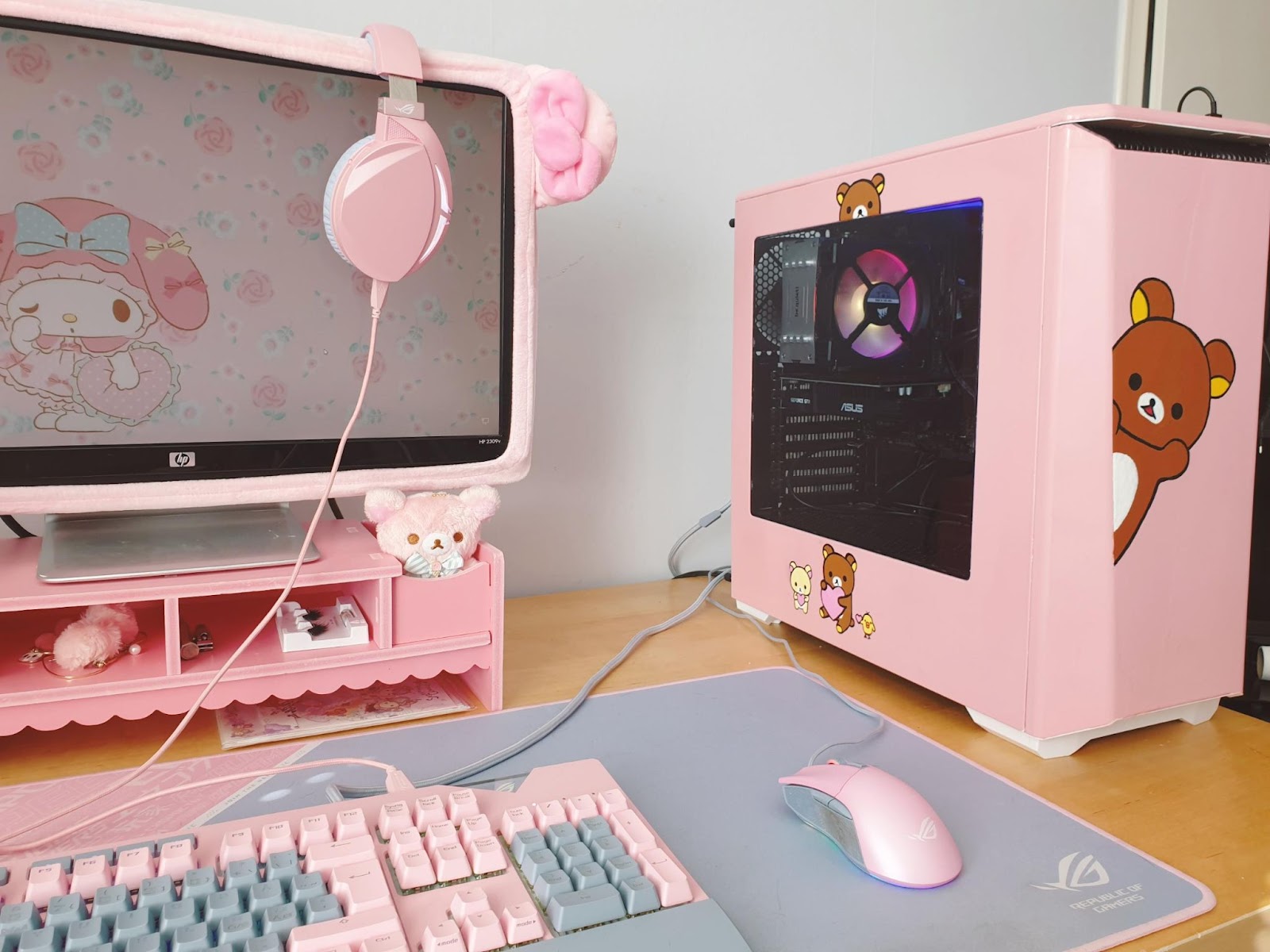 The first time that Kawaii culture spread outside of Japan was in 1984 when Sanrio came out with Hello Kitty. It was so well received by non-Japanese audiences that it has changed how marketers define their markets outside Japan ever since.
Mashup Of Favorite Characters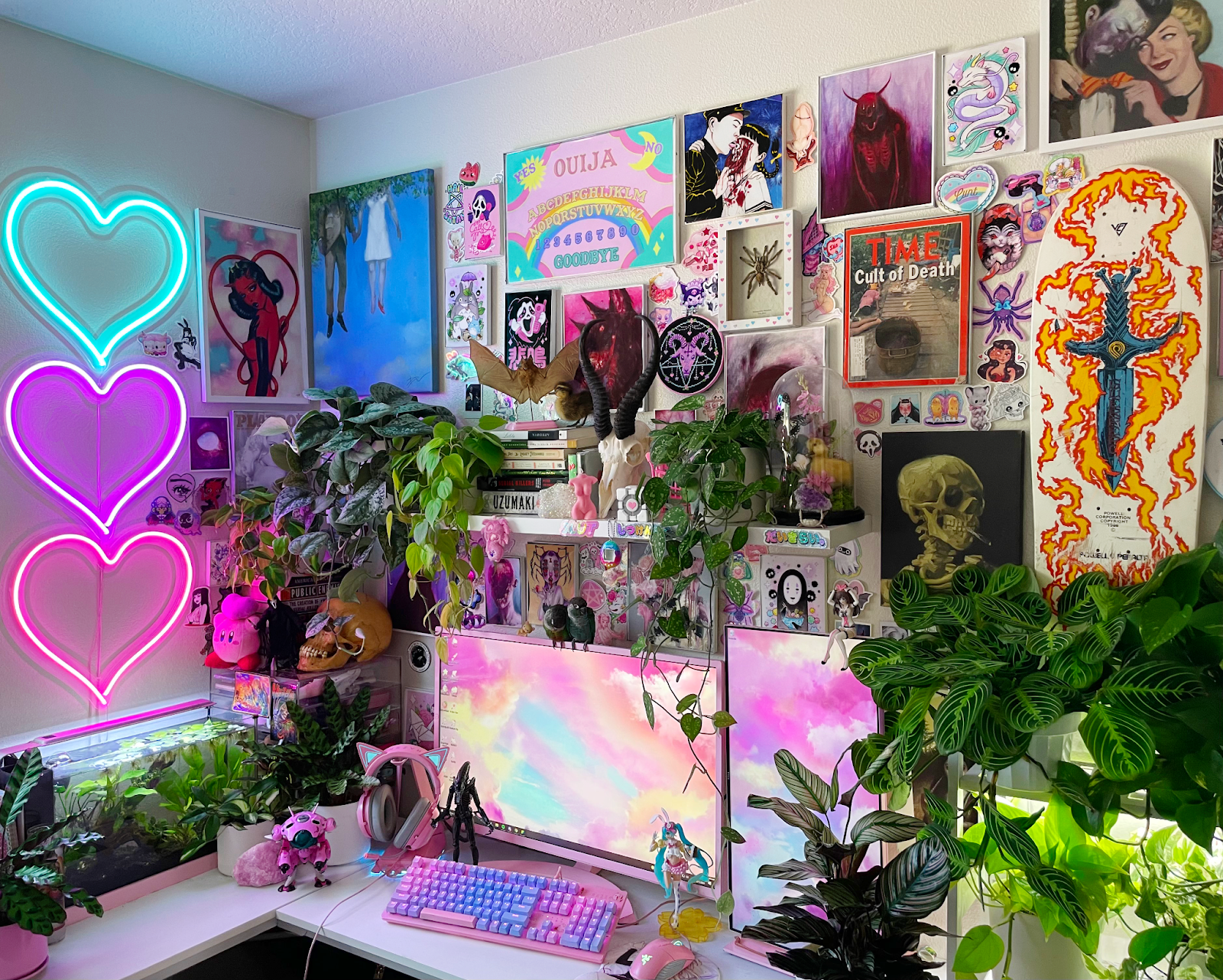 Soft White & Pink Color Scheme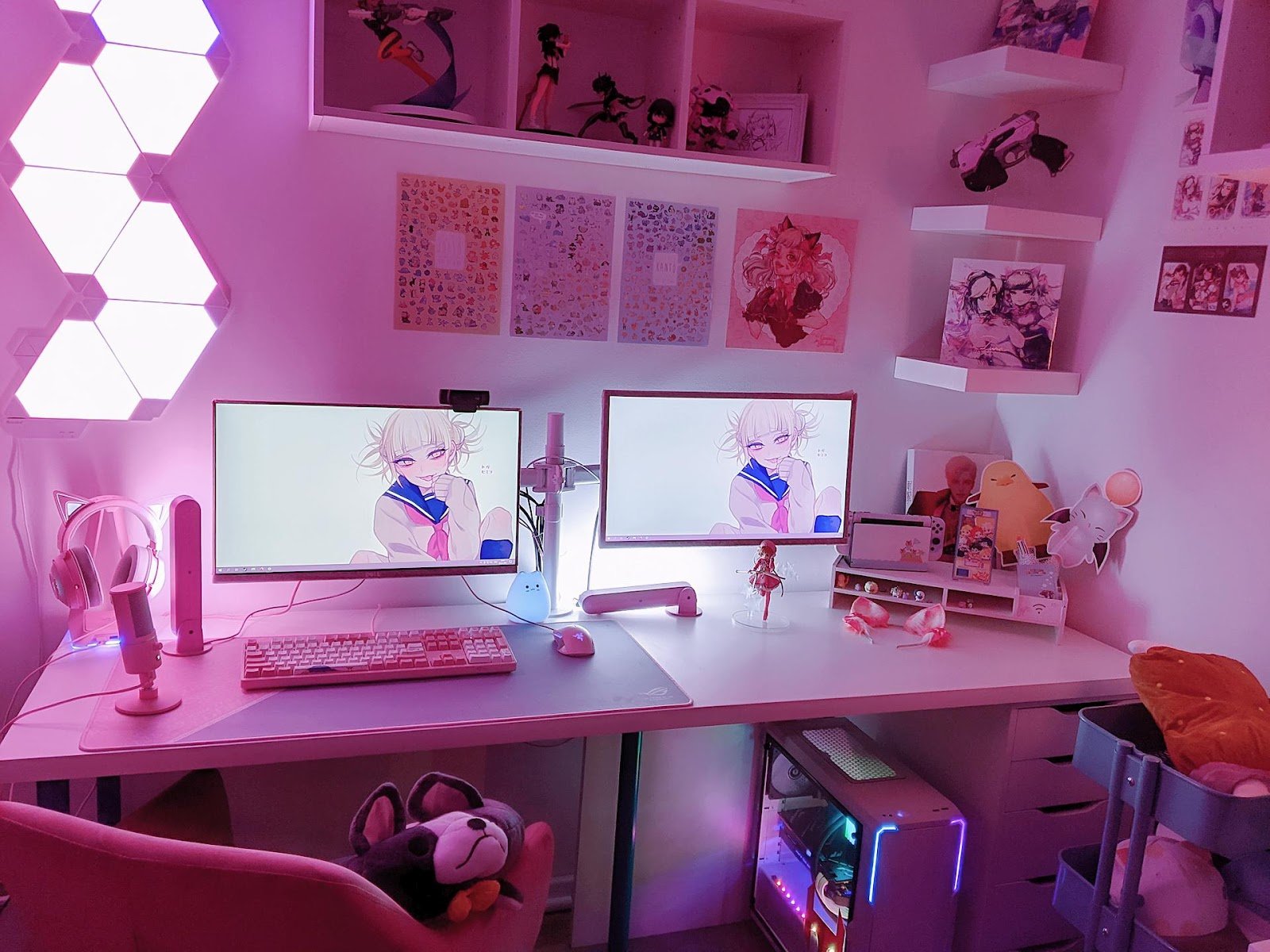 Subtle Cute Dark Theme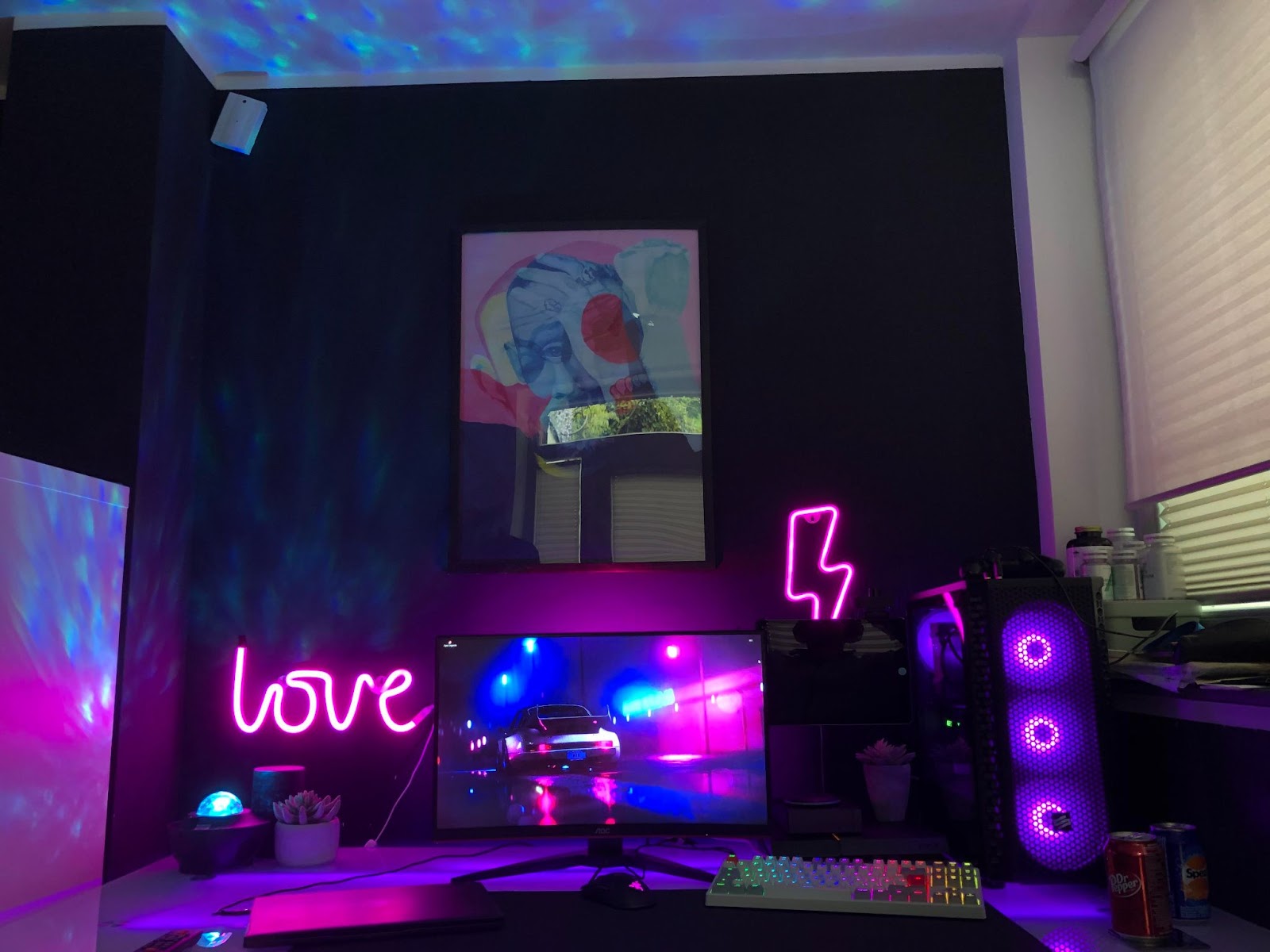 COD Streamer Heaven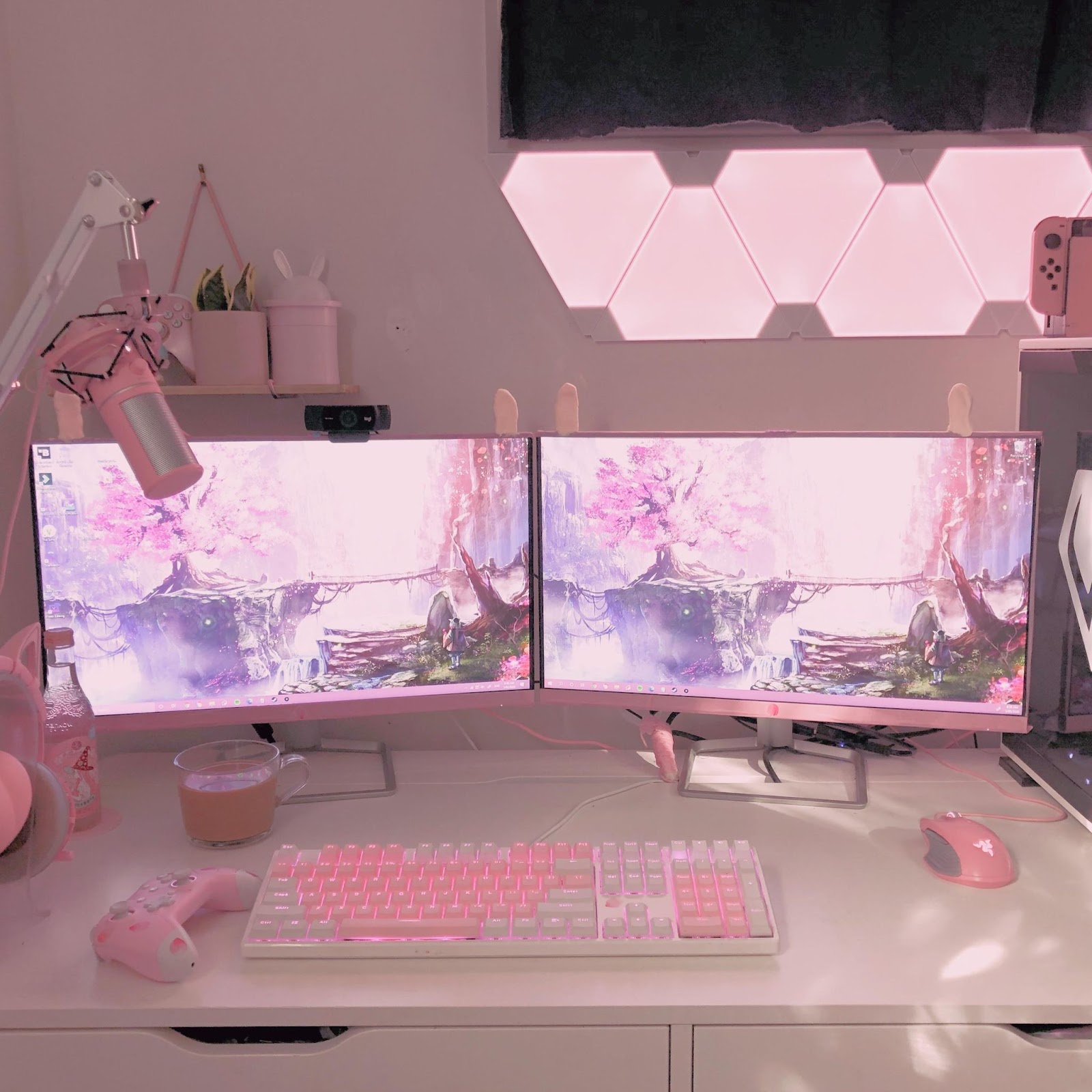 Light & Minimal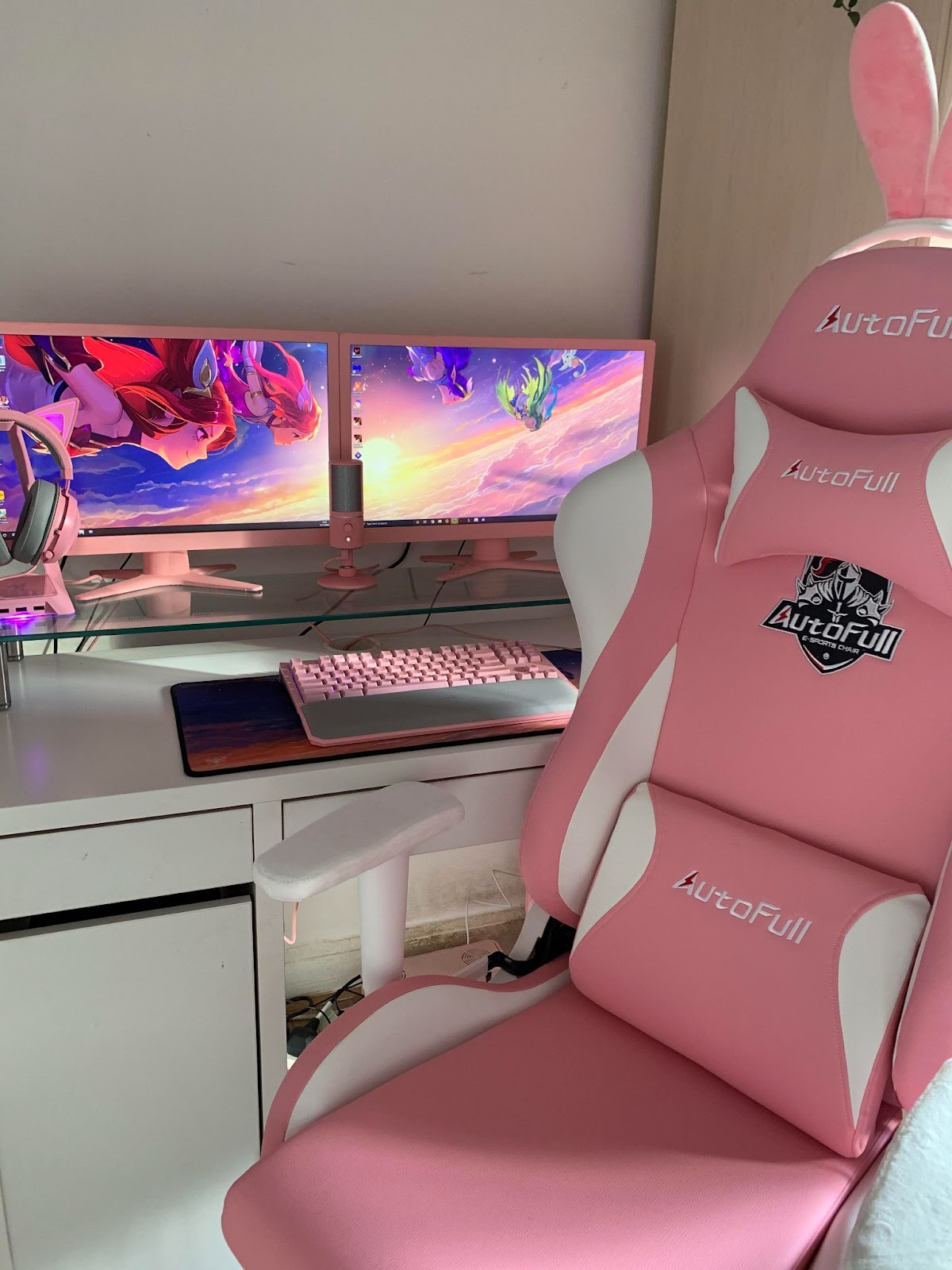 Zelda Poster Setup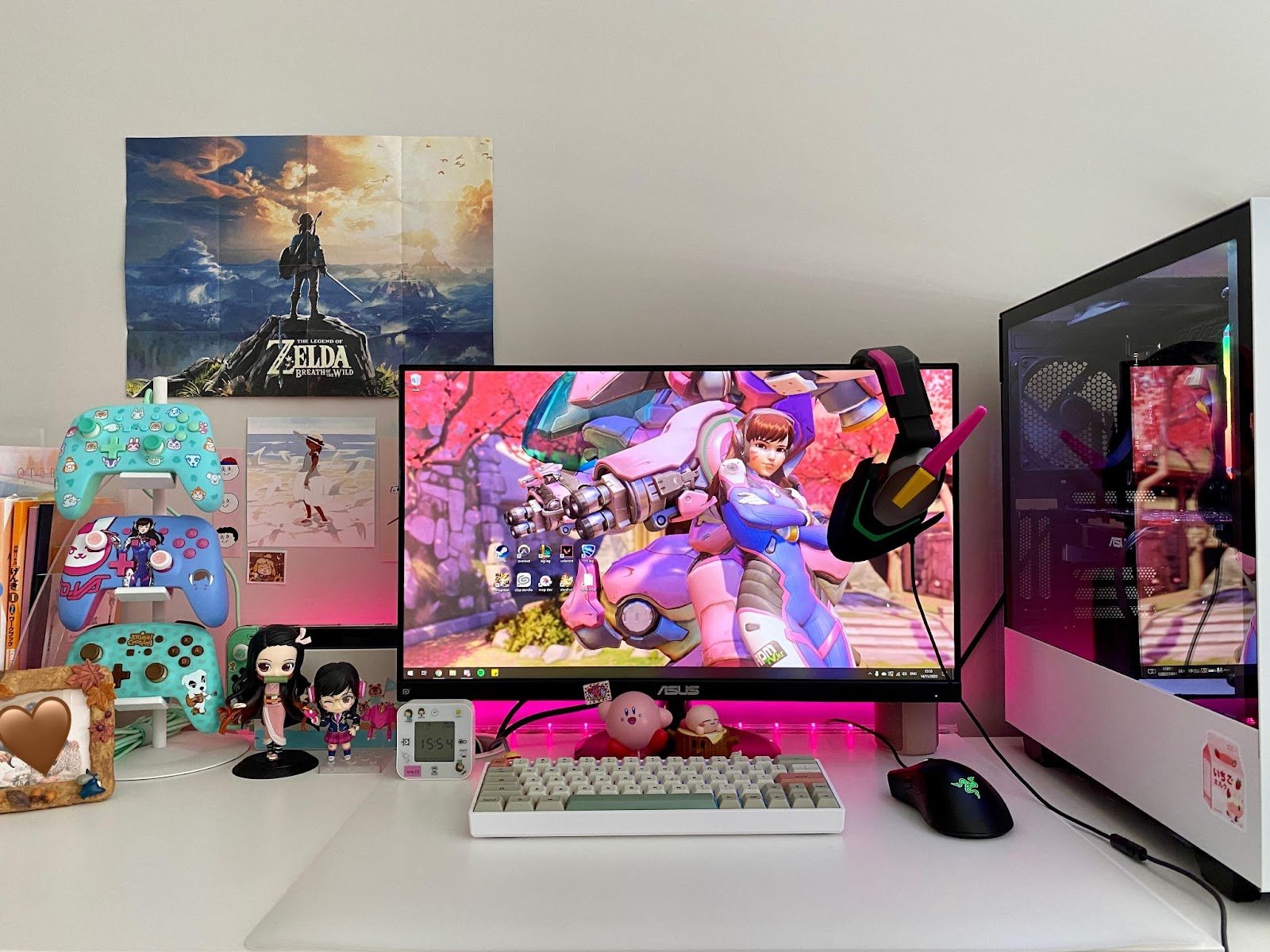 Anime Character Figurine Collector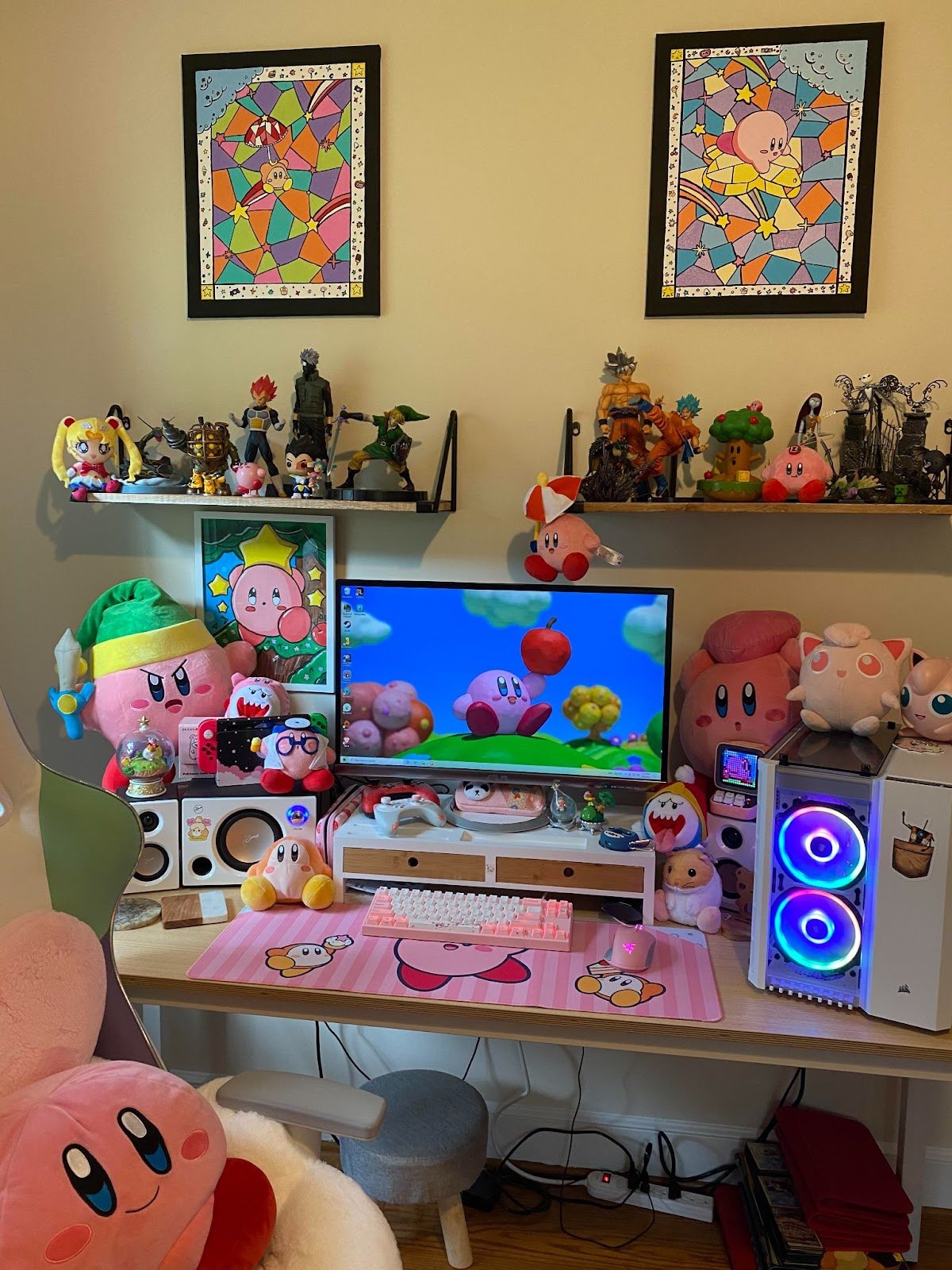 Only The Most Important Things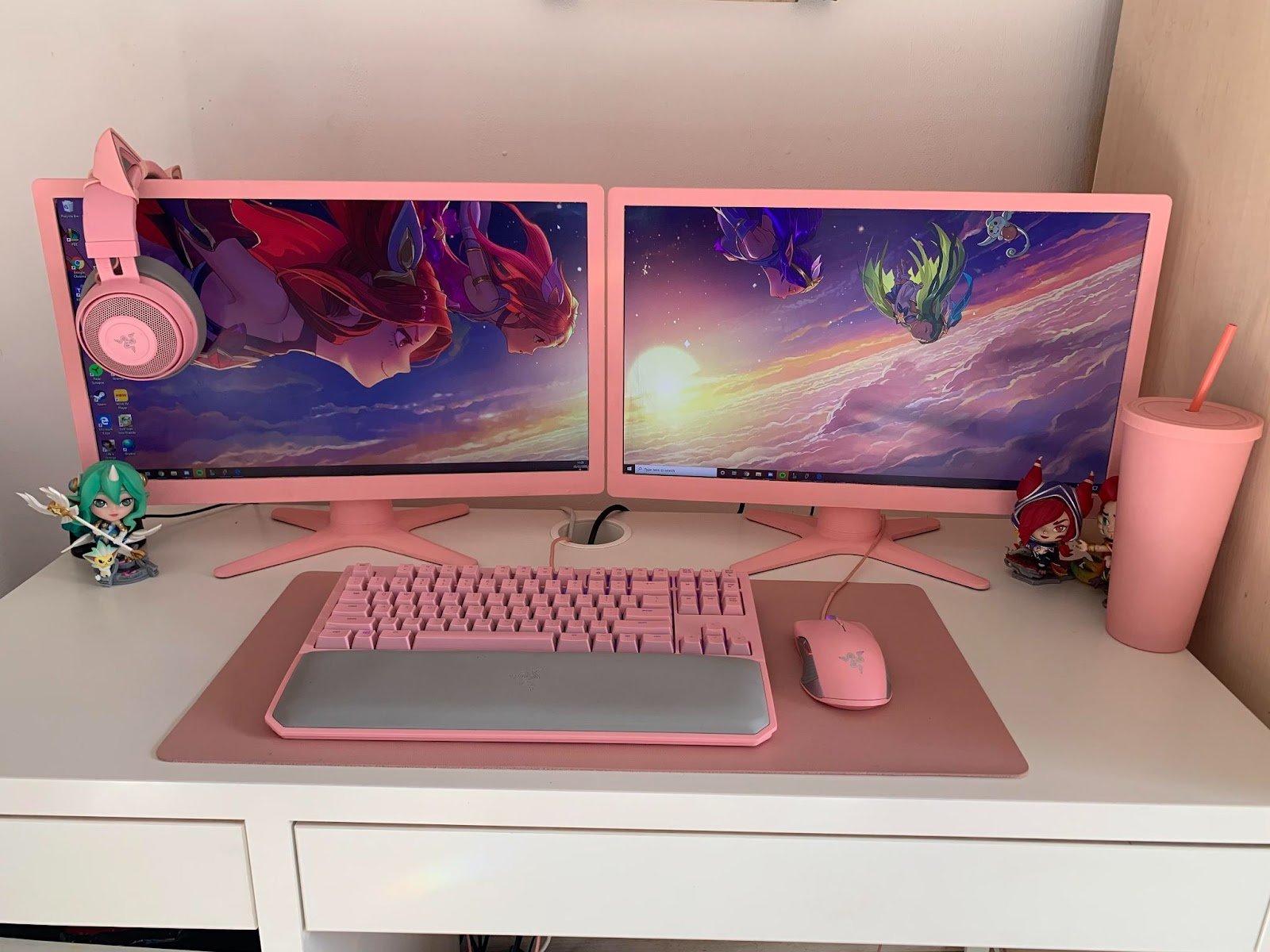 Glass PC Case & Cozy Slippers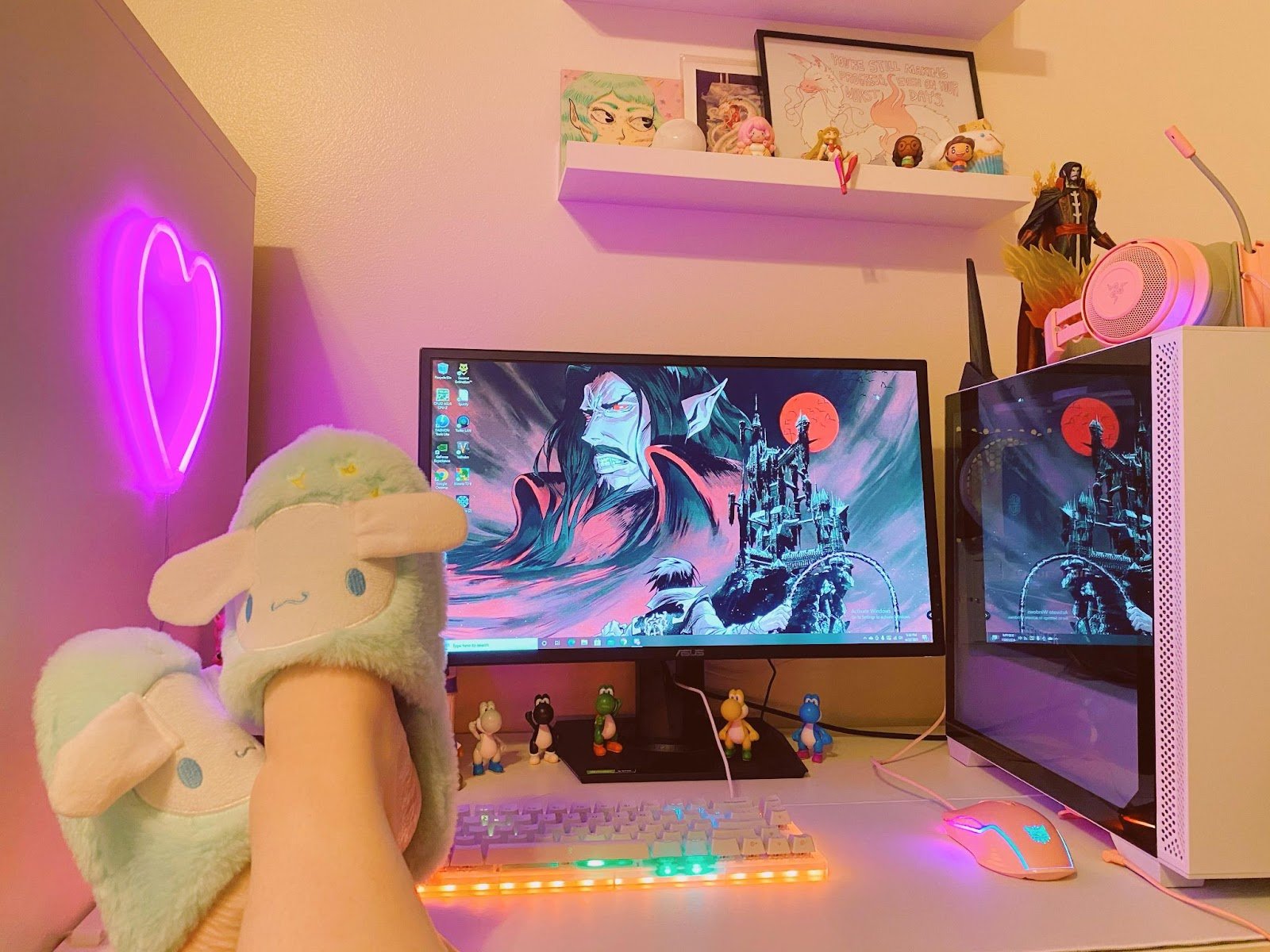 Cute Glass Monitor Stand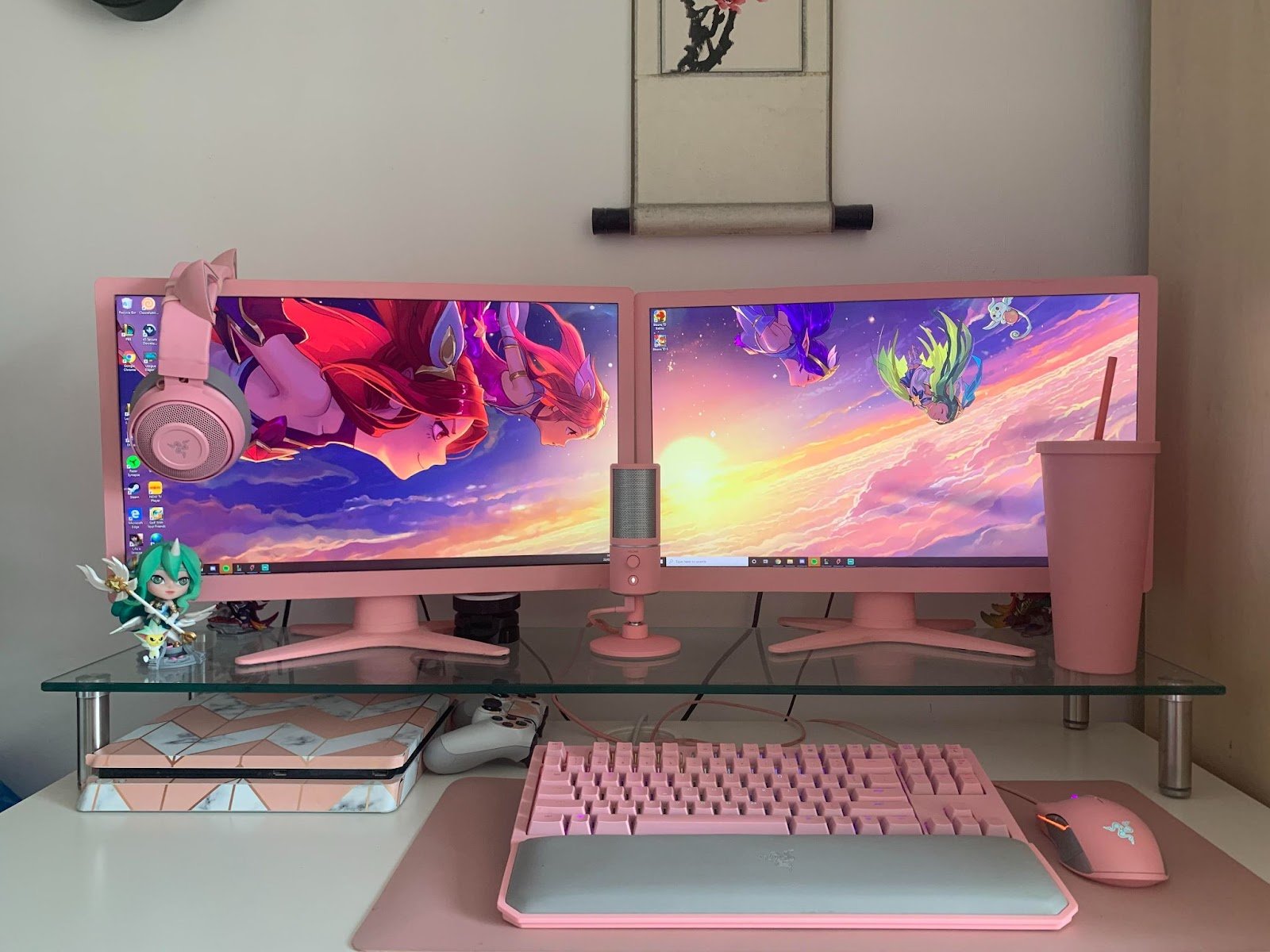 The Cute Bedroom Gaming Office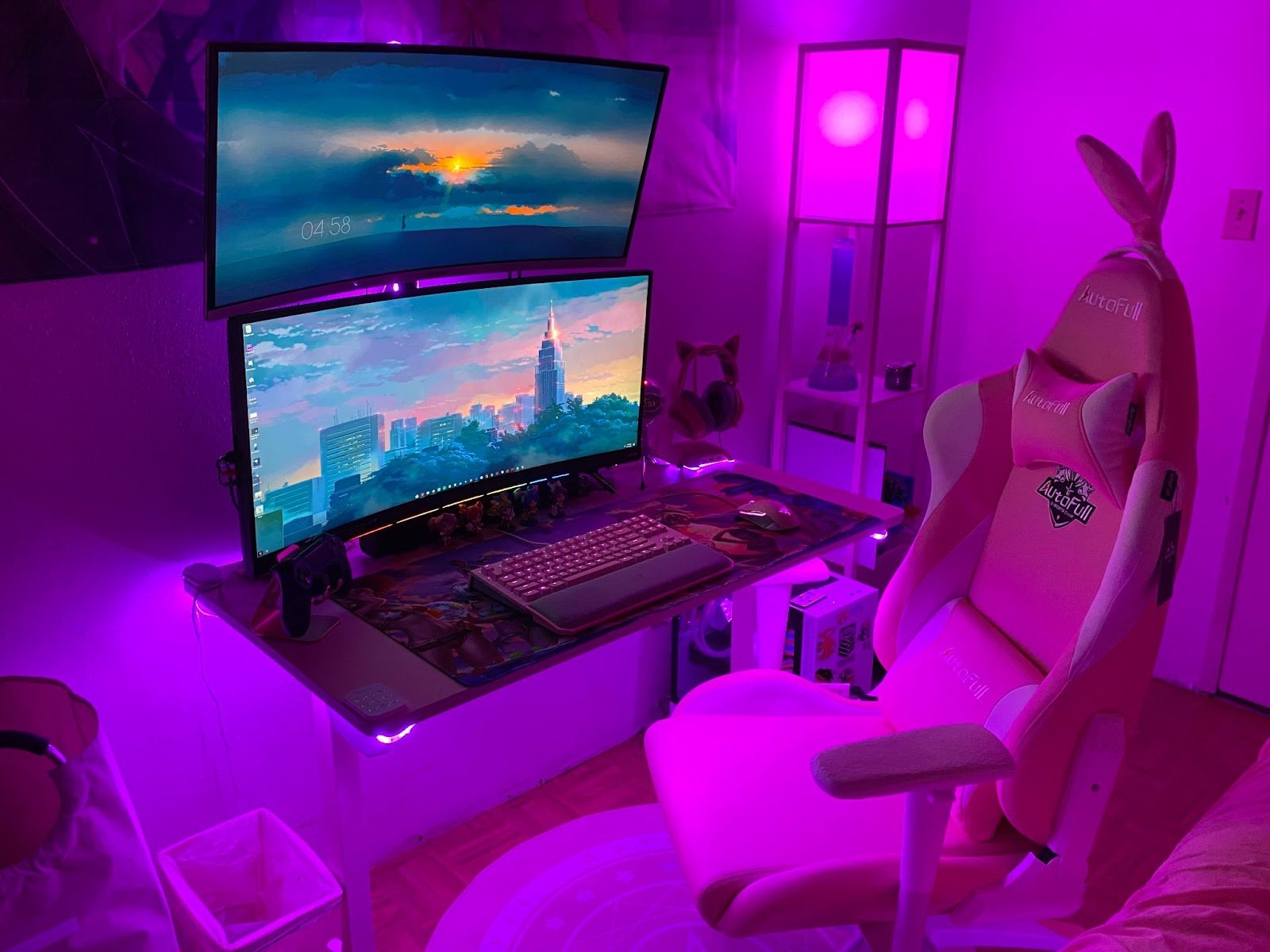 Everything Pink Including Gaming Chair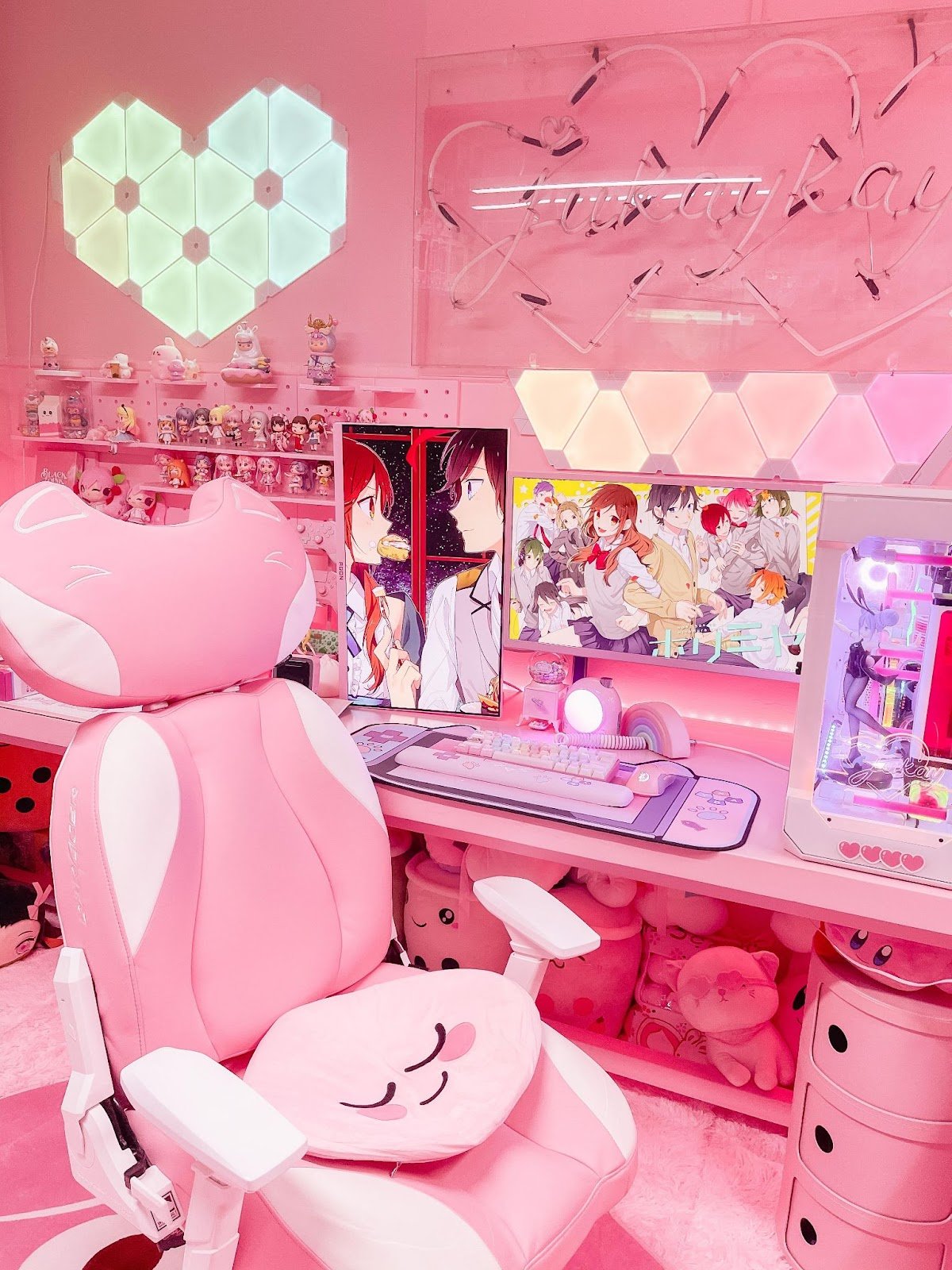 Conclusion
What makes the best gaming setup? Could it be a cool gaming chair?
Kawaii style has many benefits for gamers, including making the gaming space more comfortable. It also offers a sense of safety and security that can help to reduce anxiety or stress levels before bedtime. This is why it's important to surround yourself with items that make you happy! A kawaii gaming setup can be a fun way to show your personality while you game. There are many different routes you can go down when creating your perfect kawaii space, so be sure to find what works best for you and enjoy! Thank you for reading!