One thing we've learned is that you can't tell a Star Wars fan just by observation. Sure, there are those who proudly display their fandom with a T-shirt or have the Imperial March as their ringtone, but most big fans don't announce it. Instead, many homeowners pay a private tribute to their favorite series with a Star Wars room or Star Wars decor in their house.
From Star Wars bedrooms to Star Wars nurseries, these homages range from the small and subtle to the outrageous and extravagant, but all are equally inventive.
Whether you're looking for some inspiration for your own decorating project or merely want to gawk at what can be done with a little elbow grease and some creative thinking, here's our list of 45+ best Star Wars room ideas to incorporate the Star Wars theme in almost any room of the house!
Star Wars Gaming Room Ideas
Are you a Star Wars fan and a gamer? If you've spent countless weekends unleashing the Force and running with the Knights of the Old Republic, it's time to think of a themed gaming room. In order to turn a spare room or a corner of a bedroom into a Jedi-approved battlestation, make sure to accessorize it with Star Wars-inspired wall art, collectibles, and gadgets. And don't forget to add ambient LED lighting to complete the look!
Stormtrooper Gaming Room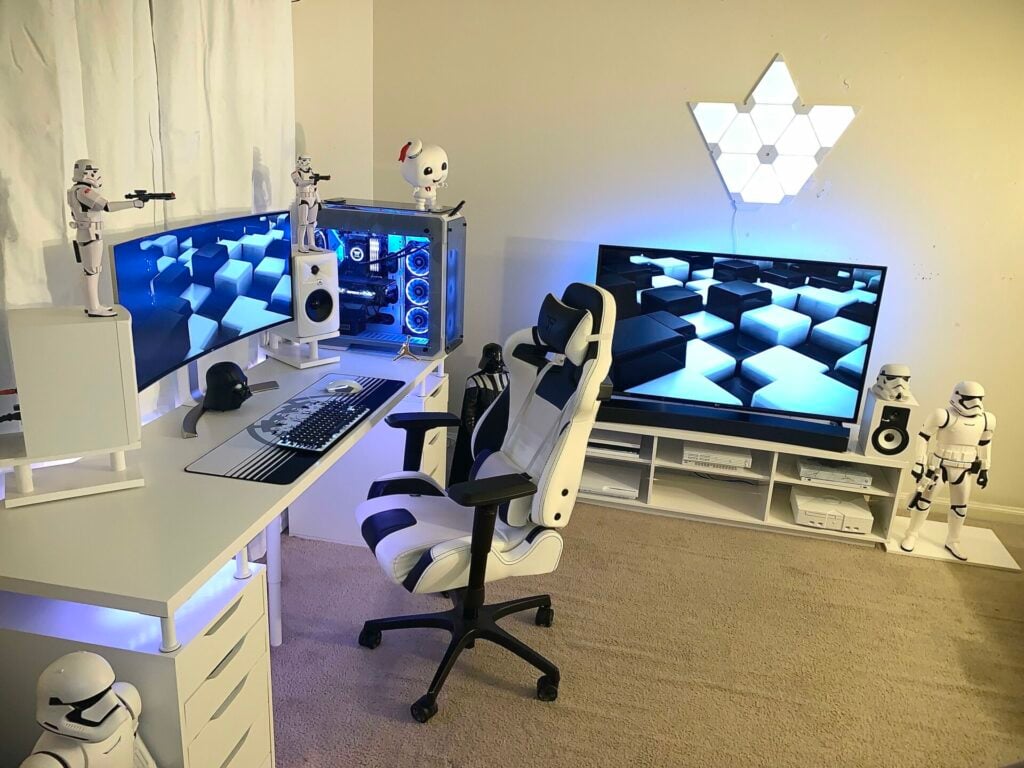 Little did they know, once they got past my front door, that I had a squad of stormtroopers guarding my room.
Dark Side Gaming Room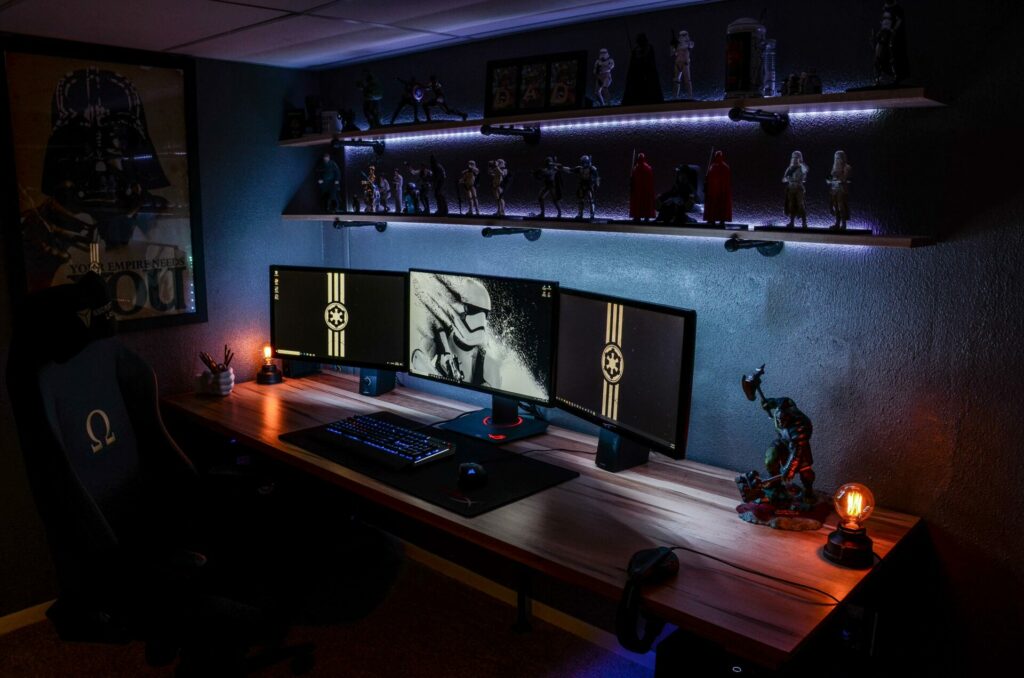 This awesome gaming setup is drawing us into the Dark Side.
Funko POP Gaming Setup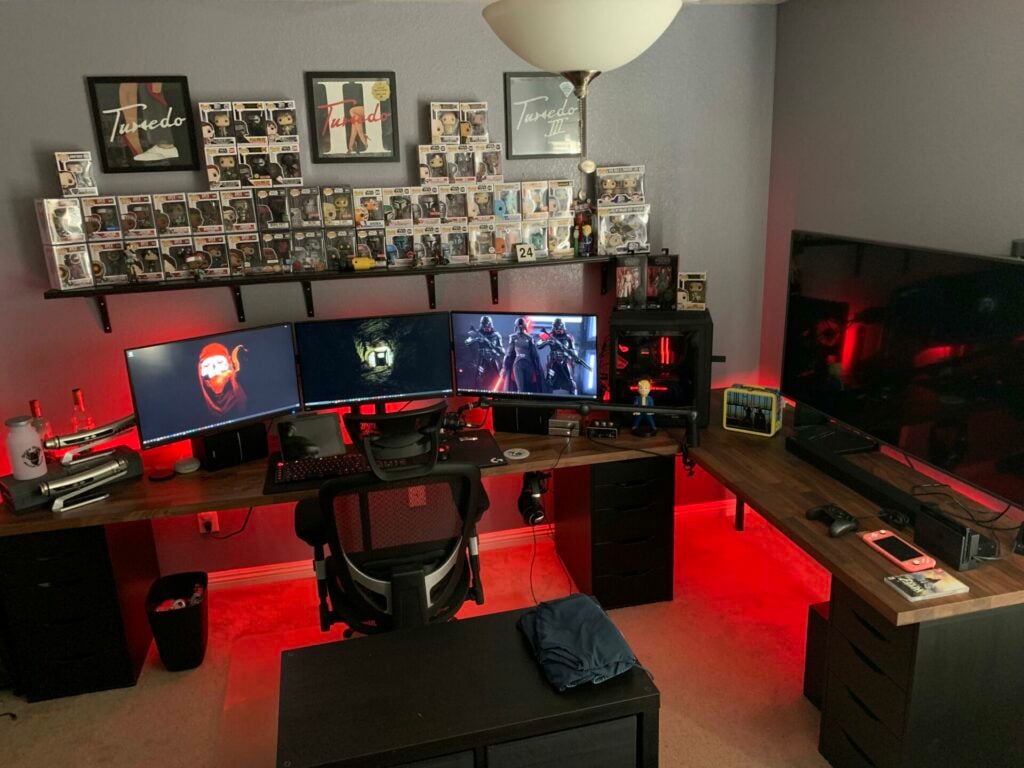 Hats off to this collection of Star Wars POPs!
Minimalist Star Wars Gaming Setup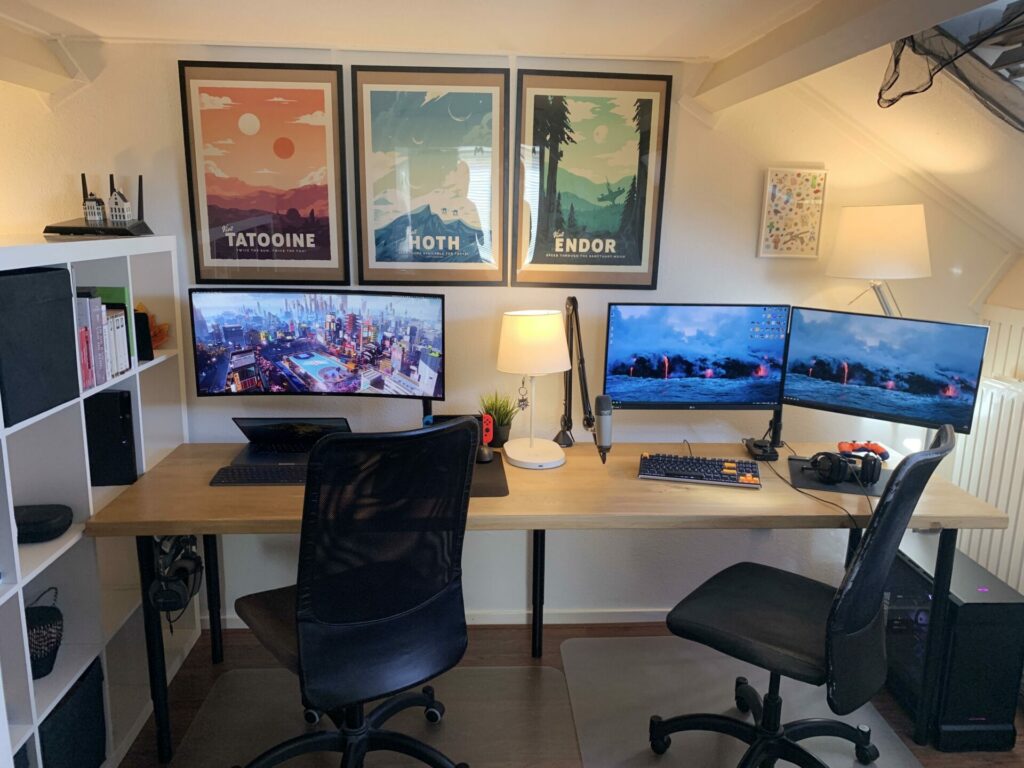 If you dig minimalist Star Wars posters, you're in for a treat with these Galactic Propaganda Star Wars posters.
Star Wars Lego Gaming Room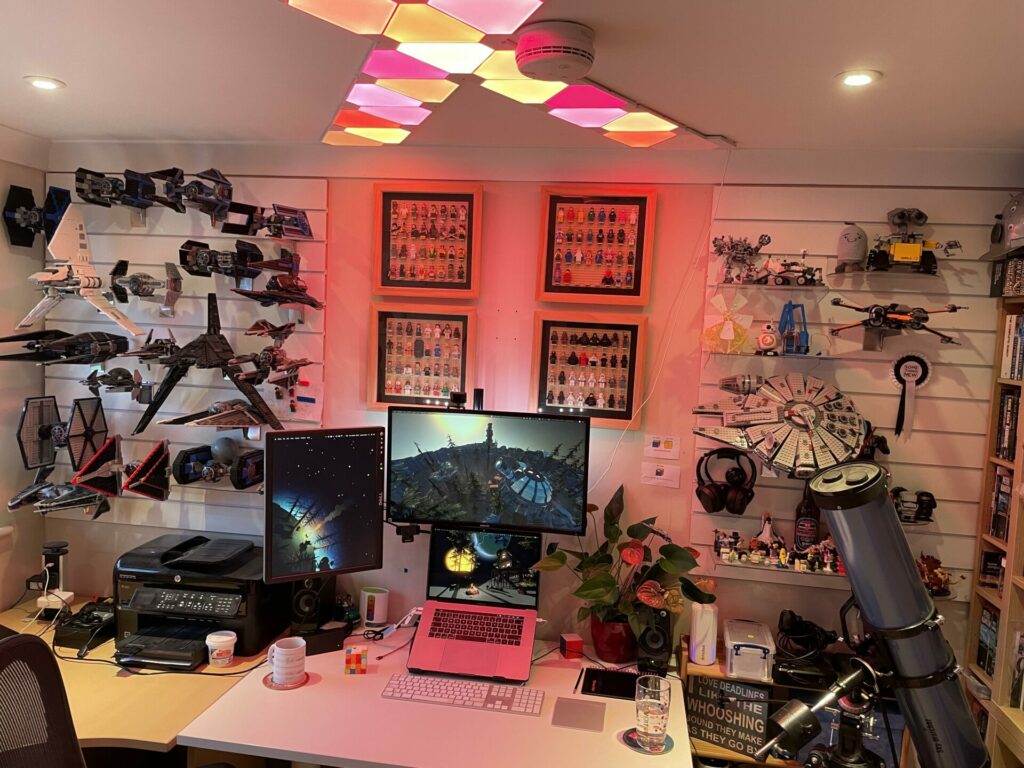 The best thing about being a grown up is being able to buy plenty of Star Wars Lego.
Star Wars Helmet Collection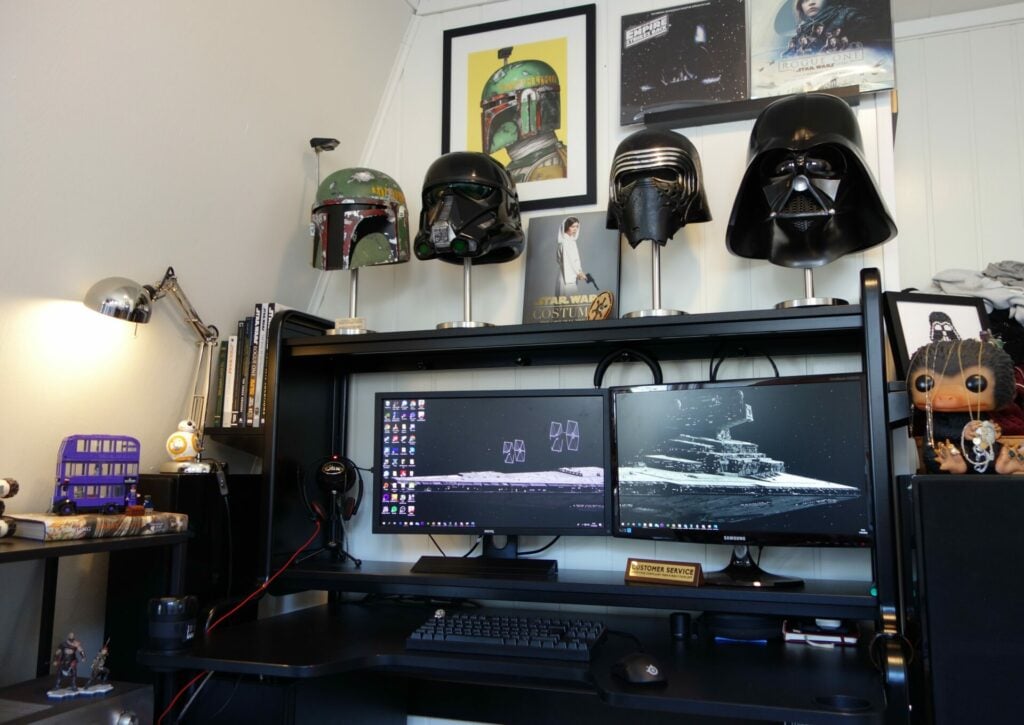 We call dibs on the Boba helmet!
Star Wars Home Office Ideas
Are you a stay-at-home-worker who wants to inject some of that Luke Skywalker vibe into your home office? If you'd like a habitable office space that doesn't look like a film set but has all the desired design elements that remind you of the galaxy far, far away, here's some serious inspo for office organization, workspace decor, and layout to make your #homeofficegoals a reality!
Minimalist Star Wars Home Office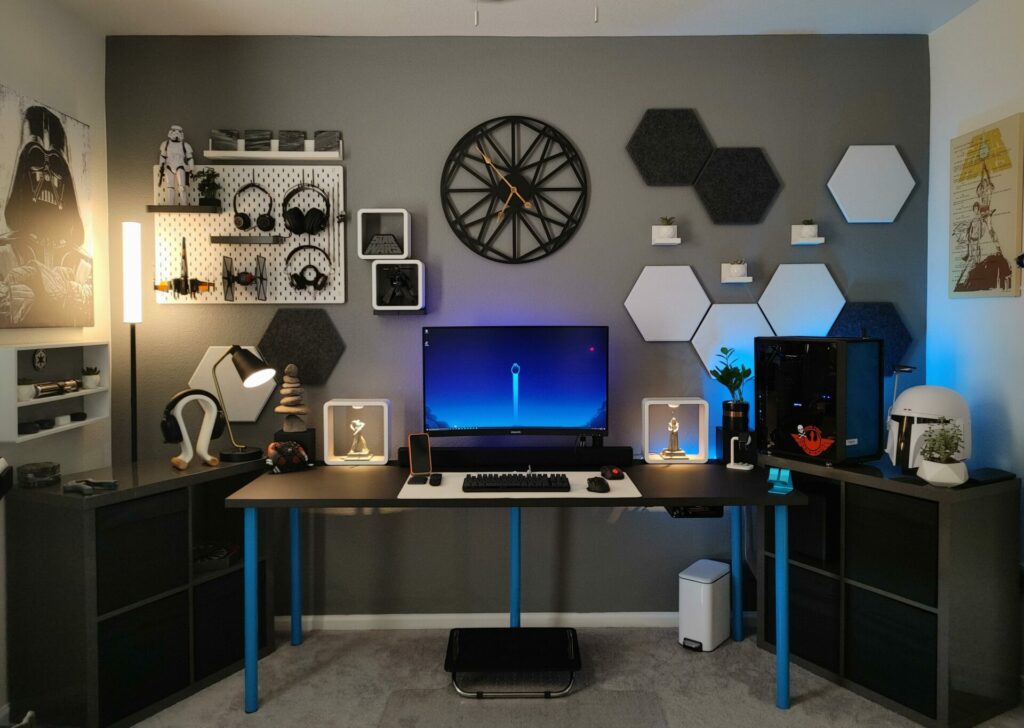 Clean and crisp – the Dark Lord would be pleased.
Starship-Themed Home Office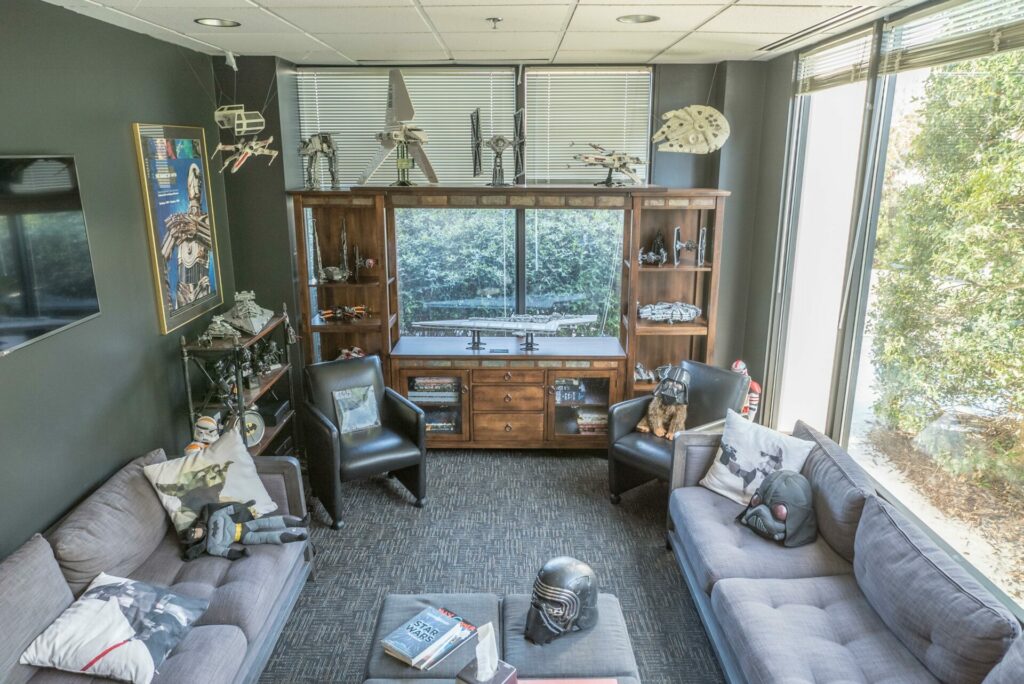 Now, what if I told you that this is actually a child psychologist's office?
High-End Star Wars Home Office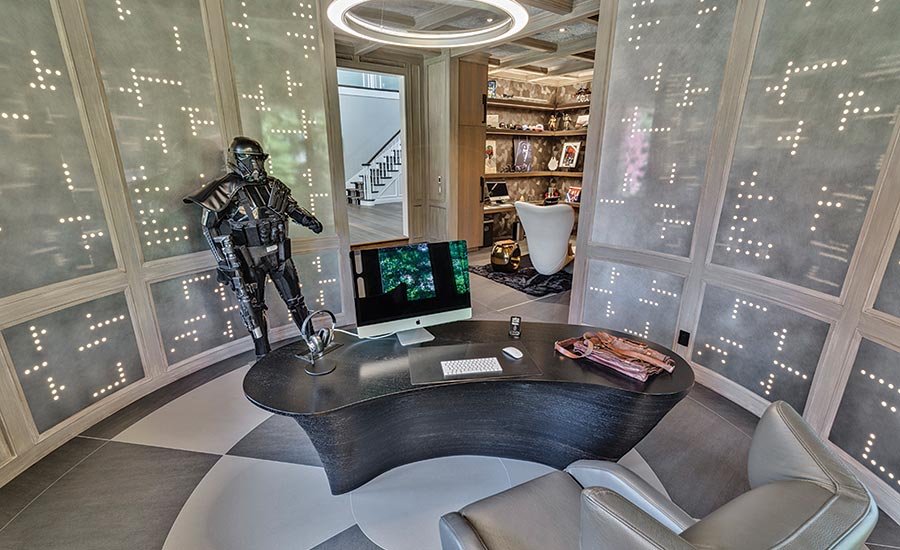 Can you see the round checkered motif on the floor? It's identical to the holo checkerboard from the Millennium Falcon!
Kylo Ren Home Office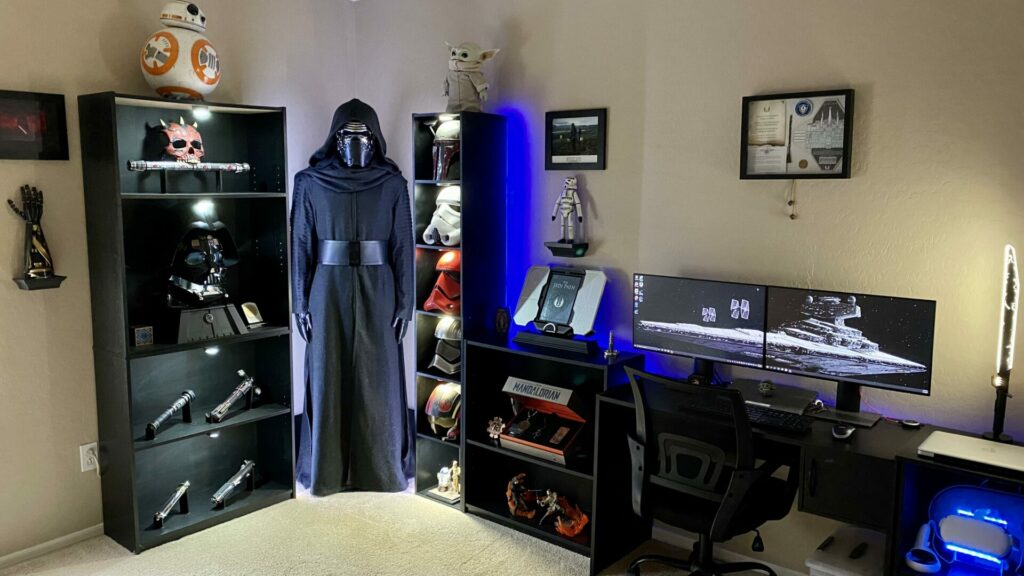 We would be kinda insecure about having a life-sized Kylo Ren lurking in the corner, but it's just a statue, or is it?
Armada & X-Wing Home Office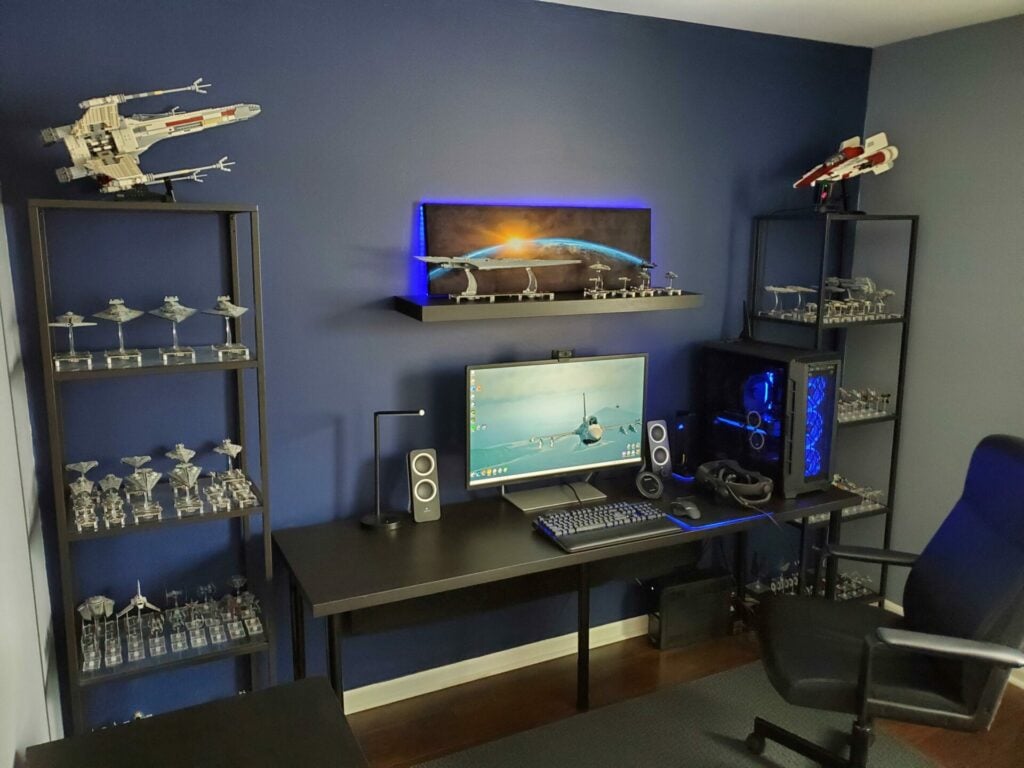 The only thing that is missing is a proper cockpit chair to sit on.
Black-and-White Star Wars Home Office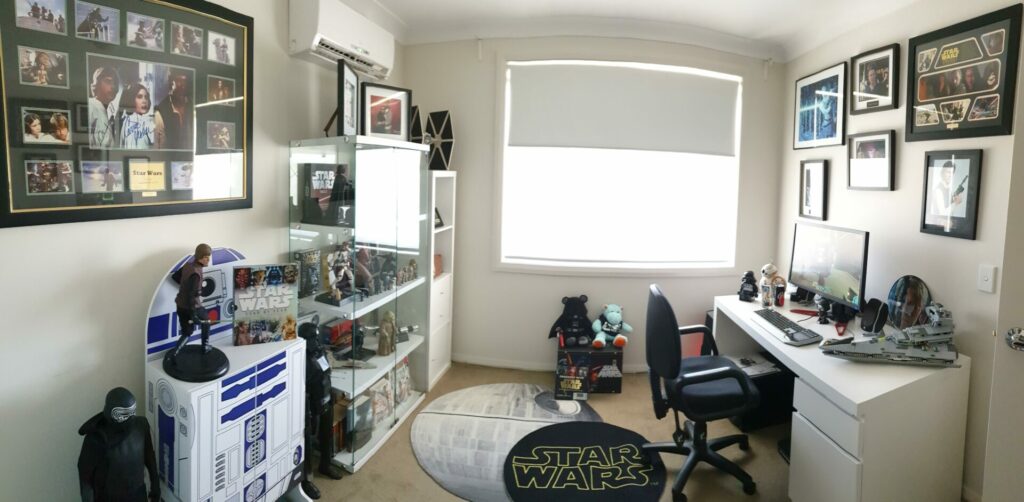 An R2-D2 dresser, Death Star-inspired rug, and loads of Star Wars paraphernalia — this Star Wars-themed home office is just what the Jedi ordered.
Star Wars Home Theater Ideas
Could there be anything better than a proper home theater? Yes, a Star Wars-inspired theater built to replicate the interior deck of the moon-sized superlaser known as the Death Star, or modeled after an imperial Star Destroyer, or featuring Han Solo frozen in carbonite. Yes, places like this do exist.
RGB Star Wars Home Theater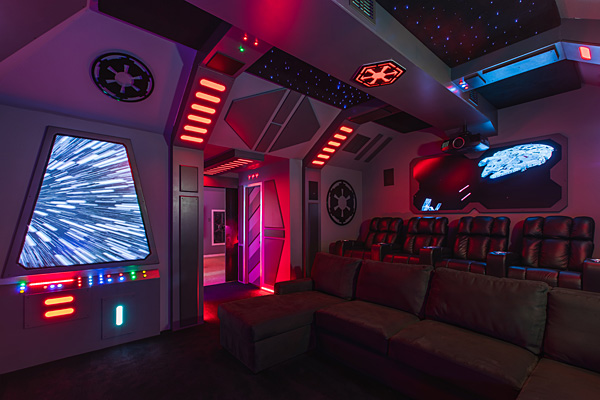 To the creator of this place, we would like you to take us on as apprentices.
Death Star Home Theater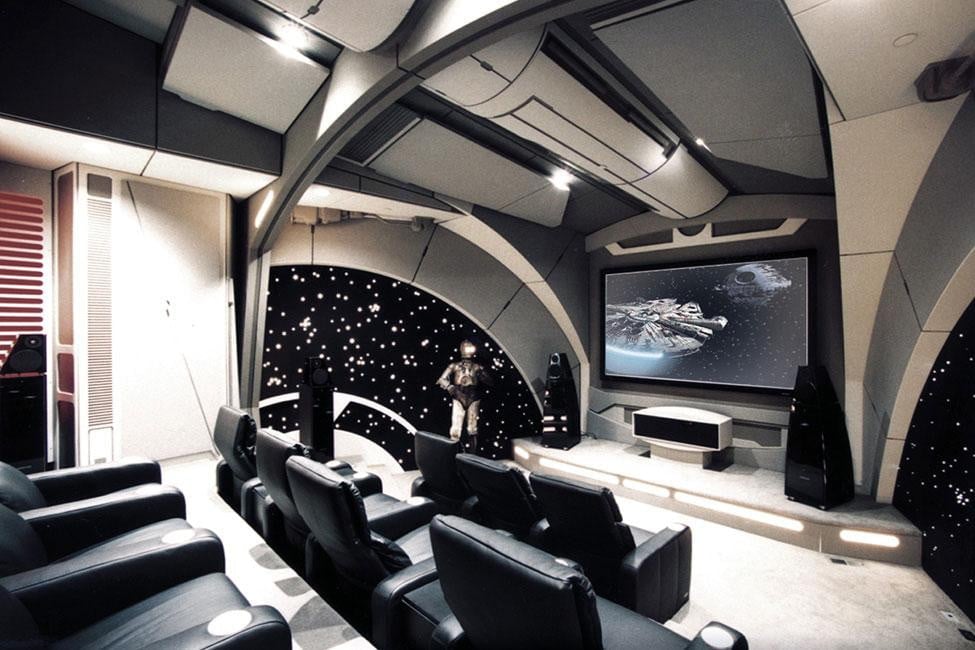 Angled beams, star-lit walls, and a lobby designed to resemble the Death Star's gangplanks. As Master Yoda would say, die for this room we would.
Space-Age Home Theater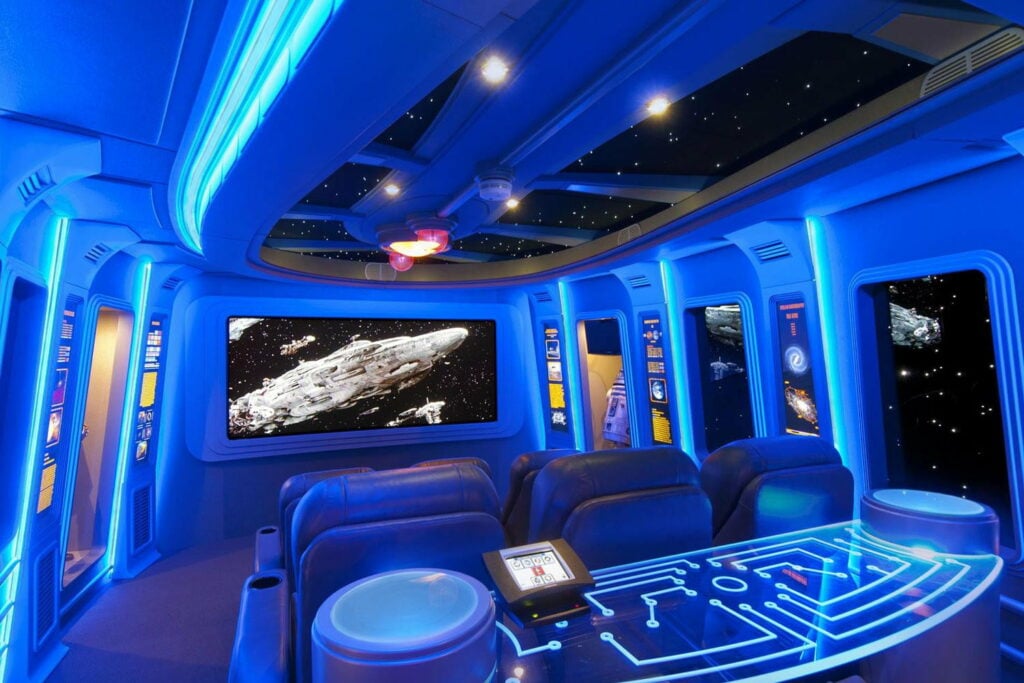 Fancy a movie night spent in hyperspace? Can't see why not.
Star Destroyer Home Theater
From the slanted beams to the red-and-blue lights, we hail this awesome spaceship-like look!
Black-and-White Star Wars Home Theater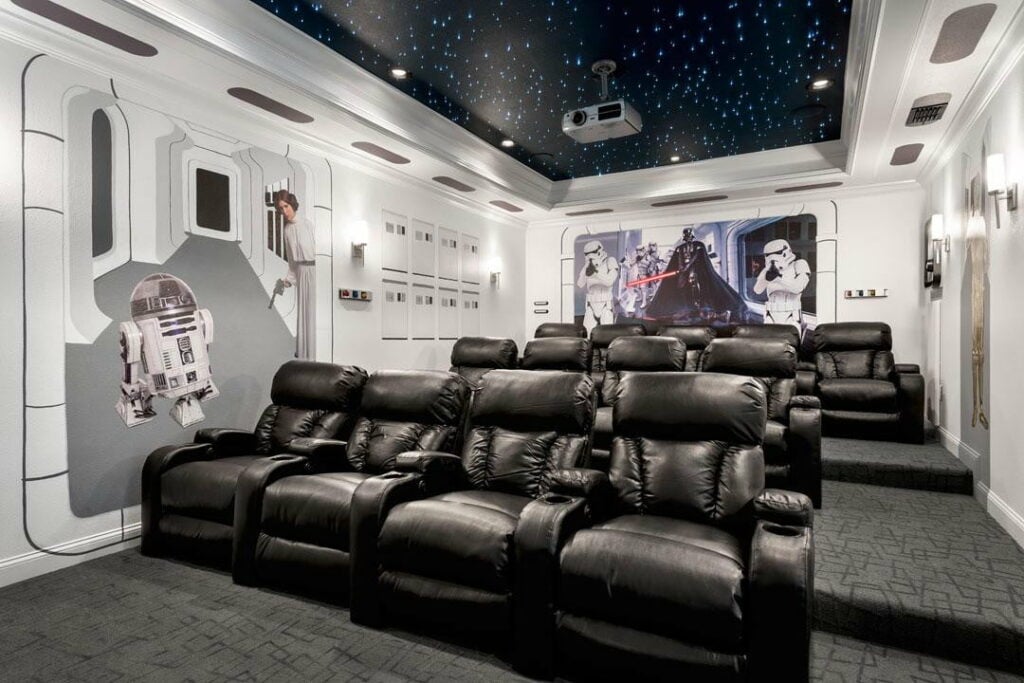 Ah, the stormtroopers charging up from the rear alongside the ominous Vader. Some people just do it right.
Star Wars Nursery Ideas
Girl or boy, they are coming into the world a Star Wars fan! If you'd like your baby to grow up literally surrounded by and immersed in Star Wars, consider creating a Star Wars-themed nursery. Cover your bases and get all of the linens you'll need for your baby's crib, including Star Wars-themed pillows and a bedding comforter. You can add the cutest little glow with stick-on stars to the ceiling to emphasize the galaxy theme. Oh, and before you ask, we tried to find the awesome floating crib that Baby Yoda has in The Mandalorian, but no dice.
Navy-and-Gray Star Wars Nursery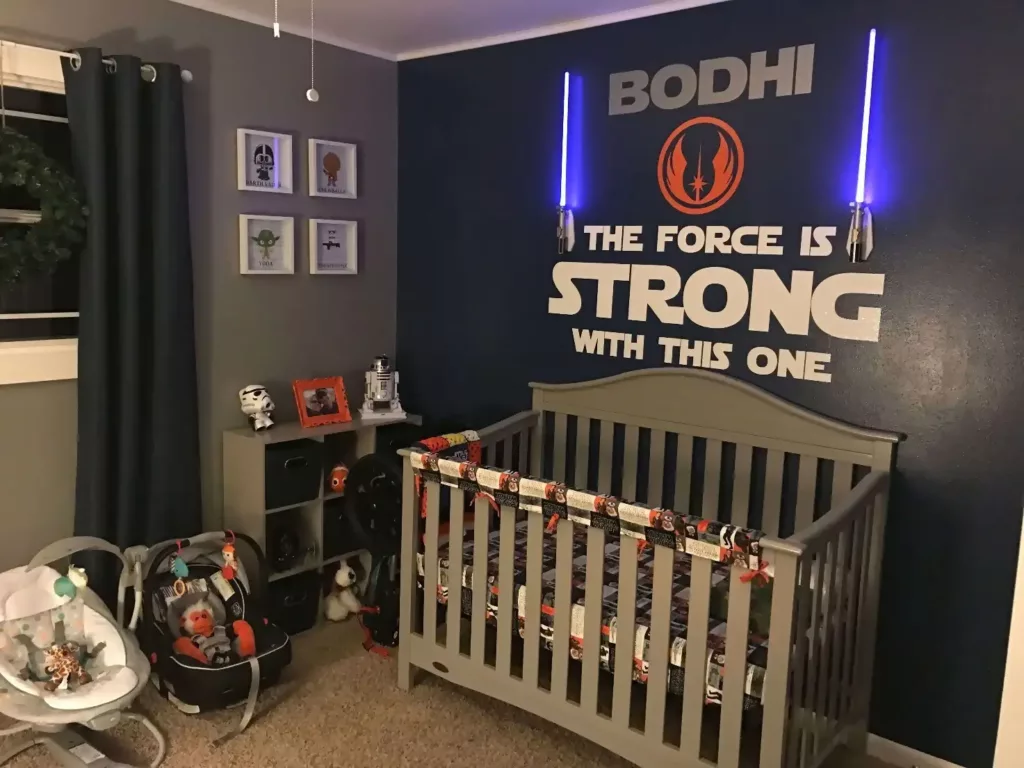 In A Star Wars nursery room, not too far away.
R2D2 Star Wars Nursery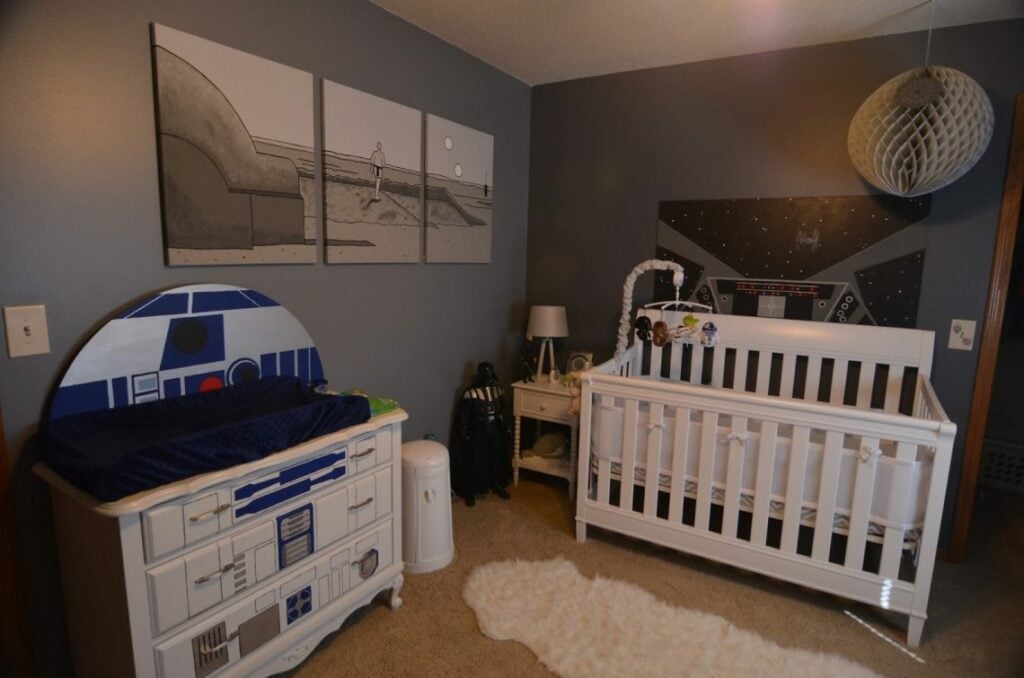 This Artoo changing table is DIY at its finest.
White-and-Purple Star Wars Nursery
A Wampa rug? Sure thing, but prepare for some calls in the night to check for monsters!
Black-and-White Star Wars Nursery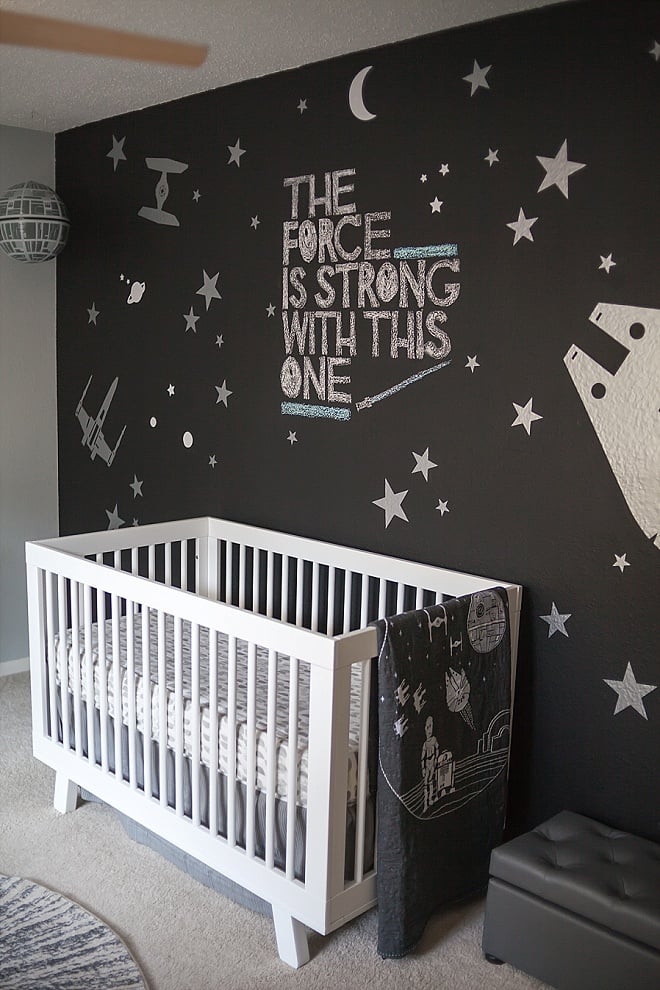 The Force is strong with these parents (we had to).
Star Wars Teen Bedroom Ideas
Star Wars is an awesome theme for a kid's or teenager's room. Why? Because it is actually quite possible to NEVER outgrow it. If you live with a Jedi-in-training, start your room decorating project by buying a few Star Wars toys, decor pieces, and memorabilia. Luckily, the Star Wars franchise has put forth a range of cute, toy aisle-ready creatures from rolling droids to porgs to Baby Yoda. You can further accessorize the room with lightsabers, wall art, and a Star Wars-themed bedding set to enhance the theme.
Dreamy Star Wars Bedroom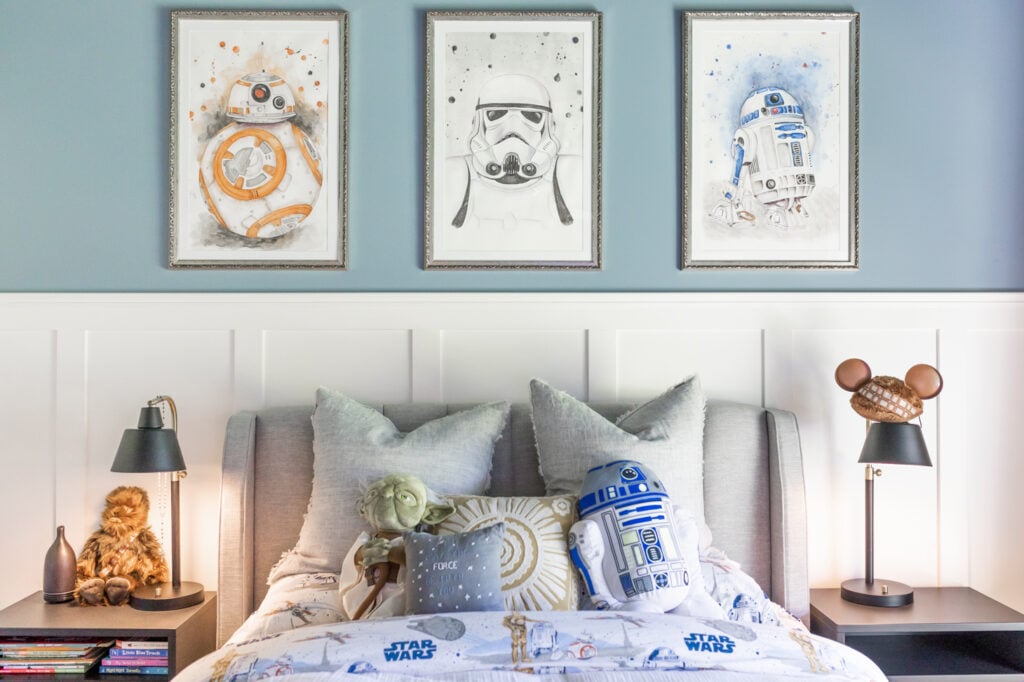 We love the watercolor paintings of BB-8, a stormtrooper, and R2D2. Can we trade for moms, please?
Star Wars Girl's Bedroom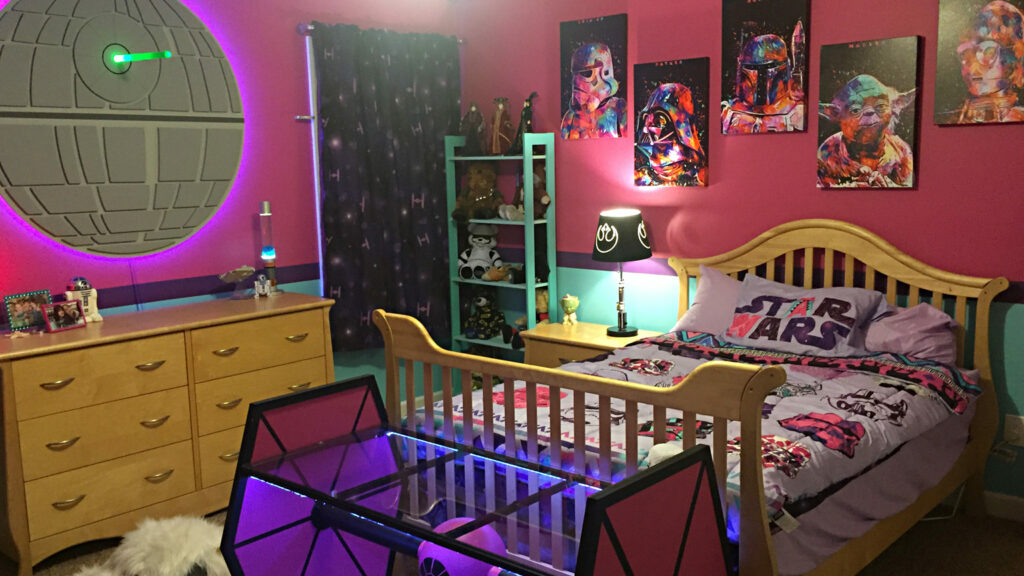 The Death Star wall piece and the pink TIE fighter desk are to die for. Also, the LED lights on both those pieces are in sync and glow together. FOR THE EMPIRE!
Mid-century Star Wars Bedroom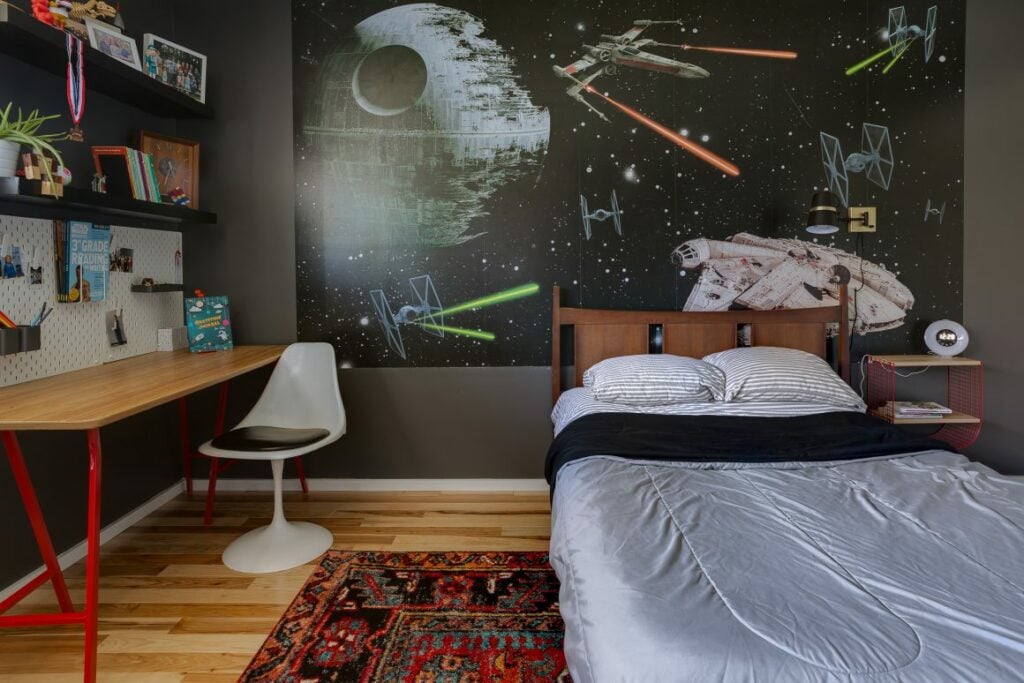 This Star Wars mural is sure to inspire intergalactic dreams while the wood furniture pieces radiate warmth throughout the space.
Droid-Themed Star Wars Bedroom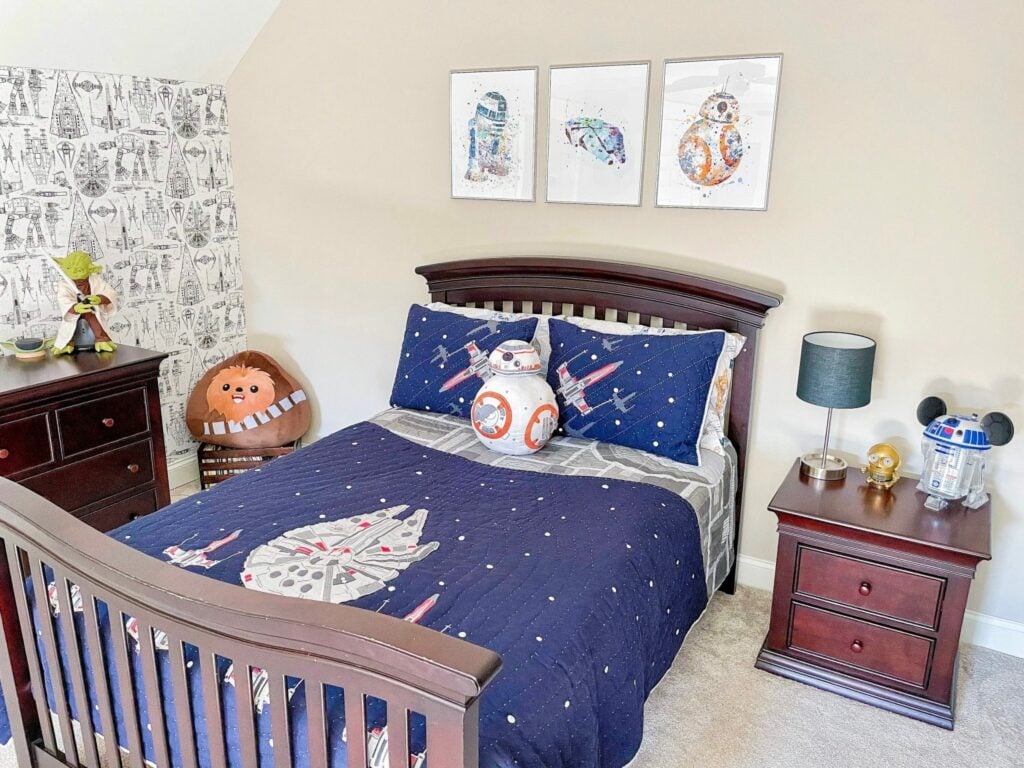 The Star Wars bedding set featuring X-Wings and Millenium Falcon steals the spotlight. But wait, BB has been sleeping in my bed – and it's still there!
Porg Bedroom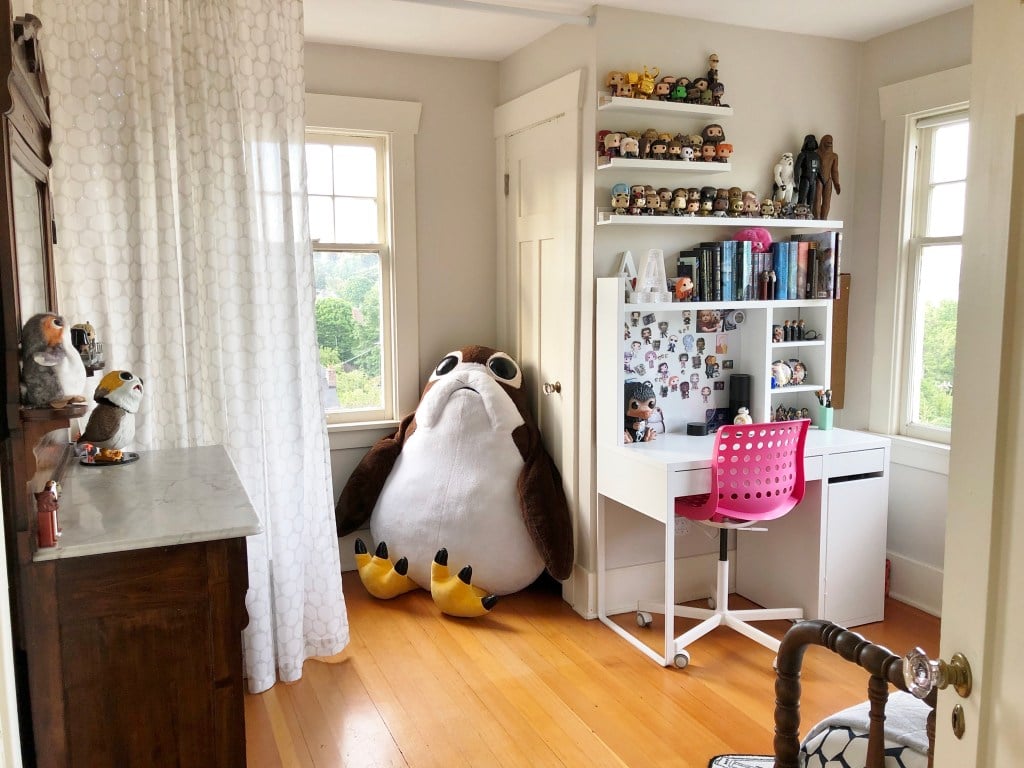 Porgs and POPs with just enough desk space left for homework.
Black-and-White Star Wars Bedroom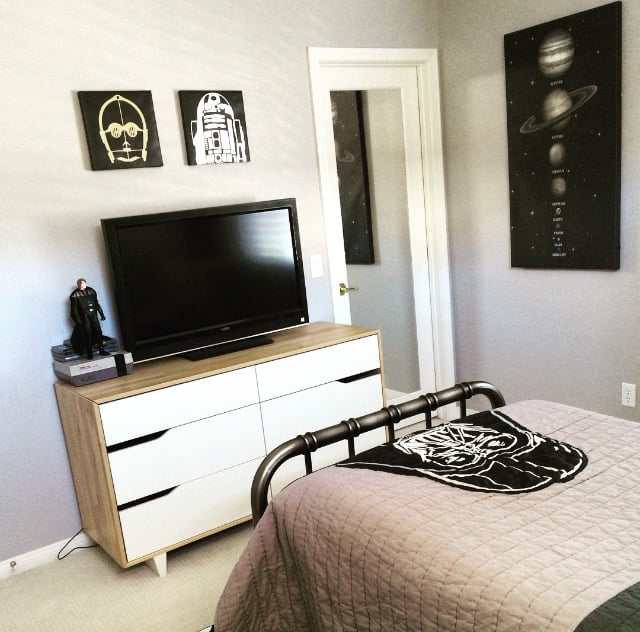 A bed like this will have no problem making the Kessel Run in less than 12 parsecs.
Small Star Wars Bedroom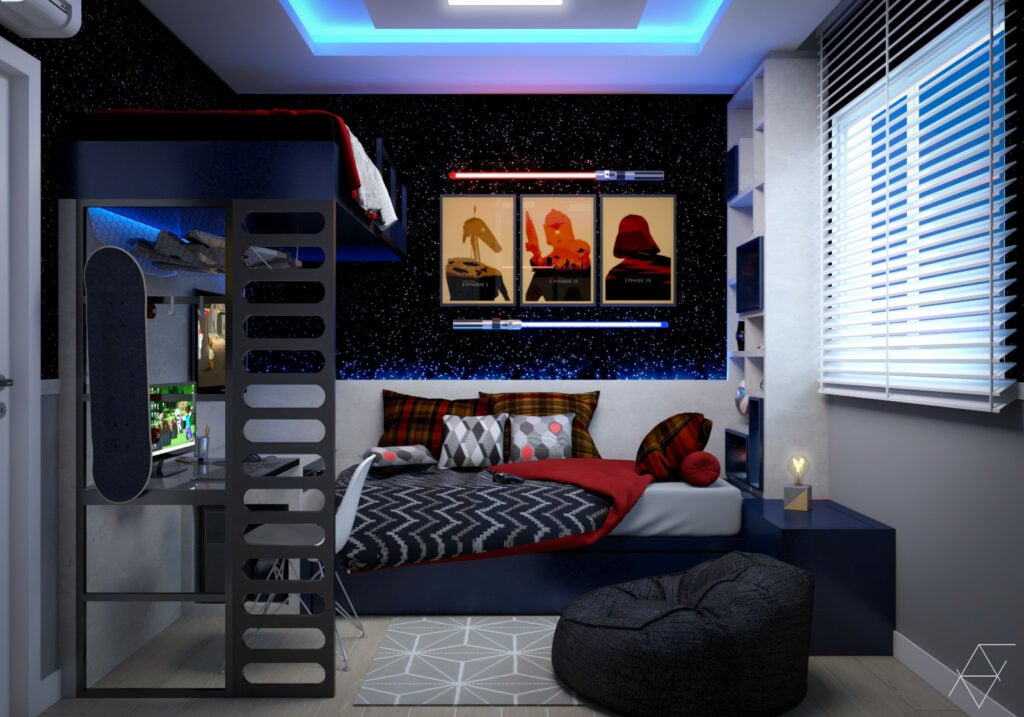 How to maximize space and style in a small bedroom? A loft bed with desk space underneath plus cool Star Wars-themed wall art and lightsabers. This is the way.
Classic Star Wars Bedroom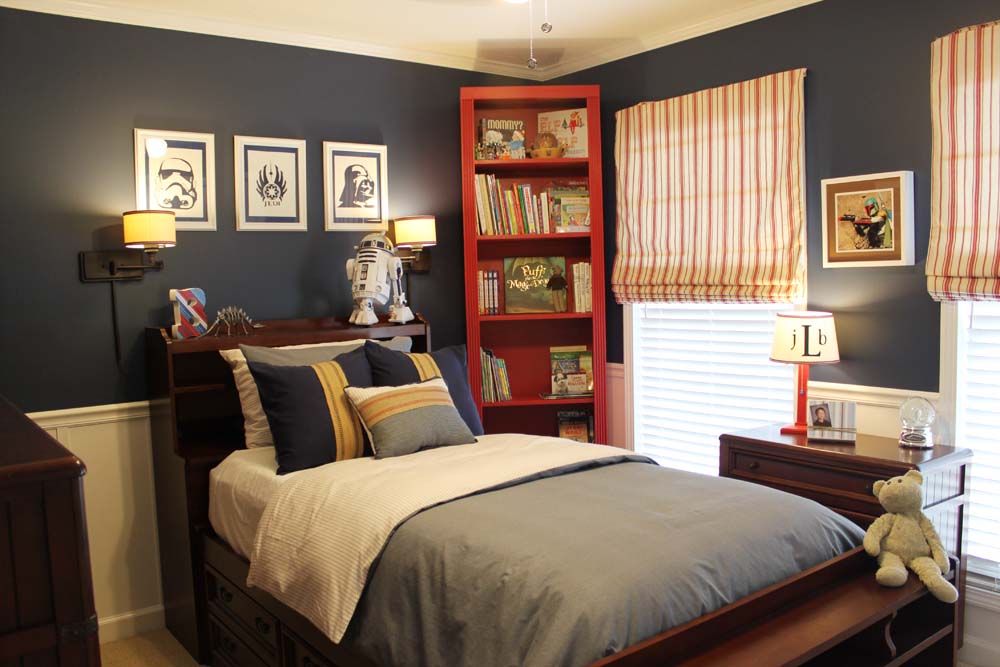 No sign of lightsabers anywhere. Better inform General Skywalker; this doesn't look good.
Star Wars Boy's Bedroom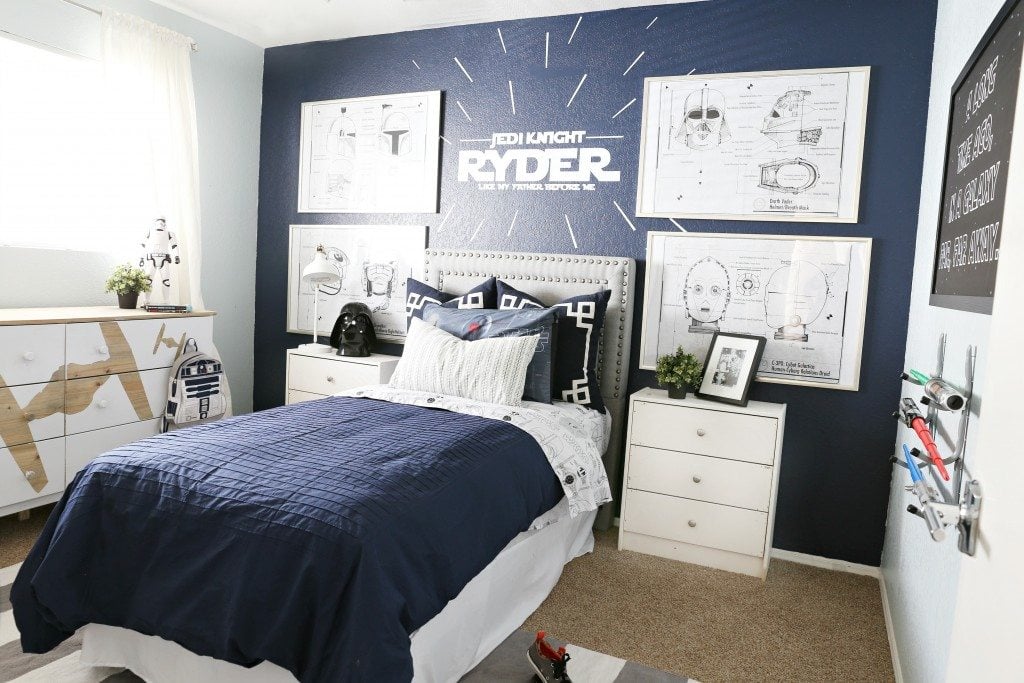 The custom vinyl decal and the Star Wars blueprint prints look awesome against the navy wall, and the TIE fighter dresser under the window just seals the deal.
Millennium Falcon Bedroom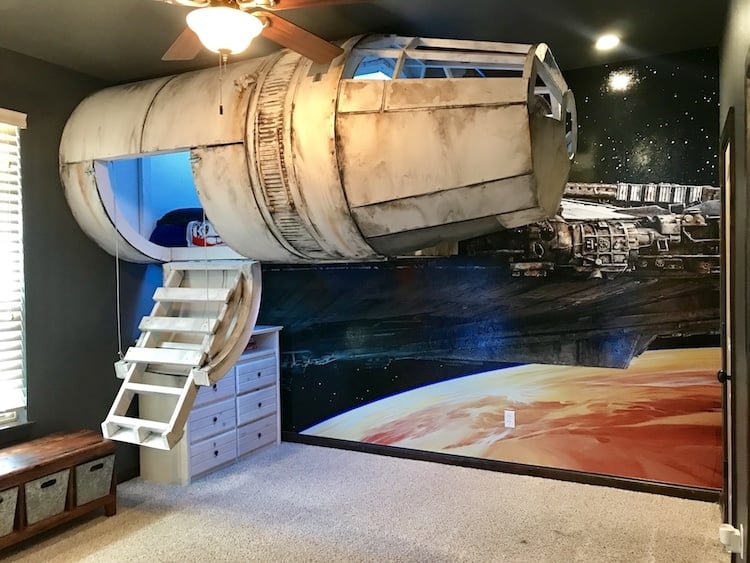 Yep, that's a bed shaped like the cockpit of the Millennium Falcon hanging from the ceiling. Cool, isn't it?
Star Wars Man Cave Ideas
You may be able to recite every single Luke Skywalker line in the Star Wars movies, but does your basement look like a galaxy far, far away? As the Force fanatics get older they are able to afford more expensive collectibles from high-end memorabilia to life-sized replicas of their favorite characters, armor, weapons, and more. In fact, some go even further overboard than you might imagine.
Decidedly, unapologetically geeky, these man caves celebrate Star Wars through and through.
Star Wars Sanctuary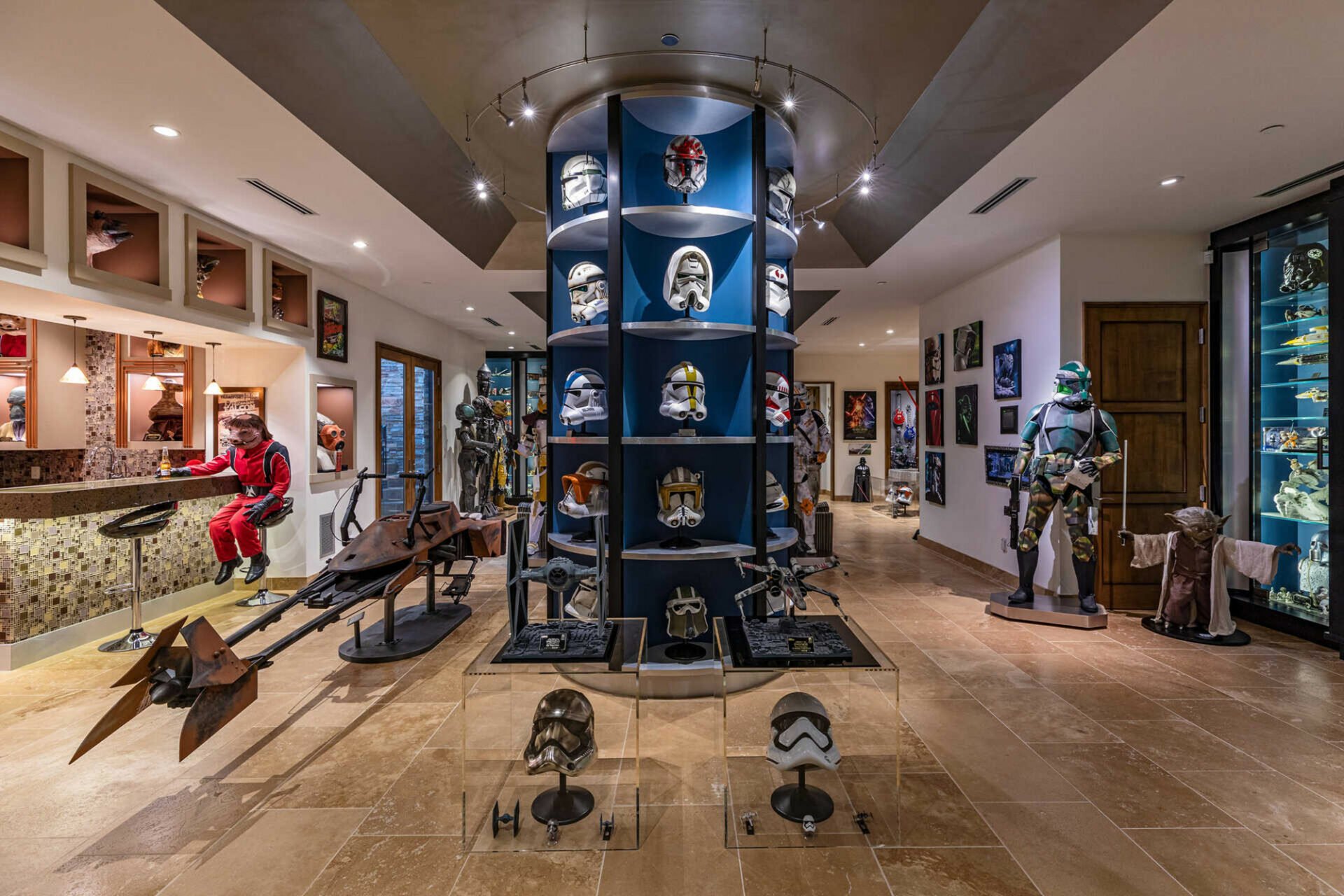 Chewie, we're home.
The Cantina Room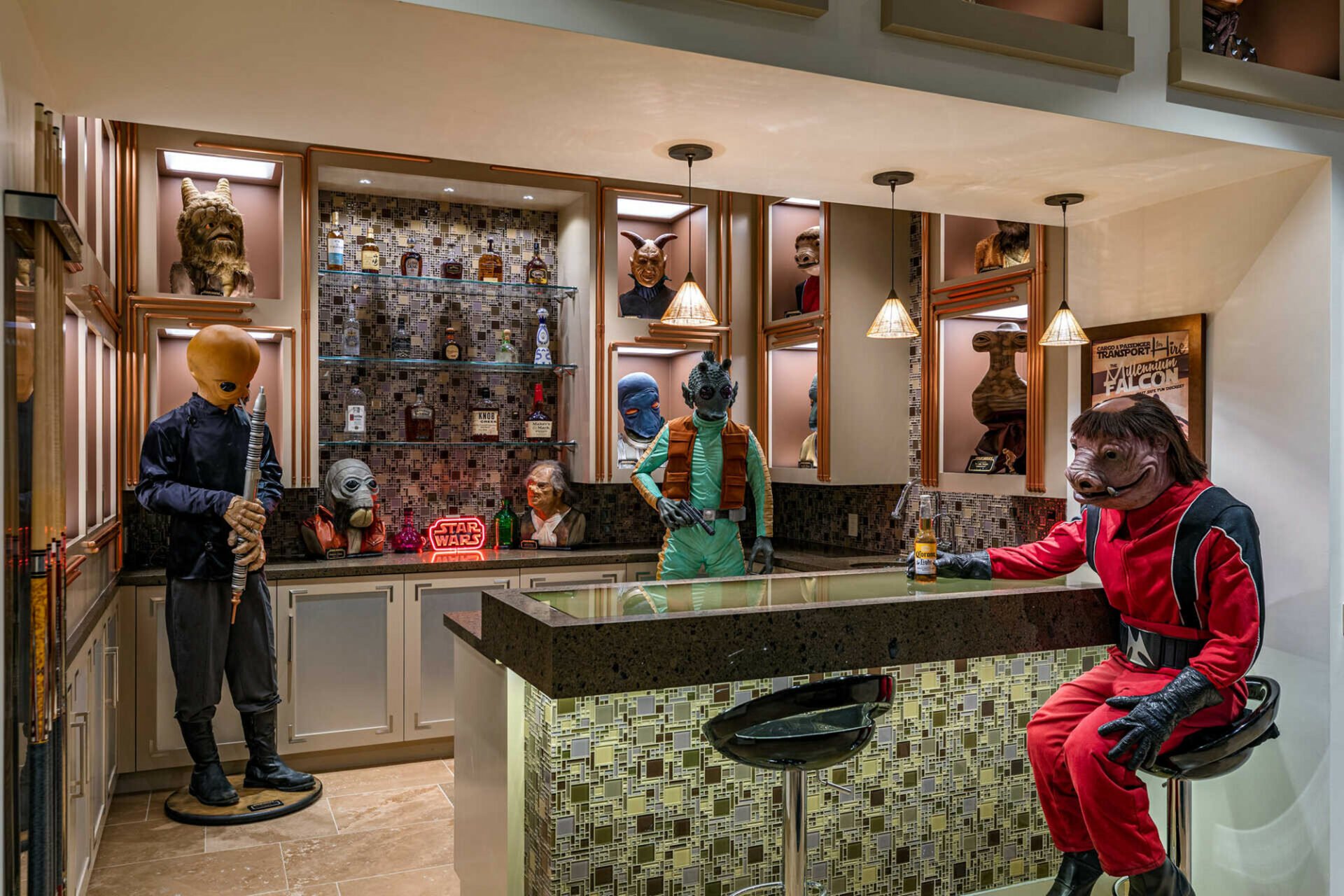 We suspect these life-sized replicas run about as much as Solo's debt to Jabba the Hut.
Star Wars Wall Of Fame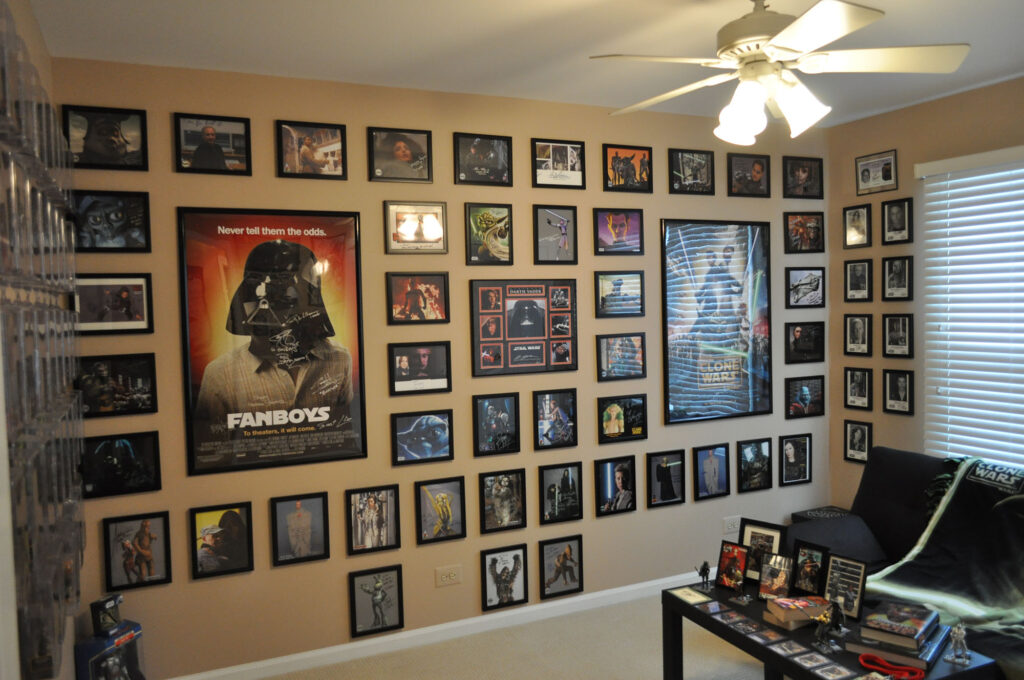 The Force is strong in this epic Star Wars gallery wall.
Star Wars Lightsaber Collection
Whoever wields the Darksaber is the rightful ruler of Mandalore… IF they win it in combat. Did you win it in combat?!
Star Wars Basement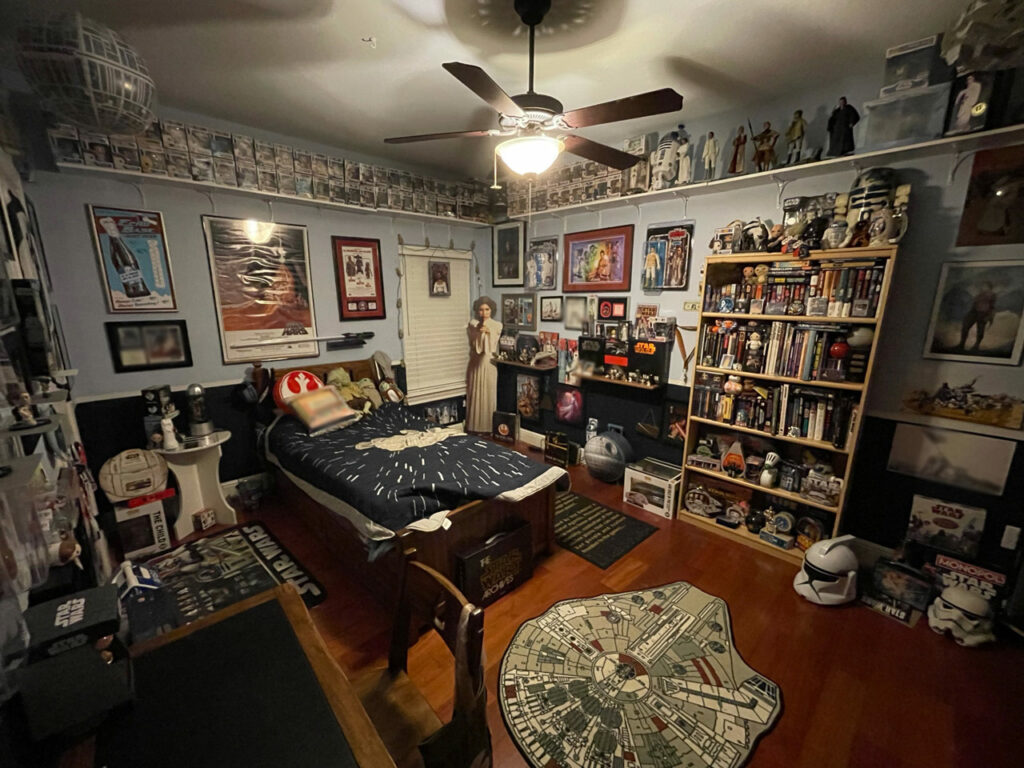 Can't help wondering how long it takes to dust it, but it's cool AF.
Star Wars Attic Room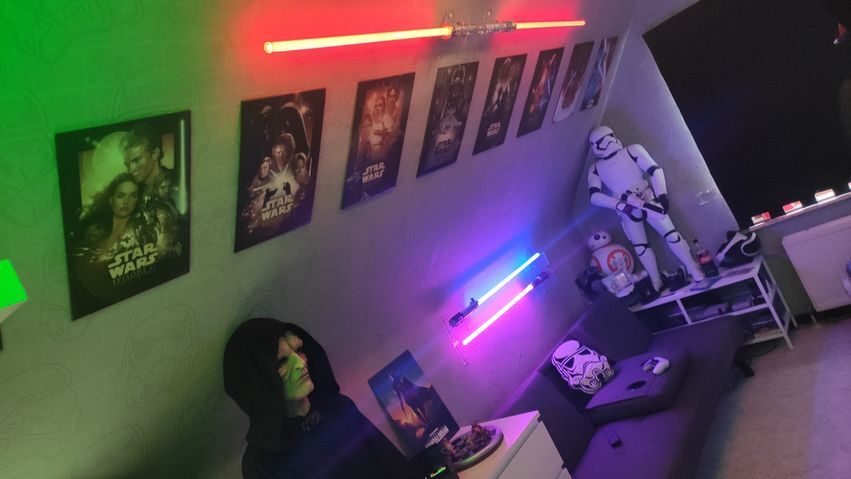 Slanted ceilings are never easy to decorate but these Star Wars movie posters do the trick.
Star Wars-Themed Bedroom Ideas
How big a Star Wars fan are you? Big enough to, oh, we don't know, completely remodel a room in your house to make it look like a set from the franchise? These Star Wars rooms are designed to resemble different parts of the Star Wars universe. A fair word of warning, though: the only way your bedroom will emulate the set of "The Empire Strikes Back" is if you hit the minor-league lottery.
Battle of Hoth Bedroom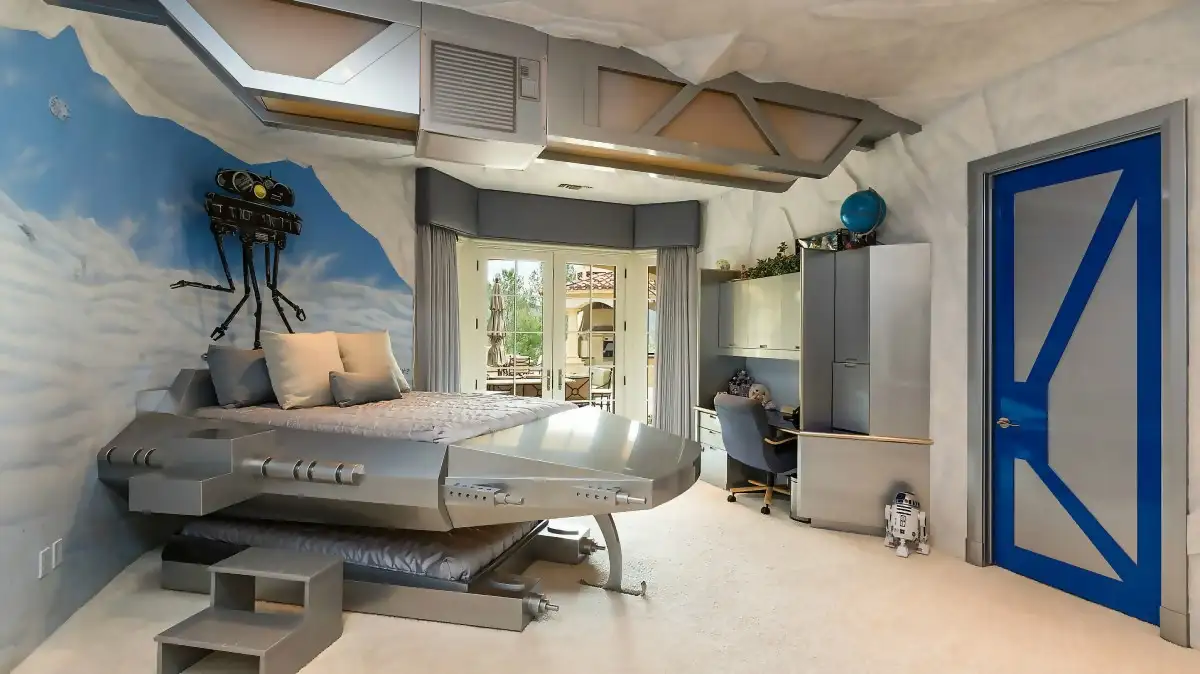 The snowspeeder bed looks like it might hurt, but we would sleep in it every night!
Intergalactic Bedroom
The walls of this bedroom are completely cosmic, making the Millennium Falcon-shaped bed look as if it's flying in hyperspace.
Cloud City Bedroom
The trip to Bespin in "The Empire Strikes Back" may have been a trap, but this fluffy-looking bedroom isn't.
Podracing Bedroom
These beds are fitted with some serious-looking jets.
Tree-Hut Bedroom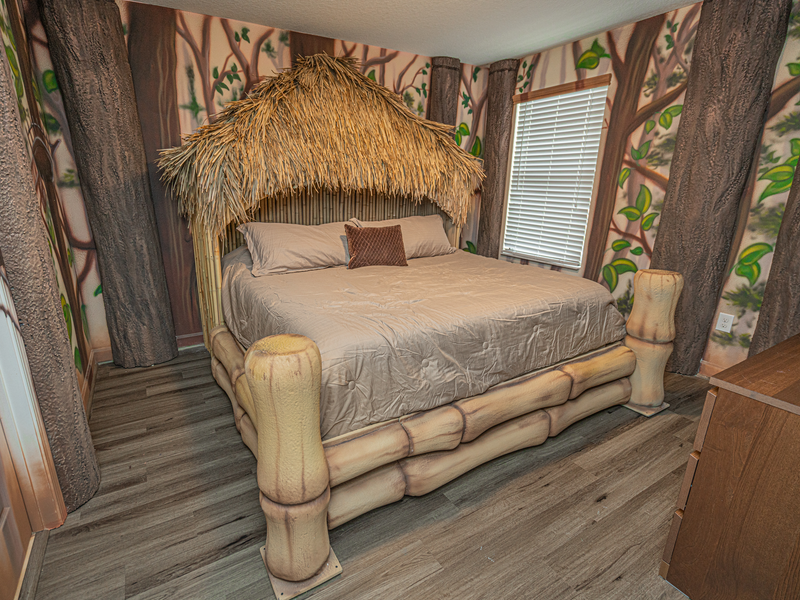 If you've always wanted to live on the forest moon of Endor, now's your chance.
Dagobah Bedroom
Are you able to spot Master Yoda amid the swampy woods of Dagobah?
Star Wars Living Room Ideas
If you're in the market for some tasteful Star Wars décor for your living room, we've got you covered. There is plenty of stylish Star Wars-themed furniture and home accessories for grown-ups out there. Check out the perfect balance of geek and chic with these classy Star Wars living room inspirations.
Black-and-White Star Wars Living Room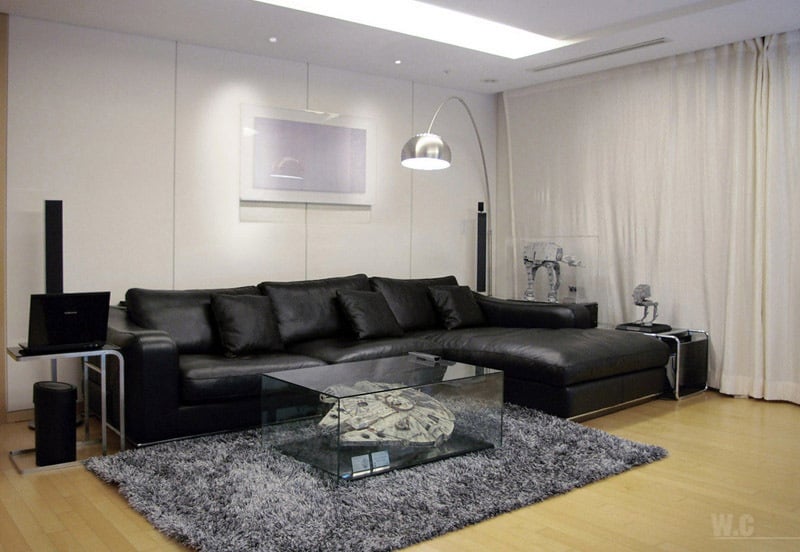 The glass display case doubling as a coffee table is a showstopper.
Retro Star Wars Lounge Room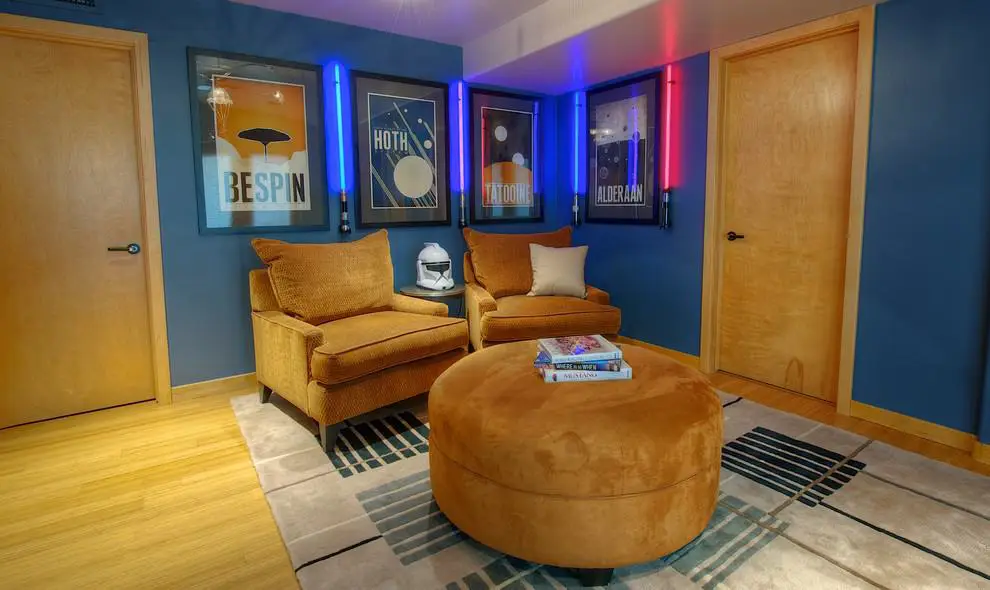 Nice retro lounge room, that is. Herh herh herh.
Imperial Wings Living Room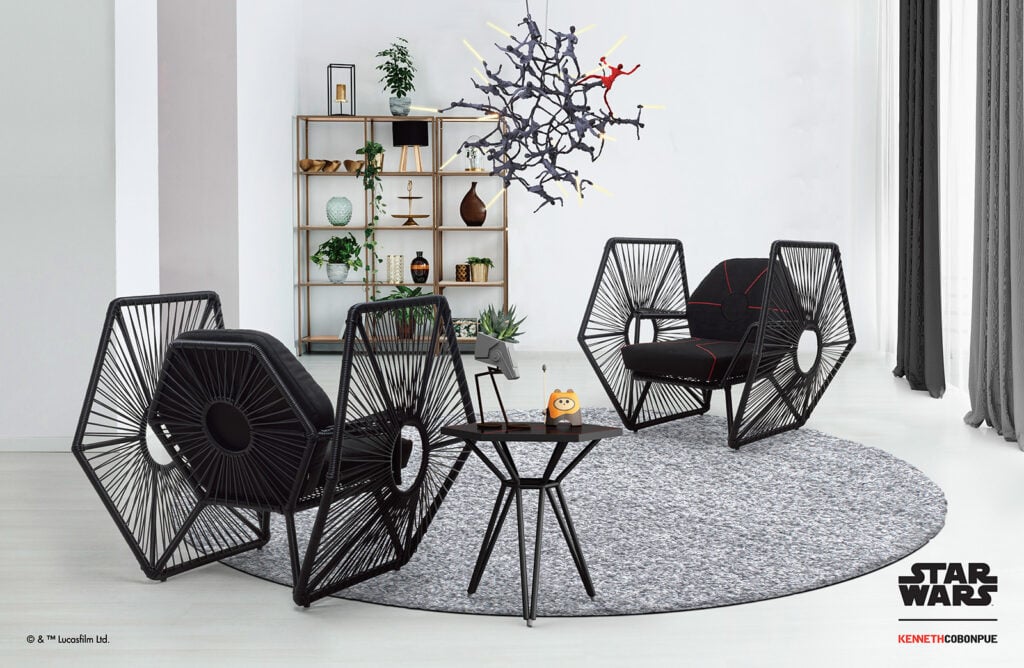 These TIE fighter chairs are hands down the coolest furniture we've seen.
Star Wars Wall Art
From Masked Stormtroopers posters to Lightsabers posters to Star Wars Vehicle posters, these intergalactic artworks will create a tasteful backdrop for any Star Wars-inspired living room.
Over to You!
Pay tribute to all things Jedi with Star Wars interior decor. You can go full-on geek and create an entire Star Wars-themed bedroom or just choose a few Star Wars-inspired items to add throughout your house.
If you happen to be on the lookout for Star Wars posters, check Displate's officially licensed artworks from your beloved franchise.
Are there any young (or not-so-young) Star Wars fans at your house? If so, what are the creative room decorations or design ideas we've missed? Let us know in the comments!