From furniture with good ergonomics to a video setup that could make the cinemas jealous, the perfectly themed gaming bedroom setup could be yours. Gaming bedrooms are all the rage in 2023, from neon light features to space-themed accessories, you can look no further than this article for all of the stunning gaming bedroom ideas you need.
In a world where plenty of people live in small studio apartments, it's increasingly popular to make the different rooms in our homes multi-functional. While it might be awesome to have a dedicated room for gaming sessions, most people don't have the square footage to achieve this. The best alternative for most is to turn their gaming bedrooms into a multi-functional space where they both game, entertain and sleep.
The Cyber-Style Gaming Bedroom Idea
Via noyamirai
This cyber-style gaming room is modern and relaxing. The blue neon lights give the room a cool space-like effect. The shelves create a smart flow from the bed to the desk. Finally we have a sleek retro Spiderman poster as a great decor piece. You can style your gaming bedroom in a variety of themes. From film-themed rooms, game-themed rooms, or sport-themed gaming rooms, the possibilities are endless. A Cyberpunk poster could be a nice touch in this room too.
Grey Tones Gaming Bedroom Idea
Via. minimalsetups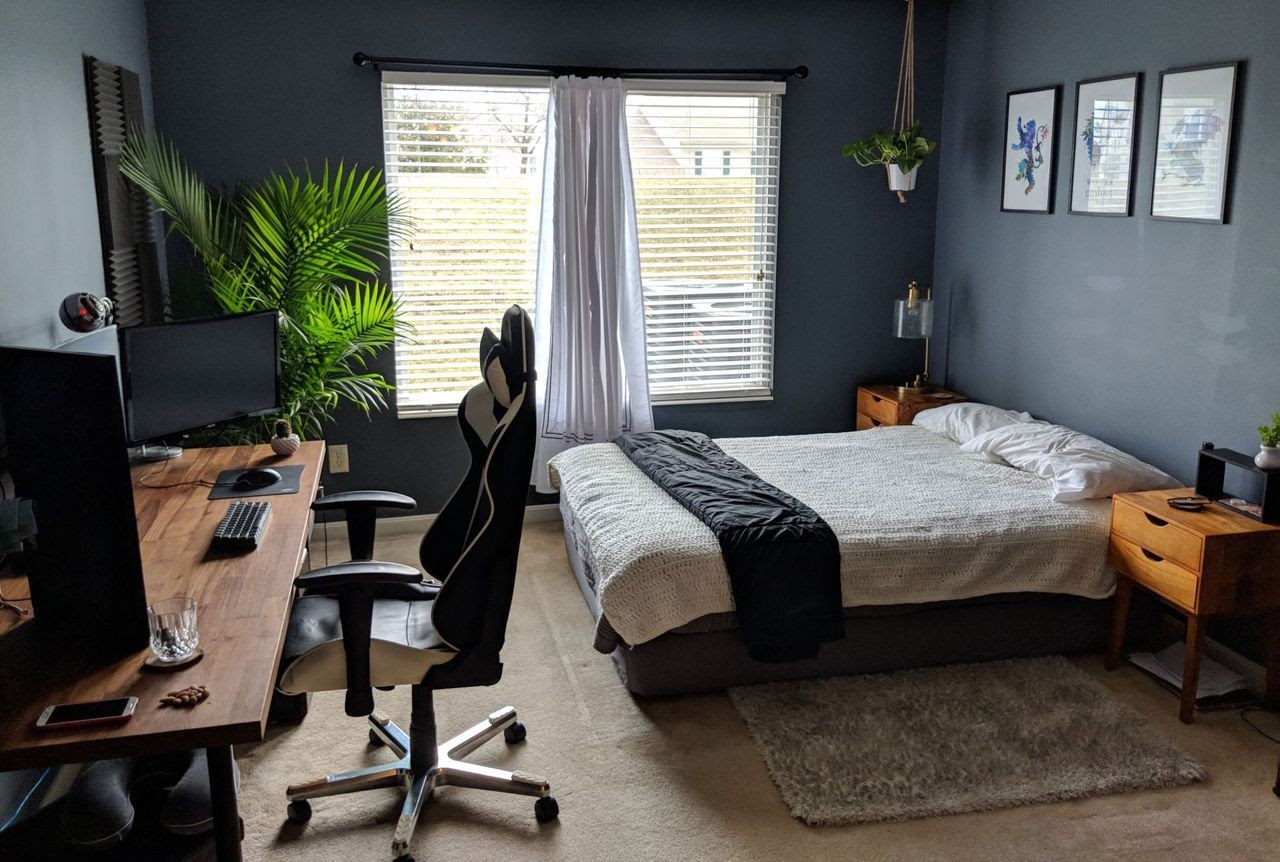 This grey toned gaming bedroom is minimal and cozy. The large wooden desk complements the bedside tables. To complete the idea, add a touch of nature and a few inspired wall art pieces.
Multi-Functional Gaming Bedroom Setup
Via Mattec1714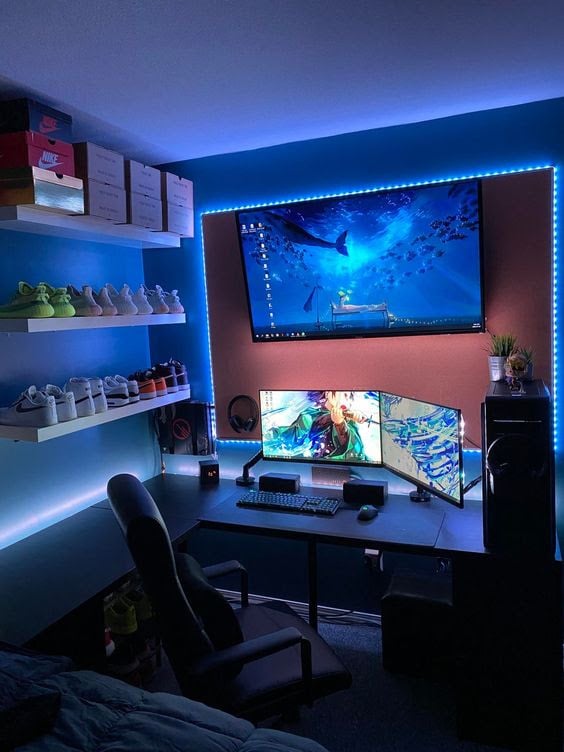 This gamer bedroom has an office space that doubles down as a shoe storage section too. With enough shelf space, small spaces can transform into useful storage. This triple-monitor gaming setup is decorated with calm blue neon lights and a black furniture backdrop.
Studio Apartment Gaming Bedroom
Via galejan_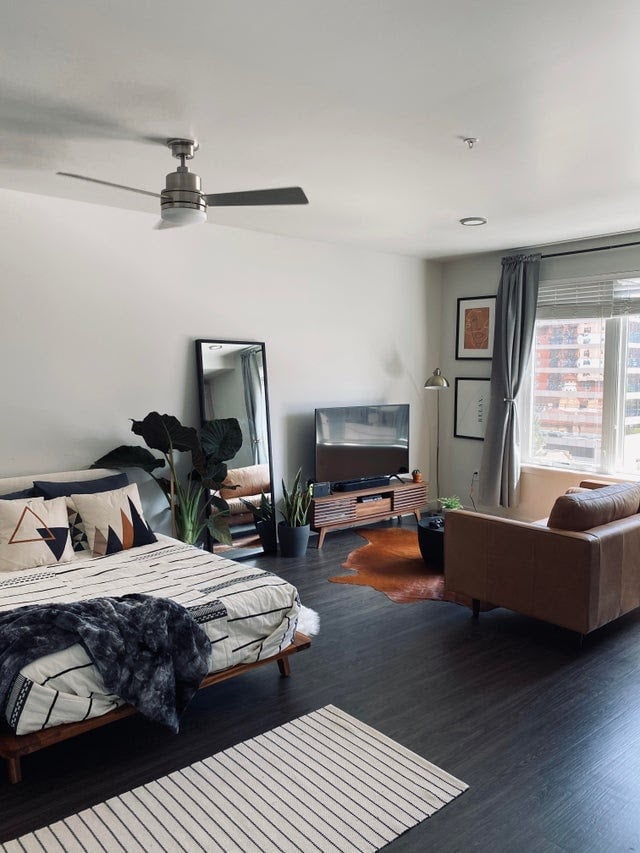 This studio apartment gaming bedroom contains a living room too. The living room and bed section of the room are divided by a modern dark wood floor, leaning mirror and a brown leather couch. Studio apartments contain more space than traditional gaming bedrooms. There is enough space to store collectibles and wall art. Perhaps the perfect art piece for your next gaming bedroom can be found on Displate?
Abstract Art Gaming Bedroom
Via _supdns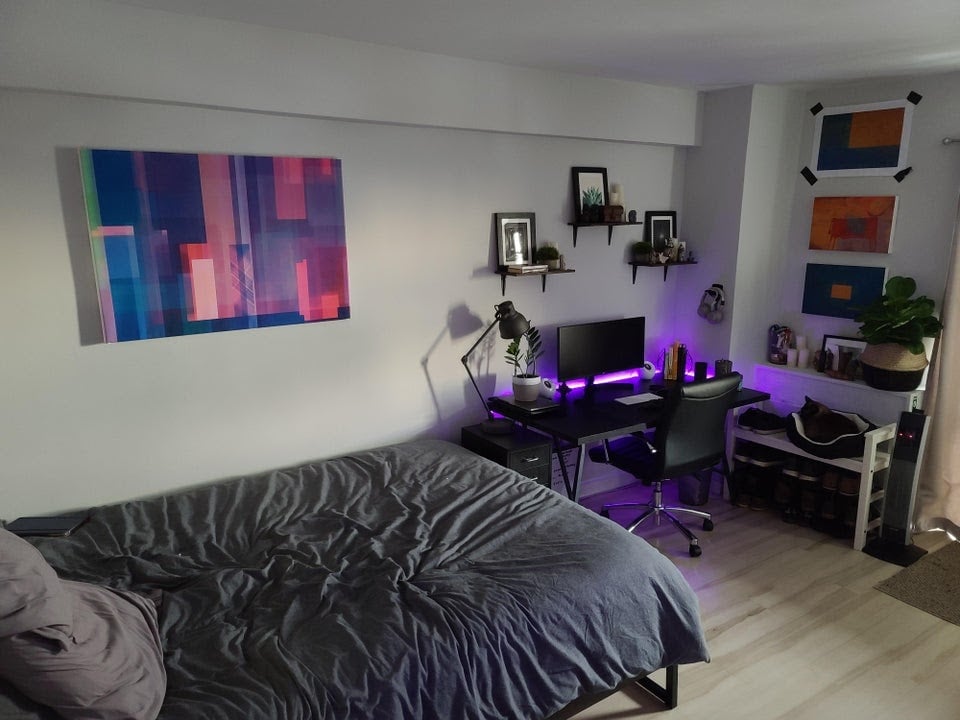 Gaming bedrooms can often feel mundane and dull, but there are a few accessories we could all get to spruce up our spaces. A stunning game room is all about the feeling it brings to an art form we all love. From the perfect neon lighting to the most inspiring wall art, all of these things can bring gaming enthusiasts one step closer to feeling immersed in the gaming worlds we all enjoy.
Space & Moon Inspired Gaming Bedroom
Via Human-House1465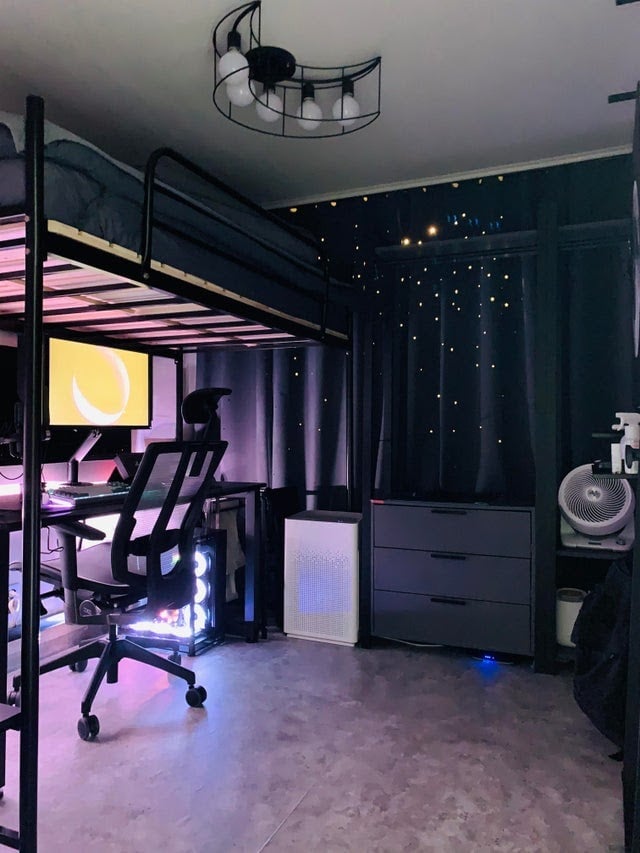 If you're looking to maximize space in your game room, purchasing a loft bed can be a great solution. A loft bed is much higher than a traditional bed and will allow for a desk to be placed below it.
Neon Blue Aesthetic Gaming Bedroom
Via Cullen246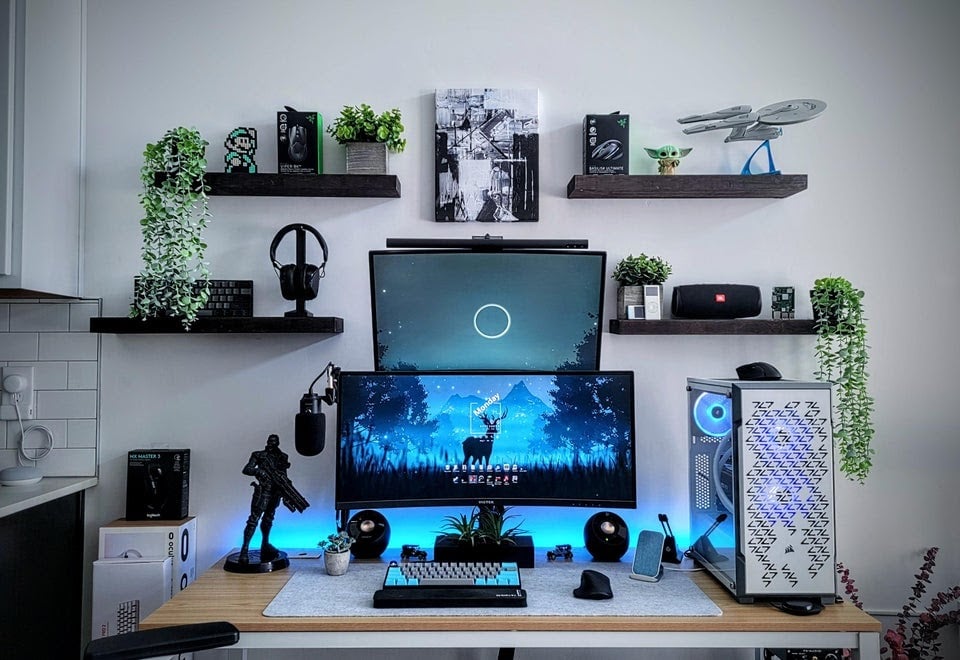 The Wooden Wonderland Gaming Bedroom
Via ttthefineprinttt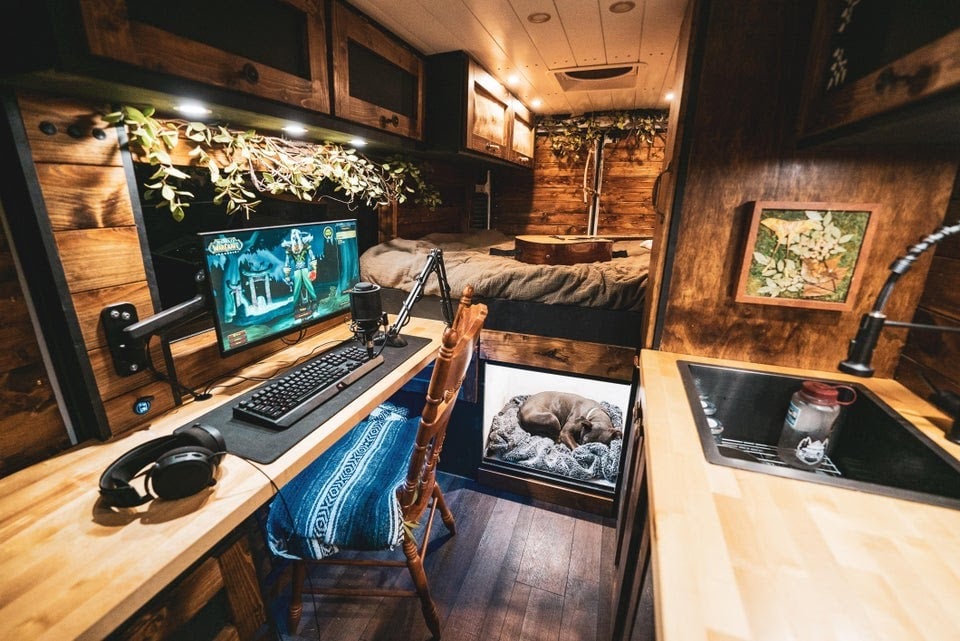 Who says caravans cannot make great gaming spaces. With enough imagination, your caravan could be the perfect gaming bedroom. See this cool jungle-inspired caravan with beautiful wall art and furniture.
Multi-Functional Gaming Bedroom Idea
Via. Ilovewingsnthings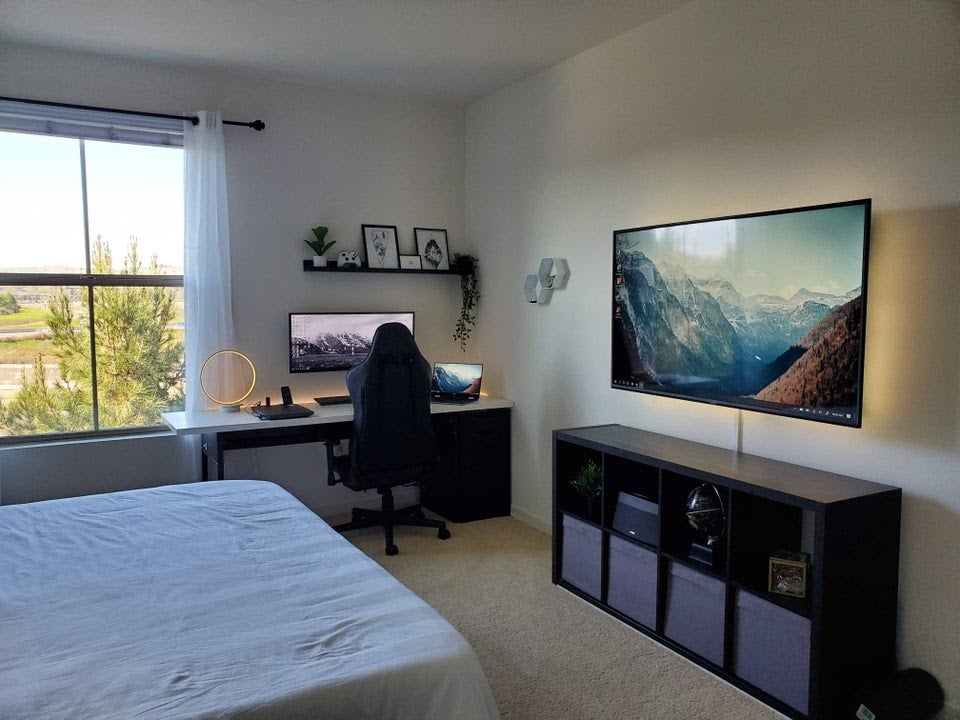 Gaming Bedroom With Shelf Space
Via Harozen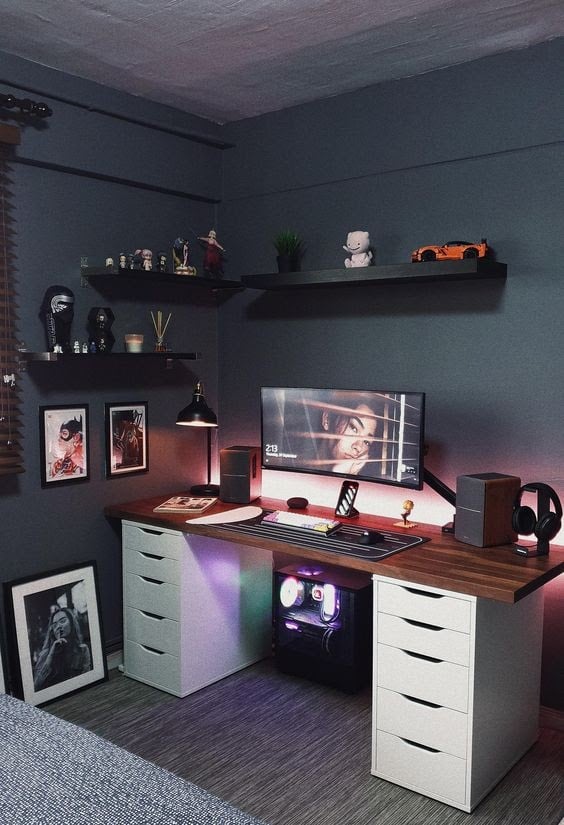 If you've got some cool memorabilia, it's a great idea to showcase it on shelves. In the example above we see a few Star Wars figurines on the shelves. This helps to maximize the space. A great neon light backdrop is always a nice decorating idea. A space like this is always complete with a few inspired wall art pieces.
Black & Gold Gaming Bedroom
Via maxrip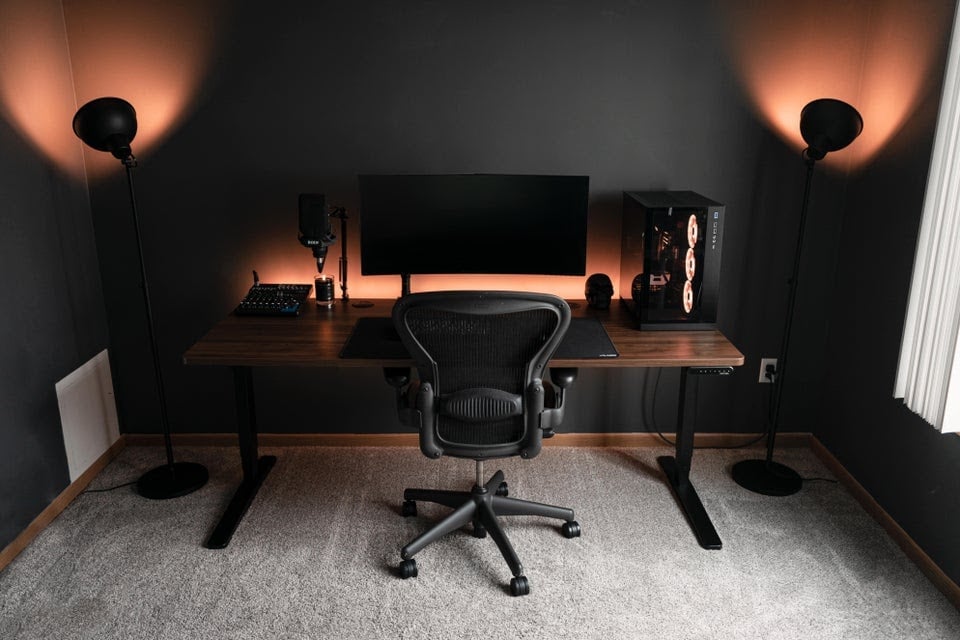 Sometimes stunning can mean minimal. This black and gold gaming bedroom setup is simple and elegant. The combination of the smooth black walls to match the black hardware, This setup screams luxury.
University Student Gaming Bedroom
Via KadenChynoweth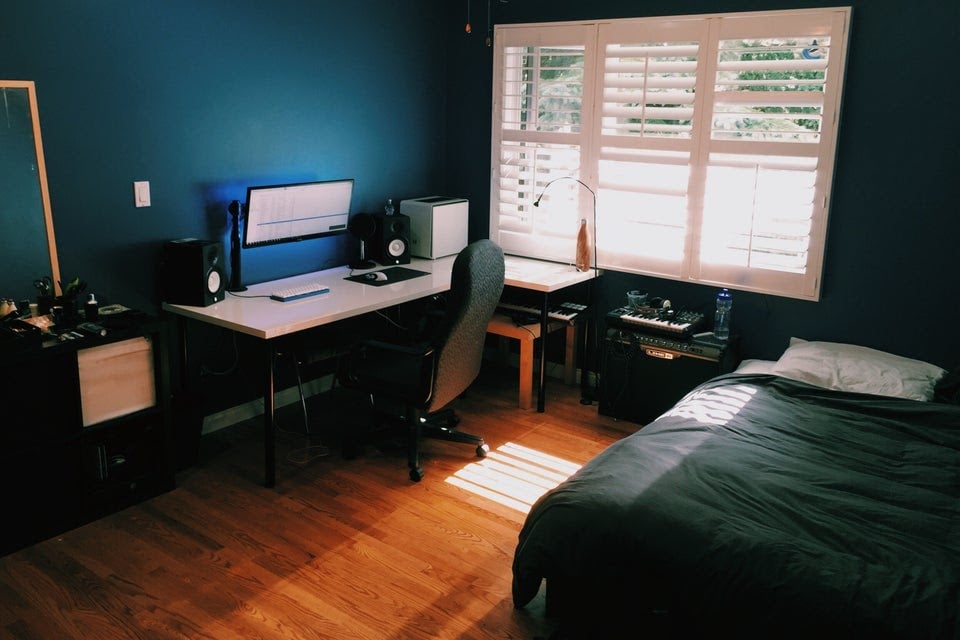 The Plant Oasis Gaming Bedroom
Via daphenejtor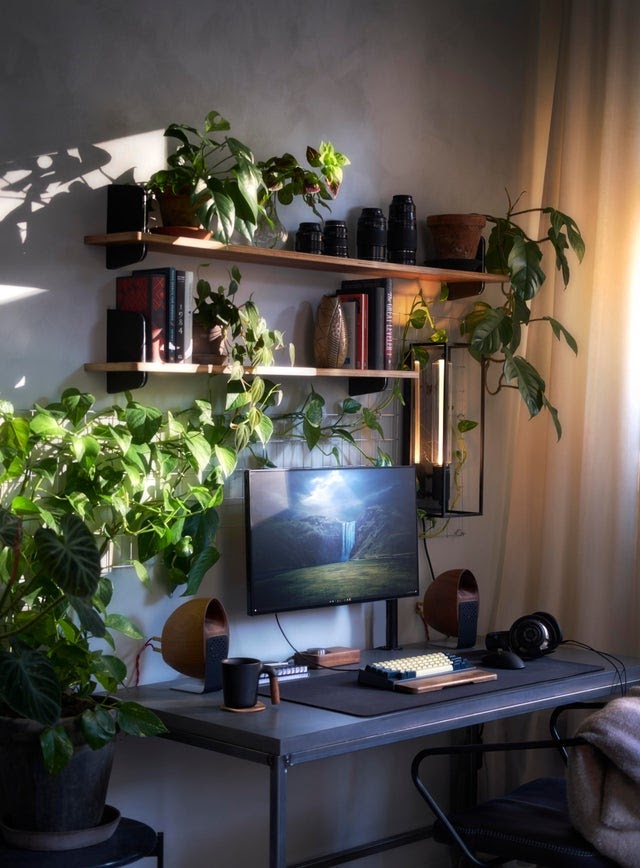 Using plants for decorating a gaming bedroom space is a good idea too.
Minimal Gaming Bedroom Setup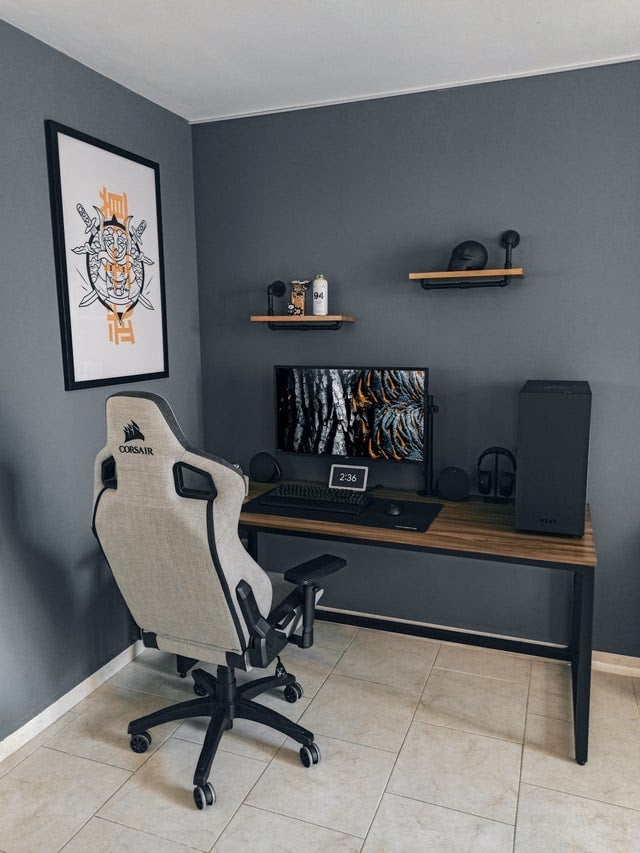 We can't talk about stunning bedroom ideas without discussing gaming furniture. We're not just simply talking beds and chairs here. We're talking about the form, function and design of the game room furniture. A good night sleep on a comfortable bed can keep you relaxed during the day, but behind every productive gaming session is a comfortable ergonomically friendly chair. The right gaming chair can improve performance and prevent any aches or injuries while sitting on the PC / console.
The Wolf Gaming Bedroom Idea
Via pbs.twimg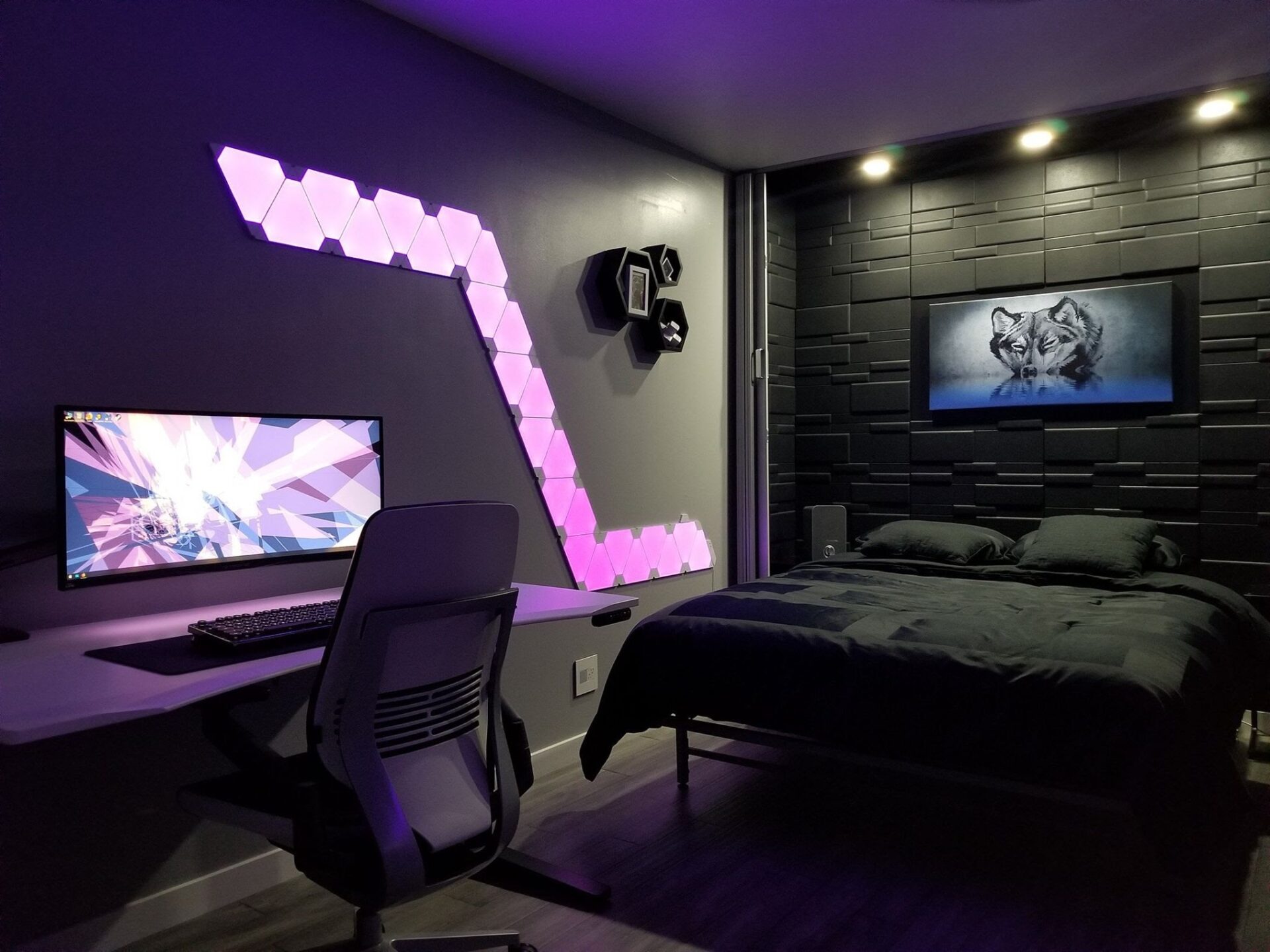 With the perfect lighting, any gaming setup can look epic. The black walls in this bedroom make it feel cozy. The walls are highlighted by a great formation of purple hive LED lights. The example above has a wolf themed artwork. Related wall art ideas can be found here.
Monochrome Themed Gaming Bedroom
Via itsdavidfish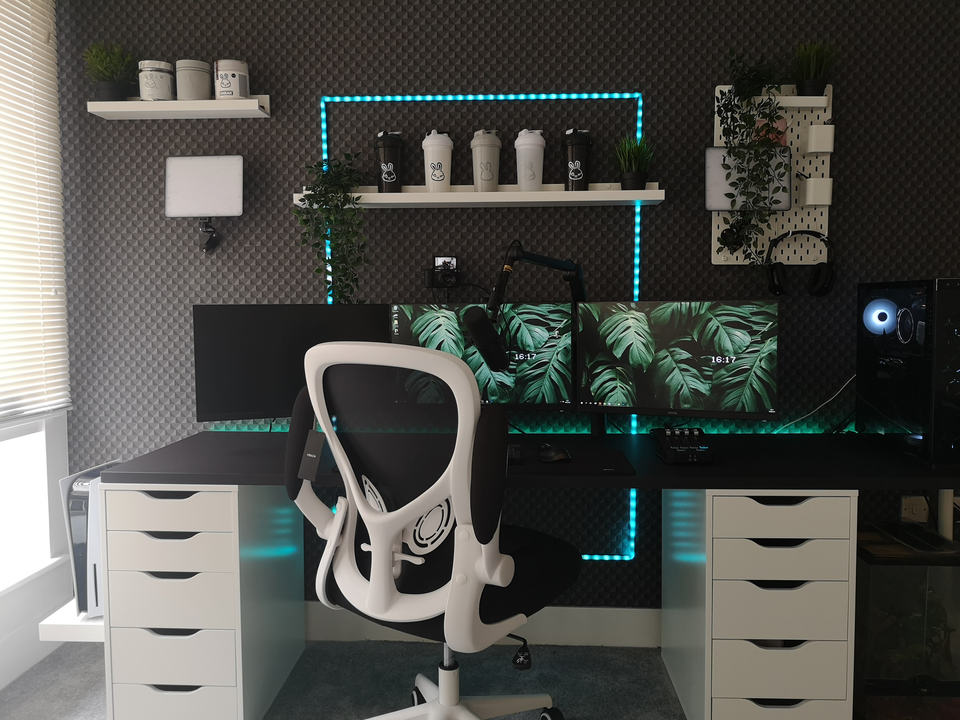 The Ocean Den Gaming Bedroom
Via cupc8k3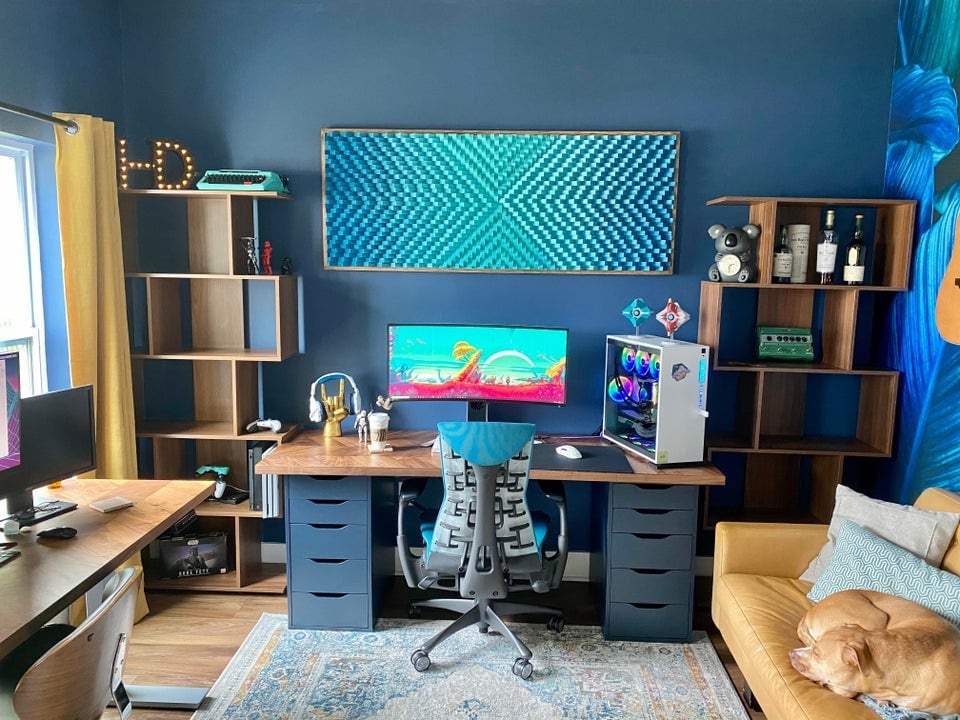 Don't be afraid to get creative with the wall colors. This sleek ocean style room pairs blue with beautiful wooden furniture. The room is open, fun and playful.
The Multiple Screen Basement Gaming Bedroom
Via twinskunk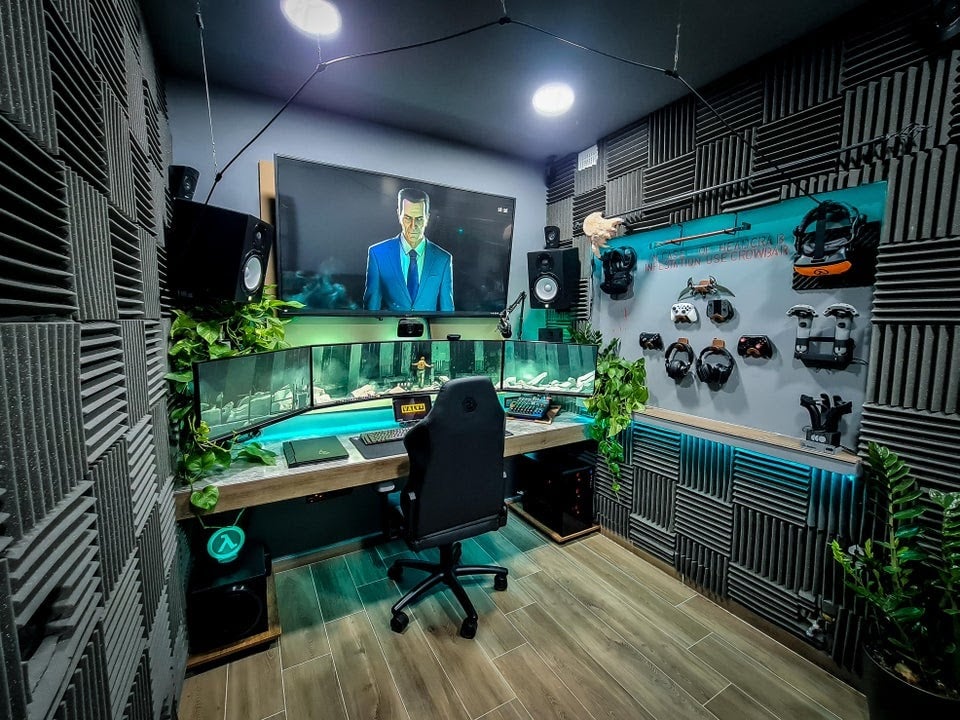 If you're obsessed with having the perfect gaming bedroom sound experience for streaming or session recordings, perhaps installing a wall of acoustic foam like in the example above is a great way to amplify the sound coming out of your speakers.
The Big Screen Gaming Bedroom
Via cantpause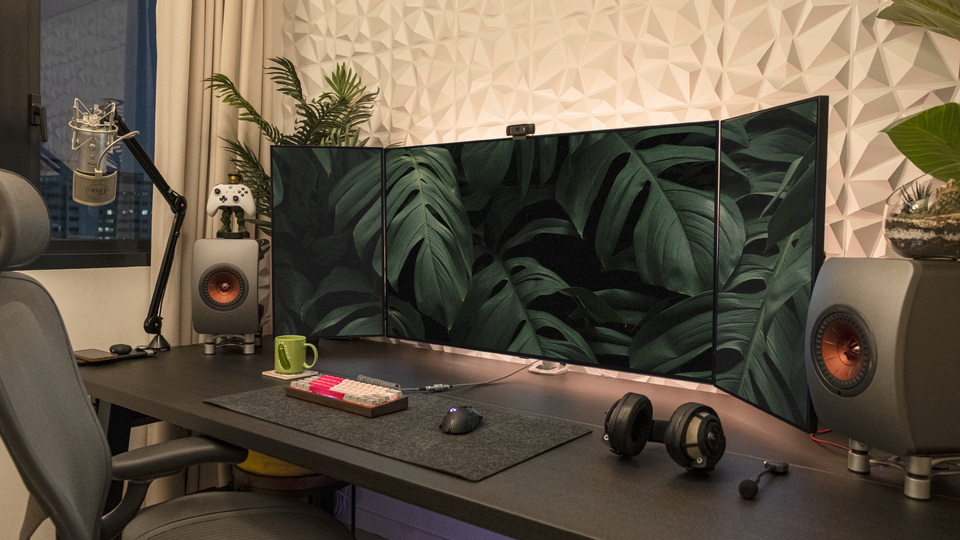 The Purple Gaming Bedroom Setup
Via _choo_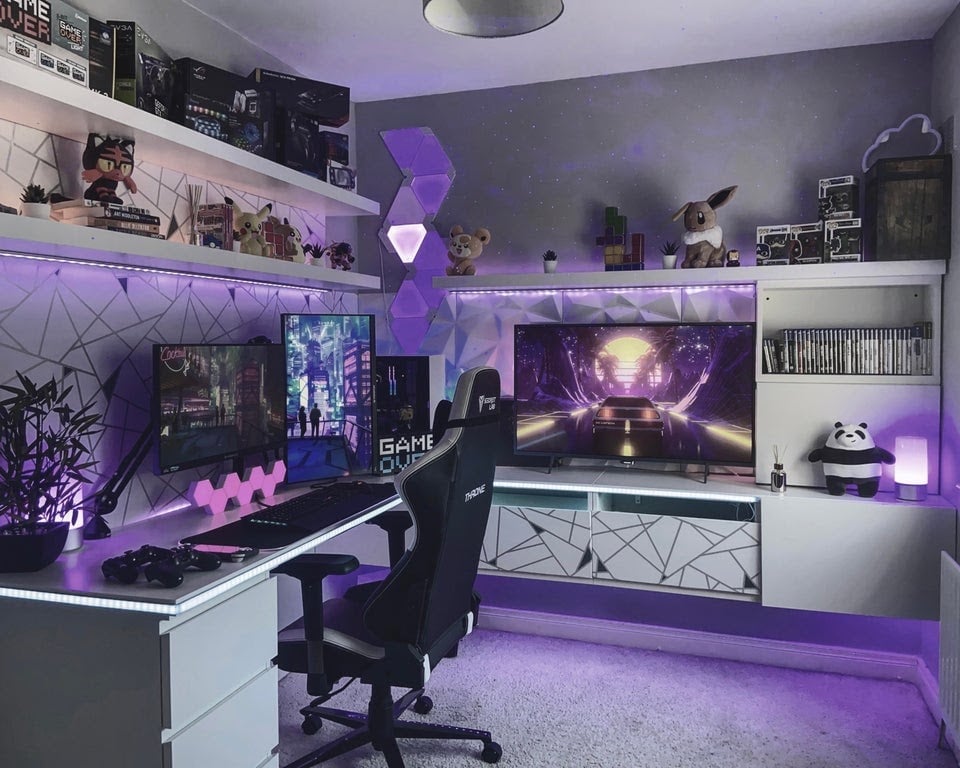 The perfect gaming bedroom is only a few great decorations away. In the above example we have both a quality desk and a TV stand. The purple light fixtures also provide a relaxing retro game room setup.
Pink Lights Gaming Bedroom Idea
Via semihkaraman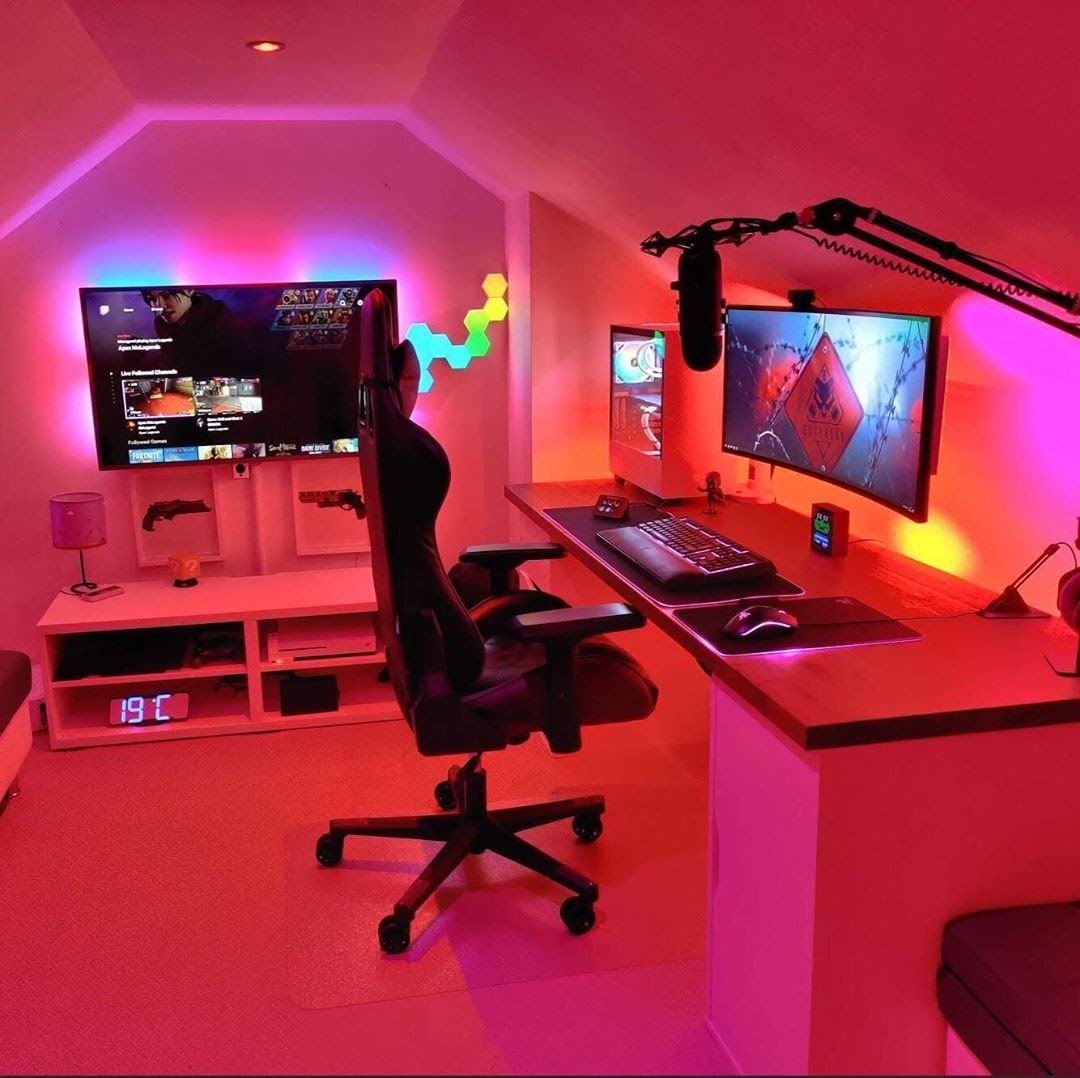 The pink lights gaming bedroom idea is the perfect gamer bedroom for fans of bright and bold colors. This space doubles down as a TV section and gaming room.
Retro Future Gaming Room Idea
Via wazafoot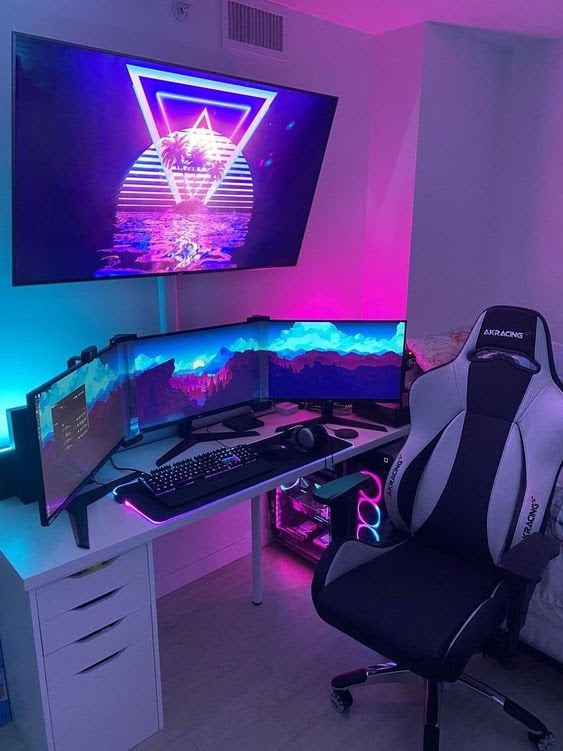 A triple monitor video game room is perfect for the obsessed gamer looking to have a full immersive experience. With the awesome neon lights and cascading wallpapers on the screens, this space feels like a retro future mashup. With a big enough desk, you can easily accommodate the multi screen setup in your video game room. Why stop at just the triple monitor, it can be great to have a big screen too like the example above.
The Purple Spaceship Gaming Bedroom Idea
Via Vyminal_YT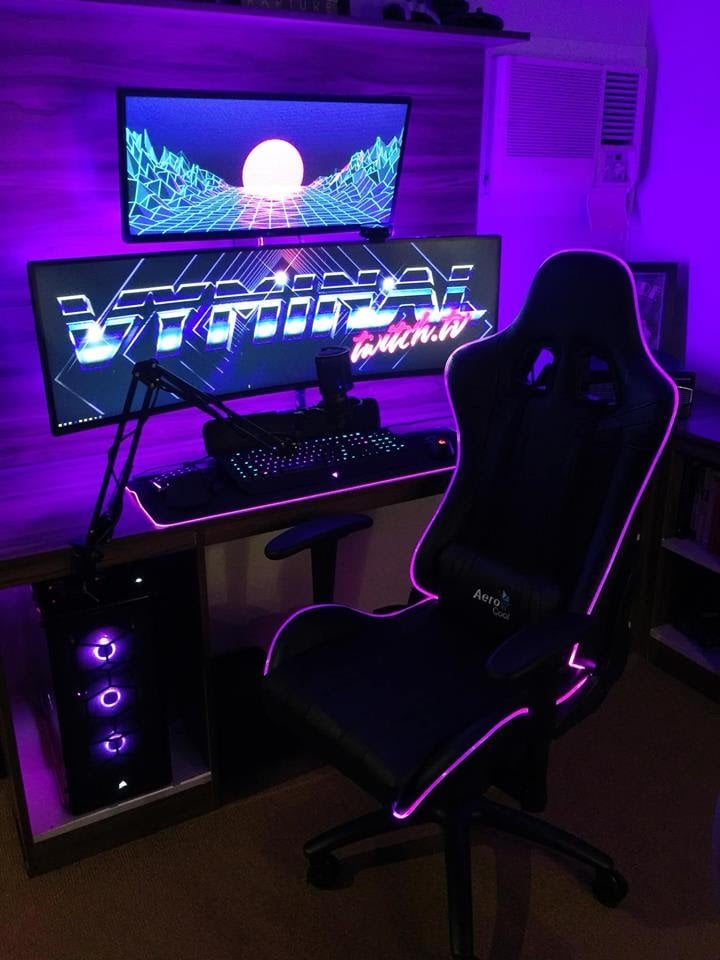 Ocean Style Gaming Room Idea
Via ninogroters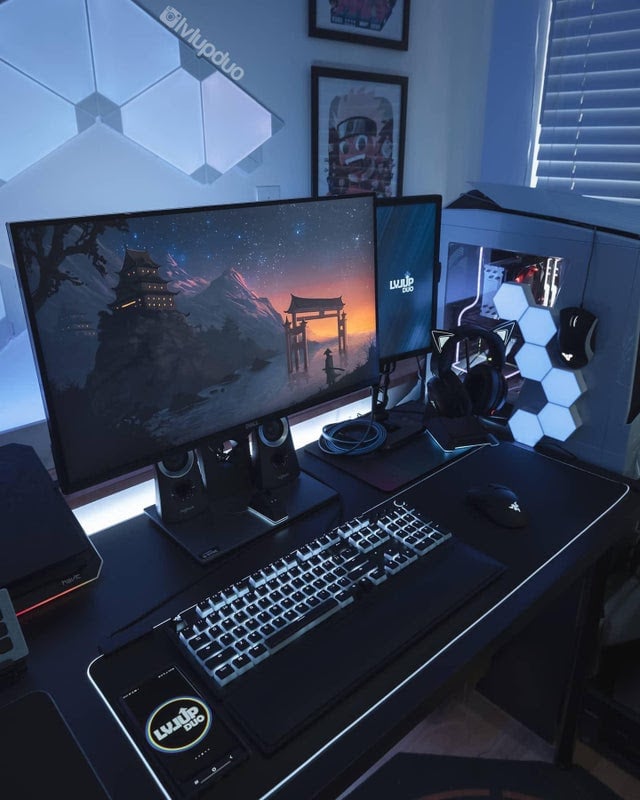 Hexagon lights are a stunning touch to any gaming setup. If you concentrate the right color tones like the ocean blue above, you can create a very cool video game room. Add some wall art to pay homage to your favorite games and films.
Trendy Gaming Bedroom idea
Via robinhayward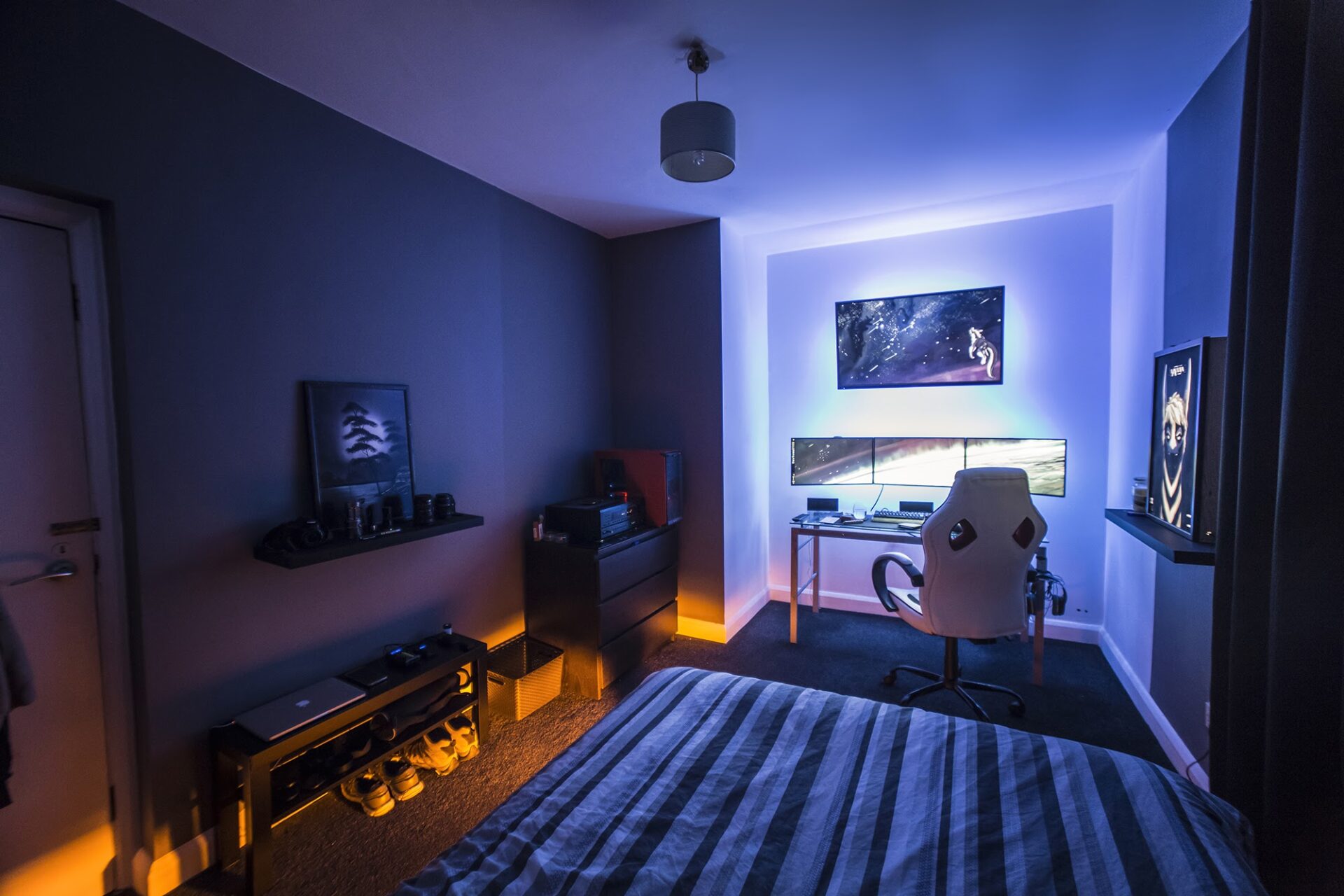 Eclectic Gaming Bedroom Idea
Via semicolin_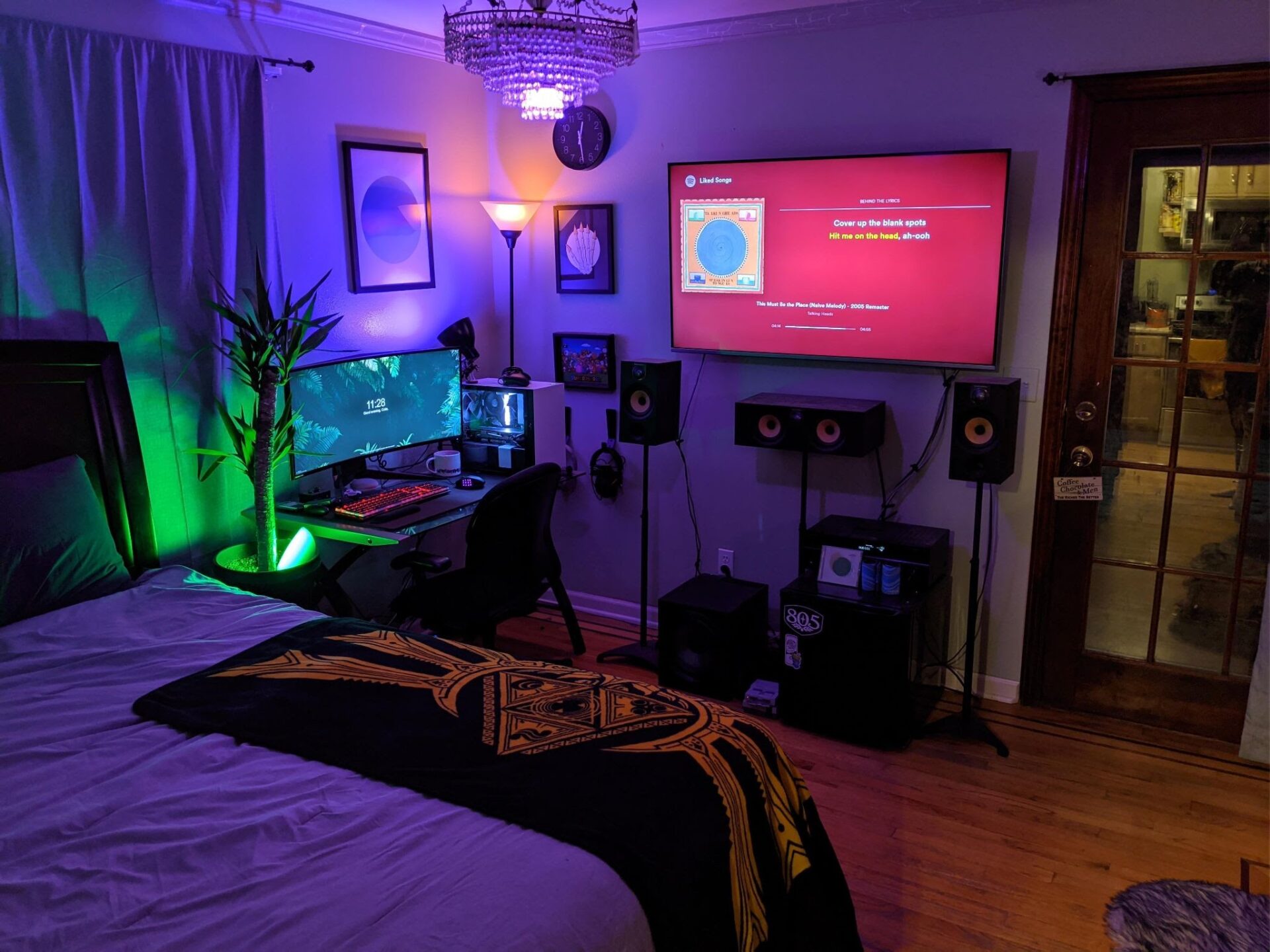 This eclectic gaming bedroom is a great example of maximizing space. If you've got multiple speakers a large screen and a desk too, it's a great idea to place all of them into one corner of your room. Add a few colorful lights and plants to give the space a touch of decor.
Home Office Gaming Bedroom Idea
Via Djschots00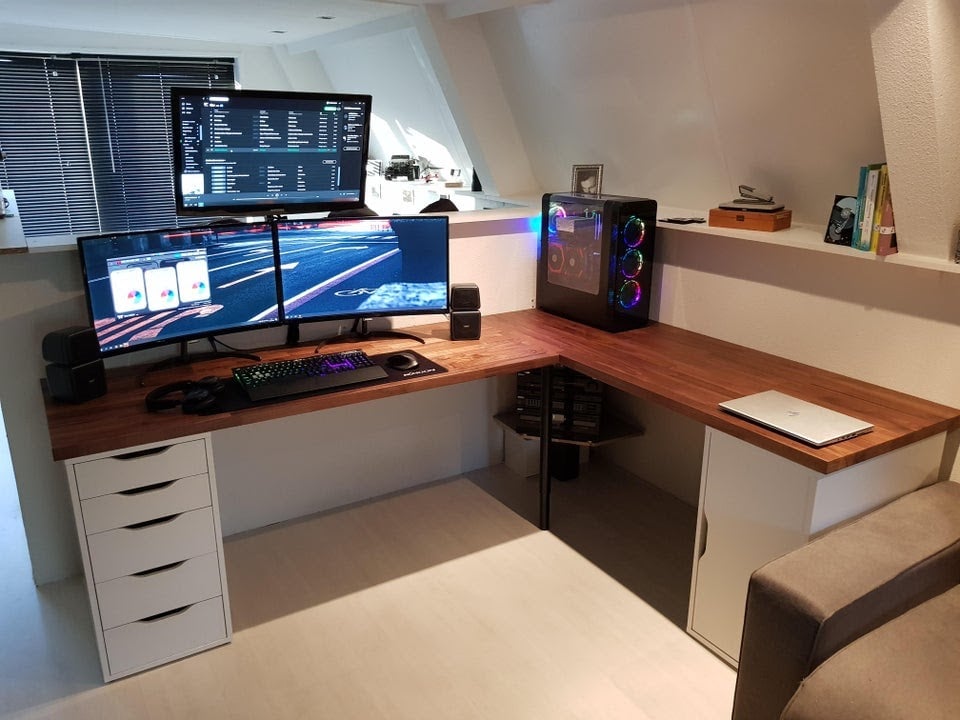 Sometimes a gaming bedroom can be used as an office too. The perfect way to do this is to have a larger desk. This gives you room to store both gaming and work-related accessories. A big desk can also accommodate multiple screen displays with ease.
Professional Streamer Gaming Bedroom Idea
Via fracno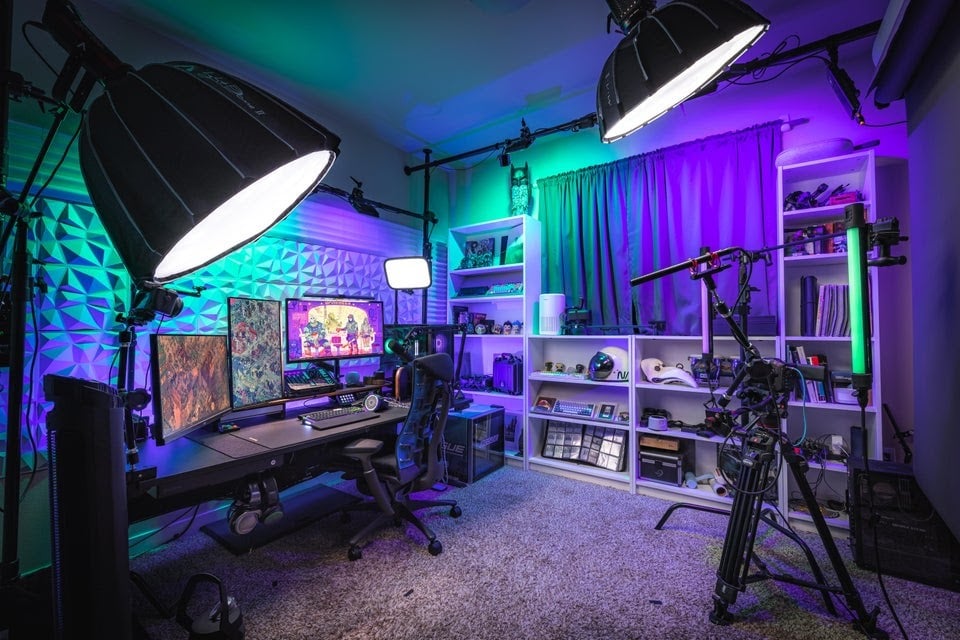 If you've got a big budget for your gaming bedroom setup then a few studio lights, professional microphones, acoustic panels and a large triple monitor display is a good idea. With this kind of a video game room you'll be ready to stream professionally in no time.
Multi-Themed Gaming Bedroom Setup
Via cuttsiee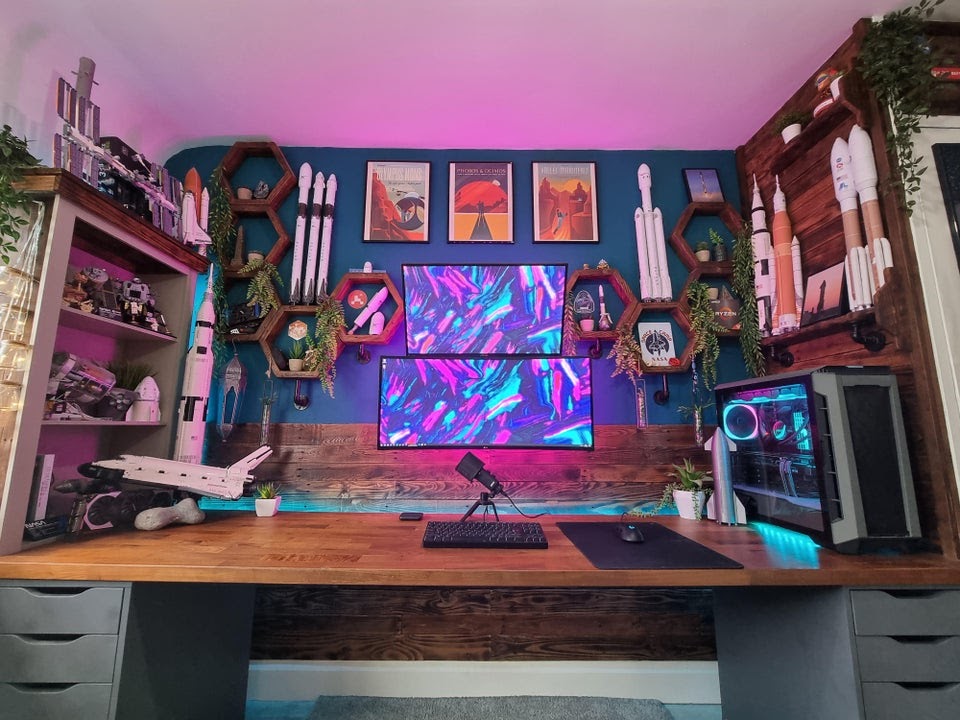 Pink Sky Gaming Bedroom Idea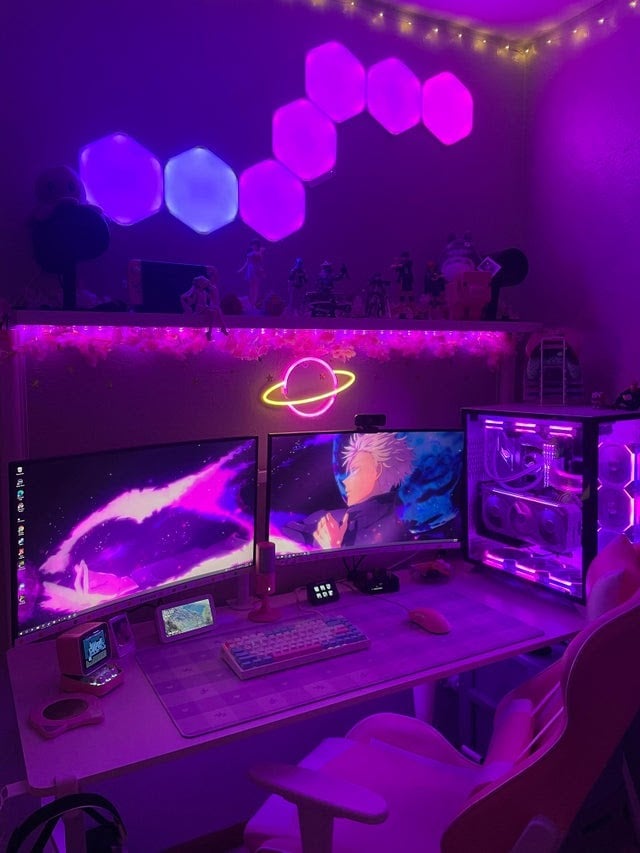 Choosing a Gaming Bedroom Theme
Think of a film or game that you enjoyed. Imagine the scenery in it, the characters you admired and obviously, the symbolism and storyline. If you're anything like me, there's probably a few that you could name. You can choose one or more of these to be your room theme.

Conclusion
There are only two kinds of gamers in this world, those who simply play video games, and those who live, breathe and eat video games. What's the difference between those two kinds of people? Well, allow me to explain! The first might have a video game they enjoy, but they'll probably never purchase a gaming chair, or invest in a gaming setup. This article is not for them. This article is for the second group.
As I mentioned before, they live, breathe and eat video games. Their game rooms are perfect, they purchase the most comfy chairs, they decorate their rooms with neon lights and most importantly they click on this article to find out what a stunning gaming room truly looks like. They do this because they're dedicated to the craft, and they invest in good room design aesthetics.
Take all the inspiration you need and build your own stunning gaming bedroom!