Ask anyone with only a fleeting familiarity with the 1960s imagery what they know about the visual style of the era, and it's a solid bet one thing will be top of mind: psychedelic art. Curly lettering, trippy colors, and meandering borders defined the vibrant aesthetic of the time and have left an indelible mark on the popular imagination. But where did the 1960s psychedelic look come from?
If you are a fan of psychedelic art or psychedelia, want to learn about the surprising origin of psychedelic posters, or simply see a list of trippy art,
your pals at Displate have you covered!
Coming up in this righteous article…
You'll discover everything you've always wanted to know about psychedelic artwork, including:
The brief but crazy history of the psychedelic art movement
15 fun facts about psychedelic art (you don't already know)
Where you can find the best psychedelic posters, trippy posters, hippie posters, and 60s posters on the internet.
Now check this out!…
As you read along, we'll also treat your eyeballs to an amazing stream of psychedelic artworks featured here on Displate.
Now…
Are you ready to hear a cool story about psychedelic art posters that'll stimulate your mind and visually entertain you?
Then slap on you groovy goggles and look below because here we go!
The Brief But Crazy History Of The Psychedelic Art Movement
Art Nouveau On Acid
The '60s psychedelic aesthetic owes a lot to the celebrated art movement that started almost a century earlier, and went by many different names: Jugendstil, Tiffany Style, Glasgow Style, Sezessionstil, but today is most commonly referred to as art nouveau, or 'new art' in French. Known for the use of long organic lines, feminine figures, and asymmetrical curves, art nouveau was a response to the radical changes caused by the rapid urban growth and technological advances that followed the Industrial Revolution.
Although the artists of the 1960s rebelled not so much against industrialization as the military-industrial complex, they looked back to art nouveau as an alternative to mainstream design. As a result, they borrowed some elements typical of the style and gave them a trippy makeover, most notably by employing a radically different color palette.
Instead of soft pastels, '60s psychedelic aesthetic favored intense, high-contrast colors said to make your eyes vibrate, a reference to the visual experience of an LSD trip. Similarly, edge-to-edge design of psychedelic drawings and illustrations was supposed to emulate the experience of an acid high, and the mind-expanding state that the use of this drug induced.
Sometimes the graphic artists of the '60s would even go as far as copying images from art nouveau posters. However, they always embellished them with jarring color combinations and distorted lettering, giving them that unmistakable '60s look.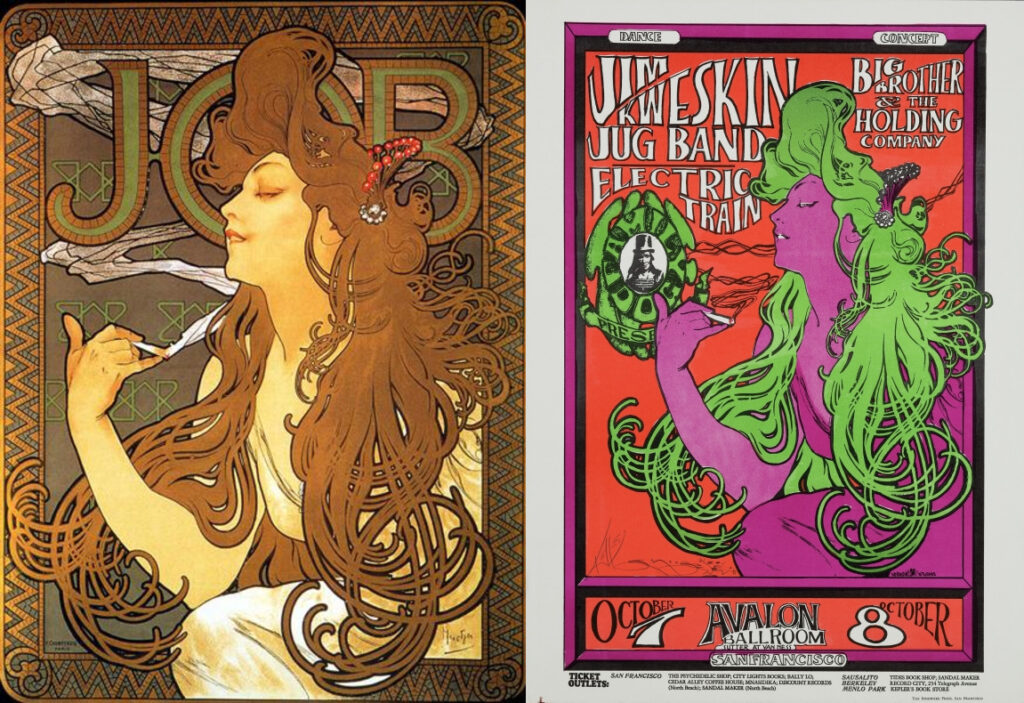 1960s Psychedelic Poster Craze
In 1965, a young, twenty-five year old artist by the name of Stanley Mouse moved out to California with a group of his friends from art school.
Upon his arrival in the sunshine state, Mouse quickly befriended another artist there, Alton Kelley, who at the time was living in a hippie commune called The Family Dog.
Since it was already being used as a community home, the artists living there decided to turn The Family Dog house into an occasional underground rock music venue and dance hall, too.
By doing so, they gained a lot of local hype.
Soon, the Family Dog became an exciting go-to hotspot for the youth and young adults living in the Haight-Ashbury district of San Francisco.
With all the attention the hippie artists were getting, it also wasn't long before an up and coming concert promoter by the name of Chet Helms discovered all of the fun taking place in the flower child community.
Free love, mind-bending trips, and the sweet sounds of rock and roll was all the rage…
Everyone was having a good ol' fashioned far out time.
But…
It wasn't the partying at The Family Dog house that attracted Helms.
Instead, it was his artistic vision and wild business plan…
By combining his experience in music production with The Family Dog's young existing audience — and putting in a little hard work — Helms firmly believed he could find a better way to publicize the live entertainment programs he'd seen them put on for the youth of the city.
Excited by the thought of creating bigger festivals for them, Helms quickly established a friendly connection with the free-spirited group of artists living in The Family Dog house.
As more and more friendships blossomed, eventually, Helms moved in to live with them.
Within a few months, Helms assumed leadership of the group and finally formed a production company by himself called the Family Dog Productions in 1966.
Then, later in the same year, the ambitious impresario secured leases on a couple of venues and began to advertise local live rock concerts at the Fillmore Auditorium and Avalon Ballroom.
Everything was going according to plan, but Chet Helms, once again, saw greater potential in his partnership with the artists from The Family Dog's tight knit community.
To help massively spread the word around town about the organized events, Helms wisely hired a handful of graphic artists to create a series of eye-catching promotional posters for the shows.
Aside from enlisting Stanley Mouse and Alton Kelley, his pals from The Family Dog, the other three artists that Helms later hired on commission included Rick Griffin, Victor Moscoso, and Wes Wilson.
Although the hippie bunch had no way of knowing it yet…
The things they would soon accomplish together would impact the lives of millions of people all across the globe and change the world forever.
Over the next couple of years…
The prominent group of hippie artists teamed up to design the most iconic and influential psychedelic posters of all time.
In fact, the psychedelic style they invented quickly proved to fulfill much more than they could've ever imagined.
For example:
Their enticing trippy posters and psychedelic designs compelled over 100,000 people to flock to California in 1967 to explore the area's famed music concerts and bohemian subculture — a social phenomenon that is now known as the Summer of Love.
The eclectic group's trippy art also became the cover artwork of many legendary musicians' vinyl record albums, giving music fans an extra way to perceive a song's sounds and lyrics.
Above all else, the psychedelic posters they designed acted as a fuel to the growing counterculture and political revolutions of the 1960's that rippled throughout the world.
Shockingly, the hand selected group of five artists that Chet Helms initially hired to promote music concerts — now famously known as the Big Five poster artists — had become the people responsible for sparking the Psychedelic Art movement that flourished from 1966 to 1972.
In a countless number of ways, the effects of their psychedelic posters still permeate our modern culture today.
15 Facts About Psychedelic Art
1. Before the word became popularized in the art scene of the 1960's, the term "psychedelic" was first coined in 1957 by a psychiatrist, Osmond Humphrey. He created the term using the Greek words psyche (mind) and delos (make visible) — hence all of the vivid imagery you see in psychedelic artworks!
2. Psychedelic art was heavily influenced by art nouveau as you've already learned. However, you may not realize that the style of psychedelic design also drew from other established design traditions, such as comic books and surrealism.
3. Traces of pop art and optical art can be found in the color juxtapositions and elusory geometric lines that are common characteristics of psychedelic art.
4. Wes Wilson, one of the Big Five poster artists, is acknowledged as the Father of Rock Posters and he's also given credit as the person who invented the psychedelic font.
5. While 60's psychedelic art was mostly a male-dominated scene, Bonnie MacLean's deservingly shares a big part of the spotlight with her classic psychedelic rock posters.
6. Marije Koger, nicknamed the Mother of Psychedelic Art, is another important female leader from 60's psychedelic art scene and is best known for her album cover artworks for the Beatles.
7. Many of the Big Five artists continued to work together and produced psychedelic artwork in a series of underground comic books called Underground Comix.
8. The history of psychedelic design reached its zenith in the late 1960s when the Big Five poster artists formed their own psychedelic poster art company known as the Berkeley Bonaparte Distribution Agency.
9. In the 1970's, the United States Postal Service commissioned artist Peter Max to create a real postage stamp that featured rainbow colors and a conspicuous psychedelic aesthetic.
10. The psychedelic paintings by Mati Klarwein in the 60's and 70's heavily shaped the future landscape for album cover artwork.
11. Salvador Dali included psychedelic elements in many of his paintings that strangely pre-date the Psychedelic era. (Hmmm!)
12. Another important figure in psychedelic art is Karl Ferris, the pioneer of psychedelic photography who created some of the album covers for legendary musician Jimi Hendrix.
13. Psychedelic colors are typically bright and extremely high in contrast, but the same trippy effects of psychedelia can be observed in black and white psychedelic art, too.
14. Some of today's leading contemporary psychedelic artists include Alex Grey, Amanda Sage, Chris Dyer, Martina Hoffman, and Cameron Gray.
15. Psychedelic 60's art was a direct precursor to the evolution and popularity of all of the visionary art you see today.
Psychedelic drawings and illustrations seem to be beautiful and otherworldly, whether or not you've ever had a hallucinogenic trip. Or maybe you disagree? Let us know in the comments!
Hey you!…
Do you want to see more psychedelic posters and other cool artwork on Displate?
Check out these 4 lists!
Peace!
Here's what more you can read on Displate blog: