Who doesn't like playing with words? It's a common knowledge that jokes made by ourselves are the funniest (duh!), and there's someone who simply reads in our minds and brings to light all these most ridiculously hilarious thoughts that come up to our sick minds. Louis Ros gives us joy, cuteness, and humor in so many variants, that we can identify ourselves with whatever we wish, like and need. At the moment or in general – living the life with a slice of pizza in our hands. I've always thought that there's nothing that can cheer me up more than 3 parts of Bridget Jones' diary binge-watched in bed, but I was wrong. Louis Ros is an everyday balm to my heart. 
Ok, so you're cool and we love you. But let's dig into some details. Tell us some basic, but still – very important stuff about you – where are you from, where do you live? 
I'm from the UK, I am currently living in Taiwan and drawing funny designs is my main thing.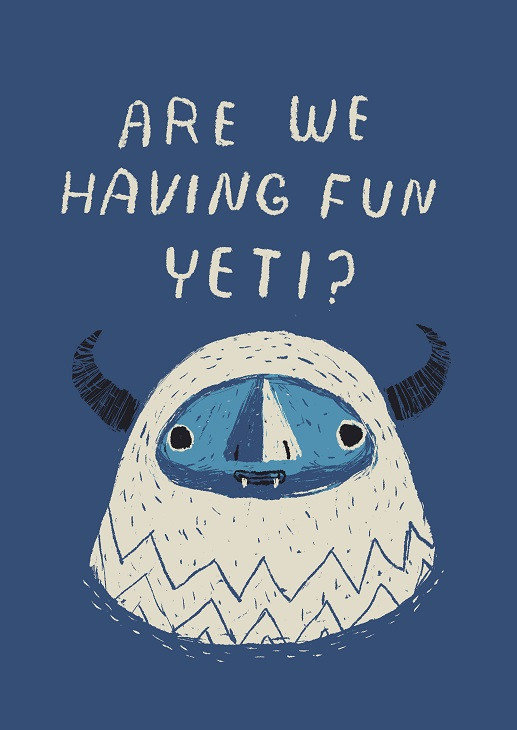 Have you ever studied art or maybe you're a self-taught artist?
I studied in university which I learned a lot from, but that was 10 years ago. I would say, I have certainly learned more about art and making a living from it in the years after. I've also always had a natural talent for drawing too, which helps.
But it cannot be easy to come up with so many endearing designs. Where do you find ideas for your abnormally funny works?
Usually, they just pop into my head. I make sure to write it down on my phone. then later put it in my list of ideas in my notebook. sometimes if I don't have any ideas I will just choose an animal or something and try to come up with as many ideas as I can, there will probably be some good ones in there.
Is there anything from the art world you find most inspiring? Any important artists and biggest influencers at the same time?
Those artists doing well for themselves inspire me. Certain artists or pieces of work inspire me. it happens quite a lot actually. I will see something I like the look of and want to create something in a similar style. That's basically what motivates me, I just want to try lots of different things and I change my mind quite often. Its probably not a good thing as most of the successful artists I see have a pretty set style that they don't deviate too much, which helps with their brand, I guess.
So you must have some particular manners which help you motivate yourself? 
I think the best way is to not have to motivate yourself. Having a schedule and a system, so that when it's time to do your work, you just do it! Making a habit of it is the easiest way. If i haven't drawn for a long time, and need to motivate myself, I will admit it is pretty rough and I don't want to do it.
Your pictures seem to be perfect to illustrate books and columns. Do you collaborate with any publishing company?
Not recently, but I have done my own and hired work illustration an authors writing. Both are good to be honest.
Since you seem to be one of the coolest illustrators on the planet, you have to work in an awesome place! Describe your studio – without what you cannot imagine it? 
Actually, my office is a very boring room in my house. Very basic, but it gets the job done. I prefer to work in cafes at the moment. Going somewhere to do my job helps me be productive.
You, like most of illustrators these days, work as a freelance artist. Can you think of any difficulties waiting for those, who don't have a day job? 
Definitely the social media game is becoming more of a hassle these days. I liked it better when it was more organic and people were not treating it like a job. When it was just sharing your art for the sake of it. I liked the days of livejournal and deviantart. I blame Zuckerberg.
If you could think of any tips for beginners, dreaming to succeed in what you do – what would you tell them? 
If you are a beginner.. learn to draw well, learn the basics. Then have no fear and chase your dream with all your energy. I think i was a lot more fearless and optimistic when I was younger, but now I am older, I am a lot more organised, and produce way more art than I did before. So I wish I made more work before and levelled up faster. 
So… if you weren't an artist – who would you be? 
Sometimes I think about opening a restaurant or a food cart, or something. It's a pretty popular thing to do here in Taiwan.
And now… don't be SEALLY, check out Louis' Displate gallery and visit his social media channels: Facebook and Instagram.