Shhh! Please, keep it down!
We're all very excited to examine this stunning Dragon Cave up close, but we need to be careful – these ancient beasts seem distrustful of humans. Thankfully, we have with us its original designer, Stefan Koidl, as well as our own Design Studio who collaborated with him on the idea and on bringing this Limited Edition to life. They are more than happy to share all its secrets… from a safe distance.
Stefan talks dragons
So what's the story behind this artwork?
With this fantasy illustration I wanted to depict a cave with a remnant of a giant lizard. He belonged to a time long ago where huge creatures were the rulers of the planet. Nobody knows why they disappeared so quickly, all that is left are their fossilized bones. Now an adventurer ventures into this cave full of tempting treasures and awakens the dragons who are guarding them. For me it was interesting to play with light and shadow to create a strong contrast between the background and the big lizard skull. The warm light from the foreground reflecting onto the rocks and the giant skull works well against the colder background color.
What inspired you to create it?
This piece started as a 30-minute speed painting project on the topic "fossil cave". It was actually my speed painting nr. 502 and a random idea that I came up with while playing with light and shadow.
When Displate asked me to do a Limited Edition print series based on this piece, I was really excited to get back to it and continue working on the details. Adding the knight and the flying dragons was a nice idea to implement a story.
What tools did you use to create it?
This one was painted in Photoshop with a Wacom Intuos drawing tablet.
This is your third LE design – what are your thoughts about this project from an artist's point of view?
I love the Limited Edition series – the shining surface with the 3D texture effect is an awesome feature to give a painting more vivacity. I am honored to be part of the LE series because it's really something special that not every printing company can do.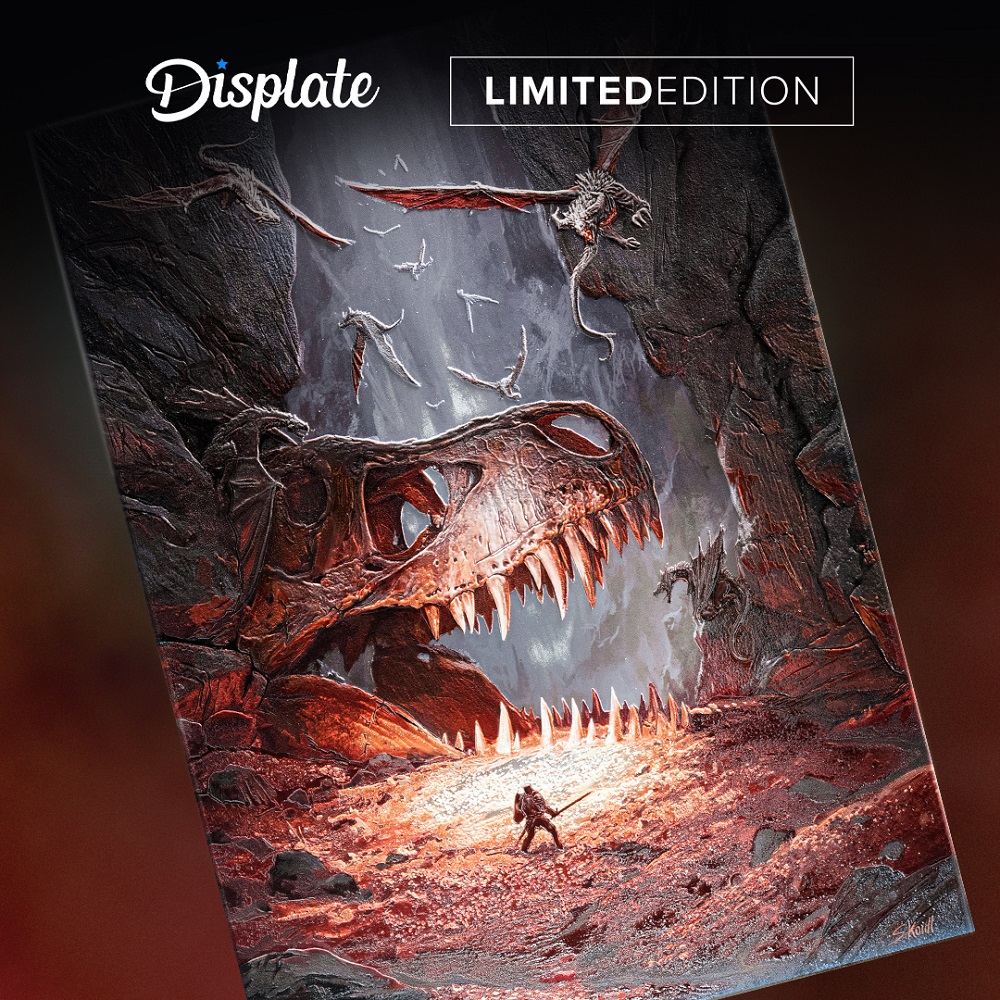 How our Design Studio tamed this ancient beast
After discussing the design with Stefan, we decided on certain enhancements and additions to make this into a real treat, both for fantasy fans and Displate collectors. Adding the flying dragons and the daring warrior in a well-prepared scenery was meant to introduce a sense of dramatic action, and to make the scene feel more vivid. Then you have the silver underprint, which highlights the depth of the cave, and the gold-lined coins, which add a sparkle to the foreground and draw attention to the warrior's ill-advised quest. Finally, we used 3D-printing techniques to bring out the texture of the rocks and -above all- to highlight the main element of this Limited Edition: the skull of the ancient lizard lying on that cave floor for millennia.
Quest Completed
The good news is that all the time and effort which went into creating the Dragon Cave were more than worth it! It's a stunning piece of art that this brave warrior would certainly love to find in that treasure pile.
But you don't have to worry about dragons when shopping for this – just be quick and grab one before it flies away!