Running a small business from two countries seems complicated, but this creative duo has it all figured out. Nicebleed is an alias for two brothers whose fascination in space resulted in creating one of the most-wanted posters on Displate. They combined hard work with a great love to what they do, and gave us numerous designs that all tell a different story. Francis and Lawrence are on their way to success, so make sure to jump in and enjoy the ride. 
We have recently caught up with them, so continue reading and discover the artist(s) behind their work. 
Where did the "Nicebleed" name come from?
Nicebleed is the name I (Francis) used back in the day when we played Counterstrike go. The original name was Nosebleed, and then eventually became nicer. 🙂
Who stands behind "Nicebleed"?
It is a collaboration between Francis Minoza and Laurence Minoza, based initially in Cebu, Philippines. We do mixed traditional and digital media. Laurence on the conventional side and Francis on the digital and final stage. Since I migrated to the US, I did most of the job and Laurence for art direction.
Are you brothers? How is it for you to work together?
Yes, we are brothers. We share ideas and learn each other's views. It's been great for me to work with him. I can't imagine what would be the outcome if we were not collaborating since.
Where in the US are you located and why did you leave the Philippines (it's so beautiful out there!)?
Thanks, indeed it's a great place no doubt. The beaches and natural attractions can't be missed. Can't wait to get back there. I migrated with my family because my wife has a contract here in Shrewsbury, Massachusetts to work as a Nurse.
What are your passions, other than creating?
Right now, I'm passionate about learning to fly an FPV drone. I just started the hobby more seriously late last year and love the feeling of flying. 😉
What does your studio look like?
I got a simple working station at the moment. Just located in the living room with two monitors and a long desk. In the early days, around 2008-2012, we lived in a single room with a PC on the floor, creating textures from inks and papers & borrowing scanners from friends. I wish I had a camera back then. 🙂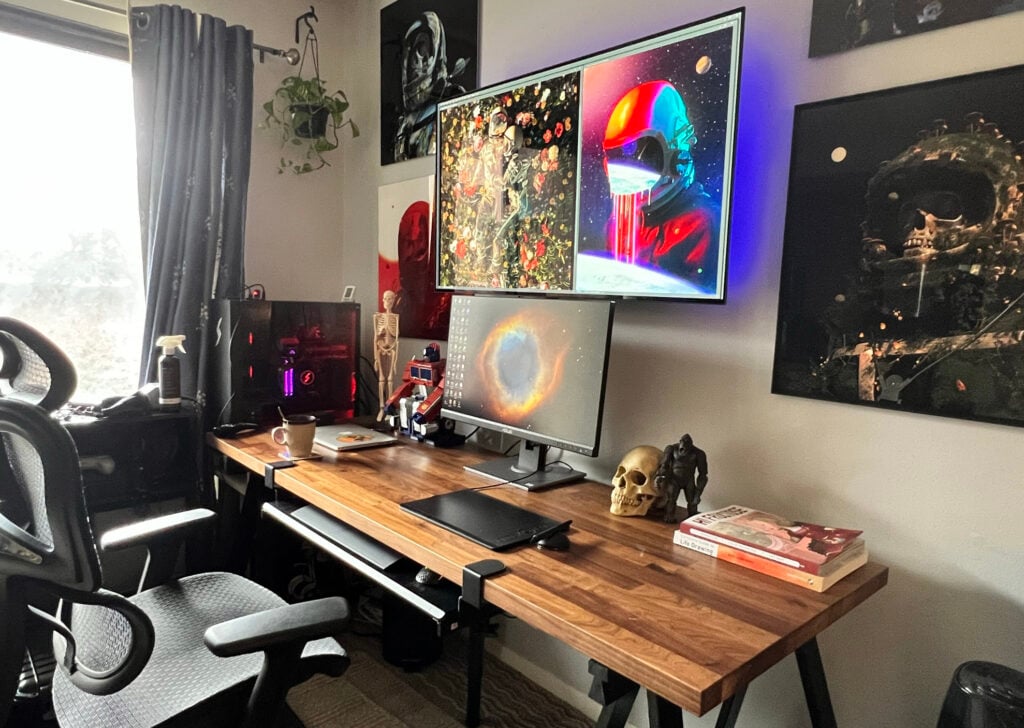 What were your first steps in the art business?
At first, we do it to fill our portfolio and experiment with different styles. We did shirt designs to album covers and book designs while doing our part on the side. Eventually, our art got friction on these Print on Demand websites, and people bought products with our Art. We never thought of the business side at first. We realized that if we could earn more by doing art, we might as well do it full-time and quit our day jobs for good. Back then, the average rate of a graphic designer in the Philippines was $200 a month. So our goal was to create more and earn more to survive our daily lives. That sounds dramatic, but that's true.
Why do you focus on astronauts so much?
We tend to love space and the surreal fantasies or scenes of the cosmos. Astronauts are one of our favorite subjects and inspirations to reach the mystery of our imagination. Something to them is mysterious, hopeful, and can spark a galactic imagination. I guess most people, including us, can connect to them.
Your "Leak" design brought you success. What is the story behind this work?
The story behind the piece was like the sympathy of the astronaut for the planet Earth. You can also interpret the piece as tears of joy for the planet. Anyway, the pieces sometimes are open to the viewer's interpretations.
Where do you look for inspiration?
Ideas can pop up anytime and anywhere. We love Sci-fi movies and space documentaries. Listening to music can trigger inspiration. Also, the internet is a vast place to look for inspiration. It would help if you were ready when the ideas strike and record them or write a note so you can revisit them when you're prepared to create them.
What do you find the most exciting in the art world right now?
We are engaged in the NFT space. We love the process and community. The appearance of NFT is exciting. New technology gives digital artists value to their works.
If you could choose another career path, what would it be?
Electronics or Programming. I love to build robots. 😀
How would you describe your biggest success so far?
– The most significant success for us is being able to do our art with no limits, I guess. When we can experiment and take our time without the pressure from anywhere or anyone. Just doing art! I can say that is our most tremendous success or achievement.
What are you planning to do next?
– We continue to learn and experiment with new tools, better techniques, and emotions when creating art. We don't know where this could bring us, and we hope for a brighter future.
For the Displate team, thanks so much for the platform you created! You rock!