The hero's journey never ends. Not in the Icosphere's world.
Rahul Das (aka Icosphere) has created three Limited Edition Displates so far, and each of them explored the theme of the hero's journey. Yes, this is an artist that loves to confront his characters with something much bigger and much greater than themselves.
This time around, however, it was Icosphere who faced a challenge – a bigger, ultra-sized Displate. Read on to find out how he joined forces with our Design Studio to create The Mountain Temple, the third entry in our Ultra Limited Edition series.
Icosphere on a virtual quest for inspiration
If you've seen any of Icosphere's artworks, you've probably noticed they're more like condensed mosaics, full of vivid and captivating details. And a bigger canvas meant he could squeeze in even more of those:
When Displate approached me with a proposal to create a piece for the Ultra Limited Edition series, I was super excited. I could immediately see my artwork as a big and enhanced Displate! I knew that with this one, I needed to add as many details as possible – and that's something I love doing.
Turns out the first tool Icosphere grabbed from his artistic toolset was… a game controller!
Before I set off to create, I always spend at least one or two hours playing video games. It's what I do to get inspired and also to get a better understanding of a design I'm about to work on.
In this scenario, I knew I wanted to create a Japanese-themed artwork, and so I spent a good amount of time playing Ghost of Tsushima which always puts me in the right mood when it comes to Japanese inspirations. I visited lots of different in-game locations and explored them to the fullest, studying the architecture and environments until I got the direction I needed for this Ultra Limited Edition design. I also collected tons of reference images of various Japanese buildings and landscapes.
How Displate's Design Studio took a dive into details
Turning such a dense digital artwork into a tangible metal artwork required a meticulous approach. And so our design heroes faced a journey of their own:
It's the fourth time we've had the opportunity to work with Icosphere, and we've known perfectly well just how good he is at creating detailed 3D renders. But still – damn!
The L-sized Displate really is a perfect home for this cavalcade of tiny details. Sculpting all of the leaves, blades of grass, tiles and other architectural details of East Asian architecture was a big challenge. It's like lice work, though projects like this can also have an almost meditative quality. You need a lot of patience for this type of work as it's difficult sometimes to stay focused and not get caught in a trap of mechanical work.
And yet, here you go. This tremendous fusion of illustration and various printing techniques is ready for you to enjoy and hang on your wall!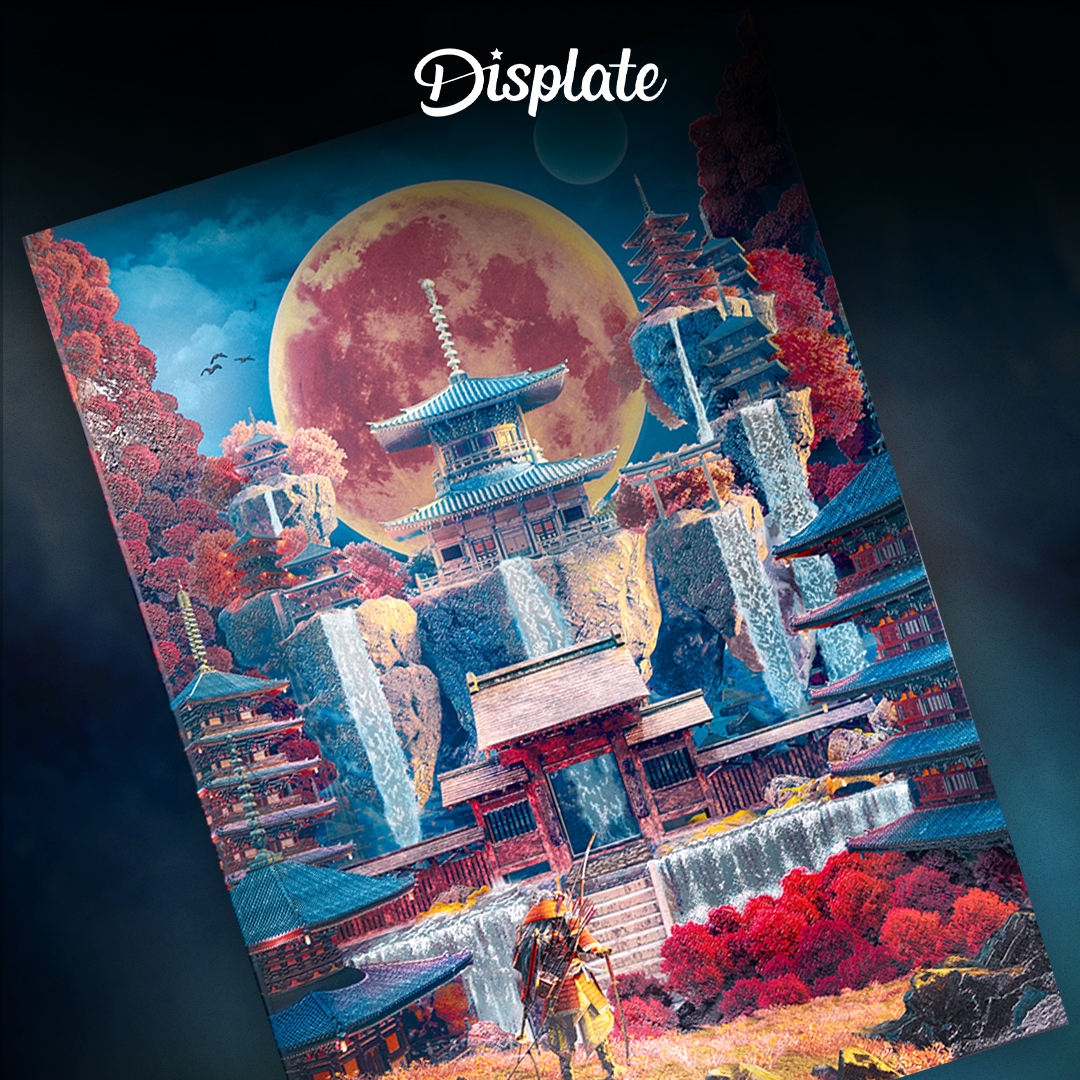 Where to, our hero?
If you think we've reached the end, you're wrong.
Your journey is just beginning – and it's one that leads right into the world of striking artworks, distinguished creators, and one-of-a-kind print enhancements. And the destination? Your wall!
Be ready to set off and watch out for the upcoming Ultra Limited Edition Displates. They only drop once a month, available in just a few hundred copies!