Zombies are everywhere these days!
Movies, video games, TV, highways, malls, INSIDE YOUR APART—
Sorry, got a little carried away there.
The point is, no matter how many of them we've seen, they still haven't lost their bite.
Especially when they come in highly detailed, dynamic scenes that only an artist like Stefan Koidl can bring to erm…life.
That's what makes his Ultra Limited Edition design, Surrounded!, so special.
Of course, zombie stories don't always care to explain their origins. But we simply had to know, so we decided to pick Stefan's brain. Mmmm…brains.
Bringing the undead to life
Capturing zombies is no easy task but Stefan was more than eager to try. All he needed was a push in the right direction and plenty of time to flesh out those flesh-eating undead:
"I always wanted to create a "zombie apocalypse" piece of art but just didn't have the time or opportunity to do it. After Displate contacted me with their idea for a ULE, I was super excited to dive right into this. I immediately got tons of ideas in my head, especially since I had recently played The Last of Us Part 1 on the PS5!
The concept of a lone survivor fighting off hordes of the undead was really fascinating and I wanted to create a bit of a classic movie poster built in a pyramid composition. One of the things I wanted to achieve was that when you look at it, you'll get this feeling of "Hey, could this be an actual zombie movie that I missed?"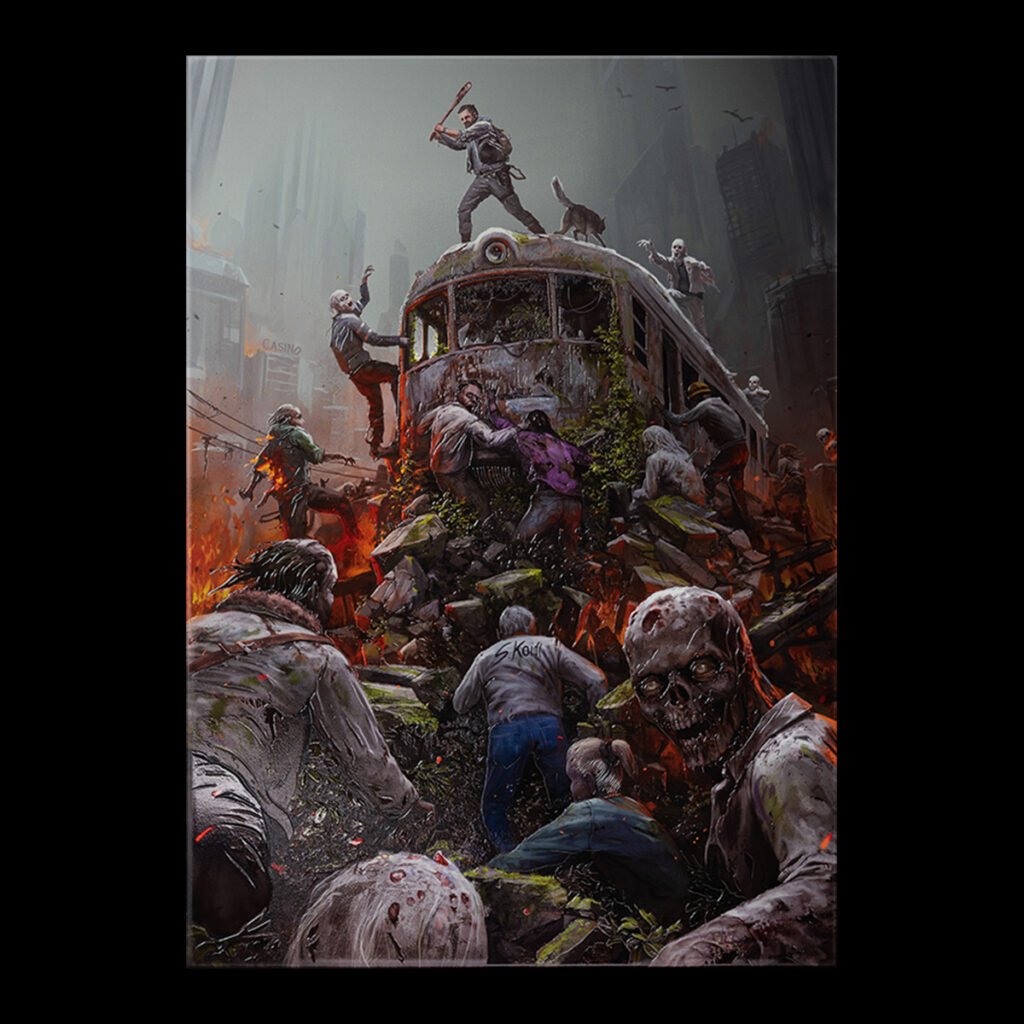 As for my drawing process, before I even start, I make multiple sketches – at least 3-5. These are rather undefined, rough drafts that help me choose the direction I want to pursue further. Here I focus on different moods; the details or other things, like anatomy or perspective, do not play a big role at that stage.
After Displate and I agreed on the direction, I began to define it further. I corrected some of the colors, created more depth, built up different layers, and so on.
Then I started correcting any mistakes in terms of anatomy, perspective, poses, etc. If I am not sure about how to correctly paint certain objects, I search the internet for similar objects in order to achieve a higher level of realism.
The next steps are hours of detailing work. Flipping the canvas multiple times helps me get a fresh eye after long hours of looking at the same drawing.
Once the painting is 90% complete, I start working on small contrast changes, especially dividing the layers more: the foreground, midground, and background, before applying the final brush strokes."
But zombies are not a real thing (yet), so where does he get his ideas from? Brains would once again enter the conversation:
"Inspiration can come from a wide variety of things, like video games, movies, nature, traveling, and of course the internet, which helps me come up with different ideas. How exactly my brain connects all these materials together is still uncertain to me. Most of these ideas sort of come randomly. My office is always decorated with images and figures of stuff I like, which also helps me get in a creative mood".
Stefan has more to say about our collaboration in this video:
Our Design Studio knew how to make these zombies growl!
When you have a high-stakes, thrilling design such as Surrounded!, all you need to do is bring out its visceral qualities and make every gruesome detail pop. That's where our Product Designer, Ola Mosiej, and her team came in:
"This is one intense scene! Our hero won't give up so easily – especially with that good boy by his side 🙂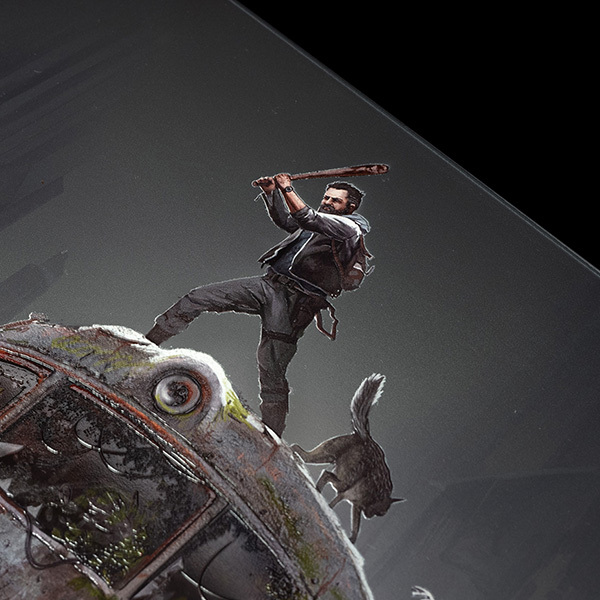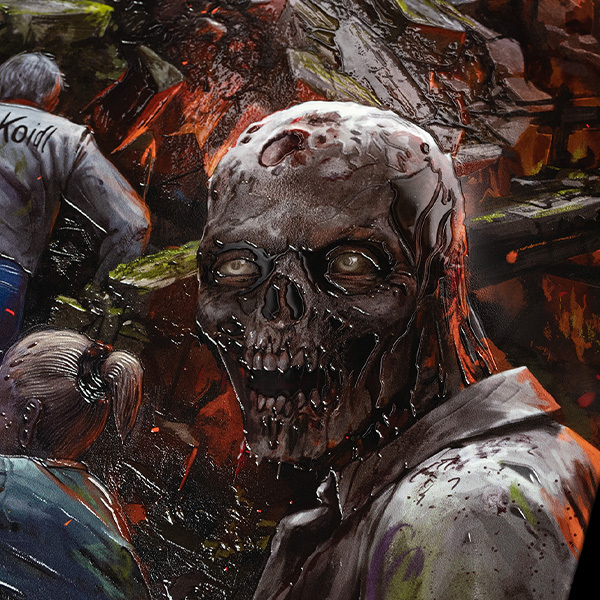 In the design process the most difficult part was creating good gradation of the details for a better perspective effect.
We decided to leave the background clean and neat for this chaotic scene. We also went with a silver metallic overprint which looks great in this post apocalyptic setting.
Finally, we gave the gentleman on the right side some lovely glossy eyes, and the rest of the zombie horde got awesome glossy flesh that makes their condition look even more ghastly.
Hopefully, you'll enjoy the results as much as we did!"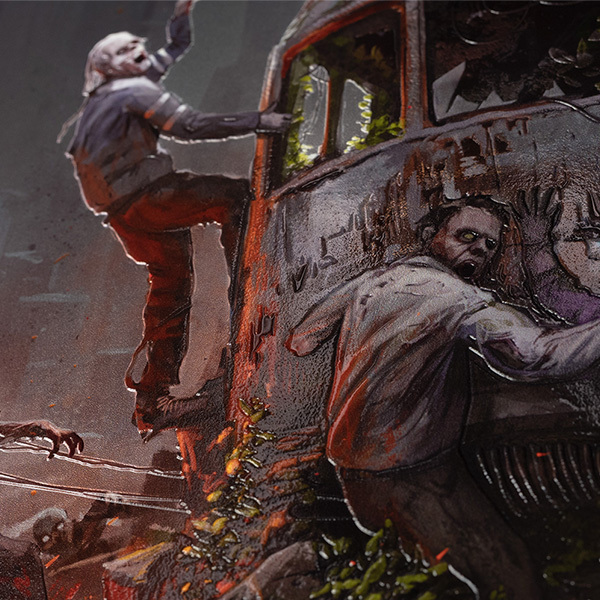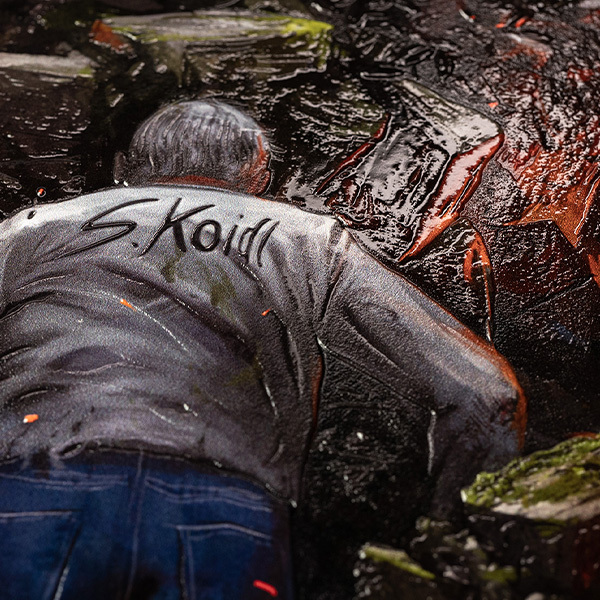 It will not decay but it's not here to stay!
Most zombies are in the habit of chasing you down; this time you'll be the one doing the chasing! But it's absolutely worth it: there's 3D-sculpted zombies, glossy details, a silver underprint, and nail-biting action. Stefan and our Design Studio went above and beyond to deliver a piece able to make heads turn… starting with that curious zombie on the right.
Just make sure to beat the horde and grab Surrounded! the moment it's up for sale!