Einstein puts everyone on skates, Chaplin makes it rain, and Gandhi drops dimes. Elad Shagrir is a young artist from Israel who gathers a dream team of some unusual talents. He makes everybody balling cause impossible is nothing when ball is life. 
Are you self taught or formally trained?
I'm self-taught. I used to draw a lot when I was a boy, and I drew pretty much everything: Superheroes, animals, monsters, basketball players, and much more. After I graduated high school, I tried digital drawing, and it took a lot of practice and experiments until I found my"style of illustration."
Why is everybody balling in your posters? 
Like every artist, I always try to create something new and to find ideas for an artwork that has never been created before. The idea behind "Everybody Is Balling" was to illustrate famous figures in a situation that you don't expect to see them in. The main reason why I chose celebrities to play basketball is the fact that I really like basketball. Plus, I think it's funny and refreshing, so why not.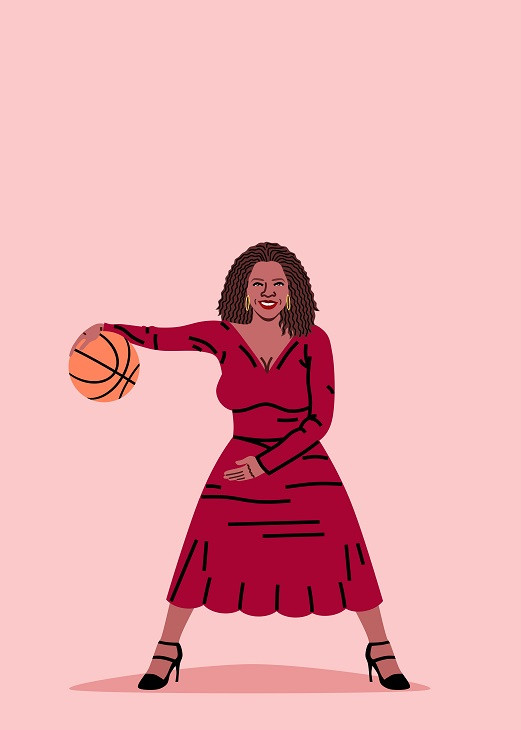 Are you a basketballer yourself? 
Yes, I play basketball. I played in my high school team and a basketball club here in Jerusalem. I'm also a big fan of the Maccabi Tel-Aviv basketball team, which is considered to be one of the top teams in Europe.
Which of the celebrities in your illustrations do you think is the best in basketball?
It must be Abe Lincoln. He has a height advantage over everybody. But I bet Charlie Chaplin would've had crazy dribbling moves, and Einstein would've had a math equation for how to make every shot, so it's a close call, but I'll have to go with Lincoln.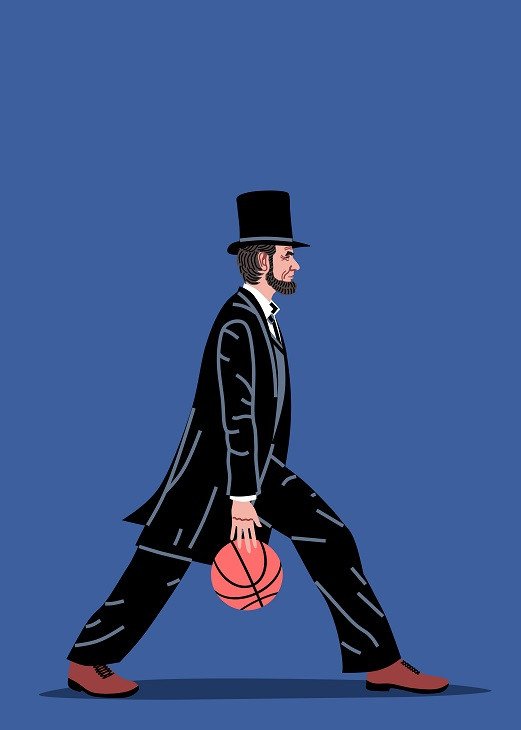 Are you planning to introduce other sports too?
I don't think I'm going to introduce other sports. But I will probably create more balling celebrities in the future!
What does your studio look like? 
In my studio, I have my one-piece computer screen, and I have some of my artworks hanging on the wall, my drawing notebooks, drawing tools, and some plastic plants.
How successful have you been with selling your original artwork so far?
When I first started with a digital illustration, I got very lucky and had the experience of illustrating a whole book. The book was about basketball and the NBA, and it was a dream come true for me as a young illustrator to work on a big project related to one of my favorite things in the world. The book sold thousands of copies here in Israel, and it was absolutely a surreal experience. Later I found out that selling my original artworks was not so easy as I thought. I had a slow start, and for a while, I haven't made a single sale. Only after one of my illustrations went viral, the interest in my artworks started picking up.
Where would you advise beginners to search for inspiration?
I always draw inspiration from the things I love. If you love basketball, then draw Michael Jordan flying in the sky for a dunk. If you love cinema, then draw your favorite character from that movie you like. Think about what you are passionate about and work from there.
How active are you in social media?
I'm not really a social media guy, but I do have an Instagram account (elads13), which I use to share my new artworks.
In your opinion – is it a good way for illustrators to share and sell their designs?
I think social media is an excellent platform for sharing artworks. For example, you can use Instagram as an advertising tool for your store. Plus, by tagging and using the right hashtags, you can reach people all over the world. Your exposure on social media could lead you to job opportunities, commissions, and collaborations.
Who's your favorite basket player? 🙂 
My favorite basketball player is Dwyane Wade. When I first started to pay attention to the NBA when I was a kid, Dwyane Wade won his first championship with the Miami Heat. In my opinion, he is one of the best players who ever played the game.
Now. What do you think – who should be next to start balling with Elad Shagrir? Share in the comments below!