When art and science join forces, amazing things happen. Case in point: botanical illustration!
If botanical illustration were a person, it would be the love child of science and art. And what a remarkable offspring it is! Taking the best from each parent, it combines scientific rigor with creative flair to give us an up-close look at our natural world. In this article, we'll explore the history of botanical illustration, its most famous practitioners, and modern applications. And if you've ever wondered about the difference between botanical illustration and botanical art, we'll answer that too!
What Is Botanical Illustration
But first things first – what exactly is botanical illustration? Put simply, it's the practice of creating accurate, detailed, and lifelike representations of different plant species, typically for educational or scientific purposes. Botanical drawings depict a single specimen in its entirety, usually displaying the various parts of the plant – including its leaves, flowers, fruits, bark, roots, and seeds – and often have a description or key to help with identification.
Botanical illustrations have been historically drawn using traditional art media such as watercolor paints, colored pencils, ink, and pastels. More recently, however, digital tools such as apps and graphic design software have become increasingly popular for creating botanical artwork. Many botanical illustrators use a combination of both digital and traditional tools to achieve the desired results.
The History of Botanical Drawings
Humans have been drawing plants for thousands of years, with the earliest illustrated botanical books dating back to antiquity. Known as herbals, they were designed to help readers identify plants that had medicinal properties. 
The first herbal was created by a Greek artist and physician named Kratevas, now considered the father of botanical illustration. Sadly none of his original works survive today. However, we can still marvel at later herbals based on his manuscripts, like the famous Vienna Dioscurides, the go-to manual on healing plants during the Middle Ages.
Botanical illustration reached new heights in the Renaissance when Leonardo da Vinci and Albrecht Dürer brought their own extraordinary skills to the table. Their studies of flowers and plants combined art and science in a way rarely seen before and are often referred to as the first modern botanical illustrations.
Rather than hand-copying old herbals as their predecessors had done, Renaissance artists strived for scientific accuracy using keen observation to create their own renderings from life. Throw the printing press into the mix, and you've got yourself an entirely new way of documenting the natural world, with incredibly detailed depictions of plants published far and wide!
While Renaissance illustrators pioneered the art form, it was in the 18th and 19th centuries that botanical illustration really came into its own. With the age of great exploration, botanists raced to be the first to get their hands on newly discovered plant specimens from faraway places. And thanks to Carl Linnaeus and his revolutionary system of plant classification in 1753, these adventurers were able to properly catalog and describe their findings.
This golden age of botanical illustration was reflected in the magnificent drawings and paintings produced during this time. Artists like ​Ferdinand Bauer, ​Maria Sibylla Merian, and Pierre Jean François Turpin captured exotic fauna and flora in stunning detail, rivaling even our trusty cameras.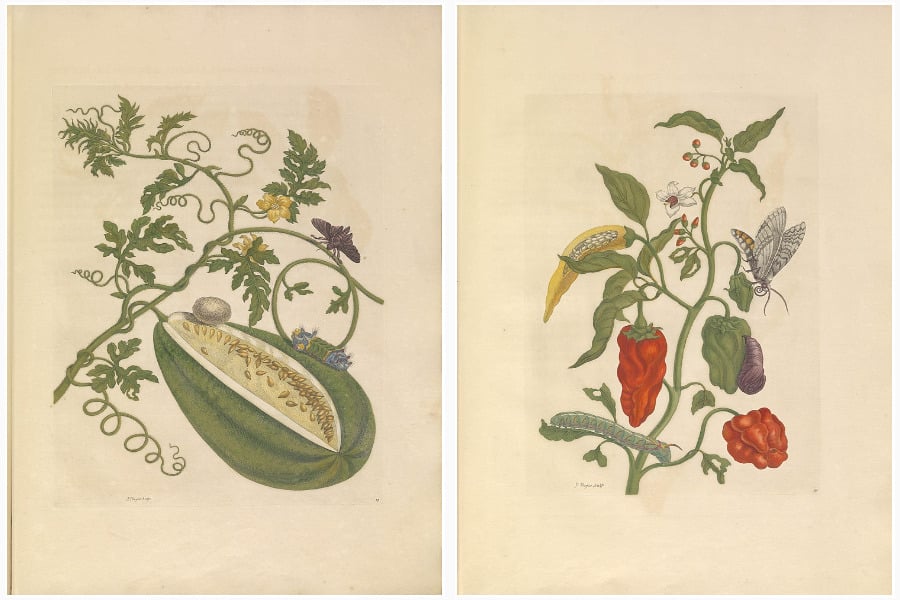 And speaking of cameras, you'd think the invention of photography would have been a death knell for botanical illustration. But despite the convenience of capturing images on film, contemporary botanical artists haven't gone the way of the dinosaurs just yet! In fact, with the current environmental crisis and extensive species loss, their skills are more relevant than ever, helping us to preserve the beauty of plant life that might otherwise be lost forever.
Famous Botanical Illustrators
Throughout the centuries, many talented illustrators have played a significant role in the development of natural sciences through botanical art. Part scholars, part artists, these individuals have used their observational skills and creative talents to capture the essence of nature in exquisite detail. Some notable examples include:
Leonhart Fuchs (1501–1567)
Considered one of the founding fathers of modern botany, Fuchs created the monumental De Historia Stirpium, among his other botanical publications. The flower fuchsia was named in his honor and, consequently, the bright purplish color it bears.
Basilius Besler (1561–1629)
Besler was an apothecary and botanist best known for his groundbreaking Hortus Eystettensis – a collection of 374 copperplate engravings depicting plants from the botanical gardens of Prince Bishop of Eichstätt in Bavaria.
Maria Sibylla Merian (1647–1717)
A celebrated German naturalist and botanical illustrator, Merian was one of the pioneers of modern entomology. She documented the changing life cycle of butterflies, moths, and other insects against the background of their host plants.
Georg Dionysius Ehret (1708–1770)
Ehret was regarded as one of the finest botanical artists of the 18th century. He developed a style of botanical art known as the 'Linnaean style,' thanks to his collaboration with renowned Swedish botanist Carl Linnaeus.
Pierre-Joseph Redouté (1759–1840)
Redouté was a court artist to Queen Marie-Antoinette and Empress Josephine Bonaparte. Nicknamed 'The Raphael of Flowers,' he created some of the most exquisite watercolors of roses and lilies in history.
Pierre Jean François Turpin (1775–1840)
Poor, largely self-taught, but innately talented, Turpin rose from a common soldier to a member of the French Academy of Sciences and is now ranked among the greatest botanical illustrators of the Napoleonic Era and beyond.
Margaret Ursula Mee (1909–1988)
Mee was an English botanical artist and explorer who devoted her life to exploring South America and creating colorful depictions of its flora. She was one of the first people to bring worldwide attention to the destruction of the Amazon rainforest.
Botanical Illustration vs. Botanical Art
While sometimes used interchangeably, there is a difference between botanical illustration and botanical art. Botanical illustration focuses on depicting plant subjects as they appear in nature, with an emphasis on scientific accuracy. On the other hand, botanical art prioritizes aesthetics and artistry where possible – a chance to let your creative flair shine! Both have their merits and place in the world of botany, but each offers something different to the viewer.
As you can see, the flower painting to the right is impressionistic and evocative; it captures the feeling of the subject rather than its exact form. However, the botanical drawing to the left provides a true and lifelike representation of the flower without straying into the artistic interpretation.
Over to You!
There you have it, a comprehensive overview of botanical illustration. We hope this post has been informative and inspired you to take up your own pencils and paints to join the long line of tree-hugging creatives!
Not an artist? Worry not! You can still show off your love for botanical art with the great selection of botanical posters available at Displate. For your daily dose of beauty, check out our flower wall art, from vintage botanical illustrations to stylized flower watercolors and plant photography, and treat your space to a splash of greenery that never wilts!
So go ahead, explore the world of botanical illustration, and be inspired to appreciate nature in all its glory!