Voxel art. For those interested in video games, 3D art, or the NFT space, this term probably rings a bell or two. But what exactly is voxel art, and how do you create your own? This guide will cover the basics of voxel art, from the tools you need to get started to examples of stunning voxel artwork by professional artists and the games that feature it.
Let's dive right in!
What Is Voxel Art
Voxel art is a type of digital art that uses volumetric pixels or voxels to create images, animations, and video games. It has been around since the advent of computer graphics, but it was in the 1990s that voxel art really took off with games such as Comanche and Outcast. After going dormant, it resurfaced in the early 2010s, thanks to titles like Minecraft and Roblox, and has been a popular choice for indie game developers and 3D artists ever since.
Wait, What Are Voxels Again?
If you haven't heard of voxels before, think of them as 3D pixels. Much like their famous cousins, voxels are tiny uniform blocks of color, but instead of being two-dimensional, they have volume and can be stacked up to create 3D shapes. We bet you've seen them before, especially if you're a fan of LEGO. In fact, if LEGOs were digital, they would be voxels!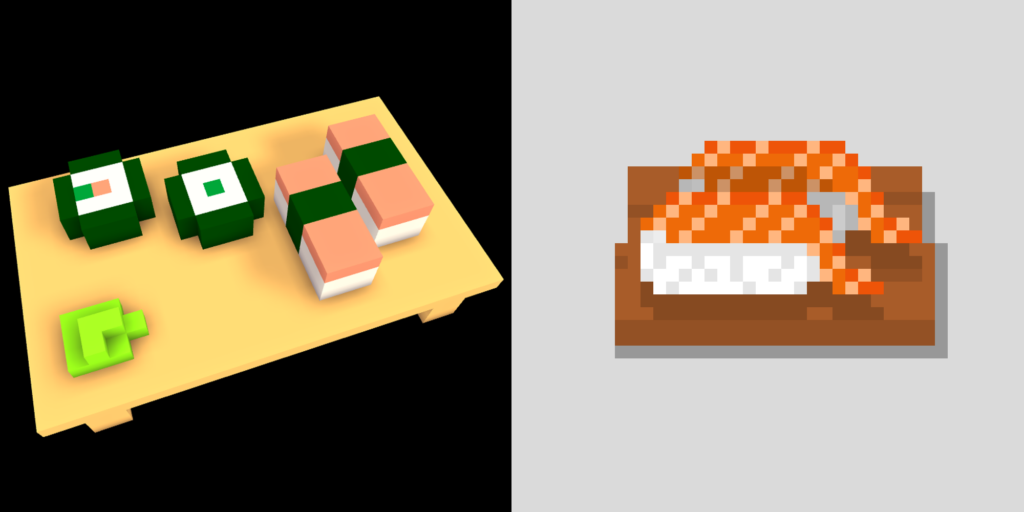 Voxel art is created by assembling these little cube-like units into larger structures. This can range from simple models to complex animations and video game environments that wouldn't be possible with traditional 2D pixel art.
How to Make Voxel Art
To start making voxel art, you'll need a dedicated voxel editor. Voxel editors are software programs specifically designed to work with voxels. Here are some popular choices that are available for use today. All software listed below is free—except for Qubicle (which has a free trial).
MagicaVoxel
A lightweight voxel editor perfect for beginners looking to build simple game models and environments. Available for Windows and macOS.
Mega Voxels
A mobile platform for creating voxel art models on tablets and phones. Includes tutorials for beginners. Available for Android, iOS, and ChromeOS.
Qubicle
A professional voxel editor used by most game developers and 3D modelers, boasting an intuitive interface and easy-to-use tools. Available for Windows and macOS.
VoxEdit
A cloud-based voxel editor that allows users to model, animate, and mint voxel creations as NFTs. Available for Windows, macOS, and Linux.
Blender
A robust open-source voxel editor that also works with 2D animation. Available for Windows, macOS, and Linux.
Voxel Inspiration
Voxel art is currently a major trend in 3D visual design used to create anything from digital art pieces to NFT avatars to sandbox video games. Its minimalism and accessibility make it a creative outlet for artists of all levels and backgrounds. On top of that, though, voxel art also has a stylized retro look that so many of us crave. Much like pixel art and low poly art, its charm can't be replicated by the hyper-realistic graphics of today—cheers to the beauty of imperfection!
Before you get the hang of creating your own voxel art, feel free to grab some inspiration from these voxel artists that keep the blocky aesthetic alive.
Voxel-Based Games
In many ways, voxels have lost out to polygons and pixels, especially in the contention for the format that would propel the gaming world into the 3-D era. But their comeback can be seen in many recent games, from simulations to RPGs to shooters, and we couldn't be happier! Here are some of the best voxel-style games available today, including mobile games, PC games, and consoles:
Minecraft
Severed Steel
Bonfire Peaks
Space Engineers
Stonehearth
Trove
Roblox
Moonglow Bay
Astroneer
The Touryst
Ace of Spades
Cloudpunk
Voxel Tycoon
Over to You!
By the looks of it, voxel art won't go out of fashion any time soon, so you might as well sit back and enjoy it. Maybe even play Minecraft in celebration, or, even better—learn how to create voxel art yourself! Go ahead, play around with different voxel editors, and see what kind of masterpiece you can come up with.
And if you're looking to decorate your walls with some early gaming nostalgia, Displate's voxel-themed posters, including licensed Space Engineers prints, are a great way to do it!
Have fun and happy voxelling!