A real success often comes out of nowhere. You just draw something between duties, doodle and scribble, and you're completely unaware there's something huge coming to your life. Sometimes it's just a matter of instinct, this wild spirit hiding in your guts, guiding your hand to create this one – specific artwork. With great ideas comes great future and Tomasz Dąbek is definitely going wild in his success game, jumping to the jungle beat. 
He's a Polish graphic designer from Kielce, mainly specializing in modern, geometric and minimalistic digital painting. We had a quick chat with him, fascinated with his collection of modern animals posters. 
Are you a self taught artist? 
I'm a self-taught artist. First, I used to draw on paper, now I mainly use a tablet for digital painting.
But is designing your full-time job right now? 
Yes, I've been doing graphic design since forever. I was drawing passionately during my childhood and started making computer design after. Right now I'm kind of mixing these two. I work as a graphic designer in a press publishing house and I create animal posters in my free time. 
What mostly inspires you to create, is it wildlife? 
I find many things stimulating, a simple stroll outside or a visit to the zoo can be pretty inspiring.
Most of our fans has already fallen in love with your Modern Animals collection. How did you come up with the idea to design geometric animal heads?
I've recently finished decorating my apartment and there was obviously something missing on the walls – they were just too empty. So I figured, minimal designs would be perfect for this space and started designing just to see whether they're a good fit or not. It appeared they looked perfect so I thought more people would enjoy this kind of art in their homes. And so the collection started to grow. 
Is there any artwork in this collection you like the most? 
From the ones that are displayed on Displate I'm most proud of the Fox. It is my favorite animal.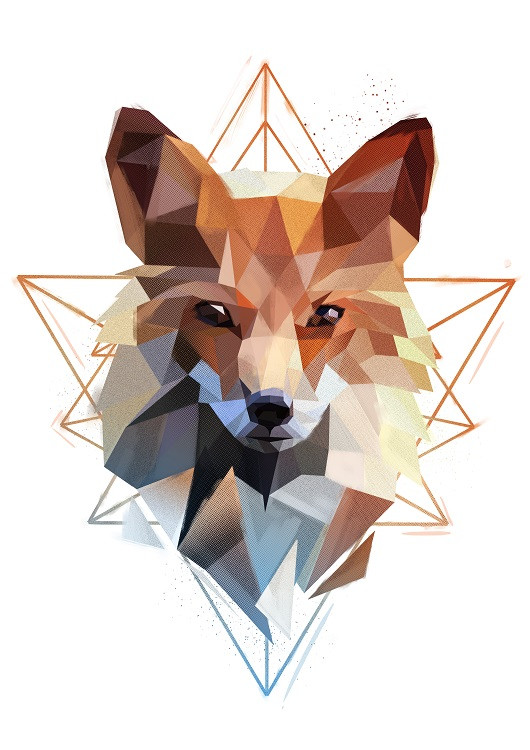 Do you normally spend much time promoting your art on the Internet? Because I assume your designs have a chance to gain a huge popularity on social media. 
Unfortunately not as much as I'd like to. The day only has 24 hours and it's too little for me to take care of everything. Because you know, life's not all about work. I've been trying to push my art a little on Instagram lately and show all of my new designs there.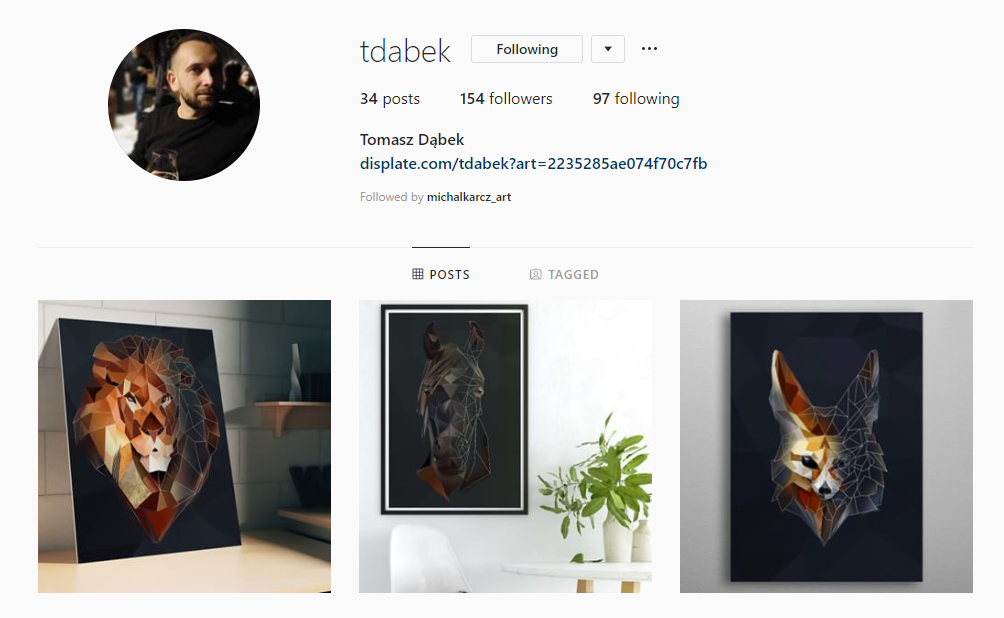 Is there any tool or supporting program you find most helpful to spread your art online and maybe earn more? 
Yup, I've just started using Displate Art Agent Program and I honestly think it's a great idea to support artists with an additional commission. By sharing this special link on my social media channels (in Instagram bio, Facebook posts etc.) I consequently work on growing my carreer. It motivates us artists to widely promote our art, letting us earn more in the same time.
Dogs or cats? 
Cats! I'd love to own Maine Coon cat one day, but unfortunately in my apartment there's not enough space for an animal this big. 
Inspired? Now don't you dare to forget visiting Tomasz's Displate gallery! And if you're curious how's his Instagram game going, jump in his Instagram profile, too!