While making first Blade Runner, Ridley Scott must have already known that the cyberpunk culture will soon affect and excite dozens of people. Steve Roe couldn't have known that it will affect him while deciding to leave his past behind and move from England to South Korea. He's a photographer, who wanders around the rainy streets of Seoul, searching for neons and Takeshi Kovacs. 
How did your adventure with the cyberpunk photography begin? 
I only started photography last year when I was backpacking round Asia. When I returned to Korea I was unsure what to shoot – then I realized movies likes Blade Runner could be recreated using the aesthetic of Korea's streets and neon signs.
And why did you even decide to live in Korea?
I left for Korea because I wasn't sure career wise where I was headed straight after University finished. My friend was teaching English out here and it looked and sounded awesome so one day I just bit the bullet and decided I had nothing to lose.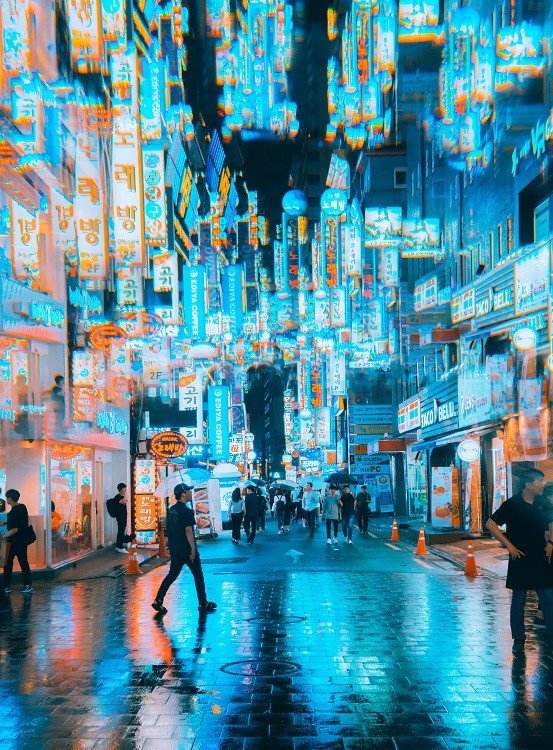 What do you do to create the holographic hint of color on your photos? 
I edit them on Lightroom – Blade Runner movie and Altered Carbon series both have distinct looks that I try and recreate. The use of Fractal Prisms idea first occurred to me whilst watching Altered Carbon. The main character takes an hallucinogenic drug that causes him to see a mirage of neon signage all around and above him. I wanted to recreate that somehow but not digitally so I looked in to light prisms and went from there. But I'm currently living in Korea and working as an English teacher. Photography is just a hobby.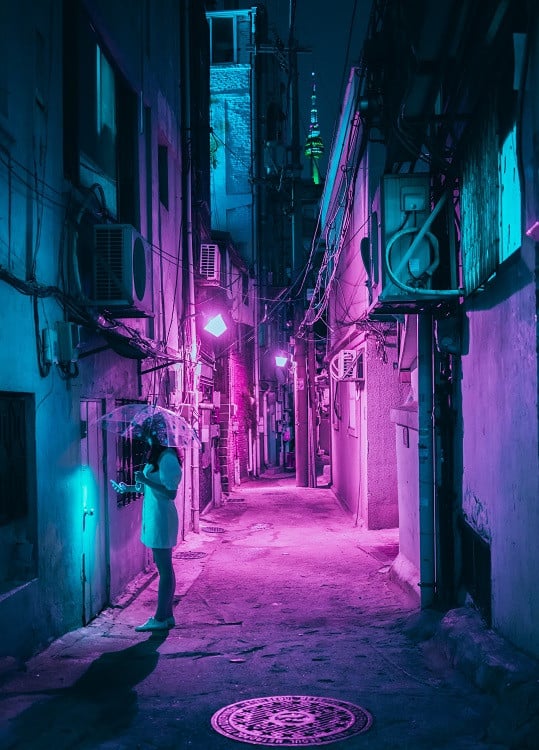 Since you've received Reddit's award for the photography of the year, I assume it's good to have a hobby like this. 
I'm not really sure how it's all happened really – I can obsess over things and sometimes those things stick and I just keep progressing and learning more.
But do you think photography may become your main thing one day?
Honestly I don't know – I'm only just over a year in and it's taken off so much already, so I have no idea where I'd end up. But I'm not banking on it becoming a career, I'm trying to be realistic and just enjoy it as a hobby for now.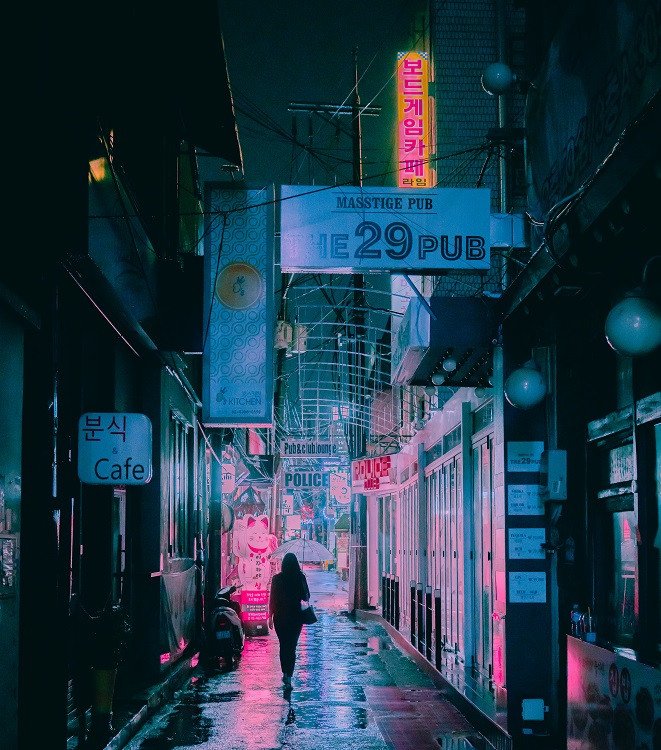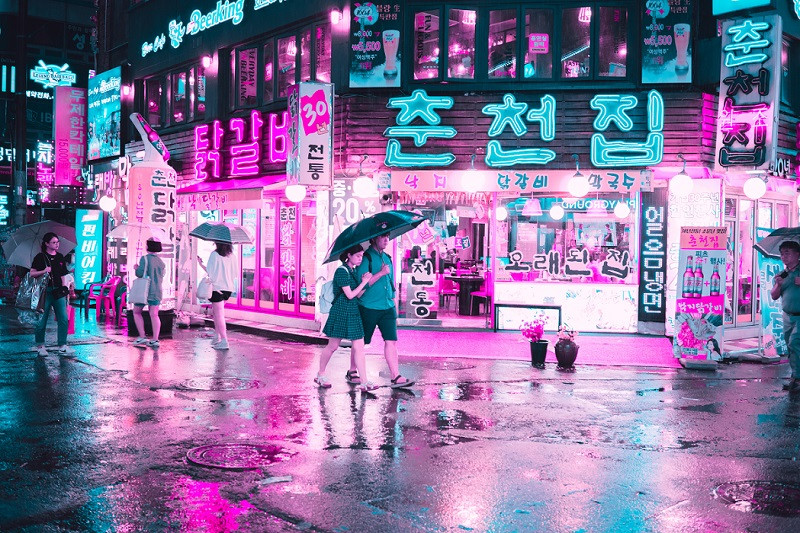 Movies, games and music have a strong influence on your work? 
I guess I'd always been drawn to movies and games that made use of neon signage – but only when I started thinking of what to shoot around Seoul did I suddenly start seeing them as potential to shoot. Along with that Seoul then had other cyberpunk features and aesthetics such as cramped alleyways and tech.
What do you usually look for while shooting? 
I look for alleys and neons – Seoul is sort of split by the river that runs through it. The south has all of the new buildings and shiny skyscrapers whereas the north is older Seoul. That's where you will find more cramped alleys and the amazing sight of cables running above ground with a load of neon signs around
So like a real mindblow? I can only imagine, I've never been to Korea and not even to Asia, but I guess it's full of… surprises.
Yeh, especially because I grew up in a quiet little village, so all of this was an onslaught of amazing visuals. It's totally different to life back home. But it's fantastic and I've seen lots of different parts of it now
And it doesn't overwhelm you?

Not really – I found life back home a bit too quiet and boring so I'm definitely happy to be in Korea.
Bonus question. Which do you prefer: original Blade Runner or 2049? 🙂 
I love the original for many reasons, especially because even if it was released now it would still look amazing. But I also love 2049 there are some incredible visuals and the soundtrack is huge.
If you're not blinded by the lights yet, jump into Steve's Instagram and www. 
And whoa! He's been featured on Designboom! 
Steve's metal posters to get here: Cyberpunk Seoul