Star Wars is undoubtedly one of the most impactful cinematic universes of the past few decades. Its impact garners fans from every corner of the globe. Star Wars is more than just a story of rebellion, freedom, and awesome space battles to its most loyal fans. It is a passionate journey that inspires live-action role-playing, cosplays, and bedroom decor.
The remarkable thing about the Star Wars films is that they are rich in captivating visual effects and design aesthetics. It's only natural that fans take these unique design elements and incorporate them into their living spaces. We've compiled an awesome list of bedroom ideas that are sure to leave any true connoisseur of all things Star Wars intrigued.  For more Star Wars interiors to love, enjoy these Star Wars nurseries.
Star Wars Bedroom Posters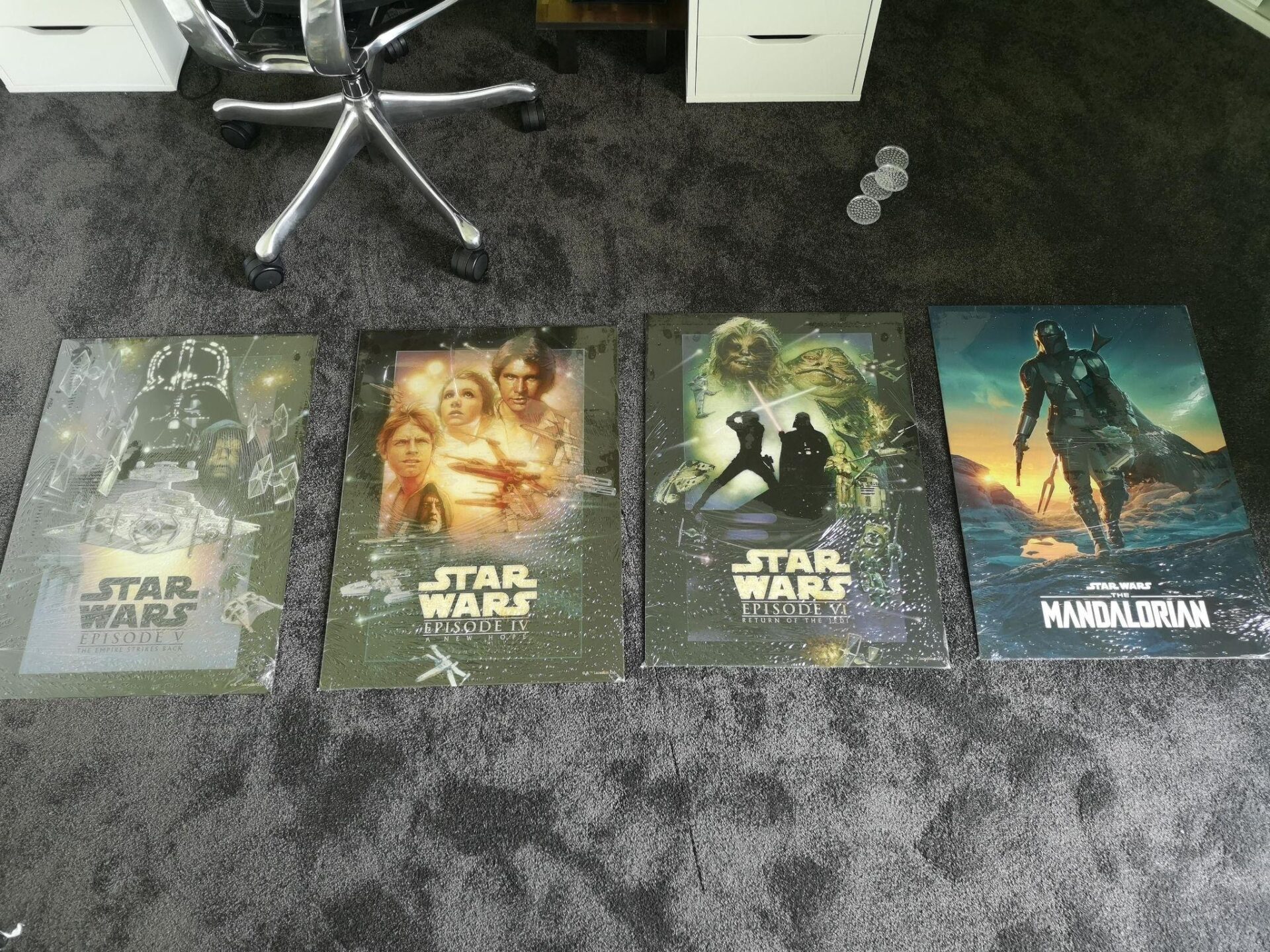 Via toonarmy1987
What's a themed room without the wall posters to match. These four Star Wars-themed Displates are a must-have. When selecting images for your bedroom, be sure to consider the color scheme you're going for. In this image, we have grey-toned art to match the cozy grey floor.
LED Mashup Workspace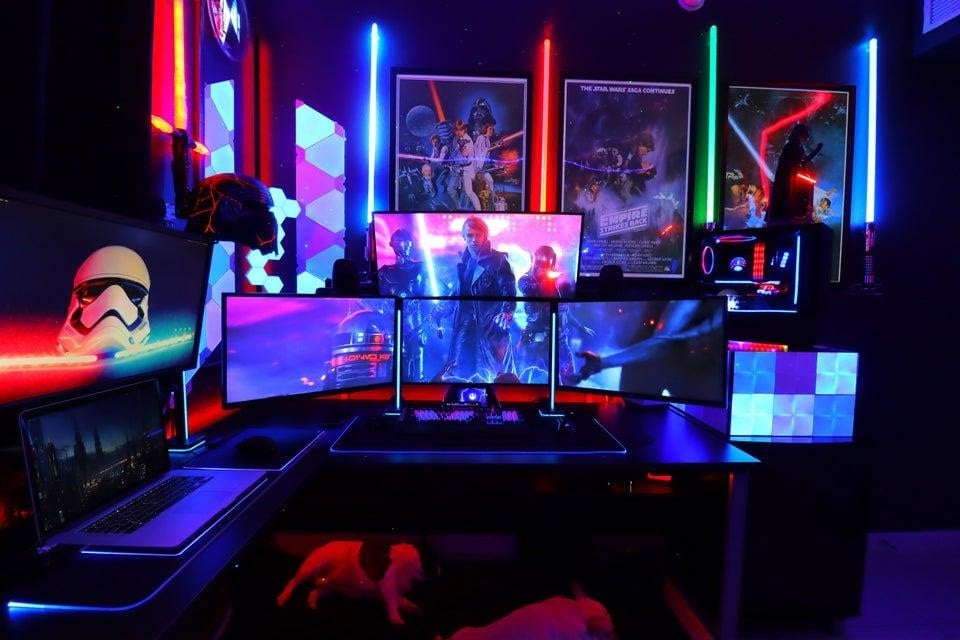 via dogofpavlov
Lighting is an essential feature when creating a galactic mood in your space. As shown in this fabulous room. Give your bedroom an awesome spaceship feeling with carefully selected LED lights. To keep with the Star Wars room decor, opt for lightsaber wall lights to really drive home the theme.
The Force Book Stand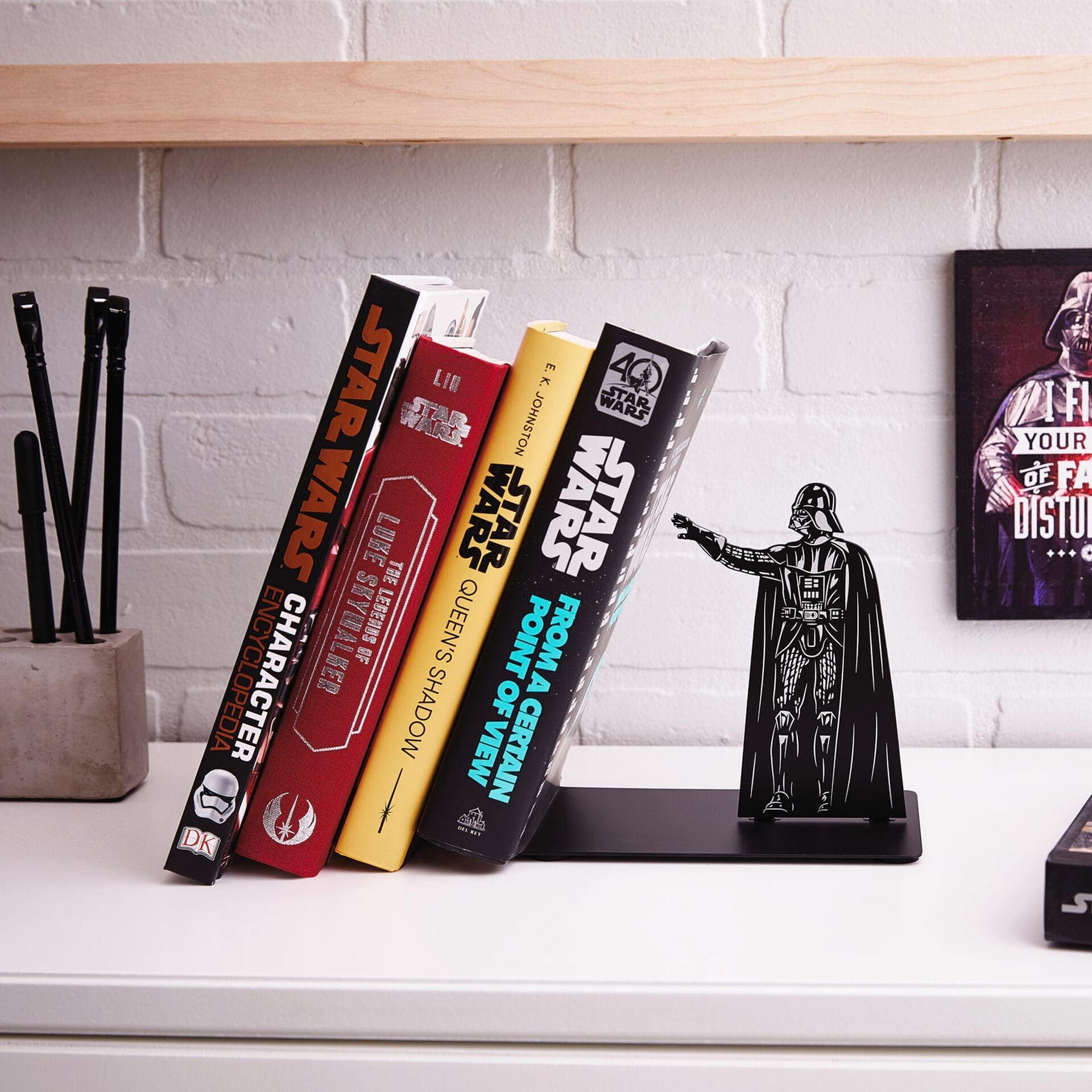 via hallmark
What's a Star Wars-themed room without one or two novels laying around somewhere. Let Darth Vader hold them up for you, using the Force. This cool book stand is a nice touch. One of the many cool accessories you could add to complete the theme.
Stormtrooper Station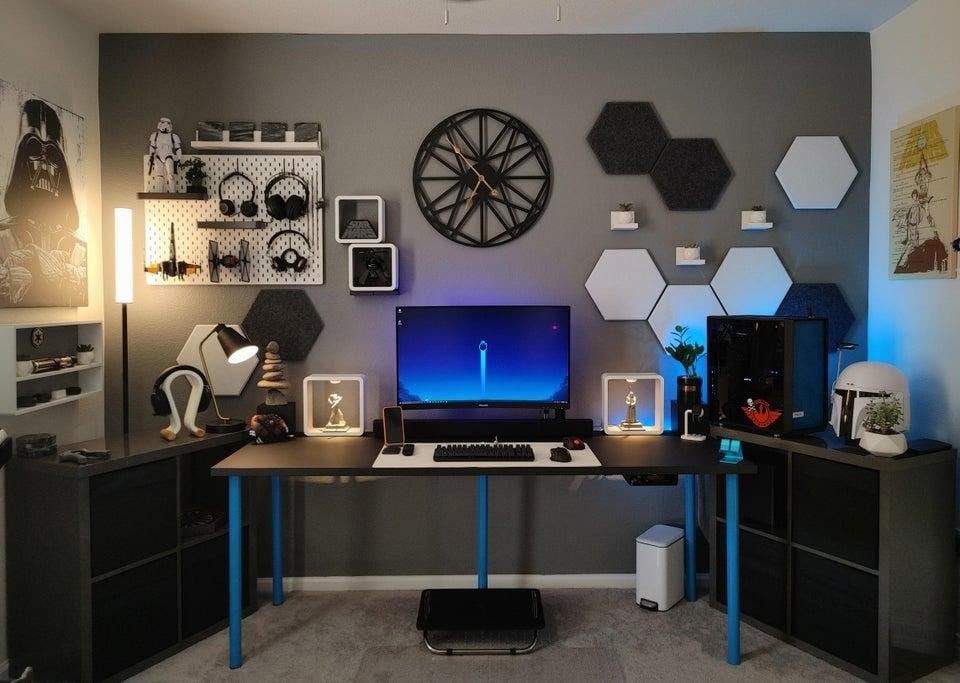 via svanir80
The great thing about having Star Wars room decor is that the color choices are endless. Star Wars does a good job of keeping its cinematic universe vibrant. In this cool bedroom desk setup, the curator has opted for stormtrooper colors. White and black. Adding some wall design pieces and extra shelving for models completes the entire room.
Blissful Pink Star Wars Bedroom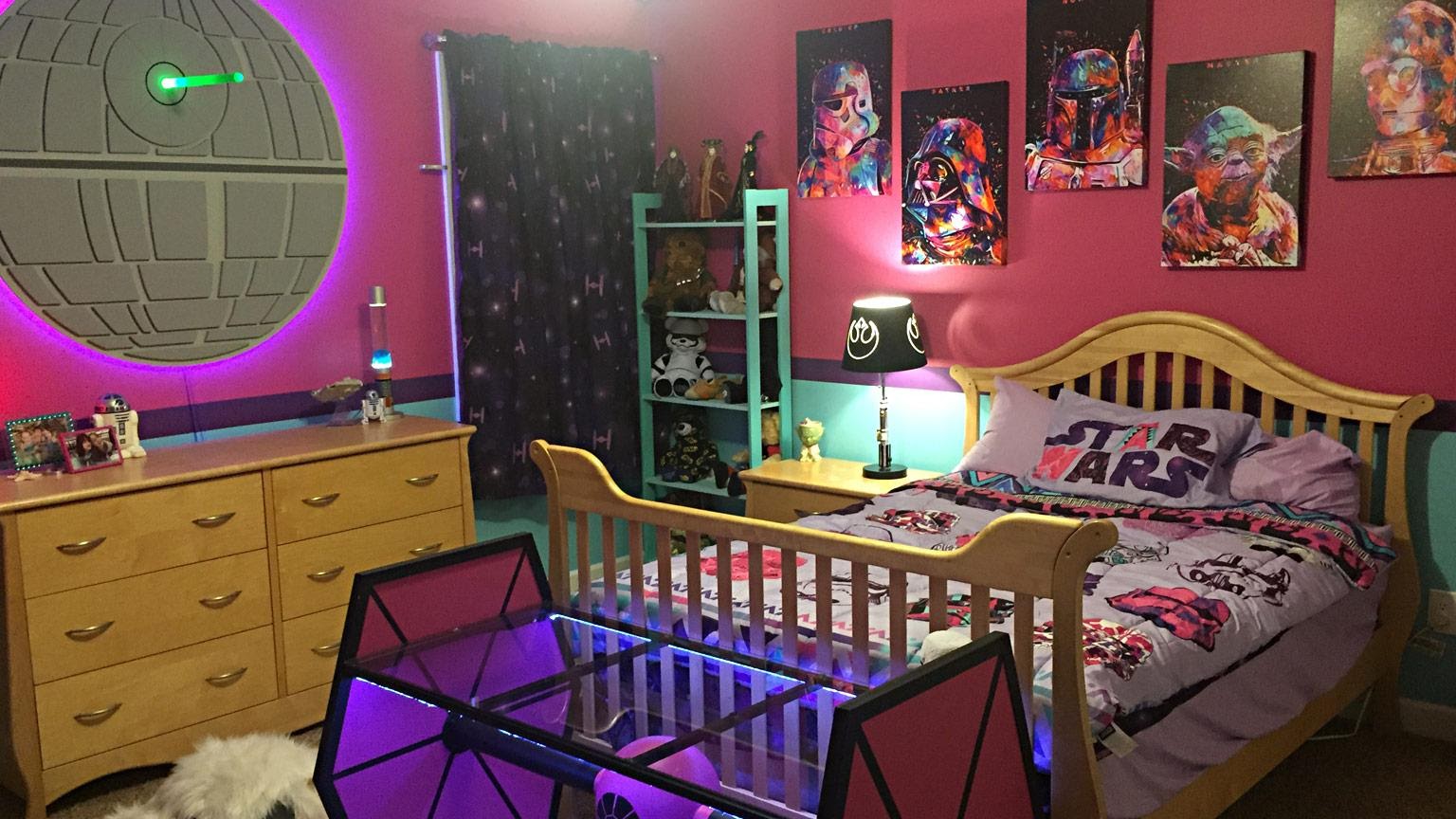 This one-of-a-kind Star Wars bedroom design is to die for, from the pink theme Star Wars bedding to the incredible wall pictures. Everything seems to work together seamlessly to create a great space. It's also worth noting the Death Star model with pink LED lights surrounding it. A nice touch for any fan!
Sleek & Elegant Bedroom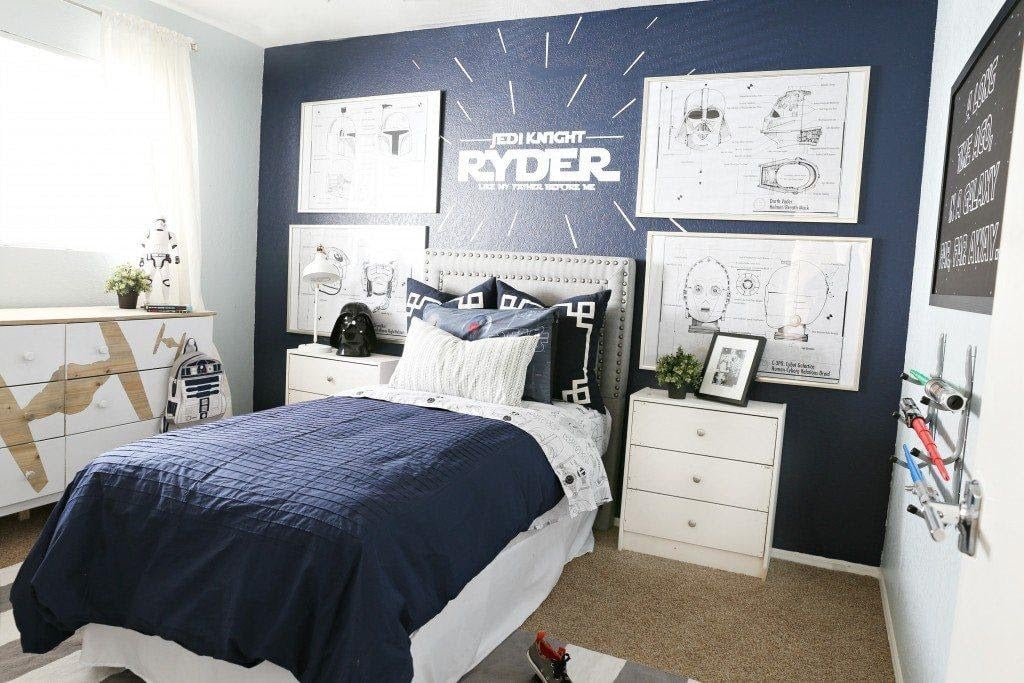 Via classyclutter
Here's a classy blue and white themed Star Wars bedroom. This fully immersive room has Star Wars room decor from top to bottom. This is every fanatic's dream.
Wall Murals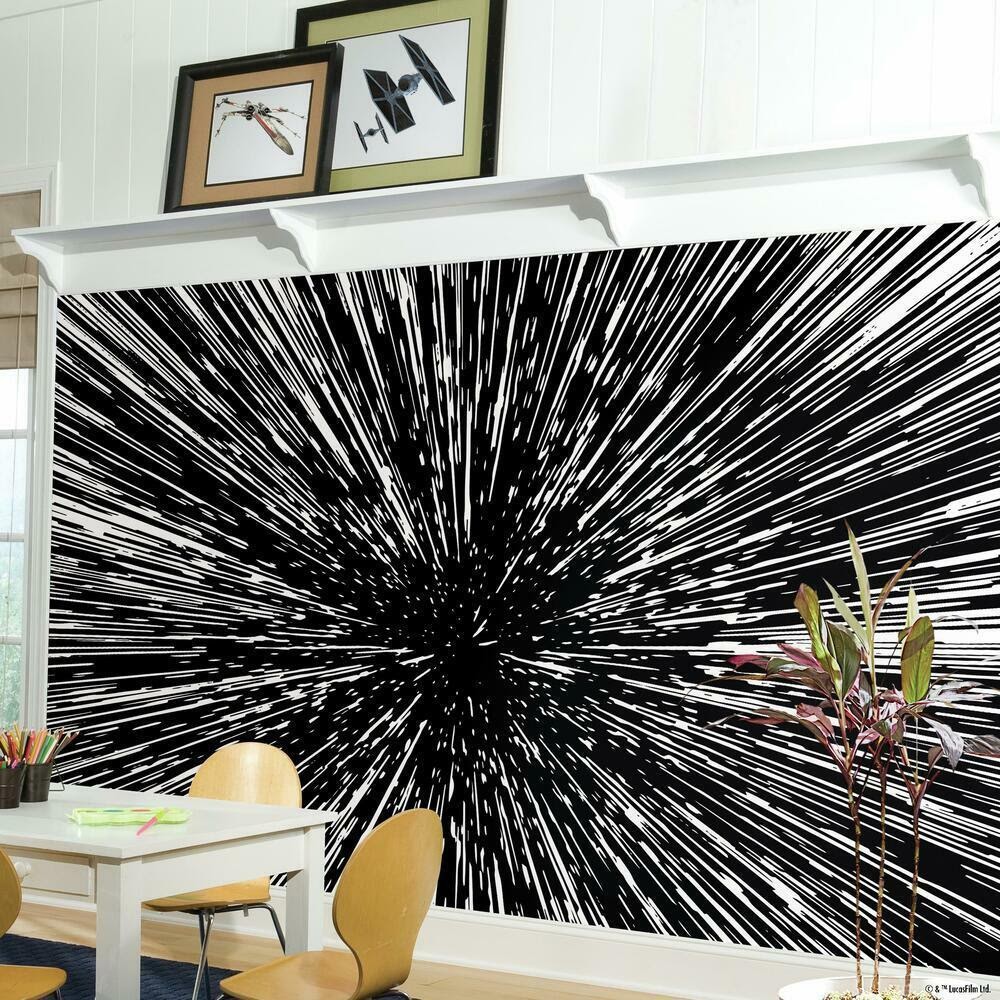 via roomatesdecor
Murals are always a great touch to any space. This Star Wars-themed hyperdrive mural is an excellent centerpiece for any room. Be sure to consider that a massive mural could limit further use of the wall, but it looks amazing nonetheless.
Plant Oasis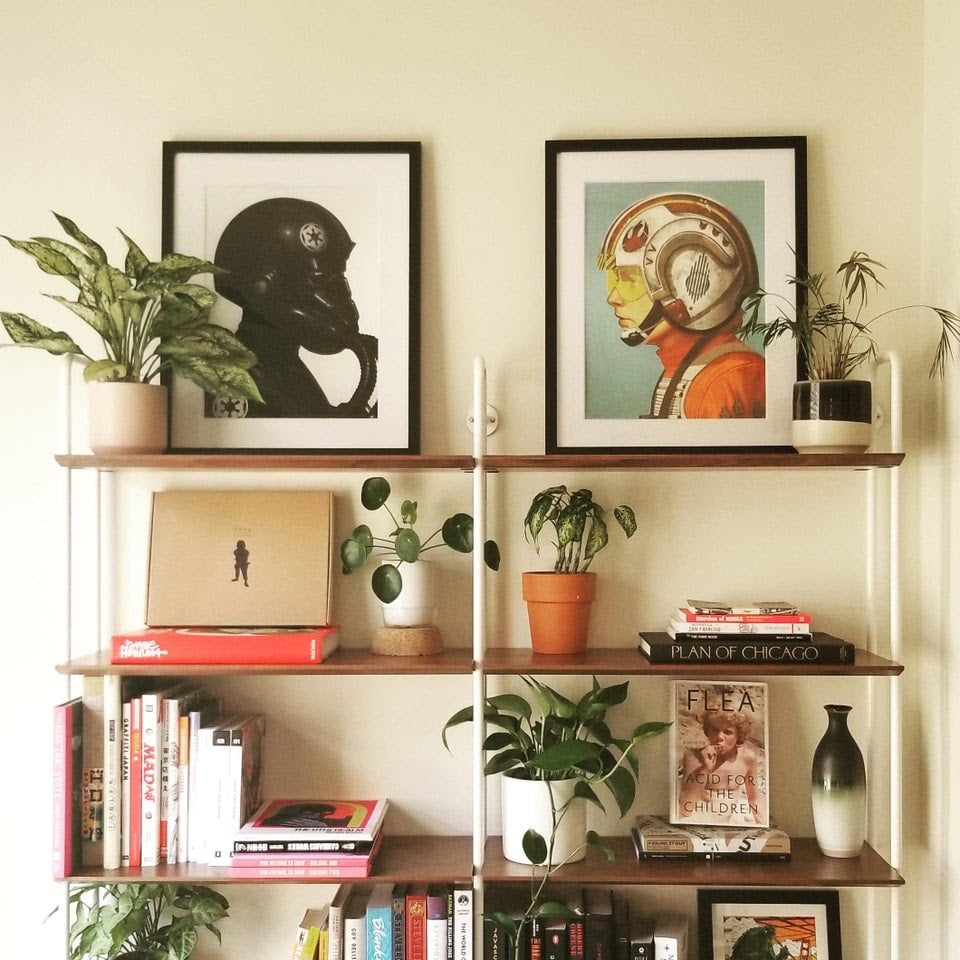 Via azureus00
Bookshelves can hold both sculptures and art pieces. In this example, we have a minimal decor. Just two images that complete the space and remind everyone that the curator is a Star Wars fan. Perhaps the perfectly themed Star Wars bedroom isn't the one with a lot of themed decor, but the one that uses minimal decor to make a big statement.
Galactic Gaming Station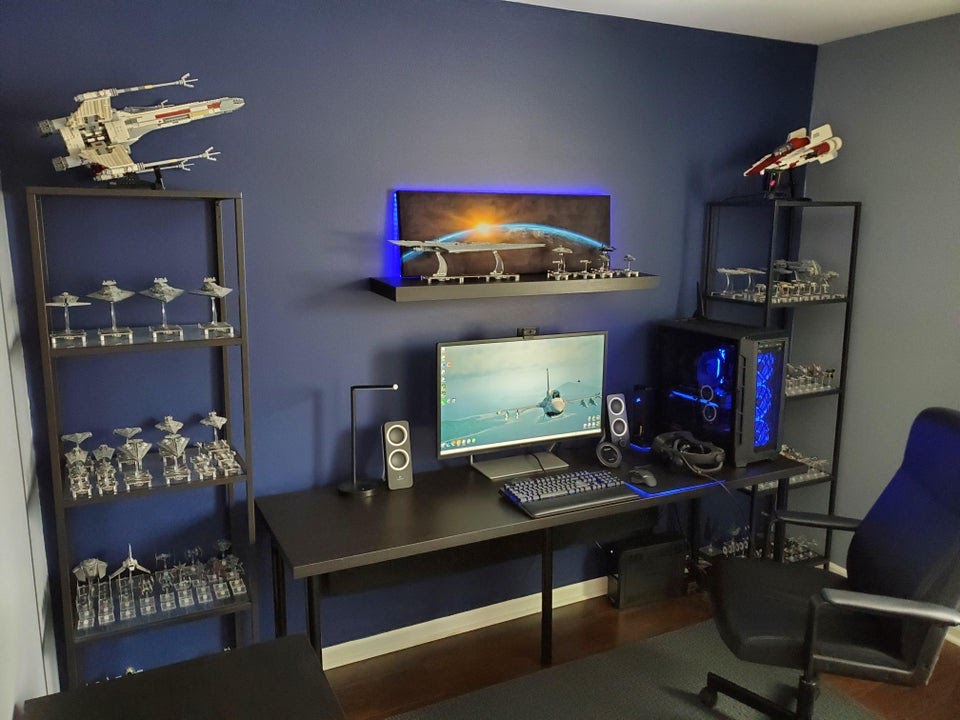 via robot_dinosaur86
Now, onto the collector's corner. A place Luke Skywalker can be proud of. These bedroom spacecraft models look both elegant and valuable. If you've got time and a passion for curating a collection of unique Star Wars figurines this bedroom PC setup should inspire you.
Star Wars Bookshelf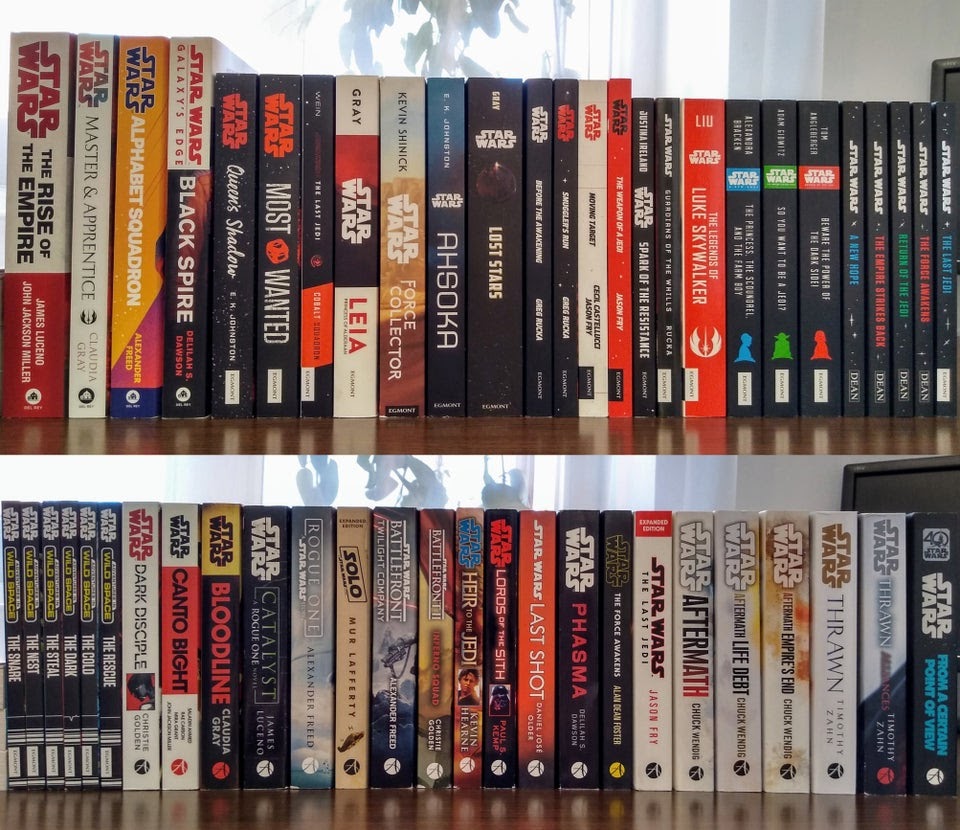 Via Kargast
The Star Wars franchise has everything, from games and toys to wall art. But, we can't forget the many books available for sale. If you enjoy reading, your bedroom can be the perfect place to curate a library of all of the best books.
Death Star Lamp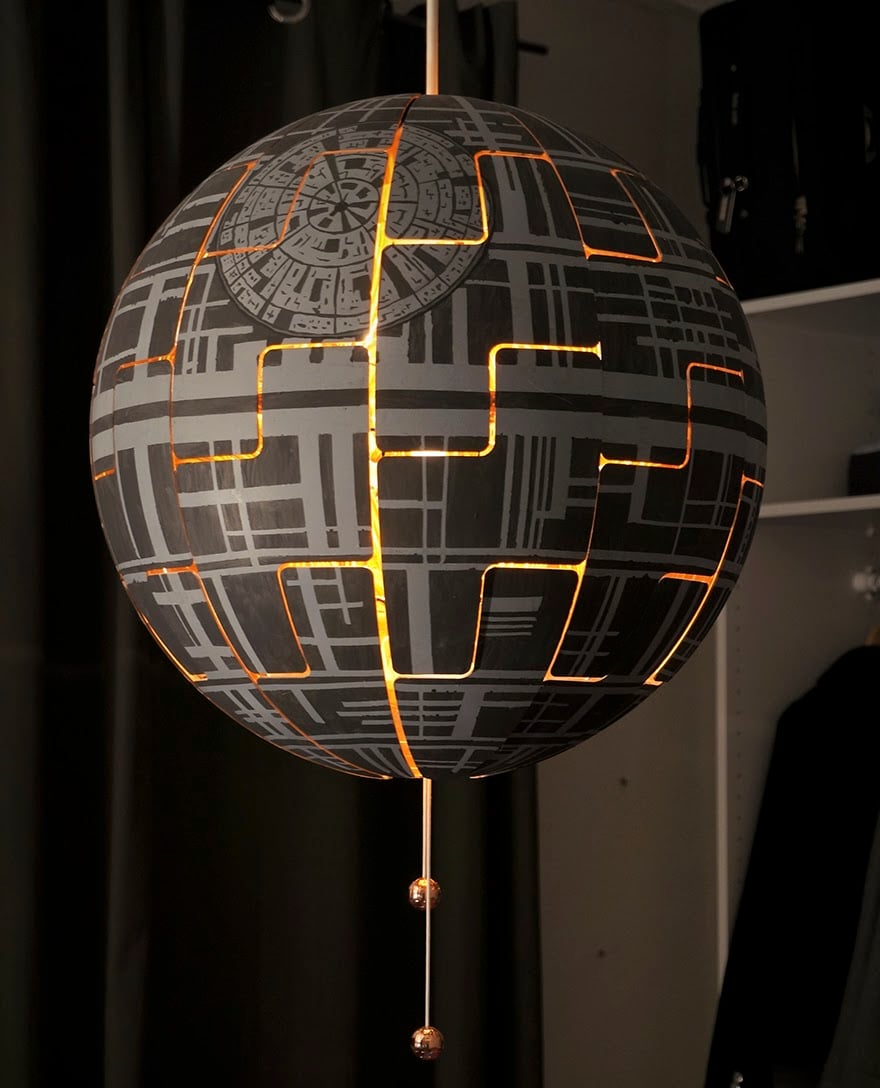 via boredpanda
Here's a pretty awesome Death Star lamp. Who says ceiling lights can't be cool too. This nice light cover will make any Star Wars bedroom look epic.
Star-Studded Bedroom
Via artstation
There's a lot you can do with small spaces, here's a great Star Wars bedroom idea for small spaced rooms. The lightsabers on the wall look great and we can't forget to mention the nice star effect on the back wall. It creates the feeling of being in space. Perhaps you will be inspired to paint your room the same.
Ceiling Lighting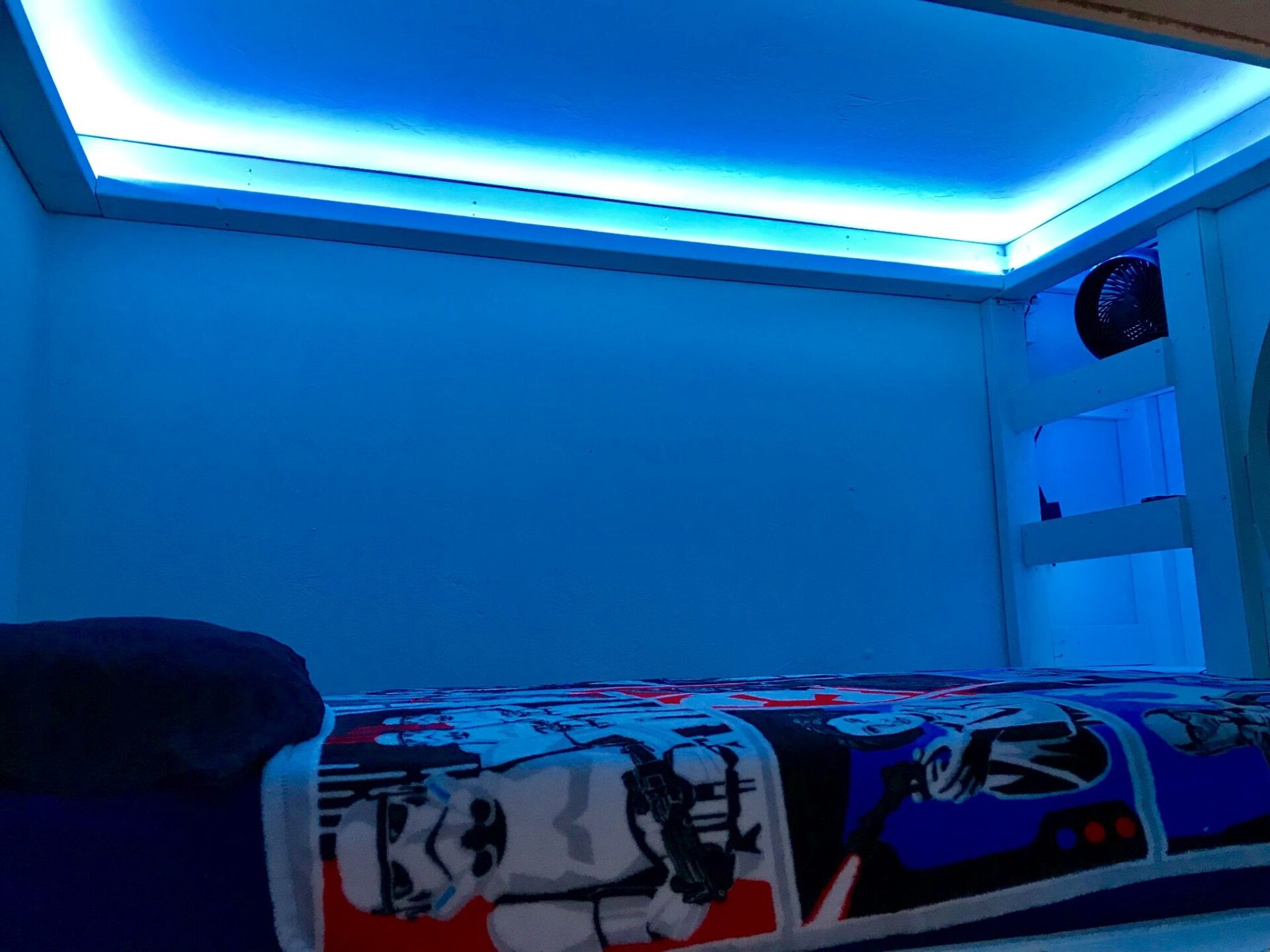 Via dericrw
What's better than Star Wars-themed bed covers? Awesome ceiling LED lights to go with it. Here's a pretty cool minimal Star Wars bedroom space for anyone on a budget.
Star Wars Lego Figurines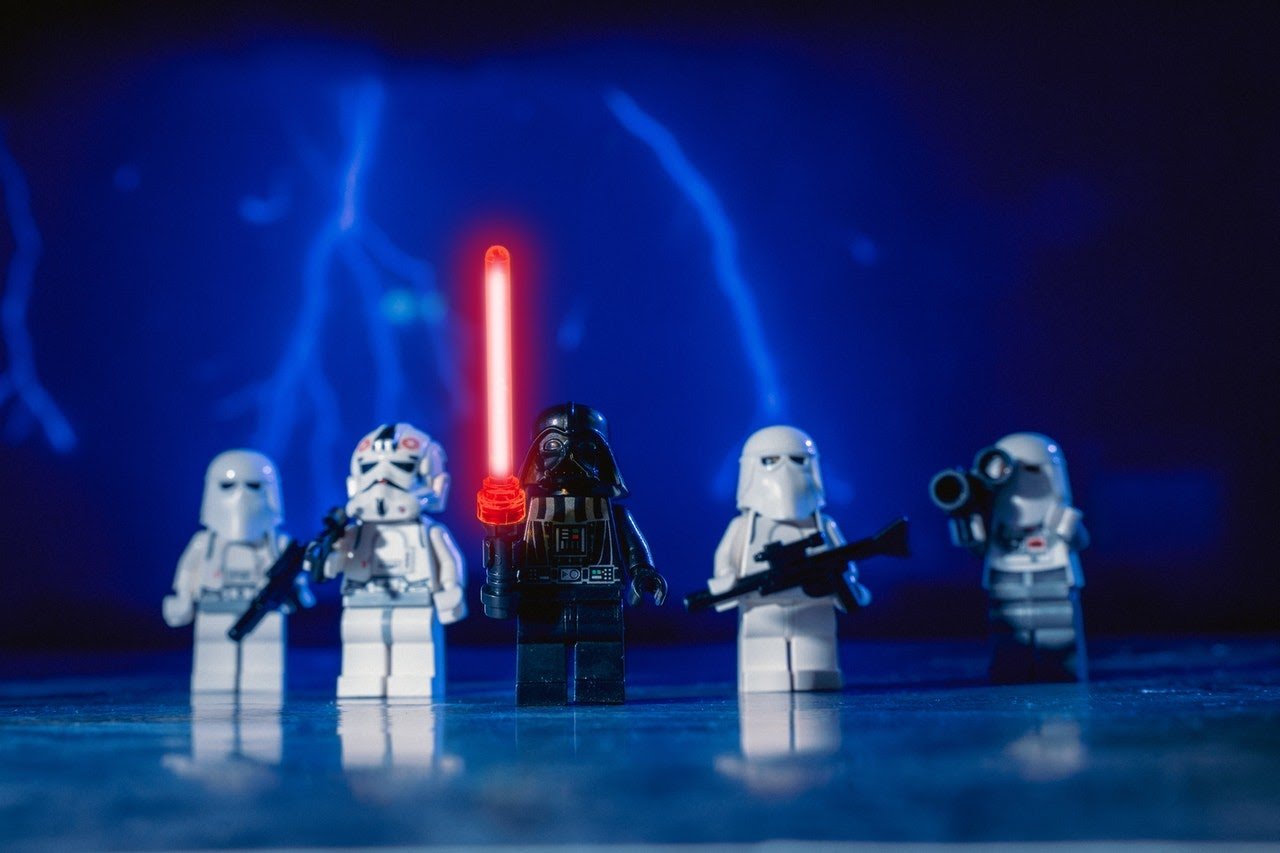 We can't talk about space-action-themed room design without mentioning lego figurines. A few of these cool miniature sculptures on your desk and bookshelves can look pretty awesome.
The Corner Workspace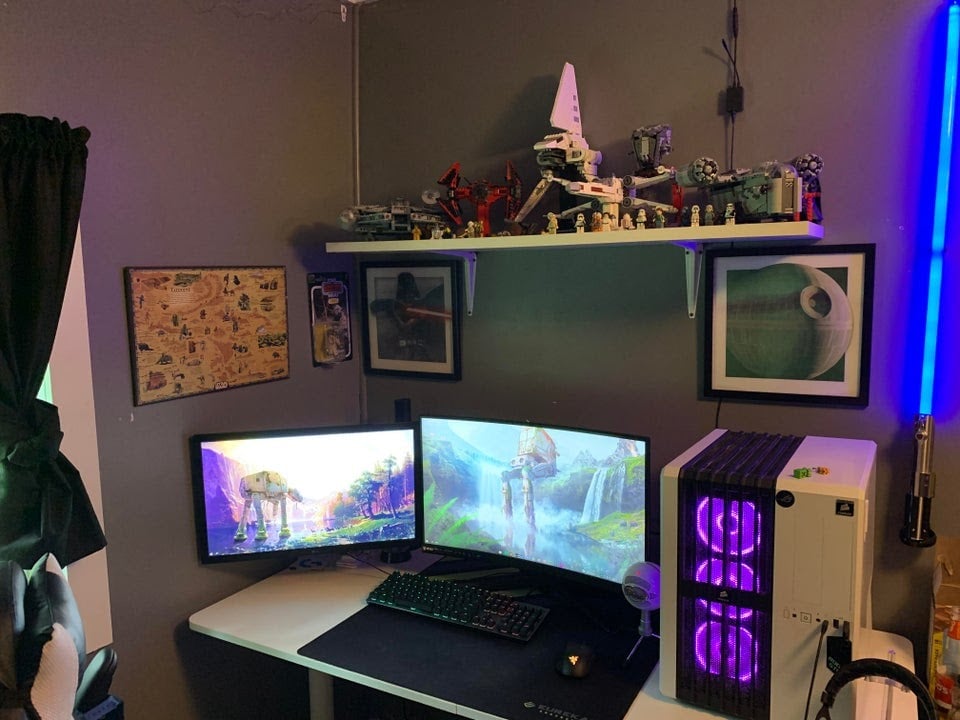 The Star Wars fandom has a marketplace for buying and selling Star Wars figurines and ship models. If you have a shelf on your wall, you can showcase all of those cool collectibles.
Hive Wall Lights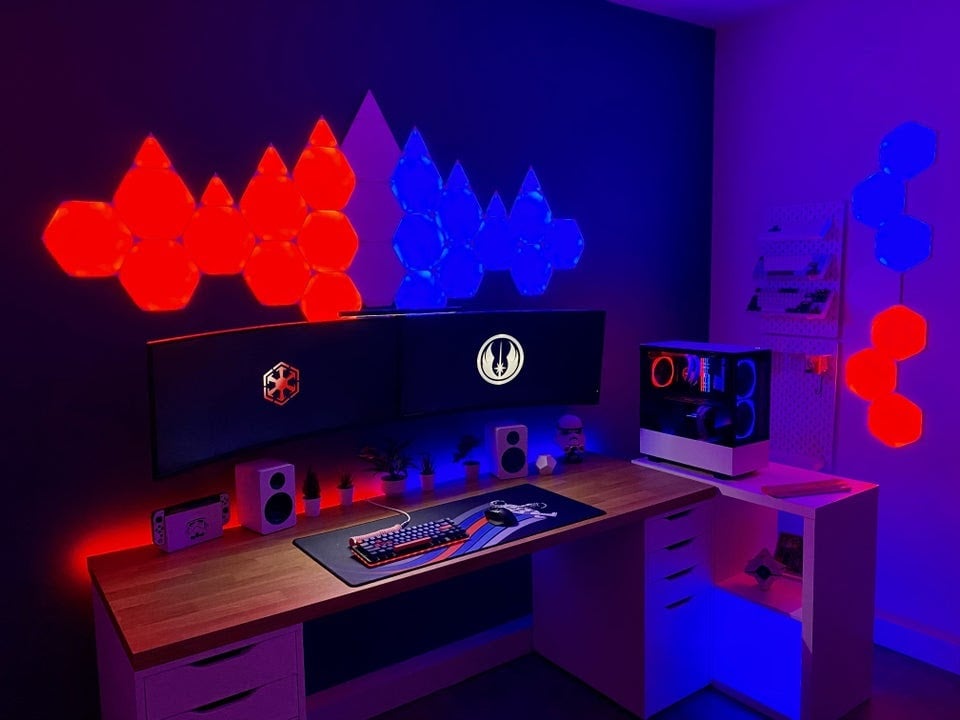 via scolgan
Here's a pretty nonchalant Star Wars-inspired space. Sometimes minimal is a great aesthetic. The hive wall lights complete the space, creating a nice space for gaming and work.
Star Wars Bedroom PC Setup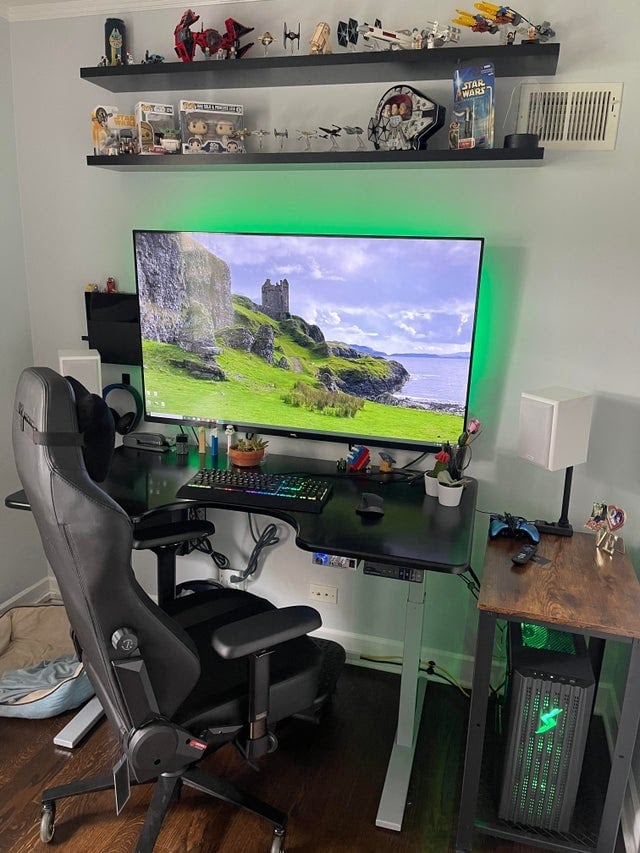 via bh1198
The most important rule when creating a Star Wars-inspired bedroom is to make it uniquely your own. Here's a great example of a bedroom workspace filled with miscellaneous Star Wars items. Be bold and start collecting whatever you think is cool, and use the space you've got to make it your own. No two Star Wars-themed spaces are the same. And that's a good thing.
High Budget Room Transformation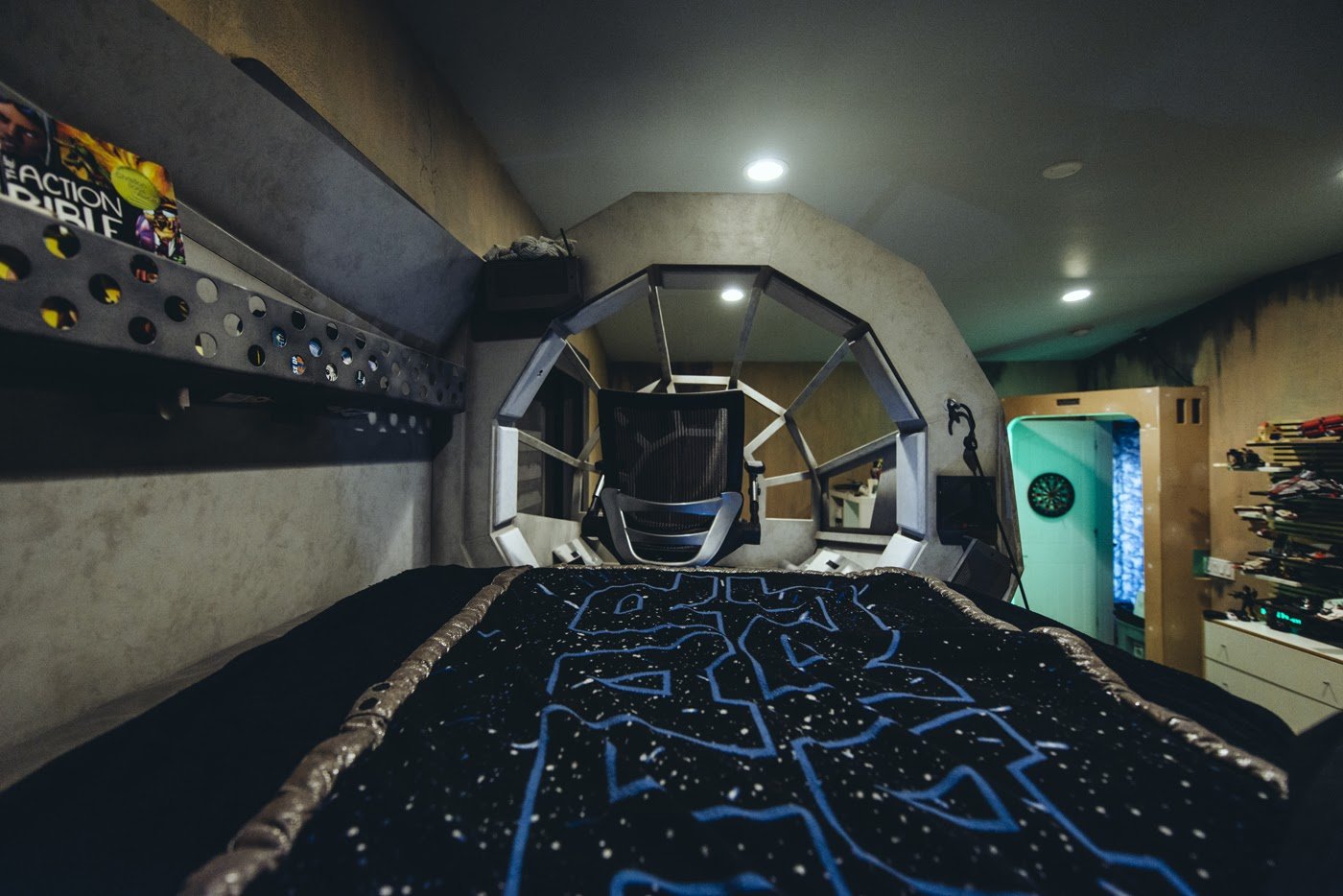 Via planetjoestudios
Some Star Wars-themed bedrooms are truly mind-blowing. This epic room feels like it's in the Millennium Falcon. Nice touch with the themed bed covers. If you're looking to create something more unique, consider replicating this dedicated space.
Darth Vader Mini Pillow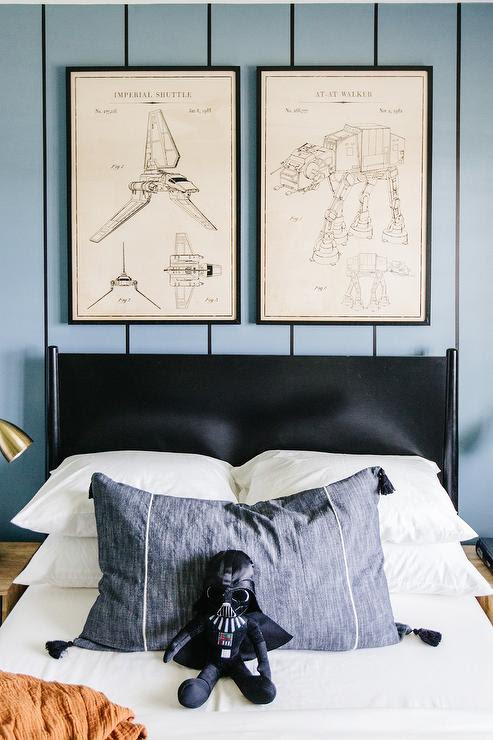 Via decorpad
What is a Star Wars bedroom without a cute Darth Vader pillow? Small accents like this can make a world of difference in decor.
Sith Sculpture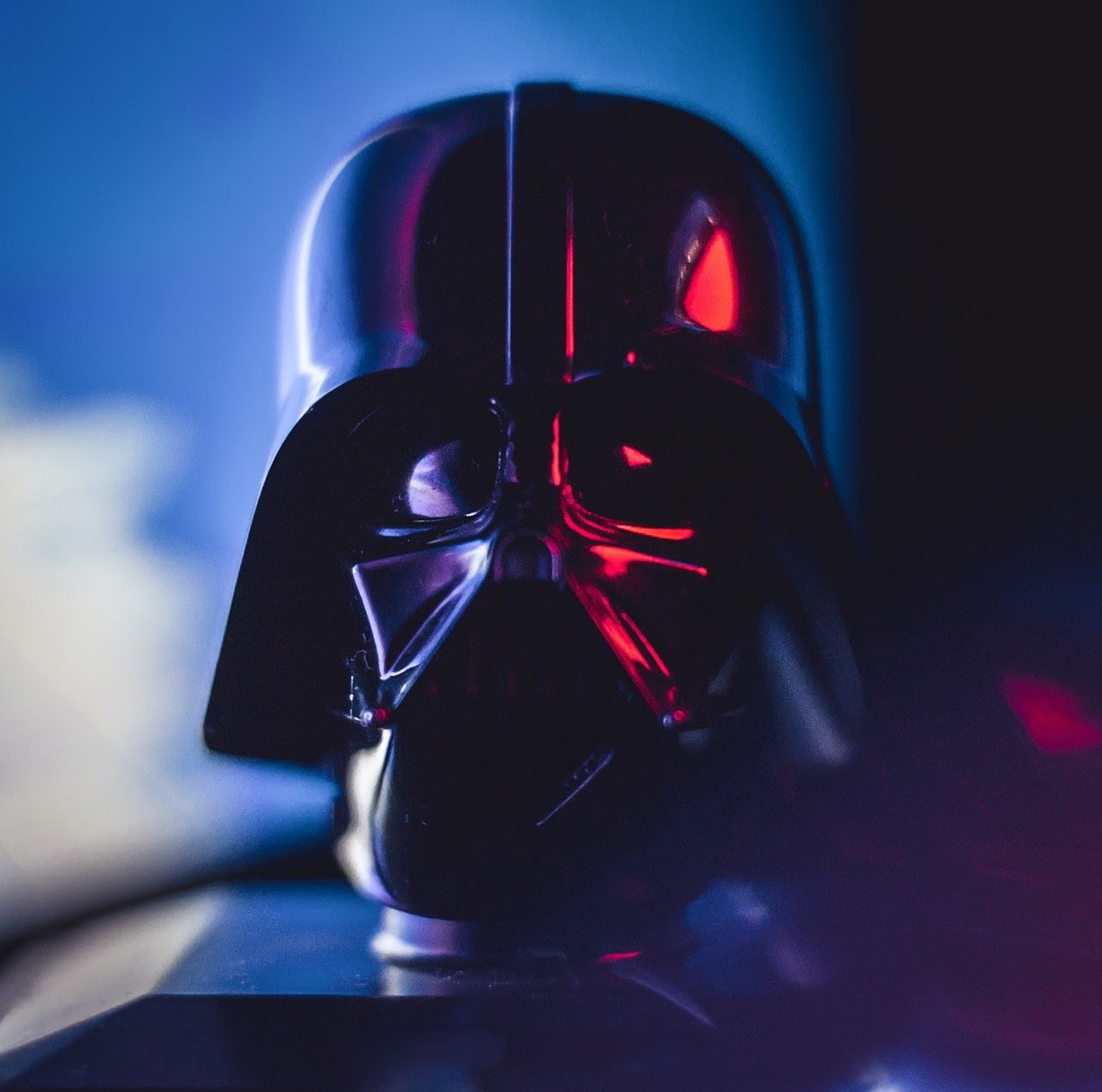 Had to make a nod to this cool helmet sculpture. Great for a desk or side table. It's the perfect accent for your space.
Star Wars Posters and Shelves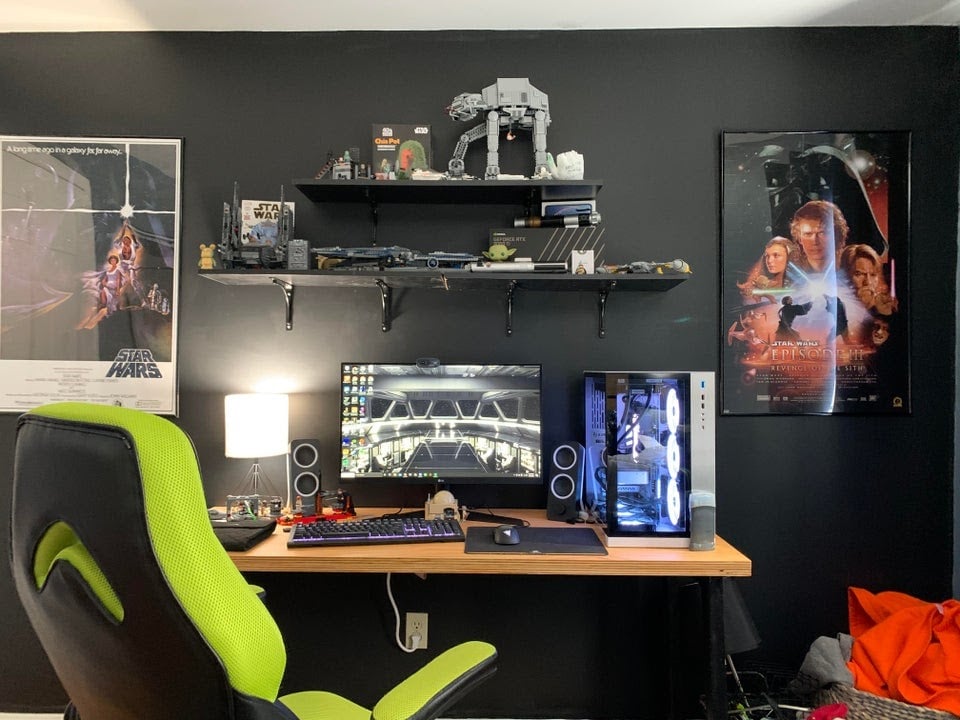 via thiccrhondacivic
From the two glossy posters to the awesome models on the shelves, this bedroom workspace is a great amalgamation of different decor pieces.
Sith Lord Desk Lighting
via brycechang
If you've fully embraced the dark side, why not create a striking minimal bedroom workspace like this one. The purple background light and the red lightsaber make this room feel eerie, in an awesome way.
Inspired Flags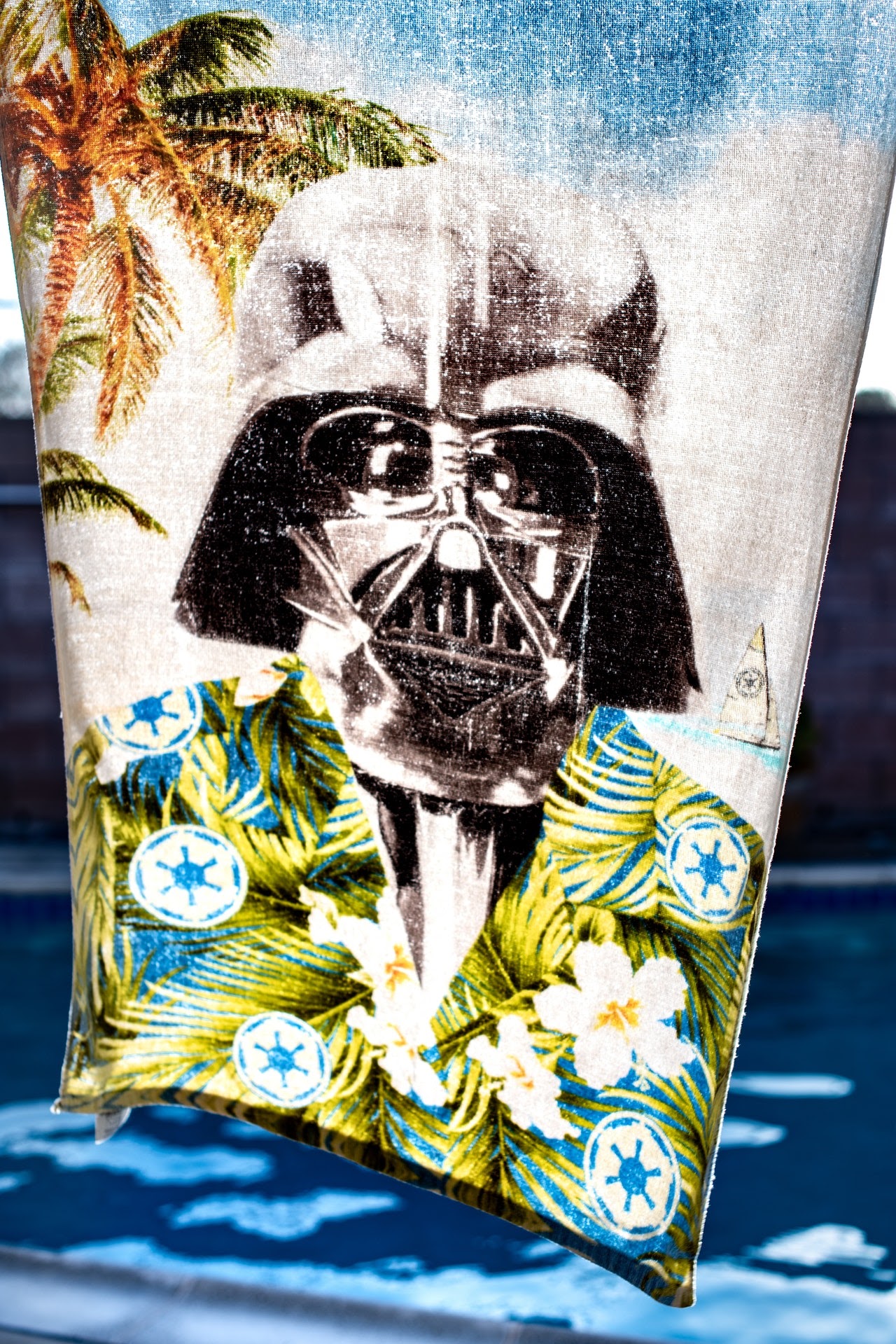 Some flag inspiration for people looking for something eclectic. Get some themed flags to spruce up your space. Flags can be mounted on walls or bedroom doors.
Minimal Wall Decor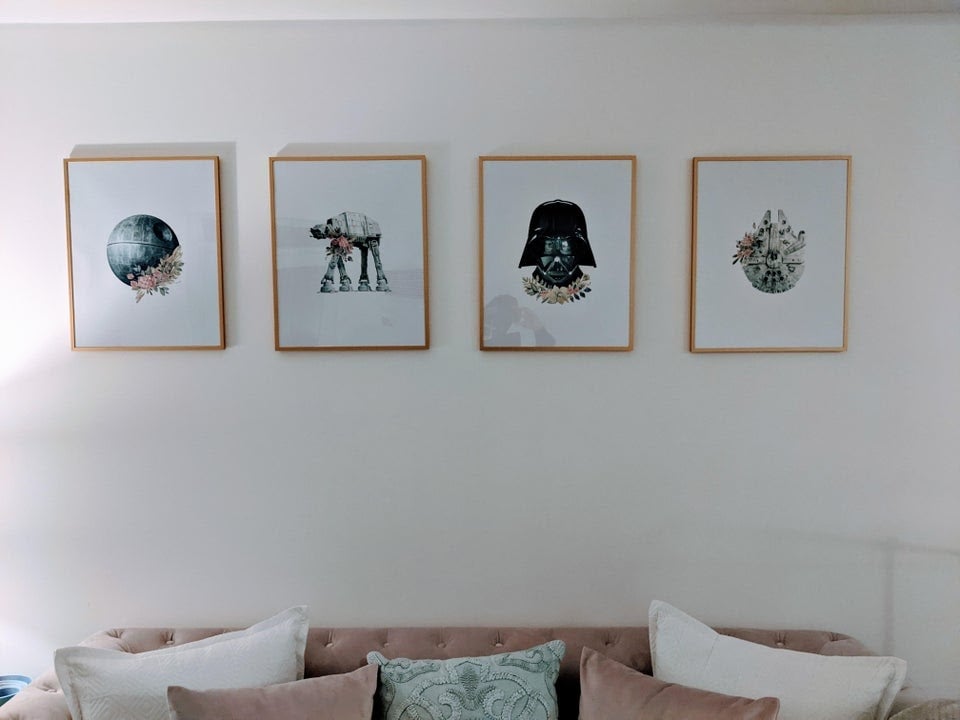 via forward2323
Star Wars decor is versatile. This minimal white space is both classy and dedicated to the theme.
Blue Immersion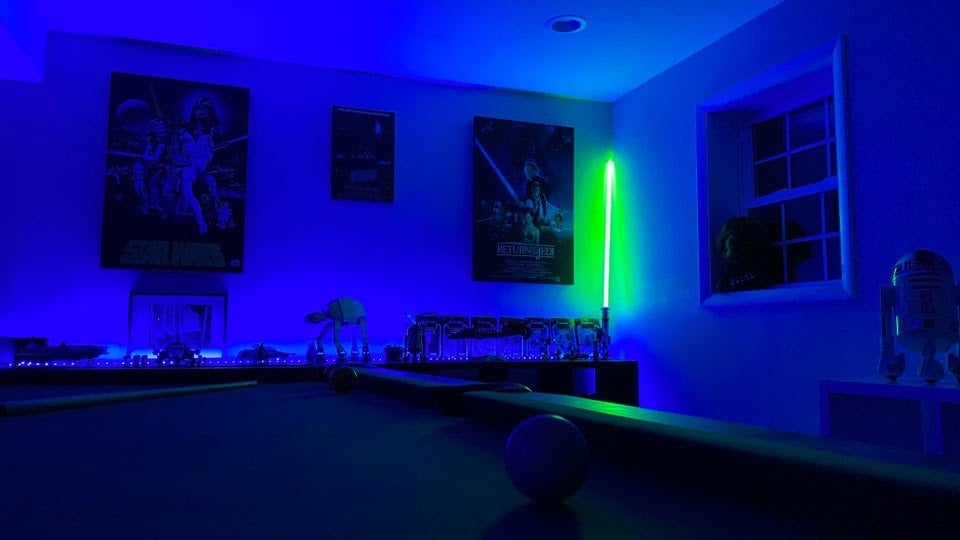 via elereno
These blue LEDs completely transform this game room.
Cute Baby Yoda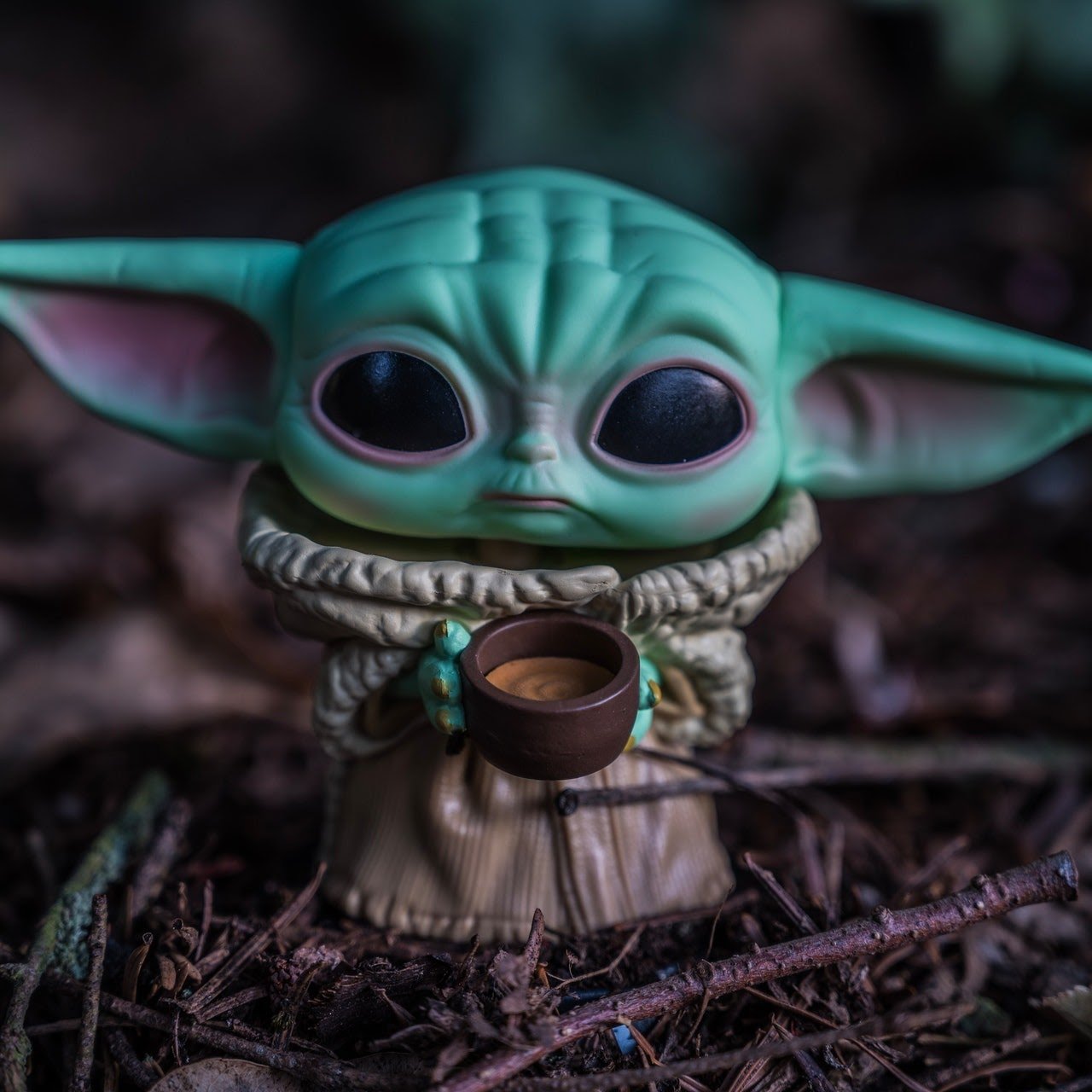 Got a bedroom with a balcony? Or do you collect plants? Why not hide a little baby Yoda in your bedroom for some daily motivation. There are many cool sculptures you can add to your room. This would be a great purchase for the Yoda fans out there.
Bookshelf Inspiration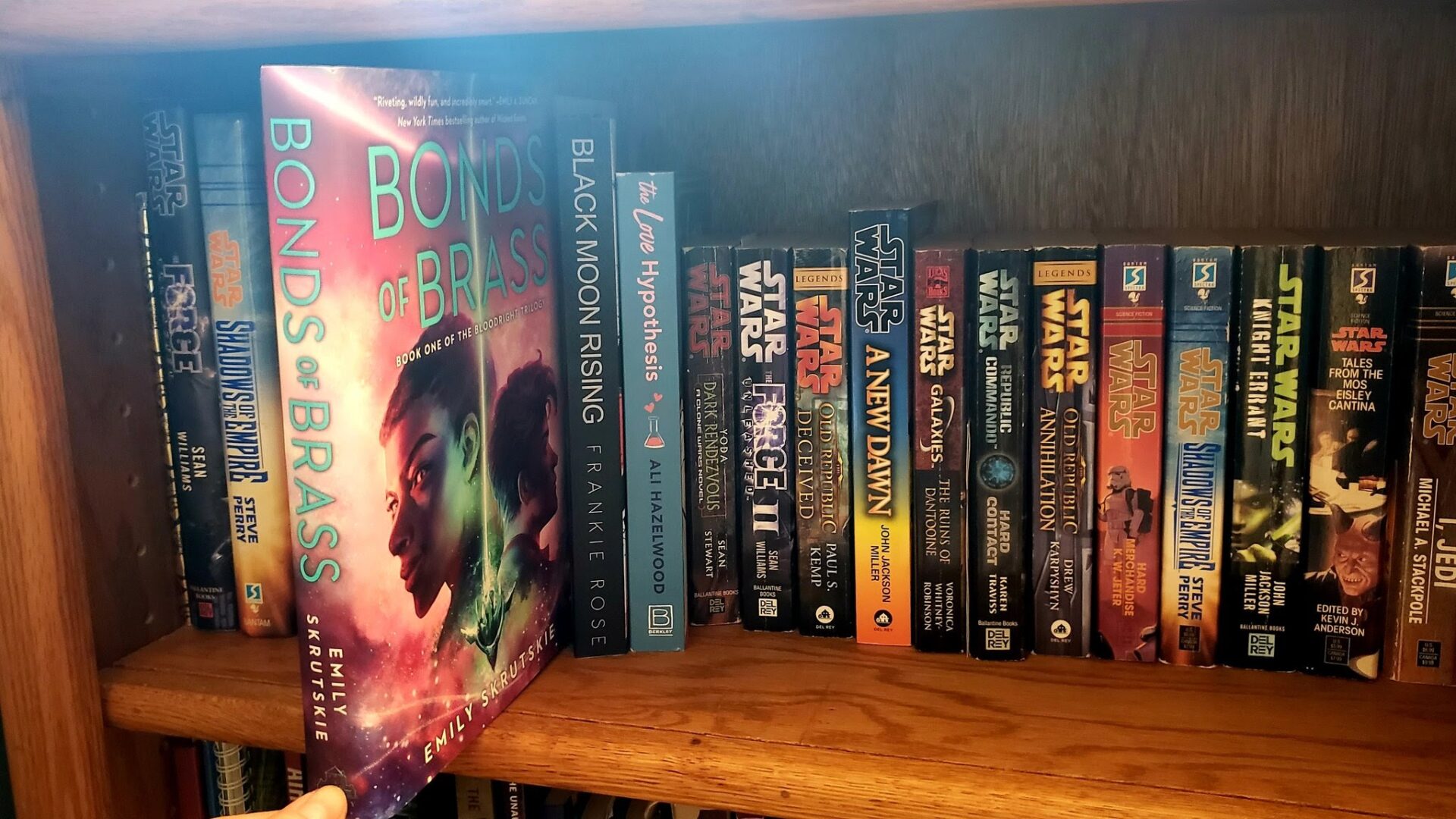 via JennyENicholson
We can't talk about Star Wars without mentioning books. If you've got a collection of Star Wars novels, it would be awesome to showcase them on a bookshelf.
Mugs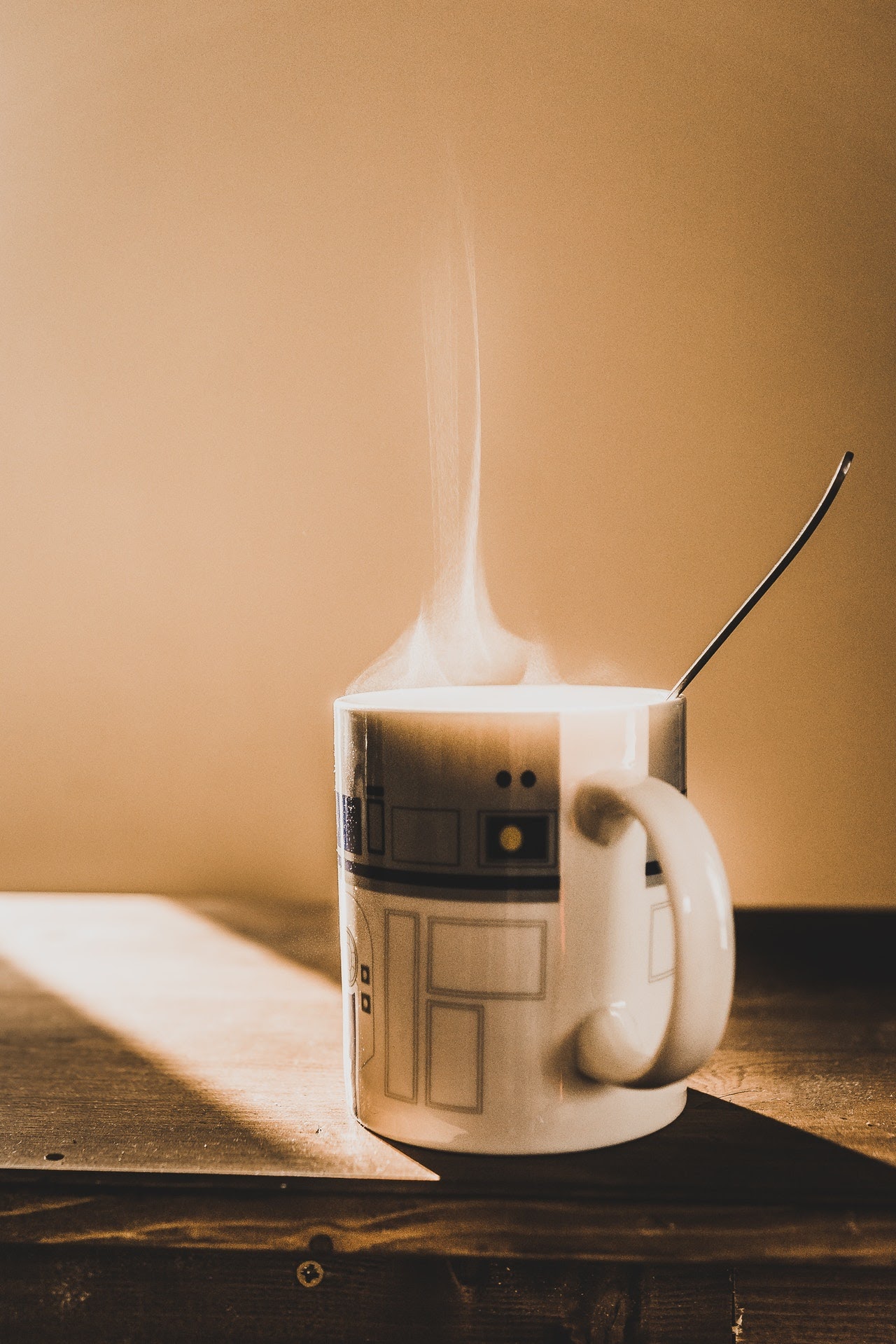 Star Wars-themed mugs too. If you've got the wall art, the figurines, and the lightsaber lights nothing can stop you from collecting a few mugs. Some for the daily dose of coffee and others for decor.
Ultimate Collector Station
Via homeanddecor
Now for those who're dedicated to collecting the most iconic memorabilia, take a look at this cool glass case with some great toys and models.
Conclusion
The perfect Star Wars-themed bedroom is in your grasp. Find out what inspires you about the movies and run with it. Create a space that you can be proud of. Hopefully, this article has given you some inspiration, now it's up to you to get some of the cool stuff you've seen in this blog post. Happy curating!