If you're reading this you've probably already thought of how the parallel world could look like. It may have something in common with the Stranger Things' upside down, full of darkness and cylindric objects floating in the air. It may, however, be the land of Unicorns eating cotton candy for breakfast, but come on. The other world has to be cryptic, enigmatic and spooky and that's how Michał Karcz imagines it. His parallel lands are the reflections of his dreams, visions, and fears. Empty and post-apocalyptic, they leave us with the feeling of anxiety. 
When was the beggining of your artistic adventure?
My journey began…I really don't remember this date because since I remember this kind of creative activity was my way to express myself, to move ideas into the real world. Digital art, photomanipulation, photography are my creative areas and I can tell that the real beginning of everything that I do now was when I started painting. It was before I went to the School of Art in '92. It was hard as everything. For a few years, I've been working on my present position and possibility of doing what I feel is important and creative. Now I choose my clients and project which I want to be involved in. Those which could fully use my skills and imagination. I hang the bar for myself high and don't want to lower it. Without all those things I could feel unrealized, dull and my life would be pointless. I can tell that I feel almost complete in this field, but I know that there are still many things to do. Everything flows and I'm going with it. I'm still searching for more. New and different ways of artistic statements are waiting and I've already started to discover them, but it's another subject and story for another time. In 2004 I have started my journey which lasts until now. I care almost obsessively about composition, details, and colors. I'm trying to make it as close to the first vision as I can. When I think about it now I can say that my workflow is based on the same scheme as it did with paintings. Preparations, background, pasting of next layers. Dramatics, frame composition, coloring, and the main theme is based many times on my fascinations with painters which I mentioned below and I can say that I don't have any photographic role model or digital artist for now. I don't think about my paintings during my work, but for sure they have a major influence on my approach to what I'm doing now. 
Are you a professional artist? 
I graduated from High School of Art in Warsaw and the School of Commercial Advertising in Warsaw. I learned digital media software and photomanipulation myself. Over the past 14 years, I have improved and developed my own techniques to achieve a level that will satisfy me and give me the opportunity to create most of my ideas. During five years of my studies, I have created some of the oil paintings inspired by dreams and visions, but I wasn't happy with the final effect. It was not so polished, it lacked dynamism and realism so I just left it and took up photography, which started to fascinate me. At that time it was still traditional (materials and developing chemicals, machines, and techniques), but it was very complicated especially during the mountain trekking and photo shooting. Gear was heavy and bulky because I used middle format cameras and 6×6 films, but well, each frame was created with more patience and heart. After a big revolution which brought digital photography and software, I found out that I could combine these two techniques into one piece. So, after all, this is where I am now.
Where do you look for ideas for your designs? 
I must say that music and dreams have the biggest impact on my work. They are inseparable elements that always accompany me and which occupy my mind. They are like sound illustrations for non-existing sceneries and moments. Nature around me is also a very strong stimulus. Processes, complexity and its beauty affect my imagination. Close contact with every part of this planet. My inspirations, themes, mood, composition, color usage come also from painters, especially from Zdzisław Beksiński, John Martin, Caspar David Friedrich and some futuristic visionaries like Moebius or Syd Mead. They are always somewhere around me and their spirit is noticeable in my artworks.
Is there anyone from the art world you'd like to collaborate with?
It is really difficult to choose someone by name. I just never thought about it. Perhaps they would be sculptors, fashion creators, who would correspond to the combination of their imagination and skills with mine. I am very demanding and expect maximum creativity and skills from myself. I do not know how it could work with someone as a co-creator. Maybe I would be too demanding for him or would like to impose his vision 😉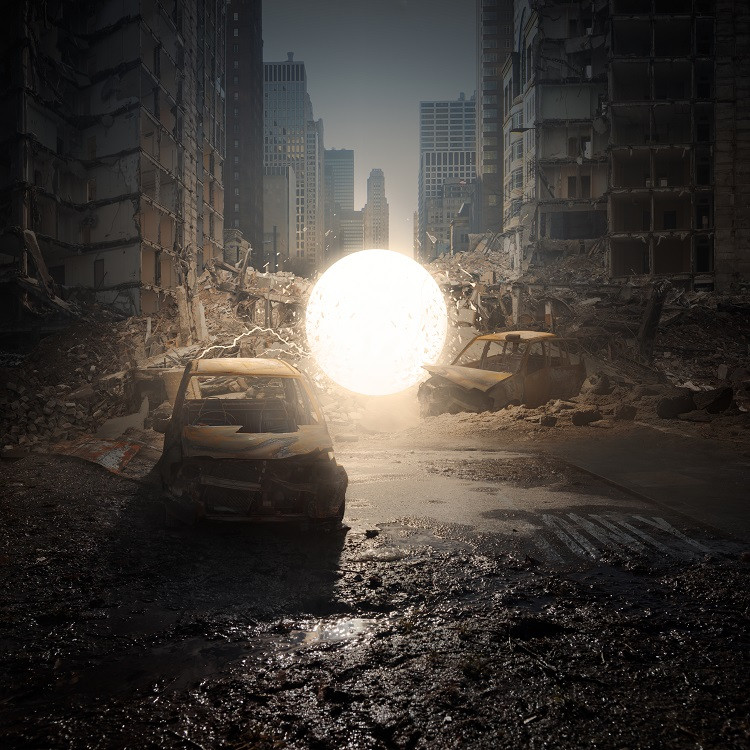 What are your main ways to motivate yourself to create? 
I do not have to. A strong will to create is always very close to me – in the pictures that I see everywhere around me and music. I love to create. It gives me the opportunity to visit places that do not exist, escape from the real world. I can say that my work is a gateway for anyone who needs it like me.
Can you name any design trends you find most stimulating these days? 
Every trend which hits my sense of aesthetics and taste. I'm open for every trend, but there are obviously some frames which define my preferences as a recipient. 
You're a passionate creator, so I guess there must be an artwork you're proud of the most. Am I right? 
Yes. Of course. I'm extremely demanding to myself and there's a really small number of artworks which I'm proud of. One of them which I think of my most beautiful child is "To The Threshold of SIlence v2". It captures every aspect of my soul, processes occurring in my personality over the years, as well as changing moods, crossroads in life and even my own character.
Which creative process excites you the most?
Something in the middle. When I know for sure that I have found appropriate elements of composition and slowly evolving construction of whole based on first idea and inspiration. It's also the moment when I feel that I'm really there. 
Describe your studio – without what you cannot imagine it?
The most important thing is the place where I sit. It must be very comfortable, a special chair on which I can spend many hours. The second thing is the music that I can play live. A set of stereo speakers placed in front of me in the corners and a stereo receiver connected to my NAS, where my entire musical universe is stored. The next thing is what I have on the walls. Posters from favorite movies, works which I am proud of, commissioned works. Pictures of my idols, which I had the opportunity to meet and which have been my inspiration for many years. Thanks to my work, I could start a dialogue with them and finally work together, which has always been my dream. All objects and elements have their place and meaning. This is the place where is my shelter from what is bad and ordinary in the world around us.
Imagine that you're not an artist – who are you?
Not easy to say. I can't imagine if my work or way of life couldn't be linked with any of my passion. Maybe a constructor, writer. I haven't really thought about any option which would be different from the present one.
If you could think of any tips for beginners, dreaming to succeed in what you do – what would you tell them? 
In matter of creation it always should be pursuit to show our imagination in way which should be as identical as output vision as it could. Find your own treatment and feel which could define your kind of style. Don't be scared to use digital tools to make your vision more fantastic, closer to your imagination, and how you see through your own eyes. It's the same tool as any other. Each modern photographer use it to wider possibilities and lower limitations of gear and moments. Remember that final effect should be stunning no matter if it will be photography, music, sculpture or photomontage. Use any possible ways to fulfill your dreams and ideas. Be patient climbing the ladder of excellence. Don't go around. And last thing which is so obvious. Don't give up, do what you have to do, pay attention and follow constructive critique. Cheers :).
Michał Karcz is an award winning graphic designer and photographer. Visit his Displate gallery, website and Instagram and get to know him better
Meanwhile, it would be good for you to read our art tips: