The world of DIY home decor is an exciting and empowering space, and those who enter it often find themselves addicted to the satisfaction that comes with crafting something unique with their own two hands. Today we're talking to Rachel Metz, a self-taught DIY expert and a YouTube content creator, about how DIY is more than a hobby and what it can teach us about ourselves.
The article is part of a series of interviews highlighting inspiring individuals and the passions that make them tick. It was originally published as part of our 2022 issue of Wall Stories Magazine for the September edition of the Maison & Objet trade fair in Paris.
Rachel Metz is an absolute creative legend. Thousands of DIY enthusiasts tune in to her Youtube channel, "Living to DIY with Rachel Metz," where she documents some of her stunning renovations and space makeovers. Rachel's got an eye for creating gorgeous, modern boho-style interiors that include reclaimed furniture and upcycled accessories. This has inspired many of her viewers to follow in her footsteps and transform their spaces using her signature techniques.
We got the opportunity to catch up with Rachel and ask her a few questions about her creative process, decor philosophy, and the origins of her DIY work. But before you dive in, we asked Rachel to curate a selection of artworks by Displate artists for your home. Check out her picks and get inspired!

Origins Of Her DIY Work and Making Content About It
My DIY journey began after living for a long time without pursuing my passions. All I did was work… and I was working multiple traditional jobs at once to make ends meet. It was too much to bear (as dramatic as that sounds).
I was a Retail Store Manager at Free People when I discovered I had cancer. My doctor advised it was caused and aggravated by stress, suggesting that I leave it all behind. I'm not afraid of challenges and taking risks, so I did just that. I quit my job, taught myself how to DIY, leaned into making content, and learned how to get it out there. In other words, I literally DIY'd a new life for myself. Every process, project, tip, etc., in my videos is self-taught. I didn't have this skill set before my lifestyle change.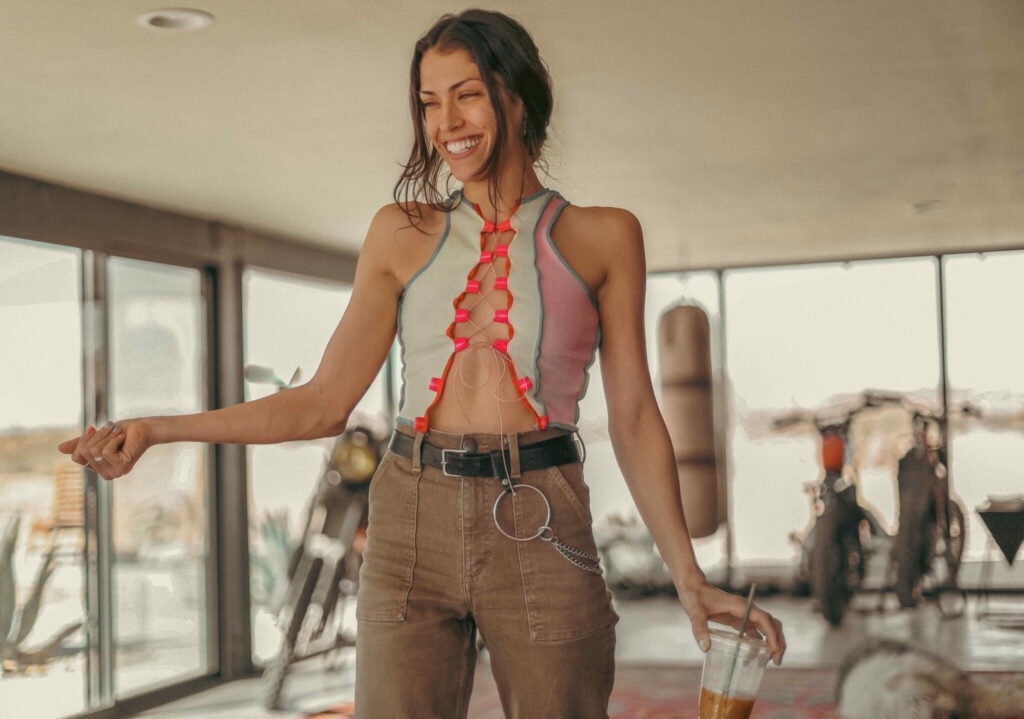 Creating content for any of the projects I am working on is tricky for me, as surprising as that may sound. For a long time, I found that I was good at capturing my process until it was time to add the final touches. Thankfully, this has become second nature to me after enough practice and dedication. When I'm coming to the end of a project and am in the staging phases, I tend to get lost and don't balance that well. I allow myself to get consumed by the creative element and am honest with my audience about re-shooting to recapture and share.
On her Awesome Fans and What She Wants To Communicate With Her Content
My fans are truly the best and make me the creator that I am. Thank you for complimenting the community that has come to support me! "You are more than capable" is what I would like humans to take away from my work. Considering that I am self-made and everything I showcase in my content is self-taught, empowerment in even the smallest sliver to any of my fans means I have succeeded.
I want them to feel they can accomplish the same as I have. The nature of the projects I work on can feel intimidating to anyone without a construction or design background. As a creator, I aim to prove DIY is accessible and achievable by anyone with a curiosity. Ultimately, my wish for anyone watching my content is to foster a weird intrigue. I want my viewers to discover more of themselves through the creative process. I hope they can feel the satisfaction of finishing a project and discover more of themselves through it.
On Her Design Aesthetic
I always say I design for life. Yes, functionality is important, but make sure you love what you create and have fun with the result. My design aesthetic morphs, molds, and evolves in every space I complete, but lately, I have been loving incorporating vintage industrial tools into modern design.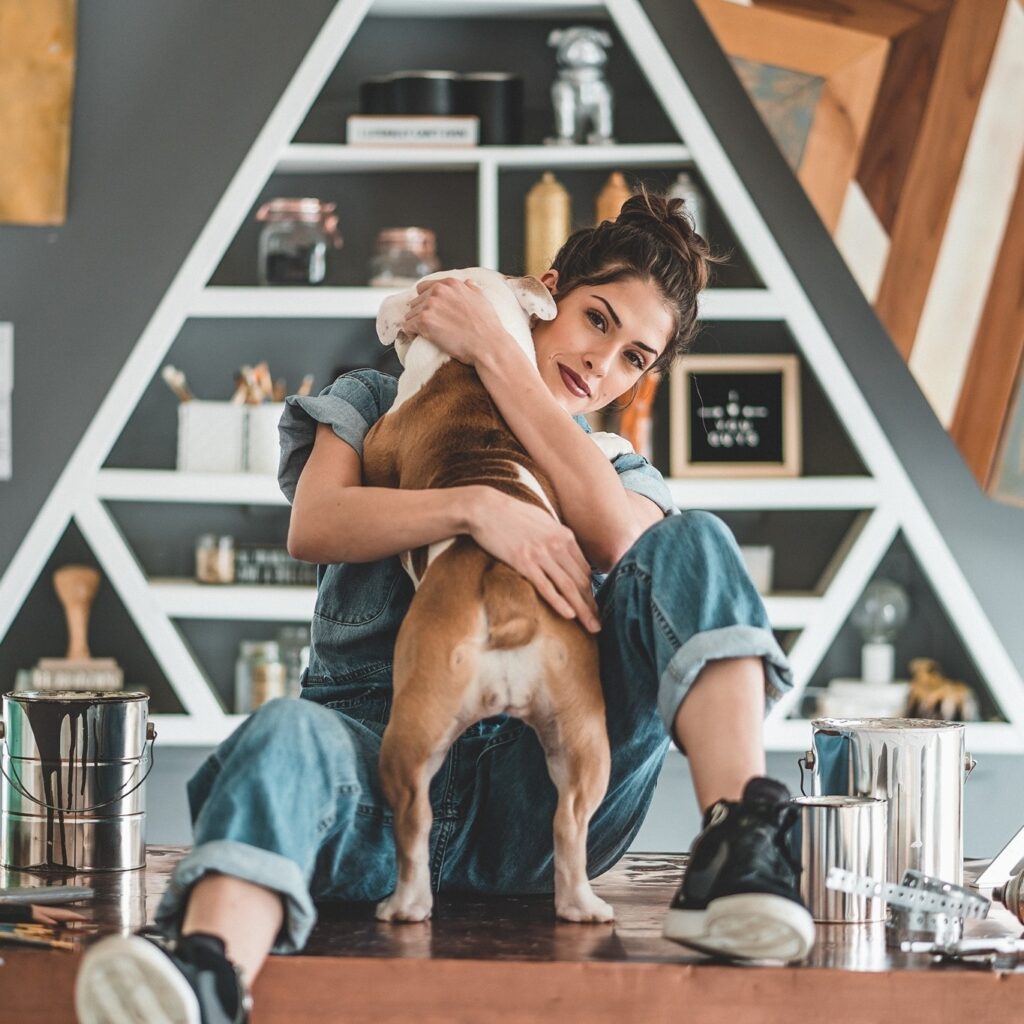 On Her Personal Home Decor Style
In my pre-renovated space, I am leaning into making it feel as cozy as possible and allowing myself to be more on the eccentric side. I am all about plants in my home, bringing the lush green in since we don't have much of it in the desert.
The items I love the most in my home are all the builds I have completed throughout the last five years. It was both creatively challenging and enjoyable working out one random and individual project at a time while finding a way to fit each one into my shared space in a cohesive manner. It's almost like the past Rachel knew what 2022 Desert Rachel needed to make my first house a home.
Take a look at an amazing selection of posters handpicked for you by Rachel and other passion-driven individuals we interviewed, and give your walls the makeover they deserve!
Working on Interior Design and Home Decor
When I'm working on interior design or home decor, I'm the most spontaneous curator you'll ever meet. I tend to have a general idea of a vibe of a space I'm designing, but I like to say that I "design live." I used to fight against being so spontaneous, but ever since embracing it, I have found it makes the rooms I have designed that much more special because I am bringing elements into the space as it inspires me in real-time.
Over to You!
There are plenty of ways to dip your toes in the DIY waters, even if you've never picked up a power drill in your life. With a little bit of guidance and the right attitude, you can find yourself building furniture, painting walls, and creating one-of-a-kind home decor in no time. And, remember, it's not just the finished product that matters—it's the journey (and the lessons learned along the way) that counts.
If you made it this far, you might also enjoy other articles from our series:
All photos used in this post are © Rachel Metz, used with permission.