So many of us put off our dreams because life gets in the way, and then we wonder why sometimes we feel empty or drained. Karolina, too, buried her passions under responsibilities until, one day, she decided to make a change. Here's how she rekindled her creativity and joy for art.
The article is part of a series of interviews highlighting inspiring individuals and the passions that make them tick. It was originally published as part of our 2022 issue of Wall Stories Magazine for the September edition of the Maison & Objet trade fair in Paris.
It takes a lot of courage to see yourself for who you really are. It takes even more to act in accordance with what you've seen, especially if it means changing the path you have been following for years.
That's exactly what Karo did. Having spent her entire childhood and adolescence developing different artistic skills, ranging from dance to visual arts and acting, in her late twenties, she settled on a cushy job in a PR agency. Once she became this "adult," "responsible," and "financially independent" person everyone wanted her to be, something inside her faded away. Karo just didn't feel like herself anymore.
But it didn't take long for her artistic spirit to awaken again – just in time to break free from being an anonymous cog in a machine. Now, at 30 years old, she proudly calls herself a revolutionary, fighting for authenticity and freedom of expression.
It took a journey for Karo to get where she is now. Let's relive it together.
But before you dive in, we asked Karo to curate a selection of artworks by Displate artists for your home. Check out her picks and get inspired!

On Finding Herself Anew
If you want to find yourself, first, you need to reflect on the fact that you're actually lost. For me, that moment came when I realized just how frustrated, burned out, and depressed I was. I lost any sense of meaning or direction and quickly started falling into substances and social media addiction. "My life has never been mine. I just please other people's expectations." was the troubling thought lingering in my head.
And then, suddenly, among all this overwhelming discomfort, I felt the immense urge to make my life more enjoyable. To fill it with passion, joy, and accomplishment. It was merely a spark at first but driven by my new-found respect for the life energy that resided inside me, I somehow managed to use it to rekindle the flame that keeps me going to this day.
Slowly but surely, the resentment began to give way to inspiration. I started to meet new people – people who shared my sensibility and who, just like me, were driven by the desire to awake from their sleep and find a new purpose in life. They inspired me to pick up dancing again. This time, however, I danced by myself and set to work on trusting my intuition during Movement Medicine, 5Rhythms, and ecstatic dance classes. I finally felt I was going in the right direction.
Dancing was not the only passion I dived into. Through my then-boyfriend, I discovered and fell head over heels in love with UV body painting. For the first time in ages, I felt the urge to paint and found pure joy in expressing myself by creating something from scratch. My unrestrained love of music led me to learn DJing, which quickly became another means of expression.
The more I followed my heart, the more I felt out of place in my job at a PR agency, which mostly handled right-wing political clients at the time. It simply no longer made any sense to stay there. And so I decided to push through my fears, listen to my inner voice, and jump into the unknown with no concrete plan lined up.
On Her Approach To Creating Intuitively
The only way to hear my intuition speaking is by silencing my inner critic. I try to let go of my ego, which is perpetually trying to show off – otherwise, I wouldn't be able to catch this free-flow state of mind. Practically, it mostly boils down to calming my thoughts and transitioning to a meditative state. From there, everything happens by itself. It's a journey to discovery that induces a sense of harmony and lets me forget all the rules and do things my way.
Joy and fun are always the backbones of my digital paintings. I start with choosing the right color, one that stimulates my senses. Next, I pick a brush – I have adopted a synesthetic approach and always choose a tool that gives me the right visual and sensory texture. It's like choosing a fabric: you want something that feels nice to touch, be it soft, smooth, or rugged. I then play with forms and contrasts, experimenting with different shapes, colors, and moods. All that happens beyond my control, and the results usually surprise me. The whole process takes no more than 2 hours. I switch my approach or take a break whenever I feel tired or creatively blocked.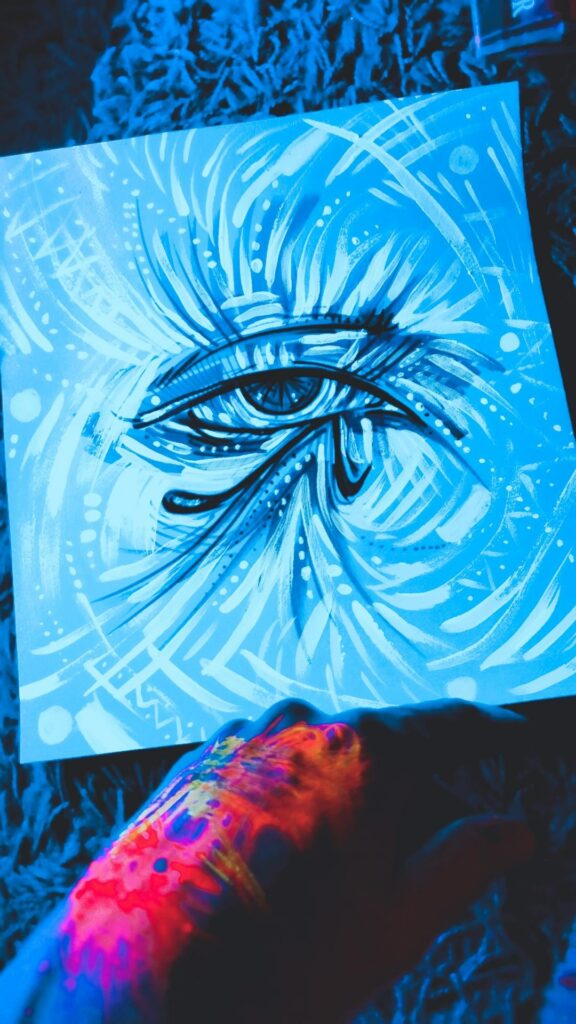 When it comes to body painting, it's similar – but also very different since my canvas is a human body. I must commit to every line because I can't simply undo or hide a layer when something goes wrong. Body painting calls for a steady hand at all times and takes longer than digital painting. I need to switch the perspective from time to time and reposition myself, and I can only see the final results during the photoshoot.
I always talk to my models and try to get a sense of who they are, how they feel, and what their energy is like. Every person is different and has their own features: muscles, height, hair, bones, skin tone, etc. Their body is already a work of art, so I just try to follow my models' shapes and distinctive attributes to create something truly unique. It's a ceremony.
On How Body Painting Helped Her Accept Her Body
I first started as a body painting model. Posing nude has completely changed the way I view my body. Standing naked and letting someone else treat it like a canvas taught me to feel good about myself and to identify my boundaries. Embracing both my body and this form of touch – after all, body painting is very sensual – helped me reclaim my most authentic self. From that moment on, I felt safe and pure, like I had nothing to hide. I now know that my body is a work of art, perfect just the way it is.
This turned out to be a therapeutic experience, and I'm sure it played a big role in my change of attitude toward myself and the world around me. I've become a more accepting person overall.
Nudity is pure, simple, and natural. We come to this world naked, and we will leave it naked. Body painting lets you connect to your primal roots and go back to the days when people covered themselves in paint for various rituals and ceremonies. Though it may not look like this at first glance, in its essence, it's all about the circle of life.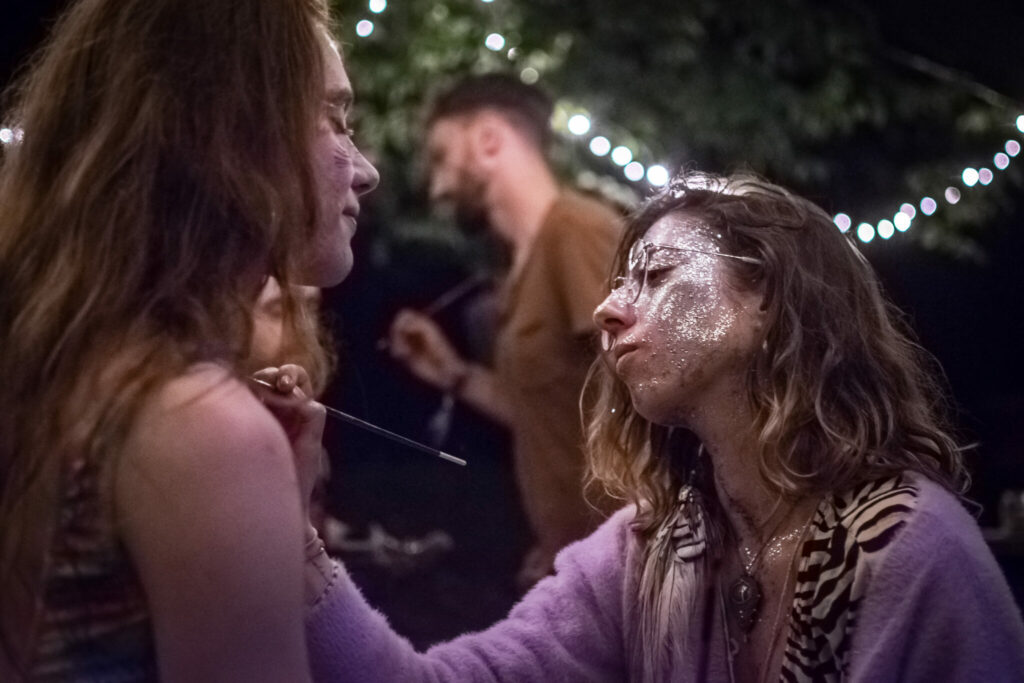 On How Her Partner Inspires Her
Ever since we met, Piotr has been my biggest inspiration and my biggest challenge. He's a highly talented multi-instrumentalist, DJ, music producer, and lyricist. He's also a natural-born teacher who is passionate about what he does and incredibly patient with his students – I happen to be one of them! Piotr has shared his musical know-how with me and helped me open myself up to singing, with effects that often surprise both of us.
We both have very similar personalities, and though sometimes it can be hard, we're great at complementing each other and challenging ourselves. To put it shortly, I'm his biggest fan, and he's my biggest trigger.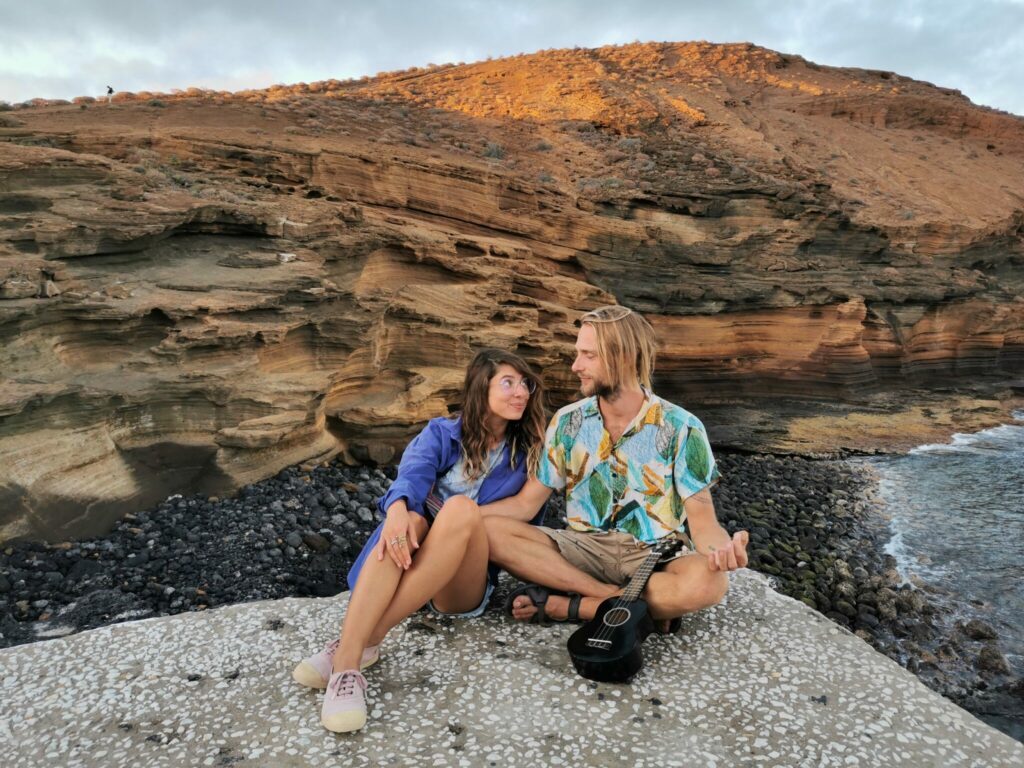 On How You Too Can Start Your Inner Journey
I believe everyone is special and brings something different to the world, so no matter what you're most passionate about, it's crucial to cherish the need to create. It's the best way to feed your inner child and find an endless source of life energy. Yes, you can access it, too – just let yourself go and never give up on your journey toward joy and happiness.
You can reach that state through meditation, dance, painting, singing, or any other way you choose to express yourself. The more you understand your mind and body, the better you will navigate this sea of life. Once you learn how to take a deep dive within yourself, you'll quickly see how you make better choices and get closer to a state of calm, self-accomplishment, and harmony with others. Sure, it takes a lot of time, energy, and courage to confront your inner shadows, but remember: you're your own best ally.
Over to You!
If there's one lesson you can learn from Karo, it's that you should never let the outside world stifle your self-expression. No matter how small or how big, your creativity is a healing force that helps you rediscover who you are. And it can be found everywhere you look.
If you made it this far, you might also enjoy other articles from our series:
All photos used in this post are © Karolina Kołodziejczyk used with permission.