Hearthstone is a game that brings out the best of both worlds: fast paced turns and tactical prowess. It's like an MTG but with adrenaline. It's like chess but on steroids. Hearthstone is plainly a well-thought fun. It shouldn't come as a surprise that one of the biggest fans of the game in Displate is none other than the Chief (Troublemaker), also known as Charles Banaszkiewicz. We asked him about his roots in gaming and what's his approach to Blizzard's hit game is. 
Q: Do you consider yourself a gamer?

Yes, though I used to play much much more in the past.
Q: What kind of games have you played the most?

There was a lot though I always loved RPGs, Strategy games and a bit of FPS.
Q: What's your goal while play: winning or rivalry?

For me, it's always about challenging myself to kind of crack the underlying fundamentals of how a game works and be as good of a player as possible. So basically: git gud! While having a lot of fun of course.
Q: Did games somehow helped you in achieving what you have today.

Yes, they taught me grit and perseverance. I remember many years ago playing Quake 2 on this one map Q2dm1 over and over again, basically hundreds of hours to hone my craft & skills. Just being able to go at it taught me a very important message about patience, and trying until you succeed. Before Displate I took about ten shots at building something great & fun, and if the perseverance wasn't there I would just stop following my dream at one point.
Q: Easy question but do you play Hearthstone?

I used to play a lot, mostly arena. Now I play Hearthstone whenever a new expansion pops in. However, I am quite addicted to watching youtube replays from HS game from guys like Kibbler, Savjz, Trump or Amaz🙂
Jeffrey Shih better known by his gaming name Trump or TrumpSC, is a pro Hearthstone player who back in the day cut his teeth on Starcraft II. Since 2017 he's playing (and creating content) for Tempo Storm. His Youtube and Twitch streams attracted more than 800K followers. Each.

Amaz (Jason Chan) started his gaming career playing Warcraft III and World of Warcraft. Picking Hearthstone sounded like a natural progression. He started streaming in 2013. To this day he reached almost 900K followers on Twitch and 500K on Youtube. In 2016 he joined NRG eSports team.

We're excited to announce both Trump's and Amaz's engagement to the Hearthstone cause and their mad skills made our team-up a real joy. Look for the special Heathstone metal prints during their live streams.

Q: What would you consider the strongest point of Hearthstone?

It's a wondrous combination of a great universe, awesome mechanics, and beautiful art. Extreme attention to detail is what I believe made Blizzard so successful in the past and makes Hearthstone such a great game nowadays.
Q: Do you have any tricks or tips playing HS?  
Learn the concept of tempo VS value. Plus, on higher levels of play, you just have to know what are the most played decks in the meta and know what is your win-condition against all of those.
Q: What's your favorite card and why?

I played WOW in the past so Leeroy Jenkins just automatically takes the lead here. It's just due to the character's legend. The art makes this card awesome as well.
Q: Which of the cards would you use in real life? Elaborate.
That is an easy one. I would use definitely Hex to turn some jerks into frogs. With taunt (don't know how that would work like in the real life) here
Q: Was your goal from the very beginning of Displate to acquire gaming partnerships?
Displate was always about building a community of artists. But there is this old saying"like attracts like". I just think that unknowingly my geekiness spilled onto Displate and then more geeky artists started joining and that started the ball rolling.
Q: Why have you picked Blizzard as a first major gaming partner?
Blizzard is at its core a very artsy company, and we just felt this would be the perfect match for our medium. Plus I always enjoyed their games.
Q: Why pick Hearthstone as first licensed prints then?
Well, Hearthstone is not the first. We have already licensed prints from
Marvel
,
DC
,
Star Wars
etc. Hearthstone though is a first step into the gaming world for us. When HearthStone first came out I was pretty much sure that the card art just perfectly matches our product so it became a natural fit
Q: Are you having plans for future gaming brands that you could shed some light? 🙂
I cannot divulge sensitive information, but let's say there are things brewing there;)
Q: Was it hard to convince the rest of the board to pursue Hearthstone designs?
Not at all. Fortunately, we are all geeks:)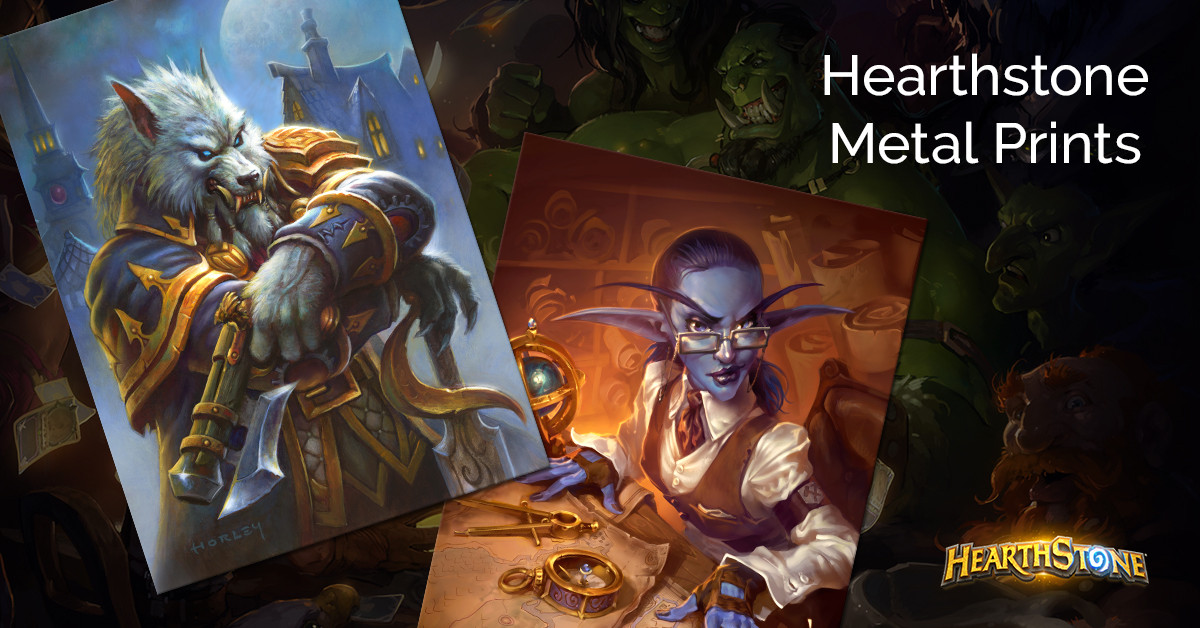 Q: What's the most geeky thing you ever did you're (sort of) proud of?

How about reaching level 60 in the Vanilla WOW (when leveling took time) playing an Orc warrior and owning everyone in the process?
Q: Slightly changing the subject, but what's your take on competitive e-sport?

I think it's big, I think it will be even bigger. A hundred times bigger than today.
Q: Giving your experience with Quake have you ever thought about joining an e-sport team?

I actually was part of a very successful clan in the past, but the time needed to remain at top shape and progress was insane, so I decided to drop that pursuit at one point.
Q: Have you encouraged people of DIsplate to play video games, Hearthstone even?

Well, yes. Some of them actually joined Displate because the gaming nature of the company resonated with them so much:)
Q: Anything else you'd like to report?  
Nope:)
Special Announcement!

I believe now's the best moment to share with you a special announcement. Simultaneously to the launch of official Hearthstone designs of Displate we've entered a partnership with most epic e-sport veterans, ARMATEAM!
For the whole month their Twitch channel will be maxed out with all things Hearthstone including premiere of the show about best fan-art from the game.
Don't miss out, send them your best art and let us know about it – maybe you'll became top artist of Displate as well!