What we love the most about SpaceFrog Designs is the fact that they understand and recreate our deep necessity to explore nature to its fullest. They won the hearts of millions of people who want to give their lives some true wildness and beauty. Katherine and Vernon are consistent in style and creative in composition, and from that interview, you will truly know how they are really like in life.
Who stands behind SpaceFrog Designs? 
Katherine and Vernon are a husband and wife team. Katherine focuses on mixed media and 2-D design, Vernon focuses on 3D design.
How do you share tasks while designing?
Katherine creates the majority of the designs; Vernon is heavily involved in social media, and when time allows, he designs new 3D art.
How did you come up with the idea to create nature-inspired illustrations for home decor? 
Nature is the core influence of work simply due to the amount of inspiration nature provides, texture, colour and content. We love the outdoors
What were your beginnings – what were you creating at first?
From a very young age, Katherine enjoyed drawing, paper cut-outs, and painting…
Why 'SpaceFrog'? 😉 
Vernon came up with the name, and we really liked it! We started using it in the earlier days, and it seemed to "stick."
How does your normal day look?
We wake up early drink a cup of coffee, and off we go – designing and working on social media.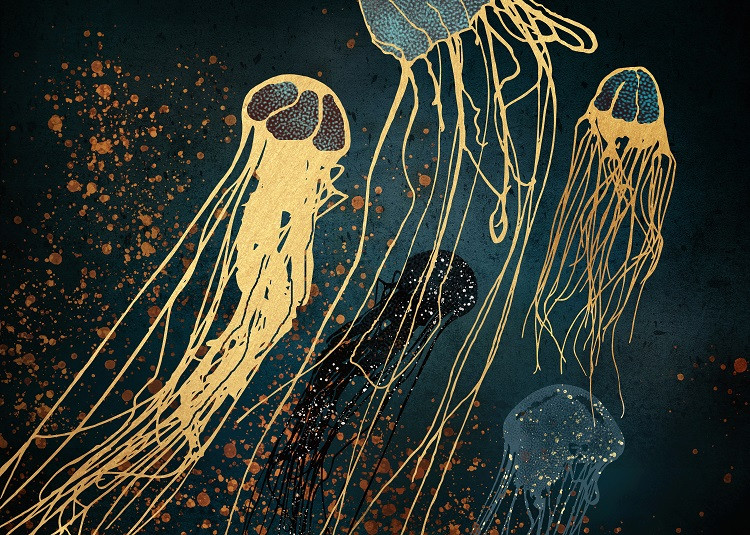 Are you self taught or formally trained?
Katherine had been creative from a young age but did go on to study art via University (oil painting and printmaking).
How did you begin to sell your original artwork?
Early days street art fairs, private commissions, and small boutique shops…
How successful have you been with selling your original artwork?
At the moment we don't offer sales of original art as "One-time" sales…
Do you like printing your designs by yourself, or you rather use the help of managed marketplaces like Displate to print and ship your posters worldwide? 
Currently, we utilize the help of managed marketplaces to handle the printing and distribution of our art.
Do you have a specific strategy for selling your artwork on the Displate marketplace OR do you just simply upload your best artworks and hope for the best results?
We love what we do and also try to focus on our brand style, keeping it recognizable and nature-oriented.
What made you want to begin selling your artwork on Displate?
It is a brilliant platform, and we love the fact that our designs are printed on metal – really enhances and compliments our designs! We also love the idea of helping to plant trees
What is the greatest advantage or benefit you've gained as an artist from selling your original artwork on the Displate marketplace?
The exposure, ease of availability, excellent quality, and, as mentioned, love the metal plates! Just great people to work with.
Do you recommend other artists to sell their artwork with Displate — and why?
For sure! The print quality is excellent as well as how the product is shipped and packaged, excellent customer service and brilliant exposure!
What are your artistic plans for the nearest future? Will you surprise us with some new designs? 😉 
We are always trying to push boundaries and learn new skills….so yes hopefully some surprises soon
Have you known SpaceFrog Designs? Maybe you have some of their Displates at home? Show us a pic in a comment!