There's a reason why we wanna jump on a plane to Granada right away, and – surprisingly – it's not only because of flamenco, cerveza and jamón serrano. There's an artist living in the south of Spain, who stole our hearts and doesn't wanna give them back. We have a serious artist crush on Nicolas Castell and you're gonna fall for him too, just scroll down, read his wise words and try to take your eyes off his illustrations. We dare you not to love them!
1. You currently live in Spain, but were you born there?
I was born in Buenos Aires, Argentina; but I moved with my family to Granada (Spain) when I was six years old. I lived most of my life here in Granada, except when I had to travel for work I lived some months in the U.S., Switzerland, and South America.
2. It's a bit of luck to be a youngster and be aware of who you wanna be in the future. How was it with you – was becoming an illustrator an obvious thing for you?
I always knew it, when I was a kid I already knew that I wanted to live out of drawing, I just didn't stop!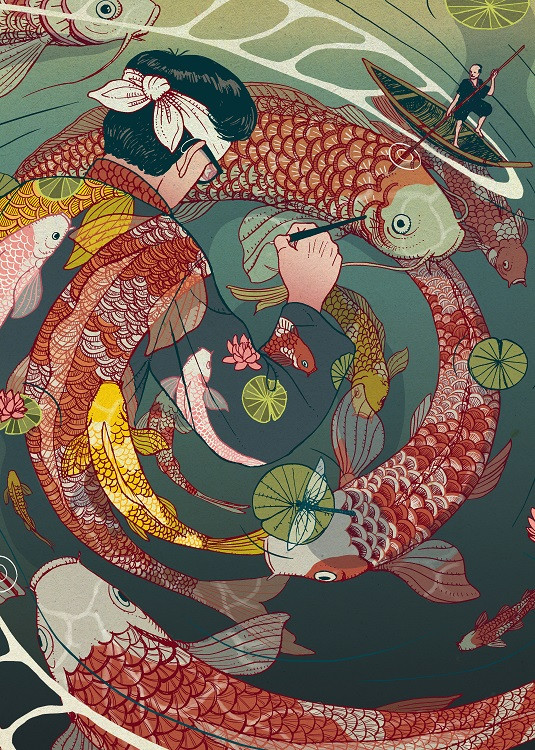 3. You have a pretty unique, cartoon and a little grunge style. What inspires you to create?
I find a lot of inspiration in music, so when I want to create a new illustration I look for a specific piece, that wakes me up – that feeling or atmosphere. And it can be anything really, a piece from Bach, Rachmaninoff, Arvö Part, or even Justice, Kavinsky, Dead Can Dance or Rakim. I love to experience my emotions with music and try to depict them on the paper.
4. I can see a strong, Japanese influence in most of your artworks. Was it just an episode in your artistic journey or is it still the main topic, corresponding with what you do?
It's not my "main" topic, now I'm working on different things. But it's true that the Japanese influence has a huge importance on my creations. I just love the fantasy, elegance, and imagination of the Japanese culture. I lived my childhood and teen years enjoying manga, anime, Kurosawa's movies, Hiroshige's and Hokusai woodcuts… It's a world that I love passionately.
5. Working as a freelance illustrator must be connected with a huge amount of self-discipline and concentration. What helps you motivate?
To create is not a work itself, to elaborate a commissioned project it is. And sometimes it's hard and you need to find motivation or the enjoyment of the process, the things you can learn from the project. The way you can tell how you evolve as a professional… But to create it's more a way of living. I just need it, like I need to breathe and eat. When I'm not creating, when I don't experience that feeling of materializing my ideas… I feel detached from myself.
6. So you can probably come up with a few tips for those, who dream to begin their adventure with freelancing?
Draw every day, as many hours as you can, don't get frustrated and keep drawing. Have faith in yourself and share your work all the time. Consistency on the social network is very efficient, also competitions and prizes. Go to illustration events, collaborate with magazines and exhibit with friends. Be competitive with yourself being better than yesterday, but also learn from others. Don't work for free, value your work and time; study how the industry works. Learn how to prepare a fair budget estimation, talk with other professionals with experience. And most important of all: be authentic and enjoy it!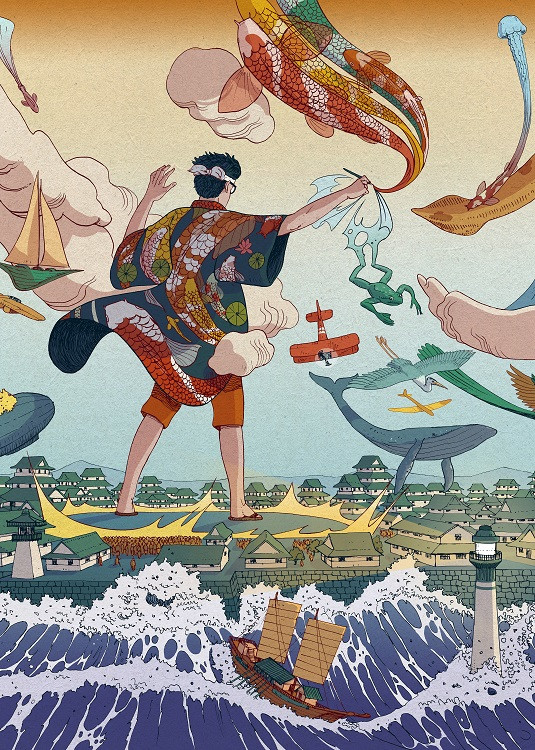 7. What was your favorite commission so far? Most exciting and making you stay up all night? 😉
My graphic novel about life and work of the Argentine writer Jorge Luis Borges. It took me 2 years to draw and paint more than 130 pages! I even traveled to Buenos Aires for documentation!
8. But if you weren't an illustrator – who would you be?
I would like to be a filmmaker; something related to telling stories with pictures.
Want more? There's a nice Nicolas' gallery, waiting for you on Displate, just to give you something to look at… on your wall 😉