With the 2021 Marvel movie Spider-Man: No Way Home right around the corner, there's no better time to pay tribute to everyone's favorite neighborhood web-slinger, and what better way to do it than with Spiderman room decor!
Since his original debut in 1962, Spiderman (or Spider-Man, as the comic purists would have it) has been one of the iconic characters of the Marvel Comics universe. Throughout the years, he has appeared in a variety of comic books, cartoons, television shows and movies, and his popularity shows no end in sight. If you, too, have a thing for the scrawny teen turned super hero, then this article is for you.
We've rounded a list of 15 Spiderman room decor ideas that can help you transform any room into Peter Parker's secret spider lair. Whether it's a man cave, a kids room, or a bedroom, these decor ideas are sure to add some super hero style to your space.
Keep on reading and soak up some inspiration to create your own Spider-Man themed room!
15 Ideas to Create the Ultimate Spider-Man Room
Decorate your walls with Spider-Man wall art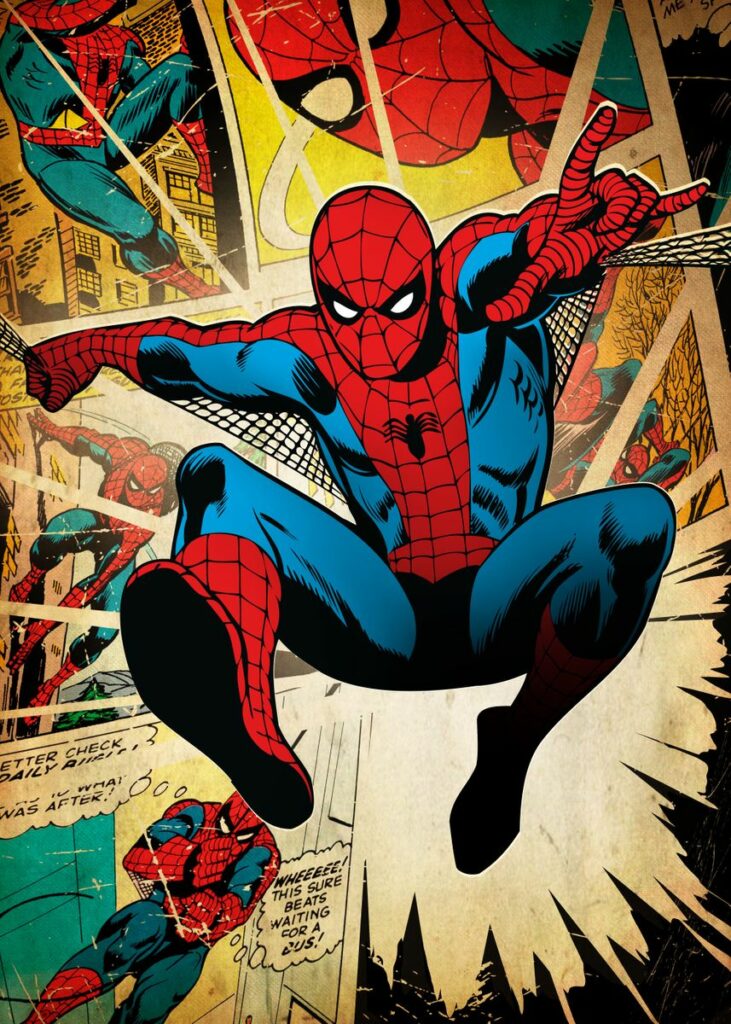 Upgrade your light switch cover
Lighten up your room with a one-of-a-kind Spider-Man switch plate cover! This light switch cover will put the finishing touch on any fan cave, kids room, or gaming den. A small item, it may just hit the mark, adding some super hero flair without overpowering the entire look.
Dress up your wall with Spider-Man wood art
Made from wood and cut with laser, this Spider-Man inspired wall art will be the centerpiece of any room. Ideal for those who want to add some tasteful Spider-Man decor to their bedroom without going overboard with the theme.
Outfit your bed with a Spider-Man bedding set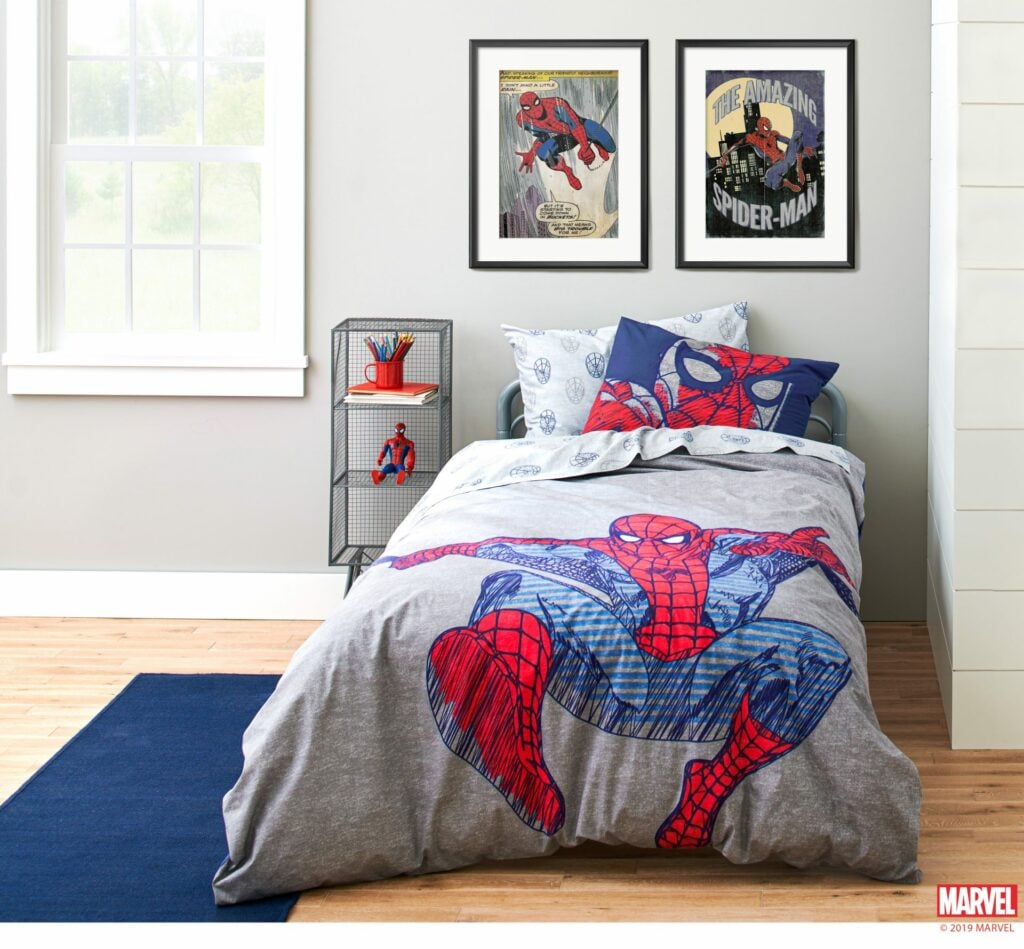 Taking a power nap has never been more exciting than with this Marvel duvet set! The bedding set features the most beloved super hero Spider-Man himself in a bold design. Set includes one duvet, one sham with twin set, and two shams with a full or queen set.
Illuminate the space with a neon light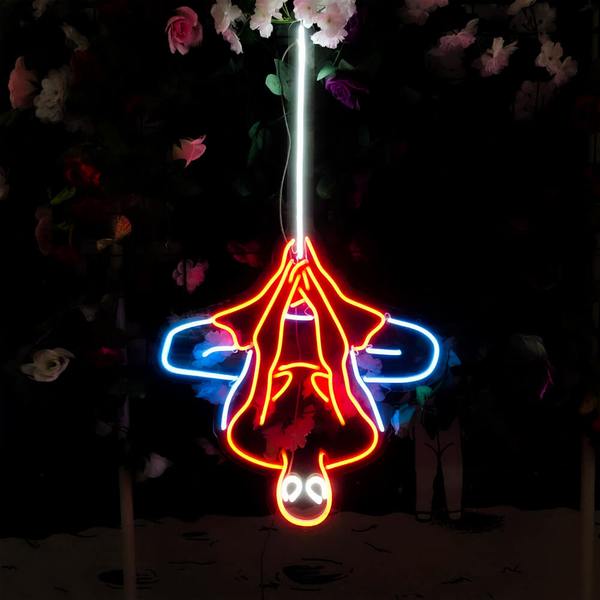 Show off your favorite super hero with this Spider-Man neon light! Featuring the wallcrawler in action, hanging upside down from a web, it sends out a soft, warm glow for a great design addition to your bedroom, kids playroom or gaming den. Let Spider-Man fight away the darkness and give your room a Marvel's feel!
Throw down a Spider-Man themed rug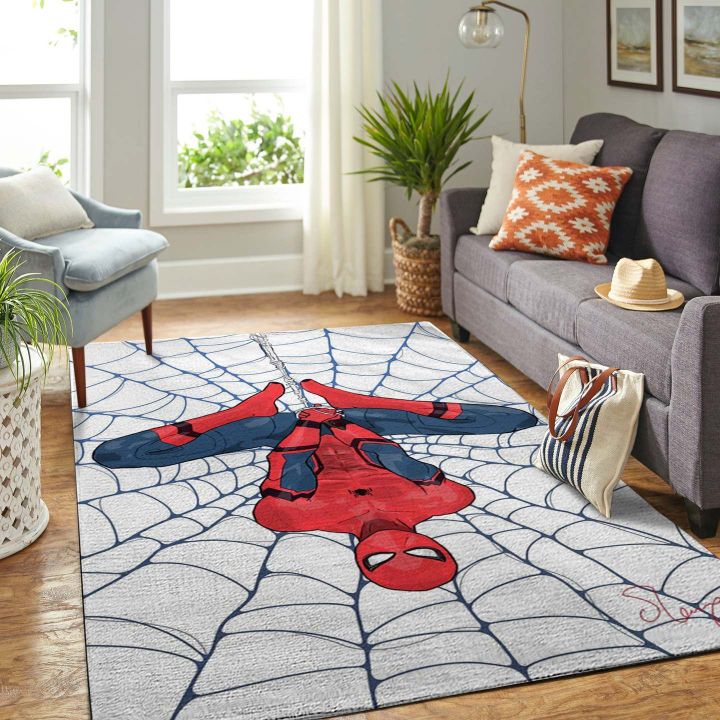 If you're considering a Spider-Man themed room makeover, the most important starting place is right beneath your feet! A rug is a great foundation for designing your space and sets you up to coordinate the whole room — from curtains and wall art to the final throw pillows. Here's a carpet featuring an upside-down Spidey dangling from a web.
Upgrade your shelf with Spider-Man bookends
If you're searching for an action-packed way to keep your books from falling over, look no further than these geeky bookends! After a full day of fighting crime, this miniature Spider-Man has his priorities straight: keeping your books upright and neat on the bookshelf!
Add a Spider-Man decal to the wall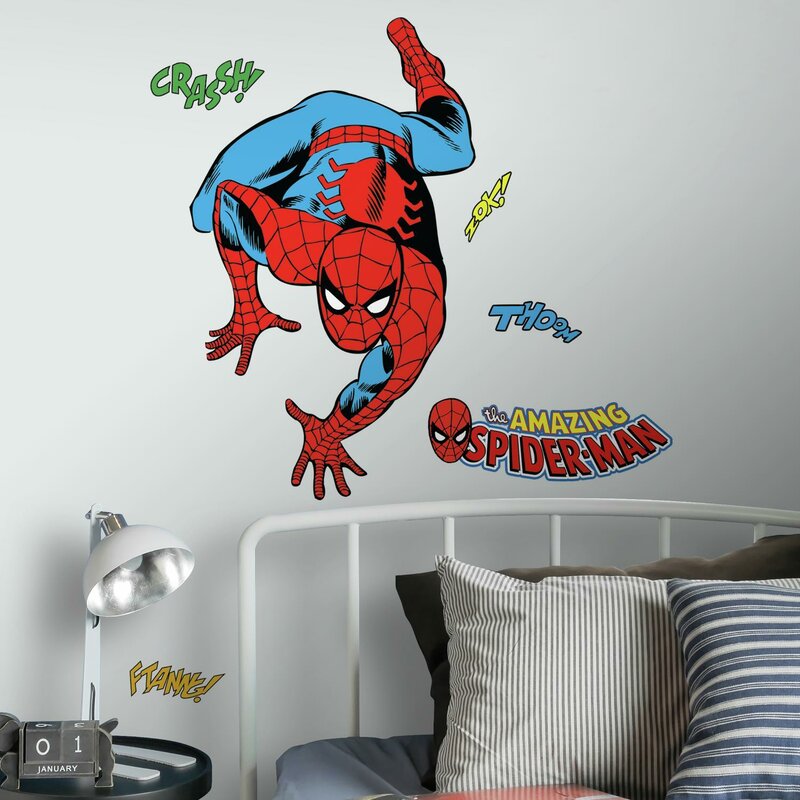 Peel and stick your friendly neighborhood Spider-Man to your walls with a comic wall decal! This giant sticker is perfect for adding a touch of character to any kids room and takes a Marvel themed room to another level. Use regular tape to secure your decal in the location you want it first. It's the best way to visualize the end results without permanently misplacing your sticker!
Keep tabs on the time with a Spider-Man wall clock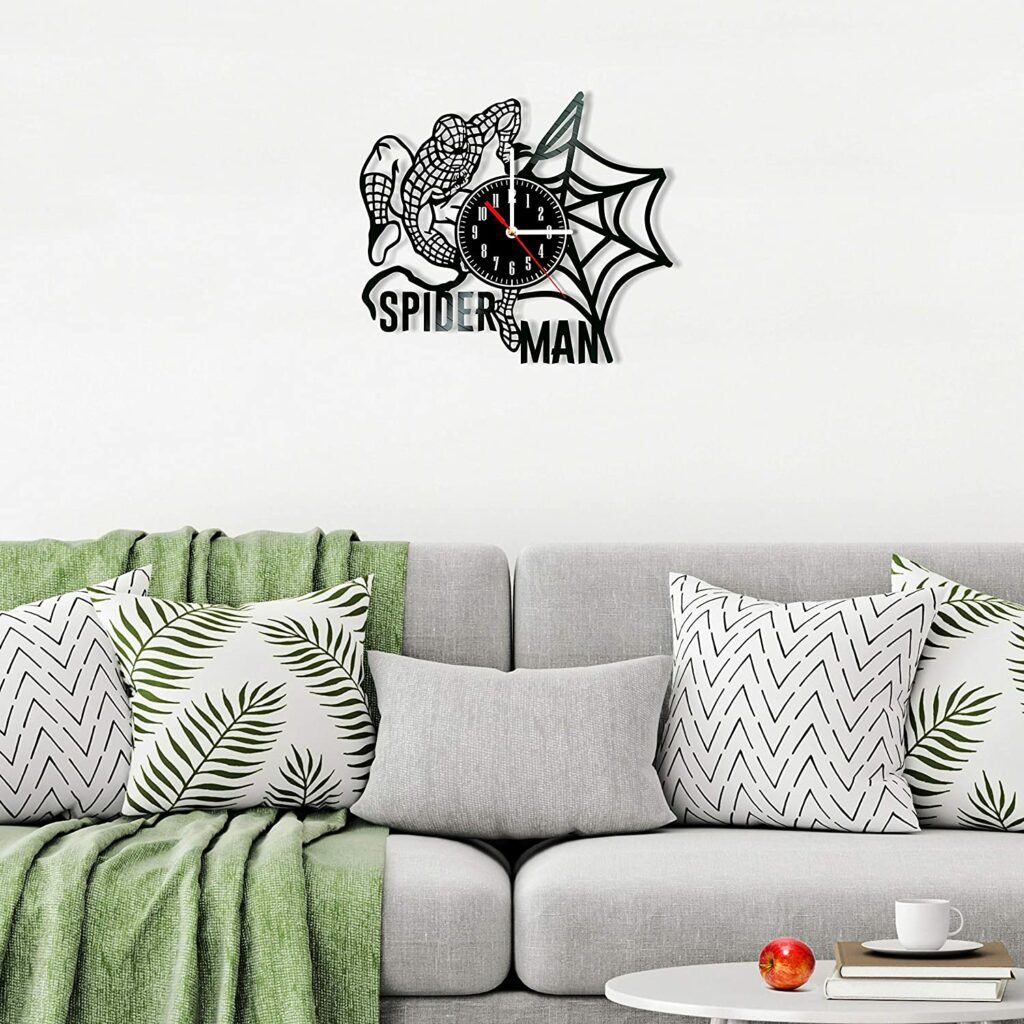 Never be late for your heroic deeds again with this Spider-Man wall clock! The clock features the web-slinging super hero crouching next to a giant web. Spider-Man wall clock is perfect for you to keep track of time and display your favorite Marvel character for all to see.
Get yourself a Spider-Man gaming chair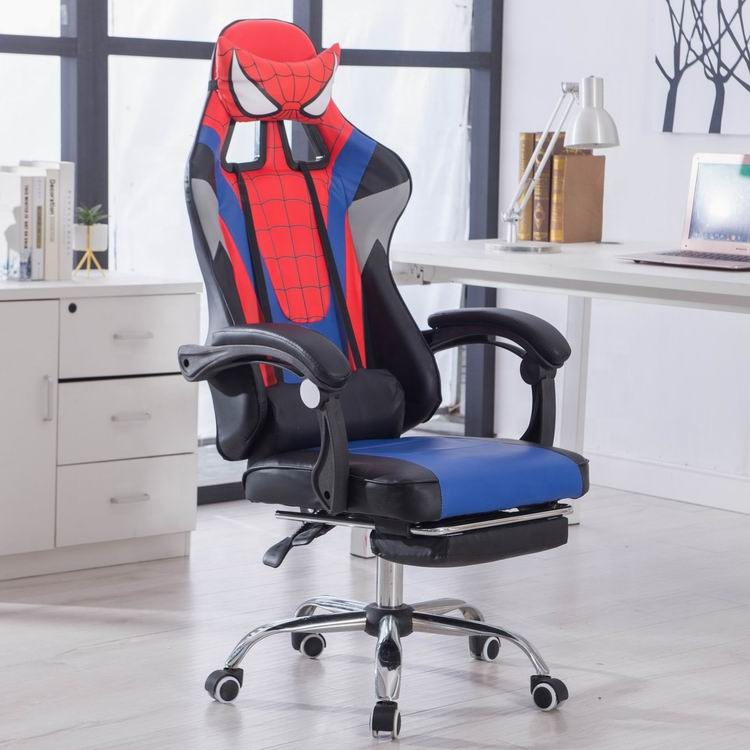 Apart from being made for Spider-Man fans, this gaming chair is also a tool for those who want to create a unique gaming setup. While not exactly made from actual spider's web, the chair is durable and flexible, and an ideal furniture piece for any Spider-Man fan who spends most of their day sitting on their spider-butt.
Swap out a dresser's knobs with Spider-Man ones
If you are looking for a quick super hero update to a piece of furniture in your room, outfit it with decorative and functional Spider-Man knobs! Featuring the iconic web head, these colorful knobs show your flair for comics and are a great replacement for any old, worn out knobs from your dressers, desks, cabinet doors, and more.
Get this incredible Spider-Man nightlight
It doesn't take a super hero to recognize amazing room decor. This 3D LED lamp will keep your favorite web-shooter at your bedside table at any time to keep you safe. A combination of art and technology, it creates an optical 3D illusion and plays tricks on the eyes. It may be small – but it's sure to make a mighty statement.
Invest in Spider-Man curtains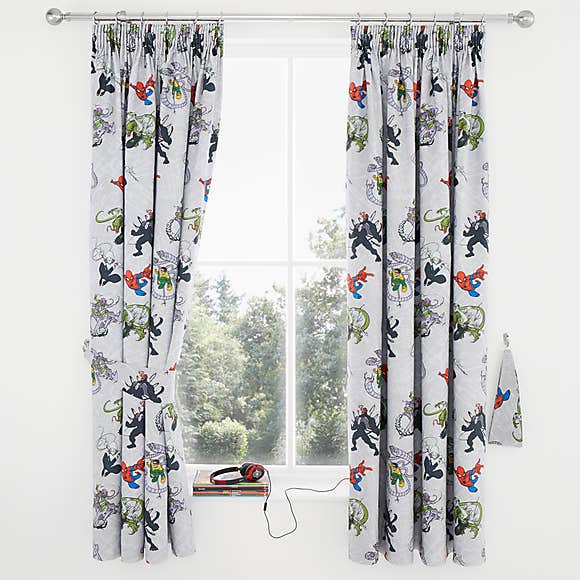 Add the finishing touch to your Marvel room decor with the perfect curtains. Boasting a Spider-Man design, these pencil pleat curtains make a great addition to any Spider-Man themed room. Do you get a glimpse of Doctor Octopus and Green Goblin lurking between the folds?
Sleep tight with a Spider-Man dream catcher
Do your kids dream of swinging through the air, climbing skyscrapers, and defeating bad guys? Hang this Spider-Man dream catcher over their bed to guard them as they sleep! This Spider-Man-inspired item would be perfect for kids playroom, nursery, and teenage bedroom.
Add the finishing touch with a cushion
Join the fun and action-packed adventures of your favorite super hero with this Spider-Man throw pillow! Whether he's climbing down a wall, shooting web from his wrists or swinging between skyscrapers, Spider-Man is as easy-going as ever. Add comfort and transform any couch, bed or chair into the perfect space!
Over to You!
There isn't an exact science to creating a Spider-Man themed space, but hopefully the above Spiderman room decor ideas will help you get started. From Spider-Man bedspreads and sheets to super hero wall art and decorative items, there are plenty of options for decorating you can choose from.
Looking to deck out your home with your favorite comics characters? Whether you pledge allegiance to DC or Marvel Comics, be sure to check Displate's officially licensed selection of comic book posters!
What is your favorite comic book based on the quality of illustrations? Be sure to share your recommendations in the comments below!