So many kids love space and astronomy, and it's not difficult to see why. The universe is a fascinating place filled with black holes, asteroids, and strange planets orbiting distant stars. What better way to celebrate this immersive world than with space-themed room decor?
If your kid wants a space-themed bedroom, it can be hard to know where to start; many parents are reluctant to start painting walls with crazy colors or going for garnish accessories when they know their budding astronaut could change their mind in a matter of weeks.
But worry not. We've compiled a list of 25 space-themed bedroom ideas for kids that will bring adults and their children alike into a space that's truly out of this world! And for more space-themed interiors to love, enjoy these 40 Adorable Space-Themed Nursery Ideas.
We're Going to The Moon!
This gorgeous setup is the perfect example of how you can easily work a space theme into your kid's bedroom with artwork, wall decals, and some dreamy soft furnishings.
Space Fox Theme
These foxes seem to be quite far from home! We love the bespoke spaceship headboard and how it compliments the hand-painted mural on the wall.
Starry, Starry Night
Stars make for especially versatile space-themed bedroom ideas — you can hang them from the ceiling or adhere them to your walls. You can also choose glow-in-the-dark stars for some soft night light.
3-2-1… Blast Off!
Space-themed bedding is a great foundation for transforming an ordinary bedroom into an intergalactic sleeping pod. It's not a true galaxy experience, though, without an astronaut decal on the wall!
Head in the Clouds
This space-themed bedroom has it all! A giant LED-backlit moon, a dreamy cloud wallpaper, a solar system mobile, a house bed canopy, and some extra room to play.
Space Rocket Chalk Wall
With a hand-drawn accent wall beside the bed nook, this space-themed bedroom design is full of personality. Once your kid climbs these steps, they may just feel like boarding a spaceship to a different planet!
To the Moon and Back
We love this space-themed bedroom to the moon and back! The celestial wall mural sets the tone for the entire room, and the solar system model hanging from the ceiling completes the look.
Intergalactic Workstation
How big is Jupiter compared to Mars? Can all of the planets fit between Earth and the moon? If your child is obsessed with space, why not reflect that in their study desk design? Any kid with a special interest in outer space will appreciate a study space that speaks to their passion!
Bright and Modern Beyond
This modern space-themed nursery room couldn't be more chic! The rocket-themed wall decor gives it a distinct vibe. The spacesuit and the backpack complete the space, making it look as though it belongs to an astronaut hard at work.
Space Rocket Theme
What faster way is there from a toddler's bedroom to the stars beyond than in a space rocket? With rocket-shaped props and wall decals, your kids can experience the wonders of interstellar travel without ever leaving home!
A Galaxy of Color
The pops of bright colors in the furniture help lift the dark blue color on the walls and keep it really fun while the planets cut out of thick cardboard give a realistic touch to the entire theme.
Astronomer's Paradise
How about bringing a telescope and making it the statement piece of your kid's space-themed bedroom? Not just a showpiece, this handy object is sure to nurture your little astronomer's creative brain once they turn a bit older and start observing the night sky.
Full Moon Rising
Why settle for seeing a full moon just once a month? Place a big moon atop your little one's bed — it can be a wall sticker, a mural, or a 3D wall decor — and surround it with stars!
Space Cadet
With its rich navy wallpaper, space-themed accessories, and starry curtains, this dreamy space-themed bedroom packs an entire galaxy's worth of style into a very tiny space!
Cosmic Corner
Take a look at this awesome shared space-themed bedroom created for the two most adorable little girls! Their mom Rebbeca divided the room with a mirror and painted accent walls with different color schemes to demarcate each girl's space.
Colors of the Universe
Navy blue and orange have to be our favorite color combination in the entire universe! Also, take a closer look at the matching wall print over the bed. It features the space shuttle Endeavor backdropped over Earth's colorful horizon!
A Space Odyssey
Prepare to have your mind blown with this amazing themed bedroom space! A Neil Armstrong quote decal coupled with a gravity-defying astronaut decor allow your kids to contemplate the wonders of space travel without missing bedtime.
Cozy Outpost
We know that space is a cold, unforgiving place and all, but that doesn't mean that your space-themed room should feel the same! Just take a look at this kids space-themed bedroom; from the warm terracotta walls to felt space wall hangings, it has to be the coziest outpost in the galaxy!
On the Edge of the World
A pro tip if you want that dark blue color to come out: pair it with white accents in a room that gets lots of natural light. Another pro tip? Ditch the rocket. Take a balloon to space instead!
In a Galaxy Far, Far Away
Star Wars is a great space-themed bedroom idea for all ages. This adorable Star Wars-themed nursery, designed by Instagrammer Holly Marie, transports you to a galaxy far, far away while maintaining a modern appeal that can be easily updated as her little astronaut grows. Feel inspired? Check our awesome Star Wars room ideas for the whole house!
To the Stars and Beyond!
Dark blue space bedding and matching wallpaper give this room a distinct theme without going overboard with the decor. Also, how cool is this rocket-shaped storage basket?! It definitely brings out-of-this-world style to clean-up time.
Space Crib
Place space-themed stickers on the wall behind the crib for an instant "wow" factor. Also, don't forget the crib mobile! Either choose one with the planets and the sun to demonstrate the solar system or simply go for a crib mobile with stars and moons all over.
Constellation Wall
Note how the contrast between the dark blue constellation wall and the rest of this all-white space creates an illusion of openness, making the room feel worlds bigger than it actually is. Designer Lilly tossed a yellow star-shaped pillow in the mix for an even more curated and inspirational themed bedroom space.
Galaxy Laser Lights
If you're looking for a way to incorporate the space theme without committing to an entire decorating scheme, consider investing in galaxy laser lights. With just the push of a button, you can fill your kid's bedroom with stars and galaxies that transport children and adults to outer space without the hassle and mess of redecorating.
Intergalactic Fantastic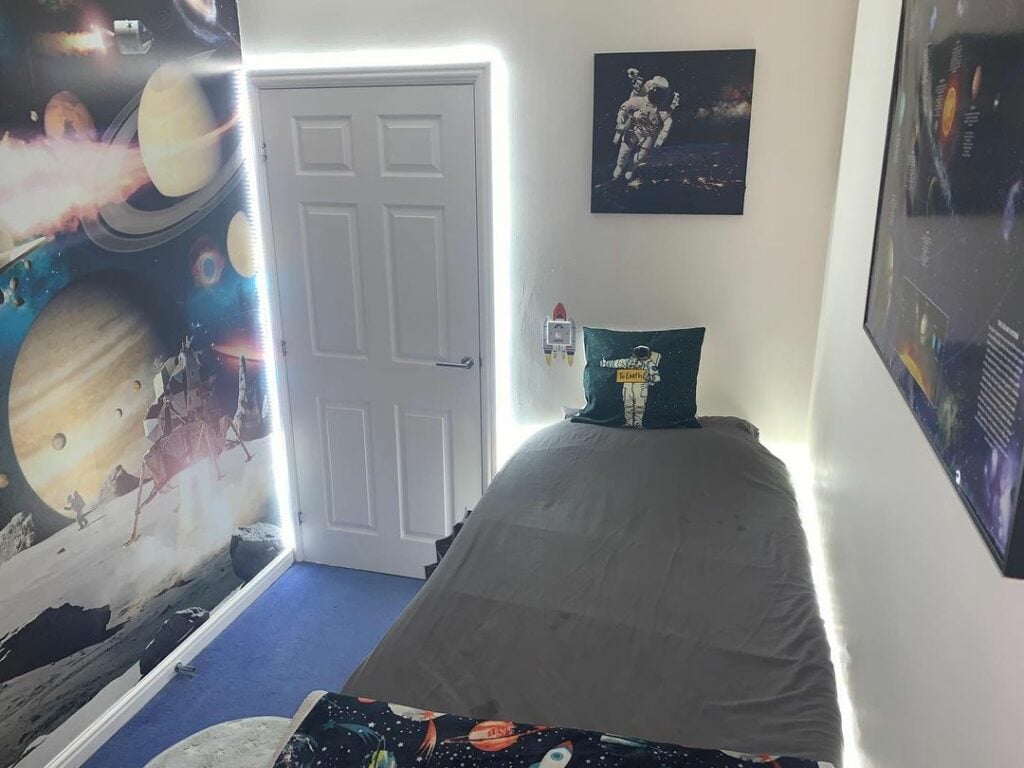 On a mission to create a stellar space for your astronaut? Consider this your launching off point: a space-themed wall mural + plenty of outer space wall art + LED lights (preferably surrounding the entire perimeter of the room).
It's a Wrap!
We hope our space-themed bedroom ideas help you create a stylish and fun interior that inspires a new generation of space explorers.
Remember, space is not a void; it's a canvas for our imagination. Your space-themed bedroom can incorporate everything, from a rocket-shaped lamp to a ceiling covered with glow-in-the-dark stars to a constellation accent wall!
Looking to add some otherworldly vibes to your walls? Check out Displate's space-themed wall art to blast you off into outer space!
What are the space-themed bedroom decorations or design ideas we've missed? Let us know in the comments!