Moms and dads, it's time to let your artsy side run wild by giving your little ones their own galaxy. They say we should all give our children the world; well, we think it's more epic to give them the solar system too! Or at least their own space-themed nursery.
Nurseries are a very special place for children to feel safe, warm, and connected to their parents. It's also a fun design project opportunity for new or expecting parents to bond over choosing wall paint and posters. No matter your design preferences, you can't deny that space-themed aesthetics are fantastic.
Spiderman room decor ideas are also excellent for the not so little, "little ones". Be sure to explore them for more inspiration. And for more space-themed interiors to love, enjoy these 25 Space-Themed Room Ideas Your Kids Will Love.
Glowing Space Nursery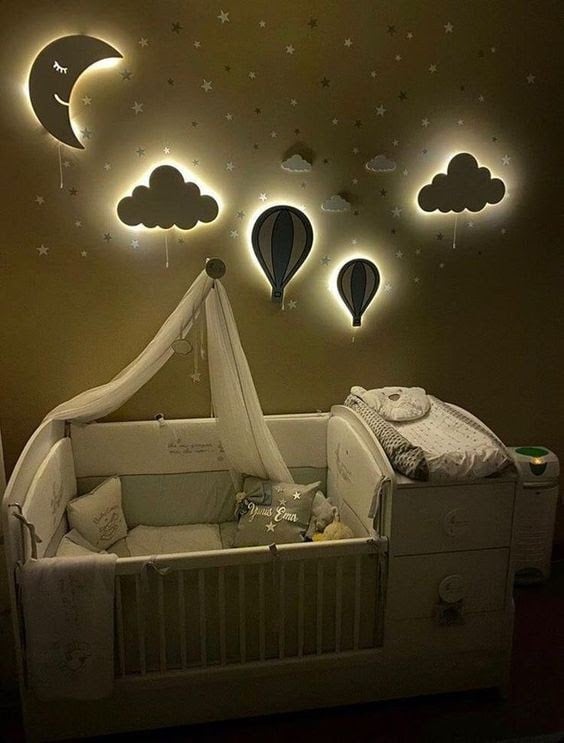 These glowing wall lights look fantastic in nurseries. You could get some in the shape of planets or the unique ideas we see in this image.
Moon Space Constellation Theme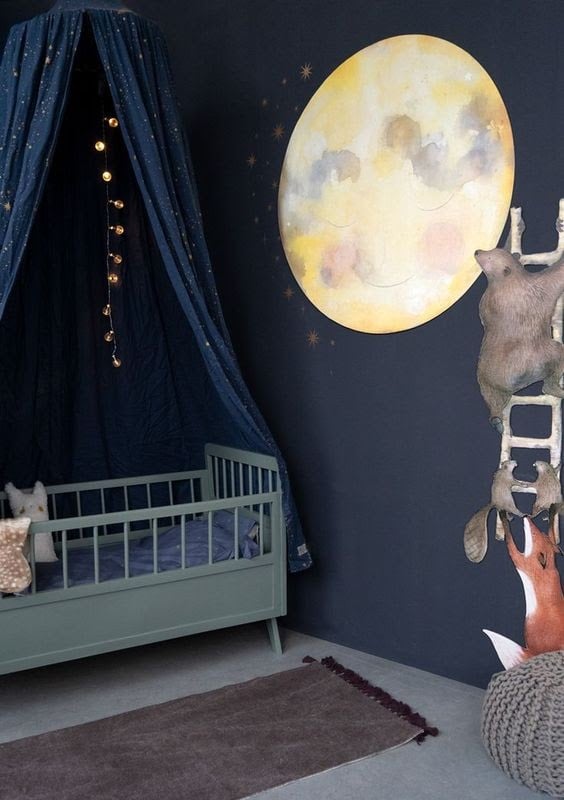 Get a few hanging lights and a giant glowing moon feature for the wall, and you've got yourself a great space themed nursery.
Space Posters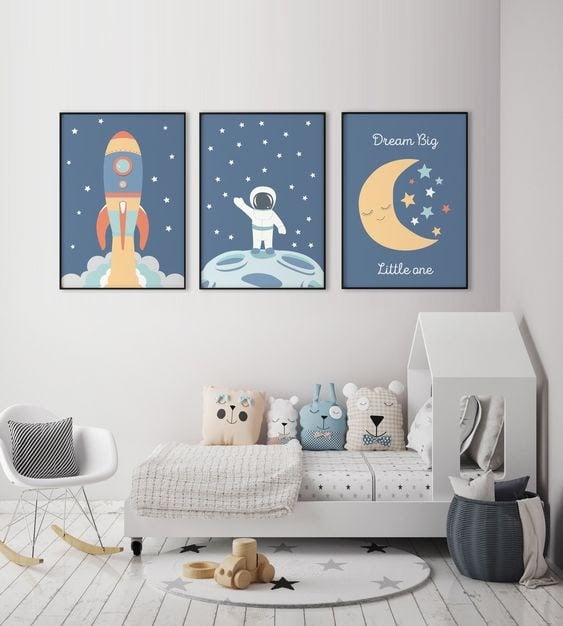 It's a poster party in your nursery. You could go for some space posters on the Displate store or opt for something a little more niche like Star Wars themed posters.
Stars Outer Space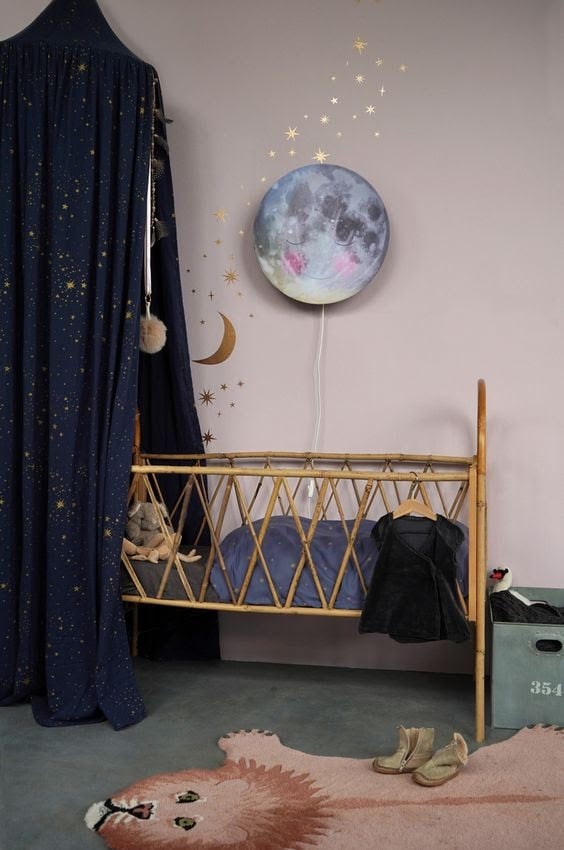 Wall stickers of stars and planets make for a lovely decor feature in your nursery.
Death Star Nursery
Here's a Star Wars themed nursery. The wall painting has an epic death star image and an excellent Star Wars mobile hanging above the crib.
Star Wars Theme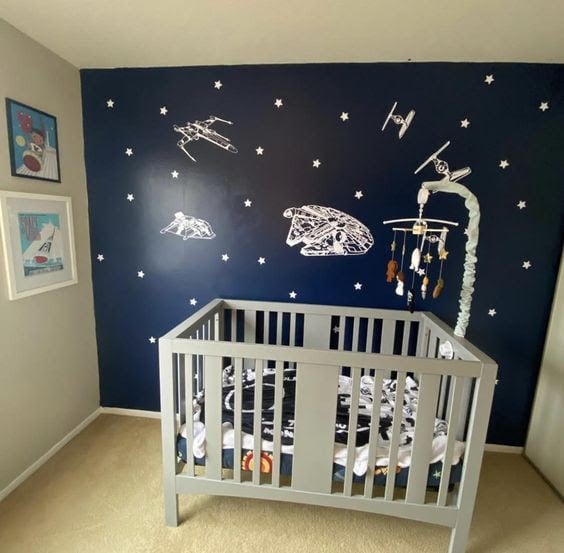 Mobiles are a popular feature in space themed baby rooms. You can add planets or star wars characters like in the example above. We've also got a fantastic Star Wars themed mural.
The Force Is Strong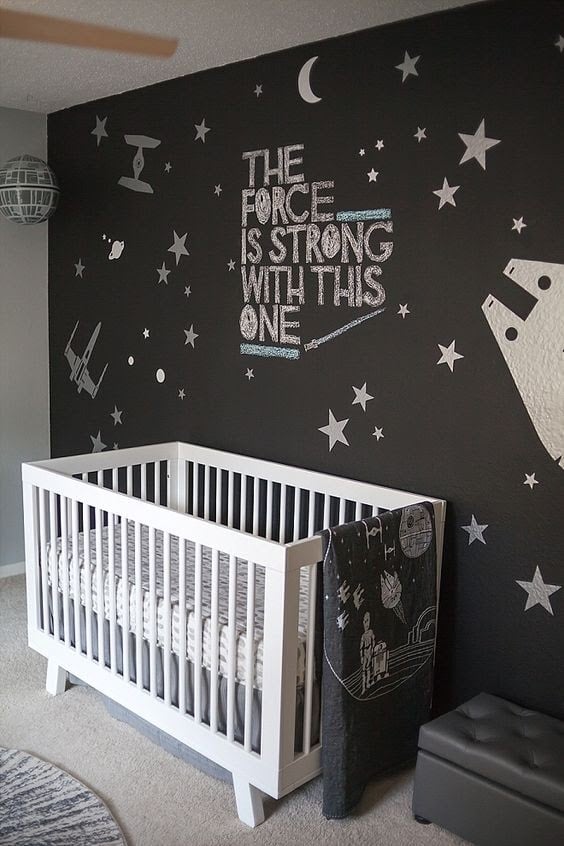 Let the force be strong with your little ones in this epic space themed nursery. Yet again, taking inspiration from the famous film franchise Star Wars.
Cosy Space Movie Theme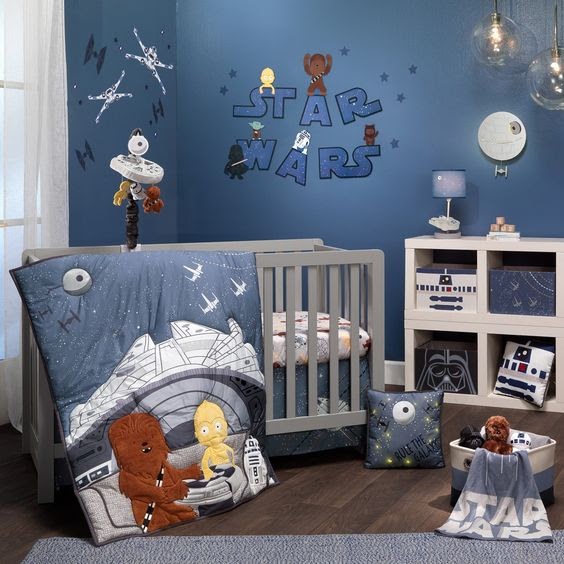 If you're looking to go all out on your nursery budget, why not fill it with personalized collector's items like in this example above. From the Crib blankets and covers to the themed wall decor. Add a select star wars poster to complete the themed look.
Bookshelf Nursery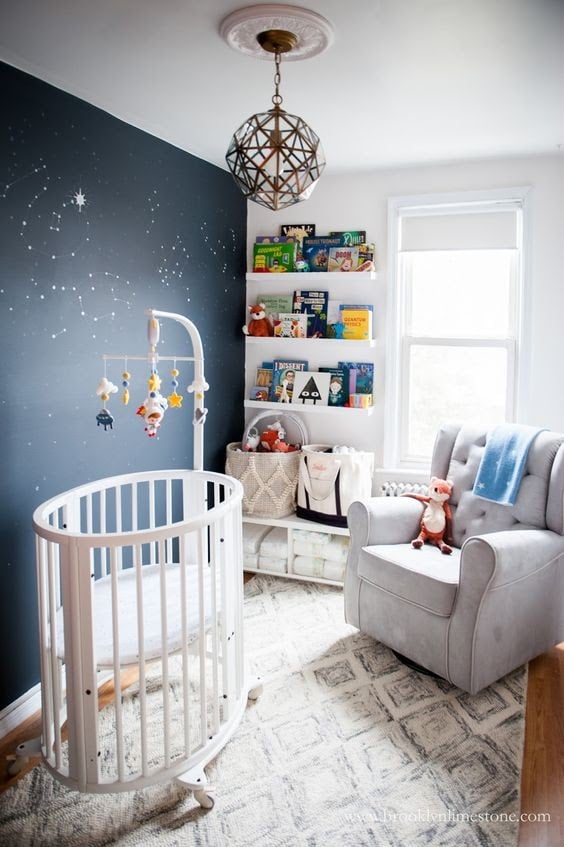 Here's a friendly nursery with all of the essentials, from a great bookshelf to planet style mobile. The wall art has some beautiful looking constellations too.
Epic Mural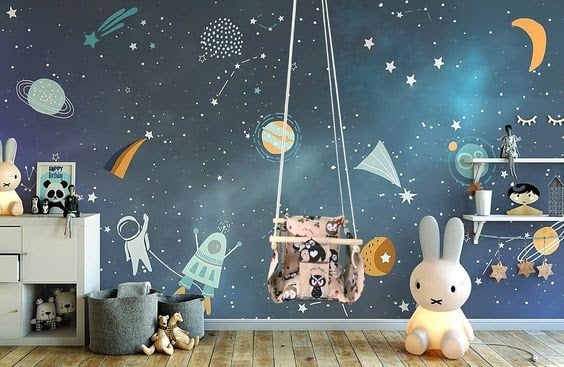 The walls are the best canvas to drive a theme home. Like in this epic nursery, we've got a bold mural with everything from planets to shooting stars. We're also madly in love with the lovely shelves and surfaces stacked with some incredible action figures and decor sculptures.
Minimal Crib Room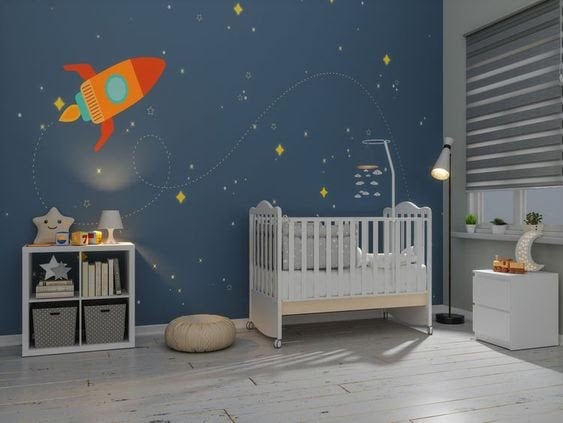 Here's a lovely minimal nursery with all of the essentials.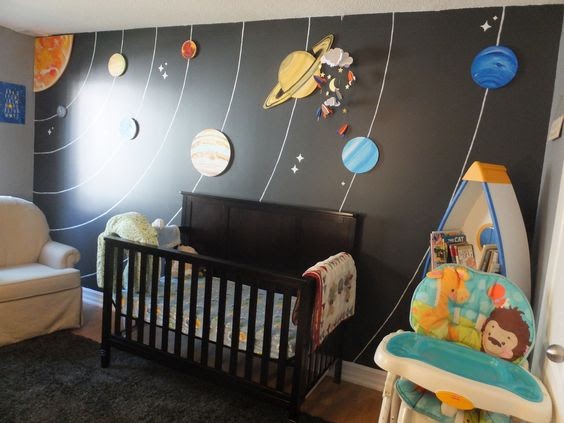 Okay, If we're talking solar systems, we've got to admit that this nursery had the most epic representation of our very own.
Star Wars Intro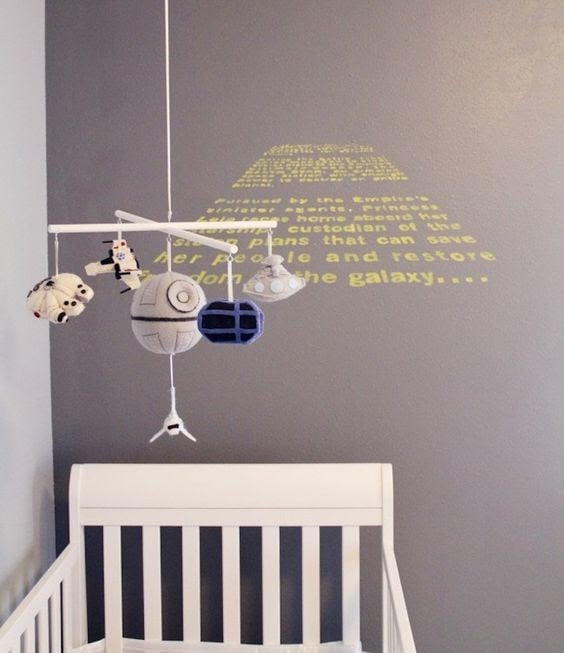 Mobiles make a great space-themed feature; we're obsessed with these Star Wars themed ones. We also like the writing on the wall in this example.
Large Moon Outer Space Nursery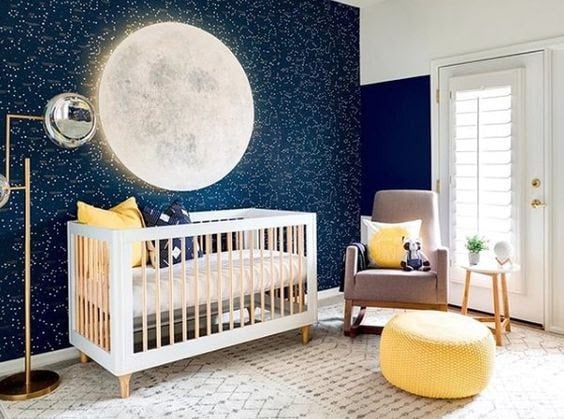 Add a pop of bold colours like yellow and the right amount of space-themed wall art, and you'll get yourself a fabulous room.
Chalk Board
Make your nursery a creative space by adding a chalk wall. We like this example featuring a drawing of the planets.
DIY Solar System Mural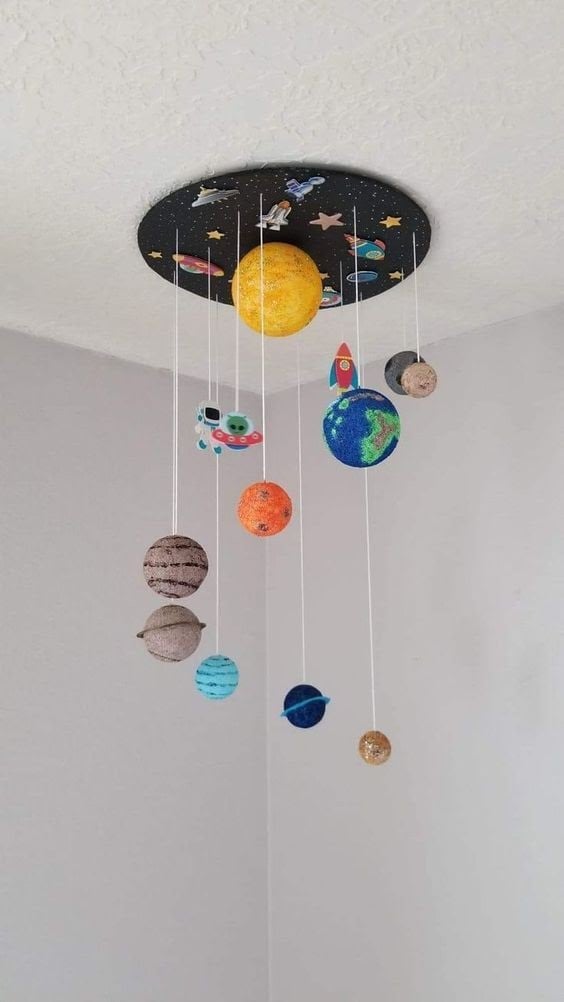 Here's an excellent custom mobile with planets on it. These can make for a great DIY art project and are incredibly easy to make with the right tools.
Space Posters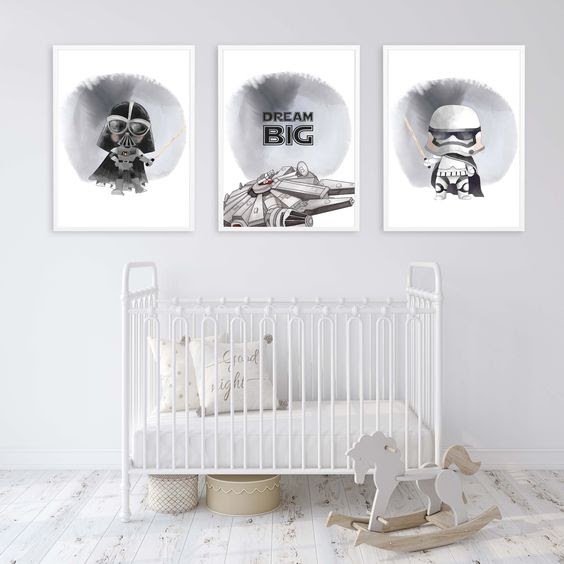 Space themed posters make any nursery great. We've got some cute Star Wars posters looking absolutely epic in this nursery in the example above.
3-D Planet Mural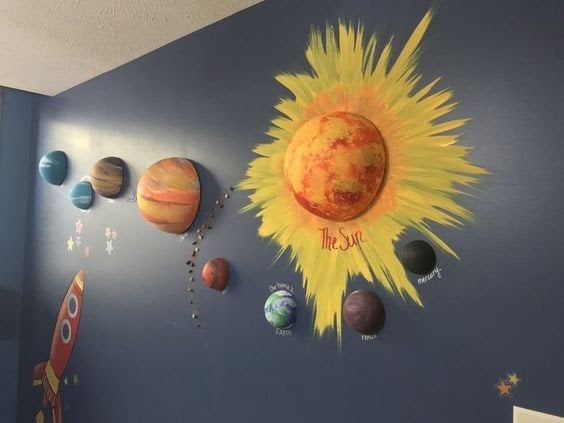 Looking to have a 3D effect on your walls, why not go for 3D shaped planets like the ones in the above example featuring a solar system.
Space Lamps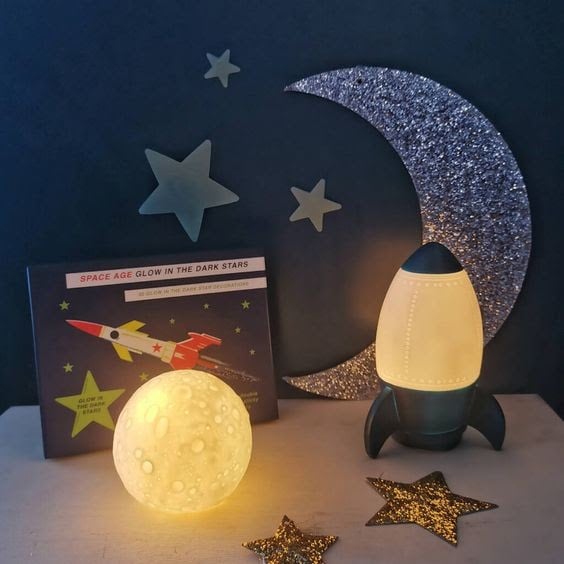 We had to mention these lamps. Which one do you prefer, the moon-shaped one or the rocket-shaped one?
Night Sky Mural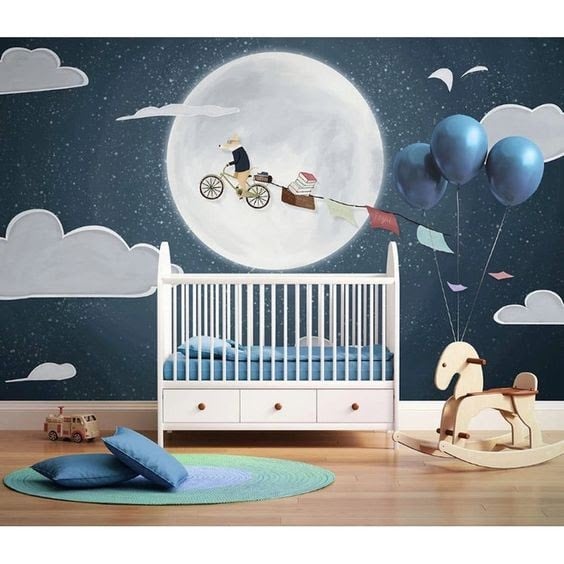 Here's a burst of imagination in this nursery. The mural has a beautiful moon illustration and it also depicts the night sky in a beautiful way.
Jedi Nursery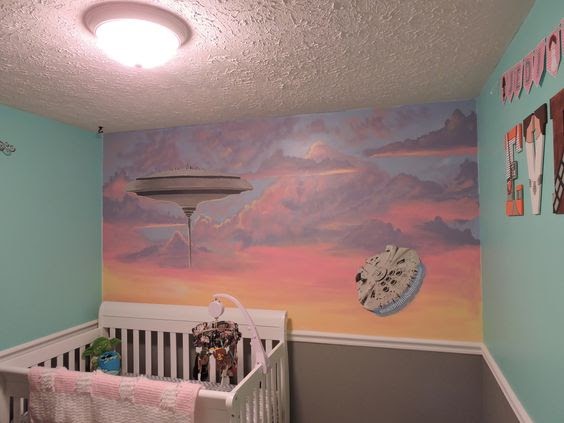 For something a little bit different. Here's a great Star Wars themed nursery with a beautiful pink themed mural.
Star Ceiling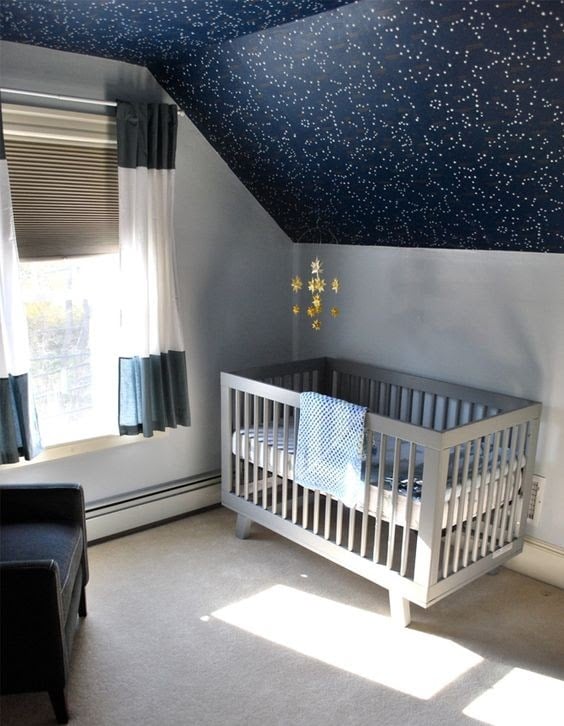 Let your little ones gaze at the stars in the night sky with ceiling paint. It's certainly safer than letting them sleep outside.
Ceiling Mobile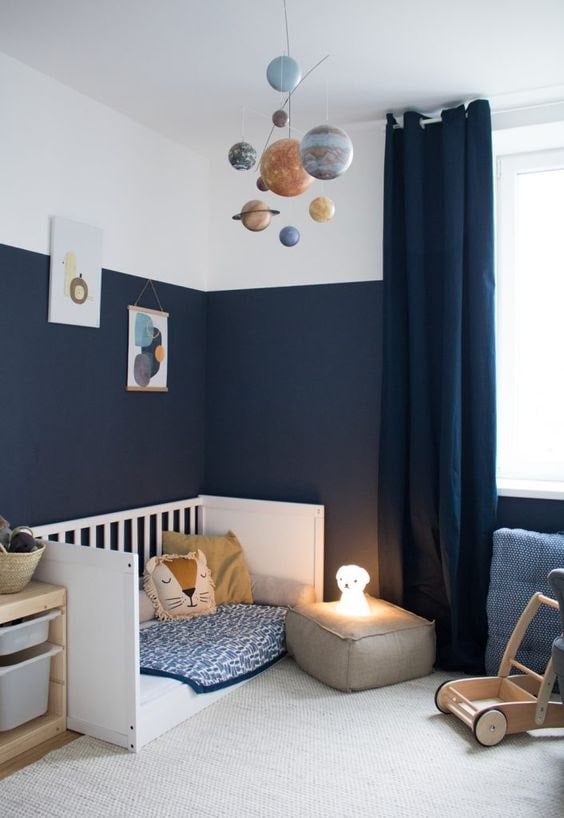 Sea Of Stars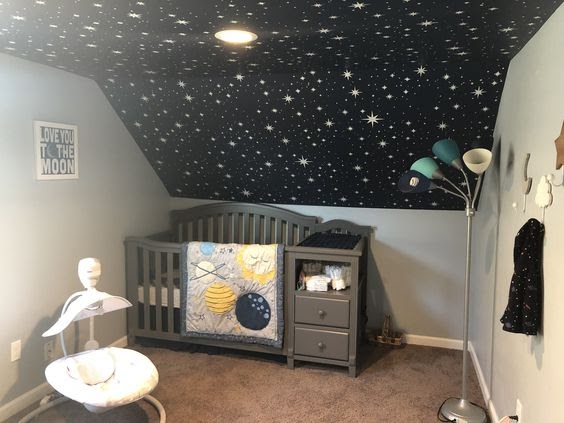 Here we've got another awesome outer space nursery ceiling mural of stars.
Wall Of Constellations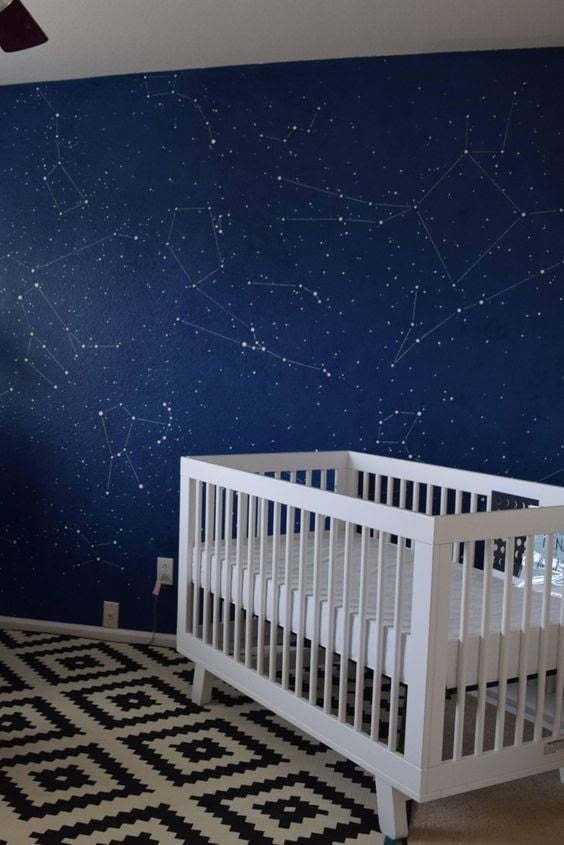 Cosy Constellation Room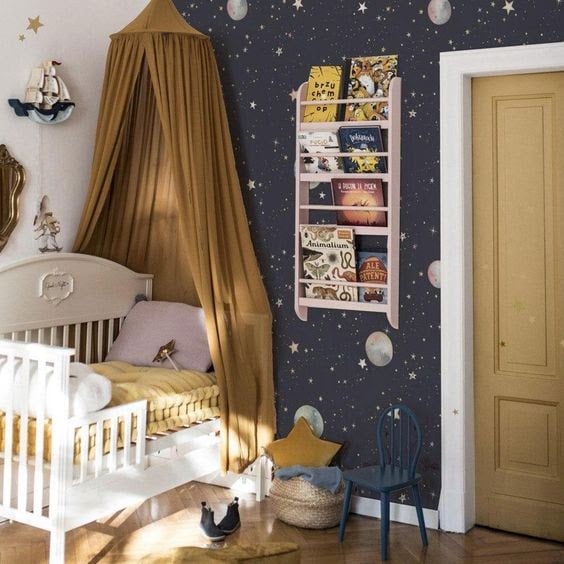 A good outer space nursery starts with some cool wallpaper.
Cute Wall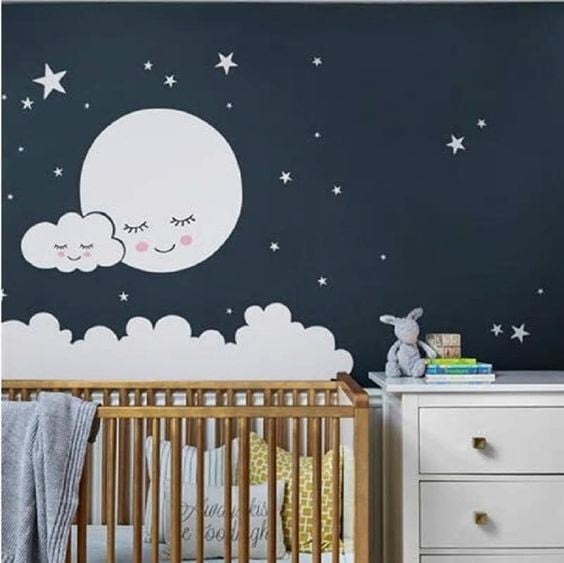 As seen here, Gentle space theme wall paint can create a cute atmosphere in a nursery.
Essential Space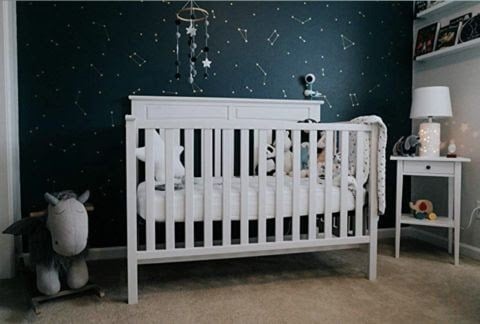 Space is famous for its awesome constellations, use the nursery walls to showcase some popular constellations.
Grey Tones Room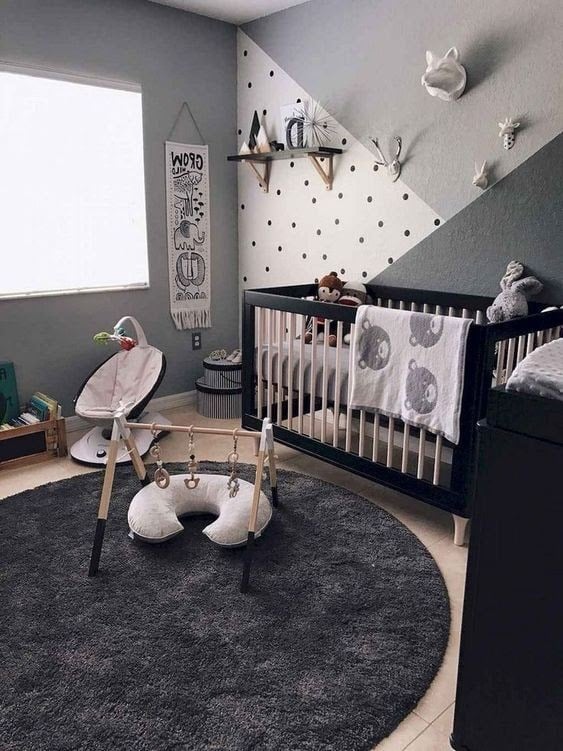 Detailed Minimal Space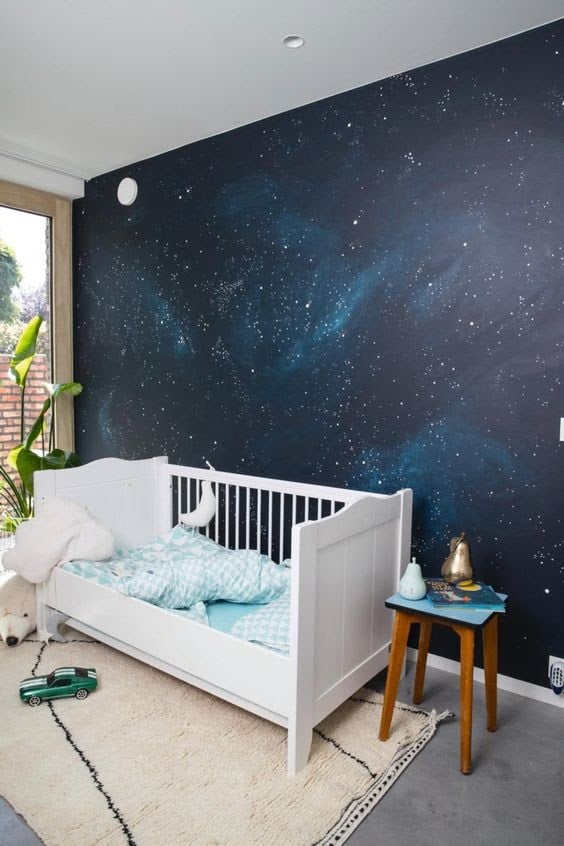 If your space nursery wall budget is on the higher end, go for a more detailed rendition of the night sky to give your little ones the feeling of sleeping in space. Perhaps add a few rockets and space ships to add a unique touch to the mural.
Moon Centerpiece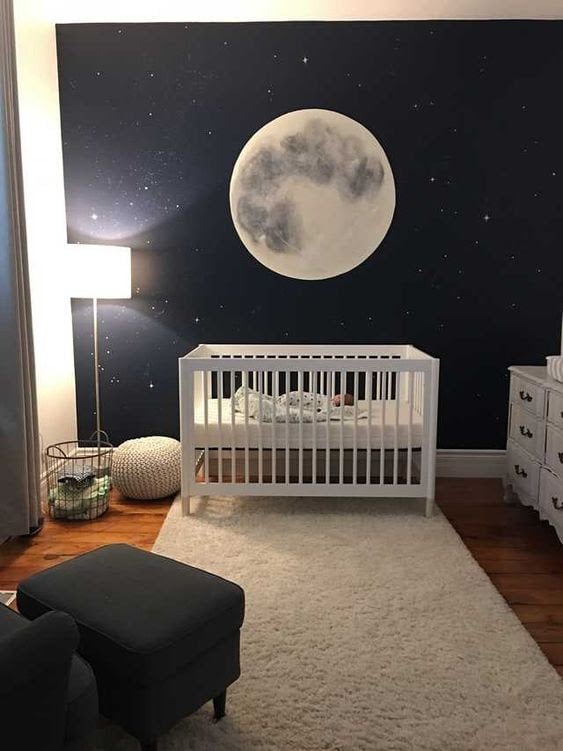 Space is a vast place filled with many planets that can serve as a central theme. The moon can inspire a room with calm white and blue tones.
Space Themed Nursery Wallpaper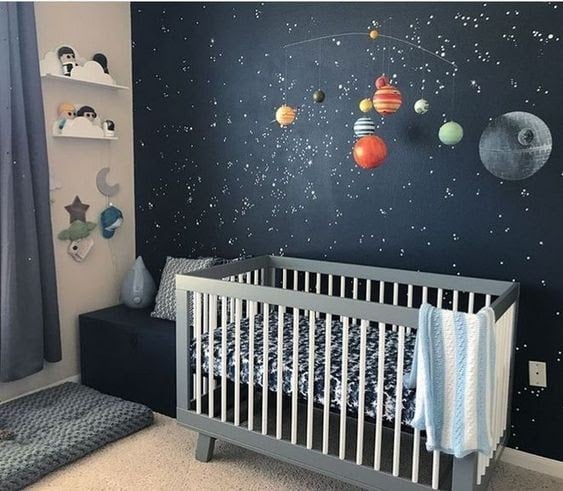 One essential addition to space theme nursery decor is a mobile with planets to leave all kids feeling inspired.
3D Ceiling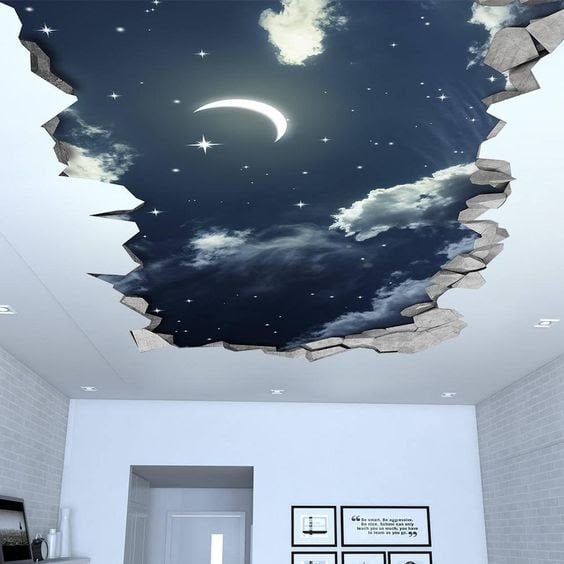 This image features an epic 3D artwork on the ceiling. It looks like a portal into the sky. This is a very unique idea for your space theme nursery decor.
Wallpaper of Constellations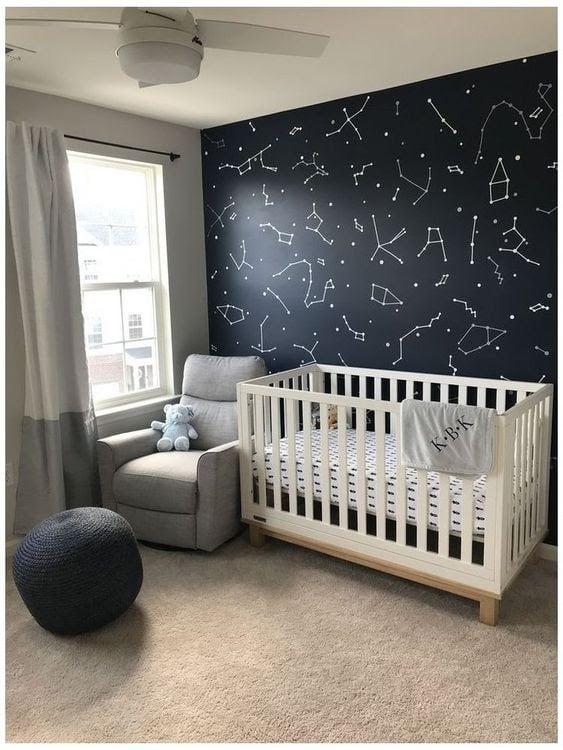 Moon Above the Crib In Outer Space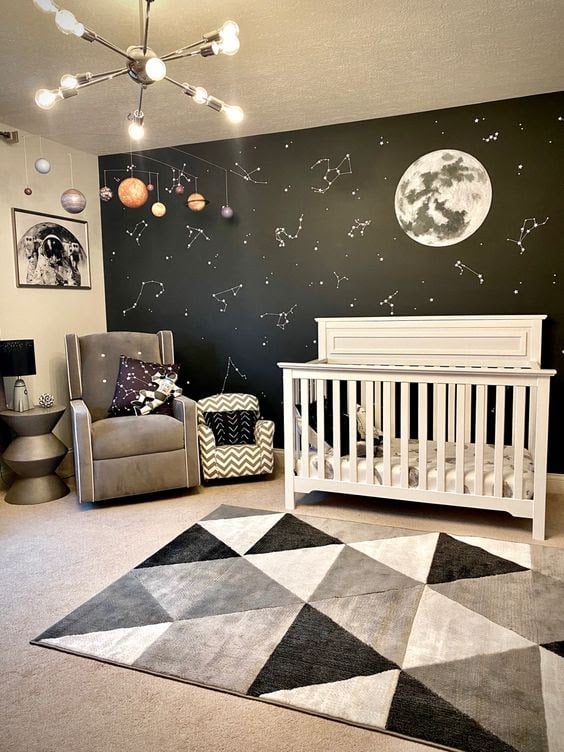 Moon & Stars Mobile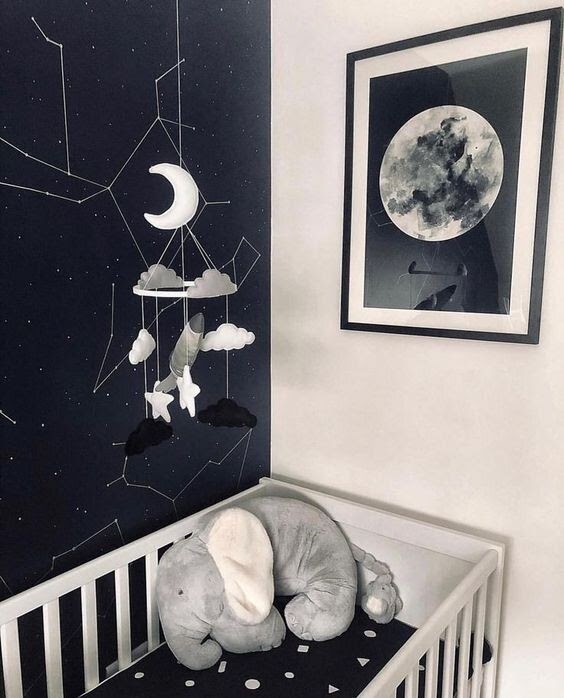 Fun Space Theme Wallpaper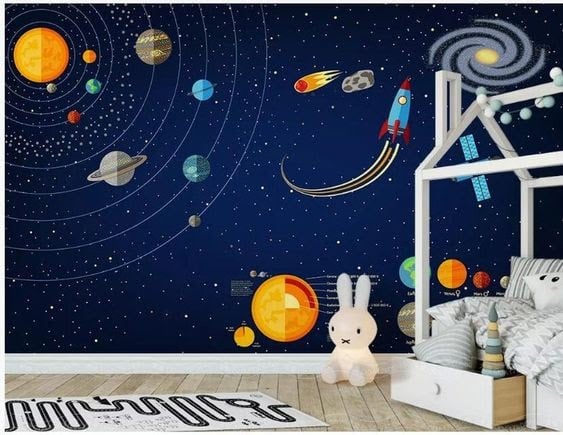 Unique Space Theme Linen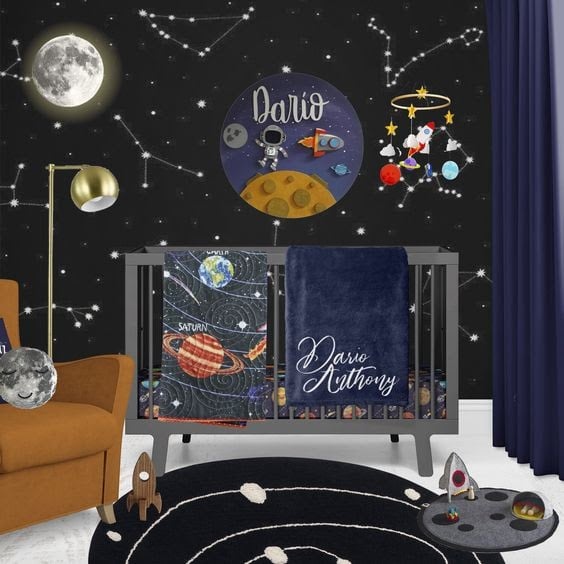 Outer Space Shelf Decor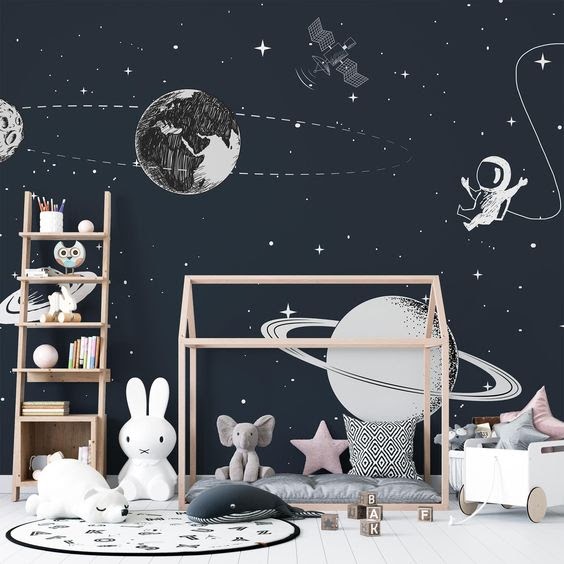 Full Star Wars Collectors Nursery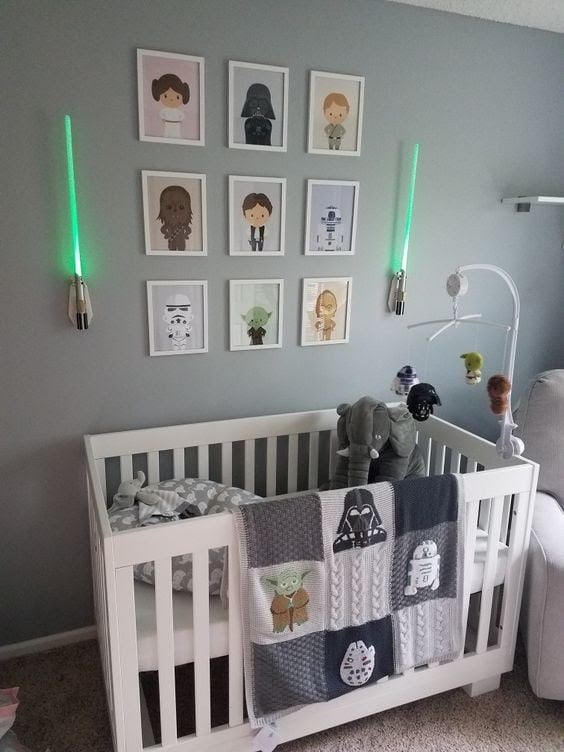 Conclusion
Now that we've shown you some awesome space-theme nursery decor, it's up to you to start creating the perfect space for your little ones. One notable mention is to consider everything from curtains to pillows and how they can be integrated into your theme. The whole idea is to make your baby feel like they're in outer space, gather your ideas and make that a reality.