No matter how much women don't want to be treated like delicate flowers, their beauty catches our eyes like blossoms in spring. They are all sharp like roses, stunning like sunflowers and fun like tulips. Today is the day of every lady in the world and they're all gonna be gifted with tons of bouquets from early morning till late night, so it's impossible to celebrate this festivity with anyone else but Pedro Tapa. His art is a subtle and intriguing mix of feminity and the beauty of nature, so let's dig into his illustrations and find out more about Pedro Tapa's adoration of women. 
To celebrate International Women's Day we didn't ask Pedro to talk about himself, we wanted to know more about his fascination with surrounding females with flowers, not only on March 8th, but constantly. And here's what he told us.
Where did the floral series come from?
Many years ago, l painted pictures using only lines with black and white, trying to work on some of my old sketches of figures, landscapes, gardens and so on. I was so attracted to the effects of all sorts of lines interacting together and for some few years of doing that, I decided to make it using a computer for convenience and practicality.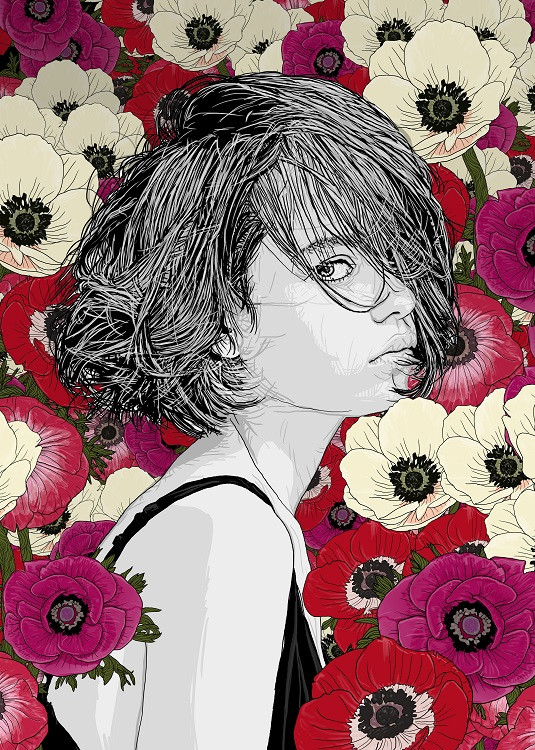 You've worked out a very decorative style, which makes me think of these old flower illustrations. Has anything from the art world inspired you to create the series? 
I can say that art nouveau had an influence on me in creating this type of art, the curved lines, and the flower motifs.
What is the technique that you use? It seems like a very time-consuming process with all the lines and precious patterns. 
These series are done in Photoshop. Before starting, I collect pictures that I can use for references,    I copy, trace and draw them, and put them all together carefully. In my earliest works, I mostly composed line drawings of flowers and figures, with not much of graduation and tonality. I let the lines just appeal to the eyes. But the recent ones are more detailed and have colours. Yes, the work is time-consuming and can be boring at times, especially when I am just getting started, but I am always happy and satisfied. Every time I am finished with work.
Women are everything in your art. Do you look for something unusual in their faces, which every time convinces you to make a particular girl the main character of your art? 
I draw women because I find them interesting. I am attracted to their feminity, maybe that is because I have the opposite sex, and because of that I can never understand them fully. I am not really sure why I choose their faces, probably of their facial symmetry, or simply because of their beauty.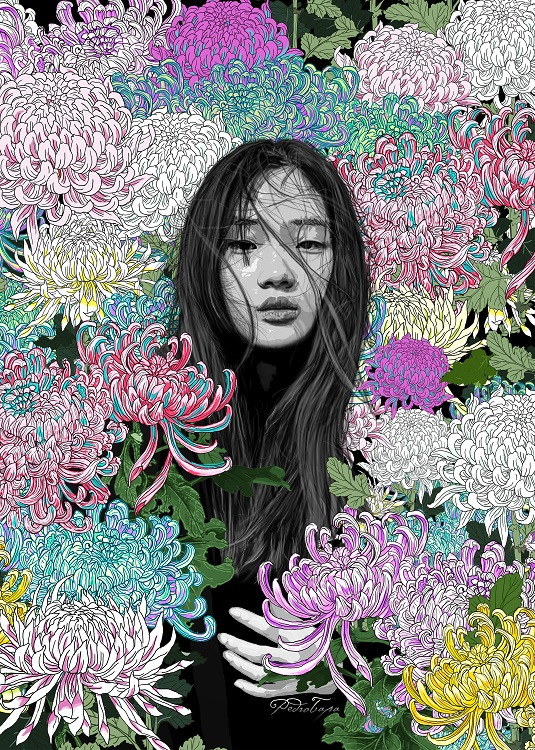 So… every woman can  be your muse? 
Anyone can be my muse or maybe not. It depends.
As a person so passionate about drawing women you must be surrounded by important ladies in your life. Do they inspire you to create? 
My entire life, women greatly influenced me. Both in personal and as an artist, regardless whether I am creating art or doing other things. Yes, most of the times, women influence my work and most of my works are inspired by women.
And.. can you think of any woman from the art world who deserves to be mentioned today?
There are so many great female artists today, but I say Paula Rego is one of the greatest.
Feeling like in a paradise yet? If not – visit Pedro's gallery on Displate or scroll his most beautiful artworks below!