Liam Wong is one of those spirits with whom we would not be scared to wander in the dark. He takes us for a walk around Tokyo and lightens up the way with glowing neons. He talked to us about his recent book, hunting for the best shot and movie inspirations, so scroll down and read the interview with the most cyberpunkish photographer we know. 
First of all, congrats on your book. What will we find inside? 
Thank you! TO:KY:OO is a cyberpunk-inspired exploration of nocturnal Tokyo, spanning my three years as a photographer. It's a passion project which reflects how the city inspired me creatively. Countless hours on the streets after midnight – often in the rain – exploring and wandering the metropolis.
The book itself has a foreword by game director Hideo Kojima. It is 256 pages filled with color images, accompanying the text and includes two panoramic gatefolds.
You have recently left the Ubisoft family. Does it mean you stopped working on games and started your career as a full-time photographer?
I left my job earlier in the year to pursue personal projects – something I had always dreamed of doing, photography is definitely something I do a lot of now which I still find a little weird.
What else are you working on right now? 
I am currently working on my first step into the film, a video game and hoping to exhibit my work for the first time next year.
When did you know that photography is something you would like to develop in? 
I hadn't really traveled before and so as I began to travel I started taking pictures on my phone. I instantly became hooked and eventually upgraded to a camera. I knew I wanted to develop the skill when I combined my background in games (developing styles) with my photography – I would say that's where it became exciting for me creatively. I really felt the drive.
What was the origin of the Tokyo series? Do you remember the exact moment when you took your first photo? 
I went to Tokyo for the first time in 2014 for a press tour for the game Far Cry and knew I had to return and so a year later I went back.I was mostly taking touristy vacation pictures of Tokyo and sharing them on my personal Facebook. I didn't use social media much back then and there was one picture I posted that friends really liked and encouraged me to post more and so I would say my fascination for night photography began there.
The picture is a taxi driver waiting in the rain for a couple to exit a love hotel.
How did you like this picture? 
It inspired me to go out after midnight and find those isolated moments which eventually turned into an entire series (and a book). There's a balance in the composition, the rain on the taxi, the way the interior is lit up from the open door.
What are your influences? Anything from the game/movie industry?
A lot of my influence comes from film, particularly movies like Enter The Void, Blade Runner and In The Mood For Love. In terms of video games, SNATCHER and Mirror's Edge. If I had to pick individuals it would be the work of Syd Mead on Blade Runner and the photographer Fan Ho.
How do you achieve the 'cyberpunkish' effect in your photos? 
I study a lot of examples in film and experiment with color grading to achieve the look I am aiming for – to do so I usually use Lightroom or Photoshop, with some artistic effects. 
How much time do you devote to each of your pictures, so they look like paintings?
I would say I can achieve the look quite easily these days through practice, but I think what is important is to always take a step back and take time away – it always helps to look at things with fresh eyes.
Which shot is your favorite?
Memories of Green – I like how the wires cut up the scene, the mix of typography in the signs, the silhouettes walking towards the camera and the verticality of the scene. The smoke from the recently extinguished hot coal fire just adds to the feeling.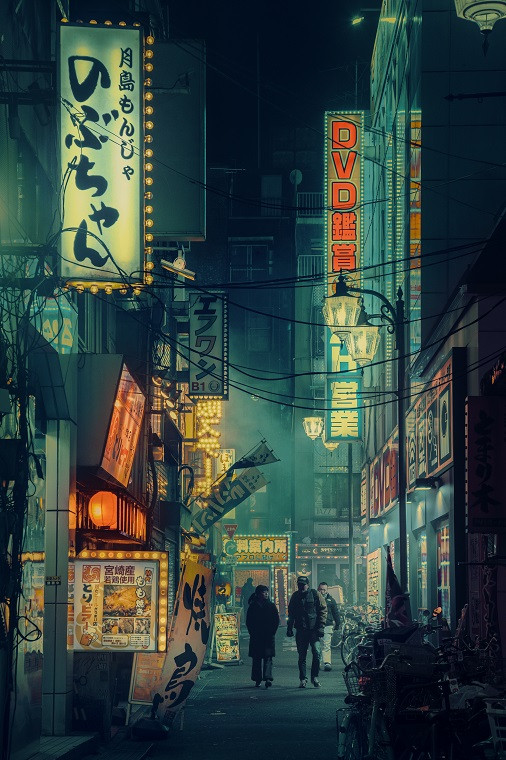 You are very active and popular throughout all social media, but when did you notice the massive growth on your Instagram? 
I would say when I began using Instagram Stories – it's such a great way to interact with and get to know those that follow your work no matter the size of your audience.
Which one of the social media channels do you consider as most valuable for artists?
I've found Instagram is great for meeting people in real life – I usually arrange hangouts when I'm in a new city, I have so many great memories of meeting other artists over the years. The Stories feature is the best thing about it for me and sharing snippets of places I visit. 
Twitter is probably the best platform for reaching new audiences and engaging with people and I enjoy it more these days, especially for the higher resolution. Personally I love it to share different types of work.
Do you have any tips on how to promote your art in the best way on social media?
There's no secret shortcut – I would say just create and share things that you enjoy, be positive and connect with other creatives and the rest will follow.
What do you usually have in your camera bag?
Many different ways to protect myself and my equipment from the rain. Typically I try to keep my gear light when I'm on the streets. One camera, one lens (35mm) and my iPhone. I do have a full list here: liamwong.com/gear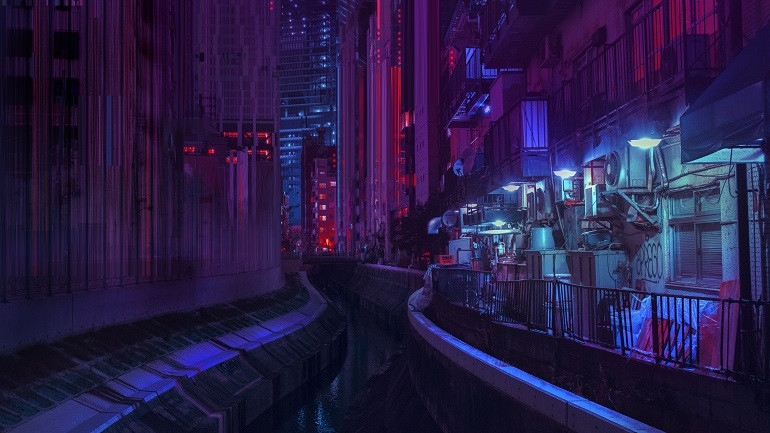 Do you use any software for photographers? 
I use the Adobe Creative Suite and mostly spend my time in Photoshop/Camera RAW over Lightroom.
Do you find websites like Displate useful and profitable for photographers? 
Absolutely. As a creative, it's really difficult to manage requests for artwork and so it's a great platform to make the art available for those who want it. I still just find it really cool that people choose to have my images in their homes. It may not be apparent when you buy a print but the support goes a long way to keep myself and others afloat as independent artists.
What are your plans for the nearest future? 
My only real plan is to keep creating and to share that knowledge along the way. I plan to make a YouTube – I have new work coming out soon, I spent some time exploring new cities and I can't wait to share it all.
You have recently visited Warsaw. How did you like the city? 🙂
I really loved it. I hope to return and spend more time there. One of my favorite places was the Neon Museum where they were preserving a lot of historic neons of the city. The people were really great – I only knew how to say 'dziękuję' but it made people laugh, possibly at how foreign I look combined with my poor pronunciation.