Embracing unique room decor aesthetics with a mashup of personal design features is perfect for Indie Aesthetic Fans. From quirky touches to retro posters, Indie Aesthetics are all about keeping things unapologetically different from anything anyone else has seen before. And yes, we know that in the modern era, different can mean taking inspiration from the 60s and 70s like most indie rooms do, but who's complaining? If that's what it takes to get our indie on, then so be it!
You're probably going stir crazy hoping to get started on your next indie aesthetic room but hold on a second! We've got to get something straight here. Before we start talking plants and all things psychedelic colors it's important to note that the only perfect indie room for you is one that feels calm and peaceful. Whether you use furniture or posters to achieve this is totally up to you. According to what we've found to be most common in Indie Room decor Aesthetics here's a comprehensive summary list of what you'll probably need. Thank us later!
Indie Room Decor Checklist
All of these features are not mandatory, but they'll certainly point you in the right direction.
Bold design pieces with funky colours
Vintage Posters, Retro posters, and even more Posters to spruce up your walls
Old books, brochures, Diner menus and other retro print media
Vintage accessories, like retro technology, polaroids, typewriters etc.
Last but not least, plants
Oh, and if possible, a time machine back to the indie-rock revolution of the 60s and 70s but that's not a prerequisite
Why Are Indie Aesthetic Rooms So Desirable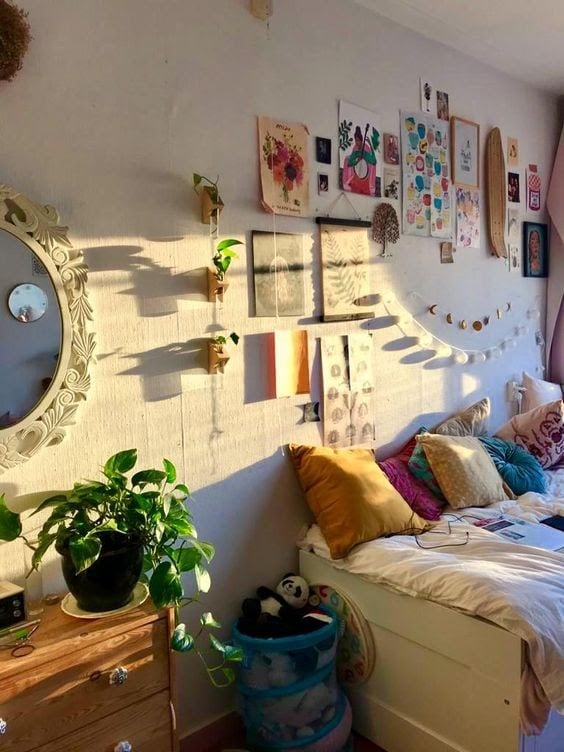 One of the interesting aspects of the Indie Aesthetic rooms is that it's virtually impossible to find one that looks identical to another. Indie Aesthetic Rooms are unique because they are a reflection of the person themselves. They use colours that reflect their personality and they can incorporate different furniture pieces to make them stand out.
People who choose to have Indie Aesthetic rooms are aiming to create a calm environment where they can relax and escape from the world.
Quick TLDR Considerations For Indie Rooms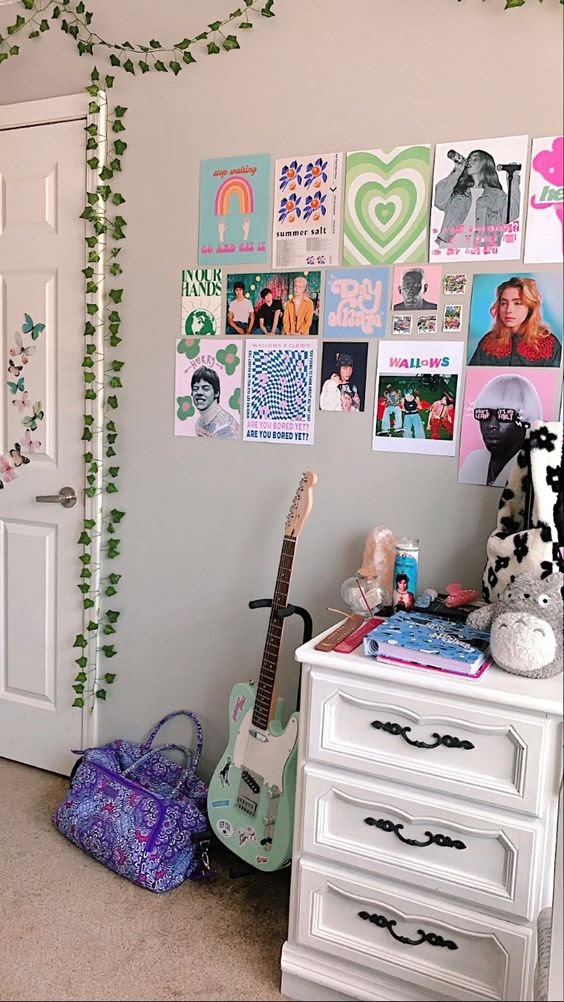 So, to get us going here's a few outside-the-box furniture & Design considerations for Indie Aesthetic Rooms.
Open Clothes Racks to Make clothing part of Decor – If you've got assorted clothing with different colors consider having it hung on full display to add to the overall room color palette.
Create a Photo Wall – Create a wall of unique photos that represent awesome films, music, artworks and other general interests of yours. An easy way to achieve this is to create a wall of Retro Displates in your indie room.
Vynl Covers or Disks on Your Wall – Speaks for itself, if you've collected a few old records over the years or perhaps you've just purchased a bunch of them online recently it'd be great to put them to great decor use on your walls.
Sentimental Mashup of Decor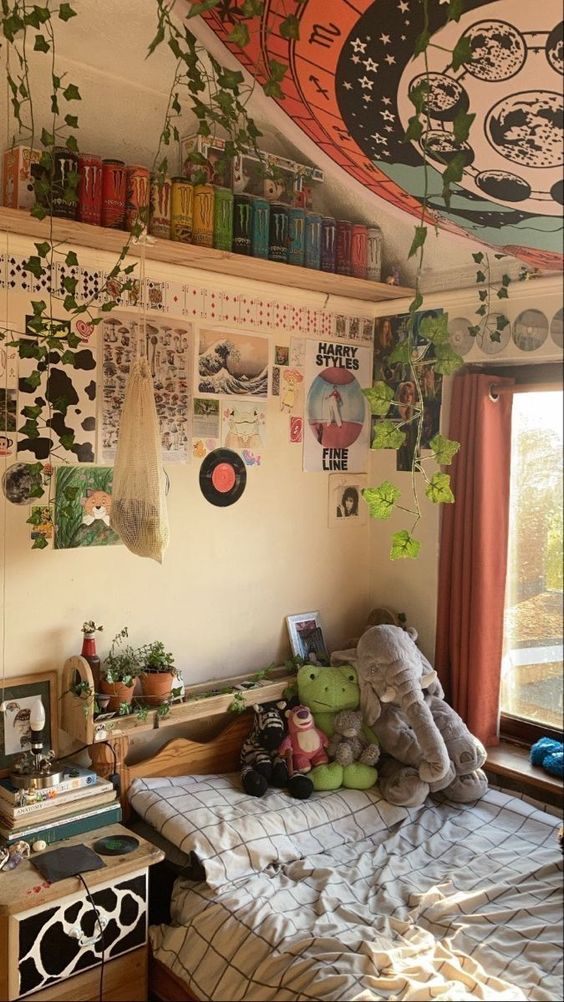 Idie decor is interesting in that it's perfect for both sentimental and none sentimental people alike. Someone might hang up a retro Star Wars poster because they love the films, another person could do it because they just thought it looked cool, nothing more. Either way, notice how in the example above is a collection of completely random items from plants draping off the ceiling to various shelved decor items. It's all a part of the story being told in this room. Completely unique and personal in a fun way. Gather your sentimental items and do the same.
Consider Indie A Design Approach, not A Style!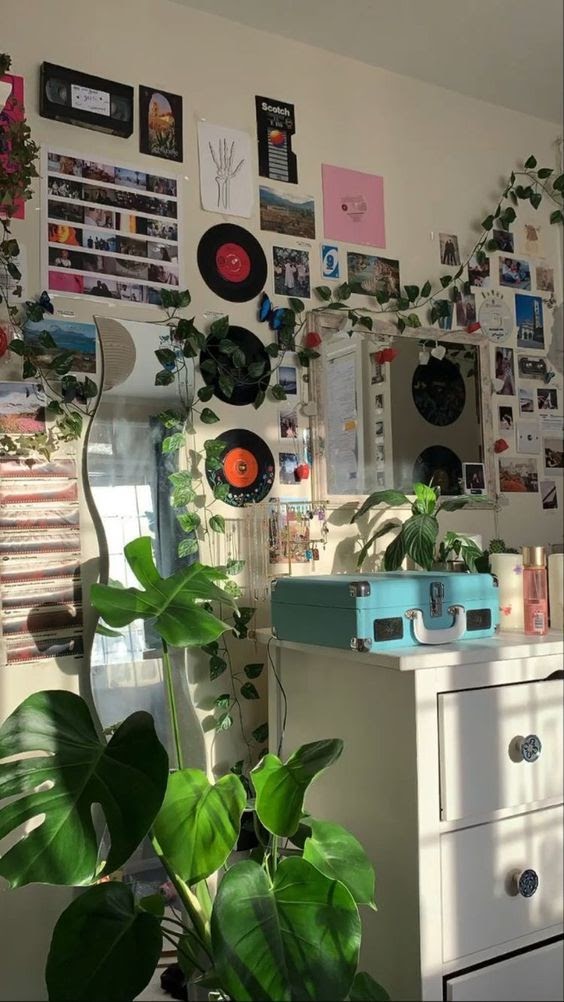 What does design approach mean? and how is it different from style? Well, when we say Indie is a design approach we really mean that it is based on personality and not a set list of rules. When someone opts to add bedcovers with vibrant mandalas on them to their room, it's a choice made based on feeling. In the image above, the wall accents are diverse and uniquely arranged. There's even an old cassette on the wall, adding to that unique vintage flair mentioned in our checklist.
Fun Vibrant Colorful Indie Room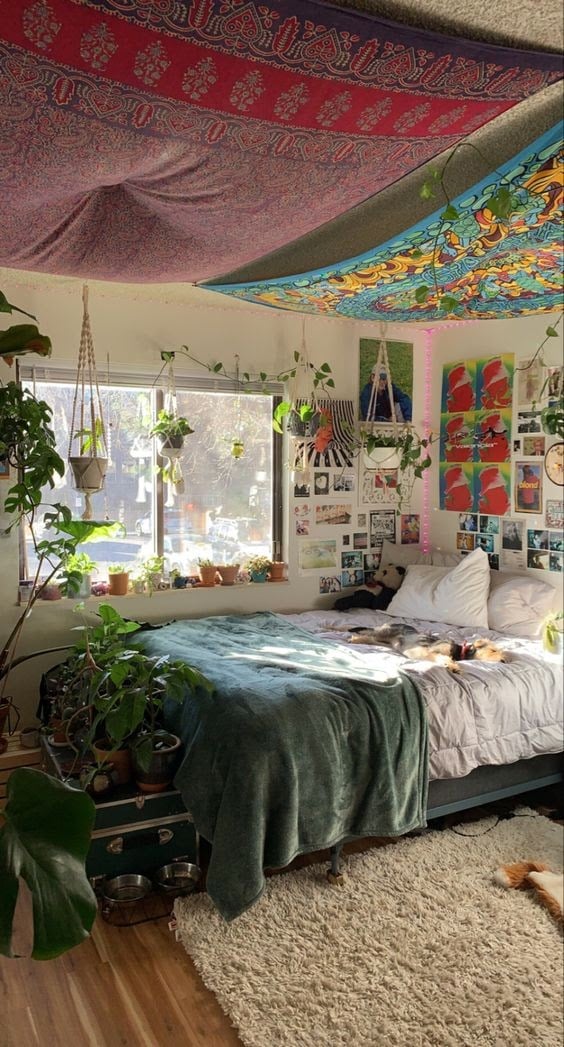 Indie Aesthetic Room vs Indie Rock & Indie Games
It's common to immediately think of Indie Rock or Indie games when you think of the word "Indie", that's not entirely far from what Indie rooms aim to achieve. Indie Rock was developed as a balance between different rock genres with pop accessibility. In the same regard, Indie aesthetics are all about mixing eclectic decor with mainstream design to have a unique space. Eclectic in the sense that, you'll probably find an obscure music poster of an old mainstream band or cult classic low budget film paired with more common features like draped plants in the same space. Indie games are games developed by most small independent game design studio's and if that's the inspiration you came looking for, to inspire your next room be sure to explore our stunning gaming bedroom ideas article too!
Thrifting Old Clothes and Furniture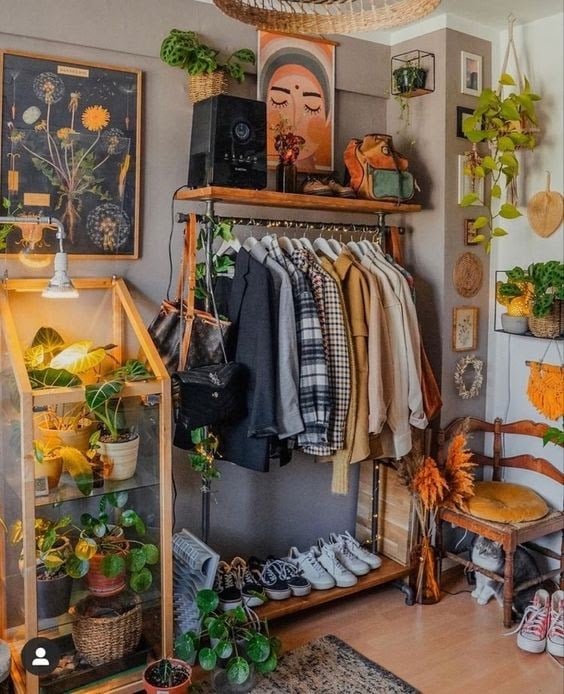 Indie Aesthetics are very closely linked to vintage fashion and thrifting. Most vintage fashion subcultures resonate with all things indie because just like the spirit of merging unique designs from many sources into your room decor, thrifted vintage fashion is about finding old but useful clothing and merging it to create awesome looks.
Minimal Indie Decor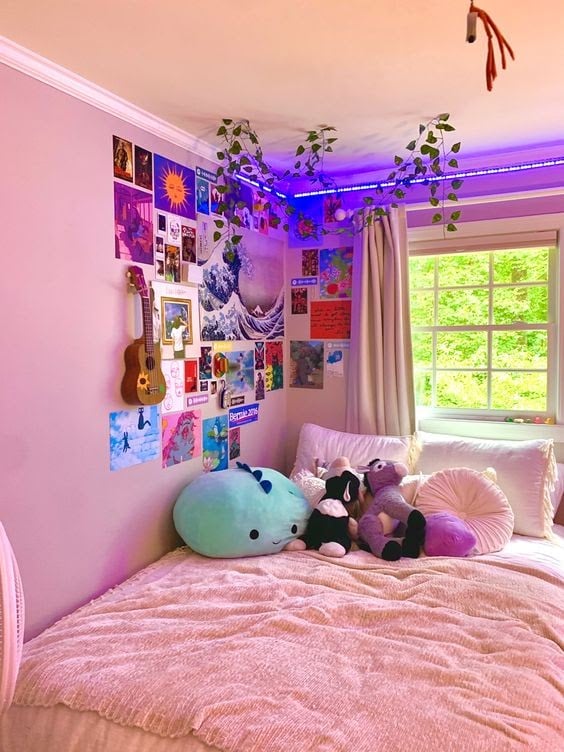 As we mentioned in our checklist, Indie rooms can incorporate magazine or newspaper cutouts as well as other refurbished print media sections to make cool wall art. In the example above we've got a cool wall decor section in the corner of this room.
Old Books & Record Players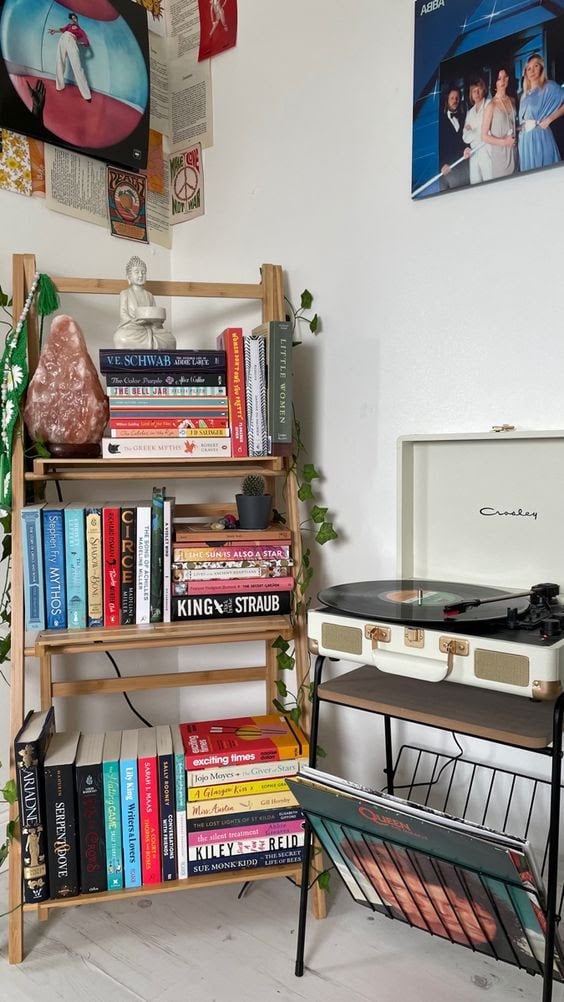 We're not sure why, but retro-tech and old books just work well in Indie Aesthetic rooms. Recor players and collections of old records are great. You can even opt to mount old record covers onto your wall as decor.
Esoteric Decor Mashup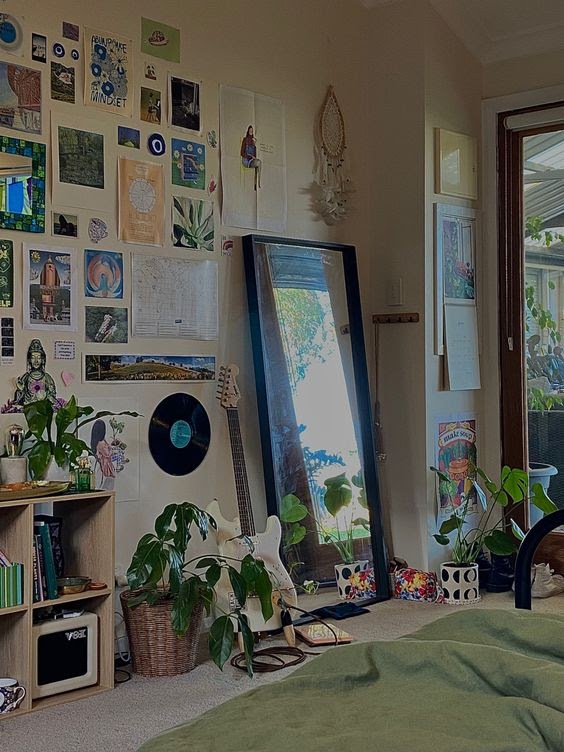 In the 70s indie rock era that gave birth to most of what we know as Indie, A lot of the imagery used by artists depicted eastern spiritual philosophy and psychedelic abstract patterns. That's continued into modern Indie decor, in the form of posters, drapes, curtains and wall murals too. Indie decor enthusiasts think outside the box, both in decor and worldview and we're completely here for it!
Drapes and DIY Inspo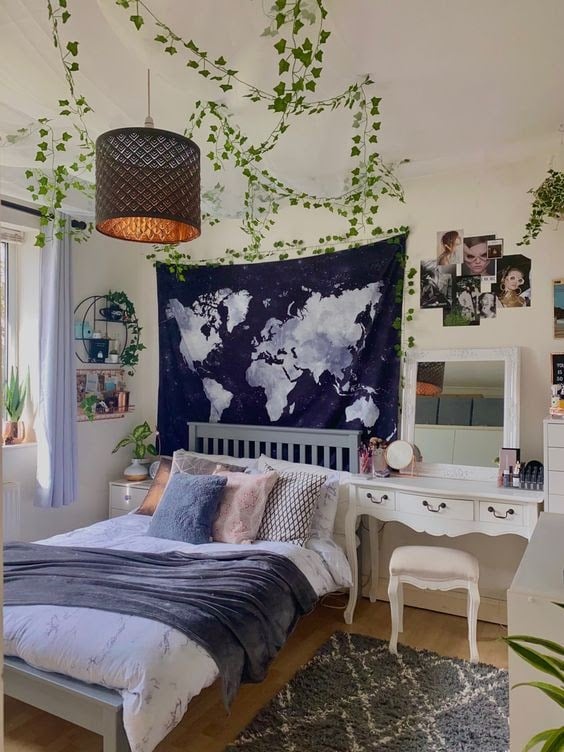 Do it yourself might be associated with creating or refurbishing your own decor and furniture from existing materials. But, in the indie sense, it's related to sticking to personal taste over conventional stylistic rules. That's certainly how indie aesthetic room curators create their own unique rooms.
The Vibrant, Bold and Bright Color Enthusiasts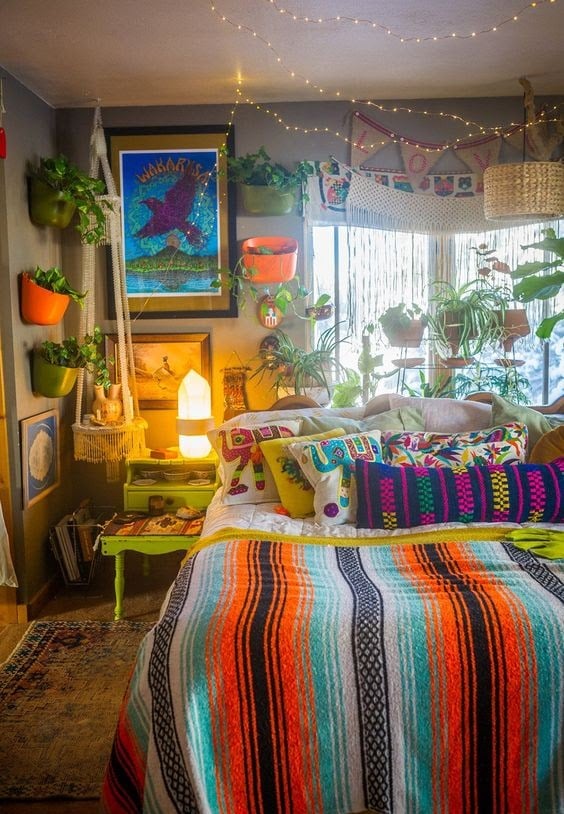 Yes, it is true that indie can include neutral color tones, however as in the example above it's also welcoming to vibrant colors. In fact more often than not indie aesthetic rooms have bold color in spades. We love the bedding in this example above, totally trippy and fun.
Indie Includes Retro Pop Culture Too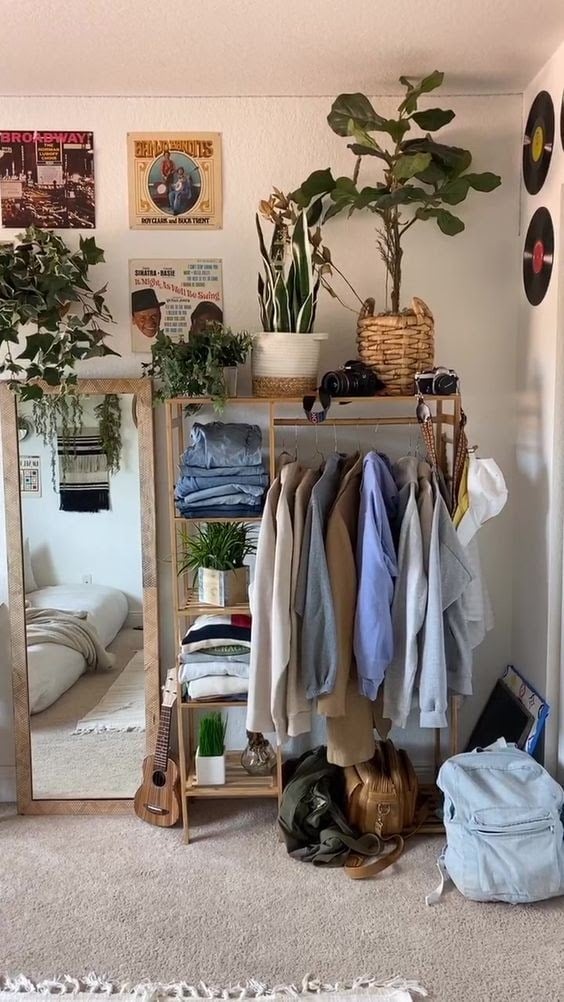 To Juxtapose the previous room, here's a neutral-toned indie room. Notice the open clothing rack as opposed to having a closed closet. A unique feature and certainly something to consider if you'd like your clothing to form part of the design of your room. Consider adding old cameras as part of your decor.
Other Indie Aesthetic Room Essentials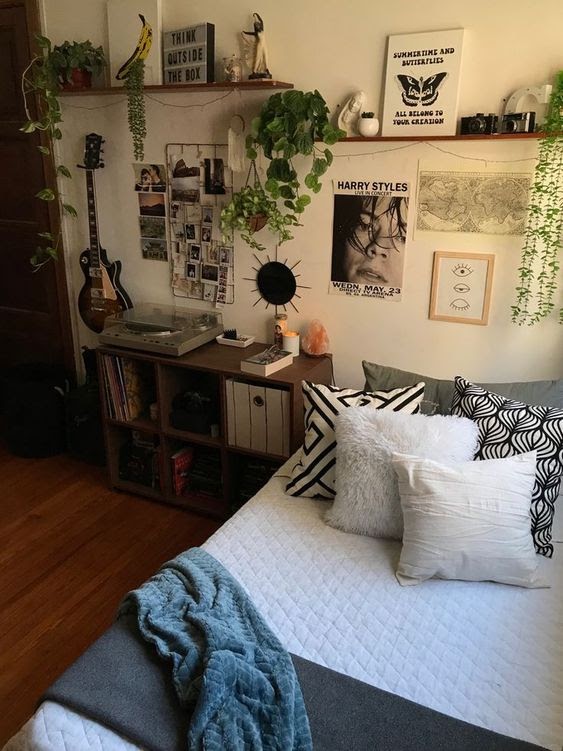 Indie aesthetic style is clearly a diverse concept, we've given you a lot to think about regarding posters, tapestries and other ideas to try. Now perhaps we could throw in a few bonus items you could consider essentials if you're really looking to invest and commit to having an indie room.
Sunset Projector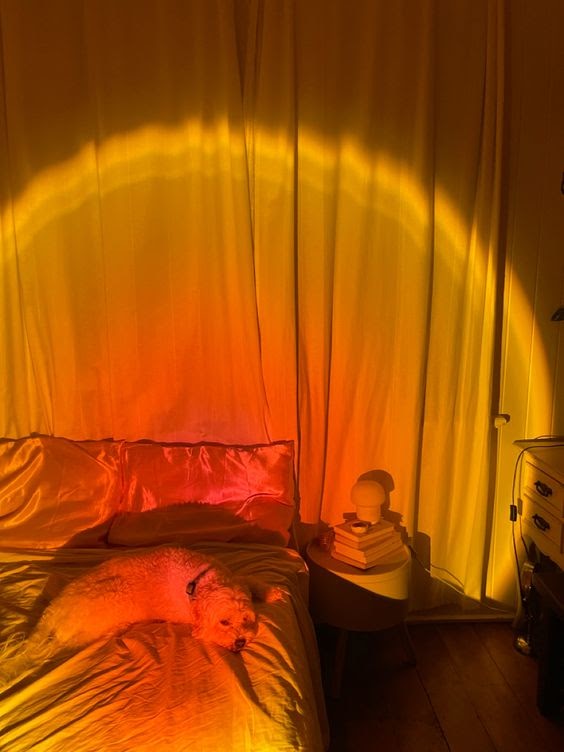 Mushroom Tapestry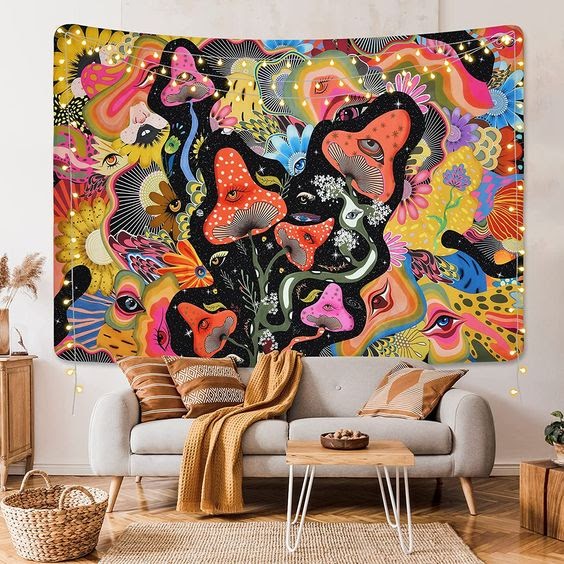 Vynls & Perhaps Vynl Crates!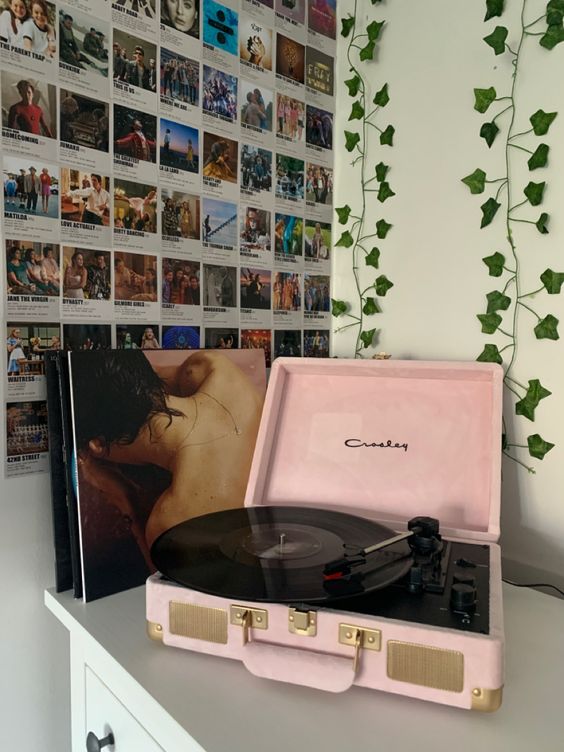 Bookshelf & Pop Culture Poster Wall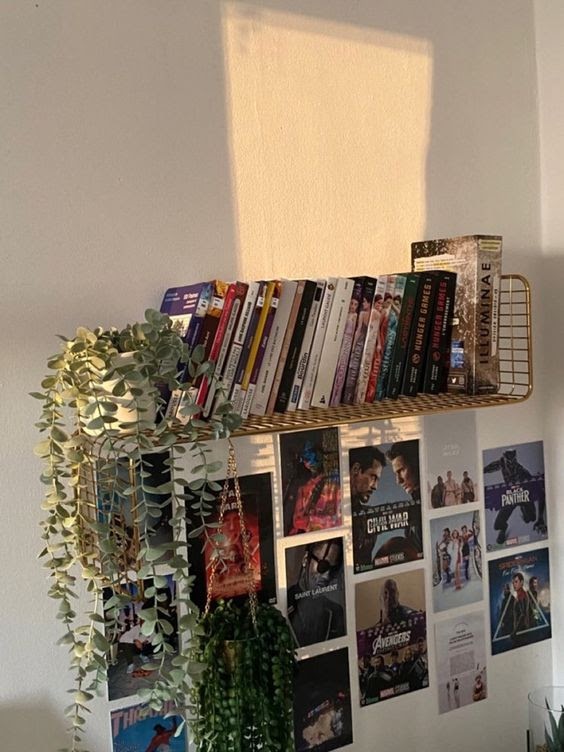 Fairy Light Set To Drape On Walls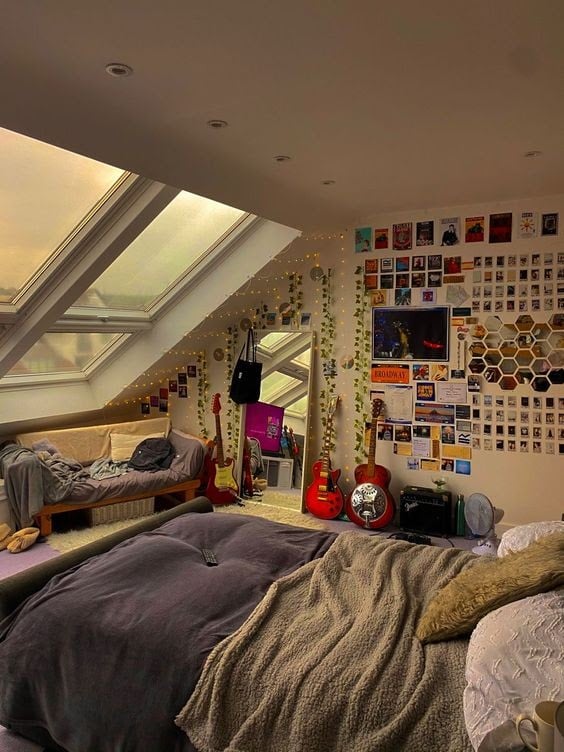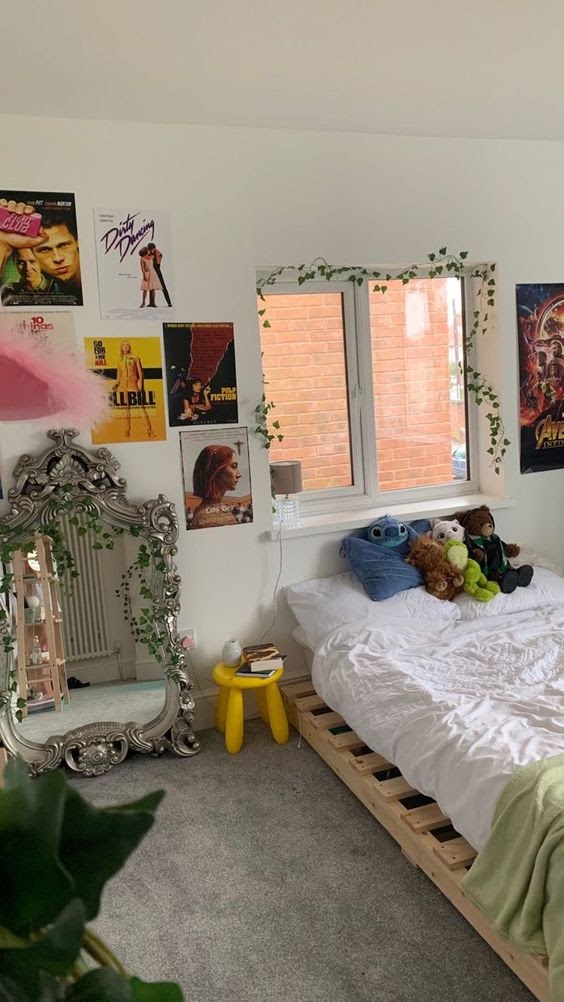 Now that you've discovered what it takes to create your next Indie inspired room, it's time to start hunting for all of these unique items and create your room.