There's so much beauty in the unknown.
This warrior's journey is almost over, but what lies at its end is beyond mystery. That's exactly how Icosphere intended it to be, finishing off his Limited Edition mini-series with questions, not answers.
Samurai Ascension, the third and final chapter to this story, leaves us with a cliffhanger. And though we tried really hard to squeeze some explanation out of him, Icosphere still wouldn't reveal any secrets. He stayed true to his intensions, just like the hero he created. 
Icosphere talks in riddles
Though we already talked to Rahul Das, aka Icosphere, on numerous occasions, this time he surprised us with a cryptic and somehow poetic explanation to the story behind the samurai's journey:
A warrior has transpired, wielding weapons so treacherous they could pierce the moon and darken the spring. Holding the verity of his claims, the warrior has begotten a labyrinth into this world. Dusted with vanity, he walks past the fiends guarding the gate and arrives at the entrance to what could be divine or terror, but remains unknown till the path unfolds.
Look, he doesn't always talk in riddles. Just find out for yourself: read our On The Spot interview with Icosphere or learn how we worked together on our birthday Limited Edition design.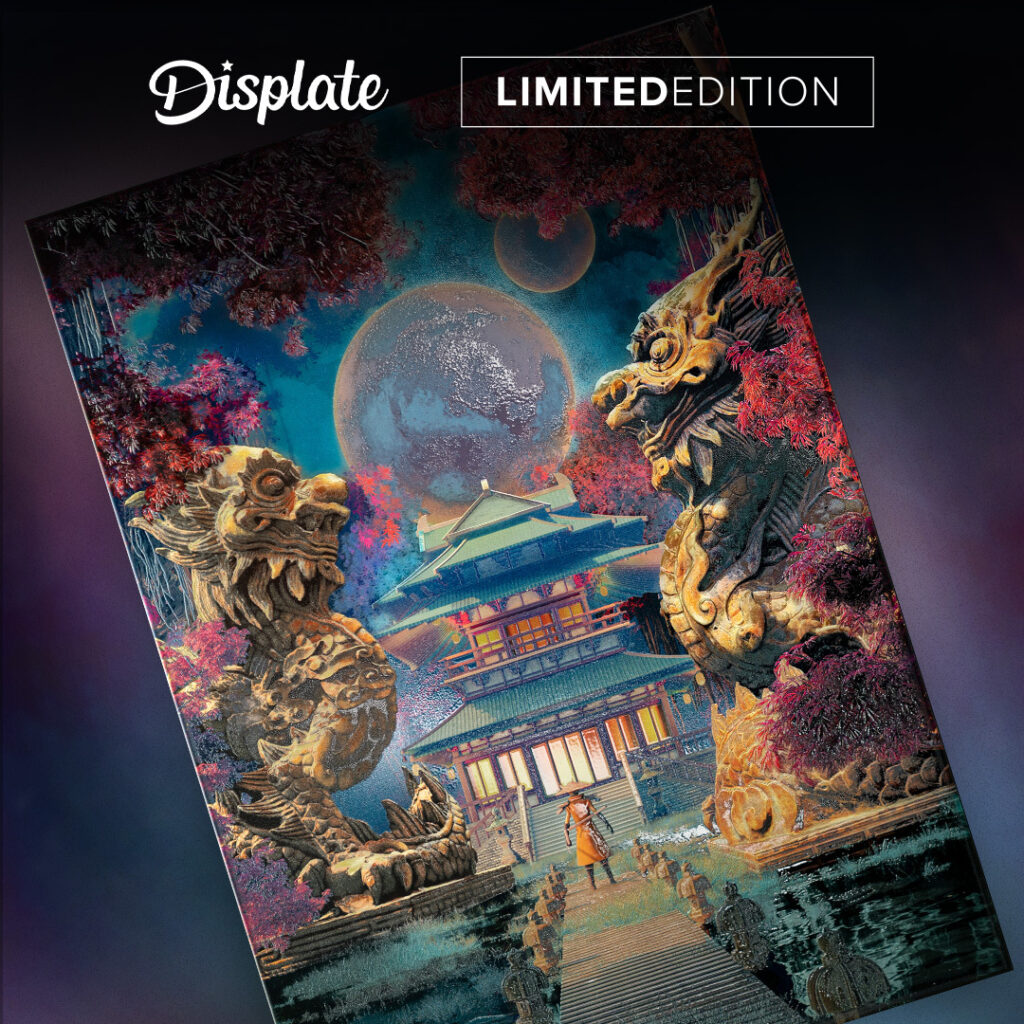 How our Design Studio tackled the mystery
Samurai Ascension is the third Limited Edition design by Icosphere. We wanted to complete this mini-series in style, with a slightly different colored work that would combine elements from both previous pieces: the Forbidden Temple and the Moonlight Assassin.
We did it by applying silver underprint which helped emphasize the color saturation in a really beautiful way. The composition also plays a big role here, with golden statues perfectly contrasting with intense colors on the sky and the moon. Finally, the artwork is full of tiny details like the architecture, the pier, the sculptures, and the leaves.
Just a few steps left
When a mystery leads to you such incredible places, maybe it's not all about findig the answers. It's been a blast working with Icosphere and helping bring his vibrant creations to life. Who knows, maybe one day we'll get to see what's behind the temple's gate?
Want to take a shot at unfolding Icosphere's secrets? Be quick and grab this week's Limited Edition before curiosity is all that's left!