Getting sleepy, are we? Perfect! Pomiechi is here to tuck you in with her soft and cozy anime-inspired illustrations. And while you dream all your cute and chonky dreams, let us take you deeper into Michi's comfy world of pastel colors and plushy companions.
Where do you live and what does your studio look like?
I live in the capital of the bustling tropical country: Jakarta, Indonesia! This is what my quiet studio – or Pomie's Corner, as I like to call it – looks like right now: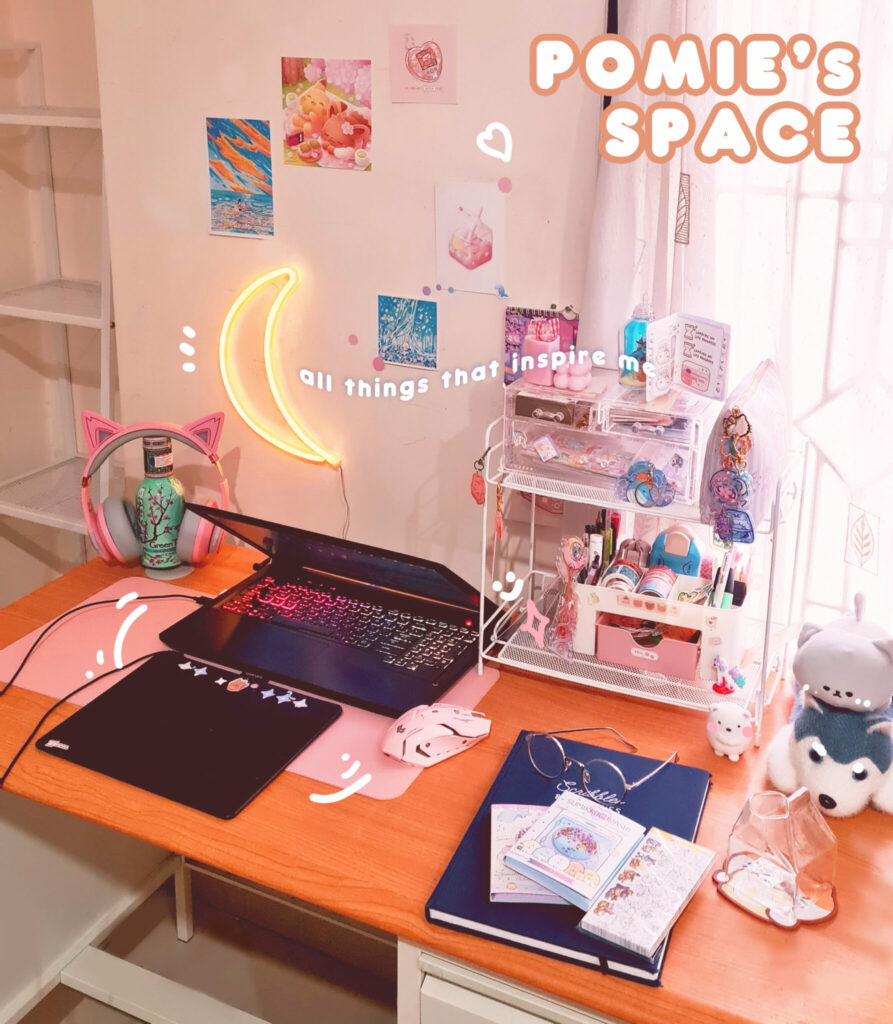 It's not much, but it has come a long way since I started. As you can see, I have a corner where I bundle up and draw, and another packing corner with natural light. To be honest, the space where I draw is very chaotic and rarely as neat as in the photo, because I always have multiple ideas brewing up at once. 
The decorations up on the wall are from my art friends around the world (you probably wouldn't believe that just a few years ago this wall was covered with band posters and CDs). Now, I love decorating my space with pinks and blues, as they give a whimsical feel and let me dream up concepts to draw.
So what does 'Pomiechi' mean exactly?
I wanted a nickname that is close to my heart – and so 'Pomiechi' was born! I have two pomeranian pups and an obsession with mochi! But if you look closely, "michi" is hidden amidst them, which is what my friends actually call me in real life.
How did you become an artist?
I've always loved drawing and probably started when I was 8, but ended up having a 5-6 year break. Then covid happened, and it was such a lonely time for me. I picked up a pen and a drawing tablet in hopes to find friends, and never looked back.
What draws you into creating these cute, cozy, Japan-inspired illustrations?
I believe that at some point, everyone will need a place to unwind, where they can feel safe and free to just cozy up. So I want to create that space for everyone who comes by. I hope that my art makes them feel dreamy and comforted, even if just for a little bit.
As for Japan, it has been such a beautiful source of media and has accompanied me so much growing up. This element of nostalgia definitely adds to why I am so heavily inspired by Japanese art and culture.
Do you have a favorite anime?
Yes! Even if I try to hide it, I am a very sentimental person and love movies that get me emotional. I am big on all things Ghibli, and my favorite movie is 'When Marnie Was There'. And as for the anime series, 'Kaichou wa Maid-sama!' stays close to my heart.
What are your biggest inspirations besides Japan?
I'm always inspired by little day-to-day things: finding trinkets, family conversations, soft rain, cute packaging, and (very important!) good food.
If you could choose one place to create, where would it be?
In my drawing corner, with Boba, headphones, and a little rain in the background. It is after all my safe space where I can create, brew and experiment with colors without being afraid of making mistakes. I've always wanted to draw in a coffee shop, but I am a little self-conscious, a fear that I wish to conquer one day.
Do you have any other hobbies?
I do! I love baking desserts and playing pixel video games.
What are your artistic dreams?
I deeply wish to create art as a living, especially making apparels and trinkets to spread love and comfort beyond a screen. I aspire to decorate people's lives, so let Pomie and friends spread a hint of magic through the little things!
Making clothes has always been a dream of mine, too, so I hope that one day my followers will get to enjoy not only cozy art but also a cozy fit to take home and wear (this may be an ongoing thing I am working on).
I also hope to make a webtoon some day. Overall, I wish to spread dreamy vibes with my art and hope to make an impact in the world – no matter how big or small. 
Instagram: @pomiechi