Have you noticed that Displate is now 9 years old? Of course you have, it's everywhere!
To celebrate, we're transported to Japan, thanks to this special Limited Edition designed by Icosphere. Naturally, it's bursting with all the enhancements you've come to expect, only this time we also sneaked in something extra: a secret message to all the collectors out there who've been with us on this wild journey. See if you can spot it!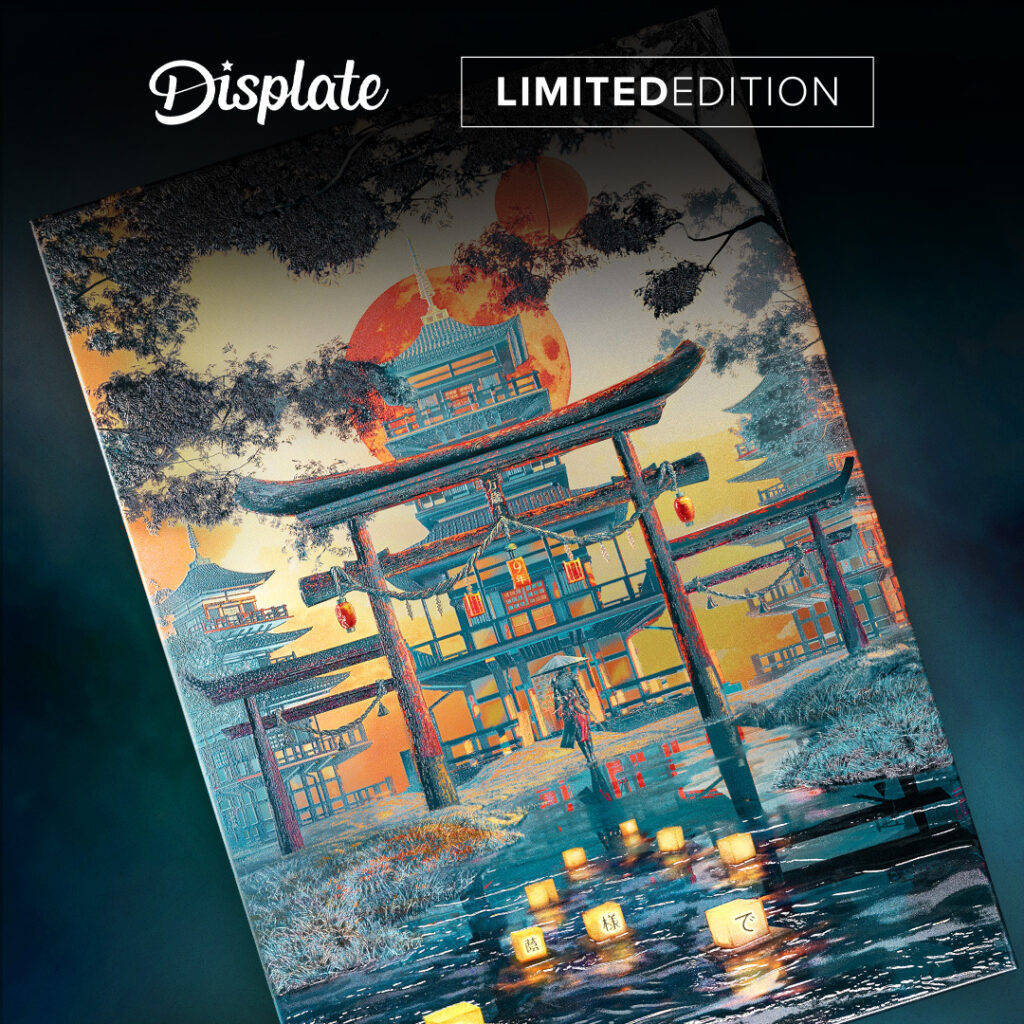 A chat with Icosphere
So we sat down with the original creator of The Forbidden Temple and talked art. Join us:
What inspired you to create this artwork?
I enjoy playing Japanese themed video games like Ghost of Tsushima and Sekiro: Shadows Die Twice and they inspired me to create this artwork.
Is there a story behind it?
The story behind the artwork is a ronin revisiting the temple where she was raised to be a warrior after a long absence.
What tools did you use to create it?
I used Blender 3D and Photoshop for this artwork.
Walk us through the process of creating this artwork.
My process for making digital artworks is really intuitive, I always start by blocking out the scene with simple shapes, very rough and messy. Then I go for more details when the scene starts to feel right as far as composition goes. I don't often make Japanese themed artworks so I put a lot of time into this piece compared to other artworks I've made.
The Birthday Limited Edition is the second LE you launched with Displate. How would you describe your cooperation with Displate so far?
It was a big surprise to find out that my second Limited Edition would be dropping during Displate's birthday event. I'm really honored to be a part of this and also super excited. The first Limited Edition Displate I launched got sold out pretty quickly, it was super satisfying as an artist and many Displate collectors reached out on Instagram to say they appreciated my creations. It really gave me motivation to make more artworks. So far Displate has been absolutely amazing.
What makes these Limited Editions unique to you?
Bringing my digitally-made art to a physical piece and enhancing that artwork with extra features using special printing techniques is really exciting. Plus it makes them aesthetically unique. I really admire the 3D-printed artworks Displate makes because of the techniques they use to produce them.
Our Design Studio joins the party
Let's not forget our Design Studio team who tweaked this to perfection. Here's what they had to say about this experience:
There's no better way to celebrate our 9th birthday than to help create a unique Limited Edition design!
We created it in cooperation with the artist Icosphere, who also made the artwork for our Moonlight Assassin LE, a design our community loved and we used as a point of reference.
For The Forbidden Temple we've added shades of gold that are a great fit for this theme and emphasize the special occasion. Who doesn't like a bit of sparkle on their birthday?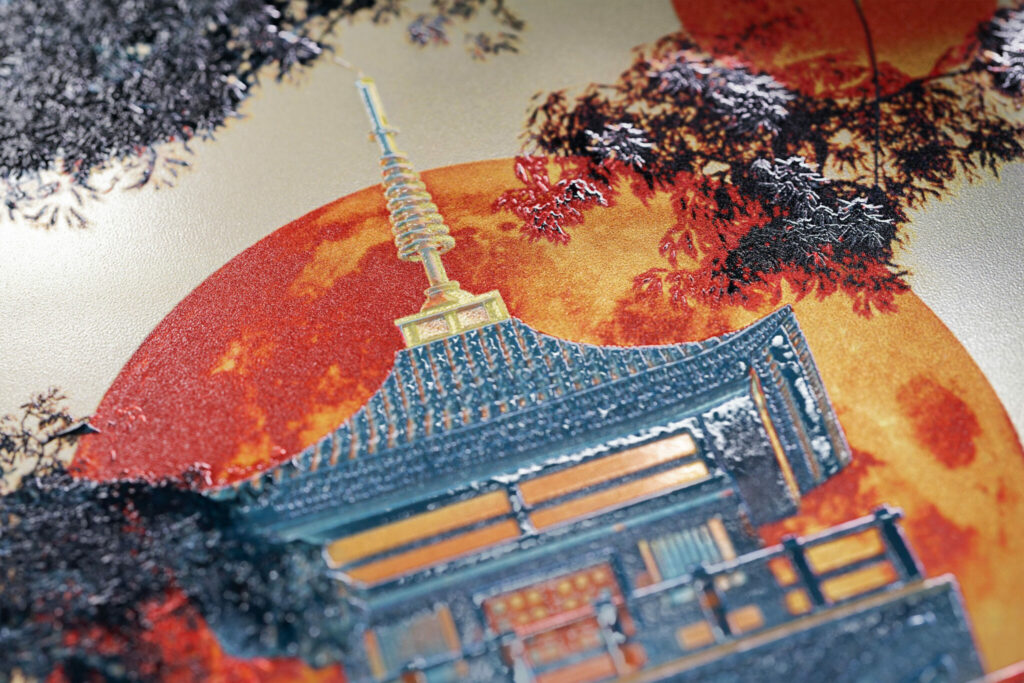 To refine this art, we used silver overprint, both gloss and matte varnish, and of course our 3D-printing technology to make certain shapes stand out more.
As a final touch, we decided to hide a mysterious message in the artwork for our community to discover! We had plenty of fun coming up with this 🙂
Torii gates are all about transitions. For us, it feels like entering a new era. An era where our designs become even more stunning and elaborate. Hope you'll enjoy them!
Piece of cake(?)
Turns out it takes a LOT of effort to make these Limited Edition designs look so good. But when you have such inspiring pieces of art and such an amazing community to work with, it kinda feels like a piece of (birthday) cake!
Thank you and make sure to grab a piece!
Check if you guessed them all
Now see if you managed to discover all the secrets of The Forbidden Temple.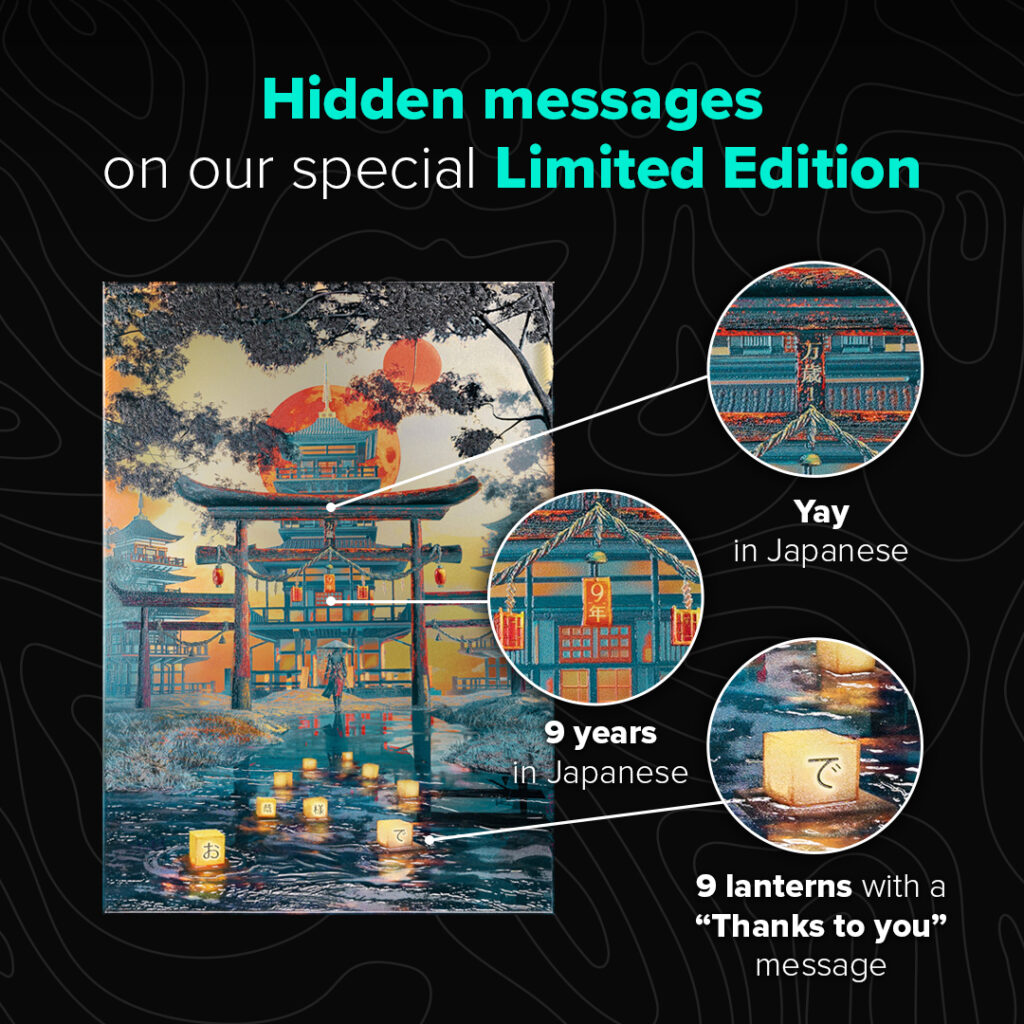 ---