A well-styled mantelpiece can be the focal point of a living room, but it can be tricky to get it just right. Too cluttered, and it becomes overwhelming but too bare, and it just looks boring. Here are a handful of tips — and some fireplace mantel decor ideas — to help you create the hearth of your dreams!
Whether you have an actual fireplace or a faux fixture, decorating your mantel is a great way to set the look and feel of your room. Are you going for something cozy and inviting? Modern and minimalist? Glamorous and chic? Once you've decided on the overall feel, it's time to start thinking about what to put on your mantel. And here's where we step in!
Ahead, we share pro tips for styling an elevated hearth, plus 30 beautiful mantel decor ideas that are sure to spark design inspiration!
How to Style Fireplace Mantel Like a Pro
There is no 'one-size-fits-all' approach to styling your mantel space, but there are some basic guidelines to keep in mind. Make the most of your mantel with these decorating tips.
Create a focal point that will act as an anchor to your mantel (i.e., a mirror, an oversized piece of art, or a decorative wall hanging). You can hang this piece in the center above your mantel or lean it on top of it. Alternatively, you could place it off-center, but make sure it is asymmetrical enough to look intentional!
Add some weight on either side of the anchor piece. To create a balanced composition, flank your centerpiece with matching items, such as flower vases or candles, or keep things asymmetrical for a more curated look — for example, a botanical element on one side and a candle collection on the opposite side.
Arrange pieces of different heights together to create a coordinated but visually interesting display. Place one large object next to an assortment of smaller items or stack objects on top of each other (e.g., a small pile of books with a knick-knack on top). Our favorite pieces to use are floral stems, framed prints, and candlesticks.
Follow the rule of threes
While even numbers might sometimes look too staged and stale, odd numbers usually feel more natural and balanced. By placing similar decorative items together in a group of three or five rather than arranging them in pairs, you make your mantel display that much more interesting. This trick is known as the rule of threes.
Take cues from your space
Whether your mantel decor is simple and unassuming or grand and elaborate, it should never seem separate from the rest of the space. Pick up on colors and textures found elsewhere in the room and try to incorporate them into your arrangement to match the aesthetic of your home, be it rustic, classic, or modern.
Instead of hanging decorative items, consider layering pieces and leaning them against the wall. We like to layer a smaller artwork over the anchor piece and add some candles or other accessories to fill in. Layering works with all types of wall decor, from art prints to mirrors to architectural elements, like window screens or even salvaged shutters.
The changing of seasons can make many interior decorating options feel almost overwhelming — but not your mantel! Simply add a few holiday touches to an already-styled vignette and give your room a quick seasonal update. You could even use this as an opportunity to do some DIY projects with your kids!
Fireplace Mantel Decor Ideas To Get You Inspired
Now that you have the basics down, scroll down to see how it all comes together in different vignettes. All of these mantel decor ideas stopped us in our tracks while perusing Instagram lately. Here we go.
Balanced Asymmetry
We love the look of this asymmetrical design from @ourss9! The sense of balance here is dynamic and — to us — more fun! Not to mention the color coordination is on point.
Symmetrical Decor
For a more orderly look, duplicate your decor on both the left and right sides of the fireplace mantel. Instagrammer @sarahrosewheeler flanked her sunburst mirror with palm fronds to a great effect!
Overlapping Artwork
Art is always a great conversation starter. Find several prints in different sizes and layer them on your mantel (no hammer and nails needed). Add a few trinkets to tie it all together.
Contrasting Styles
Feel free to mix and match frames and different artwork styles to create contrast — a framed magazine cutout or an oil portrait paired with a sketched drawing is a winning combo!
Focus on Proportion
Remember to always layer art that's proportional to the anchor piece. If it's too large, it will overpower the centerpiece. If it's too small, it will blend in. @theoldhouseonmain nailed the proportions just right!
Mirror Magic
If your space is really small, try layering mirrors instead of artwork — they reflect light and make the room feel bigger. We love these stacked antique mirrors from @jennybrooks. Well done, Jenny!
Propped Prints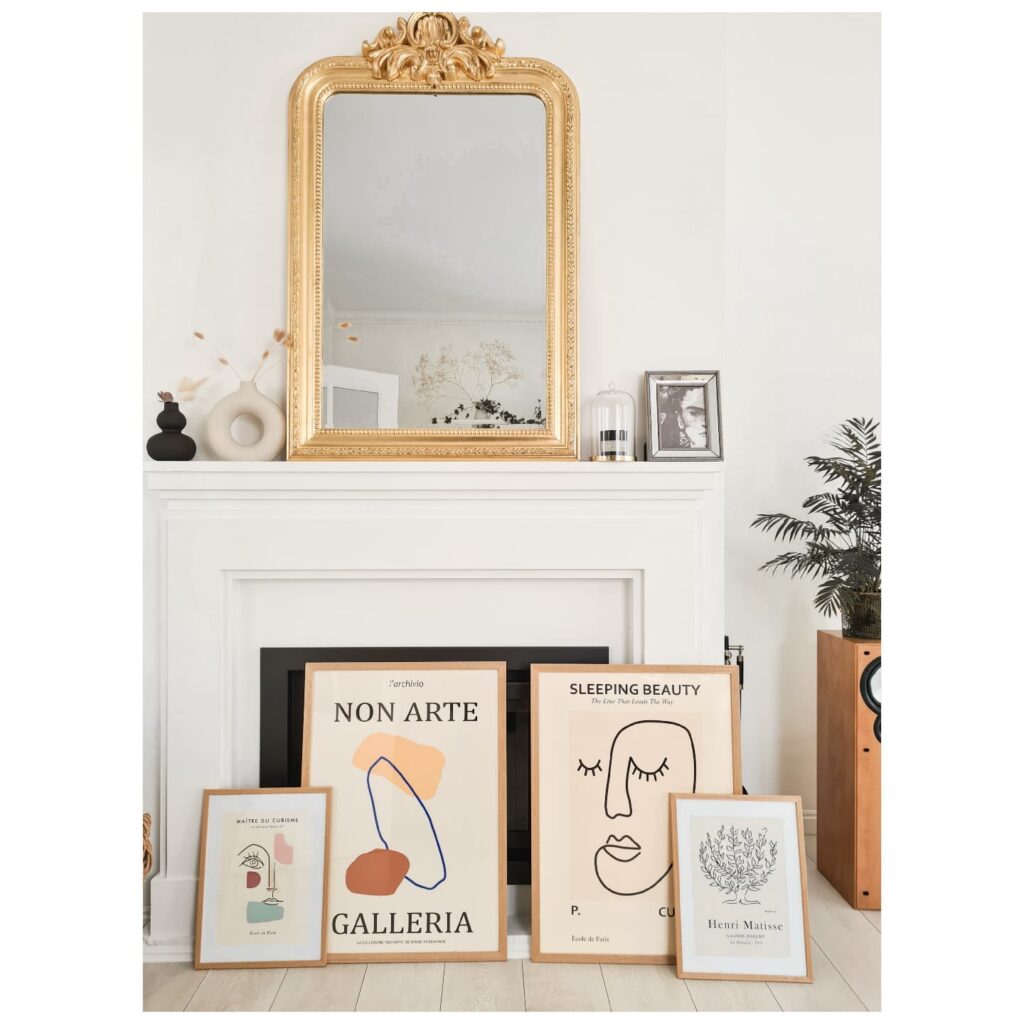 Whether you have a non-working fireplace or a working one that you're not currently using, you can still make the best of it by propping art prints against the fireplace opening for a casual display.
Statement Mantel Art
A fireplace mantel is an ideal spot to display a single, large piece of artwork. @interiorspickle topped her mantel with striking modern art that draws the eye and makes the space really pop!
Organic Vignette
When styling your mantel, try to work organic shapes into your decor. @gold_is_a_neutral lined her mantel with sculptural pieces and added some greenery for a soft, natural look.
Flowers Everywhere
A set of small glass bud vases seems ideal for filling with flowers and brightening up your mantel shelf. Use grocery store flowers or foraged greenery, and line your mantel with colorful blooms!
Vase of Blooms
If you need to go more minimal, either for space reasons or because you like a more clean look, a vase of fresh flowers in the center of the mantel can also be sublime.
Double Decker Style
One mantel is great, but two? @leopard_print_stairs shows how you can make this concept work. Two shelves of knick-knacks and botanicals topped with an oddly shaped mirror. Talk about dreamy!
Collectibles on Display
The fireplace mantel can be a great spot to display a favorite collection, such as colored glass bottles or antique vases. Here, the stained glassware adds a subtle pop of color to the otherwise dark space.
Upcycled Mantel Decor
What if we told you your collectibles might be tucked away at home in your cabinets or closets? Repurpose old Mason jars you have in the kitchen, or use medicine bottles to double as vases!
Love Is in the Air
And speaking of reusing things you have lying around the house, Instagrammer @timberfields repurposed her wedding banner to style her mantel for Valentine's Day, and the result is oh-so-sweet!
Mantel Plant Shelfie
A row of potted plants in the same color can be a lovely mantel vignette. Stick to upright varieties or mix them with hanging vines for added visual interest.
Fake Greenery
To add some greenery to your mantel without committing to the real deal, look no further than fake ivy strands! Wrap them around a mirror or let them hang soothingly from the mantel ledge.
Sprinkle of Spook
We love spooky mantel props! Styling your mantel shelf and hearth area is fun because it allows you to add a sprinkle of seasonal charm to your space without committing to decorating the whole room.
Shiplap Feature
Another DIY project for your mantel is incorporating a surround and shiplap feature. Paneling that goes all the way up to the ceiling will emphasize the height of your room, making it feel large and open.
Beauty of Simplicity
Sometimes mantels feel a little overdone, so a few thoughtfully placed items on the hearth can be refreshing. One look at the simple mantel from @mcchills_nest above is all the proof we need.
DIY Flower Curtain
For the DIY-inclined, you can give your mantel a spring update with a flower curtain! A great backdrop for trinkets and other display items, it is sure to add a bright pop of color to your mantel setup.
Autumn Makeover
@maxinealamaison gave her mantel ledge an autumn makeover with a mix of little pumpkins. If you have a faux fireplace, the inner opening can make for the perfect display nook as well!
Balloon Party
If you have leftover balloons lying around your home, don't let them go to waste! Case in point: Instagrammer @miafelce used baby shower balloons to create a jaw-dropping decor for her mantel.
DIY Fireplace Mantel
If you enjoy out-of-the-box fireplace mantel ideas, here's another one from @ourss9 you might not have considered. The crafty Instagrammer turned to round paper fans to spice up her mantel decor!
Clean and Modern
Here's a modern take on the traditional hearth featuring an arched mirror and an oh-so-trendy loop vase. Proof that a fireplace works well in a variety of interior styles, including contemporary spaces.
Boo-tiful Mantel
Halloween mantels don't have to be over the top—just look at this elegant display! A swarm of DIY flying bats and a few strategically placed pumpkins are all it takes to create a subtle yet spooky vibe.
Rustic Done Right
Rustic fireplaces really come together by adding distressed wood decor items (like frames, shutters, and wall hanging panels) and soothing earthy colors. Take your cue from @round_hill_nest above!
Spring Vibes
If you have a letter pegboard or chalkboard displayed on your mantel shelf, adding seasonal messaging on it is a fun and creative way of greeting the new season without adding more!
Less Is More
With this minimalist mantel from @husband.wife, we are struck not so much by what is present but by what is absent from it. The empty wall space where an anchor piece should be makes a powerful statement.
Christmas Mantel
How cozy does it make it having a mantel all trimmed up for winter holidays? If you want a Christmas mantel with a twist, look no further than this modern take on festive foliage from @helloflorauk!
Over to You!
By now, you should have a good idea of how to style a mantel the right way. Now it's time to get creative and start styling your own mantelpiece. Don't be afraid to experiment, and most importantly, have fun with it!
Are there any fireplace mantel ideas we've missed? Let us know in the comments below!