Knowing how to hang pictures without nails or screws is an invaluable DIY skill. Especially if you're a renter desperately looking to spruce up that bland wall without your landlord ever finding out.
If you are currently renting your humble abode, you've probably thought about dressing up your walls — and then immediately backed out when you thought about the big holes you'd have to patch up before you move.
But just because you are hoping to get that security deposit back doesn't mean you have to throw all of your home decor dreams out the window! There are plenty of ways to decorate your space that won't mark or damage your walls.
So, if you're unable to drill holes into your wall (or just can't be bothered), here's how you can hang and display your favorite pieces without lifting a single hammer or nail.
Picture Hanging Strips
Removable hanging strips like Command Strips are a renter's best friend. They are ideal for hanging items such as frames, artworks, or even irregularly shaped things that are just difficult to hang with picture hooks. Smaller strips are great for lightweight wall decor while larger strips also work for heavy pictures and mirrors. They have adhesive on both sides, making them extremely easy to use. All you have to do is stick the strips to an item and adhere the other side to the wall. For best results, mount them onto walls that are smooth and clean, and allow for a minimum cure time of 1 hour.
Adhesive Hooks
How could you trust putting heavier items on a hook that is not screwed into the wall, but rather supported by adhesive? Command Hooks made believers out of us. Available in sizes large enough to support up to 7.5 pounds, they can hold anything from string lights and clipboards to holiday wreaths and mirrors. Depending on the piece's size and weight, you can use two or more (so nothing falls). The good news is that when you want to make a change in decorations, Command Hooks come off without leaving any residue behind.
Washi Tape
You can use washi tape to create a gallery wall of unframed prints, postcards or birthday cards. A bit like masking tape, but adorned with different colors and patterns, It's readily available in most craft shops. Whether you use a bit on the top, four corners, or frame it all around, it's a low commitment method to display your favorite memories on the wall, and cheaper than photo frames, too!
Leaning Wall Art
One way to avoid unwanted holes? Simply put your art on the floor, or on a shelf, and lean it up! Large canvases or decorative mirrors look great on the floor just propped against the wall, especially when arranged with some greenery, while smaller artworks can create a perfect backdrop for books and knickknacks set on a dresser, vanity, or shelf. Leaning art gives off a casually elegant air, plus you can switch it right up without worrying over the holes you've put in the wall.
Clever Props
Wait! Don't throw out that old, wobbly ladder! Think out of the box when displaying your photos and art. Position a piece of furniture, like a neat stepladder, to prop your art on, and dress it up with wall decor. From pictures and artworks to potted plants and books, the decorating possibilities are endless! You can use other props such as chairs or stools as well.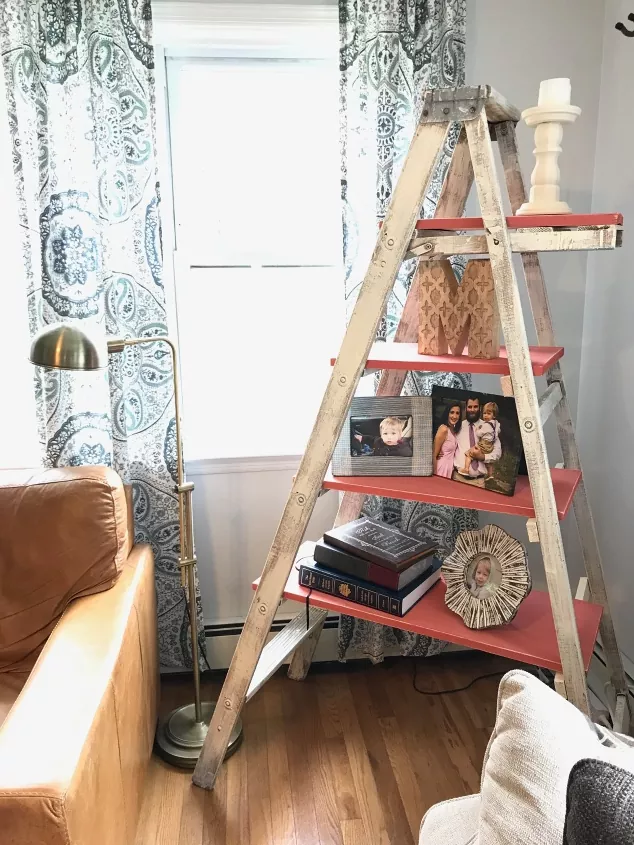 Office Clips
Maybe you're renting and can't tamper with your walls, or you've just moved into a new home and are a little undecided about where and how to display your pictures. Office clips to the rescue! You can attach them to your wall with the help of Command Strips or tape to display photos and smaller artworks. No tools or drilling required!
Mounting Putty
Good ol' mounting putty or sticky tack (they go with different names) is one of the greatest inventions of all time. Typically used to hang posters, it can also be applied on the bottom corners of picture frames and art so they don't move or bump against the wall, or even to mount lightweight home decor. Just take a decent piece of putty and roll it in your hands to warm it up, then either stick it on all 4 corners of your frame or stick a line on top and bottom of the frame.
Easel Stand
Put away your hammer and nails, and your fear of damaging the walls — it turns out that you don't have to hang your art at all! If you have an extra corner in your house with ample floor space left, try putting a framed piece or a stretched canvas on an easel instead. Use it as a stand in the living room or loft, and let your artwork be the piéce de résistance of your home decor. It does take up a considerable amount of space but it is worth every inch!
Existing Wall Fixtures
Look for hooks, screws, vents, or knobs that are already in place and that could bear a few extra pounds. If you live in an older home, you might even be lucky enough have a picture rail — a thin strip of wooden molding meant to support pictures, mirrors, or anything else you want to hang against your walls. A built-in molding is also a dream for hanging art with S-shaped hooks and decorative craft wire.
Magnet Mounts
If you are anything like us, and the thought of drilling a hole in your wall makes you cringe, try hanging wall art in a new way — with magnets! Displates are metal posters held in place with a magnet, which means you can take them off your wall and swap them out without the hassle of hanging something new. This makes it easy to move your Displates around, a perfect solution for those of you who enjoy mixing and rearranging your artworks a lot!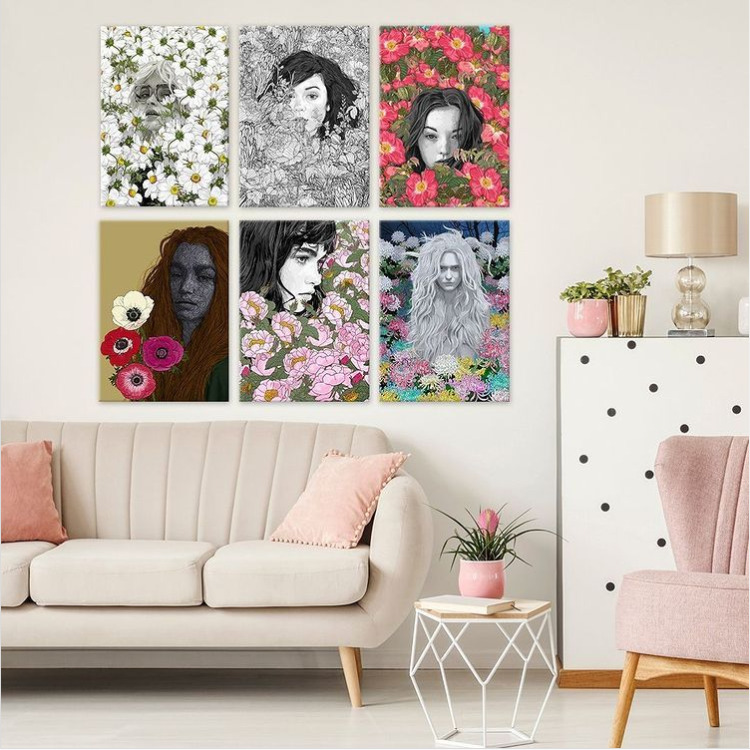 Over to You!
And there you have it, you've mastered the art of hanging pictures without nails! From adhesive hooks and hanging strips to washi tape and magnet mounts, display pictures and artwork without damaging your walls. Your landlord never needs to know — and we promise, we won't tell.
Feeling creative? Get inspired and make your walls come alive with renter-friendly metal posters from Displate!
What is your favorite no-nails-involved option to hang pictures and wall art? Let us know in the comments!