Bring your living room to life with some awesome decorations around your TV. The possibilities are endless, that's why we've created this blog to give you some inspiration on how you can tap into your inner interior designer and start implementing some TV stand Decor Ideas.
Here are a few examples of finished TV stand decor to get you started. Every example is a unique way to decorate around your TV. After this article, you'll want to jump straight into our living room wall decor ideas to keep the decorating spirit alive!
Simple & Tasteful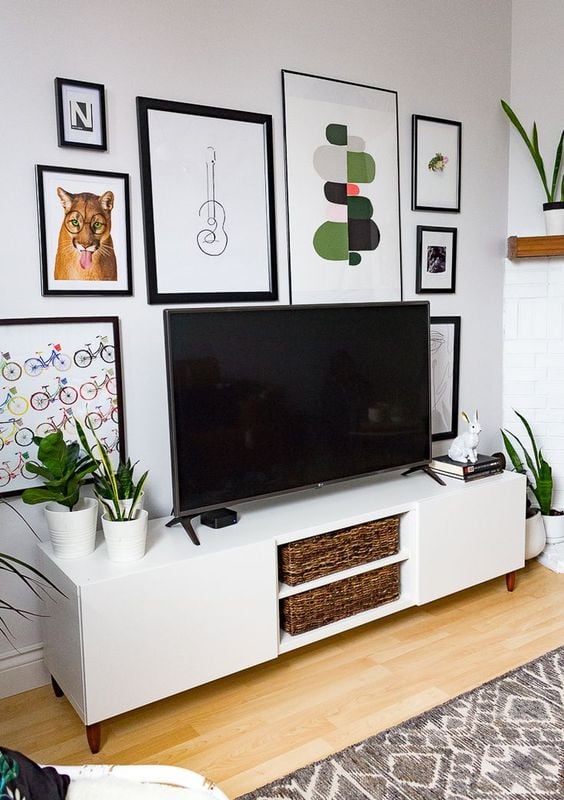 Accessories are a great focal point of your decor. Group together a few decorative objects on top of your console, or add a vase of flowers or a plant. A Gallery wall with Displates would look incredible. Perhaps if you're going for the style above, some abstract posters would be perfect.
Wall Art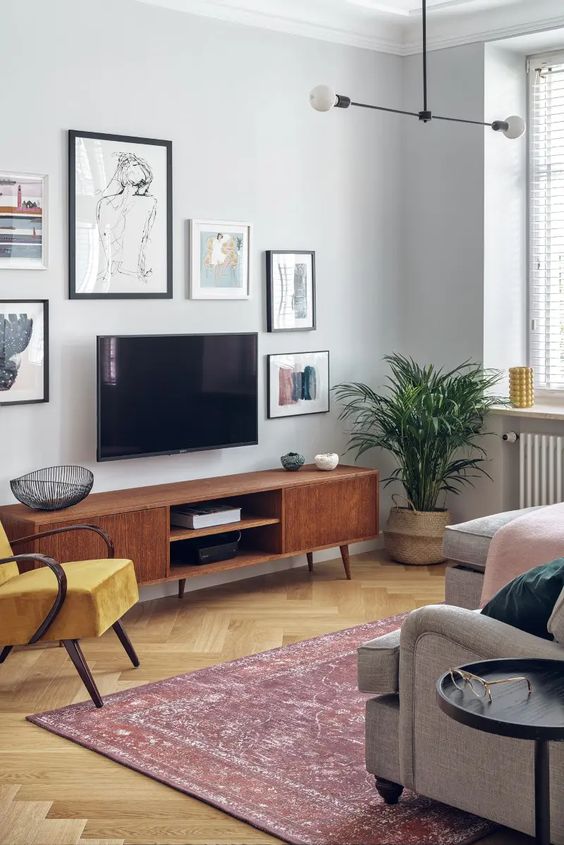 The quickest way to bring life to your TV space is to get some wall art. The Displate marketplace is full of a wide range of awesome poster designs that are sure to look stunning in any living room. From gaming posters to travel posters and minimal posters, there's virtually a Displate for any room theme out there.
Retro Wooden Console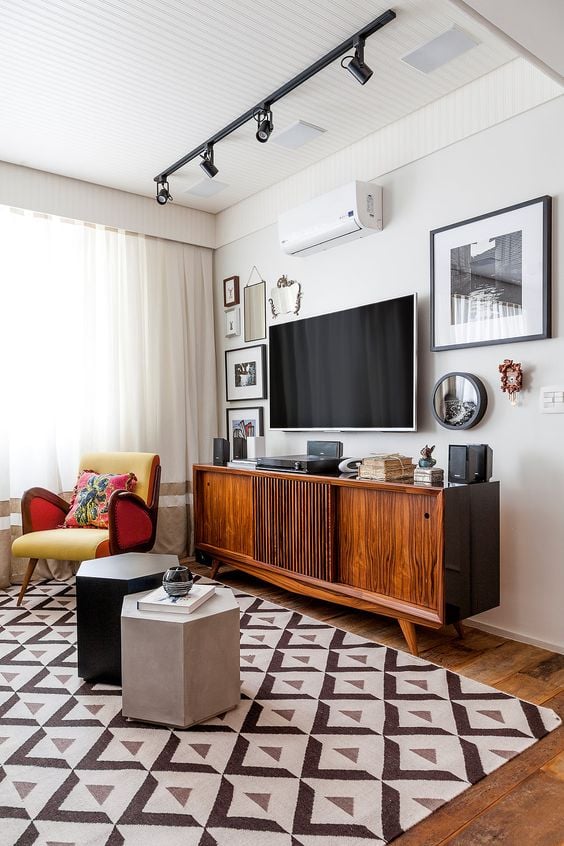 If you have any family photos or artwork, you can also display them around your TV. Add entertainment centre speakers to your TV console as well, to make it come to life. There are so many ways that technology can liven up your console in a cool way.
Monochrome Aesthetic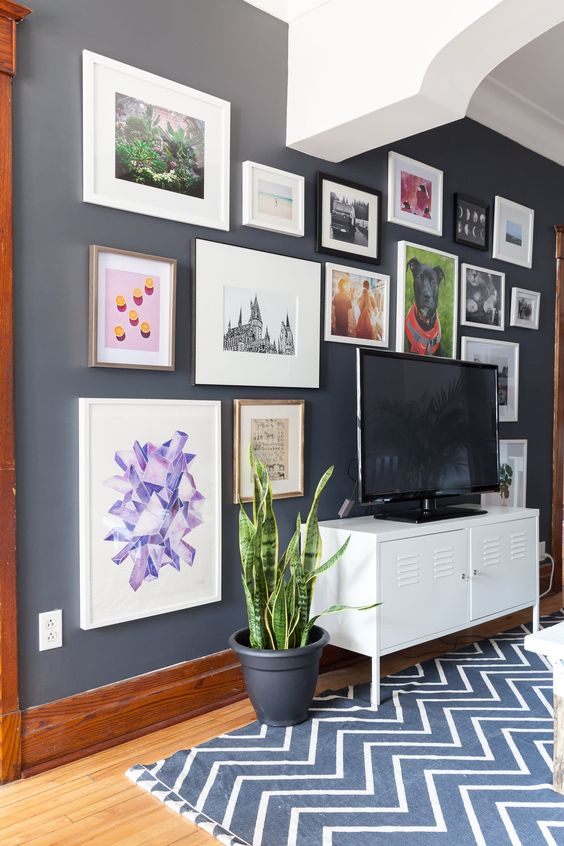 Consider painting over your console if you're looking for a more subtle way to add some decoration. Different colors or patterns can give your stand a new look. Get inspired by the rest of your furniture and find a lovely color to connect with every other element of the space.
A Pop Of Color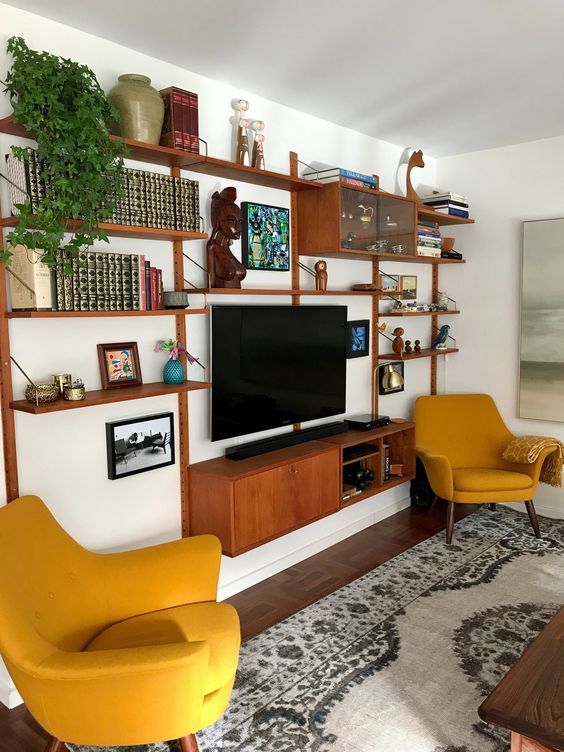 One of the easiest and most affordable ways to add some personality around your TV stand is with wall shelf decor.
Use plants
Display books or magazines
Hang Displates
Use baskets to store things.
Add some fun accessories.
Hardware Decor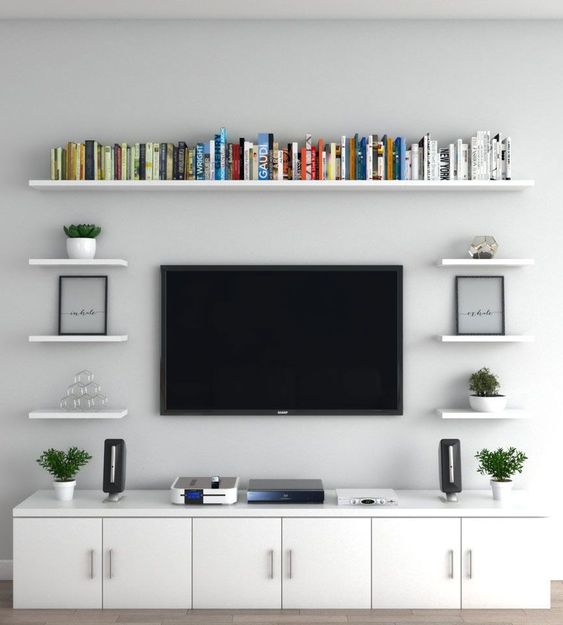 If you're feeling adventurous, you can try adding some new hardware to your TV stand. Some great ideas could be showcasing your console gaming stations or brand new speakers on the TV console. Shelves also look functional around a TV, consider creating amazing symmetry to focus on your TVs as the centrepiece in your living room.
Darkwood Plant Oasis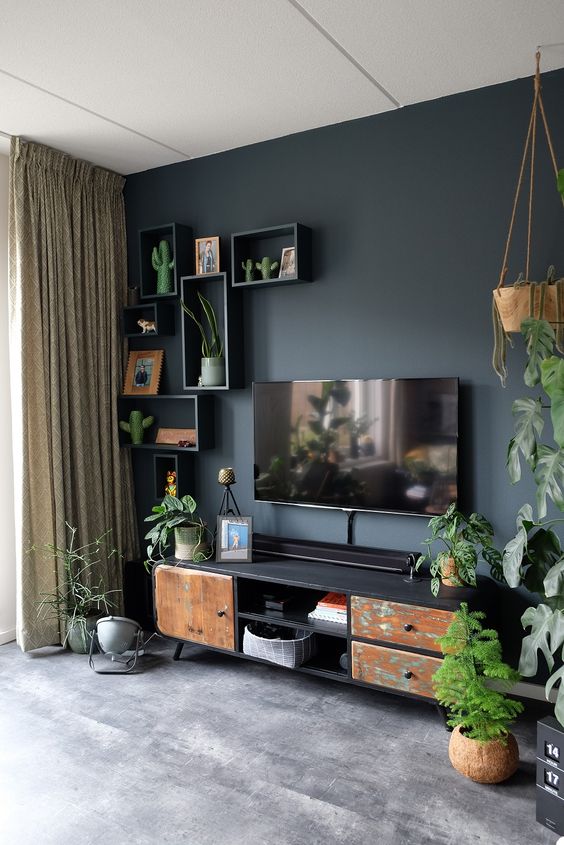 Living room plants can help to improve the air quality in your home. They can also add a splash of color and life to your living room. Choose plants that are compatible with the conditions in your home. For example, if you have a lot of sunlight in your living room, you should choose plants that can tolerate bright light.
Light Tone Vintage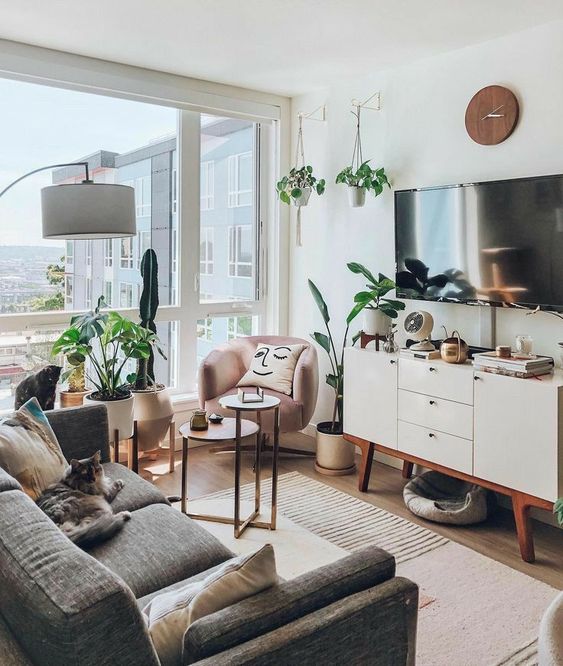 Living room clocks are a great way to add a touch of elegance to your living room. They can also be a functional addition, serving as a place to keep track of time. A blend of function and utility.
Vintage Chic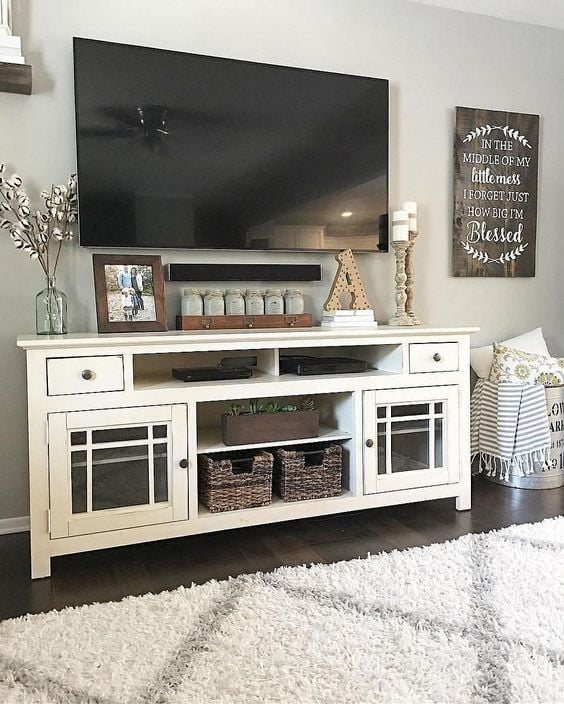 Quote posters around your TV always look great. They motivate or inspire you when you're feeling down too! An added bonus. We think this console/cabinet is absolutely charming. The drawers have created additional storage space in the living room too. Another added bonus.
Fairy Lights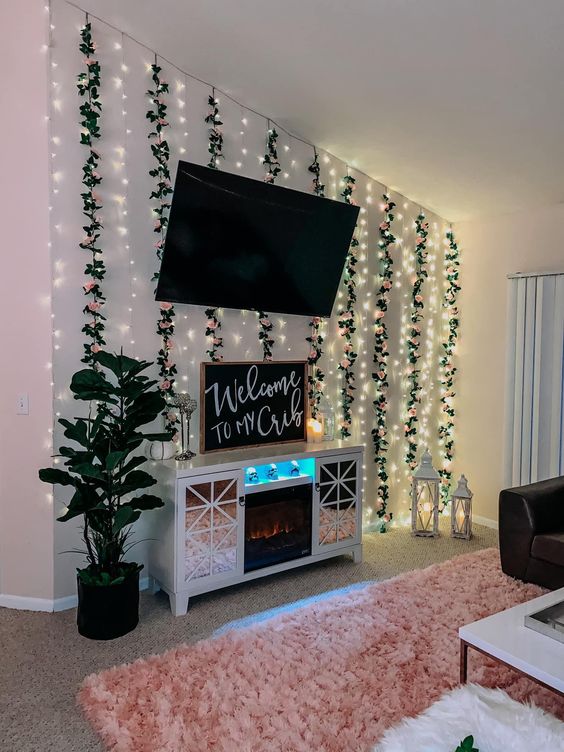 A well-lit TV stand can really make a living room look beautiful. In the example above we see fairy lights draped along the wall. You can opt for different lights that accentuate your paint and makes sure the wall behind your TV pops.
Modern Minimal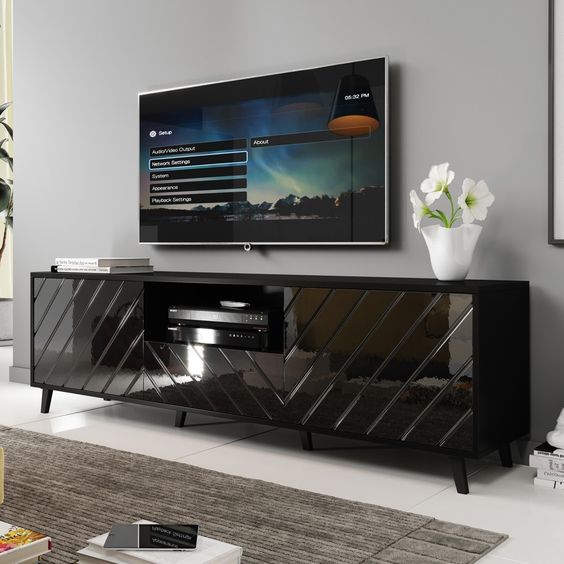 When it comes to modern TV rooms, you can go for a sleek TV stand design. Avoid anything too ornate or busy. Having elegant patterns on your console can make it the focal point of your tv stand decor. If you're opting for minimal design it's one of those ideas that keep decor to a minimum.
Sculptures & Collectibles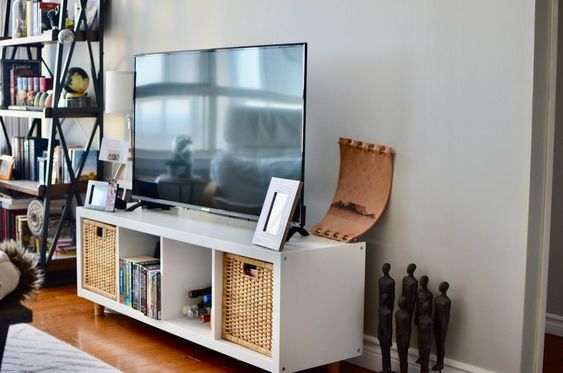 Sculptures and collectables can be a great way to show off your interests and personality. If you're well-travelled, showcase all the little collectables from your travels or head into your local arts and crafts shop to find some unique pieces with style to personalise your living space.
Sleek Clean Contemporary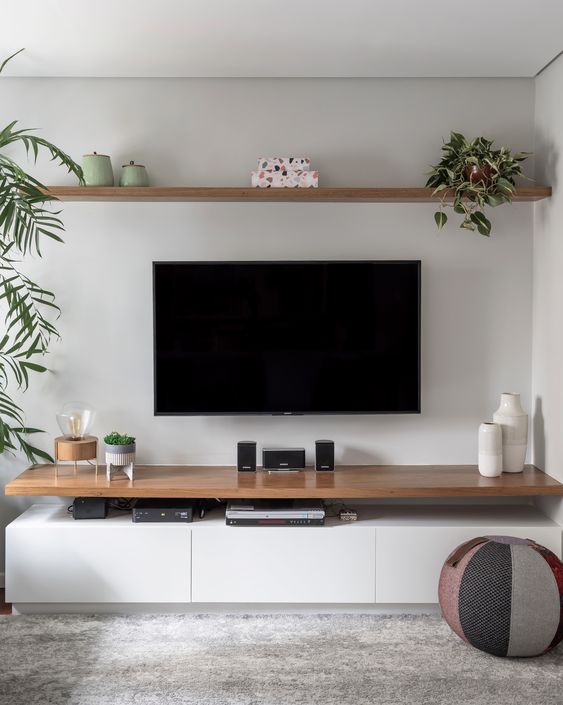 Add some personality and color to your home with pottery and other trinkets. You can use vases, dishes, ornaments, and more to decorate your TV stand.
Pink Luxury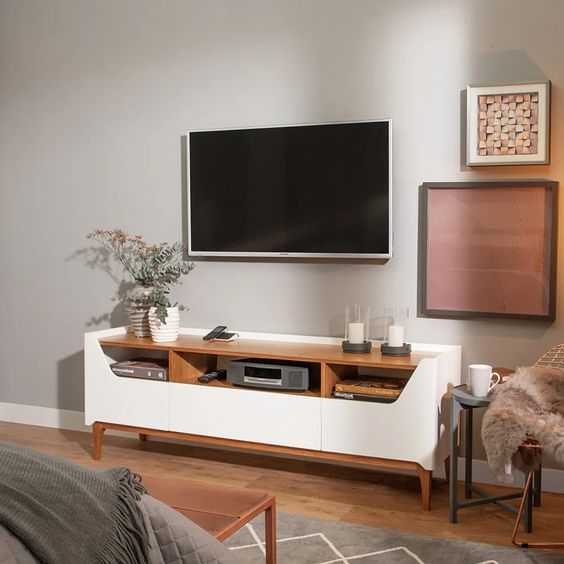 Candles are a great way to add ambience and decoration to any room. They come in a variety of shapes, sizes, and colors, so there's sure to be one that will fit your style. Keep them at a safe distance from anything that could catch fire.
Trinkets & Indoor Garden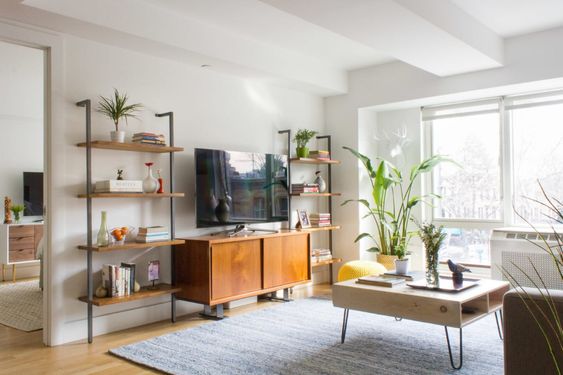 Books can be an easy and fun way to add decor to your furniture. You can either stack them up or place them horizontally. Another option is to use a decorative bookcase to hold your books and DVDs. That will balance out the space by filling some of the empty spots on your shelving and furniture.
Light Wood & Assorted Posters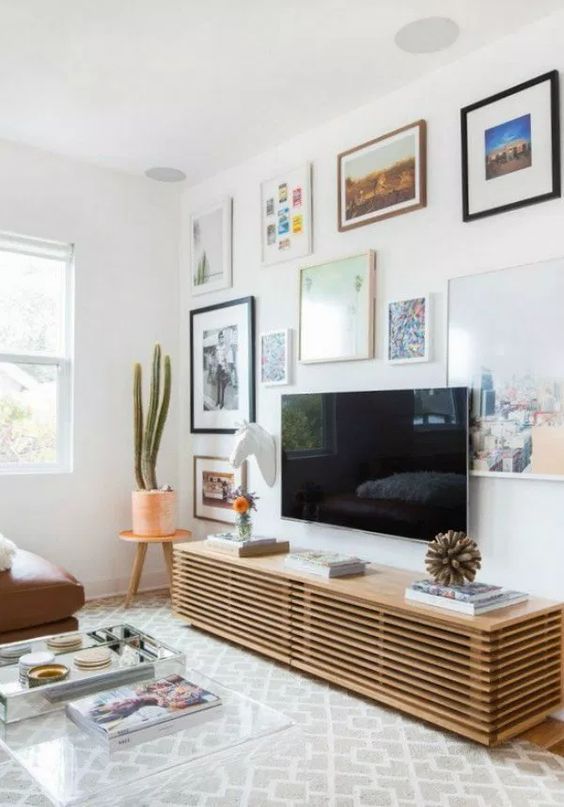 Display pictures or vases, or store magazines and other knick-knacks on your consoles.
Elegant Wood Finish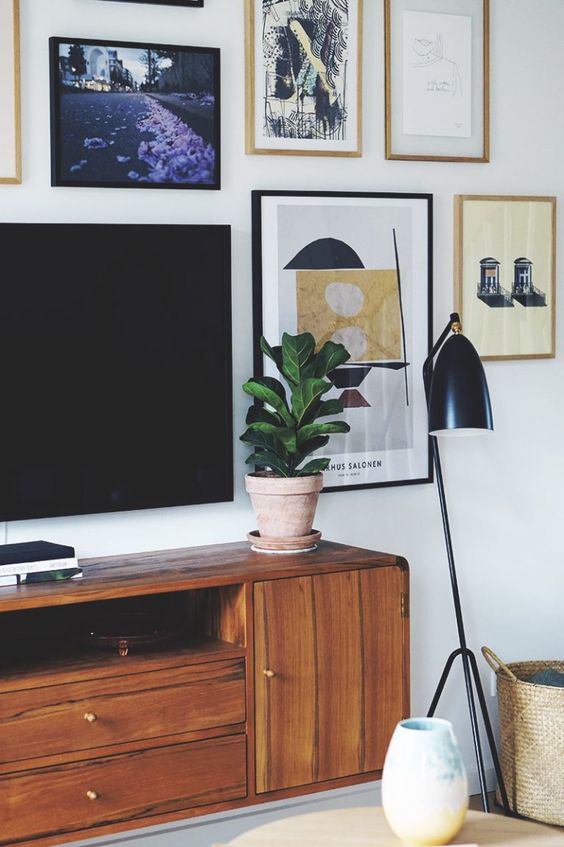 When searching for posters for your TV space. Explore the Displate marketplace for a wide range of unique designs in matte and glossy finishes. They'll add style and inspiration to your gallery wall.
Storage Around TV Stand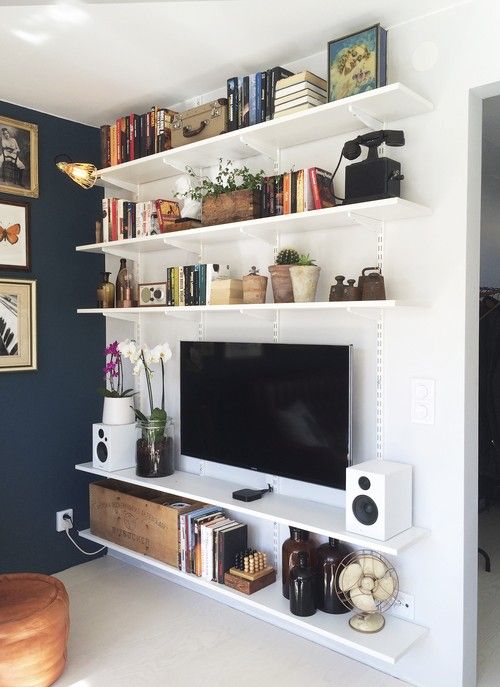 Adding some extra storage can help you keep your living room neat and tidy.
Kaleidoscope Wonderland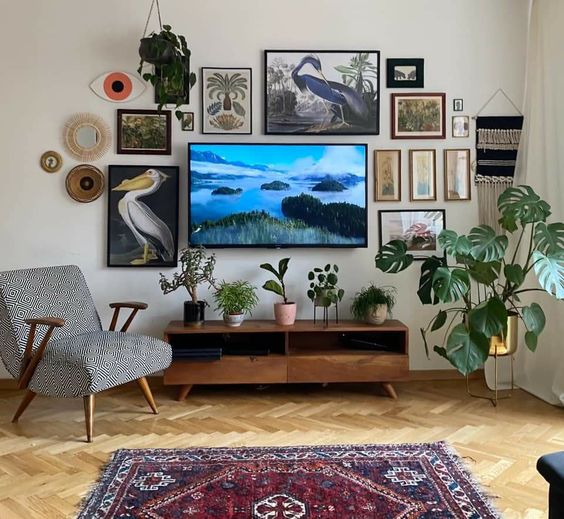 Adding natural decor around your TV stand can help to bring the outdoors in and create a more inviting space. Try using plants, flowers, or branches to add natural beauty to your setup.
Vintage TV Stand Ideas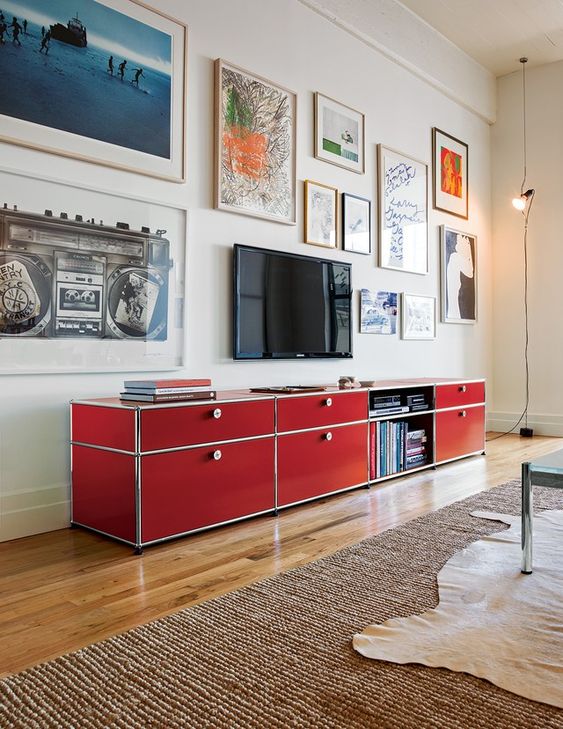 TV stands come in all shapes and sizes, and over the years, they have evolved to match the changing trends in home decor. While most newer TV stands are sleek and minimalist, some people prefer the look of vintage TV stands.
TV Stand Decorating Ideas Your Own Way!
Entertainment centers should not be neglected as crucial decor points. We hope this blog post has opened your eyes to some of the possibilities of decorating around your TV.
Be sure to start working on your space and come up with some interesting ideas that you love. Enjoy the process and have fun sprucing up your space!
Other Living Room Inspirations
Boho Living Room Decor Ideas – Read More
Aesthetic Living Room Decor Ideas – Read More