There are countless artists from all over the world who have made a lasting impact on the art world today. But it is Spain that has been home to some of the most famous and influential painters in the history of Western art. From El Greco to Goya to Picasso and Dali, famous Spanish artists have redefined the very idea of art through their bold, revolutionary, and often disturbing artwork.
Without further ado, here are 10 famous masters who called Spain their home that continue to influence the Western culture today.
#1 El Greco (1541-1614)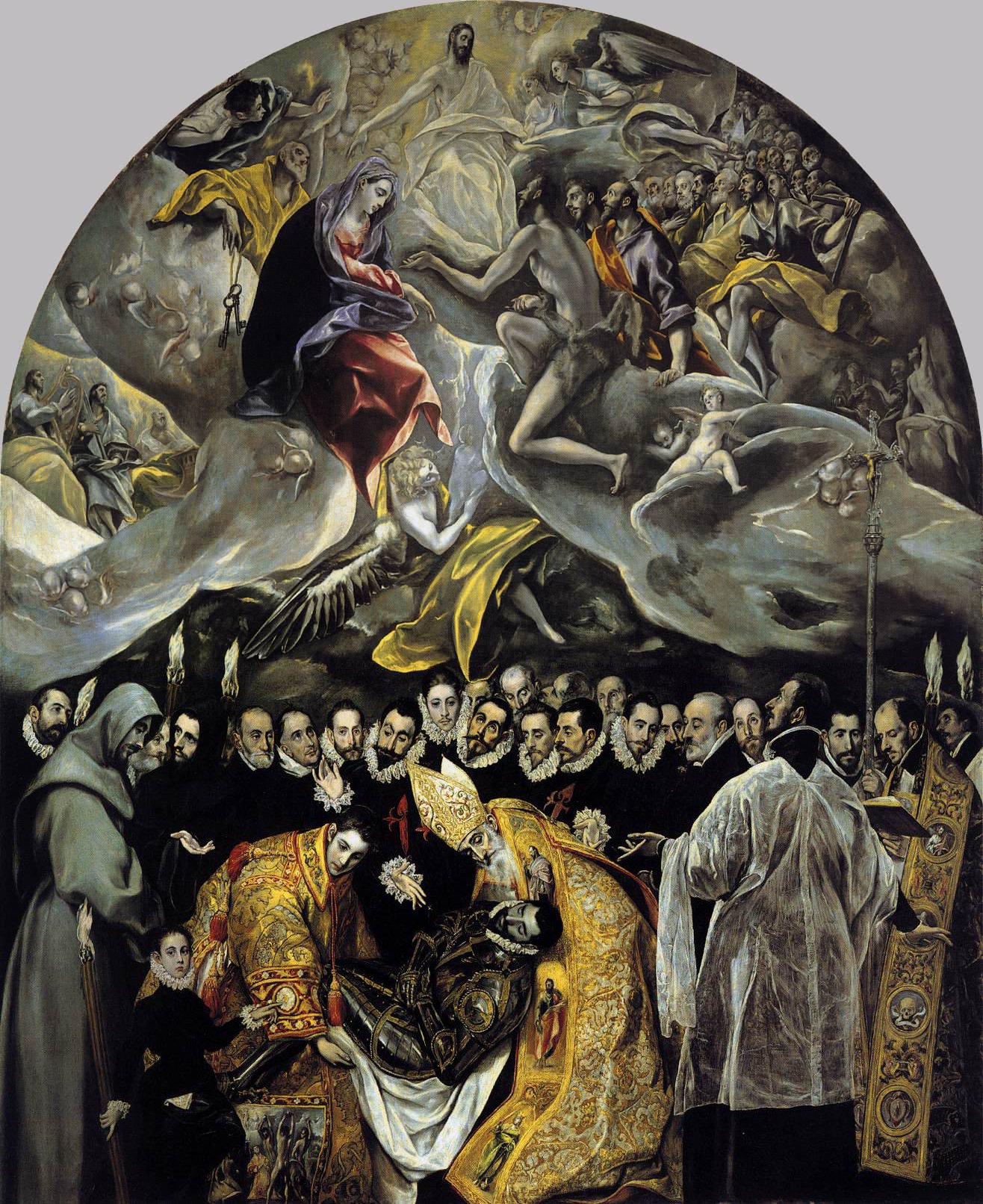 Arguably, no other painter embodies the diversity of Spanish art as well as the famous El Greco, or Doménikos Theotokópoulos as he was known to his contemporaries. Born in the region known nowadays as Crete, he became a master of Post-Byzantine icon painting as early as at the age of 26. At that point he moved to Italy, where he further developed his unique style by adding elements of Mannerism and Renaissance picked up from local masters while working out of his workshop in Cardinal Alessandro Farese's household in Rome. After being expelled by the Cardinal himself, he settled in Toledo, Spain, where he kept painting until his death in 1614.
Although El Greco was widely received as an expert painter, earning the respect of fellow artists and intellectuals alike, he failed to gain the favor of the royal court. His style is famous for its imaginative use of color, painting with intuition and grace rather than measure and proportion. It's very difficult to put a label on El Greco's style, but art historians usually associate this Spanish artist with Mannerism. It's equally onerous to choose which piece embodies his unique style, but in our point of view, it would be The Burial of the Count of Orgaz.
#2 Francisco de Zurbarán (1598-1664)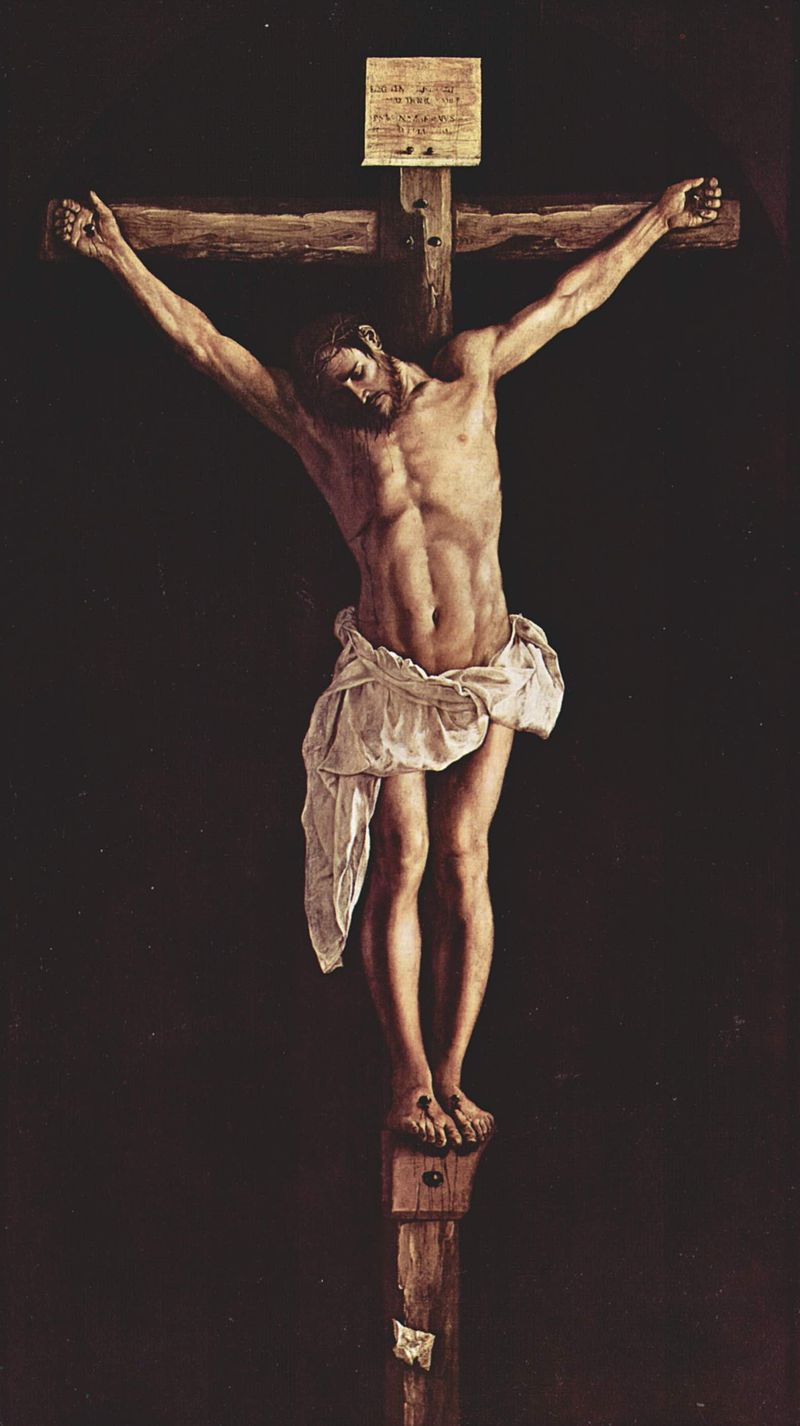 Often called the "Spanish Caravaggio", this Spanish national was one of the most noteworthy painters of the Siglo de Oro (Golden Century) era. Born at the very end of the 16th century in an unremarkable village in Central Spain, he became well-known after his first commission from the prior of a local Dominican monastery. Soon after, he became King Philip's appointed royal painter, keeping this prestigious title for several years.
Francisco de Zurbarán's style is characterized by his masterful use of chiaroscuro: a technique which uses strong contrasts between light and dark in order to add volume to the painting. Nobody knows whether Francisco de Zurbarán had the opportunity to look at Caravaggio's paintings, but the resemblance between the two is uncanny. They both painted directly from nature, directly on the canvas, foregoing drawings so typical for that time. Zurbaran's most famous work is definitely the Christ on the Cross from 1627.
#3 Diego Velázquez (1599-1660)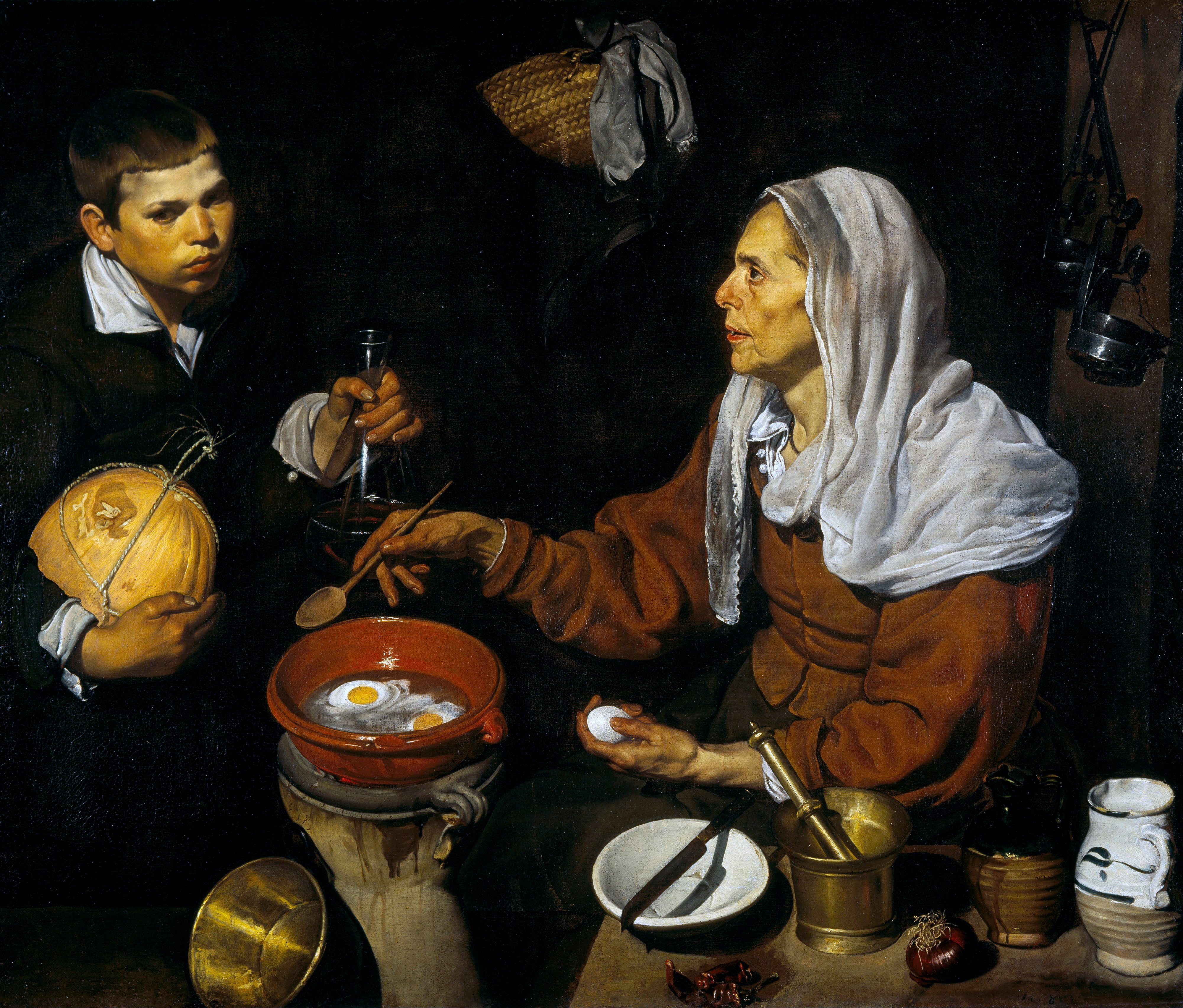 The foremost painter of the Spanish Golden Age, and one of the most recognizable Baroque artists, Diego Velázquez was not a very prolific one. It is estimated that he produced barely over a hundred unique paintings. Despite these seemingly low numbers, this Sevilla-born noble has continued to influence art over four hundred years after his death. Many later artists would pay homage to Velázquez by recreating his paintings and giving them their own personal twist.
At first, Velázquez was known for his still-lifes, or bodegónes, depicting various pantry items on a stone slab. In fact, Diego Velázquez was one of the very first Spanish painters to pick up this genre, usually associated with Flemish and Dutch artists. After moving to Madrid, the artist became famous for his numerous portraits of various notable figures, from lowly nobles to the Spanish King himself. Although Velázquez's most famous masterpiece is without a doubt Las Meninas, we've decided to include a painting that meshes together his bodega period with his later portraiture: Vieja friendo huevos or Old Woman Frying Eggs.
#4 Bartolomé Esteban Murillo (1617-1682)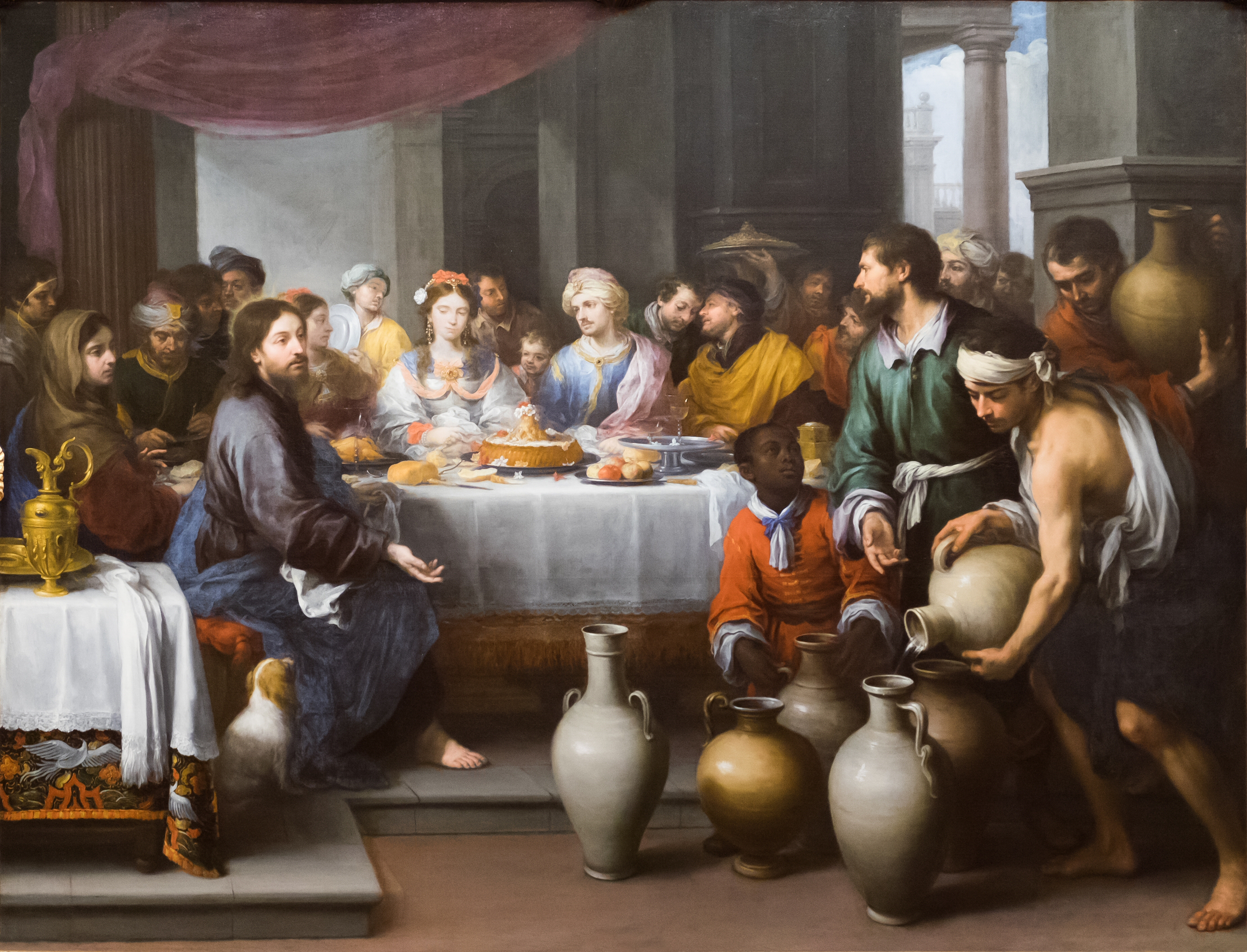 Born in the region of Andalusia, Bartolomé Esteban Murillo was one of the most famous Spanish artists of the Baroque era. Equally or even more famous than one of his early inspirations, Diego Velázquez, he had a strong influence on generations of artists to come, partly due to being one of the founders of Academia de Bellas Artes (Academy of Arts) in Sevilla. Although most of his works are religious in nature, mainly due to the tastes of the elites of his time, he is also recognized as a folklorist, often depicting common people from many walks of life: strays, beggars, and peddlers.
He is known for his extremely delicate and graceful brushwork, which gave birth to some incredibly sweet and sentimental pieces of art, contrasting with much darker tones of his contemporaries. Where Velázquez or Zurbarán worked primarily with shadows, Murillo's love of light is more than apparent. Our favorite artwork showing this appreciation of light is The Marriage Feast at Cana.
#5 Francisco Goya (1746-1828)

Often called the last of the Old Masters and the first of the moderns, Francisco Goya was born at the turn of the 18th and 19th century in Northern Spain to a middle-class family. He was an exceedingly guarded man, with very little information about his personal thoughts surviving to our times. However, an astute observer can infer quite a lot from his work: his paintings becoming progressively bleak and gloomy as his life and society itself deteriorated around him. As Goya himself was struck by a horrible disease that left him mostly deaf, his country of origin was targeted by a brutal French offensive.
The harsh and somber tones characterizing Goya's later work had their culmination in his series of fourteen Black Paintings which he produced towards the end of his life. They all share the same disturbing or haunting undertones, portraying intense human feelings: anxiety, fear, panic, madness. It's important to keep in mind that these paintings were never intended to be displayed in public. It's quite possible that Goya birthed them during his own moments of internal strife and depression. One of these paintings filled with symbolism and bubbling rage is called The Great He-Goat, or La Aquerrale.
#6 Juan Gris (1887-1927)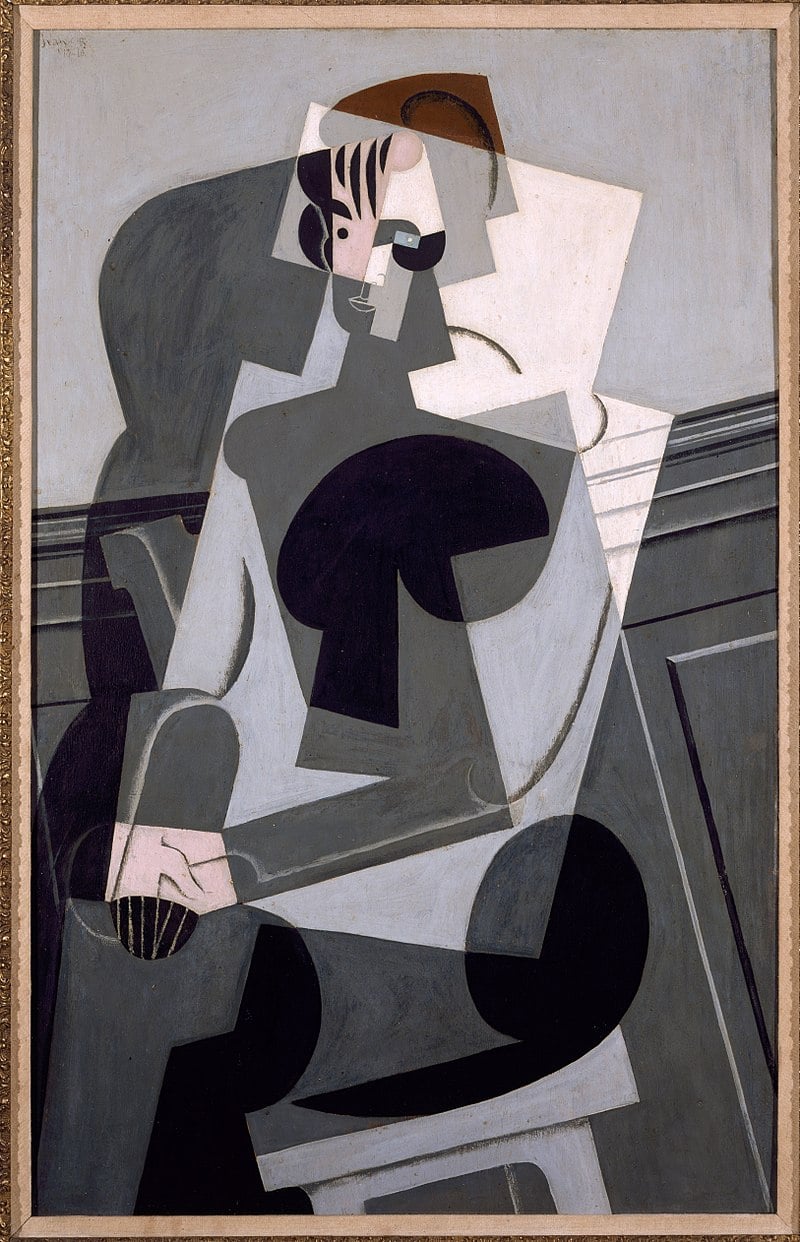 Juan Gris started his career as an engineer, studying mechanical drawing at the Madrid School of Arts and Sciences. After moving to Paris and befriending several poets and painters, he focused solely on painting. Juan Gris developed his own distinctive style deeply connected to Cubism which he himself called Analytical Cubism, using his mathematical acumen to the benefit of his art. His style then evolved into Synthetic Cubism, adding collage to his artistic repertoire.
Unlike other Cubists, Juan Gris was a master of using color in brave combinations never seen before which made his works into perhaps the most distinctive examples of Cubism there are. While Pablo Picasso went on to experiment with other branches of art, Gris stayed true to his roots, and worked tirelessly on developing Cubism into something new he called Crystal Cubism. His most famous artwork from that period is perhaps the Portrait of Josette, which very clearly shows his infatuation with geometry.
#7 Pablo Picasso (1881-1973)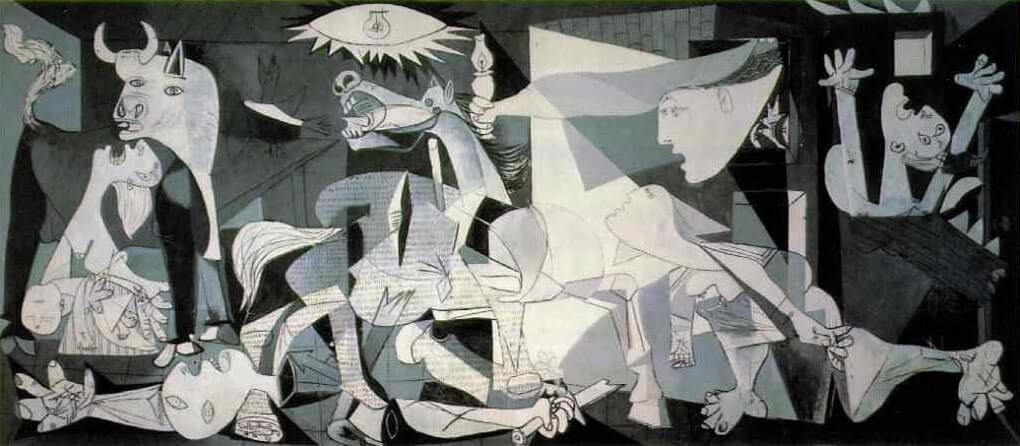 Extraordinarily creative, Pablo Ruiz Picasso is perhaps the best known artist of the 20th century, and definitely the most prolific one. Born in a middle-class family in Southern Spain, Picasso achieved widespread renown and awe-inspiring wealth through a mixture of diligence and creative genius. His own distinctive style went through many different periods where he experimented with color, form, and material in order to create unprecedented works of art.
Very early in life, Pablo Picasso displayed an unmatched degree of versatility, being able to produce art in many different styles at the same time. Although he is often thought of as a protoplast of Surrealism, his work always had a similar subject – real life object. Nevertheless, he very rarely worked with models, usually painting from memory or imagination instead, using persons or events that evoked strong emotions within the artist himself. Among his thousands of creations, the best known one is probably La Guernica inspired by the horrific bombing of the titular town by Nazi Germans and Fascist Italians.
#8 Antoni Gaudí (1852-1926)
The only non-painter on our list, Antoni Gaudí i Cornet, was a Modernist architect who filled his town of residence, Barcelona, with highly individualized solutions and materials. Meticulous to a fault, Gaudí considered every single detail of his creations, organically adding stained glass, ironwork, ceramics, and carpentry to his carefully designed objects. Foregoing the typically used designs, he preferred to work on sculpted three dimensional models of his creations, adding new details as they budded in his mind.
Antoni Gaudí is universally recognized as one of the most influential architects of the 20th century. He is admired and studied all around the world to this day. His revolutionary combination of nature and technology was unlike anything that was seen before him or after his death. Several of his works were selected by UNESCO to serve as World Heritage sites. On the other hand, his religious works, such as the still incomplete Sagrada Familia, gained him the nickname "God's Architect" and acclaim from Catholic officials.
#9 Joan Miró (1893-1983)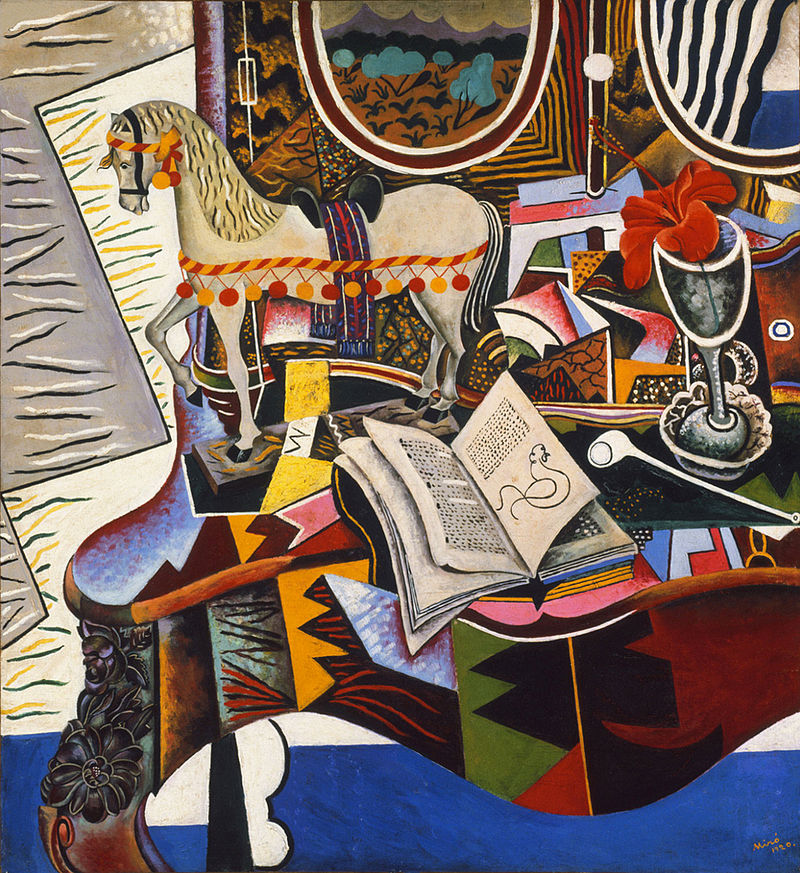 Often showing contempt towards the most prevalent contemporary style of painting, Joan Miró called for the "assassination of painting", and developed his own unique approach to art on the border of Surrealism, Dadaism, and Fauvism. His use of primary colors and childish forms arose as an infatuation with the unconscious mind, having symbolic meanings that need to be deciphered by the careful observer.
Joan Miró suffered from mental illness, with depressive periods influencing his work to a great extent. One of the most commonly used symbols in Miró's work is the ladder which is thought to symbolize the need to escape from the traps of his own mind. Nevertheless, the internal strife and turmoil he experienced were catalysts of his creativity, expressed in paintings such as the Horse, Pipe and Red Flower.
#10 Salvador Dalí (1904-1989)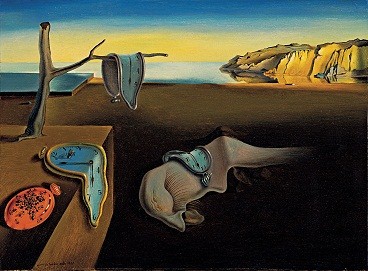 One of the most famous Spanish artists of the 20th century, and perhaps the most well-known Spanish surrealist, Salvador Dalí was born to a middle-class family close to the French border of Catalonia. Influenced by Impressionism and Renaissance during his formal education, he moved onto more avant-garde movements such as Cubism, and finally Surrealism. Salvador Dalí's favorite and most common themes were dreams, the subconscious mind, and sexuality, often depicted in a symbollical way.
Salvador Dalí progressively replaced certain ideas with out-of-place or even bizarre images. Examples include food, animals, and scientific iconography. For instance, the egg is often a substitute for hope and love. The rhinoceros is associated with chastity or purity. And the soft watches depicted in The Persistence of Memory, his perhaps best-known piece of art, are a reflection of Dali's fascination with science and Einstein's general theory of relativity.
Over to You!
Whether they're known for painting, etching, or drawing, the famous Spanish artists on this list have become household names in the world of art with their masterpieces routinely setting new records at auctions every year.
Are your walls in need of a makeover? Check out our amazing choice of fine art posters! Hang your favorite masterpiece on that empty wall and bring more art into your life!
Are there any other famous Spanish artists you think we should include on our list? Let us know in the comments!
If you made it this far, you might also enjoy other articles from our series: