For seasoned gamers, the space we dedicate to an art form we love matters most. If you're lucky enough to have a basement space that you can transform into the perfect gaming haven. You're in the right place. It's time to curate your own basement game room.
Game rooms are all the rage in 2023. Don't take our word for it. You simply have to type gaming room ideas into google trends to see the increase in interest over the years. Without getting too much into the semantics. We've compiled an awesome list of basement game room ideas to get your interior decor juices flowing. From slick pool table centerpieces to OP PC and console setups. We've included enough variation to give you great ideas for your next epic solo or group gaming experience.
If you're searching for gaming bedroom ideas, we've got you covered on our blog too. Without further delay. Let's dive into what an epic basement gaming experience can look like.
Which games should be in a basement game room?
Anything goes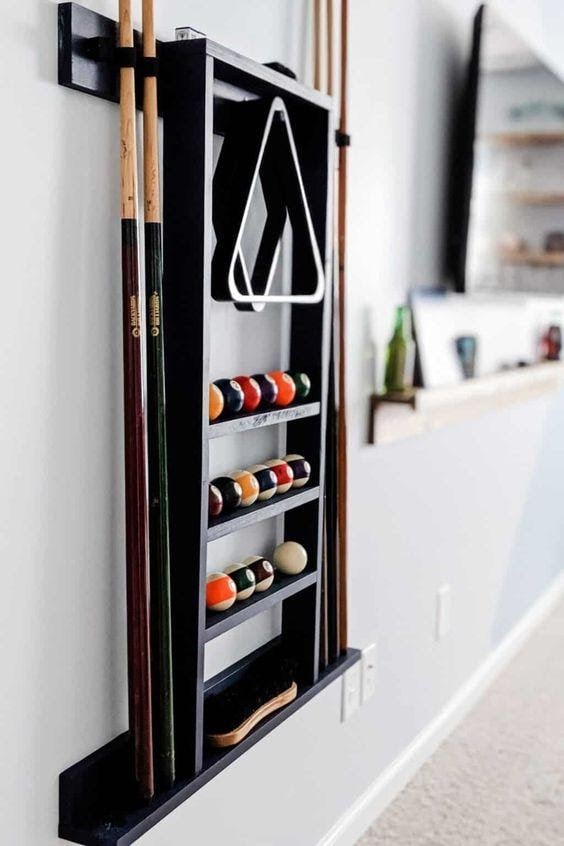 There's no one-size-fits-all when creating a basement game room. From the room design to the colors on the walls, it all depends on your preferences. Some people dream of creating a place to show their latest console, while others choose to keep it strictly card and board games in the basement. Whatever style you're going for, the most important thing is to make it a fun place.
New or Retro Games?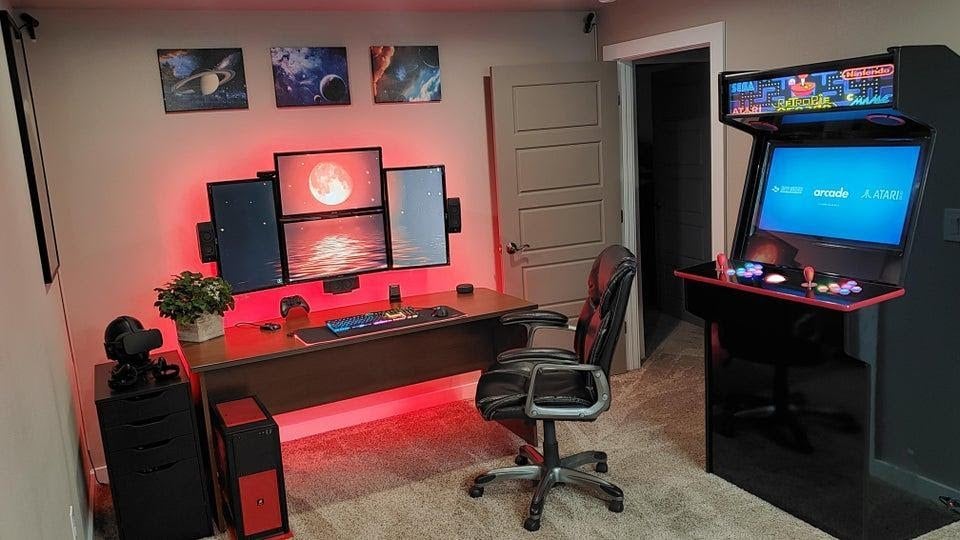 In this example above, we have both a retro arcade game and a modern PC gaming setup. As we mentioned above, anything goes! An excellent decor touch would be to incorporate some gaming posters that match the theme of your room.
Solo Gaming or Family Gaming?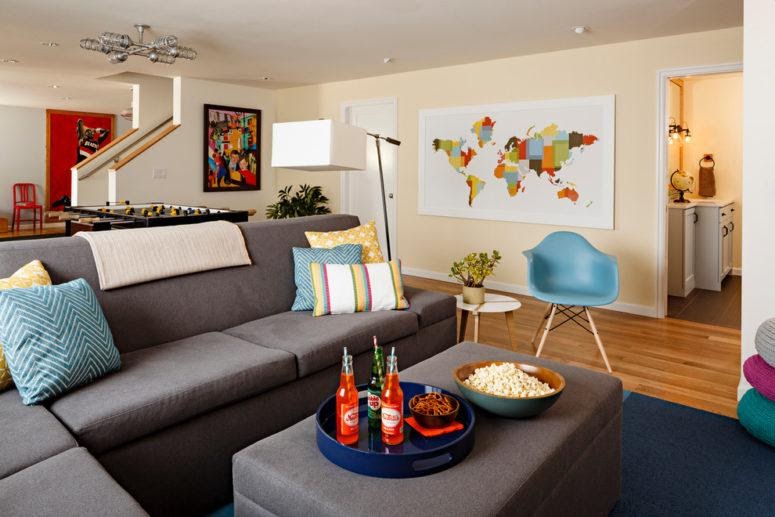 A basement game room can serve many purposes. It could be a family-friendly space for everyone to have a laugh and hold some friendly foosball competitions. On the other hand, it could be a solo PC gaming room. In this example above, we have a family gaming room with a sumptuous seating area for card games or board games and movie nights. If you have ample space, you could incorporate some of these elements into your basement game room.
Multi-Function Room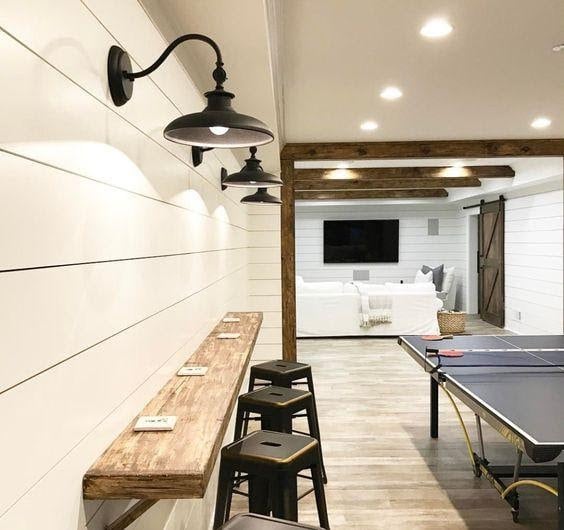 There's nothing better than a spacious basement game room. In this example, we have a room with table tennis and two seating areas, one for console gaming and another for meals or a good game of cards.
Modern Gaming Basement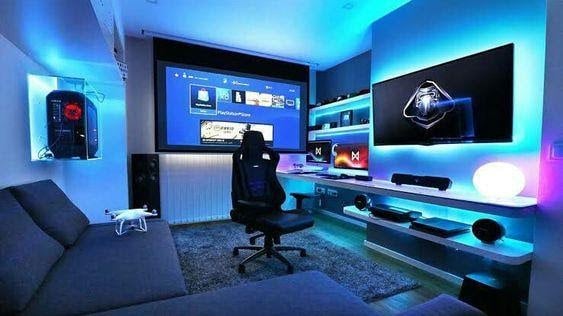 This gaming basement cave is perfect for a friendly LAN party. The neon lighting adds a modern touch. There's a combination of console and PC gaming setups in this room, perfect for keeping the entire family entertained in the basement.
Table Tennis Room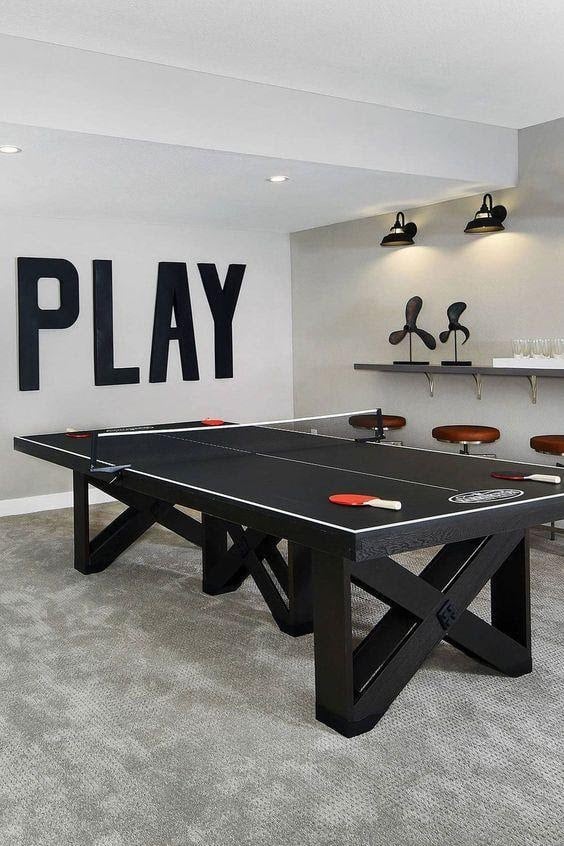 Classic games like table tennis and pool add a unique feature to basement rooms. It's the perfect setup to hold a friendly competition among families. Find wall signs or posters for decor to push the room up a notch.
Large Square Footage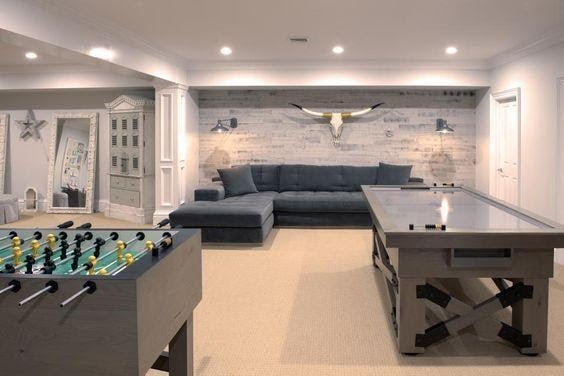 Here's a great example of a traditional gaming basement focused on tabletop games. We love the foosball table, and having a huge couch is perfect for a group game of charades or 30 seconds with family and friends.
The Purple Cave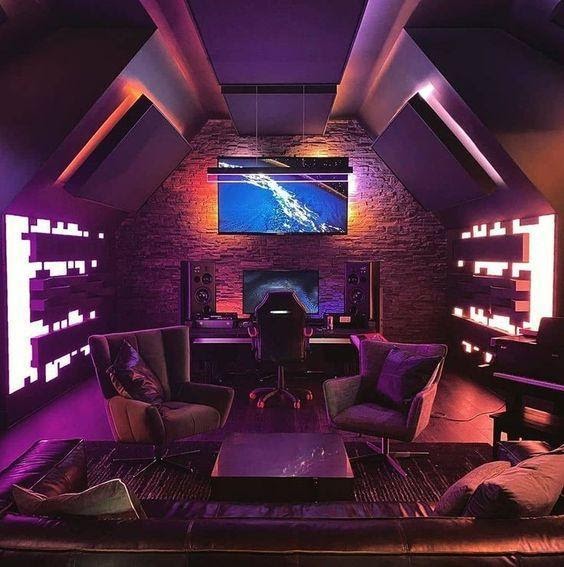 Suppose your budget for a complete basement transformation is on the high end. Take inspiration from this fantastic purple basement room. Perfect for solo man cave PC gaming or a board game with a group of friends.
Full Feature Basement Room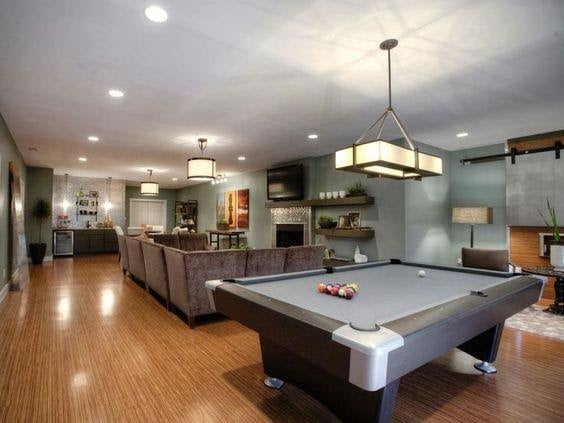 Here's a full-feature basement room with multiple stations, from a TV spot to play console games to a lovely pool table for friends and family to enjoy competition. If you've got plenty of space and a generous budget, feel free to incorporate some of these features into your own space.
Arcade Basement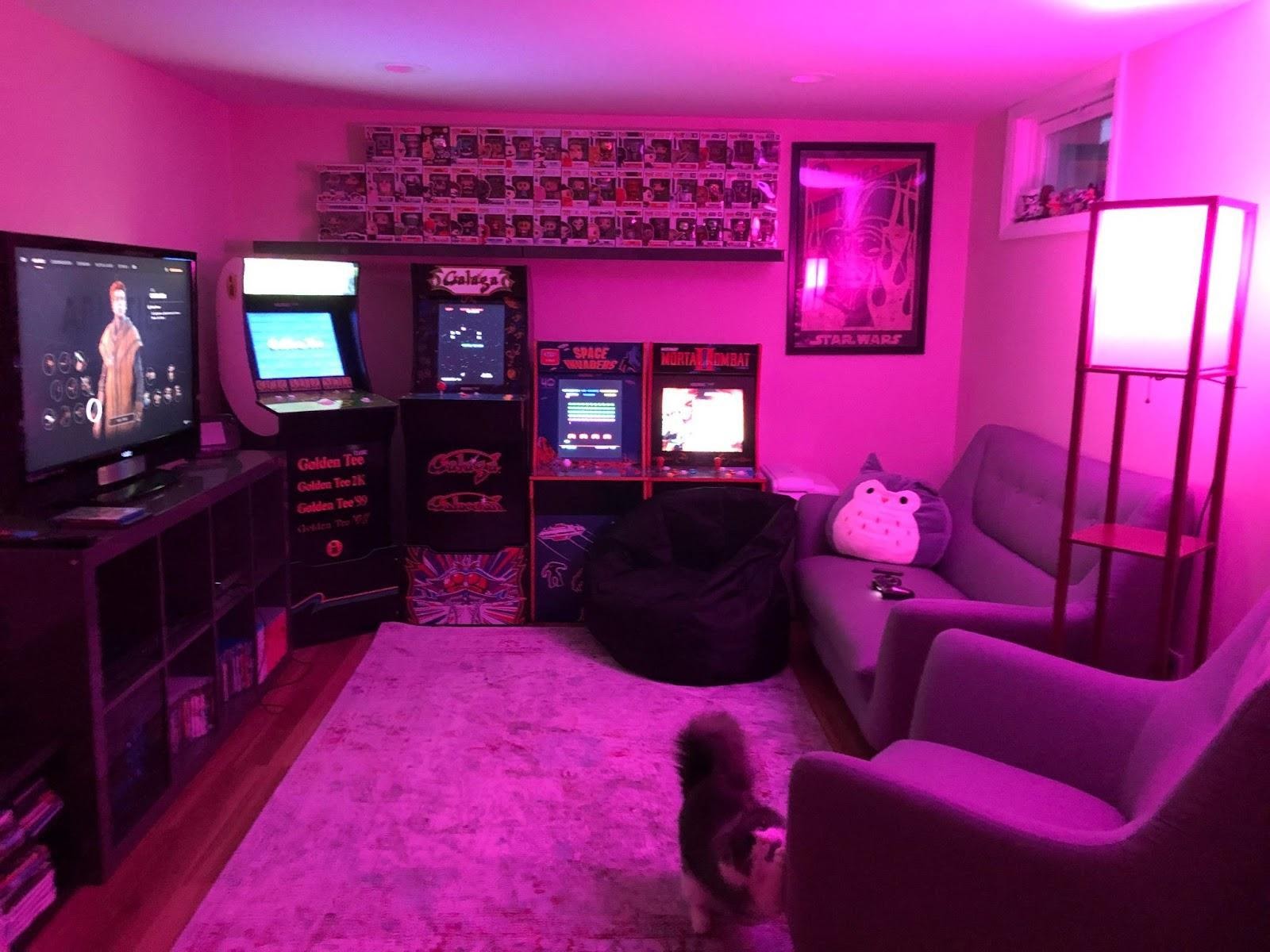 Speaking of creative basement game room ideas, mix retro and modern gaming experiences to create a cozy family room basement.
Minimal Game Room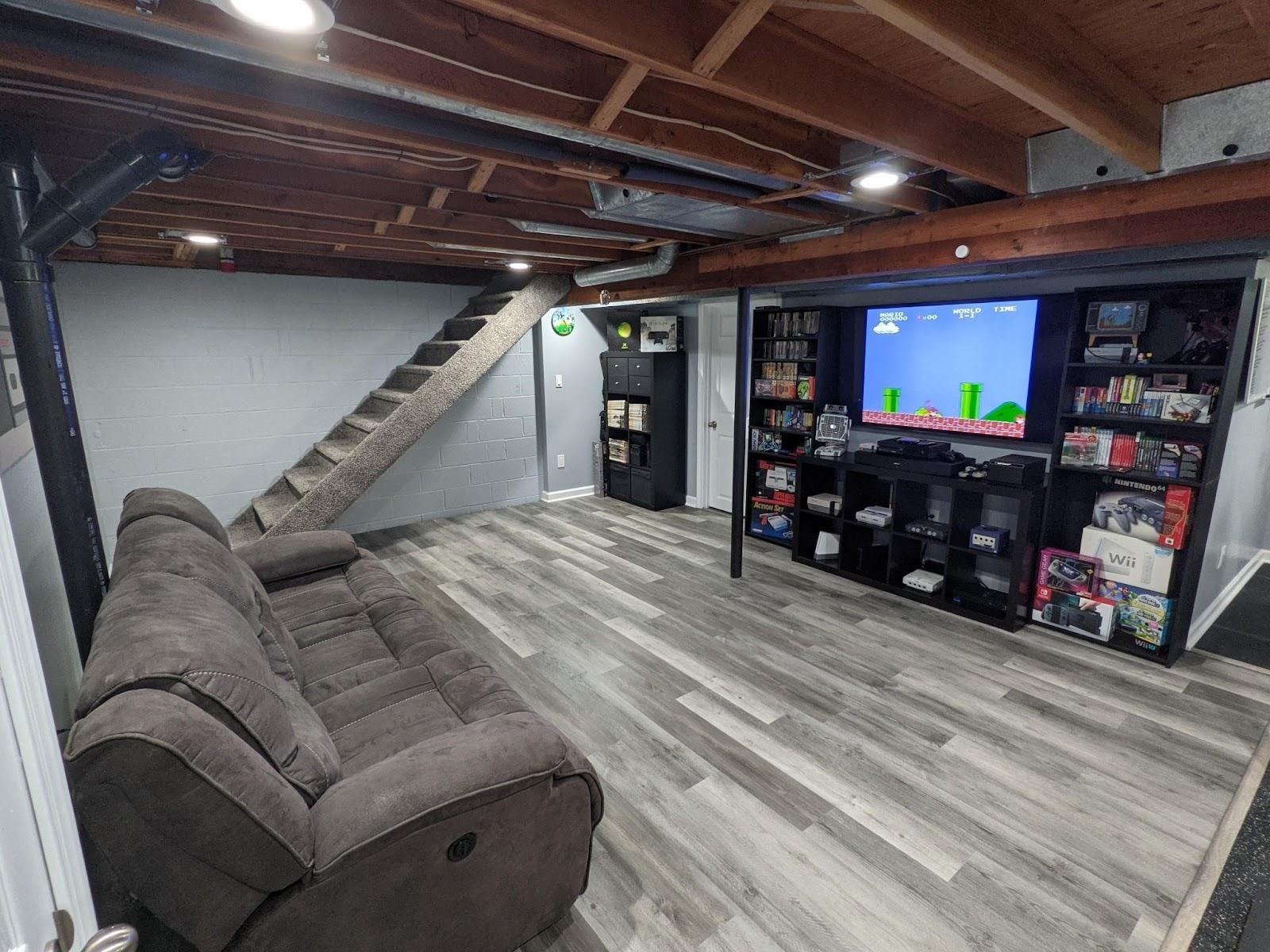 This minimal basement game room is focused on television gaming. Having cozy furniture like this excellent couch can make any basement inviting to friends and family. The shelf space in the TV stand is a great place to store board games and card games, as well as a nice variety of consoles. 
Colorful Couch Room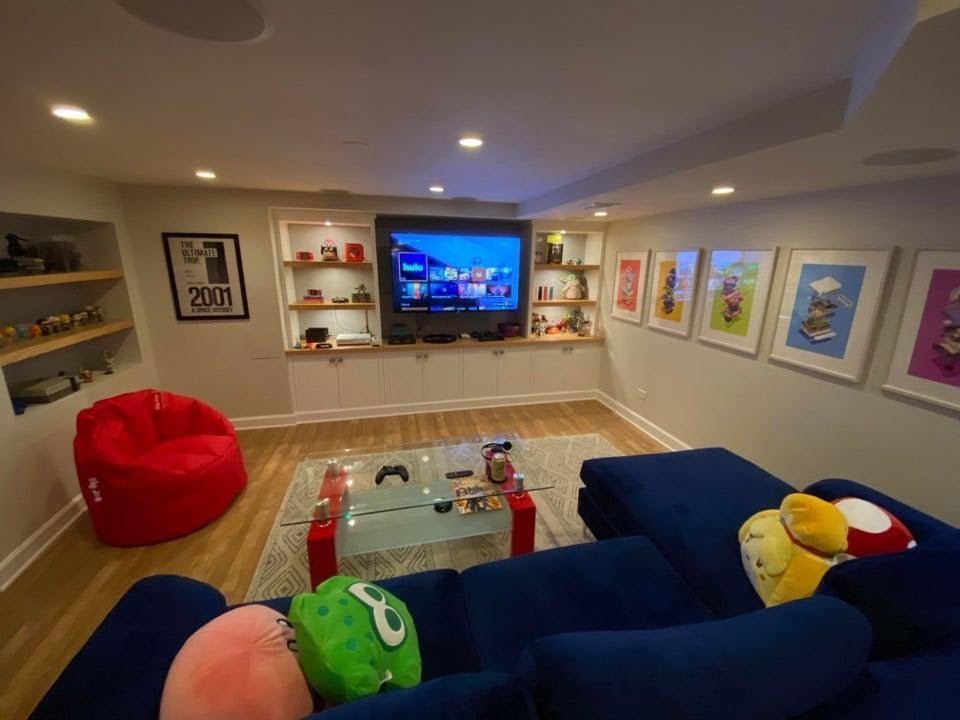 This is probably one of our favorite and the most colorful room on the list. One of the best decor features of any basement game room is to add a few sleek posters to match the theme of your room. Be sure to browse the collections at Displate to find the perfect poster for your space. The posters on the wall in this example complement the awesome pillows on the couch. Every inch of space is used functionally. 
Multi-Gaming Basement Game Room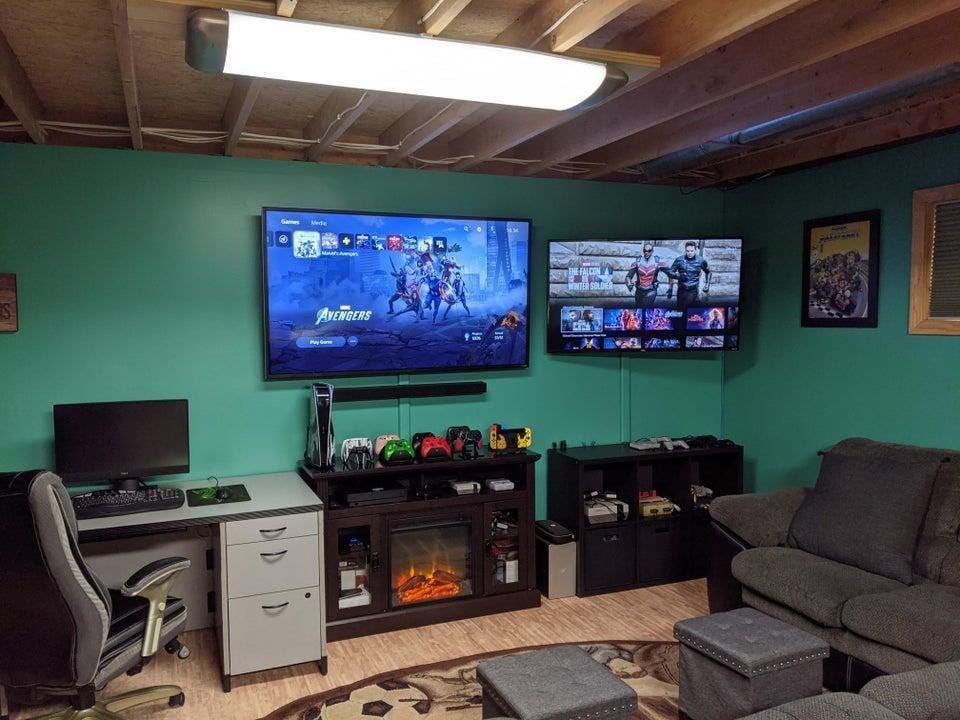 For gamers who love hosting multiplayer gaming sessions, it's always a great idea to have multiple screens to host more than one game. We like the collection of different consoles in this room. 
Poster Room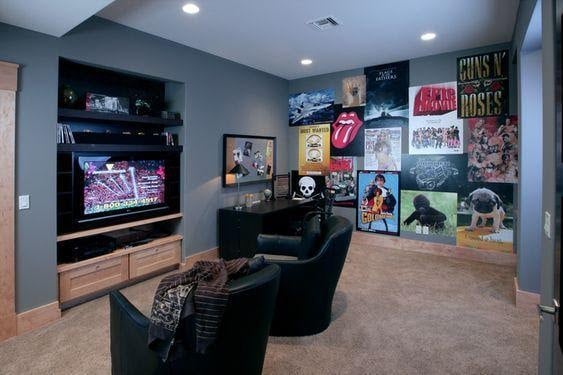 Add a touch of passion to your basement walls with a nice set of posters.  Enjoy your favorite video game in a creative space.
Orange Pool Room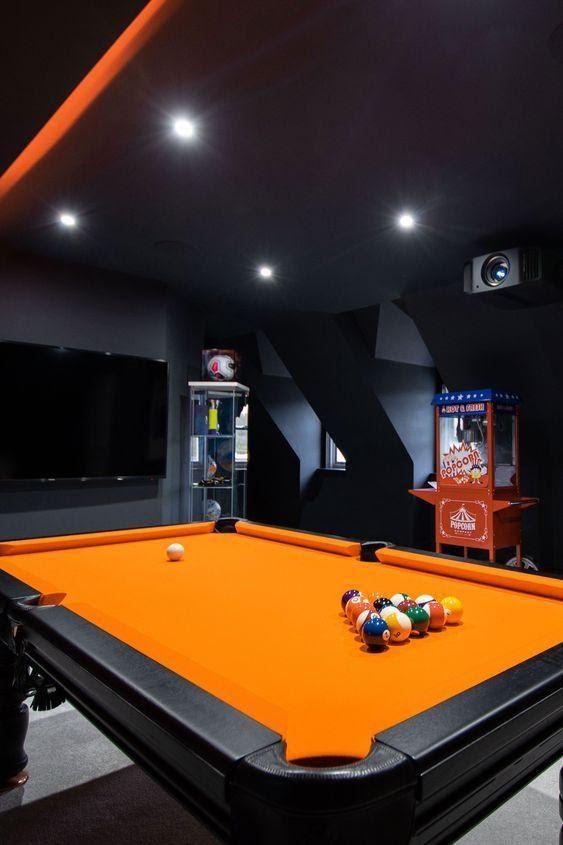 As we've mentioned before, while most gaming rooms contain consoles or maybe PC setups If you have a spacious basement, why not add classic games such as a dartboard or pool table.
Elegant Room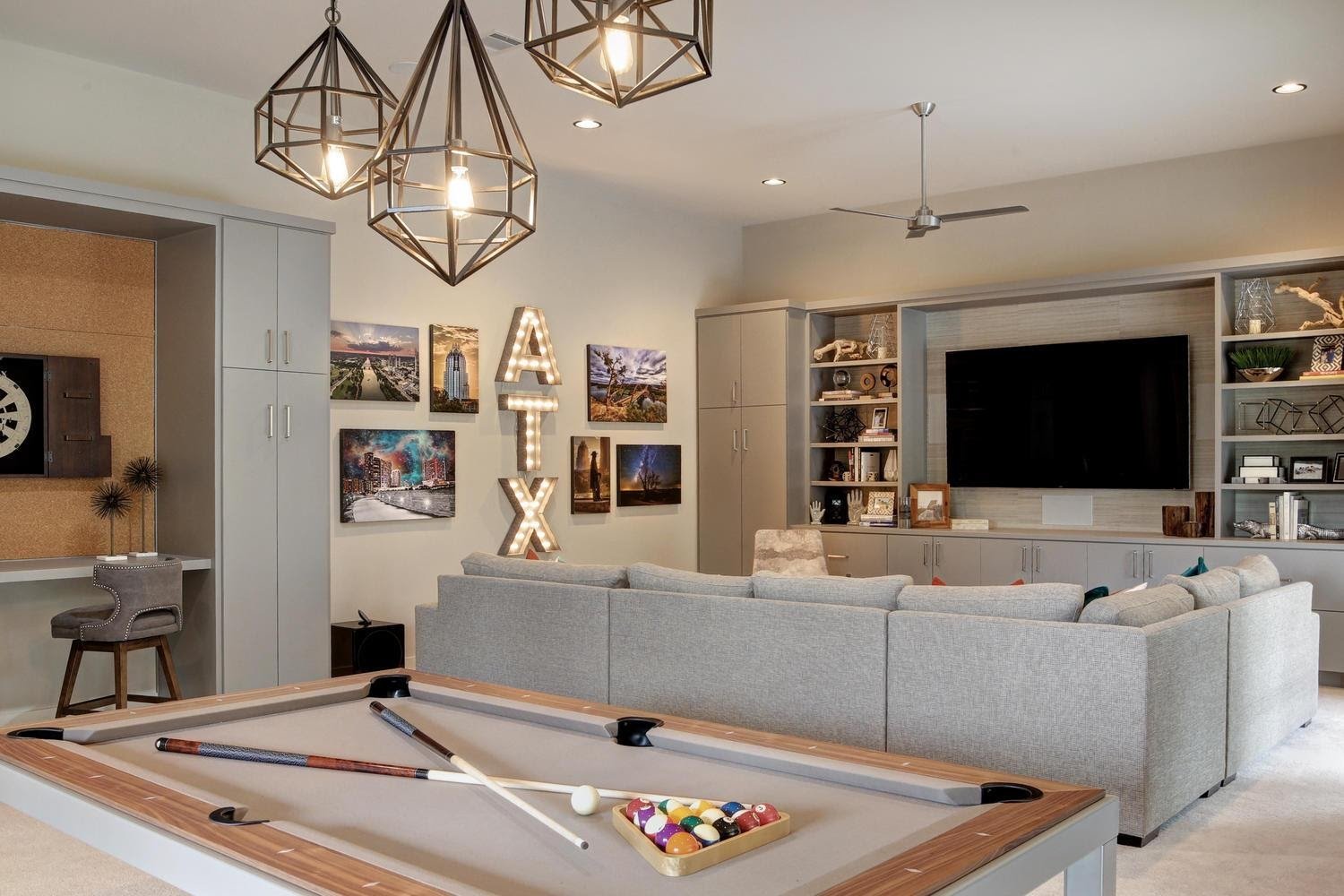 Here's an elegant gaming room with a few options. When most people think of gaming in the 21st century, they immediately think of consoles or PCs. A good Basement game room can have a mixture of retro, arcade, and tabletop games as well as modern console experiences. We've included a mixture of both in this list. This image above showcases an elegant room, a pool table, a dartboard, and a television for console gaming. The best of both worlds.
Simple Basement Gaming Station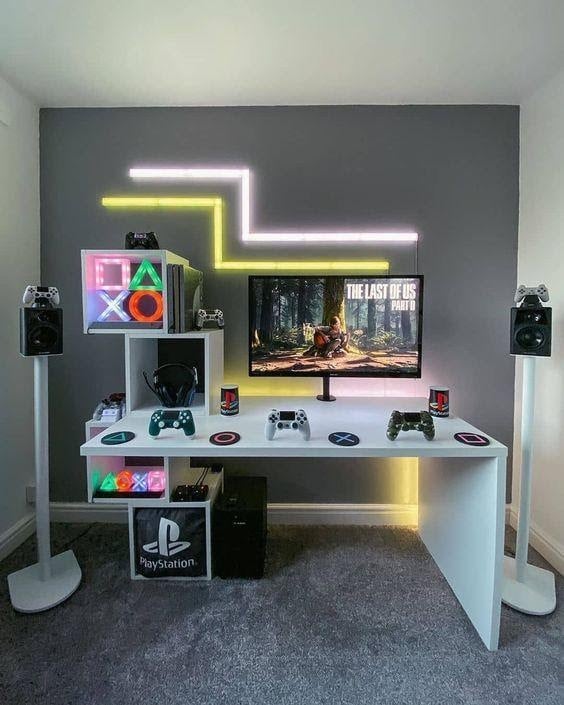 A smaller-sized basement can make for a great solo gaming room. We love this PlayStation-inspired desk setup. The only thing missing here is a few gaming-inspired posters to add decor to the walls.
Niche Basement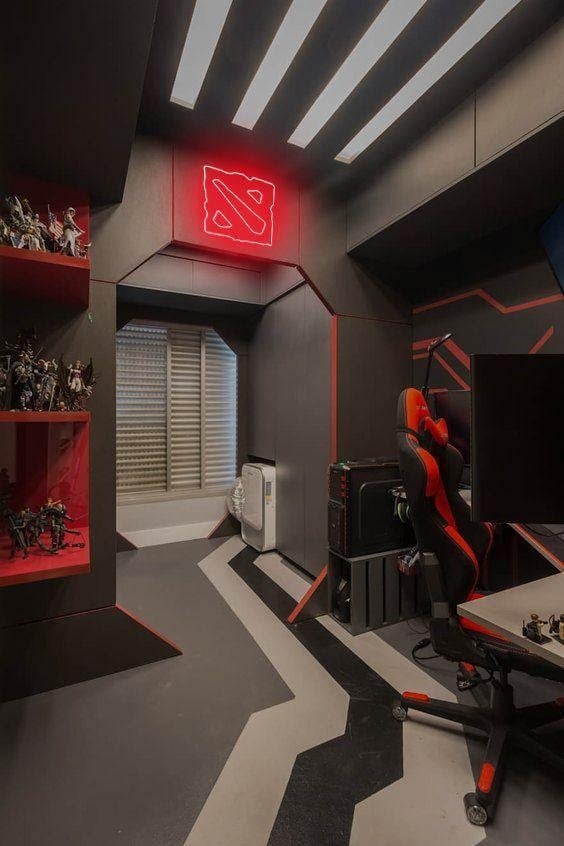 For those committed to transforming their basement into a spaceship, here's a game room idea for you to emulate. There's no limit to what you can create in your basement.
Miniature Arcade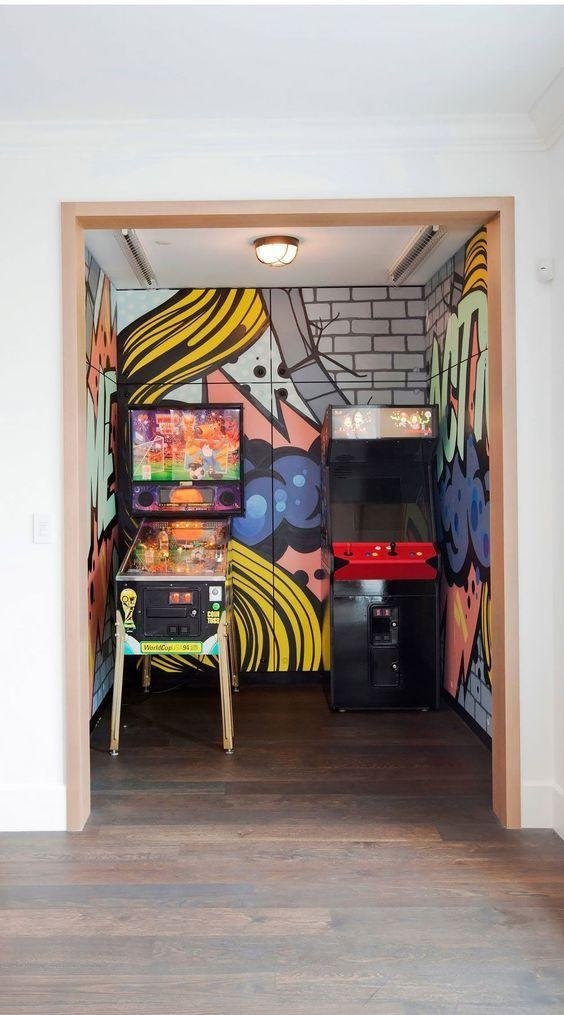 We can't speak of basement game rooms without giving a nod to arcade games. It's an awesome idea to store up a few arcade machines in your basement.
Solo Gaming Basement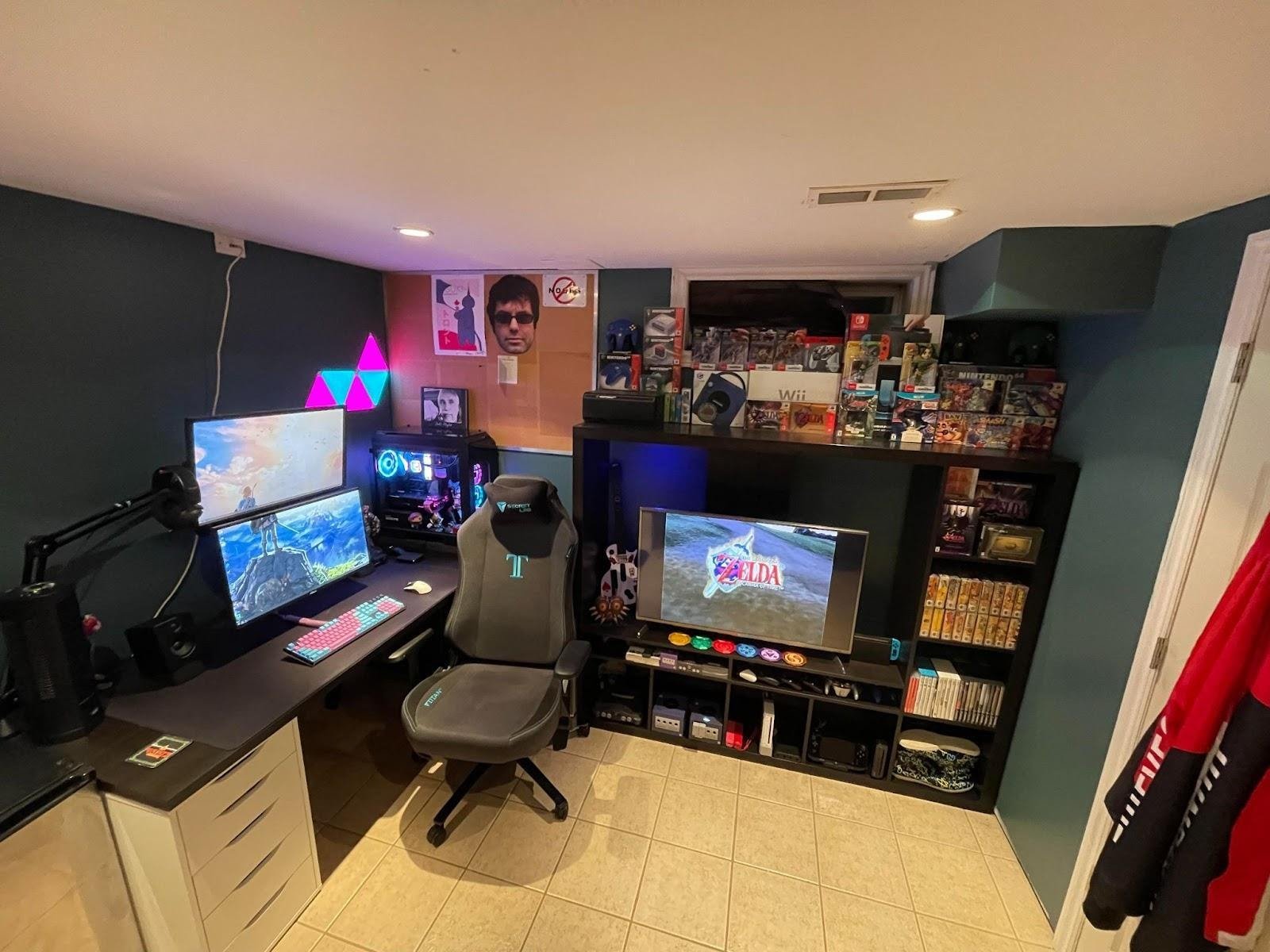 A basement game room can be tailored to solo gaming for him or her. Create a personal space with your favorite games. 
Streamers Basement Game Room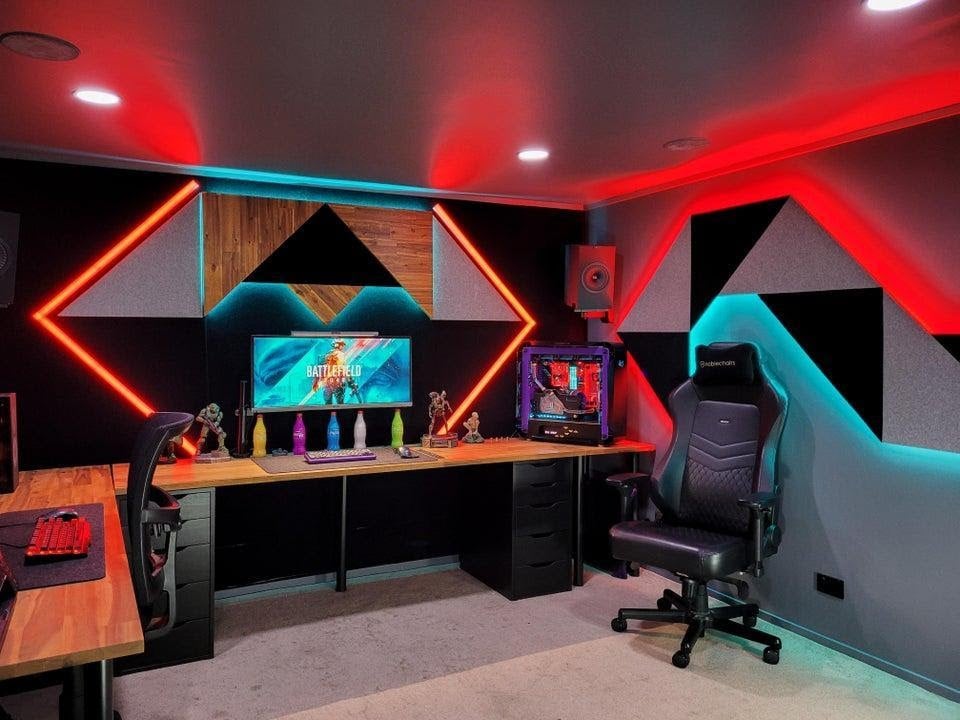 A perfectly insulated basement can be a great space for live streamers to record their favorite playthroughs and campaigns. This duo gaming setup is a great place for couples or friends to game together. 
Dart Board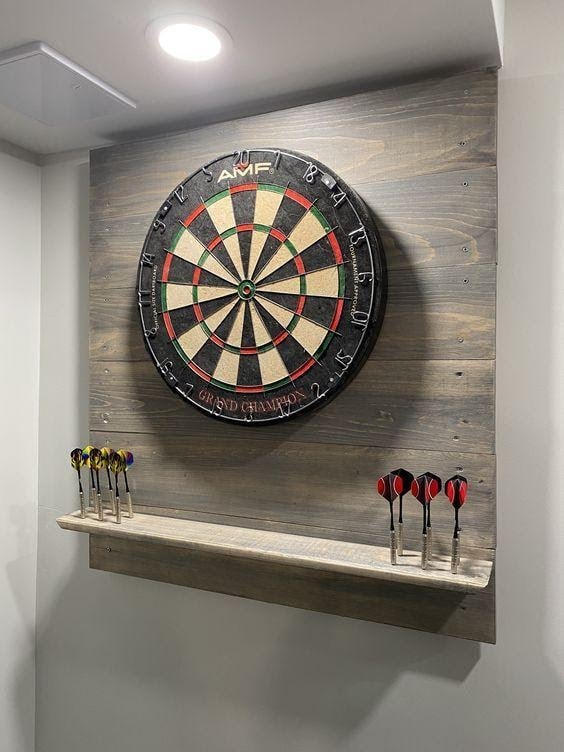 Speaking of cool ideas, why not incorporate a few classic games like darts for a friendly competition.
Sleek Game Space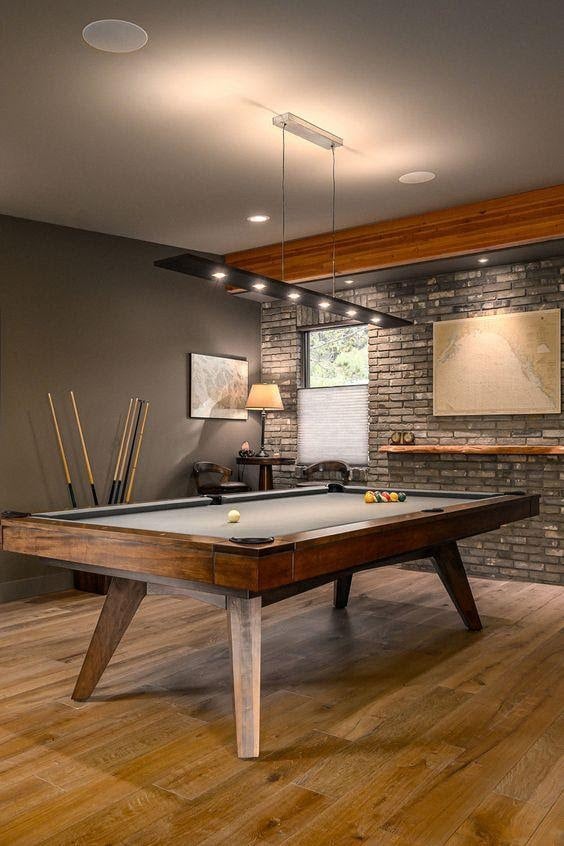 Here's a sleek and elegant basement room to host a nice friendly pool competition. Crack open a few drinks and you've got yourself a fun night of tabletop game competitions.
Sound & Gaming Room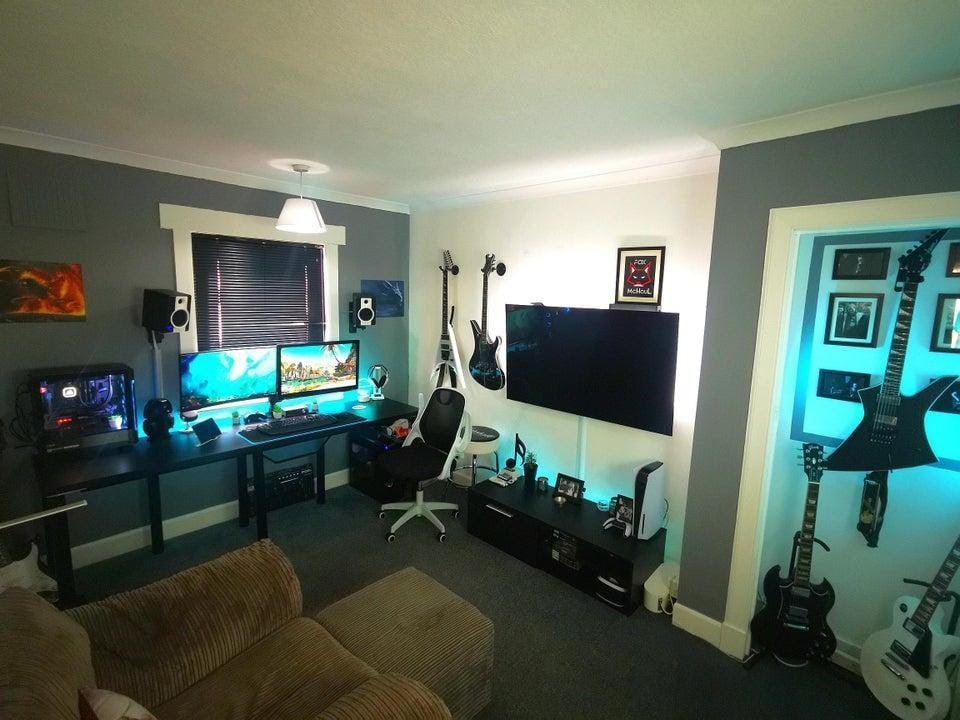 What happens when you get a crossover between a sound studio for jam sessions and an epic basement game room? A pretty cool space.
Conclusion
Now that you've seen a few different game room ideas. Go ahead and curate your own space with exactly what you might need. Choose the games you love across a wide range of options and enjoy the gaming experience!