Hello!
Nice to meet you folks, my name is Zuza and this is my very first piece of news in my very new role. To me, being a Displate Artist Ambassador means listening more and communicating better. Art and artists' matters have always been very close to my heart, so I'm super excited to take a step closer to our community. Recently, you have been very interested in the matter of artists' intellectual property, which is extremely important to us, as well. This is why it's going to be the first topic I will be taking care of and addressing in this article.
First and foremost, it is essential to understand how platforms like Displate actually work, and why they are called online marketplaces. Only then can we join our forces and help each other react properly.
Displate is an open marketplace where anyone can join and share their artwork. Each artist must confirm that they own the artwork they uploaded and hold the copyrights to it (and any other related and necessary rights) to upload a piece of artwork on the Displate platform. We do not upload artworks on our own. We cooperate both with individual artists and brands like Star Wars, Marvel, Animal Planet, Arsenal or NASA (they can all be found here: https://displate.com/browse-brands). They're responsible for delivering artworks to our platform.
The validation process for all artworks is done via our system and is mostly responsible for checking the print quality of the images, not their content for copyrights. It is important to mention that if we receive any report of copyright infringement, we review it within 1-2 business days. Every request is then carefully investigated and if it is confirmed, the reported image is removed from the website with the possibility of the offender being banned. 
Over the last few years, we've noticed steady growth in the number of artwork that was being uploaded, so this year we've decided to pay some more attention to curating our existing artwork database.
In the first half of 2020, we decided to set the upload limit to 10 designs per day per artist.
In August 2020, we put artist registration on temporary hold so that we could dedicate our resources to curating our existing artwork. Since then, artists looking to join our platform are required to send us their portfolio via a dedicated e-mail address, and each portfolio is then checked and assessed by our Content Team. We'd like to highlight that we approach each case individually so as to minimize the possibility of recruiting any bad apples.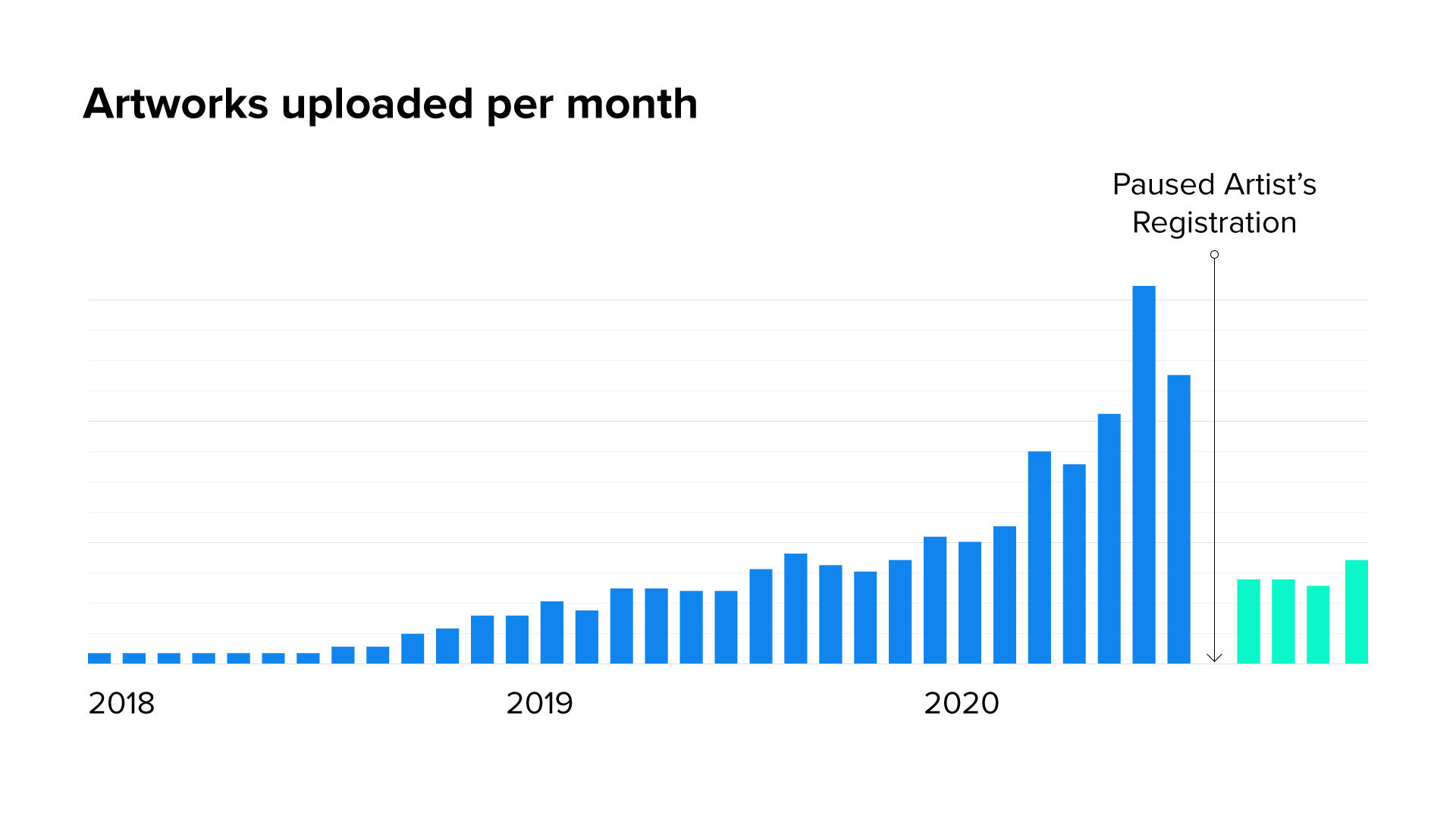 We have witnessed rapid growth in the number of uploaded artworks year after year. In 2020, the number of artworks on our website doubled! Unfortunately, as we grow, so does the potential for copyright infringement – which is why we've gone for the fences to block any such attempts and react immediately, as we're receiving more and more reports on such matters compared to previous years. The number of banned artists accounts doubled in 2020 vs. 2019 (Chart 2), while the number of artworks removed (Chart 3) tripled in 2020 compared to 2019.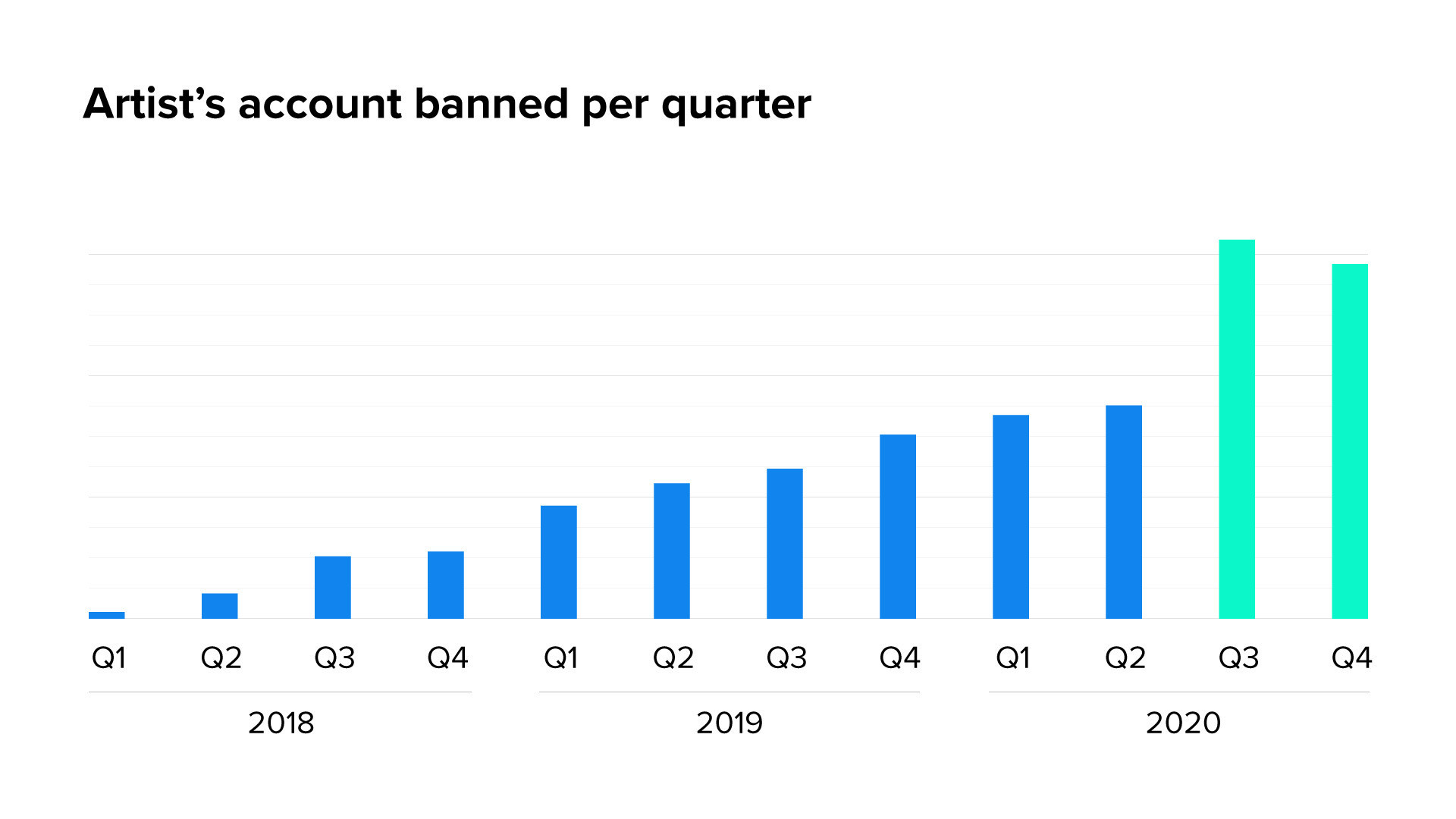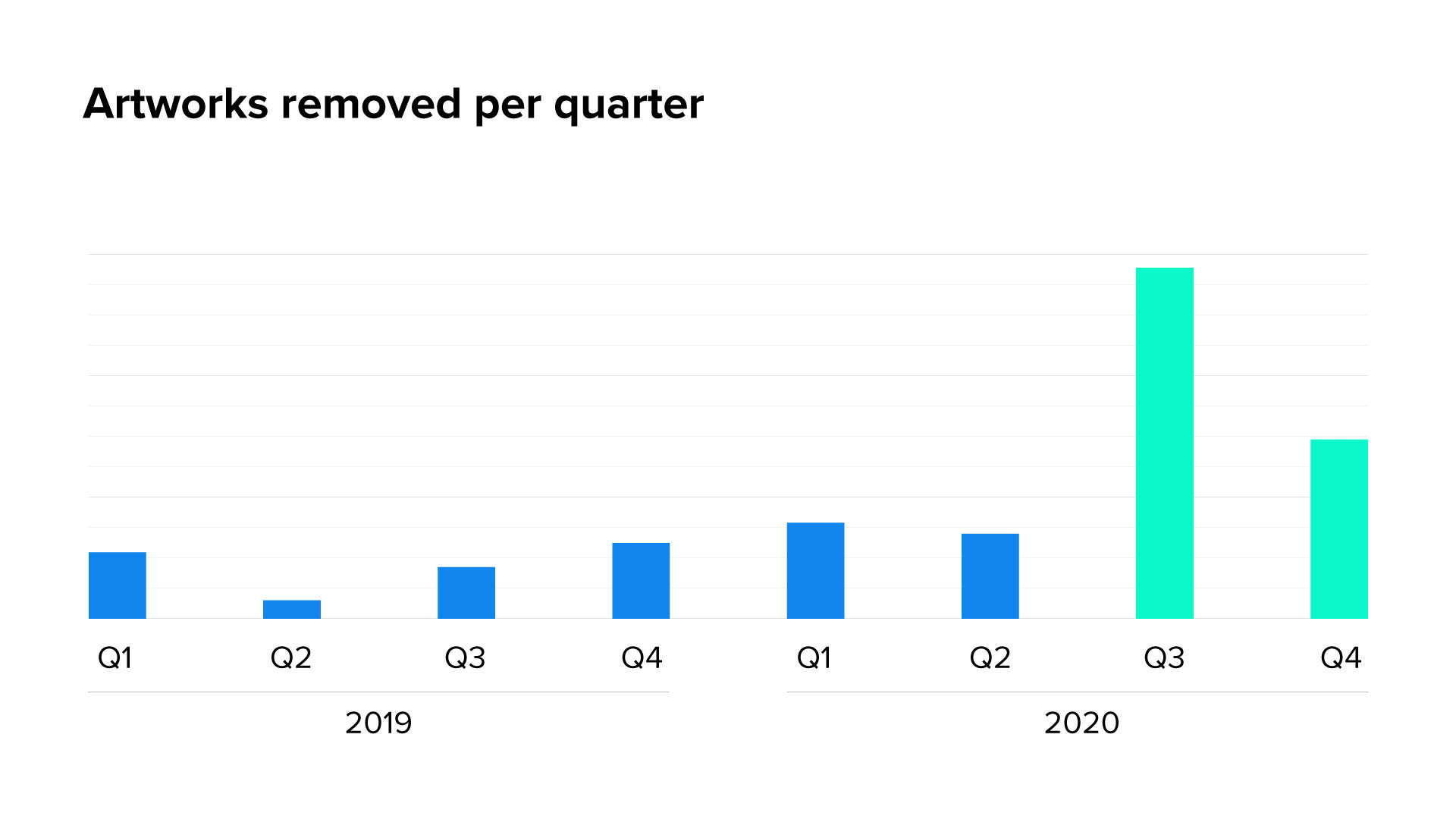 One of our main goals for 2021 is to find and implement new solutions that will help us better curate such massive volumes of artworks, including better artist verification and image curation processes. 
We would like to reassure you that we, as a company, treat copyright infringement as a matter of utmost importance. Although fighting such practices is not an easy battle, we're ready to take any and all actions necessary to better protect our artists and their intellectual property.
Sincerely,
Zuza, Artist Ambassador