The secret of Pinterest's attractiveness – the application is already used by over 444 million users! – is inherent not only in the human passion for collecting various curiosities but also in the long feed, which makes the very process of searching and exploring them in a visual form extremely engaging. For this reason, Pinterest is a marketing tool with great potential. Find out how to promote and sell art on Pinterest!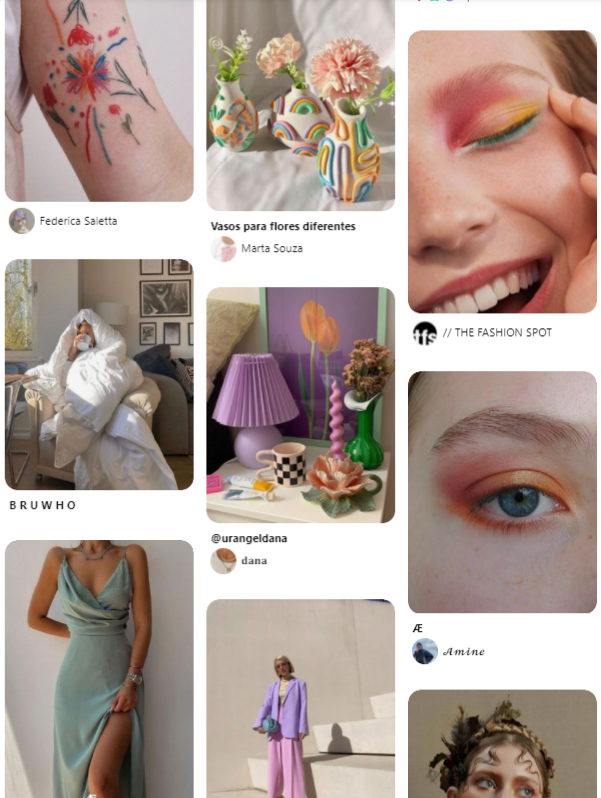 Pinterest is, first and foremost, like Google, a search engine. The only difference, however, is that the dominant medium here is the image. This means that when entering a keyword into the search bar, you will see the results like images, sometimes enriched with descriptions and hashtags.
1. Why Pinterest?
Displate is an artwork printed on metal canvas. In short, it's an image. That's what makes it Pinterest-native.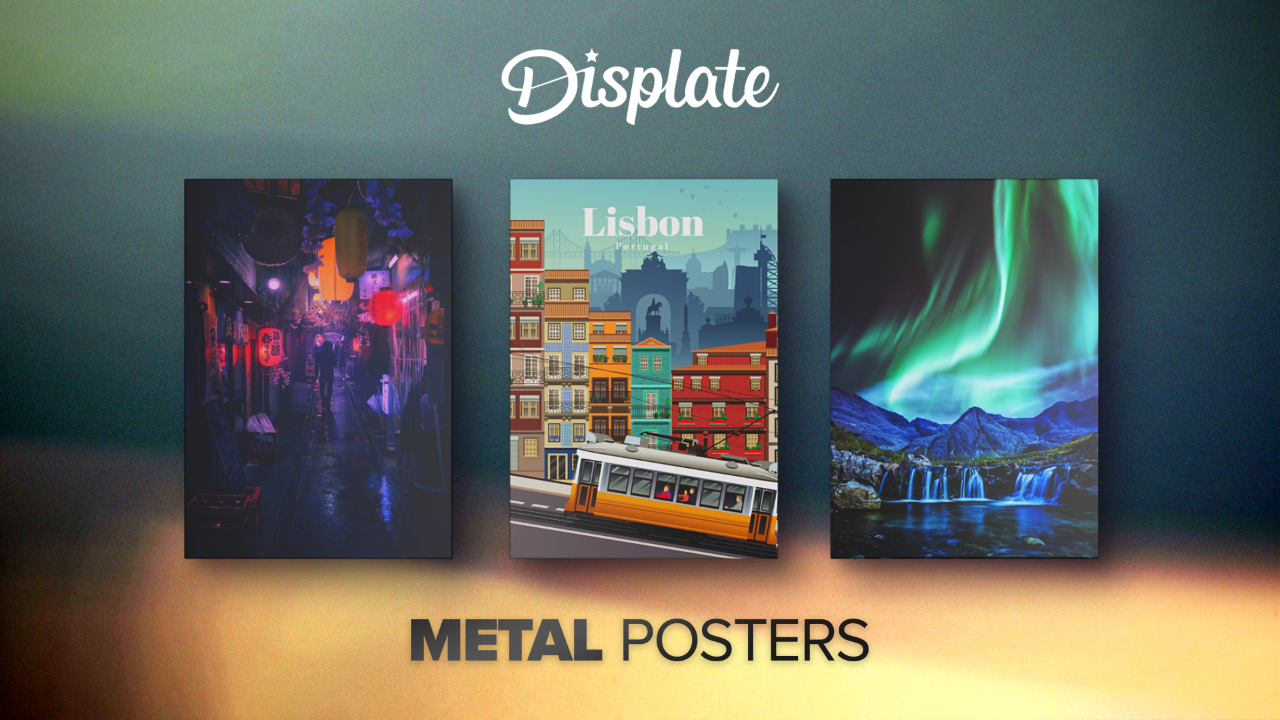 Pinterest is for those who "get it" – for trendspotters (buyers) and trendsetters in art, fashion, design, etc.: content creators and artists, like you.
You are, as an artist, your own trendsetter, that's why Pinterest is a marketing tool for you to sell art online.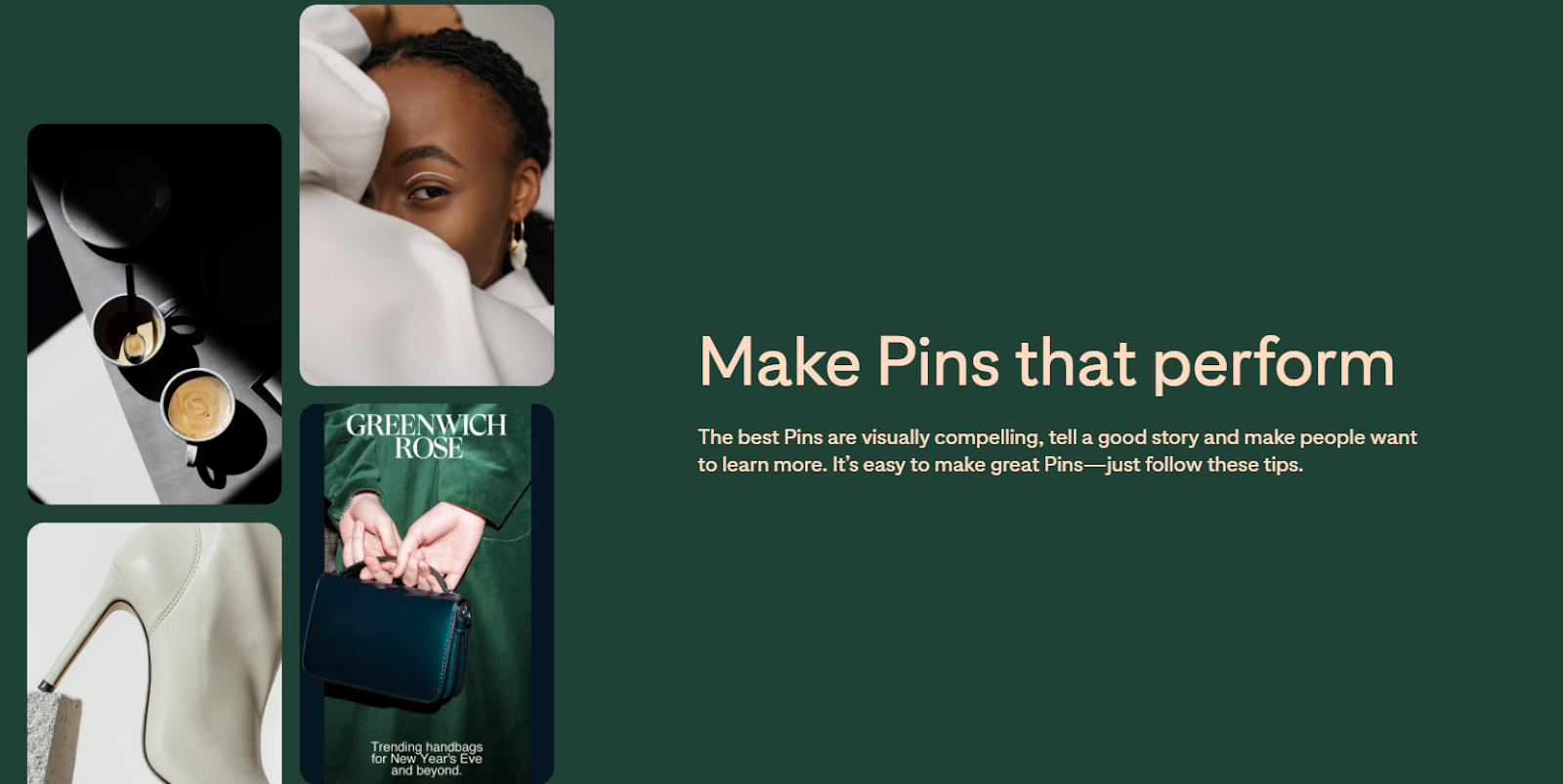 How can you showcase your artworks? Use Pinterest formats such as Idea pin, static pin, carousel pin, video pin linked to the product page or a blog post, and publish the high-quality images of your artworks. Here you'll find the best creative practices.
The Pinterest audience is growing! It means you want to be there and get discovered by more creative people! They often search Pinterest to find their next shopping inspiration. Especially, in terms of home décor and manifesting their lives through aesthetic things they love (AKA passions!)
Artists which use Pinterest:
ANDRESON is a photographer who creates content not just around photography, but about his lifestyle. You will find here lots of fashion, travel inspirations, Photoshop tips, and tips on how to create your personal brand. Everything a potential artist and art admirer would find useful and inspirational. This way he is promoting himself as an art professional, so his work will gain more credibility, supported by a huge and loyal community on Pinterest.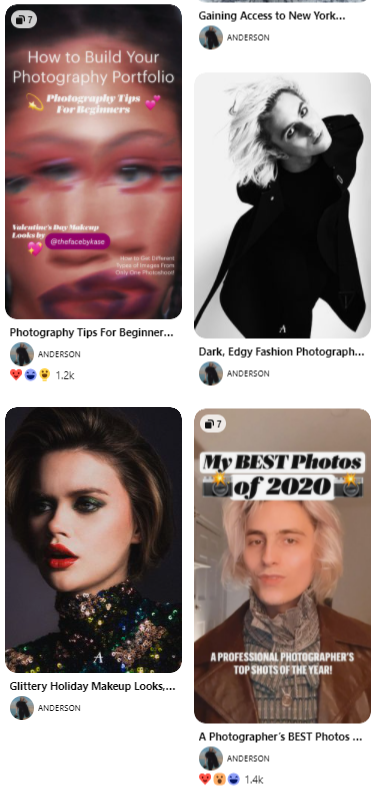 Polina Bright is a visual watercolor artist, who shares Idea Pins featuring videos of her drawing process. This is not only captivating for her followers' sight but also builds up for her artist persona's authenticity and inspires her followers to try creating art themselves. You can notice, that she utilizes videos from her Tiktok channel, which is also a good strategy that saves you time from content creation! (her videos are also high-quality, which adds up).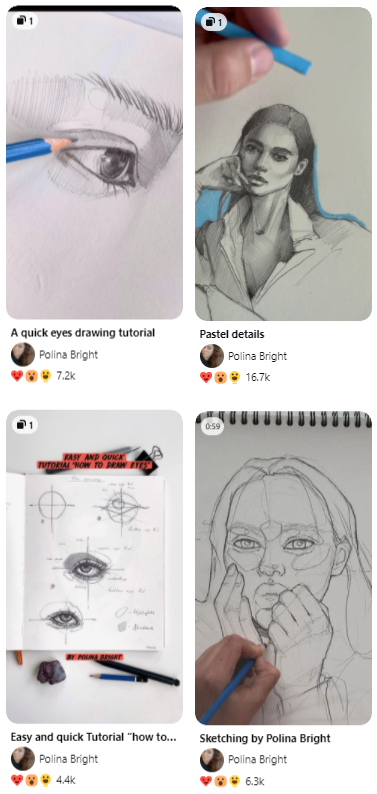 Kolbie Blume is both an artist and an online educator. That's why her tutorials on creating miniature landscapes aren't just easy to repeat, but also help you to increase your skills. Her current content strategy for Idea pins – 100 days of tiny landscapes challenge – consists of posting a new tutorial on creating a small-scale artwork daily. She has over 220k followers and 10 million monthly views!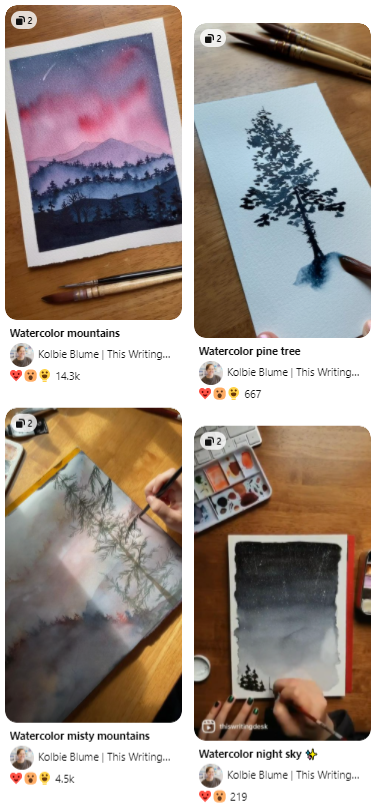 Nina is a watercolor artist from Finland, who creates stunning nude watercolors of flowers and posts her painting process as Idea pins. The warm and delicate aesthetic of her visual content is very pleasing and worth mentioning. This aesthetic is also popular in Pinterest trends like cottagecore or dark academia. Check them out in the Pinterest search bar and you'll see popular, similar content!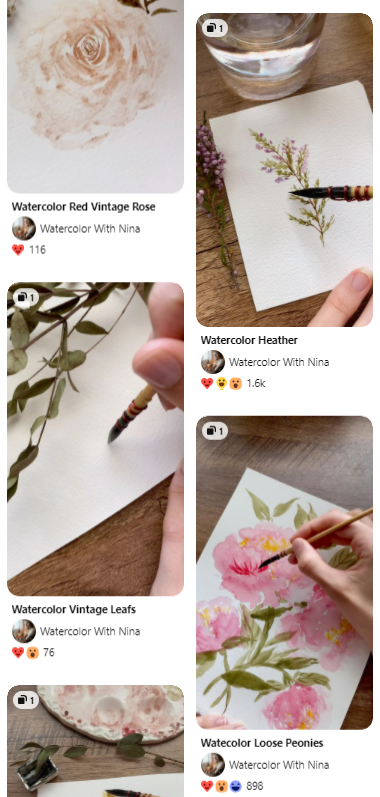 Emily Davis is another watercolor artist who links all of her static pins to a web page where you can buy her exquisite watercolors in earthy tones. Perfect for Japandy design aesthetic, as the fellow Pinterest user would notice. She tests different variations of photo compositions in pins. Nice case with really nice paintings.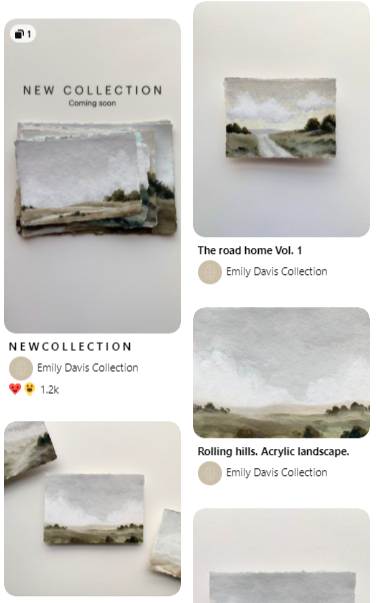 Tanya is an Architect and artist from Mumbai. Her Idea Pins with DIY content on how to draw flowers, landscapes, etc. in a simple way are gold. Thanks to them she also gets 10+ million views monthly and 75k loyal followers!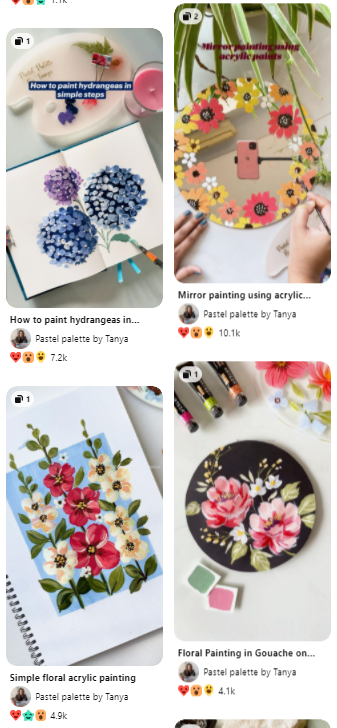 Carla Llanos from the UK has a business profile on Pinterest for selling art prints, phone cases, and apparel. She combines her content (linked to web store) and inspirational content from other Pinterest users, segregating it into thematical matching boards, like Home Interiors, Illustrations, Wall Decor, Summer, Kitchen, Bathroom, etc. This way her content brings value to the followers and engages more.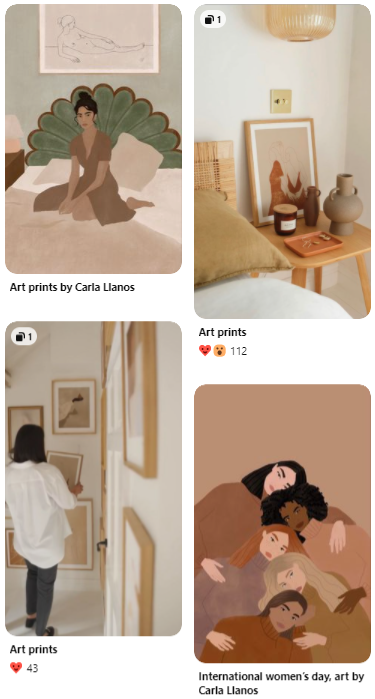 Some artists don't necessarily sell art on Pinterest or try to gain a huge amount of followers. They just use it as a portfolio of their works and as a tool for collecting inspirational pins and sharing them on their publicly available boards. This way they are helping their potential admirers to see, where they take their inspirations from! That's why remember: your Pinterest content mirrors your artistic personality too.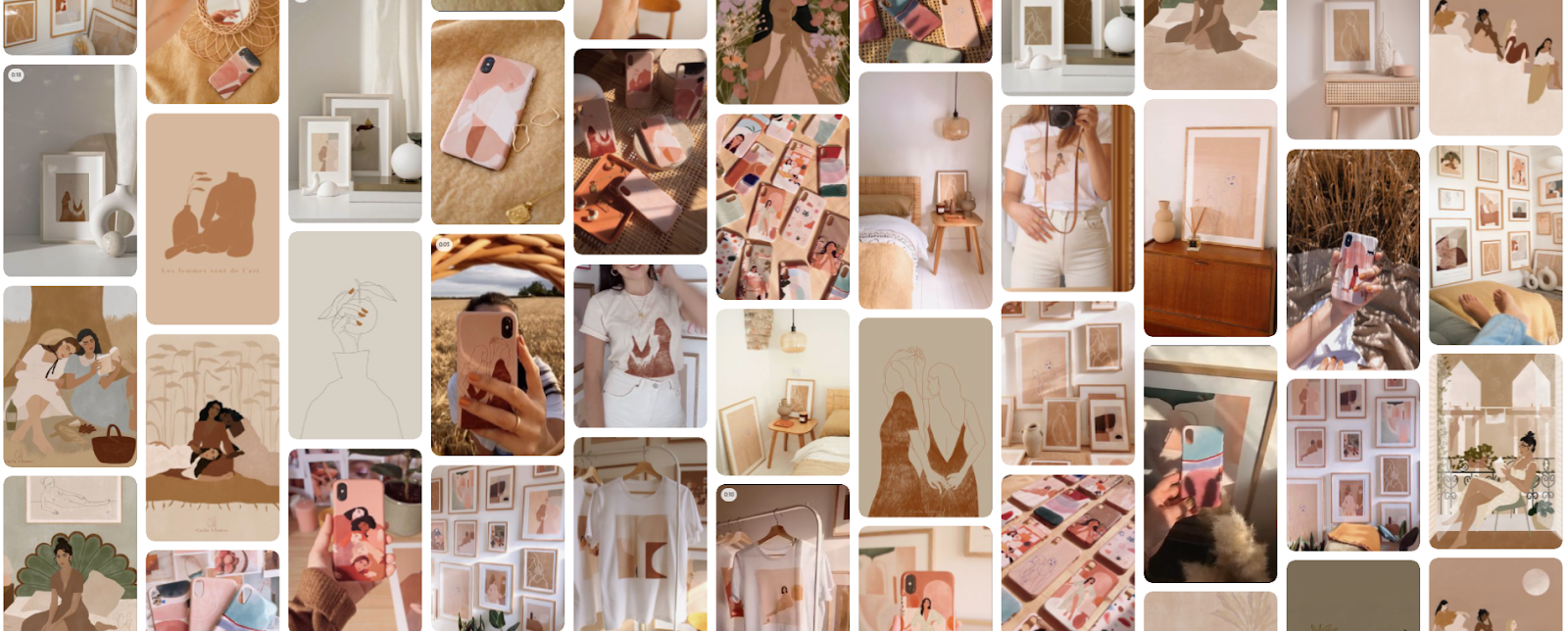 Furthermore, Pinterest is a perfect place for collaborative content sharing! A Pinterest artist can be invited by the board owner to become a collaborator on publishing content to it – a Group board! This not only brings popularity to content but also to all of the creators who participate. That's why we want to invite you to join our Group board on Pinterest, created especially for our artists! (Feel free to request to join below).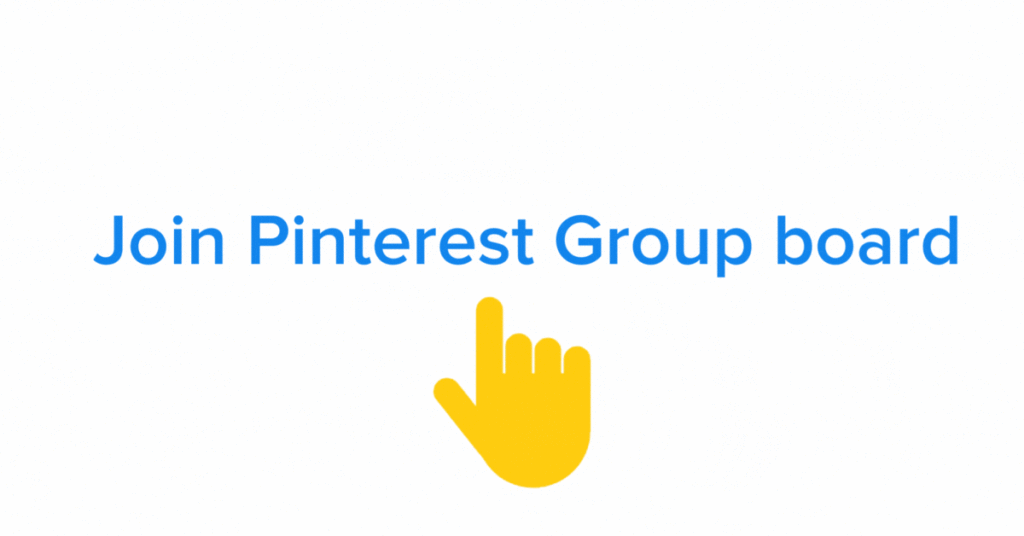 2. How to sell art on Pinterest?
Set up a business account to see stats and audience insights. But if you want to save it for later, just leave the account private and switch to business anytime!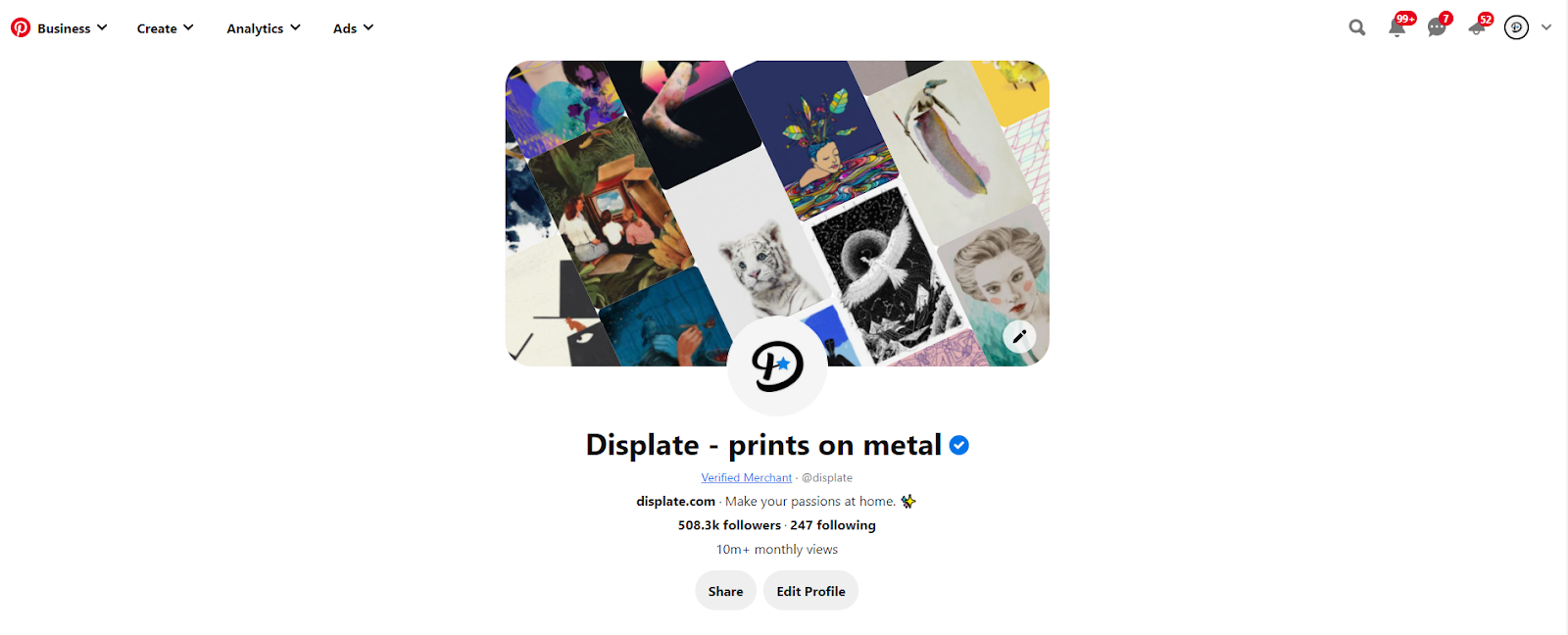 Make a research on what your target audience loves. You can make a questionnaire for your followers on social media or simply search for trended keywords on Google Trends or in Pinterest Trends stats available for a business account.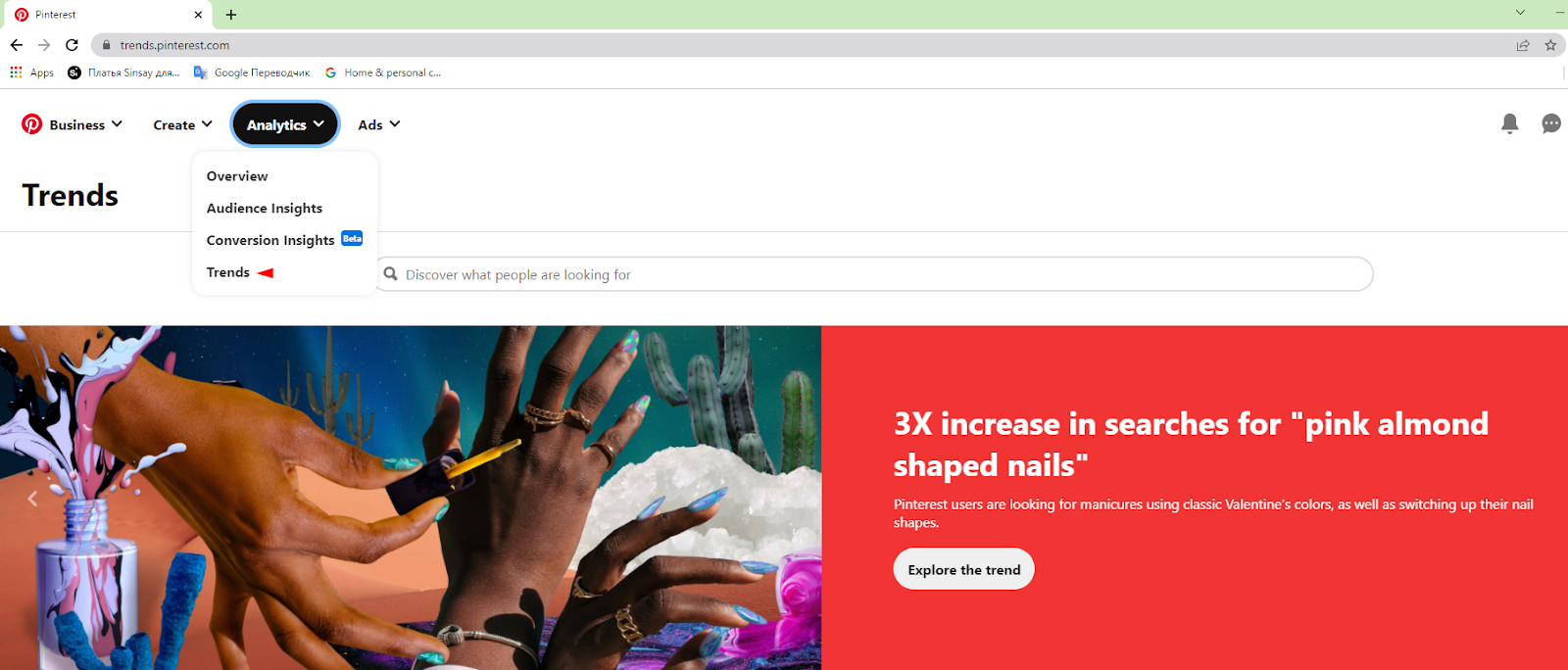 Pinterest shows you autocomplete suggestions in its search bar (let's search for the term "art"). Make use of them – write them down and you're ready to create content using all these keywords ("art sketches", "art reference", "art sketchbook", "art prints", etc.).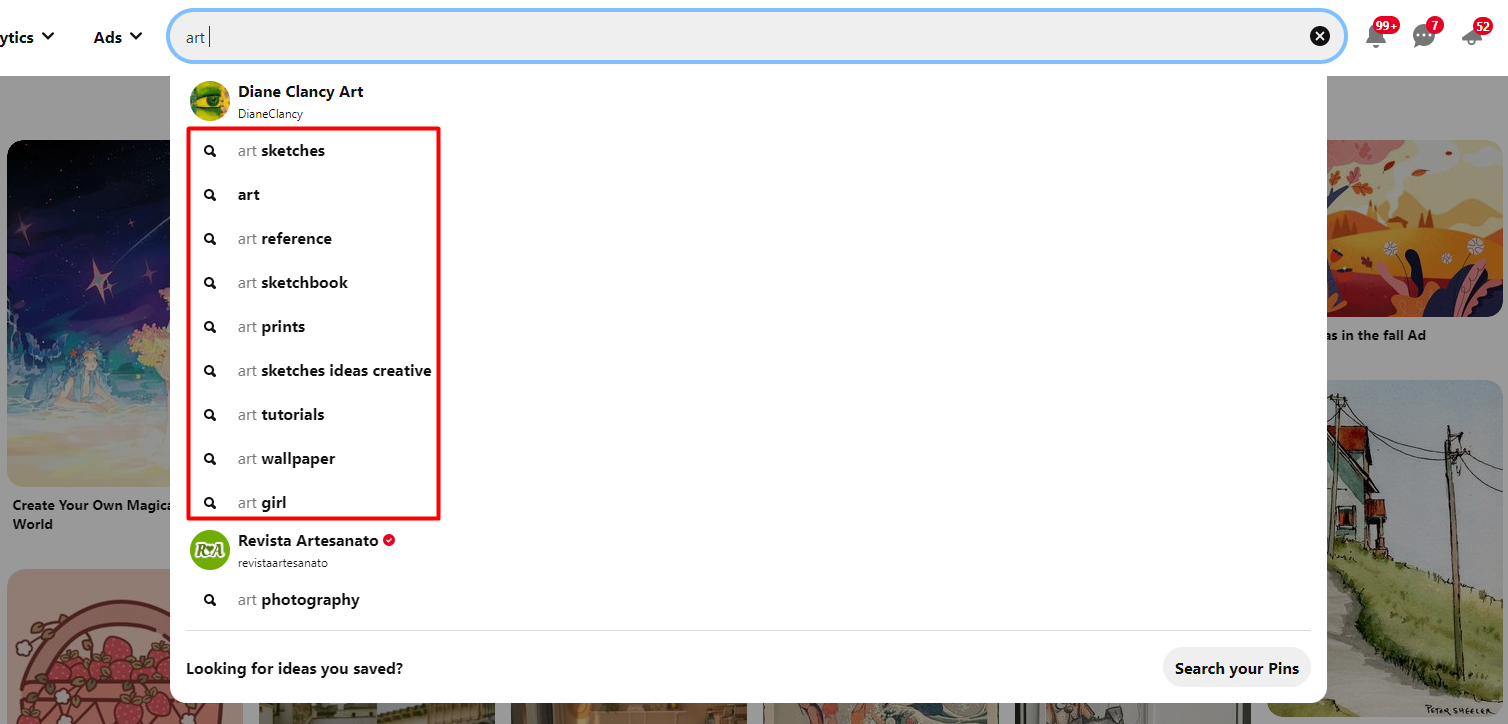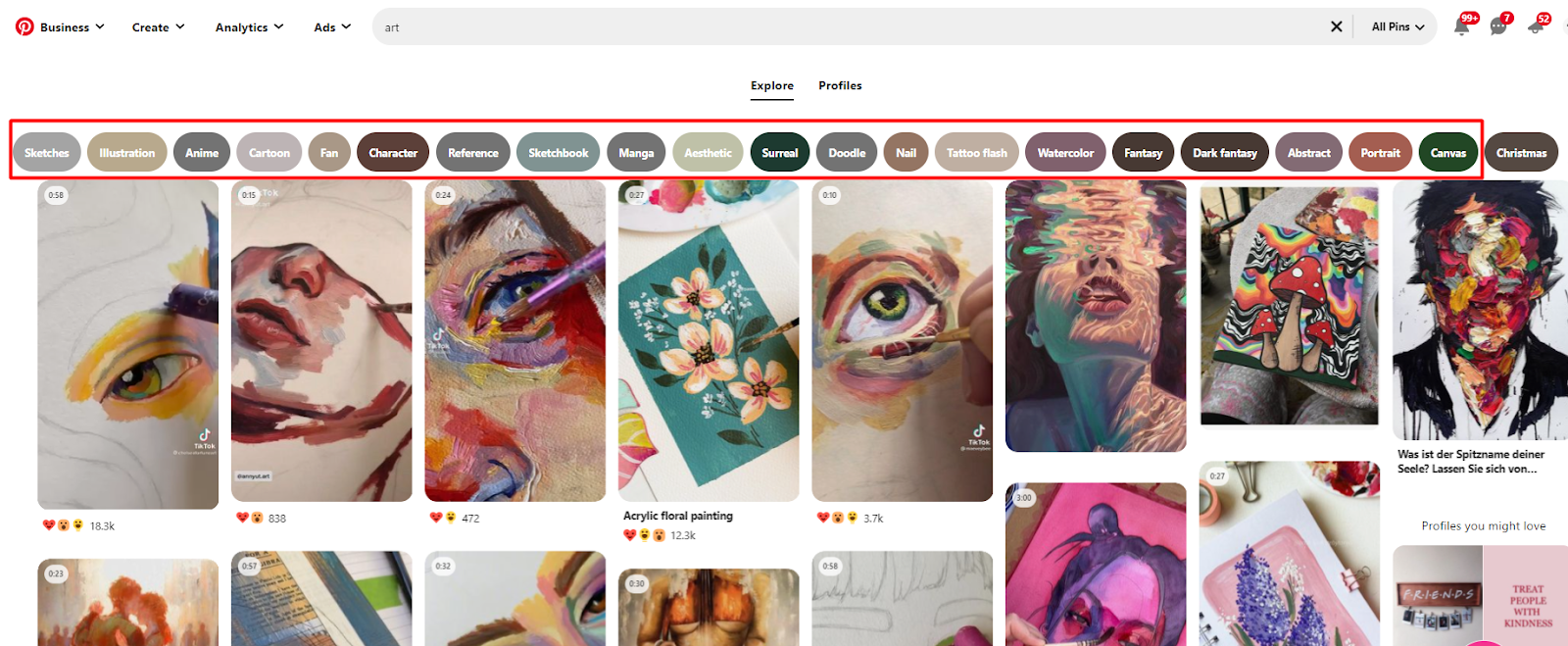 Additionally to having a business account, it allows you to use Pinterest Ads. Pro tip: type your main keyword ("art") in the targeted keywords bar of Pinterest Ads Manager. You'll see some extra keywords in the suggestion field popular right now on Pinterest ("mug", "mug ideas", "make up idea", "mug gift", etc.) – it's a simple trick to create a diary of keywords you should use while describing yourself, your pins, boards and making content.
Create Pinterest boards using appropriate keywords and publish the ones of your artworks, which suit the topic of the board the most. It can be a color, subject, aesthetic, mood, and any other theme. Post systematically, every day the same amount of pins (1-20 is a safe amount). Don't overuse posting or Pinterest will block your profile.
Pin description, title, and link – is a must if you want to sell art on Pinterest. Remember to use keywords.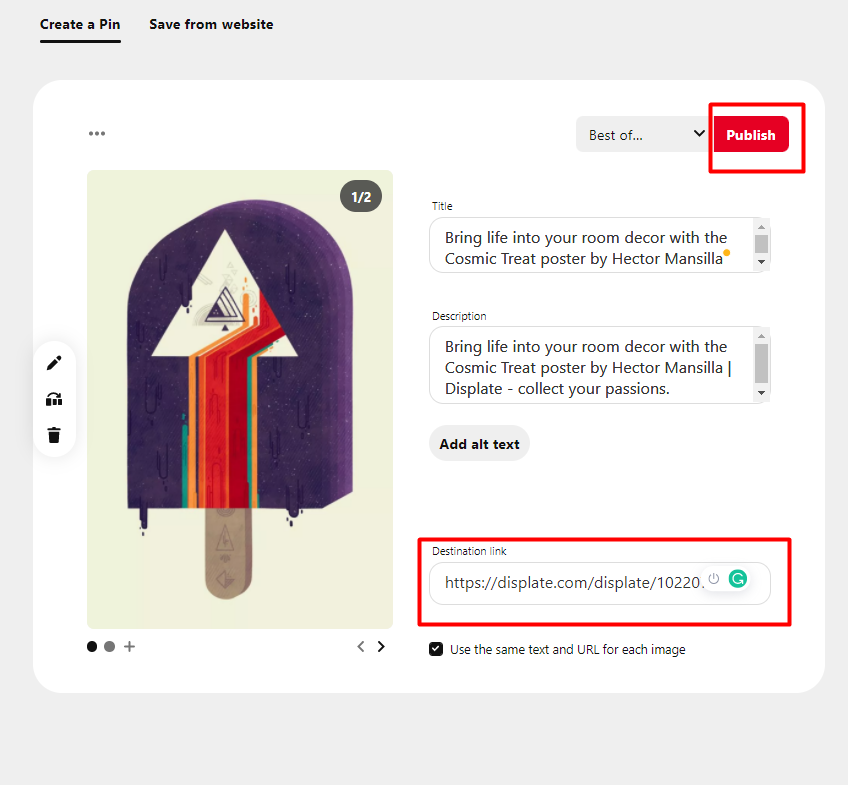 And if there is free money in your budget, you can invest in Pinterest Ads. You can promote existing Pins, which will keep bringing you organic traffic after the promotion time is over! Also, you can create new pins in Creatives Bulk only to be promoted and not shown in your profile publicly.
Make your account your personal gallery. Add all designs you upload for sale. Point users from your other social media accounts to this gallery. Put behind those designs URLs to Displate with your unique Share and earn link and earn 41% more commission every time someone buys your art through that link!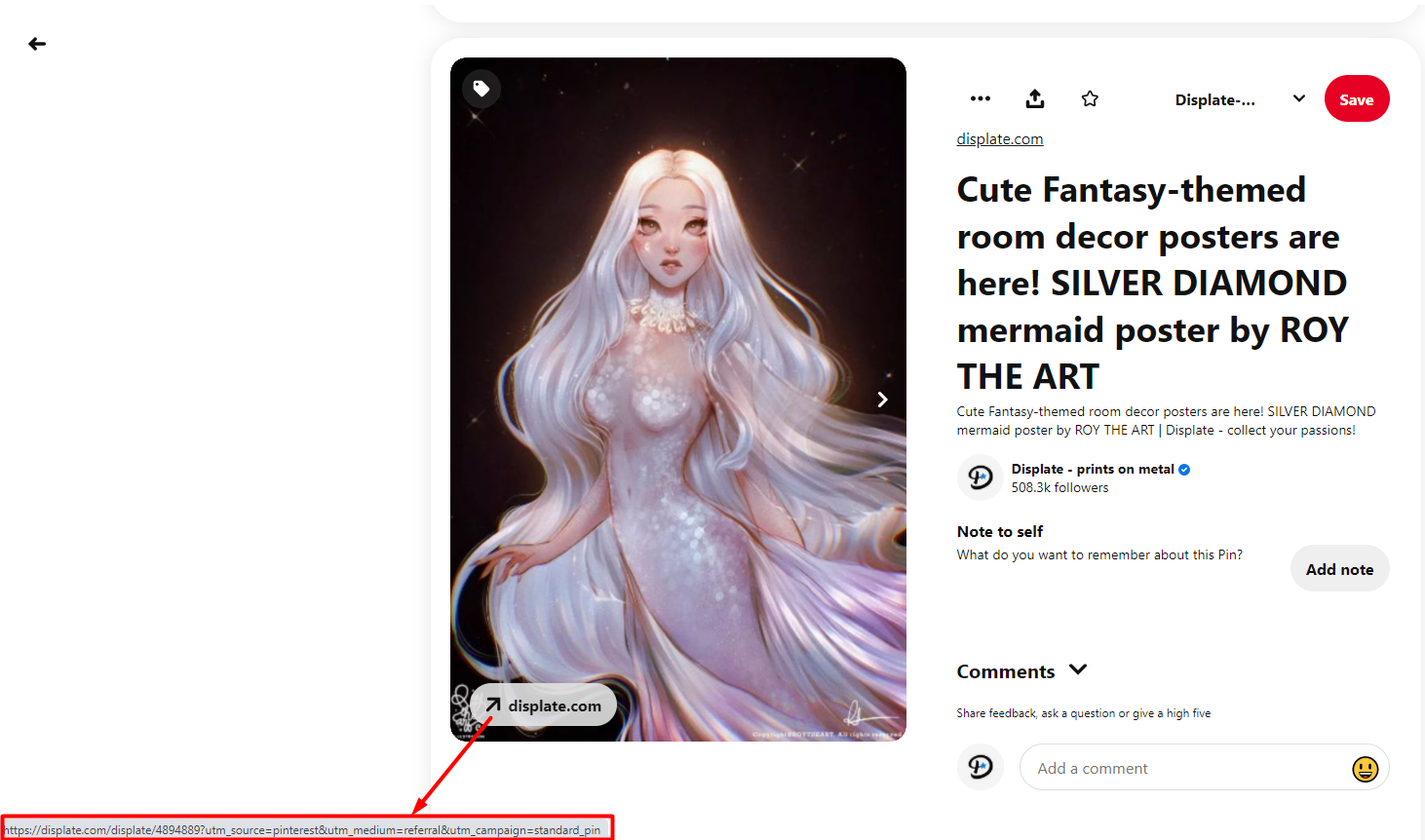 Thanks to the Pinterest algorithm your artworks will organically appear in Pinterest users' feeds who are potentially interested in your content. Uniqueness and description of the pin determine the popularity of the pin in terms of algorithm. But the core value is the users will actually like your artwork, engage with it via comments, and save it!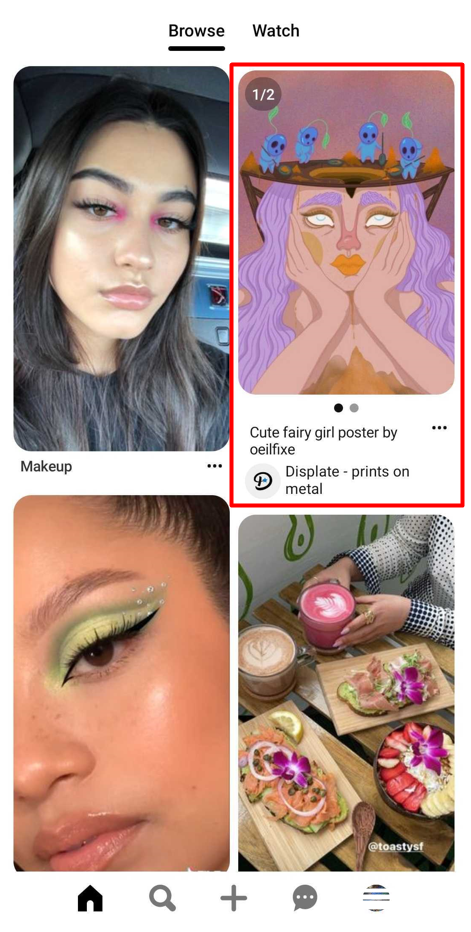 If you do everything according to this plan, you should get follows, outbound clicks, and sales.
And if you want, Pin from the others. Keep up with what's going on Pinterest. Pin and comment others – it will help you build your community, bring new fans and customers to your profile, and give you bigger credibility as an artist (80 % of your pins, 20 % – others).
3. Which formats of Pinterest you can use to showcase the artworks?
Static and carousel pins. With the static you have one shot – one image – the user will like it or won't. But with the carousel pin the viewer will have the opportunity to see more, for example – how the artwork looks like hanging on the wall.
Idea pin and video pin – allows you to tell the users a story about your artwork themes, your creative process, your inspirations, and about yourself! Idea pin can also feature a step-by-step DIY guide, recipe, and many more!
4. Is it worth investing time in Pinterest?
Yes, it is! You can get new followers and potential customers from all over the world. And increase your popularity.
5. To recap, here are 5 tips on how to make content and sell art on Pinterest:
Show your product in action. Show your drawing process, daily routines in archiving mastery in art creation, how to hang art, how to wrap it, how to make a gallery wall from your artworks, who to buy it as a gift. Show UGC from your happy customers! The ways are innumerable.
Test different types of pin format and the content.
Use the Pinterest Predicts report, where you can match the current user's needs with your artworks. As an artist, you can influence them and create your own trends!
Be aware of Pinterest Community guidelines. No spam, no negativity, no uncopyrighted content!
Test Idea pins! They allow you to gain a wider audience around the world (not only followers of your account) who will discover your product for themselves in a creative way and will want to stay for more.
I hope that the practical tips outlined above will help you create your own Pinterest marketing strategy and that you will simply have genuine fun! After all, Pinterest is creative and, according to its users, one of the most positive spaces on the Internet. Here, unlike other social media channels, most people just relax.
Pinterest also suggests:
On Pinterest, content isn't chronological—it's personal. Your content shows up right as people are looking for something to try, buy or do.
People are here to find new ideas and take action, rather than simply liking other people's posts or scrolling through the latest news.
You can also connect your accounts from social networks to Pinterest so it's easier to share content across platforms.
Your audience is using Pinterest to find fresh, original ideas. Wow them with a visually captivating story, or use Pinterest trends to create content based on what people want to try next.
Your content lives forever on Pinterest. It doesn't disappear after a set time, so people can keep discovering it long after you publish the Pin.
We're on Pinterest! Drop by, pin from our boards, and stay inspired!
For more information: https://business.pinterest.com/how-pinterest-works
On Pinterest audience: https://business.pinterest.com/audience