Pusheen the Cat, a friendly platypus, or a smiling sushi roll? For those of you looking for cute things to draw, you've come to the right place!
If you ever wanted to know how bullet journal artists draw the cutest little doodles, we have a fun collection of drawing tutorials that will help you every step of the way. From plants, animals, and even superhero doodles, here's a list of 75 simple but adorable things to draw that we handpicked to help you uplift the pages of your journal.
New to drawing? Don't worry! These easy examples will show you exactly how to begin a doodle and how to finish it. So, get your pen and paper ready because our gallery will have you scribbling away with glee in no time!
Why You Should Draw in Your Journal
If you think doodling is just mindless scribbling on paper, think again. According to research, it can be an incredibly positive and brain-boosting activity that enhances your focus and memory recall. Plus, it's an absolutely underrated way to get your emotions out in one of the most creative ways possible!
Don't panic if your drawing skills are not, particularly up to scratch; you can get started doodling even if all you know how to draw are stick figures. In addition, you'll still get all the benefits of doodling even if the quality of your doodles is dubious at best!
For starters, stick to drawings that are easy and quick to do. This will save you frustration without compromising the way your journal pages turn out.
75 Cute Ideas to Doodle in Your Bujo
Let's get into the fun part of this post with these step-by-step tutorials of cute things to draw. Each tutorial starts off with a simple shape and is then refined and has details added. Feel free to revisit these drawings and ideas at any time and as often as you need.
Plant Doodles
It doesn't matter what kind of spread you're going for; plant drawings are bound to make your page look even cuter. If you have a few blank spaces that you don't know what to do with, draw some plant and leaf doodles!
Houseplants
If you're a plant lover, then go ahead and take inspiration from these step-by-step plant doodles. They're awesome if you want to add some cute details to your monthly bullet journal spread.
Cacti
It doesn't take too many steps to learn to draw cacti and succulents, and the colors are easy. Here are five cacti doodles in all shapes, sizes, and patterns to try your hand at!
Terrarium
Terrariums are all the rage in home gardening now. This tutorial is perfect for having your very own tiny plant terrarium wherever you want!
Potted Plants
There are four doodles in here with five steps per each, and we love how simple each one looks!
Hanging Plants
Plant doodles are the best way to brighten any dreary spread, and this particular doodle can be used just about anywhere in your journal!
Herbs&Spices
Herbs can take some practice, but once worked out, are unbeLEAFably easy to draw, design and color in.
Flower Doodles
Looking for ideas on easy things to draw and how to draw them? One of the easiest doodles you can add to your bujo is a flower! These drawings don't need to be detailed, and there are so many different flowers to choose from!
Violet
Violets come in a variety of colors and are relatively easy to take care of. They also happen to be pretty easy to draw — see the proof here in an easy tutorial.
Gladiolus
For a more complicated doodle, try drawing this gladiolus. It's fantastic for weekly spreads or to just break up large texts in your bullet journal.
Daisy
An easy hack when drawing daisies is to first draw a round shape to outline the space for the pistil and the petals. It helps you stay in lines, and the flower gets more dimension this way!
Peony
If you are new to drawing, floral doodles are a great way to practice and learn. Take a deep dive into bujo illustrations with this intricate peony!
Anemone
Want to make a pretty detailed anemone? Here's a detailed step-by-step drawing tutorial that can make the process easier!
Floral Doodle
From wildflower doodles to minimalist flowers, you can definitely add your own twist to this spread by adding your own colors!
Can of Flowers
You are just four steps from learning how to draw a blossoming watering can! @qutedoodles shows us how simple it is to doodle a cute watering can with flowers sprouting out from the top.
Animal Doodles
There are plenty of easy things to draw out there, but few are as lovable as animals. With everything from a sleepy sloth to a corgi pup, we're sure you'll find the doodle tutorial to fit your spread!
Bear
This tutorial will let you have an adorable bear in your bullet journal in five easy steps. Just fill in your choice of colors and words, and voila, it's done!
Bee Theme
Looking for fun bee bullet journal spread ideas? This bee-autiful tutorial will help you get started!
Fox
Foxes are solitary creatures who are known to be friendly and curious. This step-by-step drawing will come in handy whenever you want to add one to your bullet journal spread!
Dog
Draw a dog in four different poses! The four step-by-step doodles include a happy dog running, a dog chewing on a bone, a dog playing with a ball, and a dog giving paw.
Llama
Four steps are all you need to draw the coolest llama in town. You'll learn the easy steps in this tutorial from @splendidscribbles.
Platypus
This friendly platypus is the perfect cute touch to any spread. Keep this doodle tutorial on hand for the next time you need it!
Koala
Make this koala bear the next addition to your weekly spread! You can dial up the personality by tweaking the facial expressions too!
Panda
Pandas are an easy and irresistible animal to add to your drawing know-how. @julia.pezowicz shows us how to draw a panda bear using simple geometric shapes.
Sloth
In six steps, you'll have a sloth hanging out on your bullet journal page. Leave him in pen or color him in; it's up to you.
Corgi
If you're crazy about corgis, this is the doodle tutorial for you! It makes this adorable dog breed easy to draw in just five simple steps.
Koi Fish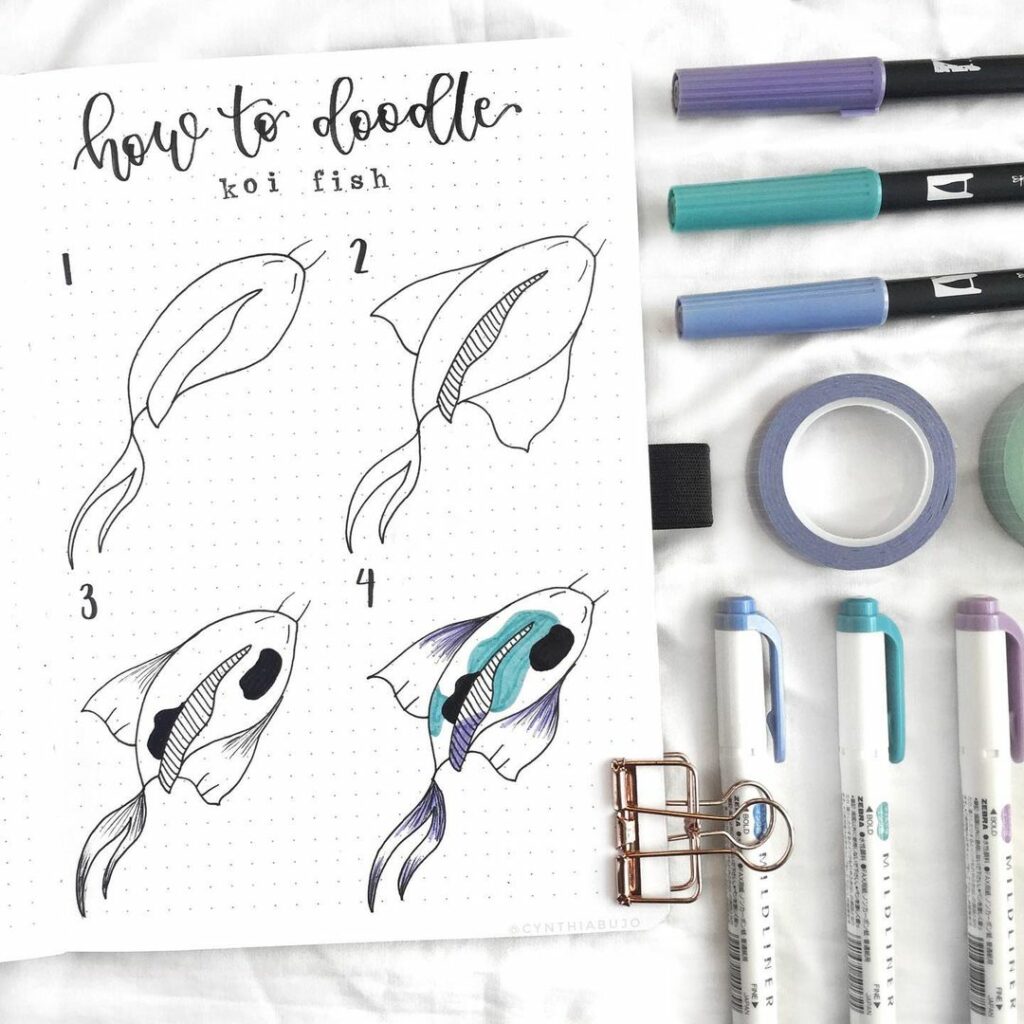 For the fans of Japanese koi art, this tutorial is very useful to have on hand to master this beautiful and popular fish!
Sea Life Doodles
When we think about cute critters, our minds tend to drift more toward fluffy, four-legged animals than sea creatures. But there are tons of underwater cuties you can draw that will melt your heart and make you go "awww!"
Marine Life
Wondering how to draw your favorite ocean doodles like seaweed, a seashell, or the perfect jellyfish? This four-step doodle tutorial will make you a pro in no time!
Crab
C is for crab but also for cute! This adorable crab doodle is one you can make in just seven simple steps.
Seashell
There are hundreds of different types of seashells, including cockles, sand dollars, conch shells, and more. Feel free to include them in your ocean-themed bujo summer spread!
Sea Creatures
Underwater sea creatures are a sight to behold. Bring some cheer into your next spread with these adorable aquatic bunch!
Narwhal
This precious little narwhal is just too cute, and we know you won't resist sneaking him into one of your spreads!
Orca
This doodle begins with a circle and ends with the most adorable orca we've ever seen. Check it out if you want an extra dose of cute!
Jellyfish
What is an ocean theme without a jellyfish? These stinging swimmers were drawn in a cute Kawaii style.
Seasonal Doodles
Looking for cute themes matching the different seasons or holidays? From pumpkins at Halloween and candy canes at Christmas, bring the seasons to your bujo pages with the simple doodle instructions below!
Fall Theme
Going with an orange theme in your bullet journal this fall? These simple doodles would be great for any page! Plus, that fox is adorable.
Pumpkin
We love how simple this pumpkin tutorial is. It makes doodling in your bullet journal much less daunting when you are just starting out!
Autumn Theme
Here are some autumn doodles that really speak to what the harvest season brings to us. Acorns, colorful leaves, and pumpkin latte for the chilly afternoons!
Acorn
Learning how to draw simple things like an acorn will help you fill out your fall bullet journal spread and make it feel cozy and warm!
Toadstools

Grab a pencil and get busy drawing a crop of toadstools complete with long fragile stalks and colorful caps. They're all so adorable that we don't think we can choose a favorite one!
Halloween
You can never have too many Halloween tutorials when you're starting to layout your spreads for the spooky season. Also, how cute is that little ghost with the candy bag!?
Bat
Whether you're setting up your October monthly spread or just adding some decoration to your Halloween-themed mood tracker, this cute little bat is fun and easy to incorporate!
Potion Bottles
No Halloween bujo spread is complete without at least one potion bottle. This step-by-step tutorial gives you as many as six different options, and they are all worth checking out!
Ghost
Talking about spooky things turned cute, this step-by-step ghost tutorial makes it super easy to add some fun decoration to your Halloween spread!
Spring
Is anyone up for an Easter doodle hunt? A total of five spring-themed drawings for you to choose from and try to draw in your own bullet journal.
Easter
Get inspired will all things Easter! From fluffy bunnies to decorated eggs, Easter-themed doodles are fun to add to your planner or bujo.
Summer
This doodle tutorial from @ginger.bullet.journal will have you making cute summer drawings before you know it!
Summer Drink
You can turn pretty much anything that reminds you of summer into a doodle! How about a lemonade jar with big red-striped straw and wedges of lemon?
Camping Essentials
Even if it is not summer, some summer treat doodles are always welcome! Here are some neat little camping doodles perfect for your planner or bullet journal.
Winter
Some cozy doodles of all the essentials to a frosty winter season! A candy cane, knit beanie, and hot chocolate with whipped cream!
Holiday Gnome
The holiday gnome step-by-step doodle is a must to learn how to draw for your December bullet journal.
Christmas Tree
There are definitely more ways to draw a Christmas tree than just the boring zigzag of three triangles, and this kawaii Christmas tree doodle helps you with exactly just that!
Gingerbread Cookies
It's not Christmas without gingerbread cookies, so this detailed step-by-step doodle is perfect to draw for the month of December!
Golly Extras
A cute Christmas spread for you to take your shot at. From wreaths, baubles, and gifts, you can choose and add your own colors to it!
Food Doodles
Doodle ideas can come from anywhere, and adding drawings of food and drinks makes a fun addition to your planner or journal. Check out these food and snack doodles that are too cute to eat!
Fast Food
Since these fast food drawings are kawaii doodles, they all have some funny faces added to them. It's a great little tip to enhance your doodles!
Ice Cream
Try this step-by-step tutorial to draw your favorite frozen treats. Popsicles, ice cream cones, soft serve, or sorbet.
Lemon
If you choose a lemon theme for your monthly bullet journal spread, you'll love this tutorial. It will definitely help you to squeeze the day this summer!
Fruit
Perfect the art of pineapple drawing and so many other fruits in this awesome doodle spread!
Kawaii Food
A step-by-step tutorial for kawaii food doodles and how you can create a fun journal spread with these simple drawings!
Sushi
This spread is a sushi lover's dream! Adorned with happy-faced sushi doodles, it features maki, nigiri, sashimi, and more.
Cartoon&Anime Drawings
If you're bored with your usual bullet journal spreads, adding a few of these animated characters will make a huge impact on the way they look and feel. Talk about a 10 out of 10 on the cuteness scale!
Pikachu
Are you looking for easy ways on how to draw Pikachu? This 4 step tutorial is perfect for your bullet journal or just for fun!
Totoro
If you love Totoro as much as we do, take advantage of this simple doodle tutorial. You can draw the fuzzy monster shielding himself from the rain with Satsuki's umbrella!
Eevee
One Pokemon GO monster that we can't get enough of is Eevee. Learn how to draw this fox-like creature in 5 steps.
Toy Story
Take a trip down memory lane with this Toy Story tutorial! Highly recommend checking Lollo's Instagram for more cartoon-themed doodles.
Pusheen The Cat
This doodle how-to is perfect for Pusheen lovers of any skill level. A great way to instantly add some cuteness to your spread!
Moomin
Draw a little Moomin in three different poses: sipping on a hot beverage, rummaging in a flowerpot, and napping. What a gem of a doodle!
Winnie The Pooh
Are you a fan of Winnie The Pooh? Learn how to draw the lovable bear with a very little brain and his woodland friends in 3 steps.
Harry Potter Doodles
Looking for some cool and nostalgic stuff for your bullet journal? Get back to Hogwarts with these Harry Potter bullet journal ideas. Perfect for all the Potterheads out there!
Harry Potter Theme
From magic potions to parchment pieces, this step-by-step easy doodle tutorial covers it all!
Sorting Hat
If you ever feel like drawing a sentient magical hat, here's an 8 step tutorial that you can follow and include in your Harry Potter-themed spread!
Hufflepuff Theme
For the Hufflepuffs out there, we have a yellow-and-black spread featuring a badger, Hufflepuff's Cup, a striped scarf, and a Prefect's badge.
Hedwig
Aww, look at this cute Hedwig! If you want to make this in your bullet journal, take inspiration and try this doodle tutorial!
Golden Snitch
Learn how to draw the most important ball of the lot with this black-and-white tutorial! Seven clear steps and the dotted lines of each step really help with the final outcome.
Ravenclaw Theme
Are you a Ravenclaw? If so, then you'll fall in love with this doodle spread! It has the house mascot, Rowena's lost diadem, and Luna Lovegood's glasses!
Star Wars & Superheroes Doodles
Holy doodle, Batman! (Literally.) Whether you love Star Wars, Justice League, or Avengers, these superhero-themed tutorials will have you smiling and wanting more!
Avengers
Not everyone is great at drawing, but with this tutorial, pretty much anyone can learn how to draw Spiderman, Captain America, and Thor in under 5 minutes.
Baby Groot
We are Groot, but are you Groot? Try this doodle tutorial to find out!
Baby Yoda
Ah, the cuteness that is Baby Yoda! If you're anything like us, you probably melt at the sight of the adorable little creature. Learn how to draw it in five easy steps!
Avengers
More step-by-step instructions on how to draw Avenger characters, including Doctor Strange, Black Widow, and Iron Man.
Batman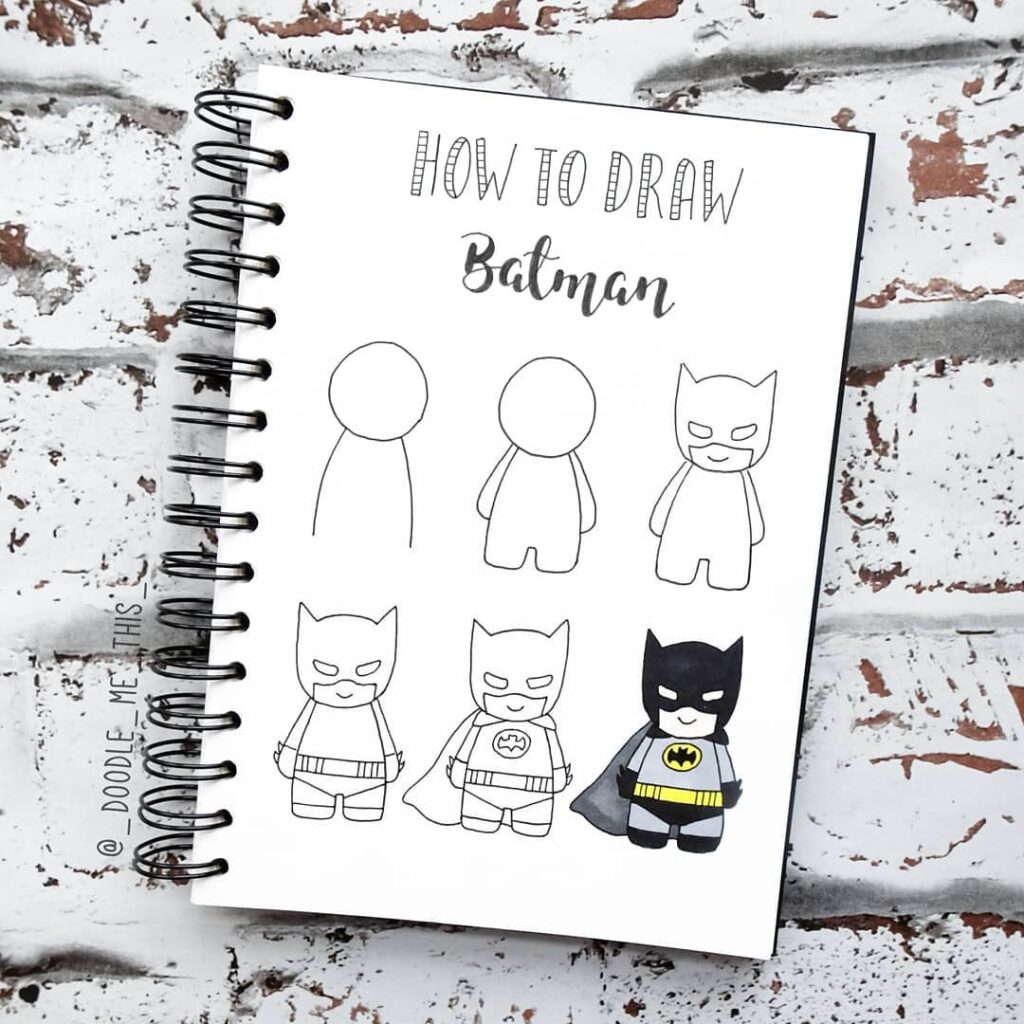 This simple 6 step tutorial on how to draw Batman makes it so easy for anyone to create the cutest Gotham vigilante. Too much fun not to try out!
Star Wars Theme
If you're on the hunt for some Star Wars bullet journal theme ideas, then this spread fits the bill!
Tell Us About Your Favorite Things to Draw!
Ready to grab your pen and get drawing? We hope our gallery of fun and easy things to draw will help you step up your doodle game and stay inspired!
If you're a pen and paper bujo artist thinking about switching to your iPad, be sure to read our article about 40+ cool things to draw on Procreate! Going digital is an exciting step to take, and you'll need all the inspiration you can get.
And if you'd like to improve your drawing skills and learn how to sketch people, check out our guide on how to draw people to get your creative juices flowing!
What do you think of these fun and easy things to draw for your bullet journal? Do let us know in the comments! Happy doodling!