Wanna grab some extra cash and spend it on something cool?
Share a special link to your Displate art shop, and boost your commission to 50% every time someone buys your metal posters through that link.
We know how much talent, time and energy it takes to create an artwork. We believe that dreams shouldn't stay dreams, so we created a path, which can easily allow you to earn more by sharing unique links to your Displate art shop through your blog, website and social media. It will level up your selling game.
Time to get it done now. Here's how:
1. If you haven't done it yet –

fill your Displate shop with your artworks
2. Find the
Share and earn button
inside your profile.
Click it, and copy the link that appears – it already includes your unique Share and earn code. You can use it to promote your shop's main page, collection or a single poster.
Button in your Displate art shop: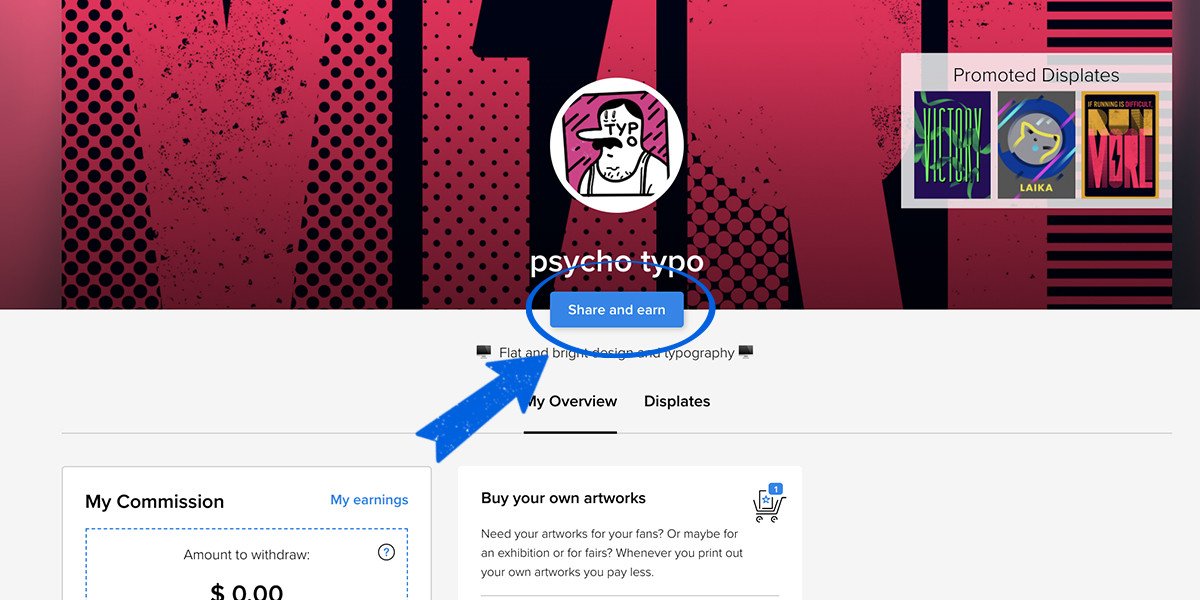 Button in your collection: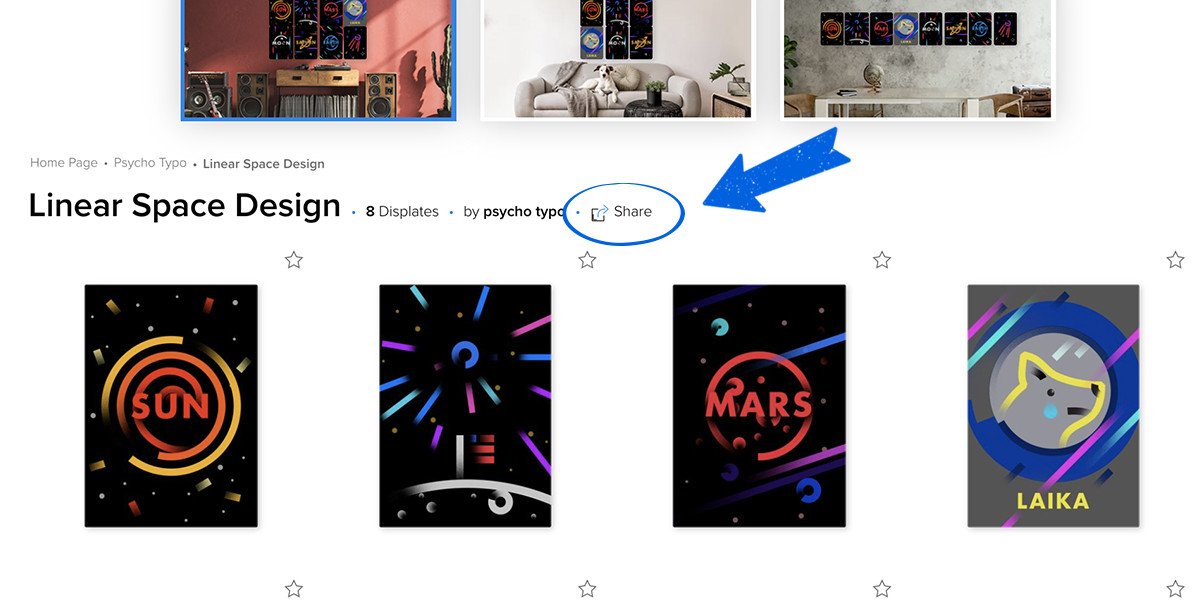 Button on the single product page
3. Paste your unique
Share and earn link
wherever you see fit
Just think about it. Why use a regular Displate link, while putting the Share and earn link on your social media and website will give you 50% every time someone buys your metal posters through this link?
Right? Now here are your options:
Put a clickable

Share and earn link

to your

Instagram

bio
Make it visible and available to your followers and maximize your chances of earning 50% commission every time your artwork is bought through that link.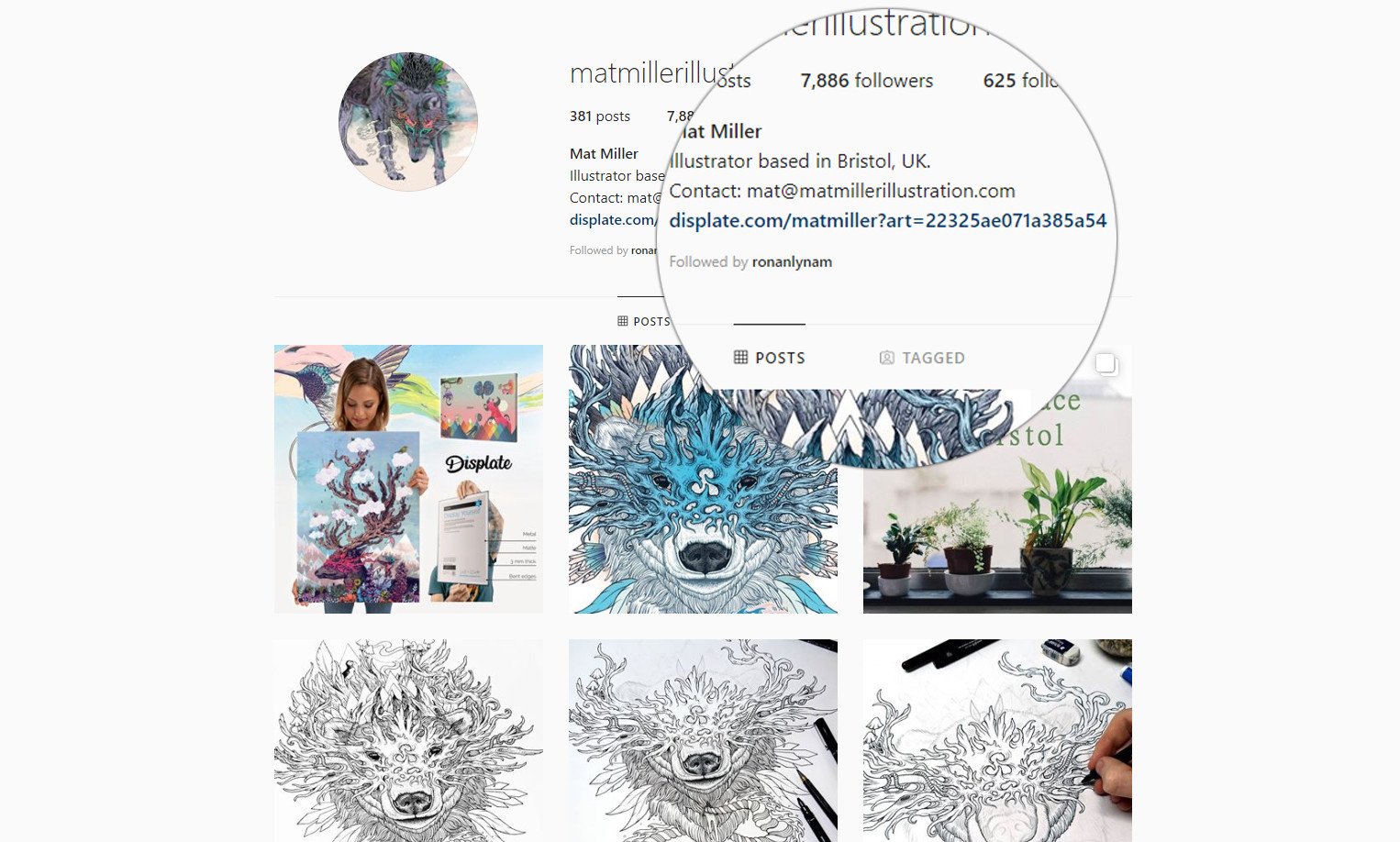 Use your

Share and earn link

on your website or blog
Got an online gallery of your art? Want your visitors to go straight to your art shop? Use every clickable option you can, and give your potential customers the chance to go directly from your digital portfolio to your Displate art shop.
You can:
Put Share and earn links to the images on your website
Create a list of the shops where you sell your artworks, and put the link under Displate

Add your

Share and earn links

to posts on Facebook, Twitter or Pinterest
Create posts that are so eye-catching that your followers won't be able to resist clicking your link!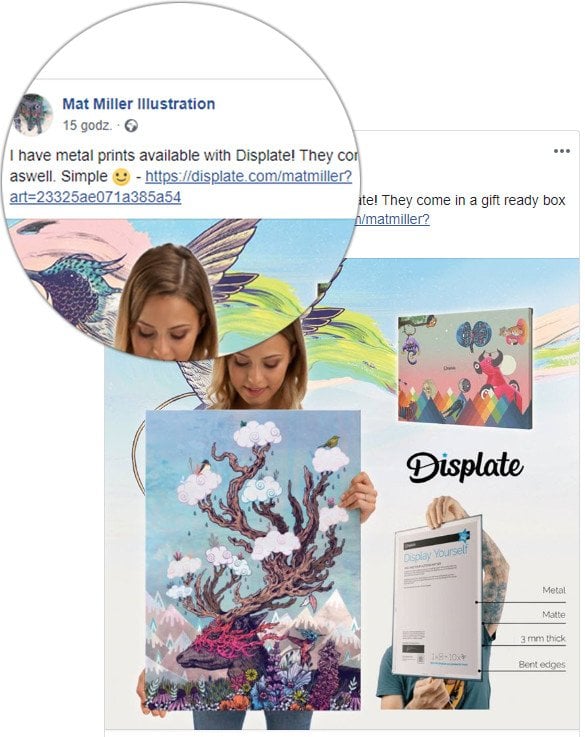 Frequently asked questions
What is an artist's commission in Share and Earn?
If someone purchases your Displate within 30 days after clicking the link, you may earn additional 41% commission of the net price of your artwork minus taxes and fees. Just please check here if PayPal is available in your country as all pay-outs are made via PayPal only.
How do you know the commission is mine?
We use special cookies for that. They help us determine the source of traffic and purchase on our site. Thanks to this trick we know who is responsible for the sales.
What happens if someone clicks on the link that I'm sharing, does not purchase it during the first session but comes back later and makes a purchase?
Cookies will help us with this. Once they are created, they are live for 30 days. Which means a user doesn't have to make a purchase right away for you to earn your commission. The purchase can be made anytime during that 30 days period for us to assign the commission to your account.
How can I see my sales and earnings?
Please go to the top right corner of the page to find section 'Earnings'. Information related to sales and earnings is displayed in the sections 'My Commission' and 'Sales Statistics'.
Need more help? Visit the FAQ section on our website.
To sum things up
Now that you know the basics you may want to dive into some more details of self-promoting and earning more. Our blog is at your service: