Hey, did you know that we have a funky new Storage Sleeve?!
It is the work of Bruno Pires, famous for his cartoony designs that sometimes look like top-tier graffiti art.
Frankly, it may be worth the Displate Club subscription just to get this.
A few months ago we held a contest and asked for your vote to decide on the next iteration of the Storage Sleeve. Bruno Pires and his lovely creatures won everybody's hearts and today we're celebrating with an extensive interview.
So, catchy songs be damned: let's talk about Bruno!
You live in Montevideo, Uruguay. How does the place you live in influence your art?
Living in Uruguay, a small country between two giants, makes us absorb many things from abroad. Undoubtedly, Uruguay has its own cultural and natural attractions that spice up my creativity, plus I am lucky to be surrounded by very talented and creative people, who constantly inspire and enrich the way I work.
On the other hand, in my most intimate workspace, I find myself surrounded by toys and all the references that defined me during my childhood.
Can you describe your journey from a beginner to a full-time artist?
Since I can remember, I have been an extremely creative person. I was always drawn to music and drawing, which led me to train myself and look for a career where I could turn one of those into my profession. I started training as a graphic designer to follow in my father's footsteps, mainly focusing on designs applied to the printing and prepress industries.
After that, I worked for an advertising agency as a graphic designer for almost ten years. It's when I started exploring the possibility of mixing my passion as an illustrator with design and advertising pieces.
In the last seven years, I turned a corner in my life which gave me the opportunity to work as a full-time illustrator, strengthening my techniques and looking for styles that define me and properly convey my essence as an artist.
You're strongly influenced by the comic book world. What other inspirations can we find in your work?
I'm a millennial, born at the end of the 80s. Hence, all that video game culture, the cartoons of the golden era of the 80s & 90s, and the first steps of the Internet shaped my tastes and the style I maintain until today.
In recent times I enjoy trying to blend in styles that are out of my comfort zone so I can continue growing and finding new tools, which allow me to get fresh creative results.
How about other hobbies?
My number 1 hobby has got to be playing drums. When I was younger, I was in a few bands, but always for recreational purposes rather than professional. It was a way to channel my energy and, even today, I find this therapeutic and necessary in my life, so I plan to continue playing the drums for a long time!
What's the project you're most proud of?
It may sound clichéd, but I have to say I'm super proud of forming my family with my partner and my kids. My family is the core of my life and a fundamental part of my creativity and inspiration, it is naturally linked to what I do as an artist.
On a professional level, I recently had the honor of working on a great project linked to NFTs, in which I was able to create an entire universe from scratch with total artistic freedom. It was a different experience since I am very far removed from the world of crypto, but I learned a lot, put my abilities as an illustrator to the test, and I'm really happy with the results!
One of your most recent series is "Trippy Heads". What's the story behind it?
It's a funny story. As an illustrator who uses Instagram a lot to expose his work, I am obsessed with generating mini collections for a coherent and organized feed. It's a compulsion of mine, so in every drawing I upload, I need to have a minimum of 3 pieces to achieve that order. The "Trippy Heads" series began as an exercise, trying to generate irregularly stroked, symmetrically shaped pieces in a reduced color palette. I took characters that somehow marked my childhood and reinvented them in this dirty style with vibrant colors. You could say that it was an exercise that ended up being more productive than I expected 😉
What's the best thing about being an illustrator to you?
The best thing is that it doesn't really feel like a job. Over the years, it transformed from being a hobby to my primary income source and has allowed me to continue training professionally. I think that the power to make a living from something you're passionate about is the best feeling ever.
Working as a freelance artist can be very satisfying, but surely there can be some bumps along the way. Can you think of any challenges in your daily routine?
The biggest problem is to get visibility on my work and figuring out how best to display it. Although there are many ways and platforms that can solve part of this problem, it's still very difficult for me to find the right path, according to my personal expectations.
Why did you choose Displate to sell your art?
I started on Displate when they were doing the Theme Challenges a while back. Those were great to promote creativity, and I enjoyed being part of them and even winning an award on several occasions! After that, I stayed on the platform, uploading my content and realizing it's a cool new way of transforming my art into income.
Do you have any goals or dreams as an artist?
I always wanted to develop my own style, so that when people saw one of my works they would recognize that it was me who drew it.
Bruno's got a few more tricks up his (storage) sleeve
Our premium Storage Sleeve is one of the many exclusive perks enjoyed by members of our Displate Club. It's where your Displates sleep when they're not hugging your walls.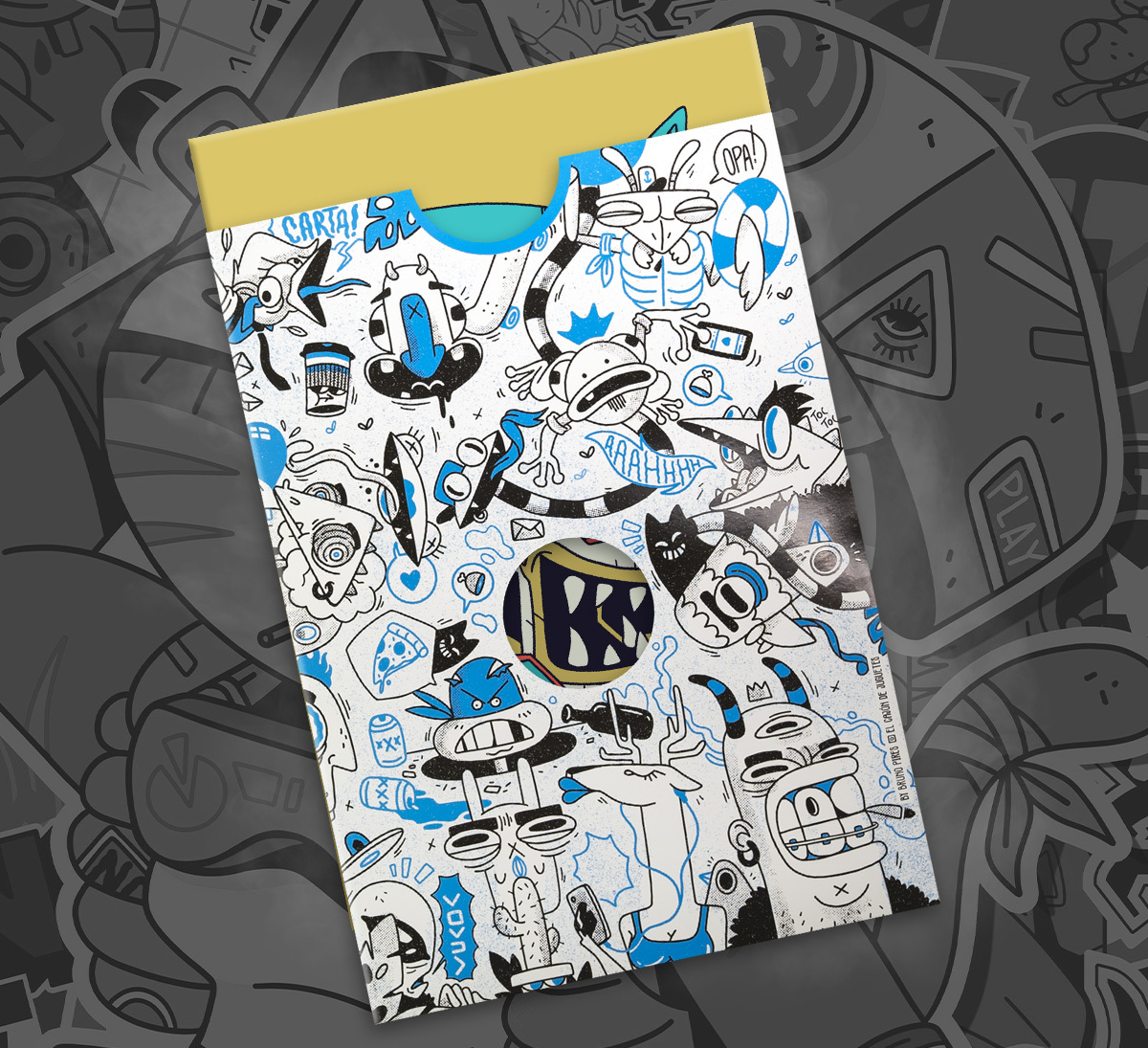 Bruno's awesome design, done in his signature cartoony style, stood out among 30+ other entries. But what was the idea behind it and what motivated him to participate?
What inspired you to create this doodlish design for the Storage Sleeve?
I made several designs and ended up opting for this version that was more in line with the printing requirements. Of course, I also wanted it to fulfill its function as a cover. It had to have a cool and quality design while also complimenting the design of the metal poster, so in my opinion, it had to be something functional, without too much visual weight.
Tell us what's happening in this composition? Because there's a lot going on!
Yes! The original idea is that in Displate there are many styles to discover, so you can spend a lot of time here finding characters in crazy situations! If it looks to you like there are many things happening at once, I think I managed to fulfill my purpose 😉
Why did you decide to take part in the challenge?
As I mentioned before, I love Displate challenges; they are a great way to test myself and see if I can pull them off. The technical requirements and the design's function as a cover added an extra layer of challenge to this. It was hard for me to decide on a design, but in the end, the one I sent turned out quite well and was successful, so I'm very happy!