Cinco Avalos is an avid collector who simply can't resist any Stranger Things paraphernalia for himself or others. An 80s kid through and through, he loves nothing more than indulging in a bit of nostalgia. And what's more nostalgic than a show about a group of kids fighting monsters from another dimension? Get ready for a trip to the uʍoᗡ ǝpısd∩ as we explore his collection.
When and how did you start collecting?
I started collecting Stranger Things items in 2016, right when season 1 was released. I was already a Funko collector before the show came out, so I would say that Stranger Things Funko Pop figures were what kick-started my collecting obsession. Back then, I told myself I would only collect Stranger Things Funko-related items, but that didn't last long.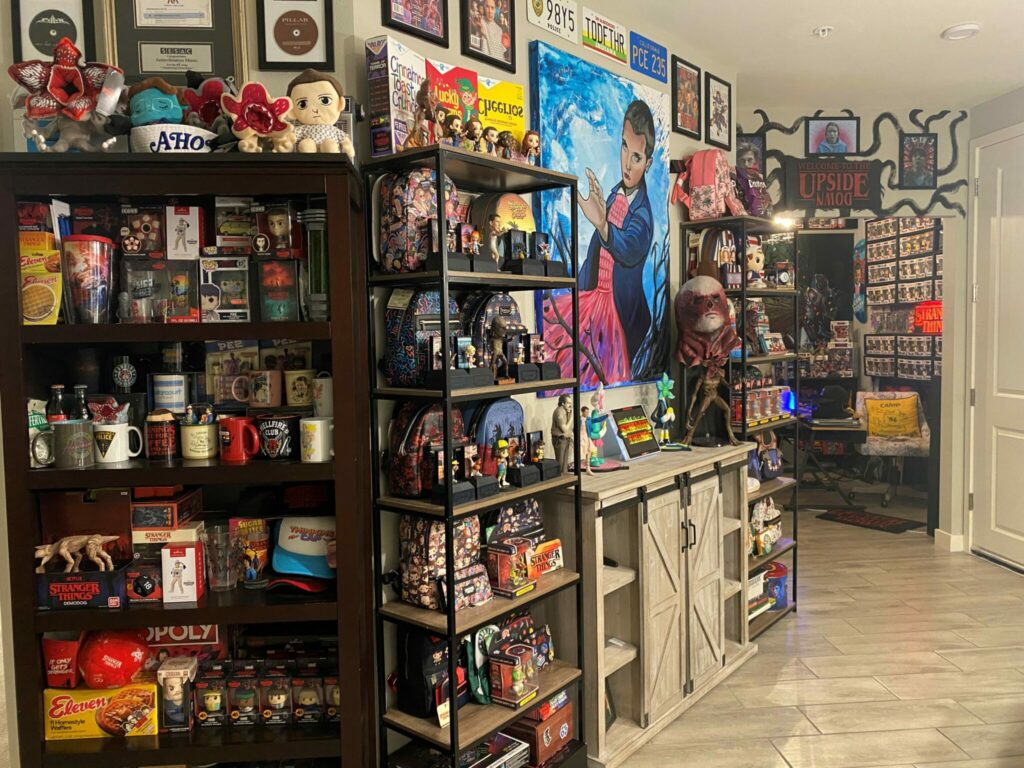 What items do you collect?
I am solely a Stranger Things collector and collect pretty much anything from the show: toys, figurines, comic books, art, enamel pins, you name it. I even collect Stranger Things backpacks – so far, I have over 50! I'm also an artist and love to paint portraits of the cast, which I then take to StrangerCons to get them signed. My house basically looks like an art gallery/toy store. However, because of space limitations, I'm a little more selective with what I collect these days.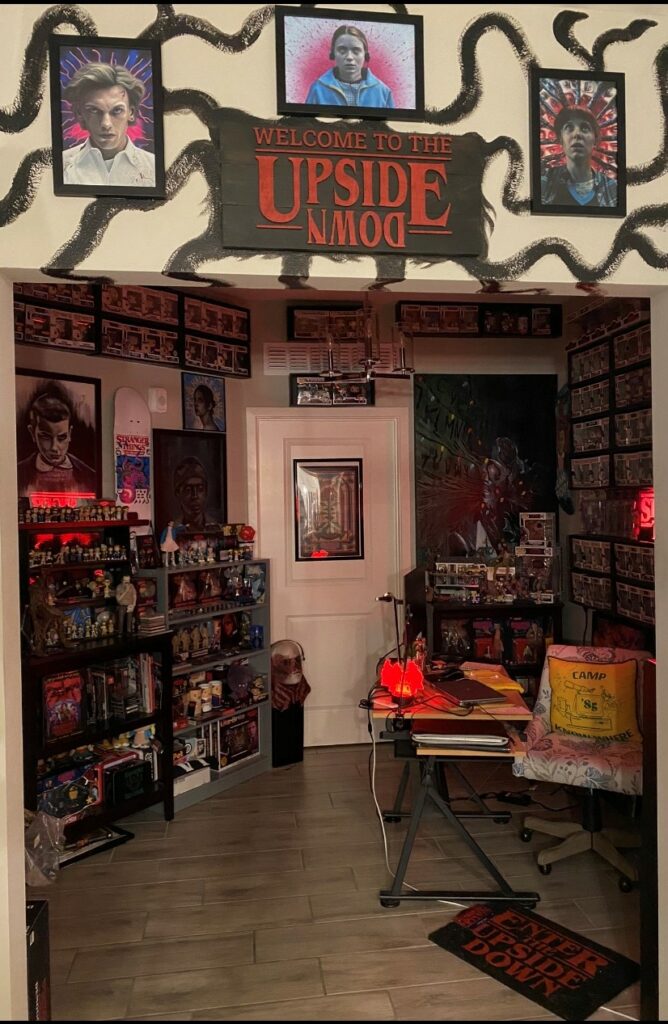 What do you love the most about Stranger Things?
I'm an 80s kid, and the show's nostalgia instantly connected with me. I also love all the characters and how the kids are smarter than the adults. Plus, Eleven is pretty bitchin'!
Which season is your favorite?
Season 1, hands down. It's basically E.T. meets The Goonies, two of my favorite movies. I love the mystery and the discovery of the Upside Down. Don't get me wrong, I love all the seasons, but season 1 will always be my favorite.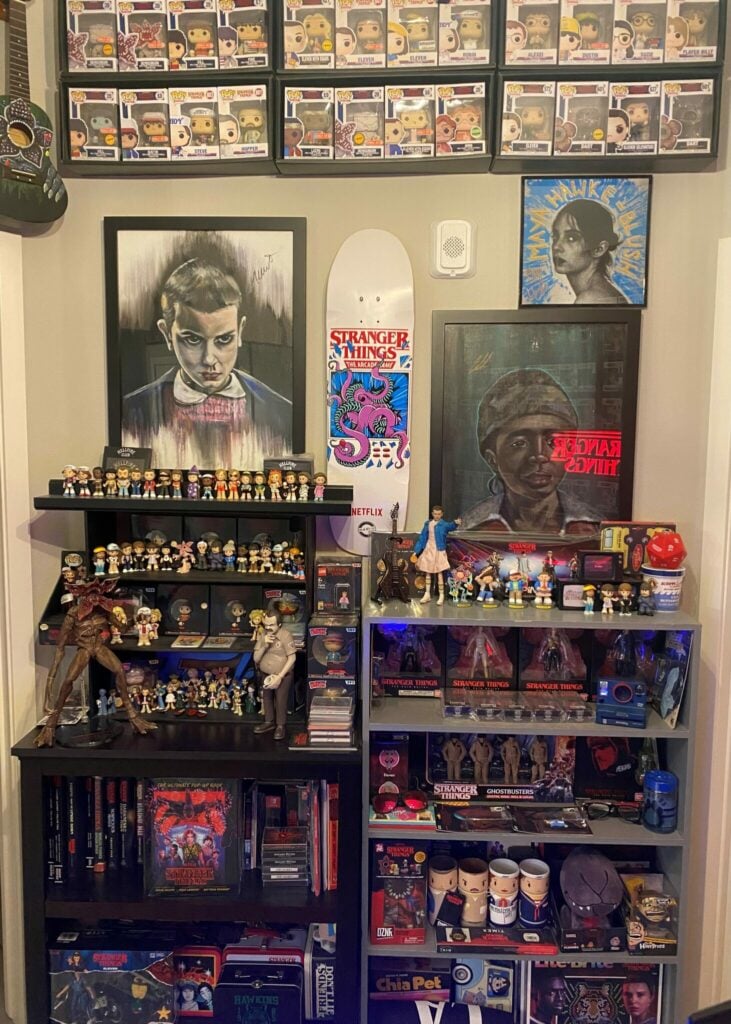 Who's your favorite character in the show? Is there anyone you can relate to?
Dustin is my favorite, simply because he's hilarious, especially in season 1. But the character I relate to the most is probably Eddie Munson from season 4. I'm a songwriter and play the guitar. I just wish I was as cool as he was.
Which item in your collection is the most unique to you?
I have one of the limited edition Eddie Munson's B.C. Rich NJ Warlock Guitars, no 221 out of 2000. This was all-around special because my wife bought it for me as an anniversary present, and then my dad and I built a custom guitar display for it. It has cool LED lights and a hand-painted Hellfire logo on the side.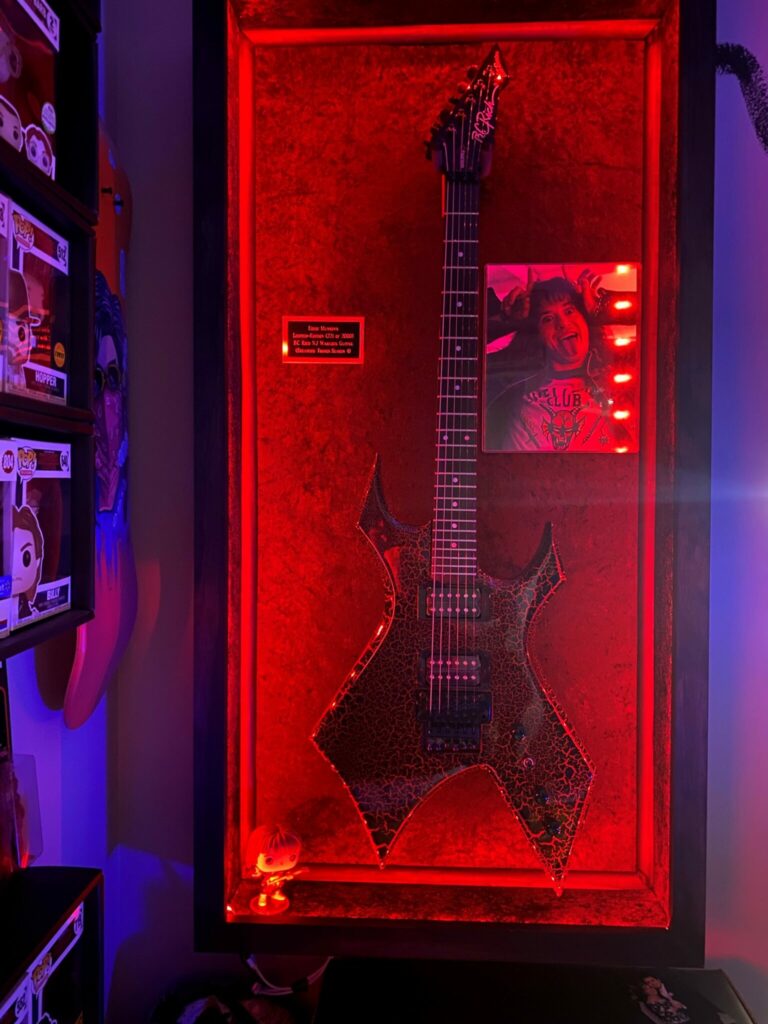 Do you have any weird or super rare items in your collection?
Probably the rarest item I have is the Gold Hopper Funko POP. There were only 40 ever made, and as a Stranger Things Funko completist, this was my holy grail. It was given away a couple of years ago during Fundays at SDCC. I was lucky to know a guy who knew a guy that had one of these and was willing to sell it to me.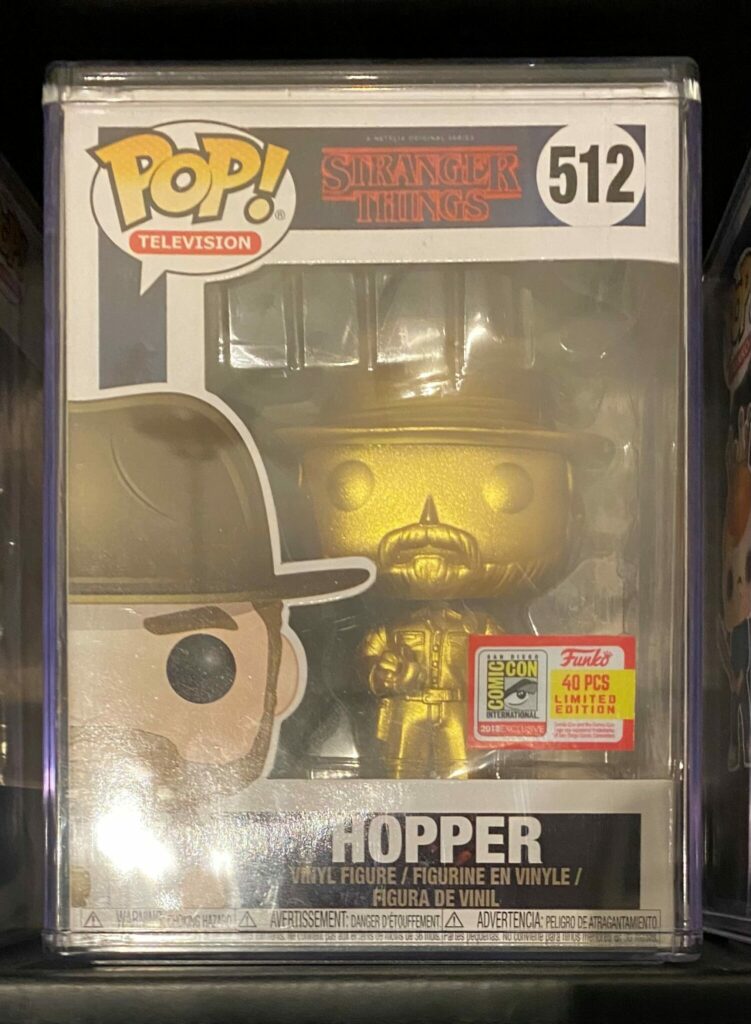 How did you come up with running a Stranger Things podcast?
My good friend, Diego, who's also a Stranger Things collector and an all-around enabler of my collecting addiction, has a pretty active YouTube channel called The Stranger Things Collector. He wanted to start making more videos, and as we were discussing different ideas, I brought up the concept of a Stranger Things collectors show. I proposed he host it on his existing channel instead of starting a new one from scratch. He loved the idea, and shortly after, "The Strange Collectors" show was born.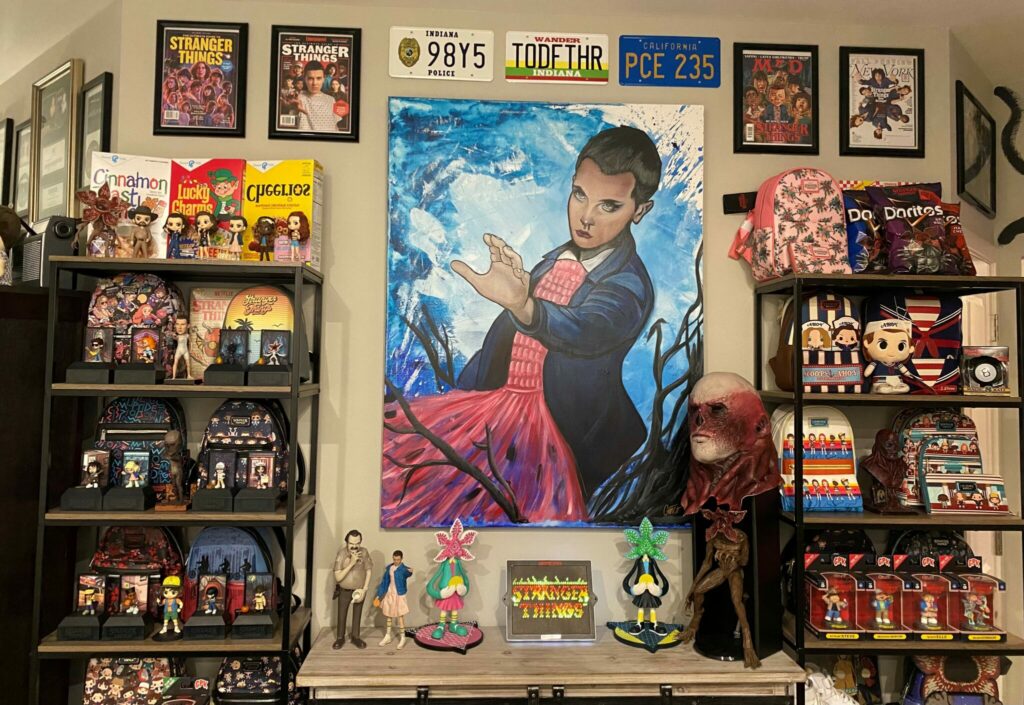 We love showcasing our collection and talking about items we're excited about, recent mail calls, and collecting in general. We're going to start expanding the show to have guests soon.
What's the best part about being a collector?
The community. I've met so many people through collecting, and I love helping others out when they're looking for a special item. Or, as my fellow collectors like to say, I enjoy spending other people's money.
Check out all my Curiosity Voyages here.
How do you organize your collection?
My collection consumes most of my house. It's like the Upside Down, and it keeps on spreading. But I think I've done an excellent job keeping it to controlled chaos. Most of my collection is located in what I call my "Stranger Things Den," but the Upside Down has even spread into my office bathroom. Space is becoming an issue, something all collectors can relate to.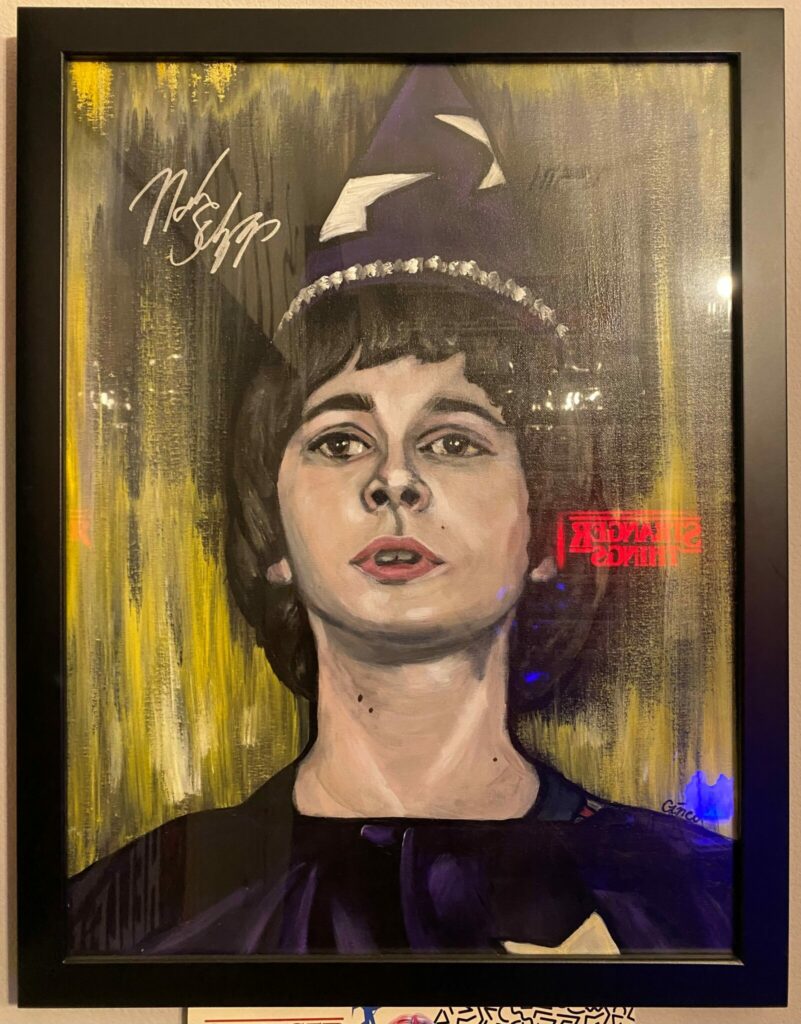 Do you have any Displates in your collection?
Believe it or not, I don't – and it is rare for me to say that I don't have something! However, I'm looking forward to adding some Displates to my collection very soon! I've only heard good things about them, and I love showcasing art on my walls.
Looking for wall art to deck out your home? Check our officially licensed Stranger Things posters printed on metal and mounted on magnets—totally tubular!
Anything else you'd like to share?
I have a website where I showcase my entire collection, which also has links to The Strange Collectors show and my unboxing videos. You can visit my site at www.cincothings.com and follow me on Instagram: @cincothings. Thanks again for asking me to be a part of this experience!
All photos used in this post are © Cinco Avalos, used with permission.